Why You Should be Sleeping in Our Luxury Nightwear
Sleep is responsible for keeping us at our best in a variety of ways. A good, restorative sleep can help us be more productive, boost our immune system and reduce health risks—even help us lose weight. It helps us think clearer, communicate better and be more creative. At the end of the day, the better we sleep, the better chance we have to be happier, healthier human beings. It's a vital part of our overall mental and physical wellbeing. That's why at Schweitzer Linen, we not only believe everyone needs a good night's sleep we believe they deserve one.
So along with our vast collection of luxury bedding, we also offer another powerful sleep aid. One that's easy, affordable and the only side effect is making you feel good all over. It's nightwear—and it's one of the best ways to dress for a successful bedtime.
Nightwear has a fascinating history, both in comfort and style, and its one we've talked about a lot over our 50+ years of service to our customers. If you want to learn more about its history, check out our blog on the brief history of sleepwear and the timelessness of sleepwear trends. But right now, we don't want to talk about how nightwear came to be, we want to talk about how it can help you achieve a more restful, deeply satisfying sleep.
The Right Comfort
The more comfortable you are going to bed, the better chances you'll have of getting a better night's sleep. Yet as simple as this idea is, too many people are still not sleeping as comfortably as they should be—especially when there are easy and affordable solutions like wearing more comfortable sleepwear. Crafted with breathable cottons, soft jersey knits, luscious silks and other cozy fabrics, our nightwear can help provide a greater sleep experience with greater benefits. These fabrics help regulate temperature, so you stay warm when it's cold and cool when it's warm. They keep skin dry and comfy with light, airy textures. If you have sensitive skin, they can help avoid and eliminate discomfort. And because our minds are often waiting for our bodies to tell them it's time to relax and get into sleep mode, being surrounded by the softest, coziest, and most comfortable fabrics sends that message loud and clear.
New! ARABELLA
The pleasure will be yours every time you slip into this enchanting gown's soft, comforting 50/50 blend of pima cotton and modal jersey fabric.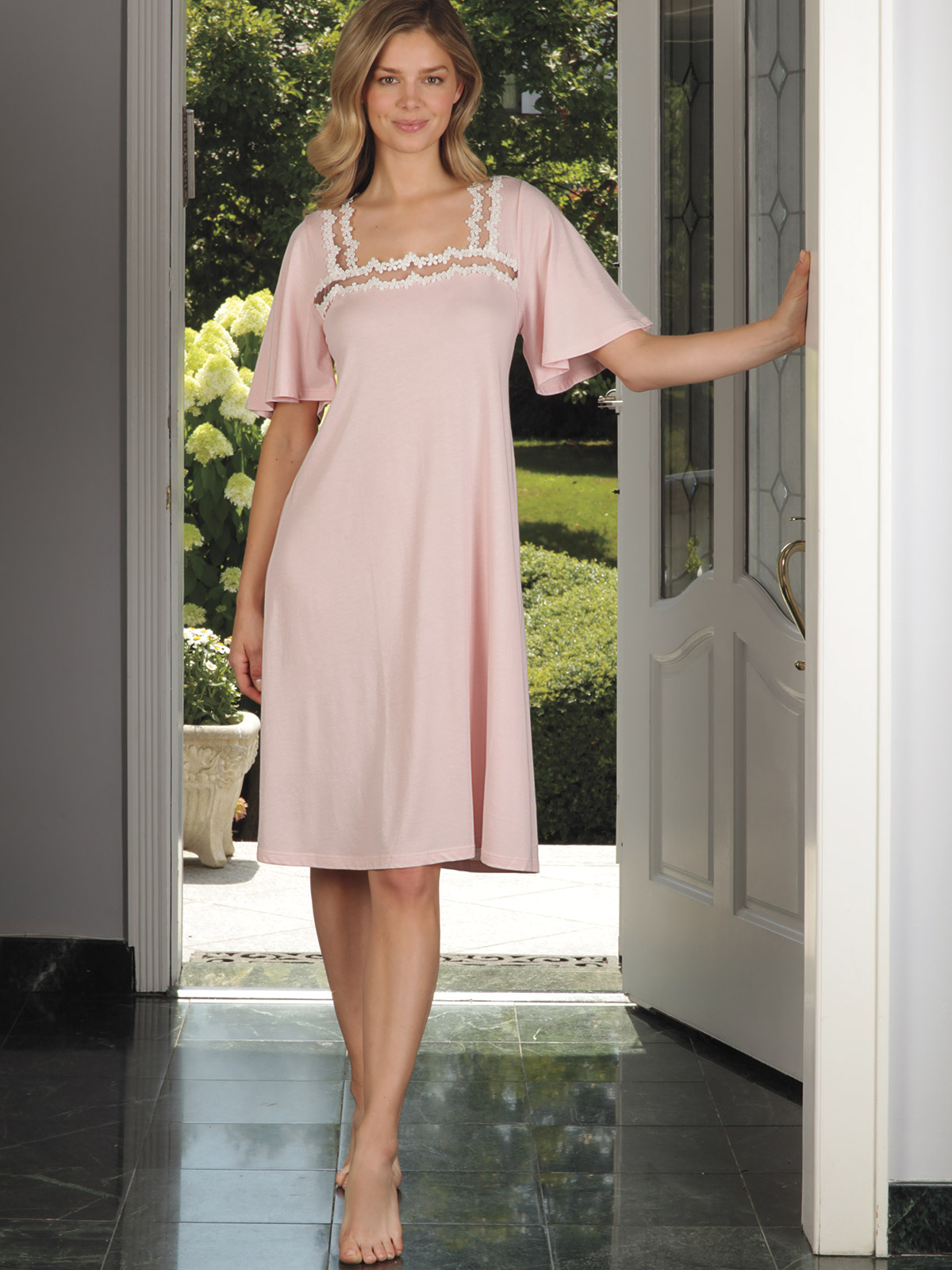 CARESS
Every curve of your body will cherish the textured weave of this luscious, 100% Cashmere robe. Features a shawl collar to keep the chill off your neck and cozy patch pockets to warm your hands. Available in Gray or Beige.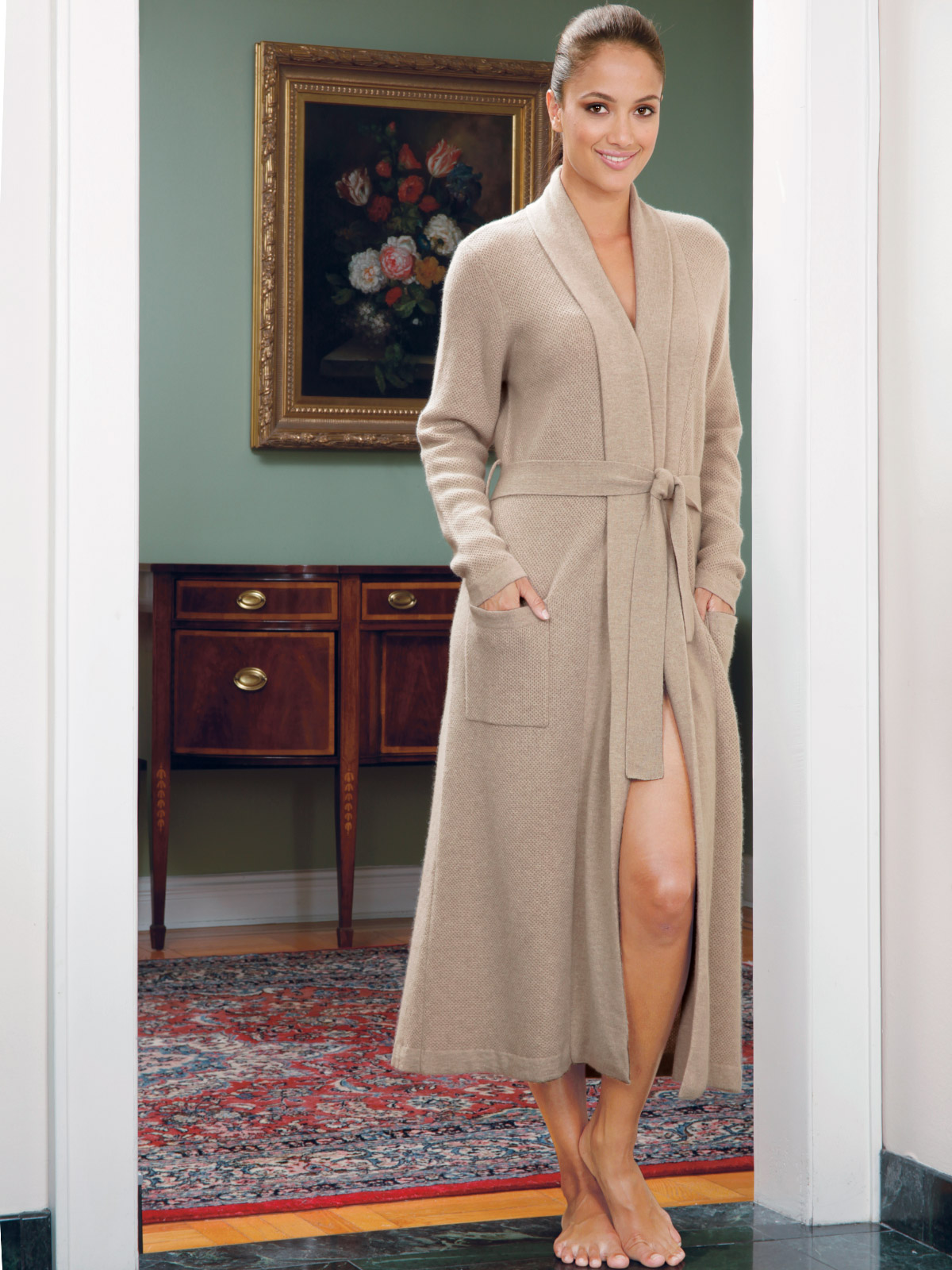 JESSICA
With the irresistible coziness of ultrasoft 100% Pima cotton and lovely macrame lace inserts to set the style, this exquisite button-down nightshirt is sure to be your new nighttime go to.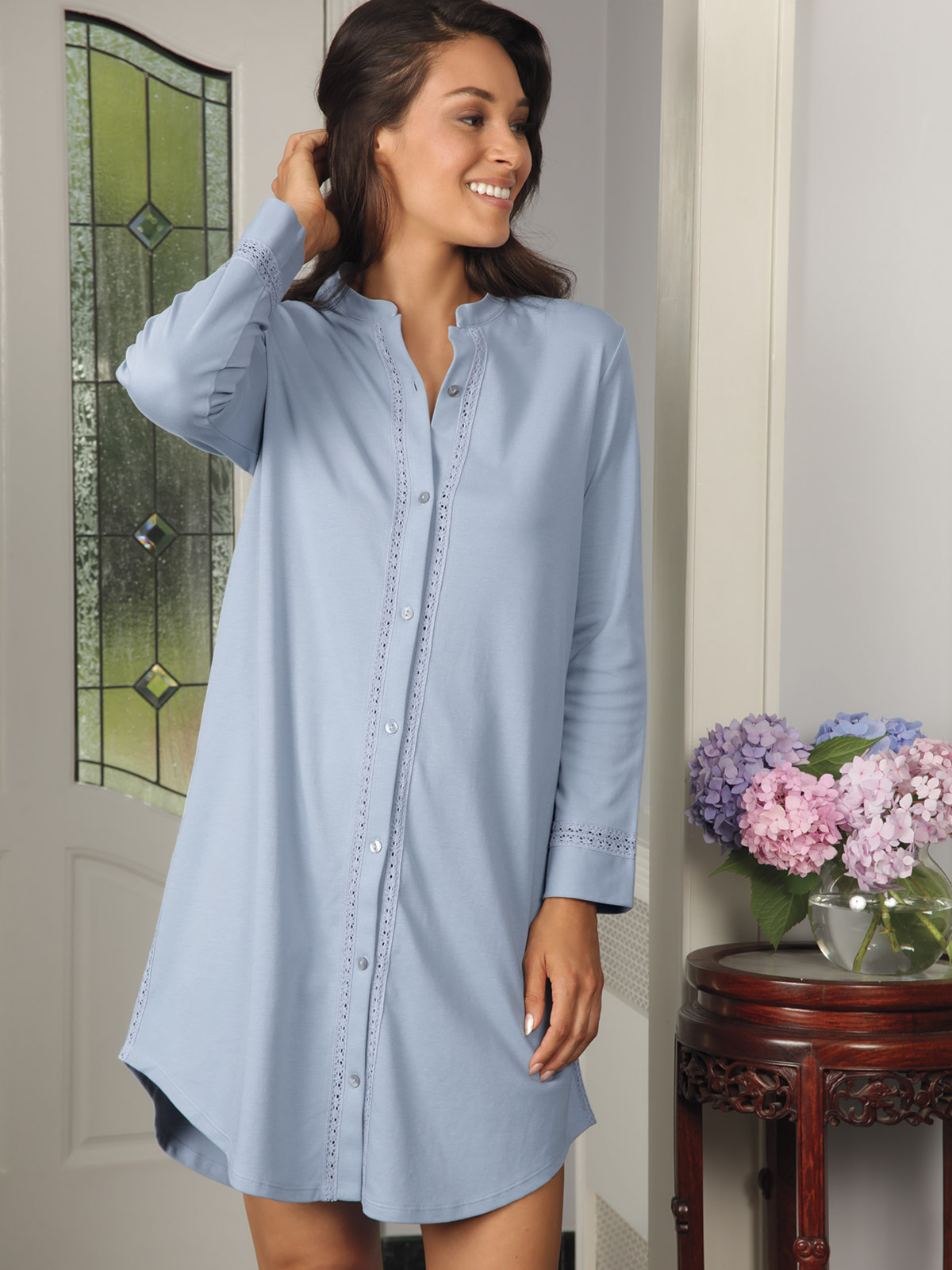 DAKOTA
Whether you're sleeping or lounging, you'll feel terrific in these smart-looking and ultra-soft, heathered Charcoal Gray jersey pajamas. Pants have comfortable elastic waistband. Made of 50% Pima cotton and 50% modal.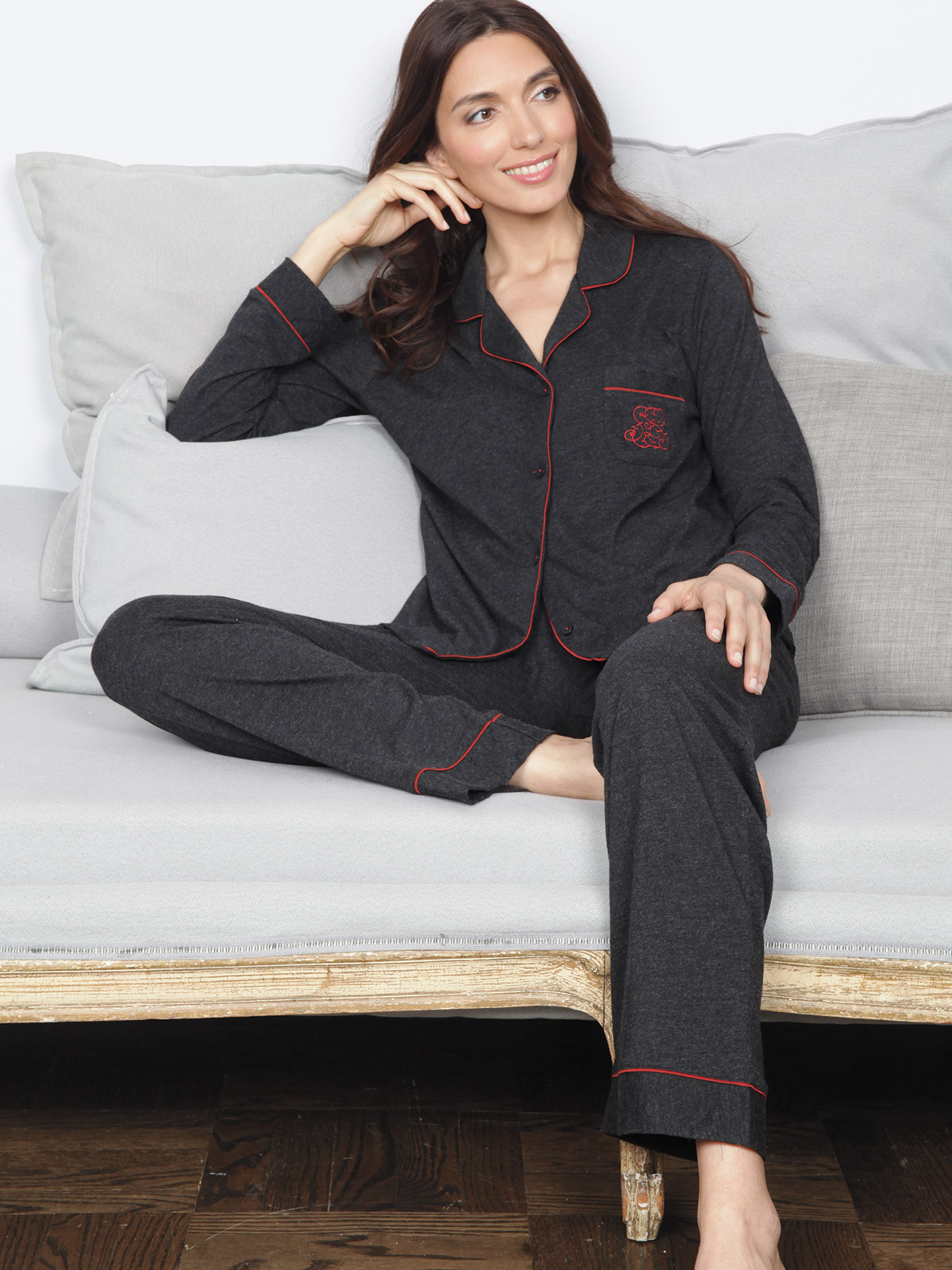 The Right State of Mind
Sleep deprivation and insomnia are serious issues that affect different people in different ways. What works for one person may not work as well for another and it's not something we, or anyone else, should take lightly. That said, there are so many mental aspects that can affect your bedtime routine, sometimes a bad night's sleep really is all in your head. Our mental states are a key factor in preparing us for a restful night. If you've ever tried to go to sleep angry or upset, you know what we're talking about. That's why it's imperative we do the little things we can at night to put ourselves in the right frame of mind. Wearing the most comfortable nightwear and pajamas is one of them. When we wear uncomfortable clothes or sleeping outfits that don't keep us as warm or cool as we can be, it can send mixed signals to the brain. These red alerts tell our mind that even though the lights are off and it's time for bed, our bodies aren't ready. By putting your body in its optimal state of comfort, you send a message to the brain that says, "it's time!" This not only helps you get to sleep faster and easier, staying comfortable while sleeping also keeps the mind at peace, resulting in a more uninterrupted, deeply restorative and regenerative slumber. And since one of the simplest ways to keep your body and mind in a constant state of comfort is to wear clothes specifically designed to keep you cozy all night, you might want to slip into something from our extensive collection of luxury nightwear.
SONYA
Whether you choose the pajama top-and-bottom style or the gown, you'll fully appreciate the way 100% pima cotton coddles and comforts you into a complete state of contentment.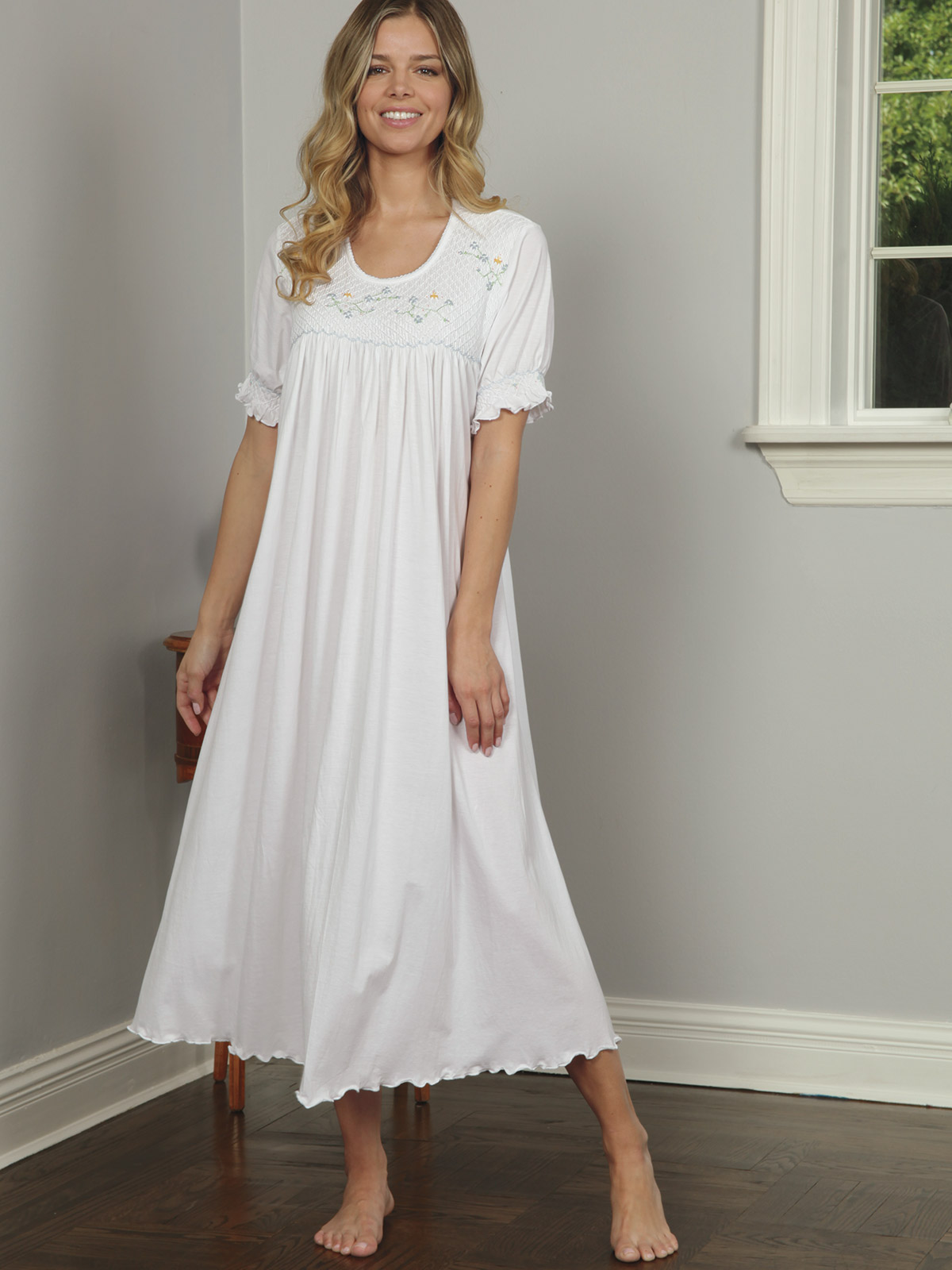 New! BEATRICE
This zip-up robe is soft, relaxed and ready to encircle your morning and night with good feelings and extraordinary comfort. Waffle texture keeps things light and airy without letting those unwanted chills in.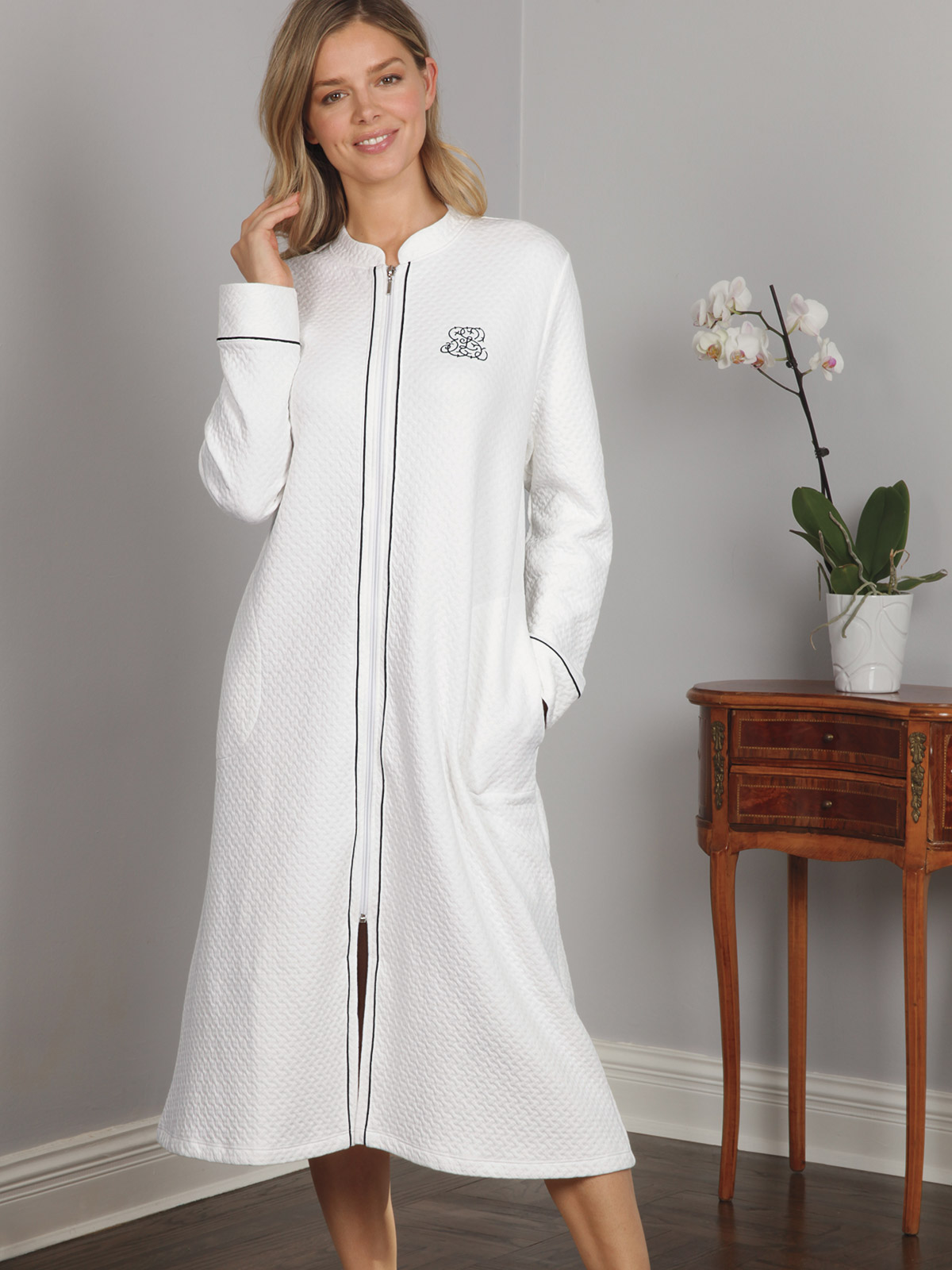 GRACE
Let buttery softness fondle bare skin for an instant escape from today's worries and tomorrows to do list. This pima/cotton modal chemise is beautifully embroidered in a sleek, tunic style that falls to the knees for modest coverage that still feels totally liberating. Matching pajamas are also available.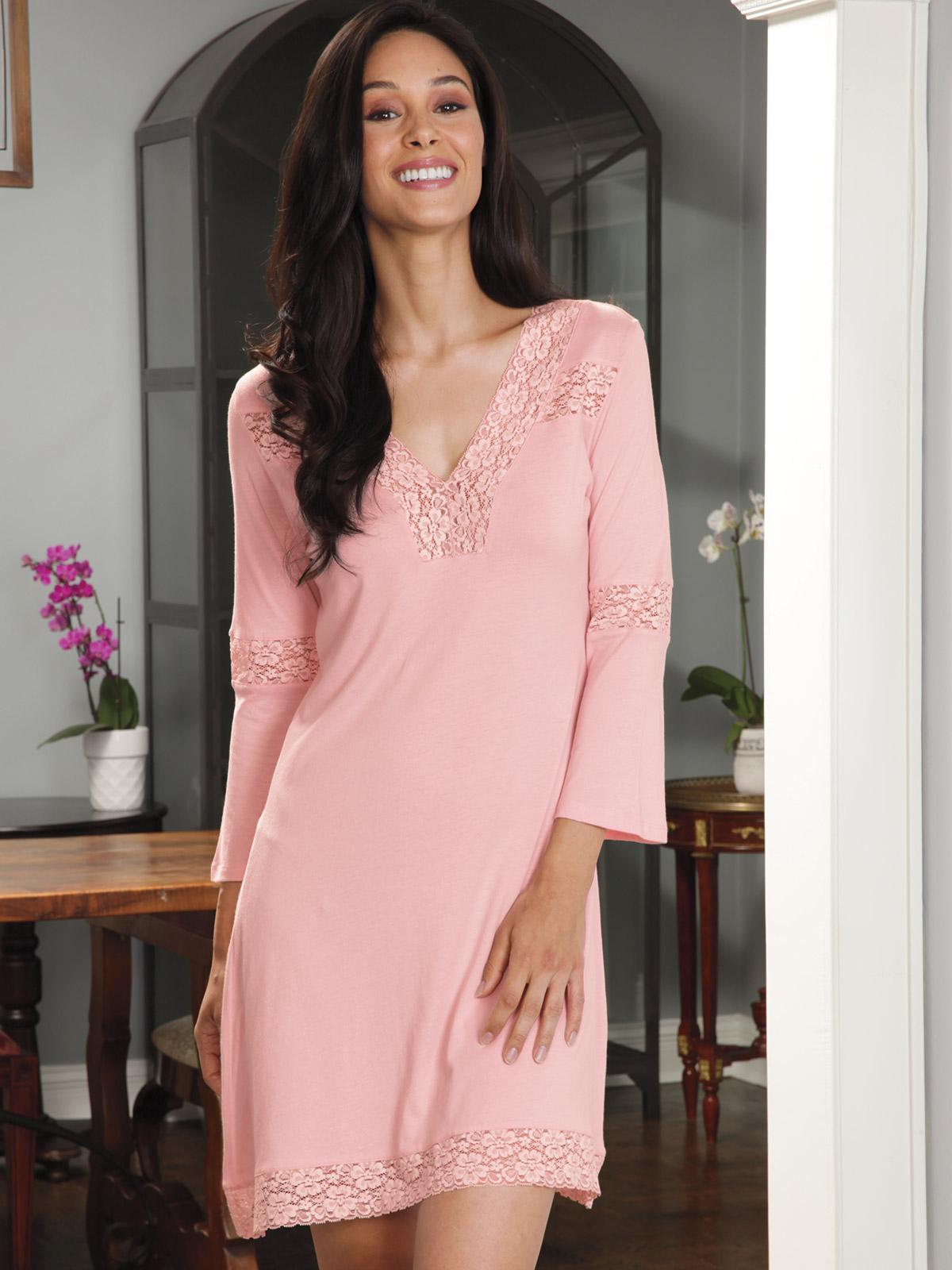 The Right Style
Too often when people think of comfortable sleepwear, they picture old worn-out sweats and t-shirts, but there's many other styles that can have the same effect, if not better. At Schweitzer Linen you can still achieve optimal comfort without sacrificing a sense of style. Even if style is the last thing you care about and you think it doesn't have anything to do with how you sleep, we recommend giving it a try. It could be what helps you achieve a healthier, happier bedtime. Because in the same way our mental state can affect the quality of our sleep, how we feel about ourselves before we go to bed can also have positive or negative effects on the outcome. Most of us don't just put on our nightwear and go straight to bed. We may hang out in other areas of the house, read or watch TV with a partner. Knowing you look your best when around others feels good. Knowing you look your best when you're alone feels good. And when you go to bed feeling good, this helps put you in the perfect mental state for sleeping. Plus, in addition to preparing your mind for sleep, it's also important not to lose sight of who you are. Your nightwear should still represent you and your personality. We don't just design our sleepwear to help you feel more comfortable, we design it so you can feel more beautiful too. And with a wide variety of designs, colors and fabrics, it's easier than ever to find super cozy styles that keep you comfy all night while also fitting your sense of style.
New! NATALIA
The 50/50 blend of silky-soft pima cotton and modal jersey fabric feels like euphoria on your skin and slims every curve to perfection.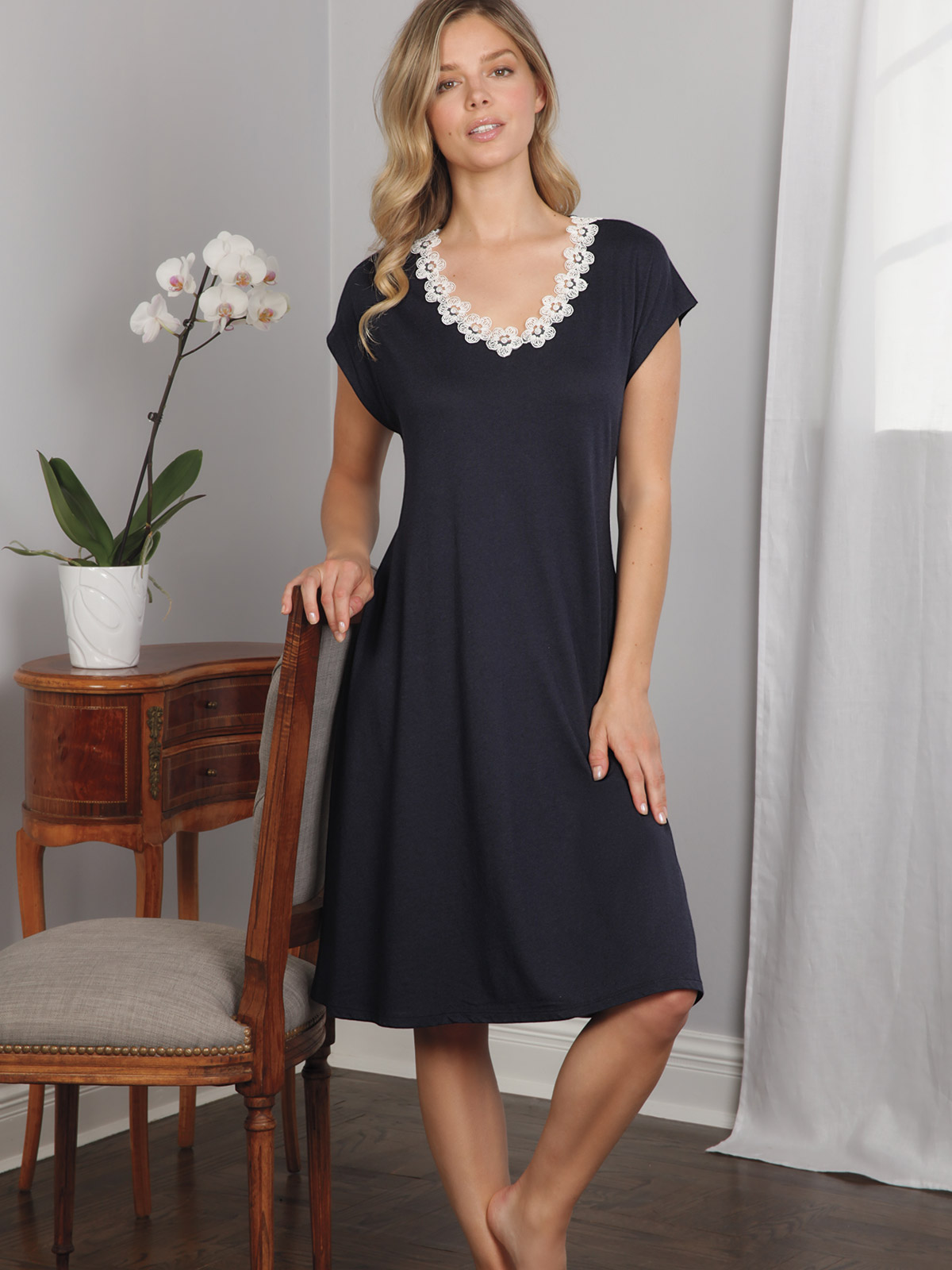 SKYE
From the ruffled bodice on the empire waist, to the fashionable straps, to the elegant drape of 50% Pima cotton and 50% modal, every detail of this gown was designed to have you looking and feeling like a goddess.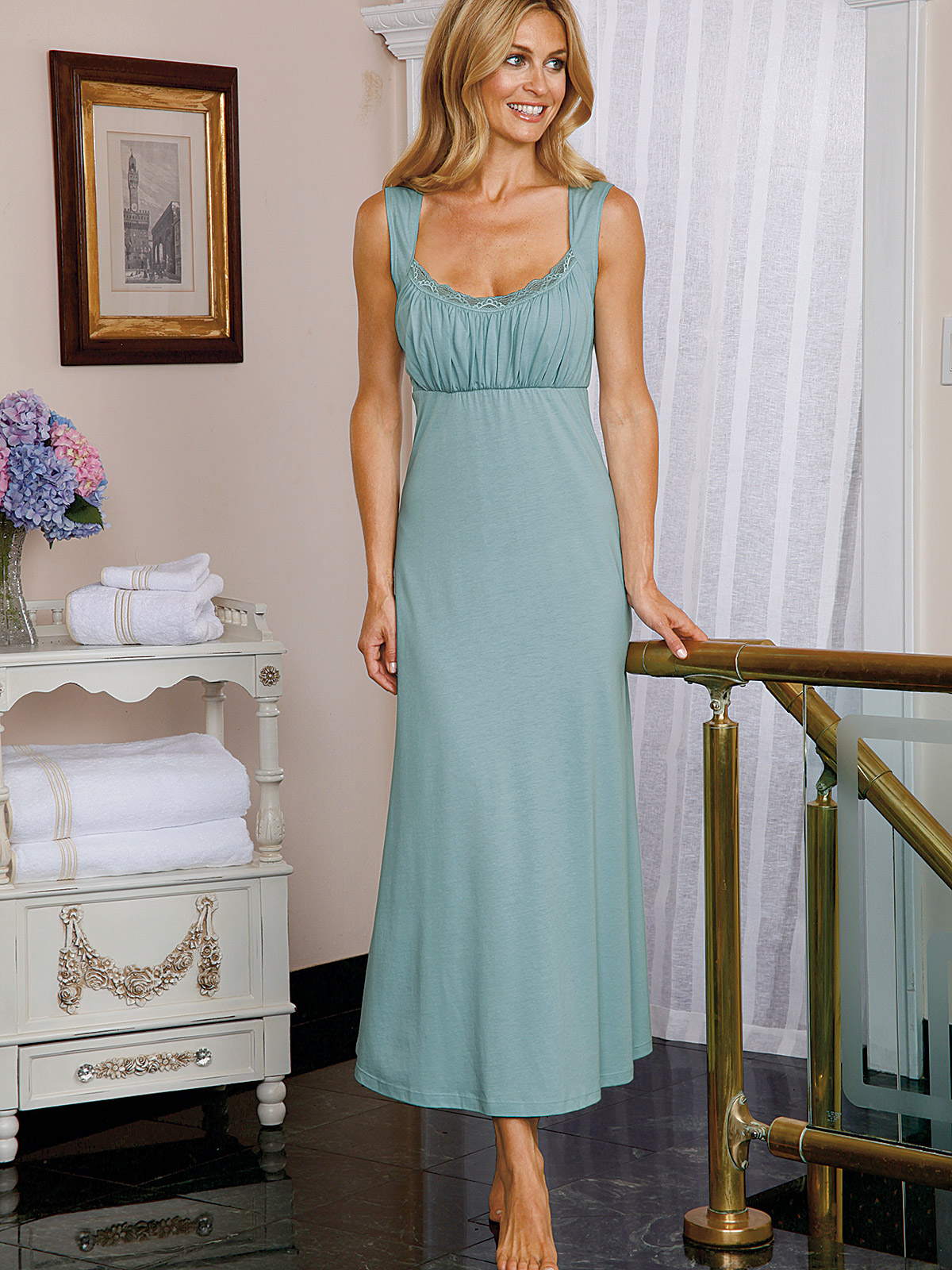 CYBIL
Show your stripes with these dazzling Black and White pinstripe pajamas. Captivating bold collar and wide cuffs offers full coverage for chilly evenings while the ultra-fine 100% Pima cotton is super light and airy, to keep you cool when temps rise.
Check out our entire collection to see more of our best-selling nightgowns, nightshirts, chemise, pajamas, robes, and other luxury nightwear. Or browse through hundreds of luxury bedding styles and accessories for getting a great night's sleep.