The feel of a soft, plush towel after a shower or bath is one of life's great pleasures, but if your towels are in need of being replaced, you may be missing out. Over time, towels can become uncomfortable, lose their absorbency and in some cases, they may even be unhealthy. If you think it's time to replace yours (or someone else's), you're in luck. Schweitzer Linen has added four new amazing towel sets to help you reclaim that fresh, after-shower feeling.
Not sure if your towels need replacing? There are several ways to know when it's time. One of the most telltale signs is the length of time you've had them. Lesser quality towels usually need to be replaced within year or two, if not earlier. Even the best towels need to be replaced sometimes, though higher quality towels will definitely last a lot longer. That's why it's always a good idea to invest in premium towels like those crafted by the experts at Schweitzer Linen. With over 50 years of experience and backed by the finest materials and workmanship, these reliable towels will provide luxurious experiences for many years.
Maybe this sounds familiar. You reach for your towel after showering and realize it's not drying your skin the way it used to. After long periods of use, towels can lose their absorbency and those super absorbent properties that used to leave you dry and comfy, are now leaving you all wet. If your towels aren't drying your skin the way they used to, it's time to get new ones to do the job right.
It's recommended you wash towels frequently and let them dry completely before using again. This is extremely important, as their damp, moist nature serves as an open invitation for bacteria and other undesirable germs. But at some point, even a vigorous laundry routine may not be enough. As time goes on, some towels (especially the lower quality variety) become harder to keep clean and bacteria and germs latch on. Not only is this unhygienic, it's unhealthy and you could be putting yourself or someone else in your family at risk. This is a definite sign that you need new towels.
In addition to bacteria, another negative effect on towels that can't stay clean is the smell. If you've ever smelled a towel that's beyond saving, you know how unpleasant it can be. A quick way to determine whether yours need replacing is to give a quick sniff. If you smell a musty, sour or stinky odor that won't go away with a good cleaning, your towels are likely crawling with bacteria and it's time to get some new ones.
All the above are great reasons to replace your old towels with new ones, but there's one more very important reason to pick up some of the newest towels from Schweitzer Linen – because you want to. Changing out your towels can refresh the look and feel of your bathroom with new colors and patterns to calm, inspire and reinvigorate the décor. Sometimes it just feels good to change things up. Plus, if you're having guests over, it's always a wise idea to put fresh new towels in the bathroom to make a good impression.
Now that you know why you need to replace your towels, the how is super simple. Schweitzer Linen makes the world's softest, most luxurious towels in exclusive designs and styles you won't find anywhere else. And with these new additions to their huge collection, upgrading your towels has never been easier – or more comfortable.
NEW Chicago Towels
What a Turkish delight you'll experience every time you wrap yourself in these beautiful, plush towels, with a classy, textured geometric jacquard pattern. Made in Turkey from 100% cotton, 550 g/m2. Available in White, Cream, Dusty Blue and Blush.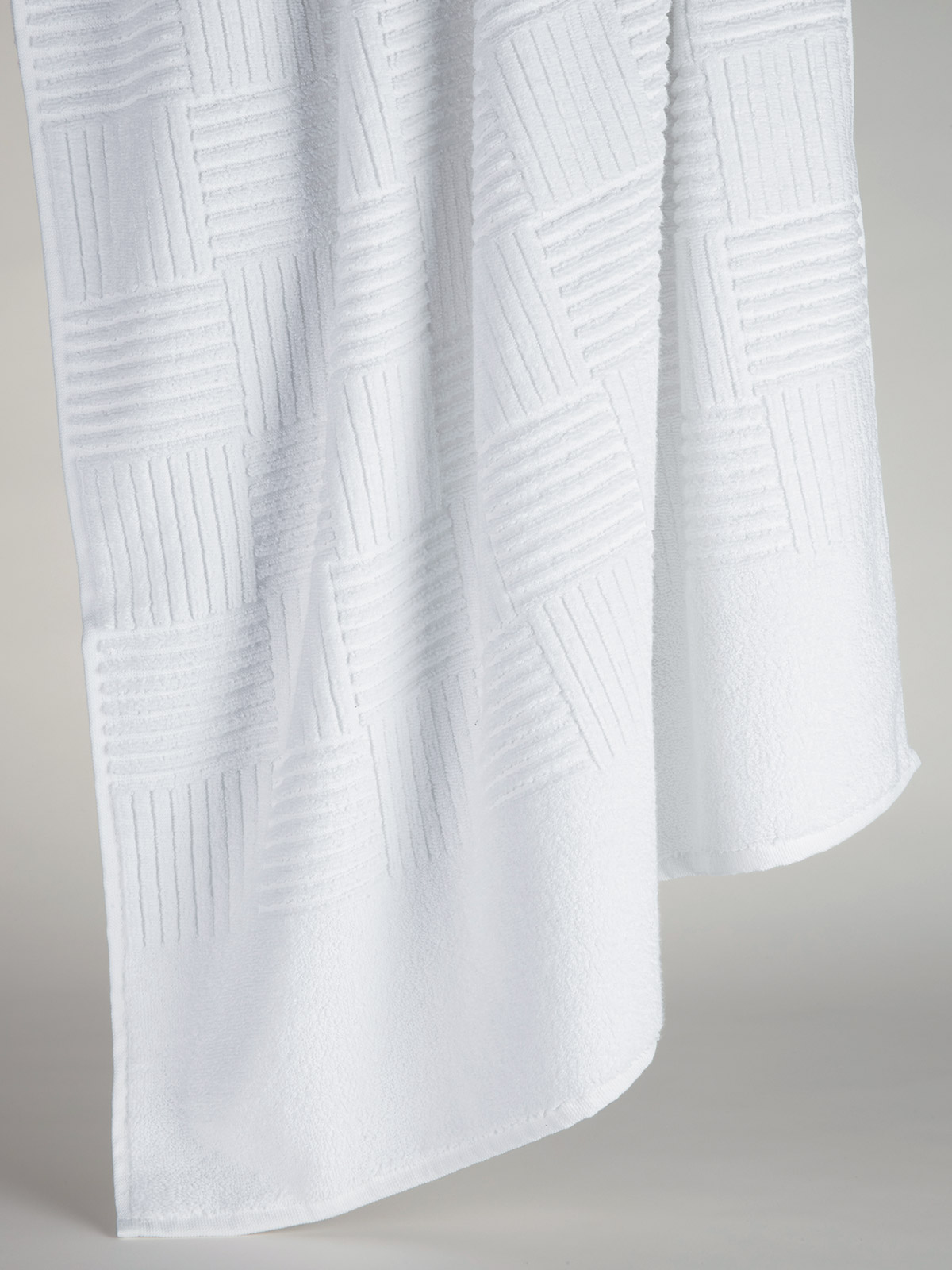 NEW San Harbor Towels
Imported from Turkey, these thick, super absorbent 700 g/m2, 100% terry towels are a joy to feel after a relaxing bath. Pure terry is accented with an eye-catching border in Blue, White, Pink or Café Au Lait.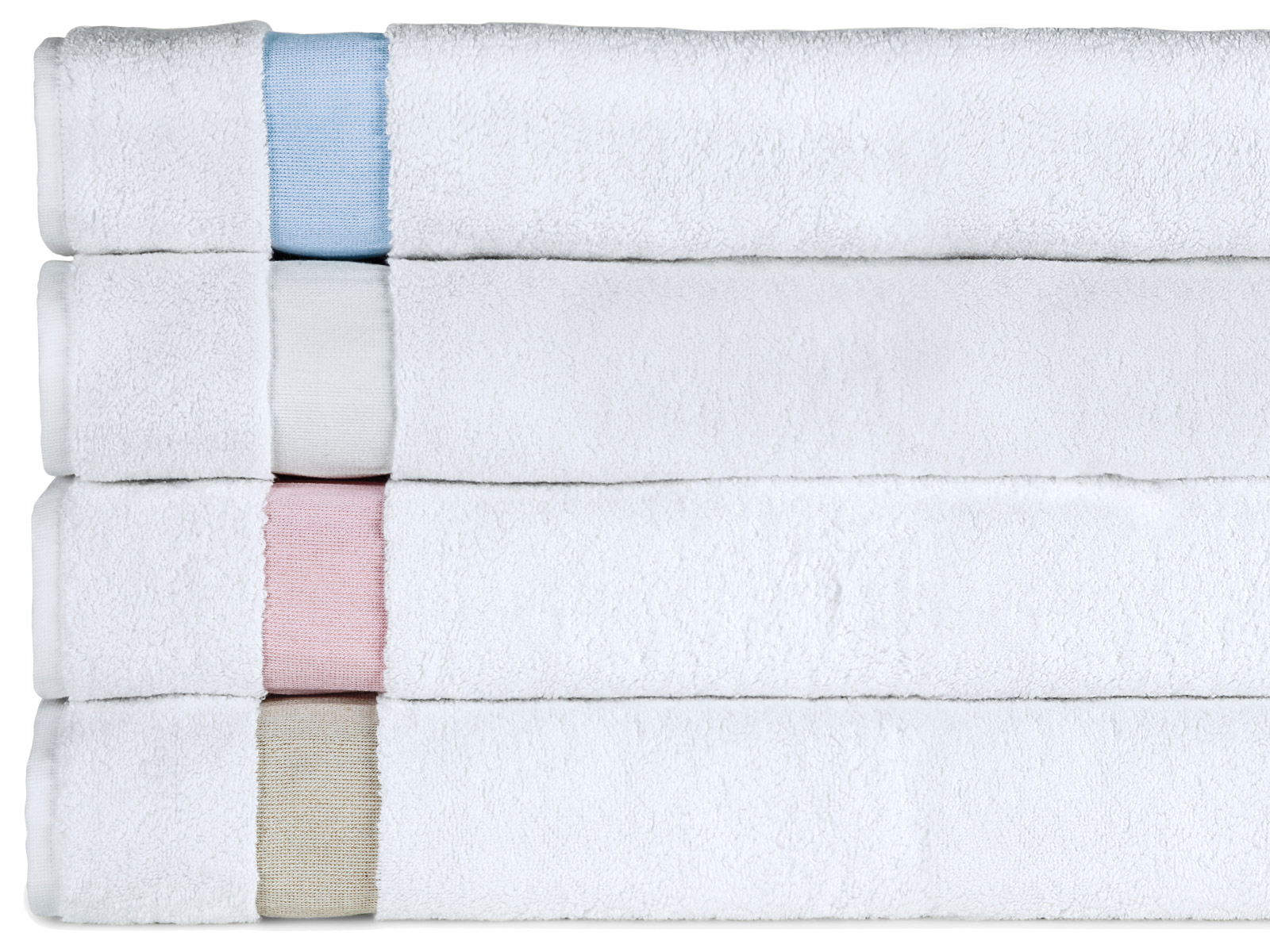 NEW Exeter Towels
Swirled design jacquard towels from Turkey add extra luxuriousness and are created to be absorbent, offering a wonderful massage. Available in Gray or White of 100% cotton, 580 g/m2.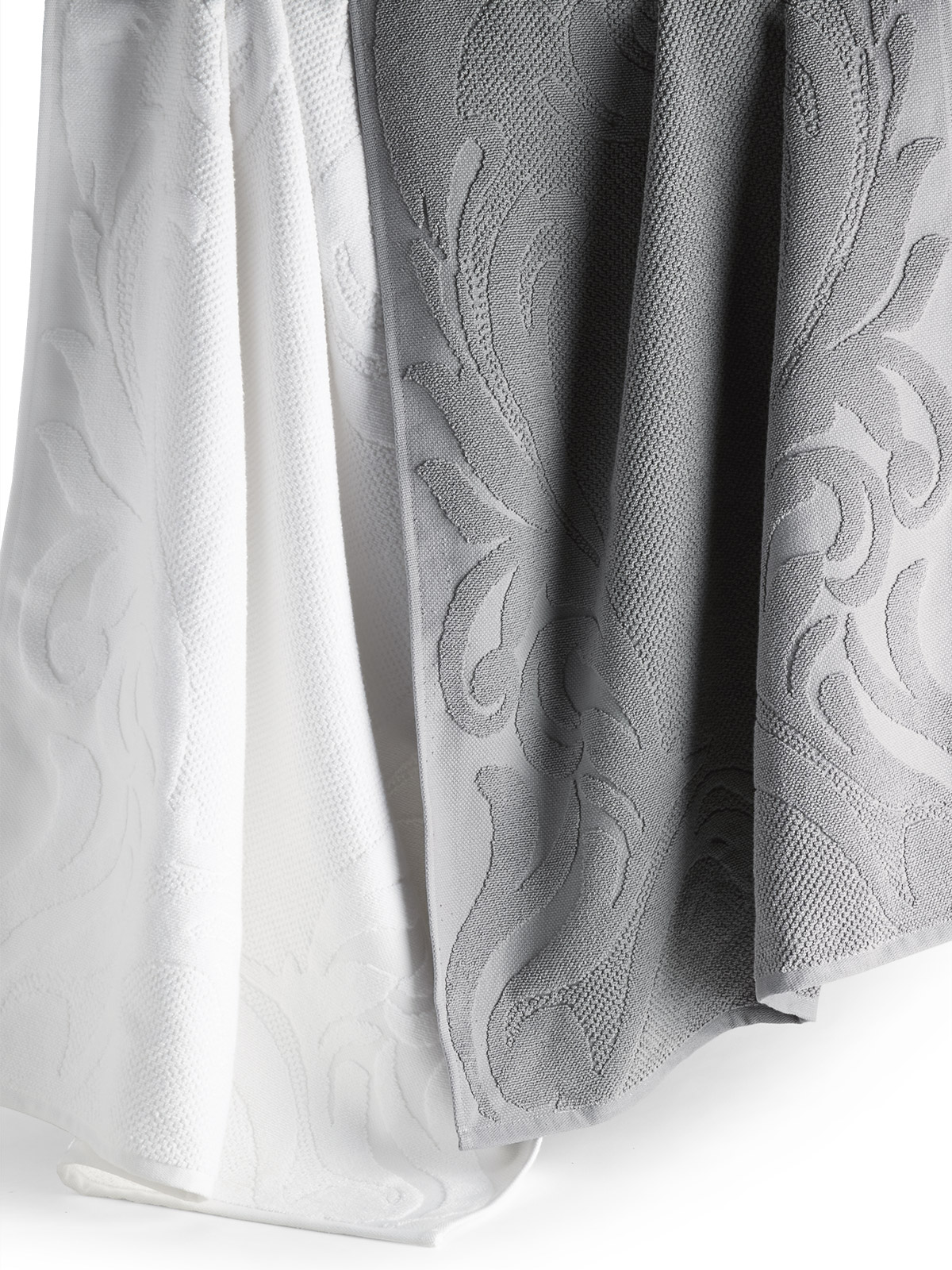 NEW Sandbar Towels
Plush and comfy, these classic towels are made of 600 g/m2, 100% cotton terry for guaranteed softness and absorbency. Made in Turkey in modern shades of Oatmeal, White, Gray and Charcoal.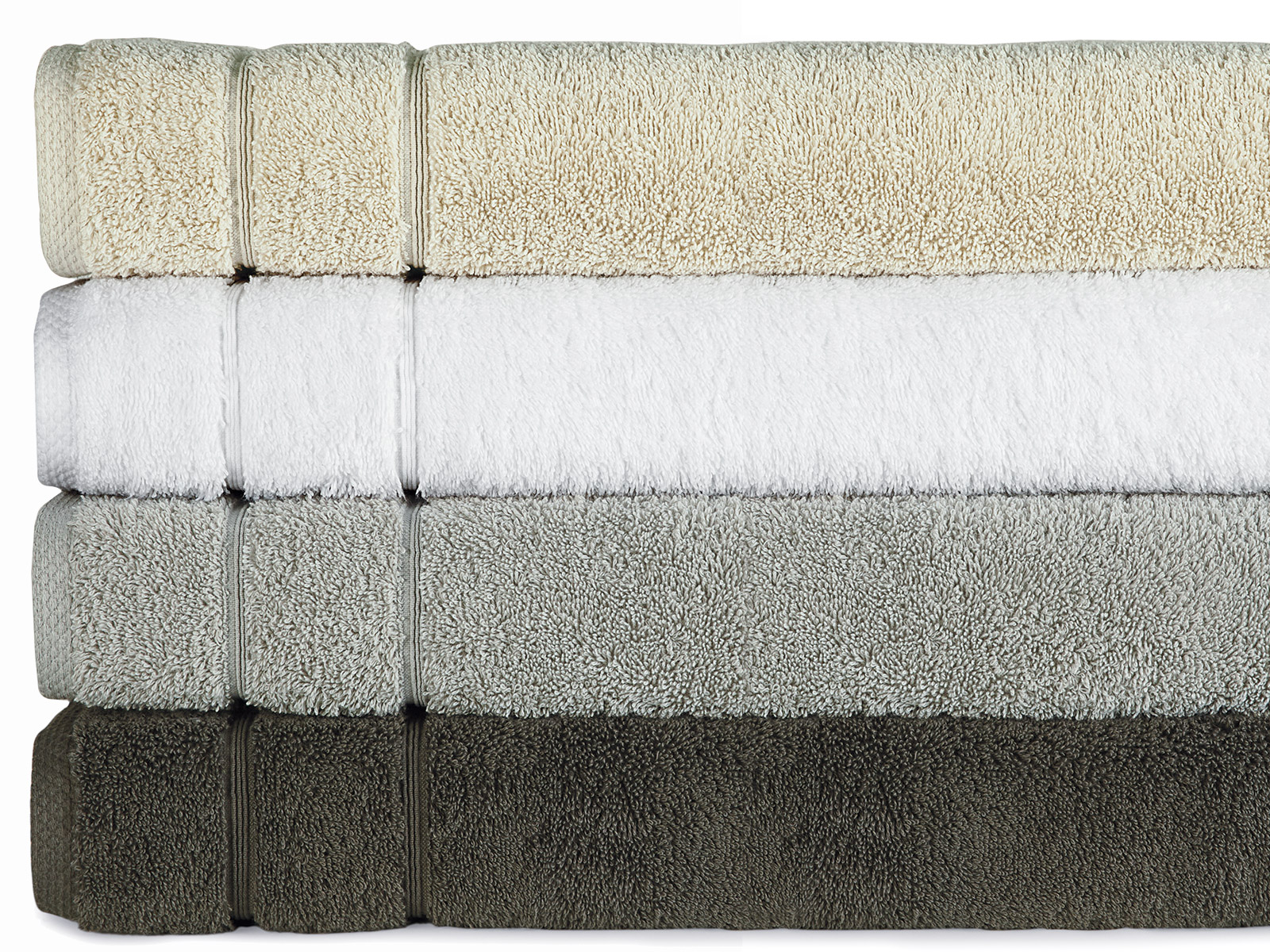 NEW Montauk Bath Robes
Fated to become an everyday favorite, this captivating kimono-style bath robe is crafted with 100% extra-long staple cotton in a sleek Gray or Beige design. Ultra-soft terry is super absorbent for right out of the shower perfection.. Unisex. Made in Turkey.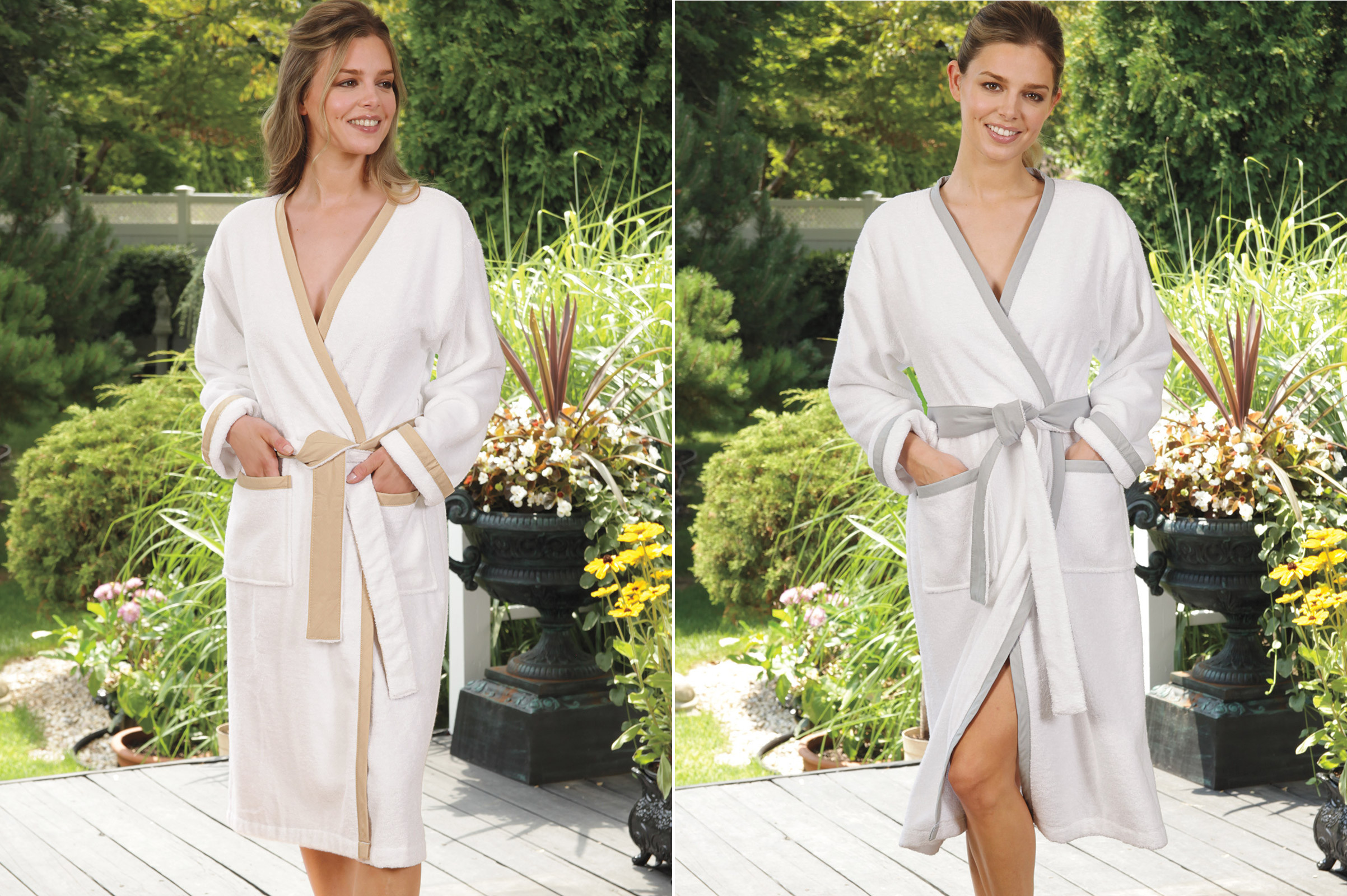 NEW Rockport Bath Robes
The deliciously cozy touch of this 100% extra-long staple cotton bath robe will give you the warmest of welcomes. Super absorbent terry dries skin quickly and remains luxuriously soft. Features Blue or Charcoal Gray accents with binding on the edge of the cuffs. Unisex. Made in Turkey.