Thanksgiving is my favorite holiday, from the colors of the season to the gathering with friends and family, Thanksgiving is a special time of year.  Each year I meticulously plan a Thanksgiving dinner and spend more time setting my table than cooking the turkey! I enjoy bringing in seasonal accessories like turkey salt & pepper shakers, cornucopia center pieces and fall confetti to brighten up my table.  It elevates it to a whole new level.  In the past I have used a white damask tablecloth, like Breton and added accessories.  Last year I purchased the Harvest tablecloth with matching napkins featuring colorful pumpkin and corn embroidery.  I still added seasonal accessories, but just scaled it back a bit.  From classic all white to intricate embroideries or farm designs, enjoy Thanksgiving with your unique table setting.
Fun Table Accessories
Farm to Table
Rustic or Parisian, you decide, these 3 hand embroideries will give you many options for setting a table.  They have a country feel with their vibrant colors and hemstitching. Each is made on 100% Italian line.  Coq Au Vin, Strawberry Fields, Frutta Giornini.
Classics
Marbella and Breton are fine examples of a design which never goes out of style.  Perfect for year round use and the ideal canvas to build again.  Want to be traditional or whimsical?  This is a good start!
Marbella Tablecloth offers 3 Placemat Options: Rectangle, Octagon & Round
Breton comes in White or Ivory 100% Italian Linen with Satin Band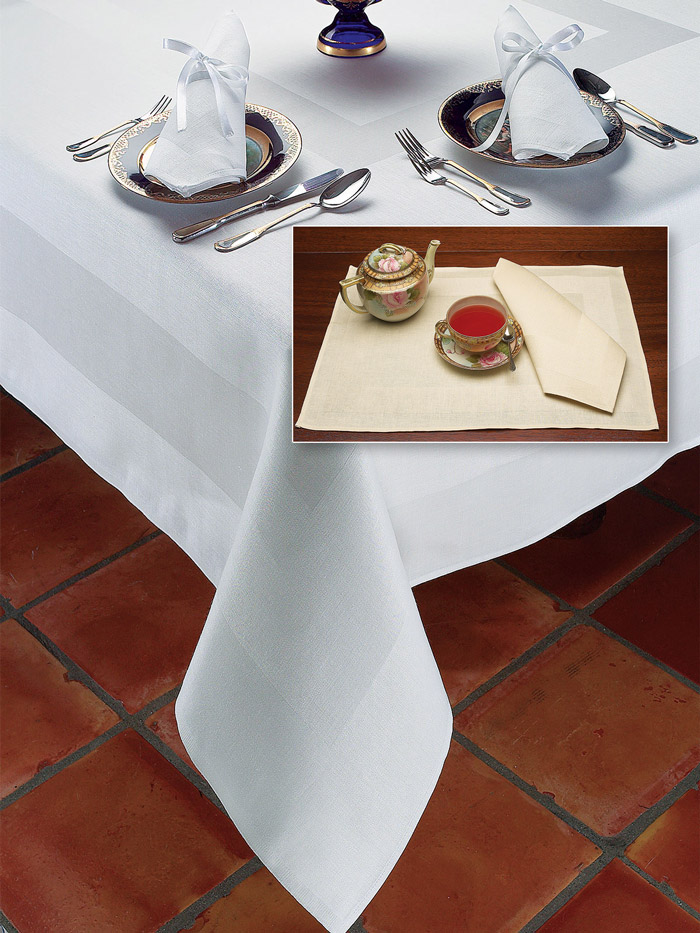 Dramatic White
All white doesn't mean boring.  These three designs are elegant and dramatic in their own right.  Monte Catini is beautiful with applique on cotton organdy, Verona features two lovely rows of hemstitch and Patrician features a flower and scroll hand embroidery – all on 100% Italian Linen.
A Touch of Beige
With the most subtle use of color, Sinatra, Manor and Duchess each feature delicate hand embroidery in soft beige/ecru on white Italian Linen.  The hand embroidery comes to life and makes for an elegant Thanksgiving table setting.
Cut It Out
These tablecloths feature cutwork designs that range from romantic to royal.  Roma is reminiscent of an old world traditional design, while Pisa is more modern and European. The standout for me is Florence with its flowing rows of elaborate cutwork that looks like a family heirloom.
Of course any of these tablecloths will look beautiful come Thanksgiving Day or even for the holidays.  If a tablecloth is too formal consider using placemat and napkin settings. They look just as lovely and come in many designs. Casandra Placemat Set, Artistico Placemat Set.
From the Schweitzer family to your family we wish you a very Happy Thanksgiving!