One of the best parts about the holidays is decorating your home to celebrate and honor family traditions. And when it comes to traditions, the Christmas stocking is one of the most beloved. Whether you hang yours over the fireplace or on a wall, it's a quintessential part of so many joyful holiday moments.
Christmas stockings have been around for centuries. And while the origin of hanging hosiery hasn't always been steeped in the holiday traditions, it's been a staple of Christmas for a long time. One popular legend claims the tradition came about because St. Nicholas visited a town where it was well known that a widowed man and his daughters were going through a tough time. He knew the man would not accept charity, so he left gold coins in their stockings, which were hanging by the fire to dry after being washed.
After that the tradition took off. At one point in history, stockings experienced a small period of decline when Christmas trees were first introduced and people saw they could fit more gifts under a tree, but soon stockings returned. They've been a major part of the holidays ever since.
Whether you're looking for an incredibly thoughtful gift that will be a cherished tradition or want to create your own family traditions, nothing says happy holidays like Christmas stockings. With their gorgeous artisan style and delightful depictions, these elegantly crafted stockings instantly create an ambience of joyful holiday spirit. Perfect for new families, sons-and-daughters-in-law or anyone who would appreciate the heartfelt gesture. Plus, you can customize them with personal monograms to make it even more special.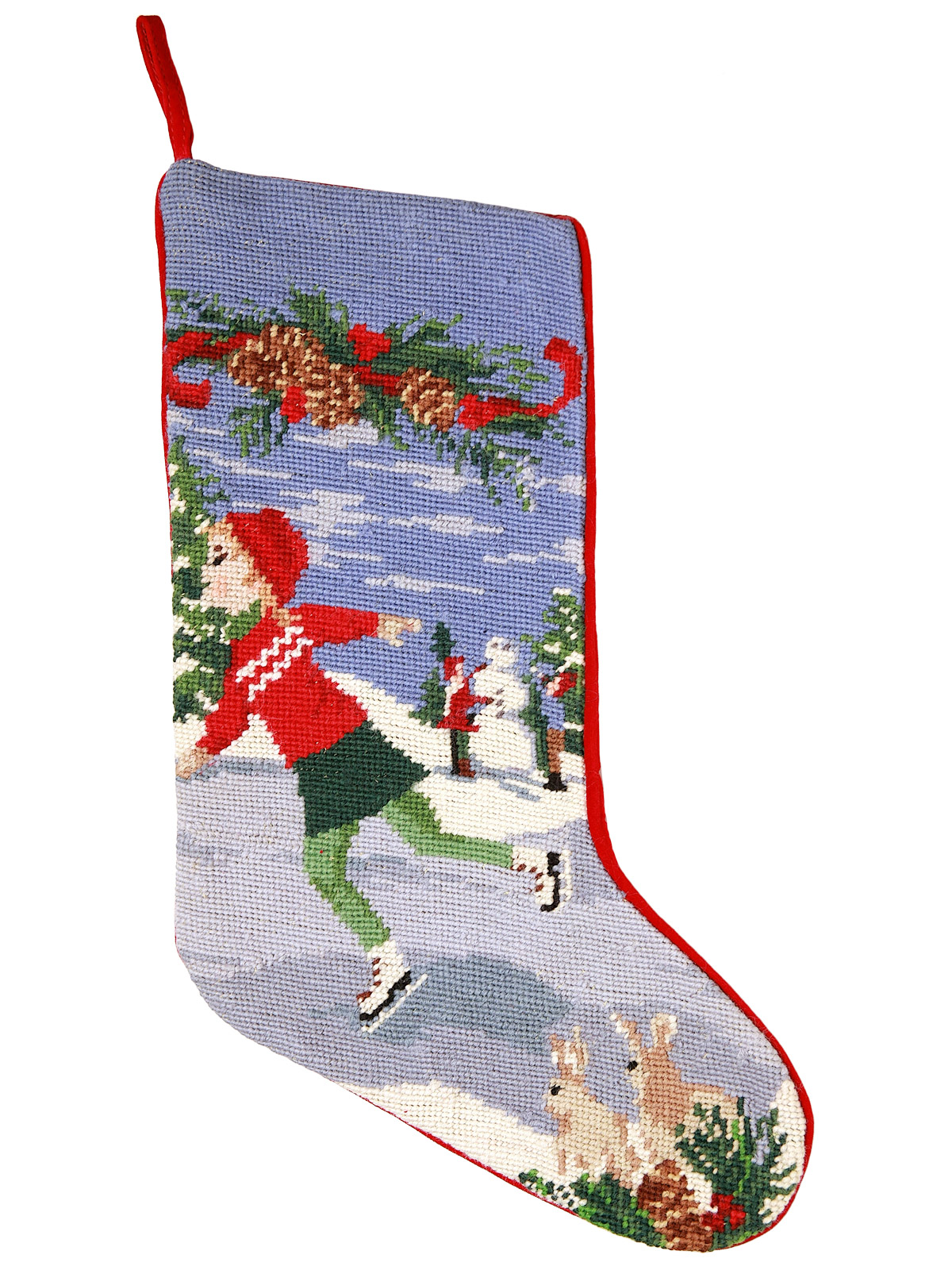 Ice Skater Christmas Stocking
Designed by hand in exquisite needlepoint and backed in 100% cotton velvet for a feeling of tradition, the image of a skater on a frozen pond evokes a winter wonderland of joy—and the fun, lively spirit the holidays bring to each of us.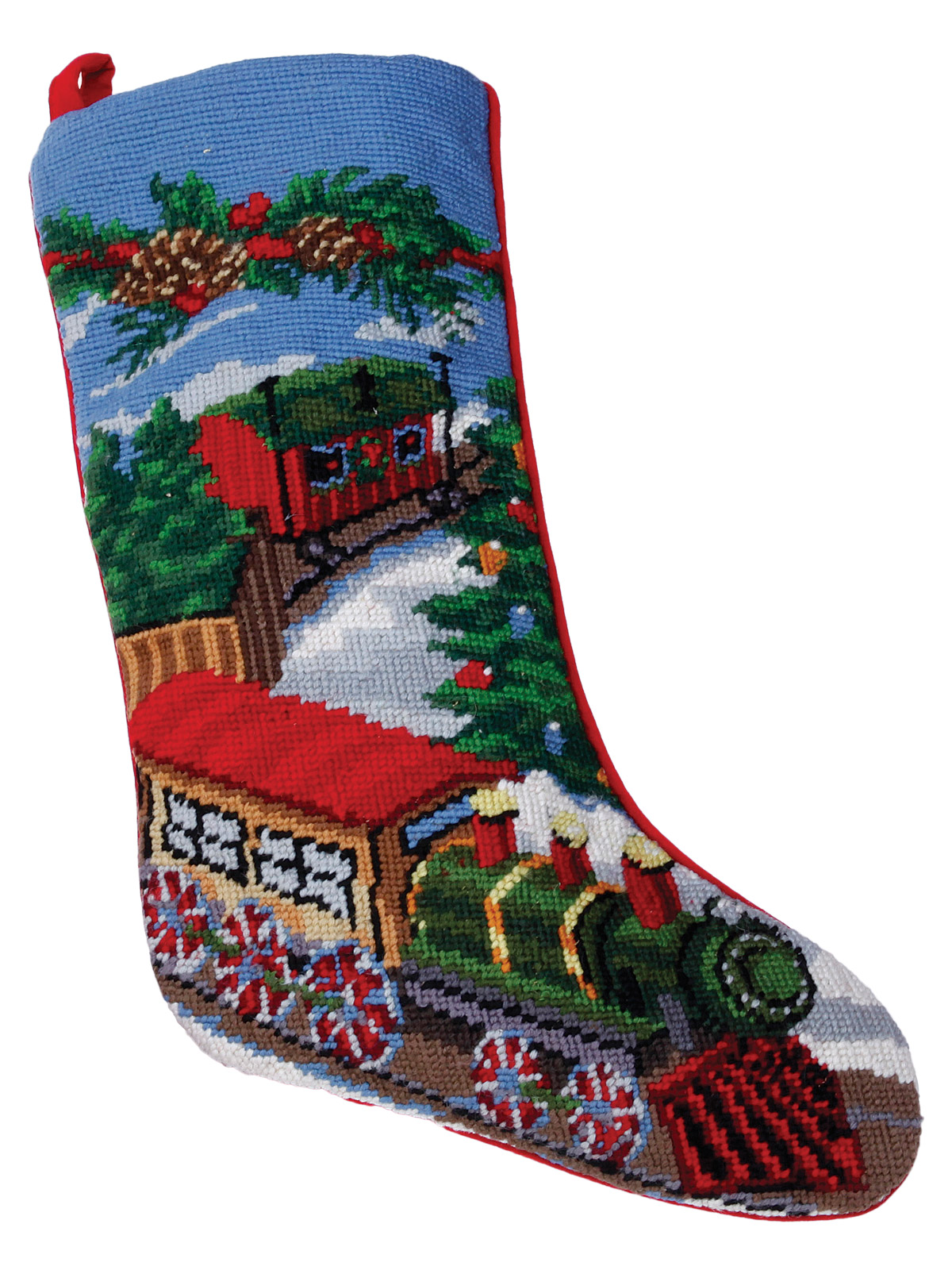 Train Christmas Stocking
A great choice for kids who love trains and adults who are still kids at heart, this one-of-a-kind stocking is wonderful way to celebrate the holidays. Decorated by hand with a cheerful train set scene in gorgeous needlepoint, backed in 100% cotton velvet.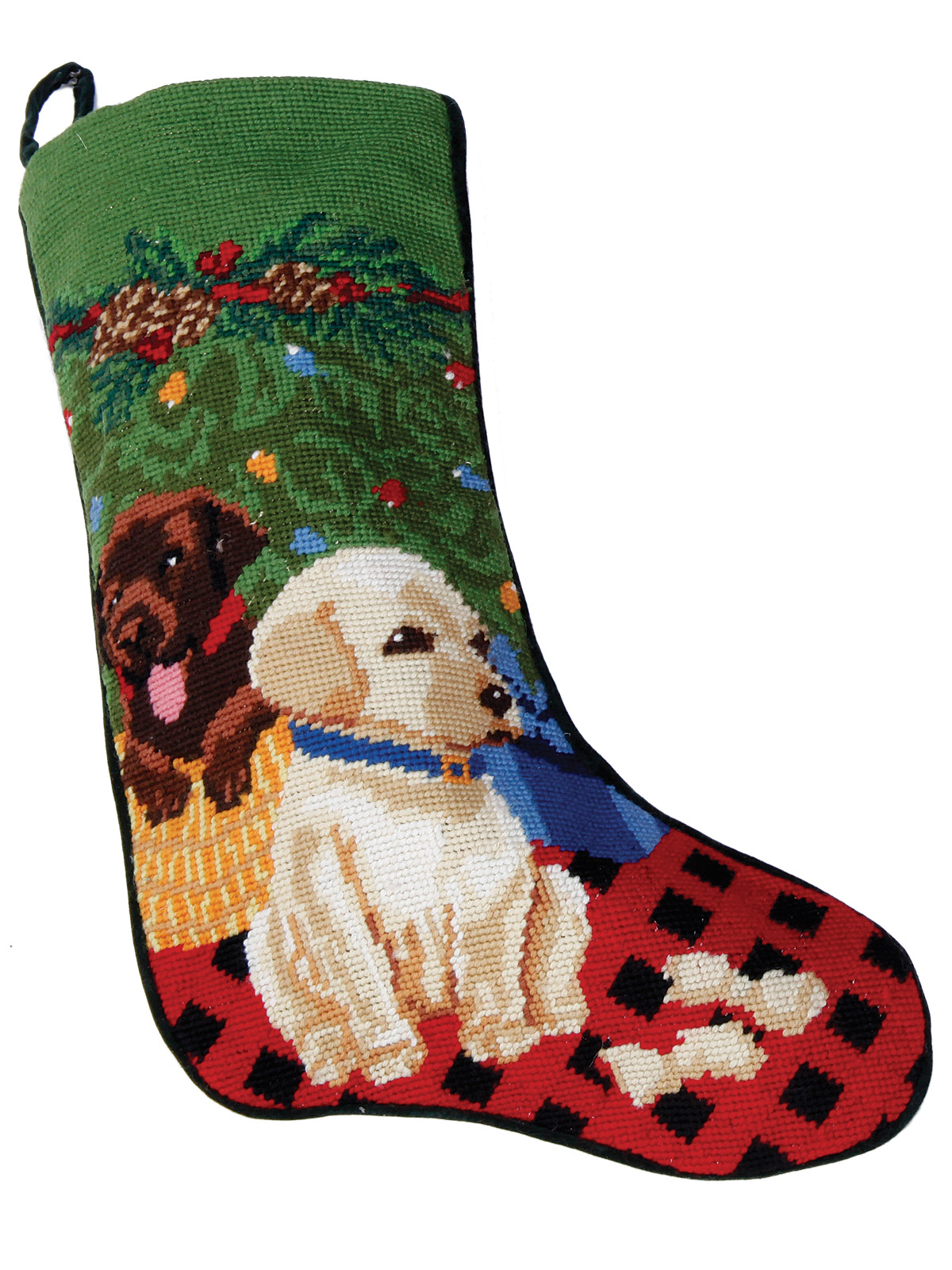 Puppy Christmas Stocking
Decorated with adorable puppies, this charming stocking will make Christmas morning, and every holiday after, feel especially warm and fuzzy. Decorated by hand in exquisite needlepoint, backed in 100% cotton velvet.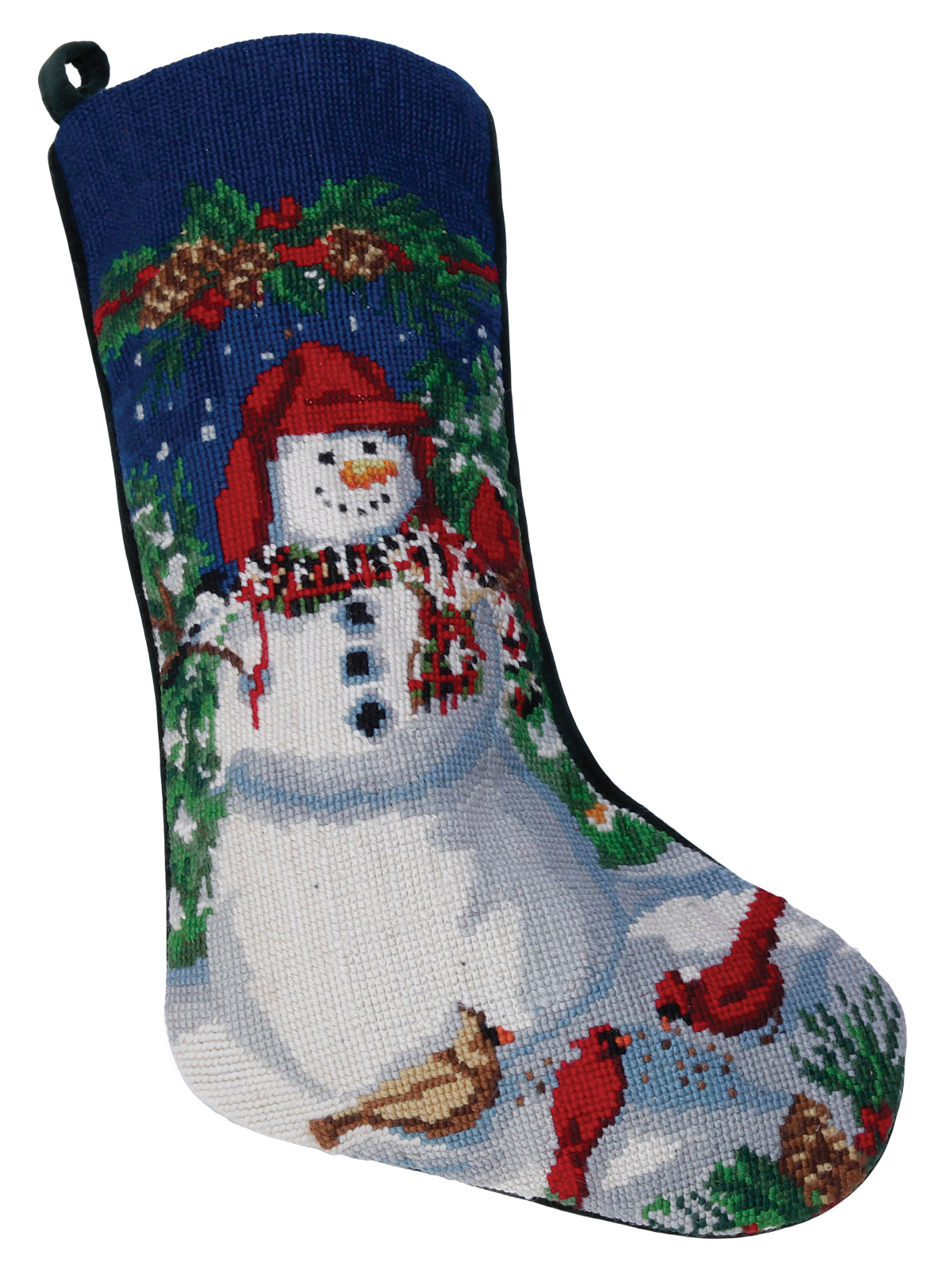 Snowman Christmas Stocking
With a pleasing nod to heritage holiday décor, this cheerful snowman is all about tradition. Surrounded by a verdant holiday wreath and colorful birds in a peaceful winter setting, this stocking embodies the best of the holidays. Designed by hand in exquisite needlepoint and backed in 100% cotton velvet.
Friends Christmas Stocking
Decorated by hand in exquisite needlepoint, this comforting motif features cats and dogs bonding in front of the yuletide fire. This heart-warming stocking positively glows with holiday spirit—and reminds us that this time of year is all about love and togetherness. Backed in 100% cotton velvet.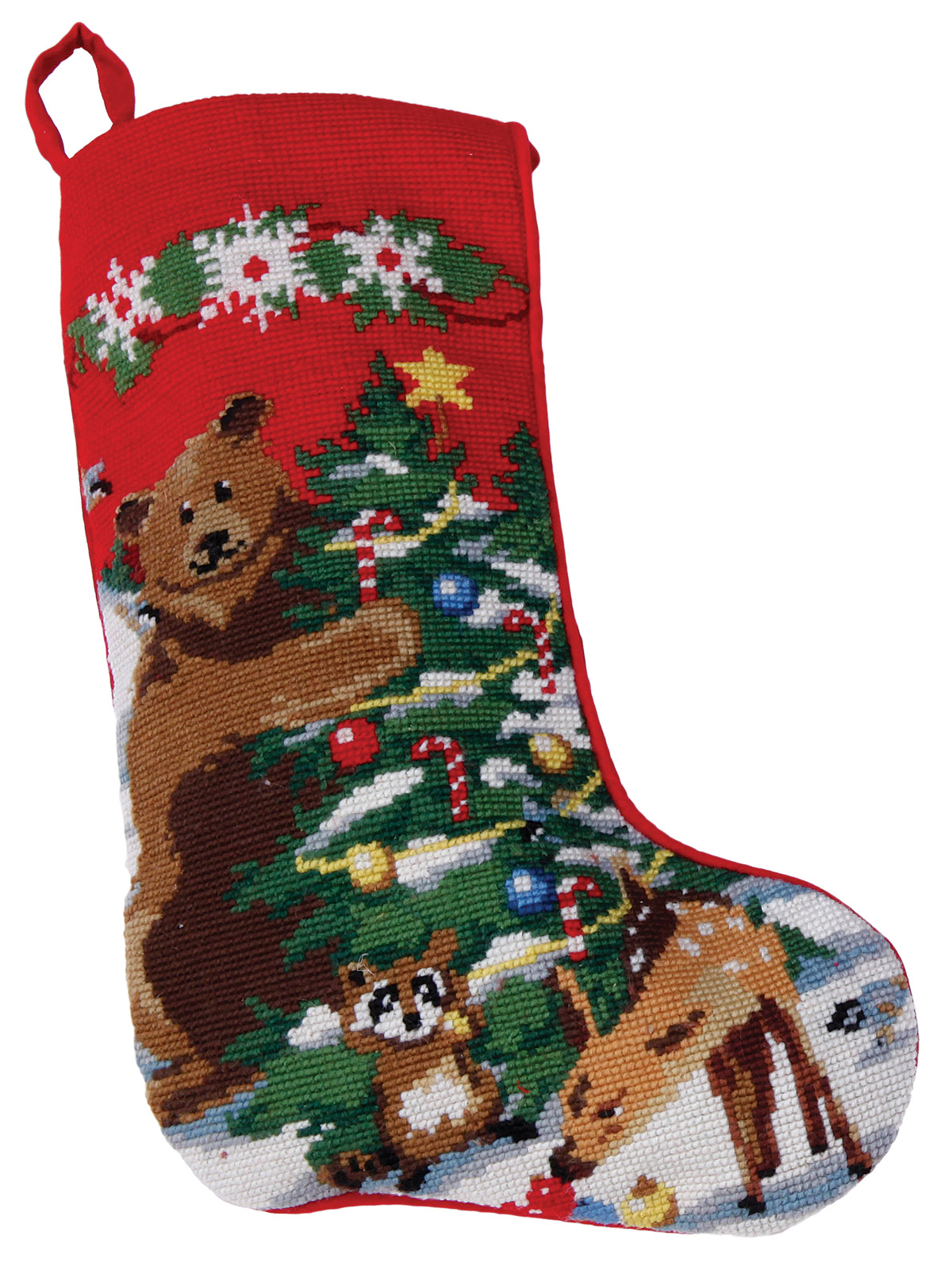 Bear Christmas Stocking
You can't help but smile every time you see nature's fuzziest friends gathered around to decorate the tree and celebrate the season together. Designed by hand in exquisite needlepoint and backed in 100% cotton velvet, you won't find a Christmas stocking like this anywhere else. It's a true holiday original.