There's no other way to say it. The holidays are not going to be like they used to. Whether you're setting a table for two, instead of twenty, or making all the arrangements for a socially distanced gathering, some of our most cherished traditions may have to be set aside for next year. But that doesn't mean you can't have a special holiday at home.
Be it Christmas, Hanukkah or Kwanzaa, Schweitzer Linen has been helping people celebrate the holidays in special ways for over fifty years. And no matter how different this year is, we're going to do whatever we can to ensure you and your loved ones have the best holiday possible. Because right now, there has never been more of a need to add luxury, beauty and joyful inspiration to your table and gathering – even if it's just you and a few loved ones.
Here are some tips for making the holidays special, despite this year's challenges:
Set the Mood to Positive – and Keep It There
Whichever holiday you observe, one thing they have in common is the feast. From juicy Christmas roasts and mouth-watering brisket to brilliantly seasoned jollof rice, serving traditional holiday dishes and our favorite comfort foods is part of what makes them so special. Since many of us won't get to share these meals with everyone we love this year, it's even more important to set your table in a way that makes it feel extraordinary and magical with the finest linen tablecloths, placemats, napkins and more. It may be tempting to skip the formalities because there are fewer people and things aren't the same, but the tone you set will influence the tone of your room. So, by creating a happy, joyous ambience with gorgeous fabrics and hand-embroidered designs, you're not only reminding everyone how special the holidays are, but that it's a time to cherish all we have, even if we're separate from each other.
Keep Everything On the Table
If your holiday celebration is going to be dramatically different, create a table/event that is also dramatically different. In a world where it often feels like we don't have complete control, one thing you do have control over is what happens in your home. This year we're suggesting you take that power and use it to give you and your loved ones the most beautifully crafted and visually stunning holiday possible – with season-themed designs and elegant patterns to instantly elevate the décor. Whatever way you want yours to look and feel, is exactly how you should create it. Match styles and colors throughout your home or mix them up and have some fun. From classic to a more modern interpretation, we have hundreds of exclusive styles to transform your abode into the perfect holiday environment.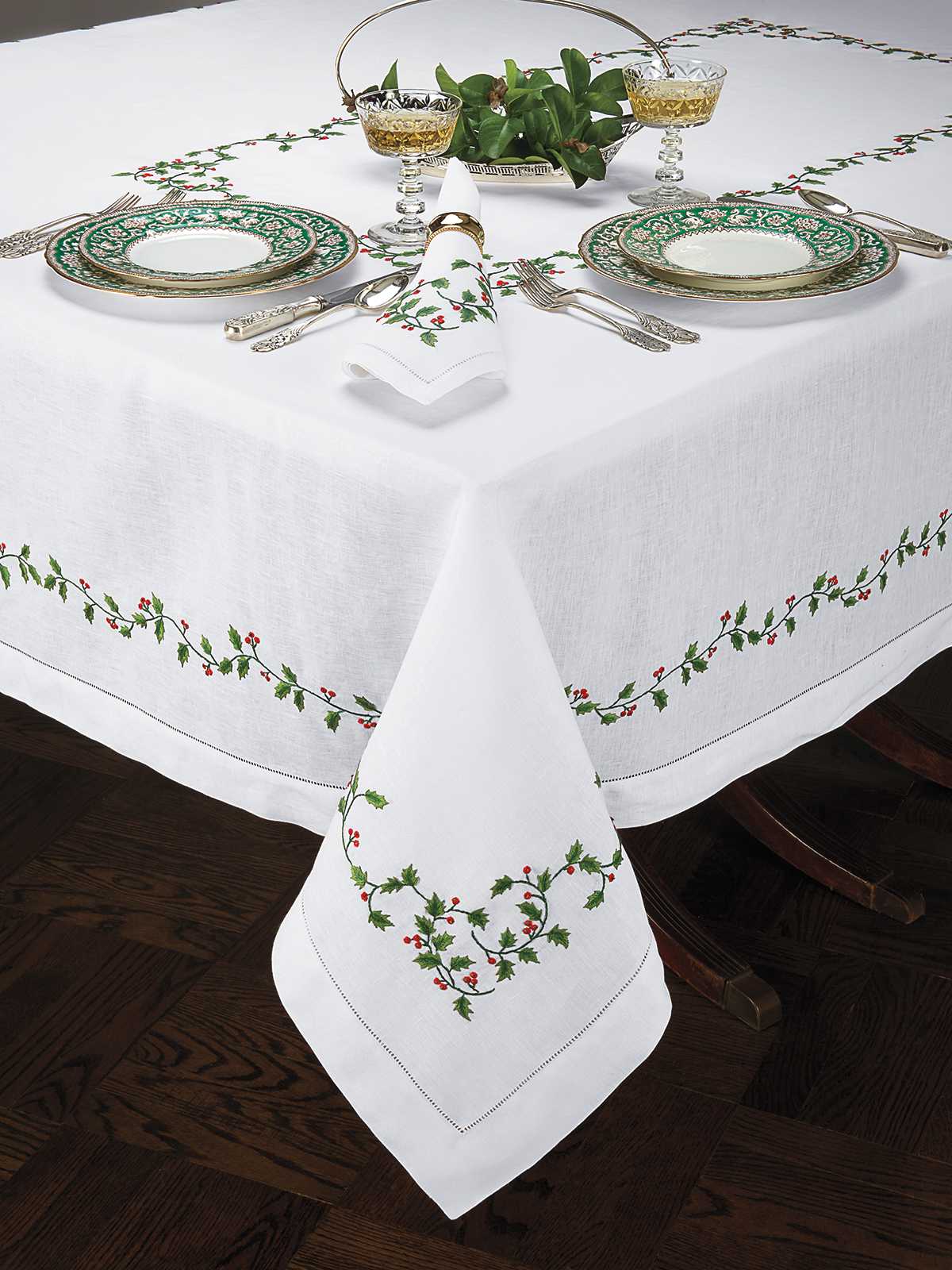 Bright and cheerful holly leaves decorate a beautiful 100% Italian linen tablecloth to don your table for the festivities in tremendous fashion.
Shop Christmas Holly Tablecloth
Create the Ultimate Cocktail Table
Sometimes the smallest touch of style and whimsy can make the biggest difference. One easy way to make your gathering feel more celebratory is to create a special area for drinks. Whether you're serving cabernet or hot cocoa, having cocktail napkins for each beverage and a luxurious tablecloth to host them goes a long way to creating a celebratory environment of joy, warmth and happiness.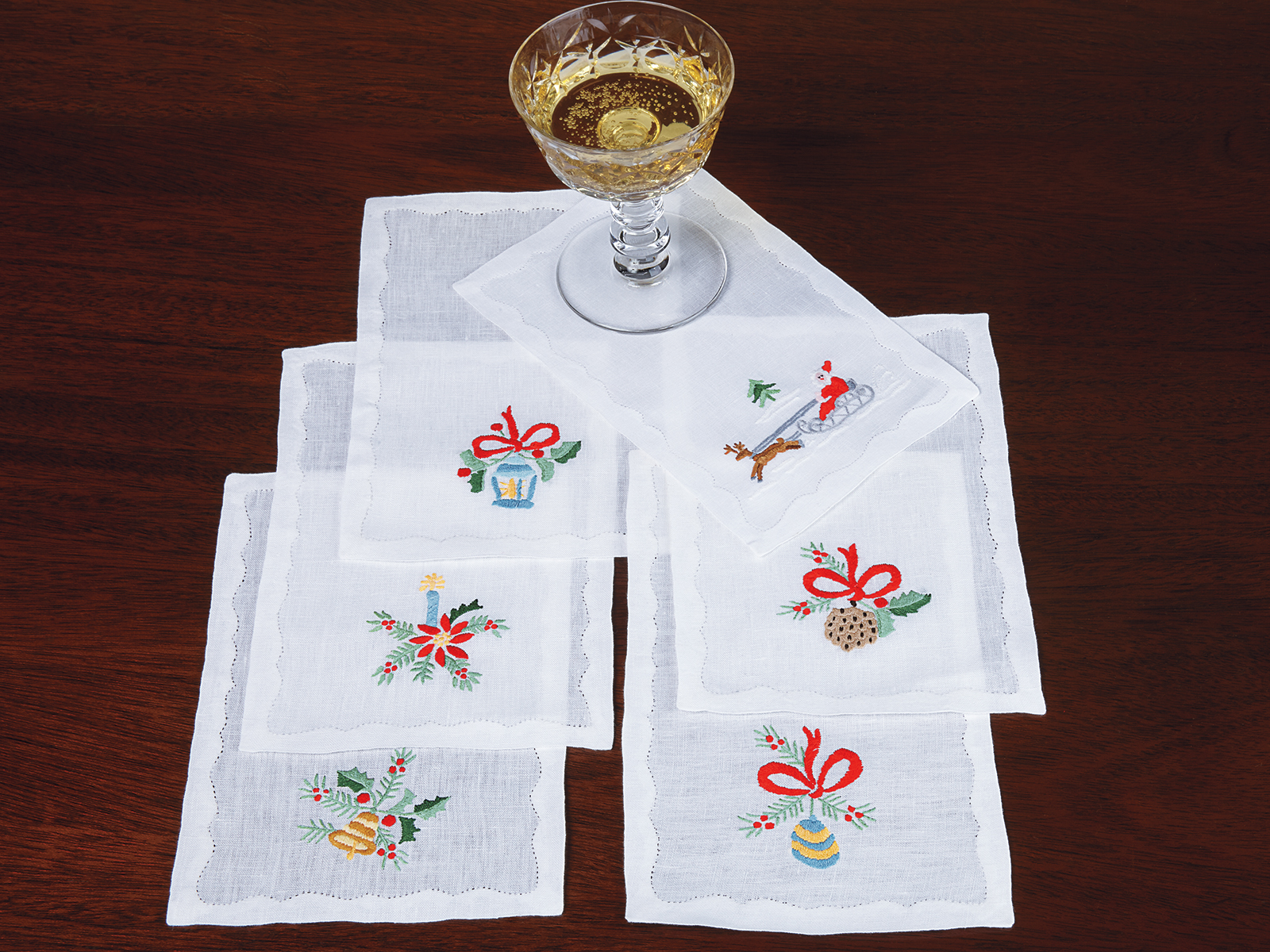 Make these 100% Italian linen cocktail napkins the star of your next holiday soiree. Featuring six different hand-embroidered designs, each one as charming as the next.
Shop Holiday Spirit Cocktail Napkins
Make Beautiful Space
If you're planning a socially distanced holiday gathering, one option is having multiple tables, spaced adequately apart. Match your designs for a uniform and cohesive holiday setting or use the same style and color and add unique centerpieces. You can also do your own thing by creating different table themes throughout your home. It's your holiday, do it your way. Regardless of what style you choose, using gorgeous linens exquisitely crafted by skilled artisans is one of the easiest ways to make sure your table is a huge holiday success.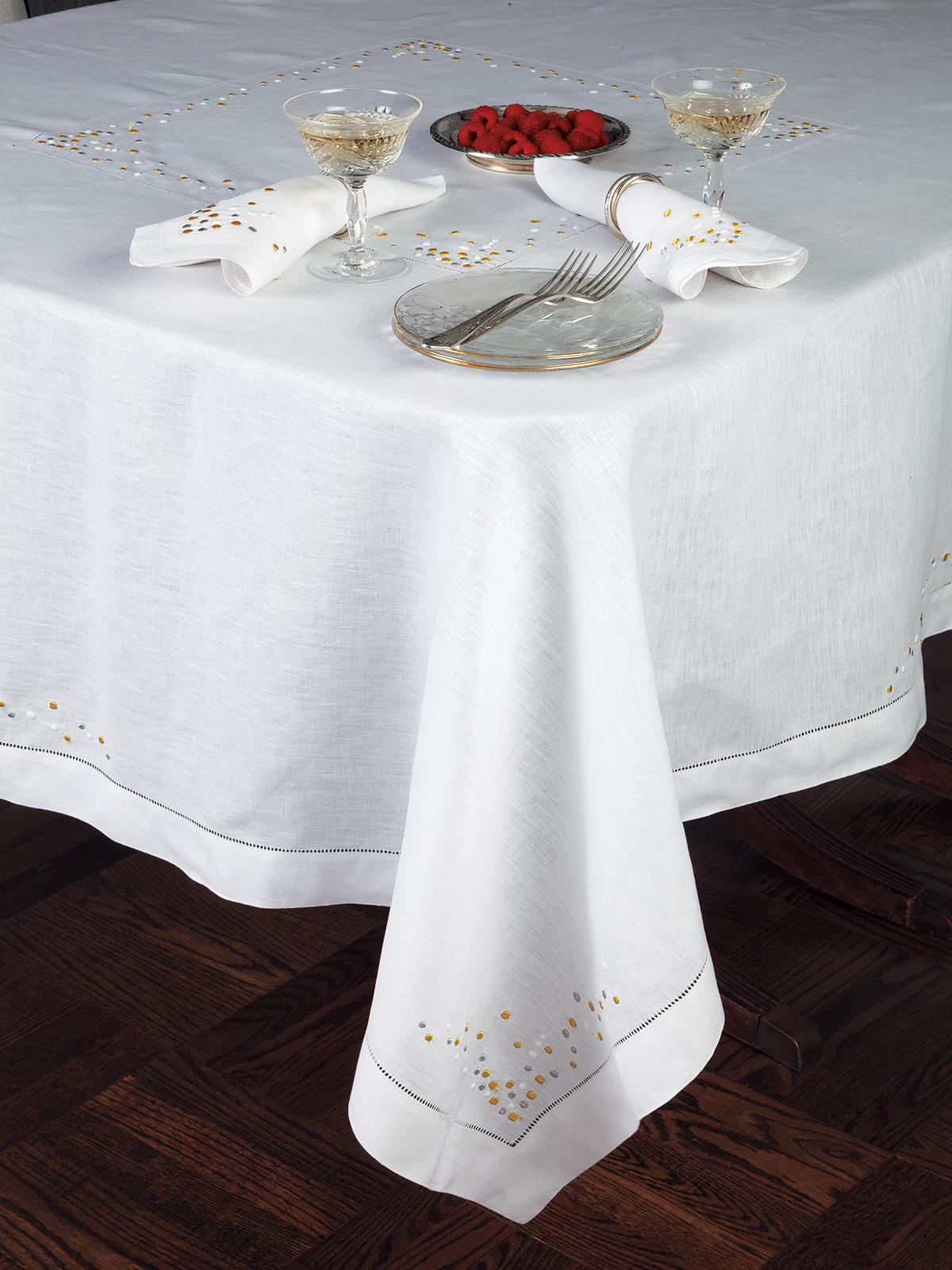 Nothing brings people together for holidays like our fabulously festive, hand-embroidered design featuring cheery tones of Silver, Gold and White.
Shop Gathering Table Setting
It's All in the Details
Adding the world's most premium table settings is a perfect way to start making your holiday look and feel incredible, but there are also some other ways to do this. By upgrading your presentation with fabulous finishing touches like doilies, centerpieces, runners and even bread basket liners, you can easily turn a mediocre holiday table into something magnificent and worthy of your celebration. Alone these little details capture the joy and love of the holidays, creating something beautiful. Combine these with fine linen tablecloths and placemats and you'll have created something absolutely breathtaking.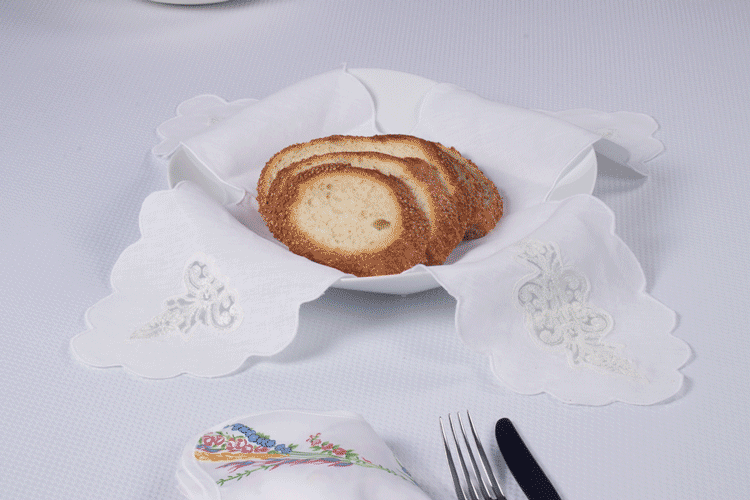 In addition to the exquisitely detailed Alençon lace inserts and luxuriant 100% Italian linen this bread warmer transforms into a stunning sliced baguette or crostini holder.
Shop Rouleaux Breadbasket Liner
Create a New Tradition
Our most time-honored and cherished traditions can come from the strangest beginnings. So, if the current situation is keeping you from adhering to your typical holiday traditions, consider starting a new one. It can be as pampering or as quirky as you want it to be, as long as it's yours. Skip the usual seasonal dishes and do an international table featuring delicious cuisines from all over. Do a shared potluck with socially distanced drop offs so you can share your favorite holiday dishes with friends and neighbors. Or just find something you and your loved ones enjoy and make it the center of your celebration. At the very least, the new tradition you create will make the holidays feel more exciting and fun. And who knows, it could become one of your favorite traditions from now on.
Shop All Table Settings
We can't change the fact that people may have to adapt their holidays this season, but we can promise to be there for you with whatever you need to make it more comfortable, more beautiful and more joyful – like we have for over five decades of holidays.
Stay safe and be well. Eat and drink merrily. And from one family to another, we wish you the warmest and coziest of holidays.