Entertaining can be easy and stress free with some simple tips for setting a basic dinner table to a formal one, and accessorizing with timeless linens and unique flatware.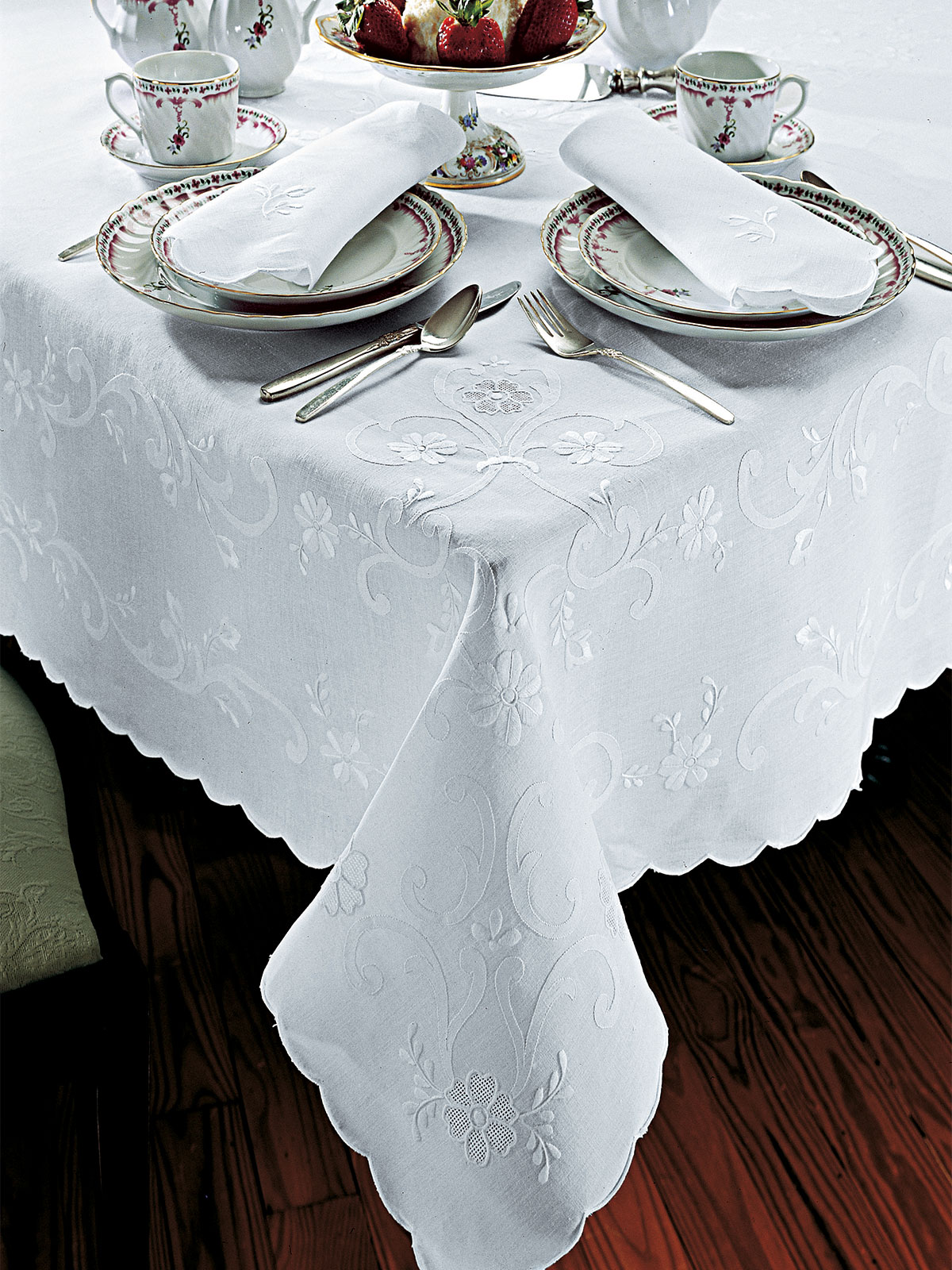 I enjoy having friends and family over for dinner throughout the year. I keep it casual for smaller dinner parties or birthdays and turn it up with a fancy setting during the holidays. What I've learned is that using a tablecloth is good for a larger group, then I don't have to use placemat sets. For groups larger than 6 I start with an elegant tablecloth, it's the base to build upon, and can be a decorative element; but did you know it also insulates a table and lowers the noise level in the room. In a smaller setting placemats sets can be used in place of a tablecloth, no more than 6 people in a group, otherwise there may not be enough elbow room between guests. Here are some quick tips and decorating ideas you can use at your next dinner.
Table Setting Basic
There are three types of table settings that are most commonly used: Basic, Informal and Formal. The formal setting is mostly used at weddings or special event/function so we won't worry too much about the formal setting. The basic setting is the one I use the most when hosting parties at my house and you can see below from the pictures that it's not complicated, the informal setting is for a three course dinner which includes a soup course, salad or 1st course and entrée.
It's good to have these items on hand for any dinner/special event:
Tablecloth or Placemat Sets
Napkins (napkin rings optional)
Charger (again optional)
Dinnerware set
Flatware & Serving Utensils
Glasses
Some simple rules:
Utensils are placed in order of use from the outside in.
Forks go on the left of plate, knives & spoons on the right (with a few exceptions)
Knife blade faces the plate
Napkins go to the left of fork, on a plate or napkin ring. I've been to quite a few restaurants which put the napkin in a glass.
Guests/You eat from the outside in
For a more formal setting you want to have everything geometrically spaced.
Lower edge of utensils should be aligned with the bottom rim of the place
Make sure to fill water and wine glasses so it is ready to be served when guests arrive
Do not place more than 3pieces of the flatware on either side of the plate to avoid clutter
Basic Table Setting: Courses may be placed on the table all at once. This also applies to Informal.
Informal Table Setting
Formal Table Setting: Courses served one at a time.
Charger
In any table setting you can set the mood with a charger, and then start layering with a dinner plate, glasses, silverware and a napkin. Charger plates or service plates are large decorates plates used to dress up dinner tables weddings or special events. They are usually larger than most dinner plates and are not used for food. Chargers are optional, but a great way to add color or texture if you are using a solid color dinner plate.
Accessorize with Placemats & Napkin Rings
For smaller dinner parties try using placemat sets instead of a tablecloth. You'll find a wide variety of placemat sets on the Schweitzer Linen website. They offer different embroideries, simple hemstitch or tiny scallops like the Tre Monte Placemat pictured below. There are many options to consider from linen to bamboo to placemats with all sorts of embellishments. The same applies for napkin rings; you can find them in just about any color, shape and design.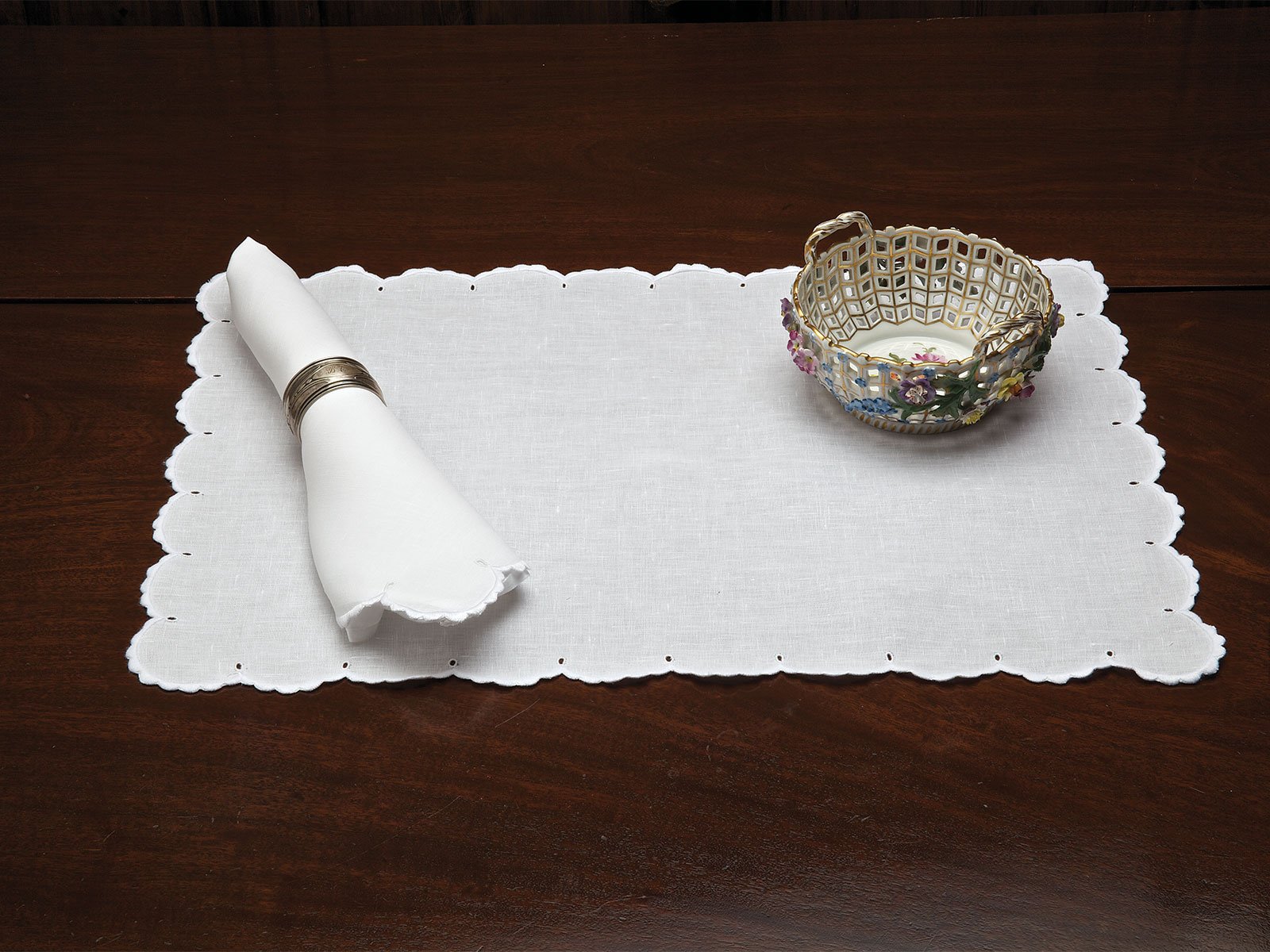 Napkin Rings
Placemats:
Flatware & Serving UtensilsWho knew there were so many choices in picking your flatware and serving utensils? First decide what you need: salad serving set, a carving set, or fish server, then let your personality shine through with a modern design or antique look. There are many style options and colors available for purchase. One of my favorites is the set of serving spoons with asparagus handle. Here's a tip for using serving utensils: Place on the right side of serve ware (most people are right handed), and handles face each other.
Fish Serving Utensils
Salad Serving Set
Steak Carving Set
When to start eating:
Now that you've cooked, made your table, greeted your guests, it's time to sit down and eat. Here's our last tip for you, culinary experts say you do not always have to wait for everyone to begin eating – start eating hot food when it is served. For cold foods or buffets, wait for the host to announce dinner and wait until the head guest starts dishing.
Bon Appétit!