It's hard to believe that we're deep into another season already, but consider me excited. As much fun as summer is, fall offers so many amazing things to experience–from pumpkin flavored pastries and picking crisp, red apples with friends and family to having a good excuse to grab a good book, start a roaring fire and just take it all in.
Unless where you live every night is a perfect 75 degrees, fall is also a time where most of us put the fans and air conditioners away, dust off our trusty winter slippers and start to think about adding thicker sheets and additional layers to warm up our beds.
Here in the Northeast getting your bedroom ready for colder weather is a way of life. For me, it's one of the ways I really know the new season has officially begun. I've found over the years that it's not just a great way to keep warm and give my room a fresh new look, it's rejuvenating for the mind and soul. It is sort of like hitting the refresh button on my everyday routines. Who couldn't use that once in a while? And as much as I like the feeling of slipping into crisp sheets on a hot night, I get just as much joy, if not a little more, when I feel the cozy warmth of my bed on a chilly night.
As a 48 plus year old company who makes the world's finest linen bedding, we pride ourselves in being able to make this transition as easy, and beautiful, as possible. With minimal effort on your end and for an incredible value, you can transform your summer sanctuary into a magical winter retreat in a matter of a few steps. You won't find anywhere else that can do it, with such ease and still offer the kind of quality, comfort and designs that we do.
As the name suggests, we are widely renown for our impeccable linen or cotton bedding, most of which is made in Italy by master weavers. The great thing about linen sheets is that they can work for every season and have a true year round appeal–and when they are made as well as ours, you're going to have them for many, many seasons. But whether it's our legendary linen, cotton sateen, percale or any of the other premium fabrics we use to make our huge selection of sheet sets, you may want to add another layer or two to make sure the fall and winter nights are as comfortable as they can be.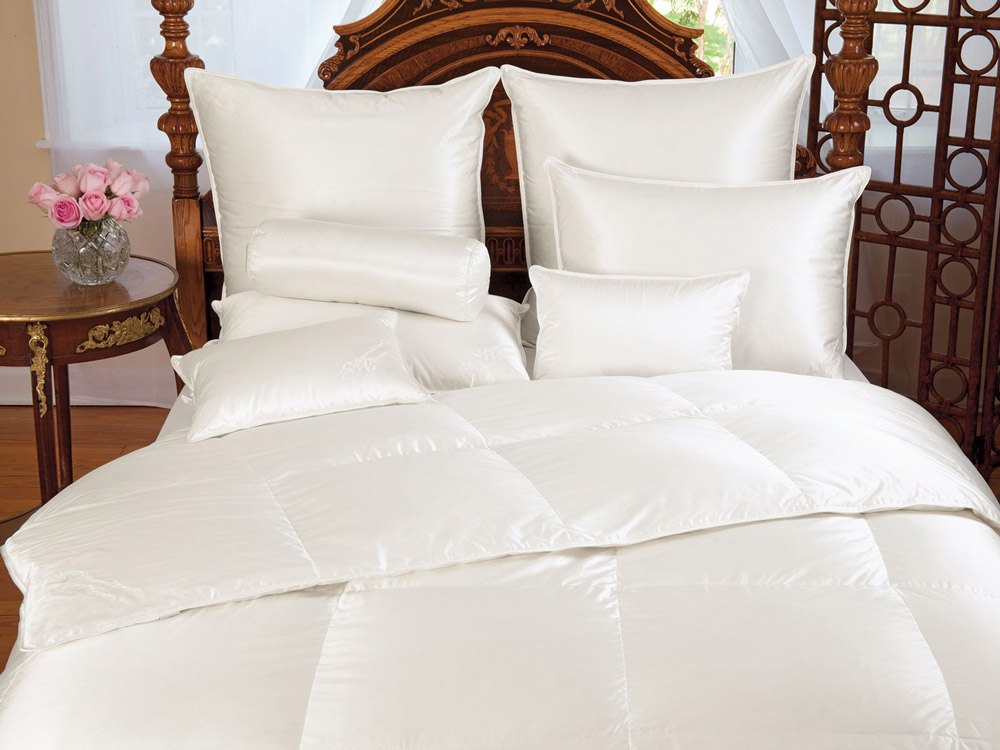 Is there anything more comforting than sliding into a bed with a toasty comforter? The kind of softness and warmth a well crafted comforter will provide you on frigid evenings and mornings is unmatched. Finding the right comforter is one of the most important steps to take when preparing your room for the cold nights. Depending on where you live, choosing the wrong one could leave you in a sweat despite the frosty thermometer outside your window. Too light and Jack Frost will be nipping at your toes, and everything else, all night long, resulting in a miserable sleeping experience.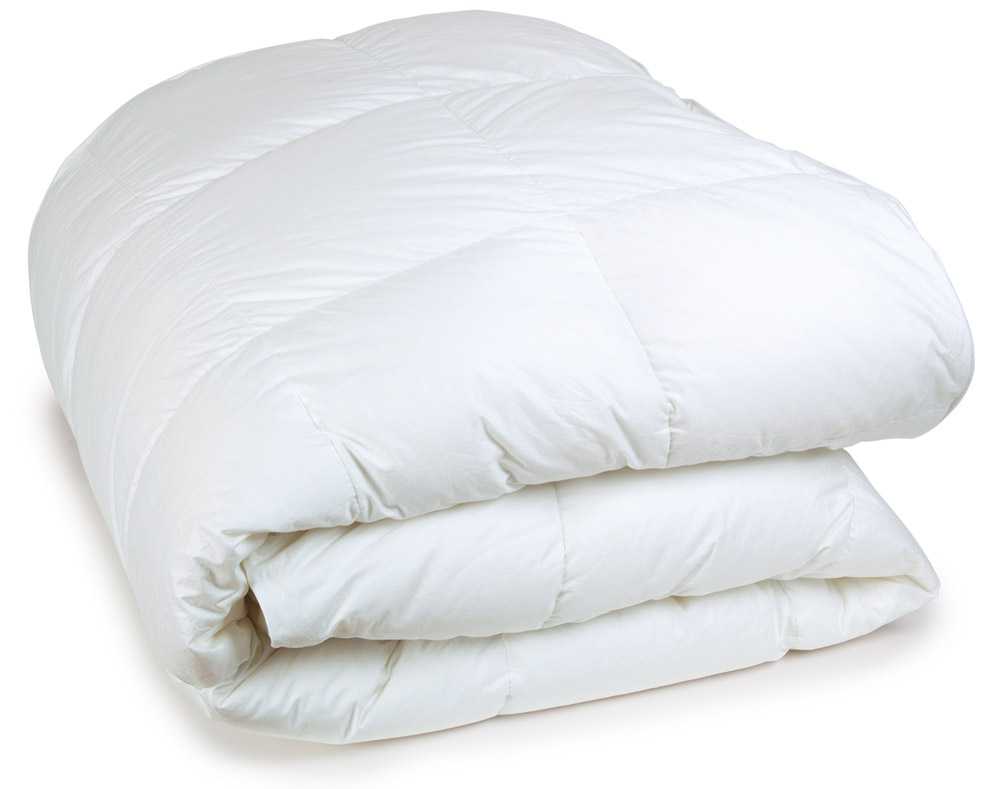 This is why we offer many different comforters, using various fills, each one perfectly crafted and priced for an incredible value. From light to extremely heavy, you can find the perfect balance of weight, warmth and texture to perfect any bedding situation.
We've got superior quality box stitched down comforters like our Heidi Comforters filled with a premium goose down with 950-fill power that traps more warm air for even more comfort.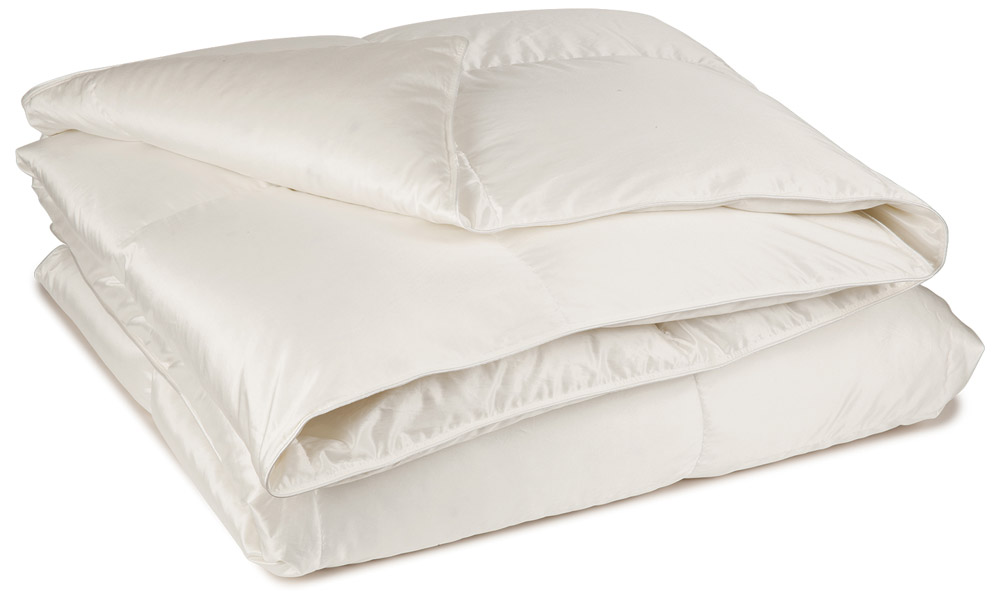 Our Dynasty Down Comforters are filled with 800+ loft hypoallergenic white goose down and covered with ultra-soft silk and cotton. So not only will  you be treating your body and mind to the purest comforts down has to offer, the baffle box construction prevents down from shifting, extending the already long lifespan of this product.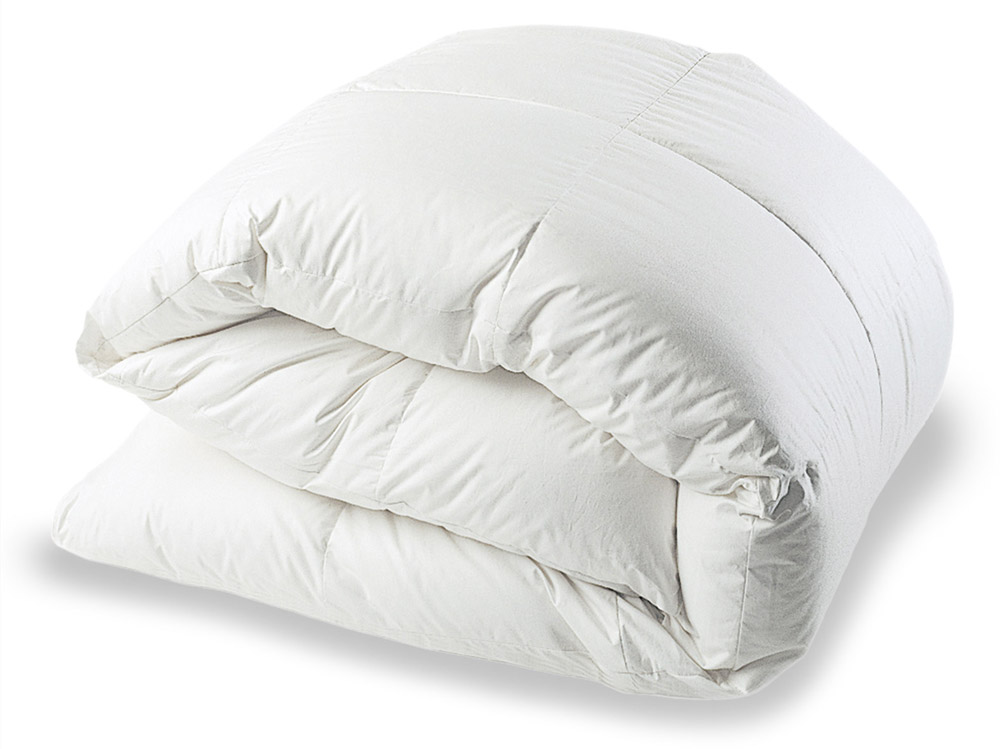 For you or anyone in your family with allergies, our Comferel Filled Comforter is the comforter you've been dreaming about. With a baffled box construction and a fill that is designed to behave just like down, you get all the comfort and warmth of a down comforter without the negative allergic reactions.
If you want to make the finest, most comfortable comforters even better, pair them with one of our elegant Duvet Covers. Featuring exclusive, one-of-a-kind designs, these comforter covers will add dimension, color and energy to your bedroom. From calming to invigorating, we carry a huge selection of patterns and prints to find your perfect tone and leave you feeling refreshed and overjoyed each morning.
Adding a comforter isn't the only way to beat the chill this season. Introducing a blanket to the mix is a wonderful way to keep things warm. Made with nature's coziest materials like merino wool, cashmere and alpaca wool, our blankets and throws are a quintessential addition not just for the warmth and extra comfort they bring to the bedroom but you can keep them handy on your sofa or favorite chair for reading, watching TV or just hanging out with friends. With a variety of designs and colors to choose from, they also add a charming accent to any room in your home.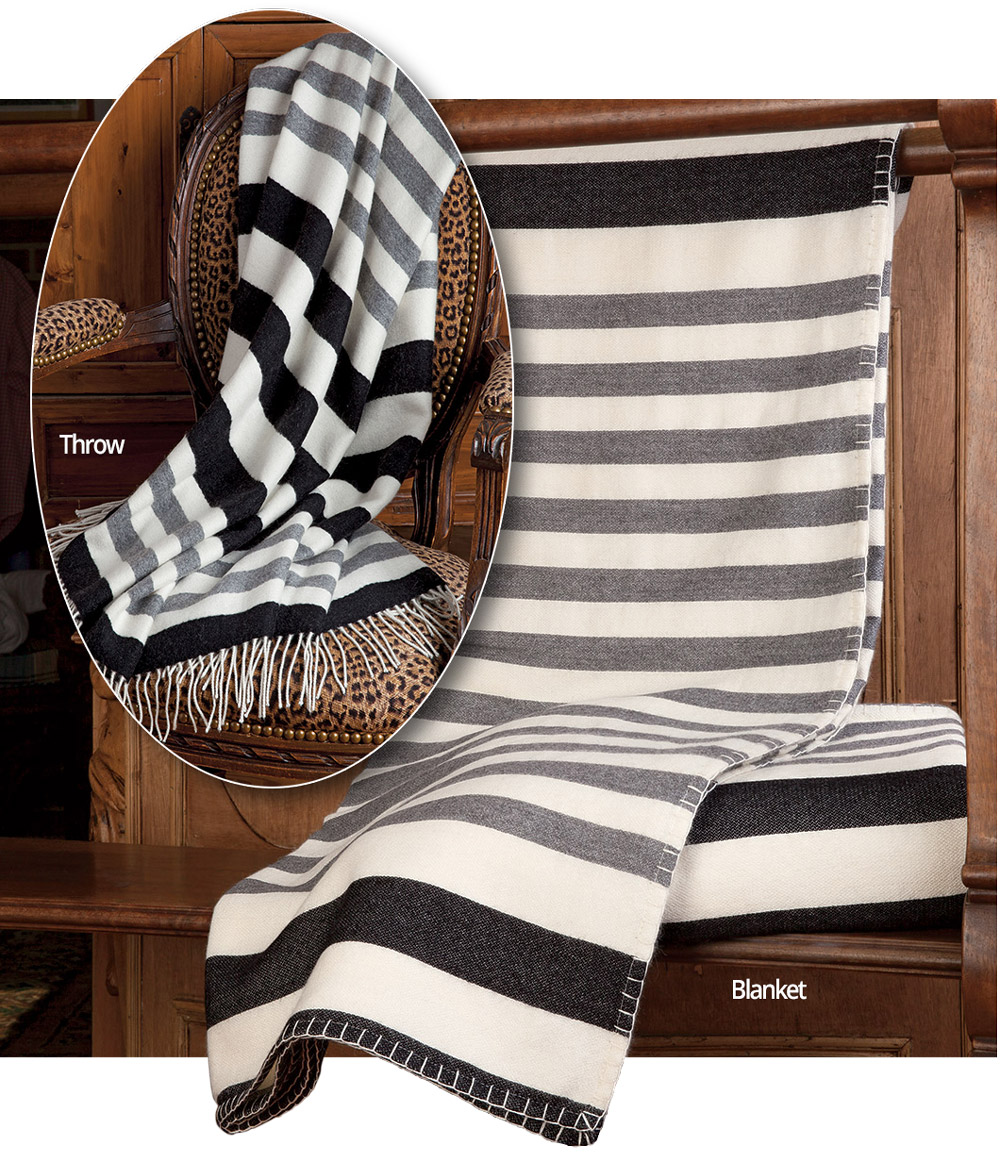 Our alpaca throws and blankets are the definition of luxurious softness. The Windermere Collection features a bold design of black, white and gray stripes to add texture and pop to the decor while the 100% pure alpaca from Peru feels incredible on skin.
Fall deeper in love with the delicious softness of cashmere with our Italian-made Monticello Blanket. Light as a feather, you'll be gently caressed with the buttery soft feel of 100% cashmere and be swept away with the refined plaid pattern.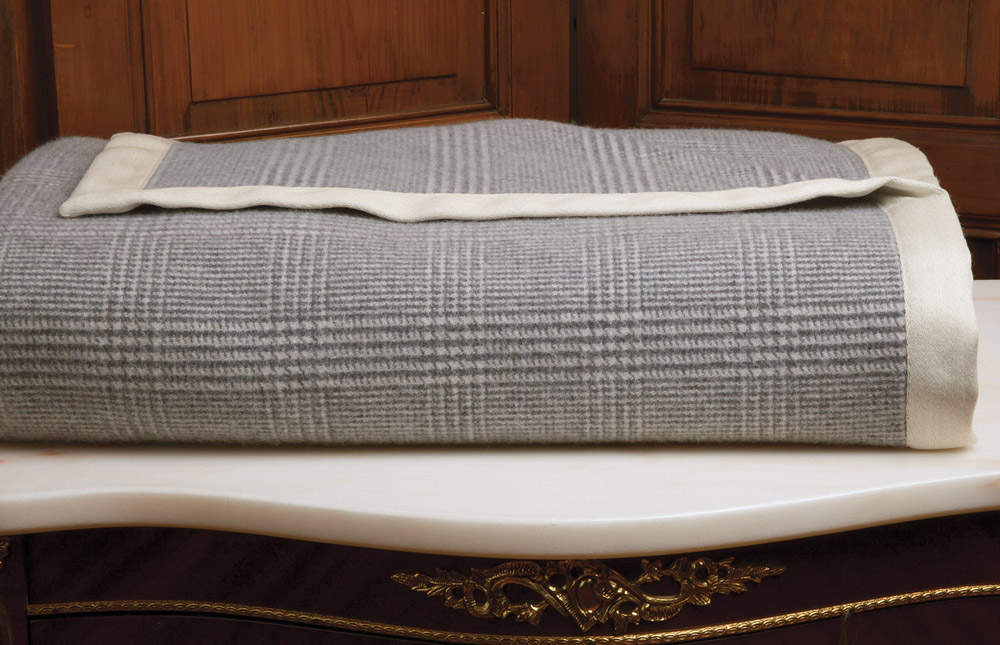 Extremely warm, super fluffy and beautifully colored, our Blandon Merino Wool Blankets go with everything and are a must-have for any cold winter night.
If you prefer a good throw, no one makes them like we do. The perfect grab-and-go or grab-and-stay-in solution to cold nights and drafty houses and apartments. Designed with inspired patterns and prints and crafted with ultra soft and fabulous materials like alpaca wool, cashmere and merino wool. Throws like our calming, yet contemporary Parallelo will make any room more interesting and keep you cozy for many a season. Add a classic touch of hearty texture and 100% cashmere with our Italian-made Fontenelle. Or take a walk on the wild side with the animalistic print of our Primal throw, crafted with soft wool merino.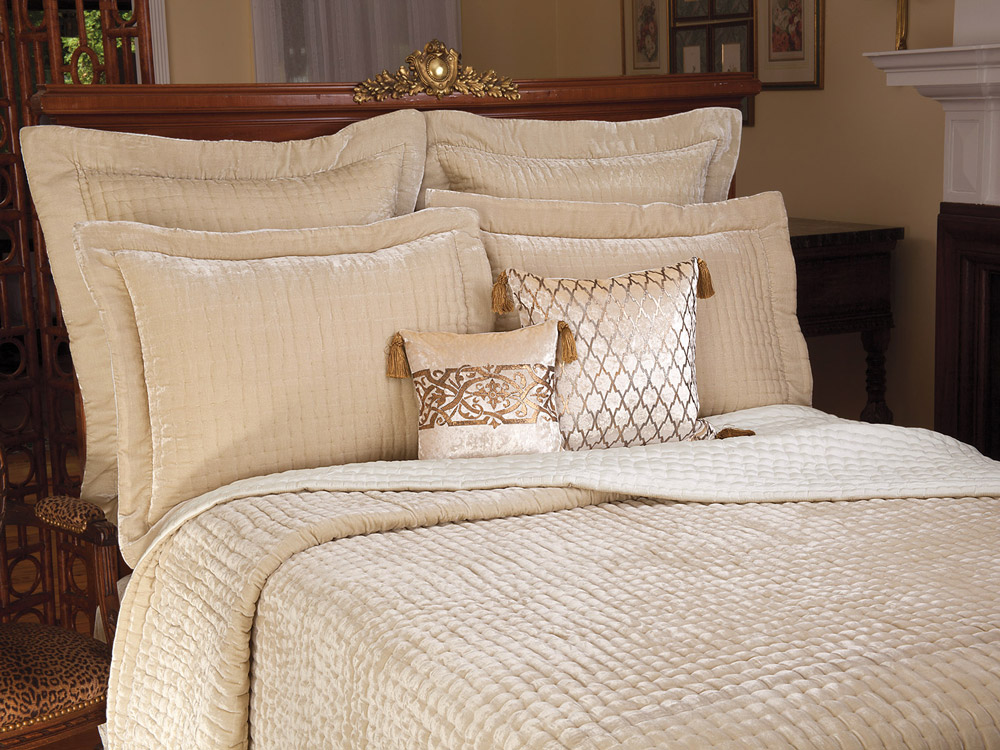 Looking for a true classic? Reminiscent of heritage quality and warmth that's been passed down for generations our Soho Loft and Snow White quilts are simply glamorous and utterly luxurious. Both are made with silk and velvet for an exceptional feel and textured with ornate precision and masterful craftsmanship. You won't find anything like these anywhere else.
It's not all about the warmth. Getting your room ready for colder nights and mornings is also about setting the right tone. Picking the right color palette to set the mood for the season can keep you and your room in the right state of being. Soft Ivories, Micas and deeply rich tones can help create an environment worthy of brightening and cheering up the dullest of winters. Not to mention the shimmering brilliance of one of our damask collections.These lustrous and majestic designs will transform the most tired winter setting into a warm and welcoming winter palace.
With so many different fabrics and products, in hundreds and hundreds of original designs, we have whatever you need to create the ideal setting for the changing seasons. In addition to waking up warm and snug, you'll start and end each day in a more positive way.