One of my passions as a fashion designer is to design the softest scarves and throws, robes and cardigans. What is the softest yarn that you have ever felt? I will bet it is cashmere. Cashmere, the softest of natural warm fibers, has always been synonymous with luxury. Have you wondered why cashmere is so soft and why it's such a luxury item? The best answers are that it comes from the fine undercoat of the cashmere goat (Capra Hircus Laniger) and takes 1 year for 1 single goat to produce enough cashmere for 1 single scarf!
Cashmere (undercoat) fibers, (actually "hair") are longer, smoother and straighter than sheep's wool, and are combed from under the goat's chin and spun into a filament yarn or thread, ready to be woven or knitted. It is fine in texture, strong, light, and soft. Cashmere garments provide excellent insulation, approximately 3 times that of regular sheep wool.
These cashmere goats are found in Inner Mongolia, China, Iran, Iraq, Turkey and Afghanistan. The earliest documented usage dates back to the 14th century, however it has been manufactured for thousands of years. Cashmere is also known as Pashm, which is Persian for "wool". The founder of the cashmere wool industry is said to have been a 15th century ruler of Kashmir, Zain-ul-Abidin, however other sources credit the14th-century Mr. Ali Hamdani , who came to Kashmir along with 700 craftsmen from different parts of Persia. He visited Ladakh, homeland of cashmere goats which produced the softest wool he had ever seen. He made socks out of this extraordinary yarn and gifted them to sultan Kutabdin, the king of Kashmir. They were so well received that Hamdani's suggestion of founding a shawl weaving industry was launched. The United Nations specialized agency UNESCO reported in 2014 that Ali Hamadani was one of the principal historical figures who shaped the culture of Kashmir. The skills and knowledge that he brought to Kashmir gave rise to an entire industry.
Late in the 18th Century, wealthy British and French women bought these soft and beautiful cashmere shawls exported from Kashmir to India. The shawl's arrival created an immediate sensation which led to the manufacturing the product in France, no small feat! (Goats and technology were imported at great effort, with farmers and transporters cooperation.) These shawls were woven in traditional Indian paisley jacquard patterns. Famous shawls are the jamavar with the famous paisley pattern. French Empress Josephine reportedly had hundreds of cashmere shawls!
Schweitzer Linen offers Serendipity, a stunning 100% pure cashmere shawl inspired by those famous paisley patterns. Doubling the appeal, it reverses to a smaller paisley for a whole other beautiful look. Imported, with fringed ends, predominantly in Black and Gray or Brown and Blue as shown below.
By the 19th Century Scotland and Australia entered the cashmere producing industry. By the 20th century, cashmere was featured only in sweaters, especially during the knitwear revolution in the Twenties, in the Fifties twinset, and in the Seventies. It's surprising that this exquisitely soft yarn only became a luxury staple in the 1980's! Prior to this, sheep's wool was mainly used.
The softest cashmere yarn is offered by Schweitzer Linen, in their Cashmere and Lace Throw, the ultimate in luxury. These exquisite throws are made with the lightest colored yarns, which are then dyed into light colors to maintain the softest feeling of the yarn. They are then adorned with a luxurious overlay of lace.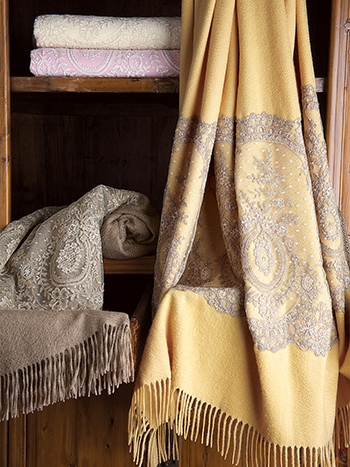 Contessa (shown left) and Diva (shown right), luxurious pure cashmeres robes by Schweitzer Linen, are made from this exquisitely soft yarn.
Modern styling married to the ultimate in luxury in this softest of cashmere yarns is available in softly flowing poncho Evita with its fox fur collar.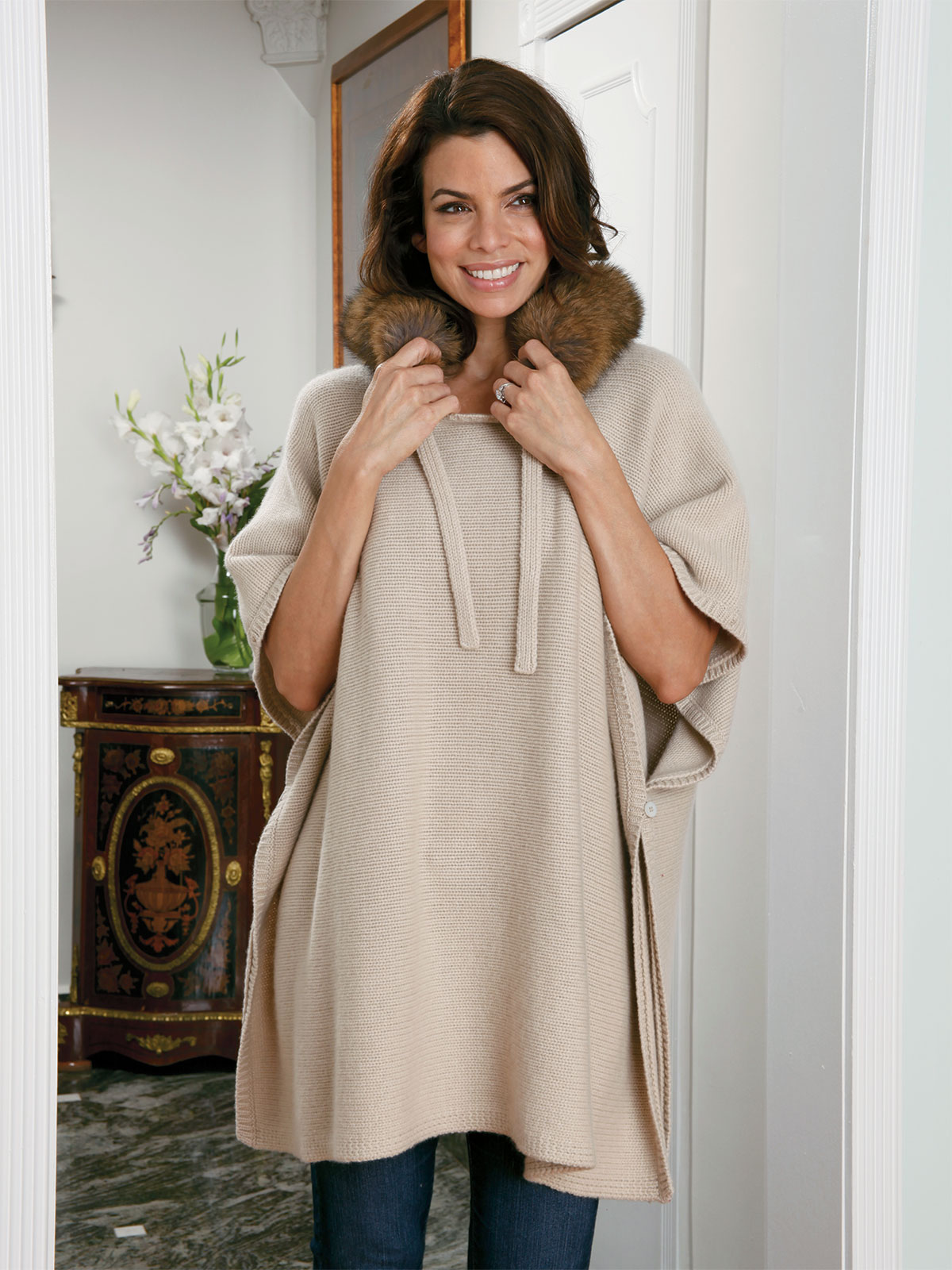 This great fashion find makes everything you love about pure cashmere. Au Courant (below) is the poshest, plushiest shawl you could ever want.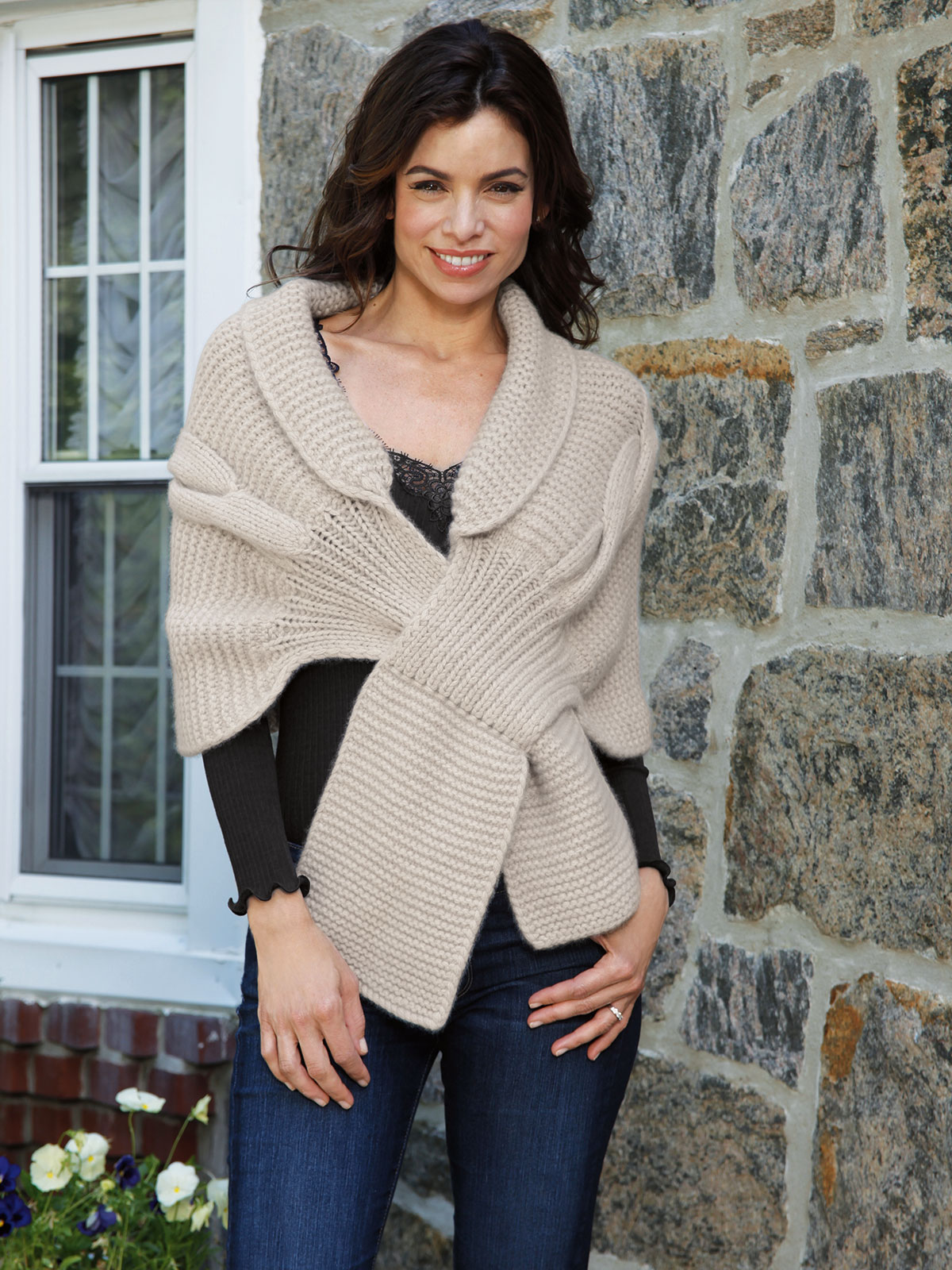 Huggably warm and cuddly soft, our Colette (below) pure cashmere cable knit poncho has the cozy, snug comfort you want without sacrificing a bit of chic.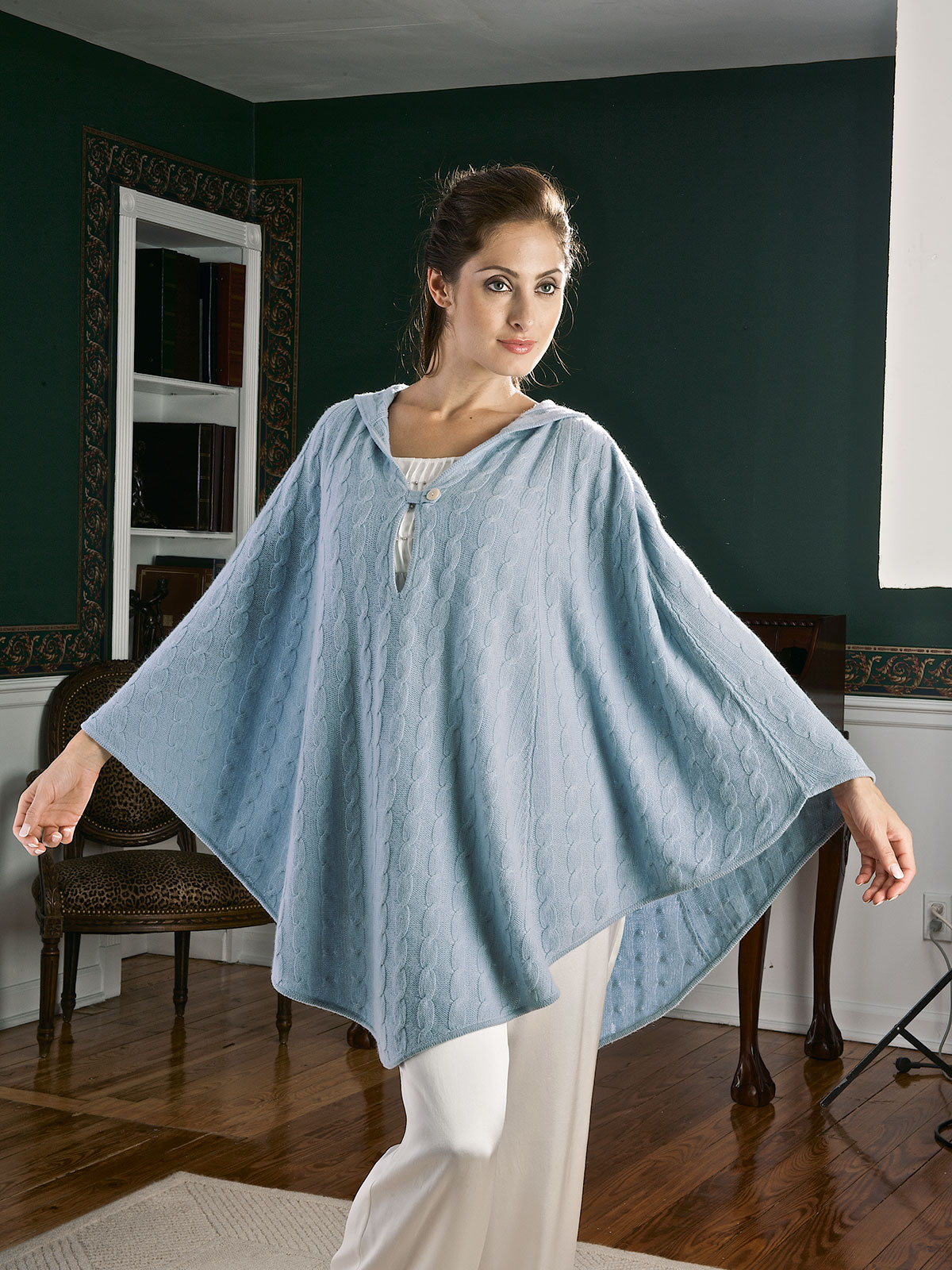 And one of our new fall cashmere imports is Rose (below). Gorgeous and gently scalloped panel of lace, complete with eyelash fringe, is expertly sewn near the tasseled ends of this 100% Pink cashmere shawl. So light, bright, and easy to wear.
Revel in luxurious comfort. Fall is coming! Treat yourself and the ones you love with a gift of this most beautiful of cashmere items. Wrap yourself in cashmere at home or outside, in the softest and warmest fiber imaginable.
Jacqueline Paredi
Fashion Designer
NYC