Why Everyone Should Own One
Robes have been around for hundreds of years. And though the choice of style, features and fabrics has changed, the reason to own one remains the same—to surround yourself in luxurious coziness and warmth whenever you need it. Yet despite the many positive benefits of owning a bathrobe, there are still those who aren't sure they want one, or if they'll even use it.
But we're sure. After decades of making the highest quality luxury robes for satisfied customers worldwide, we know once you start experiencing its calming, comforting and restorative benefits you'll wonder how you lived this long without one.
And since we hate to see people miss out on the simple joys having a bathrobe can bring to your home and everyday life, we're sharing some key reasons you should get one right now—whether it's your very first robe or time to replace your current one.
Convenient Comforts
The feeling of a warm towel on freshly rinsed skin after a shower or bath can be an almost ritually pleasurable experience. Use a bathrobe and that experience becomes even more pleasurable—and twice as effective. Chilly, uncomfortable moments right out of shower are instantly replaced with the warmest, most welcoming experiences. And because robes feature more coverage and less dry time than towels, you can simply throw one on and go about your daily activities in complete comfort.
Better Beach Days
The impressive comfort of our luxury robes goes way beyond the bathroom. Next time you're heading to the beach, pool or local swimming hole, bring one along and enjoy the warm embrace of the finest super-absorbent cotton terry. Not only does it make post swimming more comfortable, with more cozy coverage robes also help eliminate factors that cause additional discomfort like wind and sun.
Warmer Embraces
If it's an added layer of warmth you're after, a robe can offer some wonderfully warming benefits—and not just after a shower. Being wrapped in one of our beautifully crafted luxury robes is like giving yourself the softest, warmest hug every day—for a safe and snug feeling that lasts as long as you want it to. Wear it alone on chilly nights or mornings or add it as an extra layer over your luxury nightwear.
Year-Round Versatility
The robe doesn't have an off season or a fashion agenda. It's simply here to provide exceptional comfort and enjoyment whenever you please. Some people only use theirs after showers or as an added layer of warmth on chilly nights, but some put it on first thing in the morning and leave it on until it's time for bed. And there's nothing wrong with that. Day, night, winter, fall, it's always a good time for a luxury robe. Plus, with different fabrics, weights and styles to customize your experience, you can find a robe to meet all your year-round needs—including a style you're most comfortable with.
The Ultimate Loungewear
Home is the one place you should always feel comfortable. That's why it's important to fill it with feel-good moments you can easily experience throughout each day. Our luxury robes are an uncomplicated way to keep cozy in everything you do—whether that's cooking, doing the laundry or simply lounging the day away. All you have to do is put one on.
Pamper the Mind
Often when the body is at its most comfortable, the mind follows. By surrounding yourself with the luxury our robes provide, you're not just preparing your body to feel more relaxed and at peace, you're sending the same message to the brain. As soft textures and warm fabrics touch skin, the body calms, the mind calms, and the sense of peace that follows is extreme bliss. Because when we're more comfortable, we're far more likely to feel more restful, more peaceful and more joyful. In this way, the simple act of putting on a robe can help put you in a more positive state of mind. And a positive state of mind is a very powerful thing.
Style
Whether your robe is on display for family or guests, or it will never be seen by another person, style still matters. That's why we've created a great selection of robes in different designs and fabrics. From classic thick terry robes to thinner, more streamlined contemporary pieces, you'll find a robe that is just as attractive as it is cozy.
Check out some of the latest and greatest robes from Schweitzer Linen:
NEW! Rockport Bath Robe
The deliciously cozy touch of this 100% extra-long staple cotton bath robe will give you the warmest of welcomes.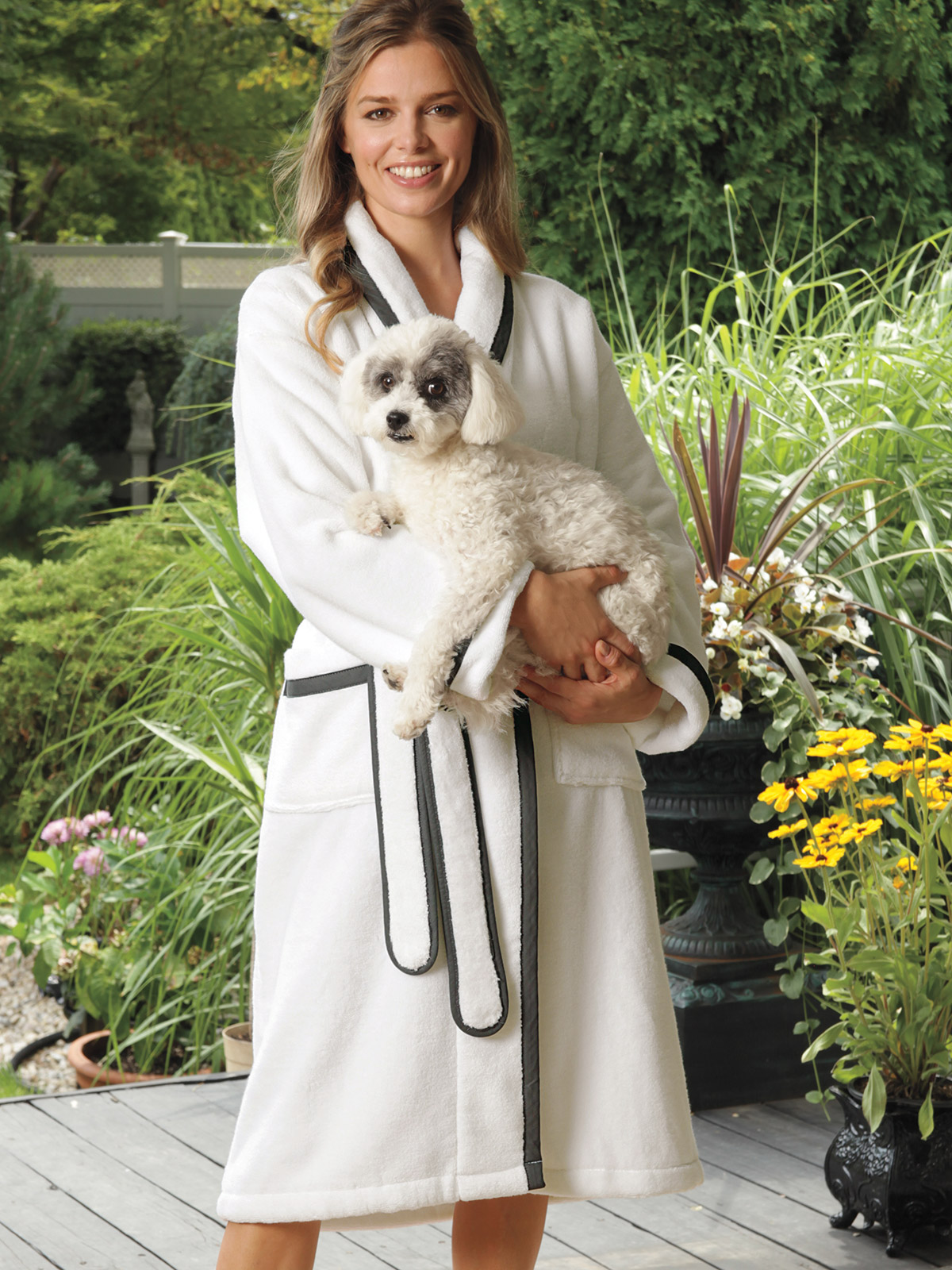 NEW! Montauk Bath Robe
This captivating kimono-style bath robe is crafted with 100% extra-long staple cotton in a sleek Gray or Beige design that is anything but routine.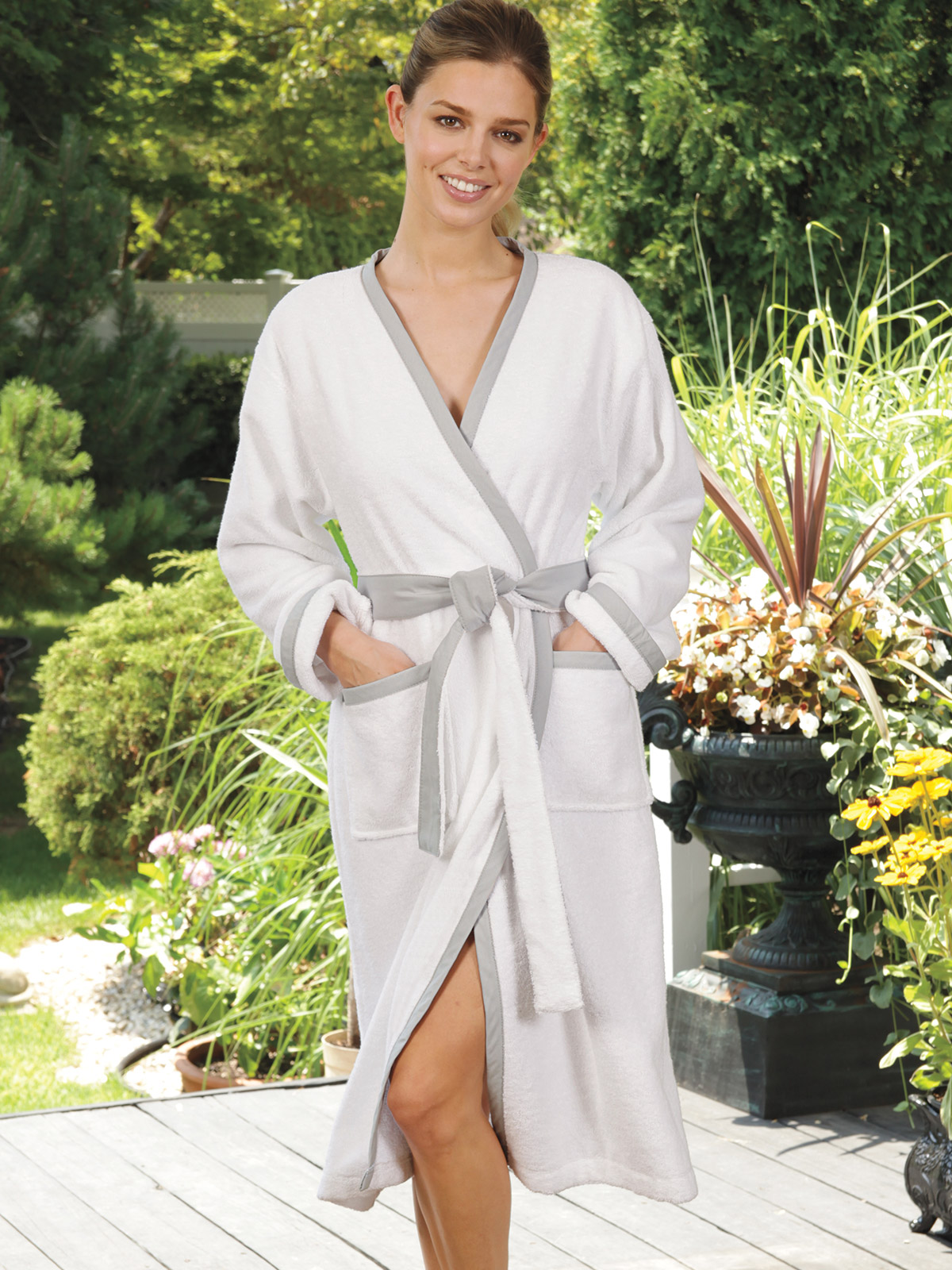 Fresca
Fresh, light, 100% cotton pique robes have that clean, crisp European spa quality.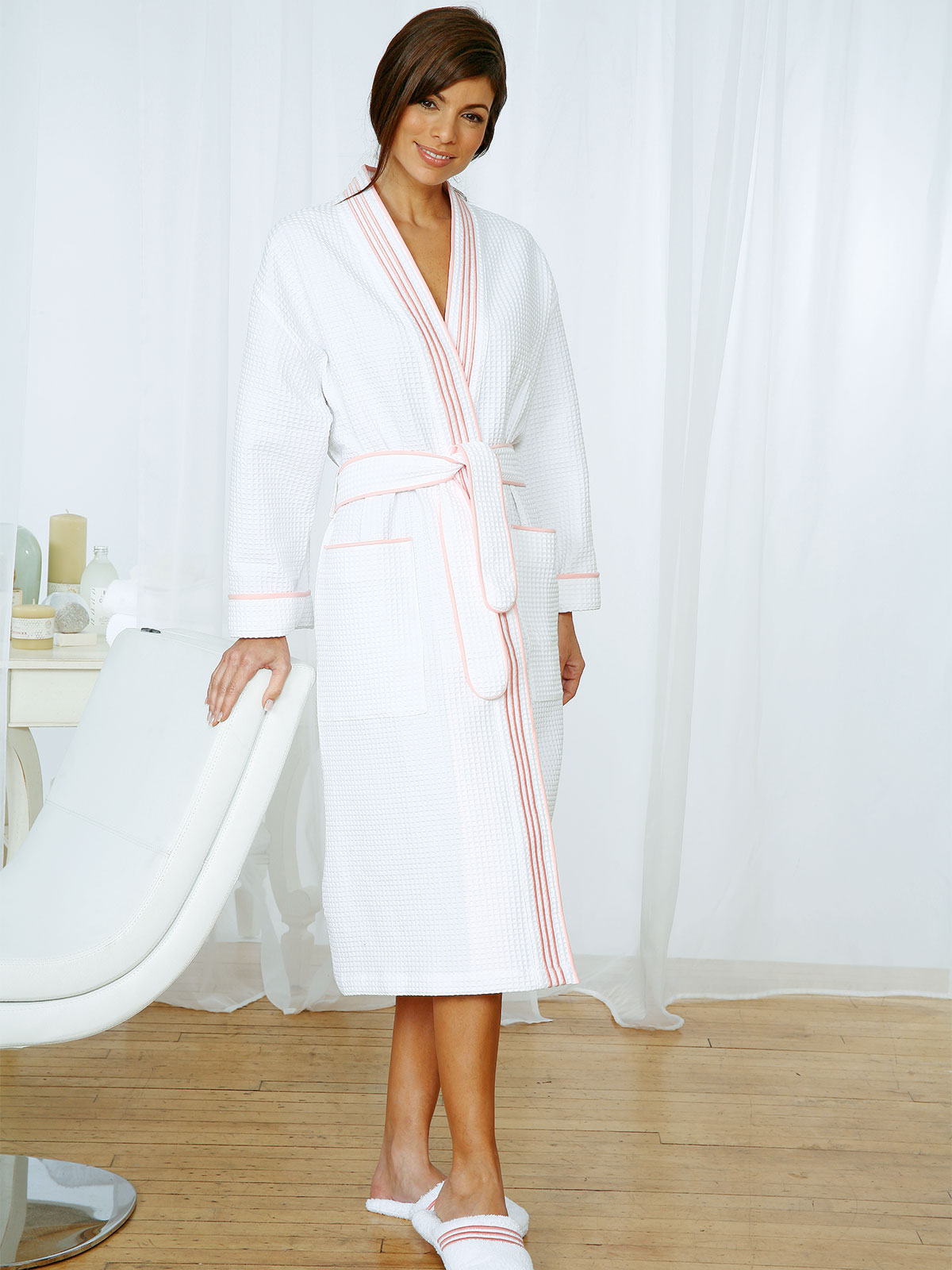 Tiffani Bath Robes
Wrap yourself in a soft cloud of luxurious White 100% cotton terry. Also available in matching towels.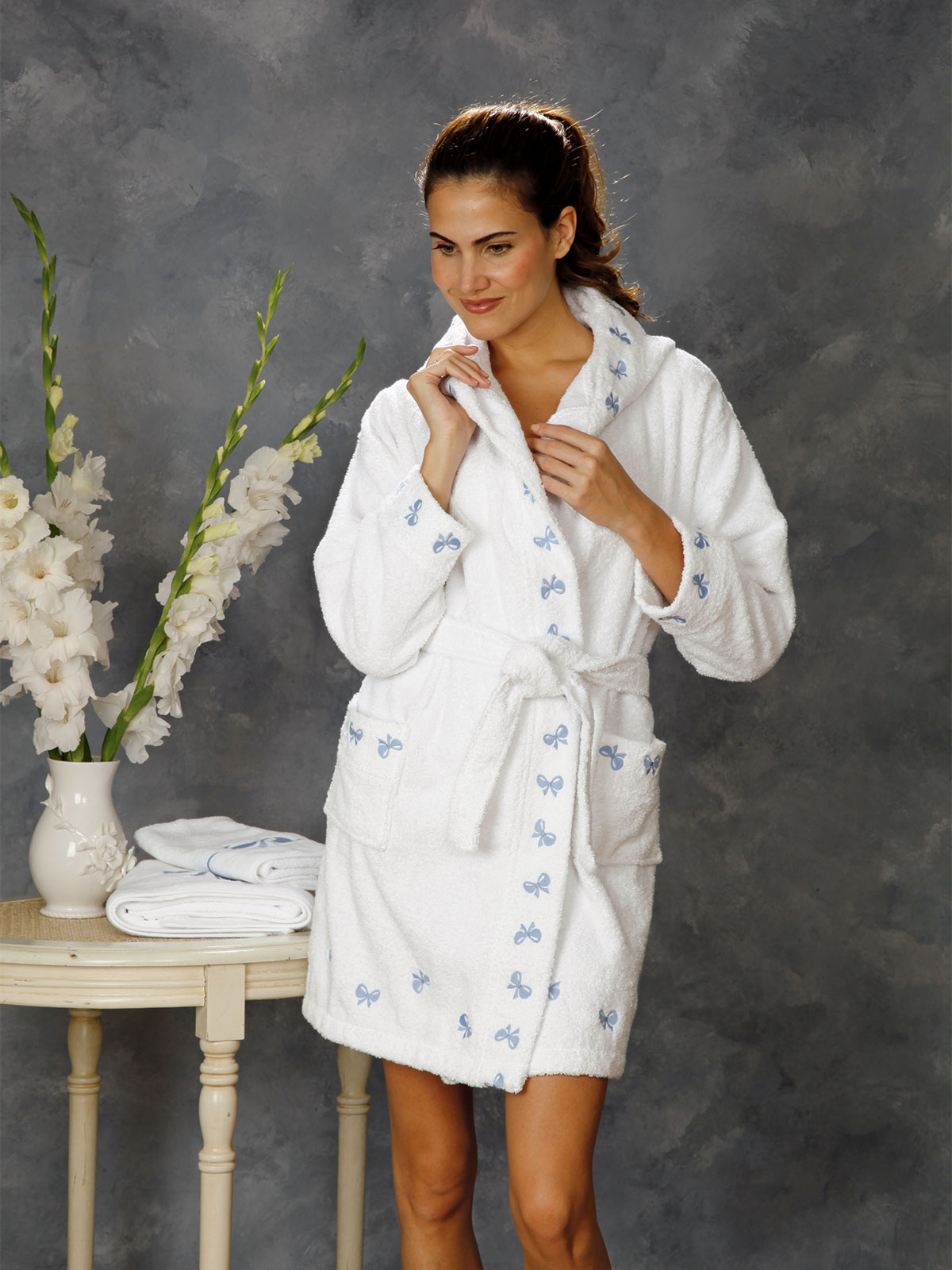 Ophelia Hooded Bath Robe
Step out of the shower and into this wonderful, texturally rich, waffle-weave, hooded bath robe. 100% waffle terry.