Being a fashion and interiors designer, I've always been curious about fabrics and yarns because they are the starting point of all things textile. I learned about cashmere and wool, but the popularity of the exquisite Alpaca yarn has made me curious to know more about this incredibly soft fiber.
As it turns out, the small and gentle Alpaca is similar to the Vicuña. They have been farm raised and domesticated for their super soft yet resilient coat, which is shorn annually. This fur is the second strongest animal fiber- the strongest being Mohair. Because this fur is so soft and precious it's prized by artisans and craftspeople. The recent popularity of Alpaca yarn has spurred the development of local American Alpaca farms, but the output of this soft wool is very low which is one reason it's so precious.
These beautiful animals are related to the Vicuña, the ruminants (herbivore grazers) that live high in the South American Andes. Alpaca were domesticated almost 6,000 years ago as decedents of both the Guanaco and Vicuña. There are two breeds of Alpaca called the Huacaya and the Suri. The Suri Alpaca's wool-like fur has very long fibers, which is one reason the Suri's wool is more desirable than that of the crimpy fleeced Huacaya. The extraordinarily long length of the Alpaca fiber creates a super soft hand. Insulation and warmth is enhanced by the fact that it is also hollow.
Alpaca are social, gentle animals with limpid eyes and small frames, only growing to an average shoulder height of 3', with graceful long necks and legs. They are the smallest of the camel family and graze on grasses (but also bark and leaves)—owners joke about no longer needing lawn mowers! They are curious, friendly and even make great pets. (Very exotic!) They can live to about 20 years in captivity, but half that in the wild.
These pretty animals produce abundant coats if bred in cool climates. Therefore most American farms are in northern states, and Mongolian farmers breed their Alpaca high up in the mountains. High and dry areas of Chile and Peru, balmy Thailand, as well as stormy and wet Tiera Del Fuego are other habitats for these farmed animals.
Schweitzer Linen carries exquisite Alpaca throws and pillows in a collection called Purissima, woven from Baby Alpaca.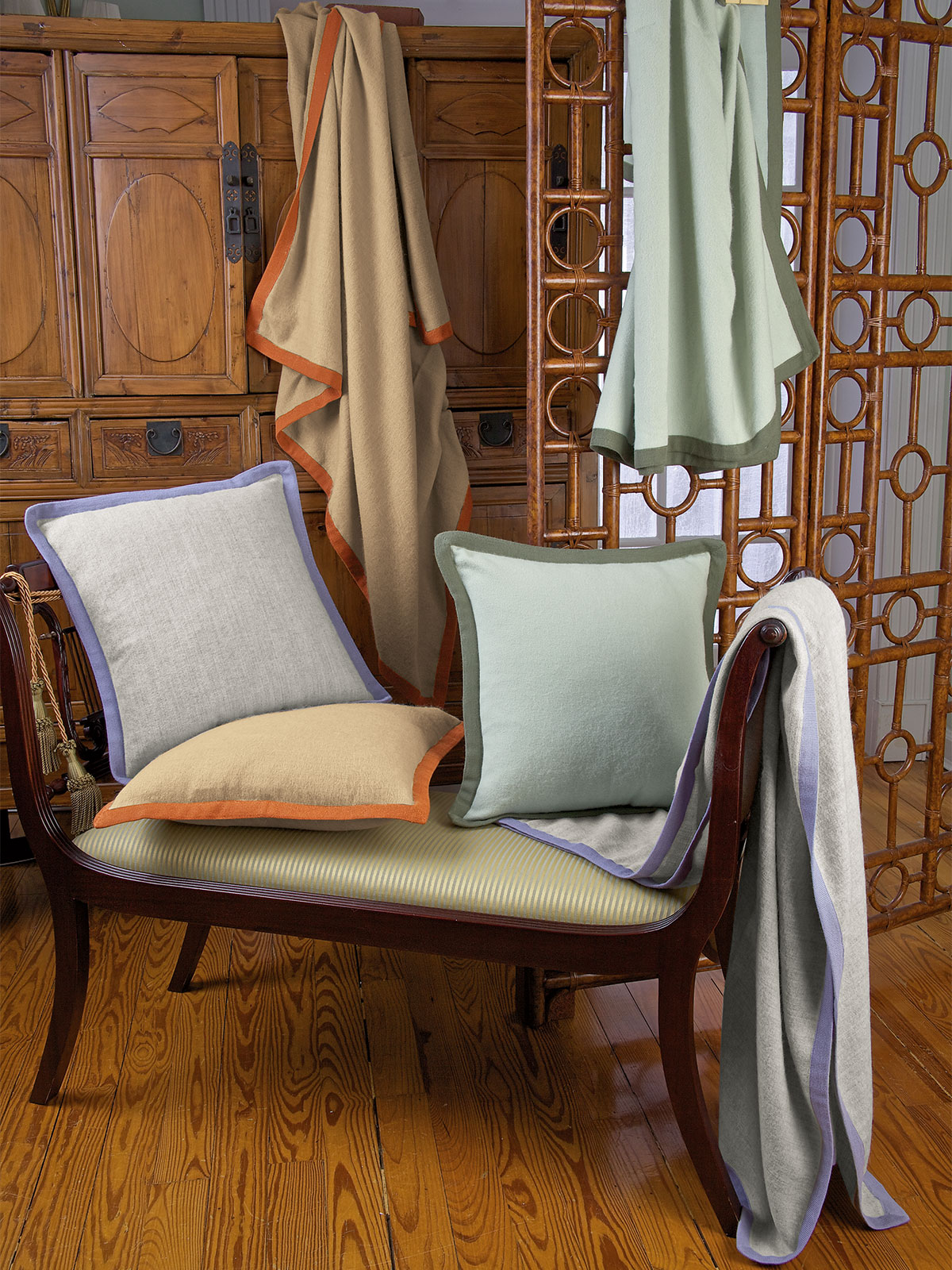 Other Throws to choose from include: Heaven, a lush diagonal weave with fringes; Windermere, with classic black, gray and white stripes; then there's Extreme Bliss in vibrant Navy with checkered Red accents and whipstitched edges — and more.
You have to feel them to believe just how soft this gorgeous fiber is. The Baby Alpaca has the softest fleece imaginable! We are so blessed to be able to enjoy the fleece of the sweet Alpaca with the help of farmers, weavers and talented designers.
Jacqueline Paredi
Fashion and Interiors Designer
New York City
Sarasota Florida