Turkey day is coming and I know as much as I love it, what I'm thankful for is that I don't have to host it every year–but I know many people who do. Whether you're hosting for the first time or your house has become the hub for all things stuffing and gravy, the stress and preparation of hosting a hearty meal for lots of friends and family can feel daunting. So here's a little trick I learned a while ago that has helped me and countless other incredibly busy hosts give Thanksgiving dinner, or any special occasion, the best chance to succeed. It's all about the presentation.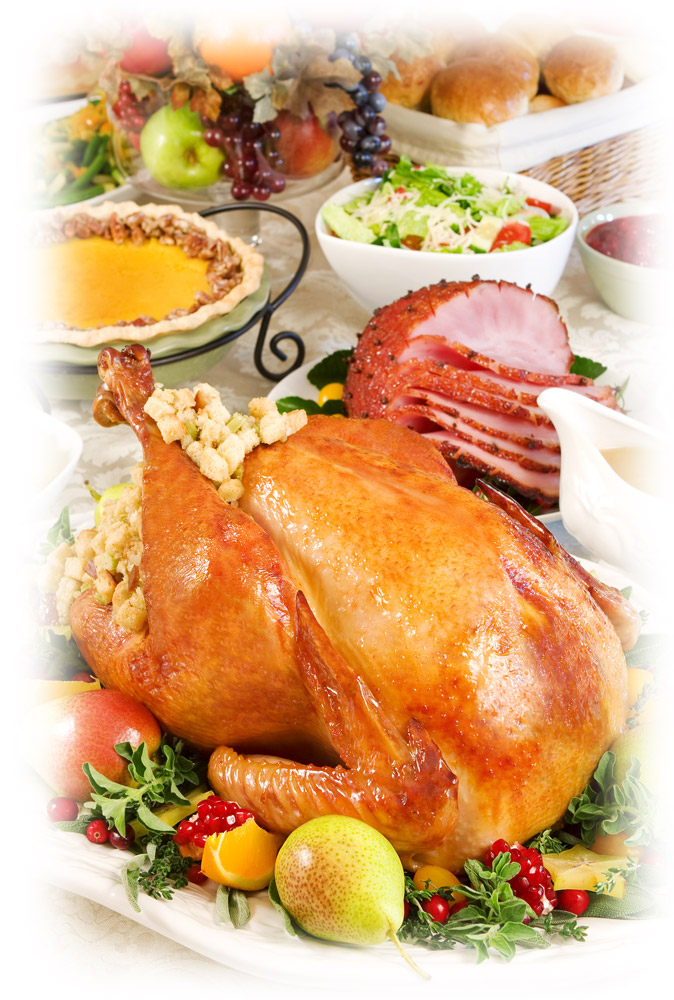 Unlike other holidays, when it comes to Thanksgiving it's really all about the meal. You can present traditional classics like mashed potatoes, creamed corn and roasted turkey or new classics like vegan lasagna and brussel sprouts, but whatever you're serving, no matter how succulent or savory, or no matter how good of a cook you are, not presenting it properly may be the difference between a ho-hum Thanksgiving dinner and a great one. Plus, if you're not so stellar in the kitchen, nothing makes up for some lost culinary skills like a beautifully set table. As a general rule for all holiday meals, the table where you eat should look just as incredible as the food. When your guests arrive or sit down at the table, it should be a wonderful experience that feels both welcoming and festive. After all, you're designing the set for some of people's most precious memories, including yours–but no pressure though.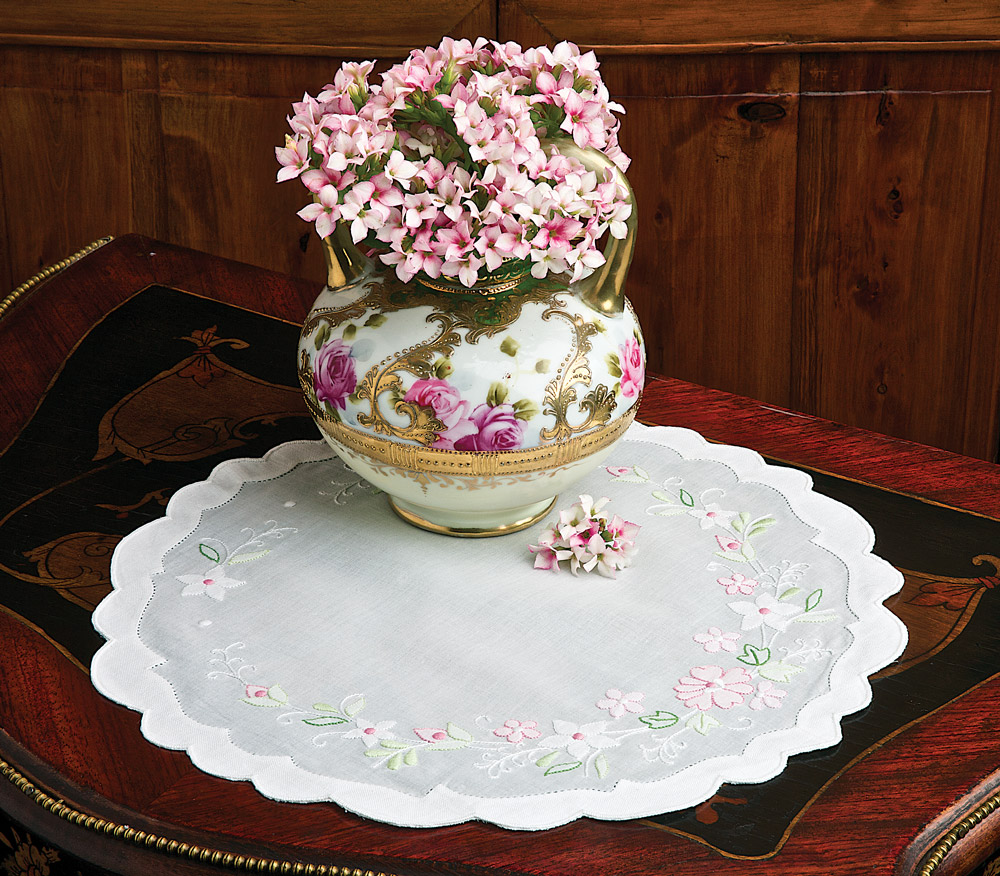 Seriously, there doesn't have to be any pressure. With help from Schweitzer Linen you can create the Thanksgiving table they'll be talking about long after the pumpkin pie has been brought out of the fridge for seconds—and you can do it all effortlessly and affordably. From Italian linen tablecloths and napkins to elegant doilies and centerpieces, this small family-owned brand has been making the holidays special for people all over the world for almost 50 years. With a hands-on approach and unwavering dedication to using only the highest quality fabrics and exquisite artistry, these are pieces that will become part of your family's tradition from one generation to the next.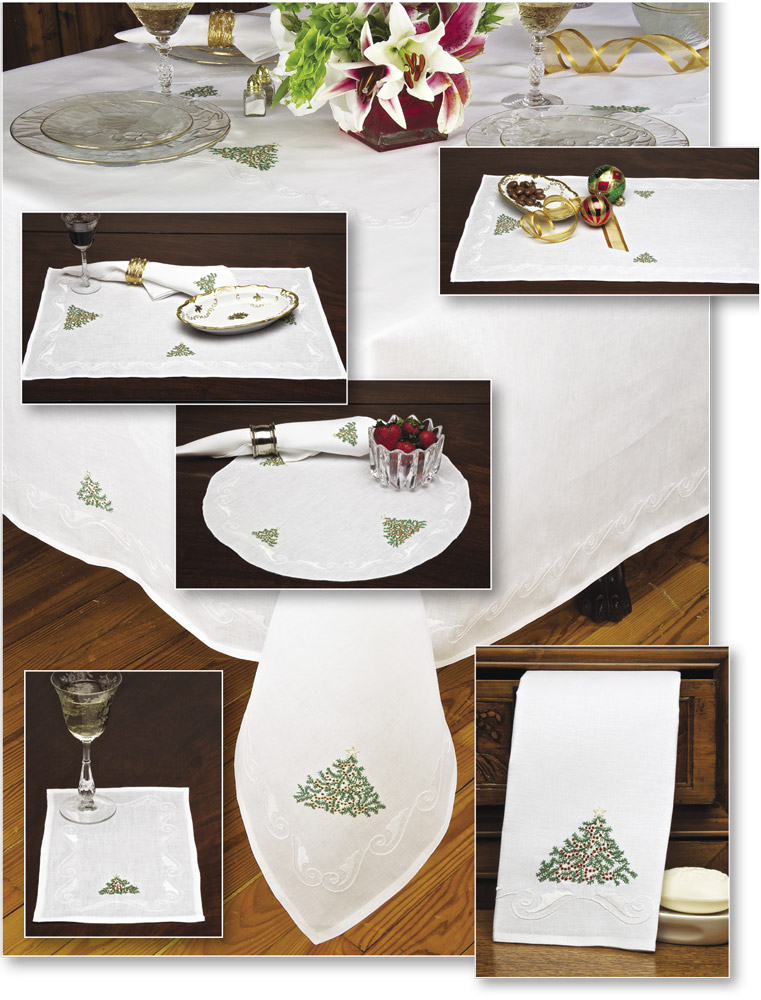 Many of these products are lovingly detailed with hand embroidery and hemstitching. And with exclusive designs and styles you won't find anywhere else, from holiday to the most casual of entertaining, your table will be one-of-a-kind, much like your family.
You'll be so delighted at how amazing your table looks, you may just find you want to use these pieces on more than one occasion. Dinner parties, birthdays, even your standard Sunday brunches and dinners. Every moment becomes more special when it's happening around Schweitzer's luxurious table linens and accessories. Most of the designs are part of a larger collection of table settings so you can get everything in the same style down to the very last cocktail napkin.  Or pick and choose what you want among the matching settings. They can even customize something just for you if you want. You just need to give them a call.
Tablecloths
If the turkey is the star of the Thanksgiving feast, the tablecloth is the stage. The right tablecloth creates the perfect setting for joyful times and round after round of warm laughter. From pure Italian linen to Egyptian cotton damask, every one is made with the best materials and the utmost of care. In addition to the luxuriant quality of the fabric, they also feature precious details like embroideries and appliqué that are sure to make all your special days unforgettable. Schweitzer has lots to choose from but here are some favorites.
Placemats
I don't know about you but once I started using placemats all the time, I wondered why I had gone so long without them. No only will they add extra protection to the table and tablecloth but they help protect your fine china and dinnerware from chips and scratches. Most importantly, during special events like the holidays the placemat is like a personal presentation for each of your guests. It's a chance to delight them and make them feel part of something special with inviting colors and designs. Available with coordinating pieces, they are usually paired with matching table cloths for the best presentation but they can also be used alone on wooden tables for a supremely elegant display. Here are some popular styles.
Napkins
No matter how casual you are with your holidays, if you want to make sure your meal is as decadent and enjoyable as it can be, skip the paper napkins. Whether your table features napkins crafted from fine Italian linen or soft and savvy Egyptian cotton, it will be a more welcoming one with these must-have table setters. Designed to match with our table settings or customize your table as you like with our exclusive embroideries.
Doilies
They're a magnificent way to host hot dishes, carafes or decorative table pieces, but they can also continue as focal points and decor around your home. The fine quality of the fabrics along with the handcrafted lace, scallops, crochets and other incredible details make these the most decadent and pleasing you'll find. And with several shapes, sizes and designs from holiday to every day, it's easy to find the right one for you.
And the list goes on. At Schweitzer you'll also find runners, centerpieces and other visually stunning and lovingly crafted additions for your table this Thanksgiving–as well as for Hannukah, Kwanzaa, Christmas, anything you may be celebrating.
With a little help from Schweitzer Linen, there is no need to stress your holiday meals this season. They'll help you find the right dining pieces to create a meal your guests will never forget–with memories of warm conversations, happy reminiscing, cherished laughter between loved ones and a beautifully set table.