Since the beginning of civilization, people have had a special relationship with water. It symbolizes cleansing and rebirth and instills a feeling of harmony, balance, peace and serenity that is unmatched by others. It's why millions are spent every year on waterfront homes, beachside vacations and boats to sail the open seas. Water is life. We are captivated by it's majestic beauty, unburdened by its soothing properties and drawn to the aquatic hues.
Unfortunately the beachside vacations eventually end, the home on the ocean bluff is not always a reality and sadly some of us won't ever get the chance to sail around islands on a boat we get to name. But this doesn't mean the ancient wisdom and tranquility of the ocean can't be a part of our everyday life. The simple act of being around the elements of water and its many properties and associations is proven to make us calmer, more creative, more inspired. In a world where our attention is constantly in demand, introducing aquatic elements into our lives can help reduce stress and propel us into an almost meditative state. These simple, yet extremely effective additions to your home can make each day more exciting, more joyful and full of positive potential.
That's why for over 50 years, in addition to hundreds of other exclusive designs, Schweitzer Linen has created nautical-themed collections to add to your everyday decor. Thanks to the tones, textures and patterns of these soothing, sea-inspired pieces, you can bring some of the deeply calming and life-enhancing elements of the ocean into your everyday routine. Whether you're looking for the peaceful pause of soft pastel corals at the bottom of a silent seabed or desire the vivacious energy of flora waves caught in a current of constant movement, you'll find a style that brings the magnificence and majesty of nature's waters to you in the way you want — all at an incredibly affordable cost.
With a stellar reputation for premium materials, impeccable craftsmanship, outstanding customer service and exclusive artisan designs, no one does it better than Schweitzer Linen. This small family-owned business has made it their life's dedication to improving the quality of life of each and every one of their customers. That means they aren't going to be completely satisfied until you are completely satisfied.
Check out some of their popular nautical and seascape collections and bring the soothing serenity of oceanic-inspired elements into your home.
GARDNER
Undulating lines of orange coral and aquatic flowers alternate with waves of nautical Navy and White on this delightful print. Tailored in Italy on silken 300 thread count Egyptian cotton sateen.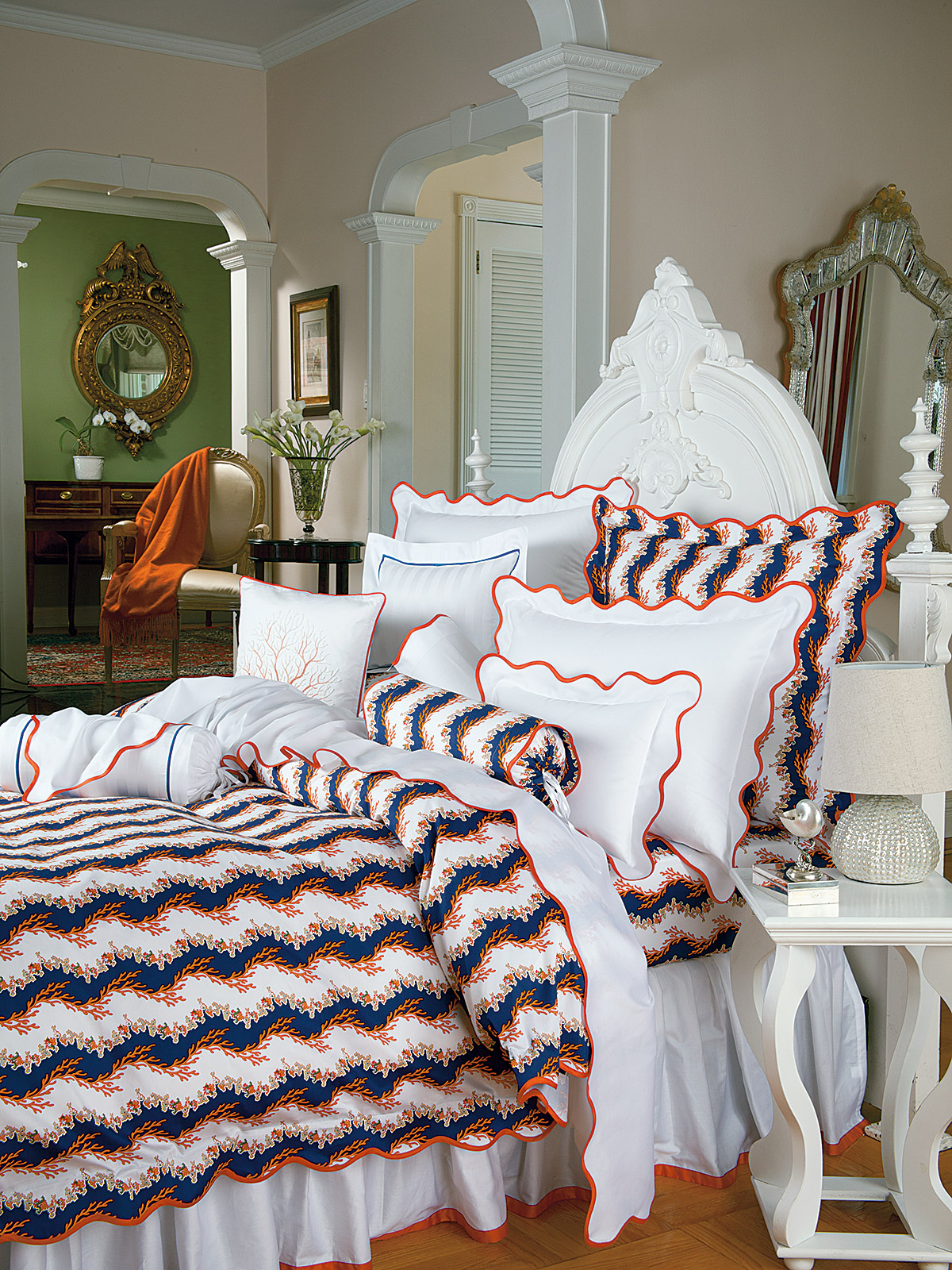 CORAL REEF
As wondrous as rare coral species in the ocean's depths, dramatic damask of 500 thread count Egyptian cotton shows magnificent depths of color and design. Made in Italy.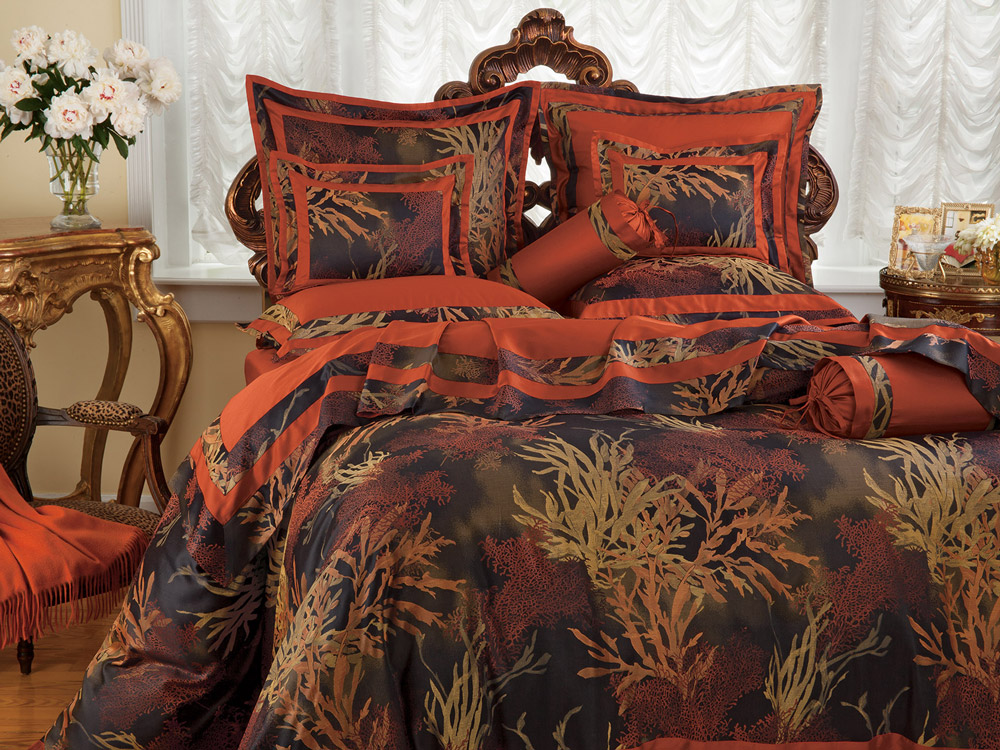 CORAL SEA
The incomparable beauty of Coral from the Caribbean is replicated in exquisite hand embroidery on 100% pure cotton percale from Italy. Artfully rendered on a sunlit sea of brilliant White, the gently shaded branches are impeccably bordered by expert hand hemstitching. Imported.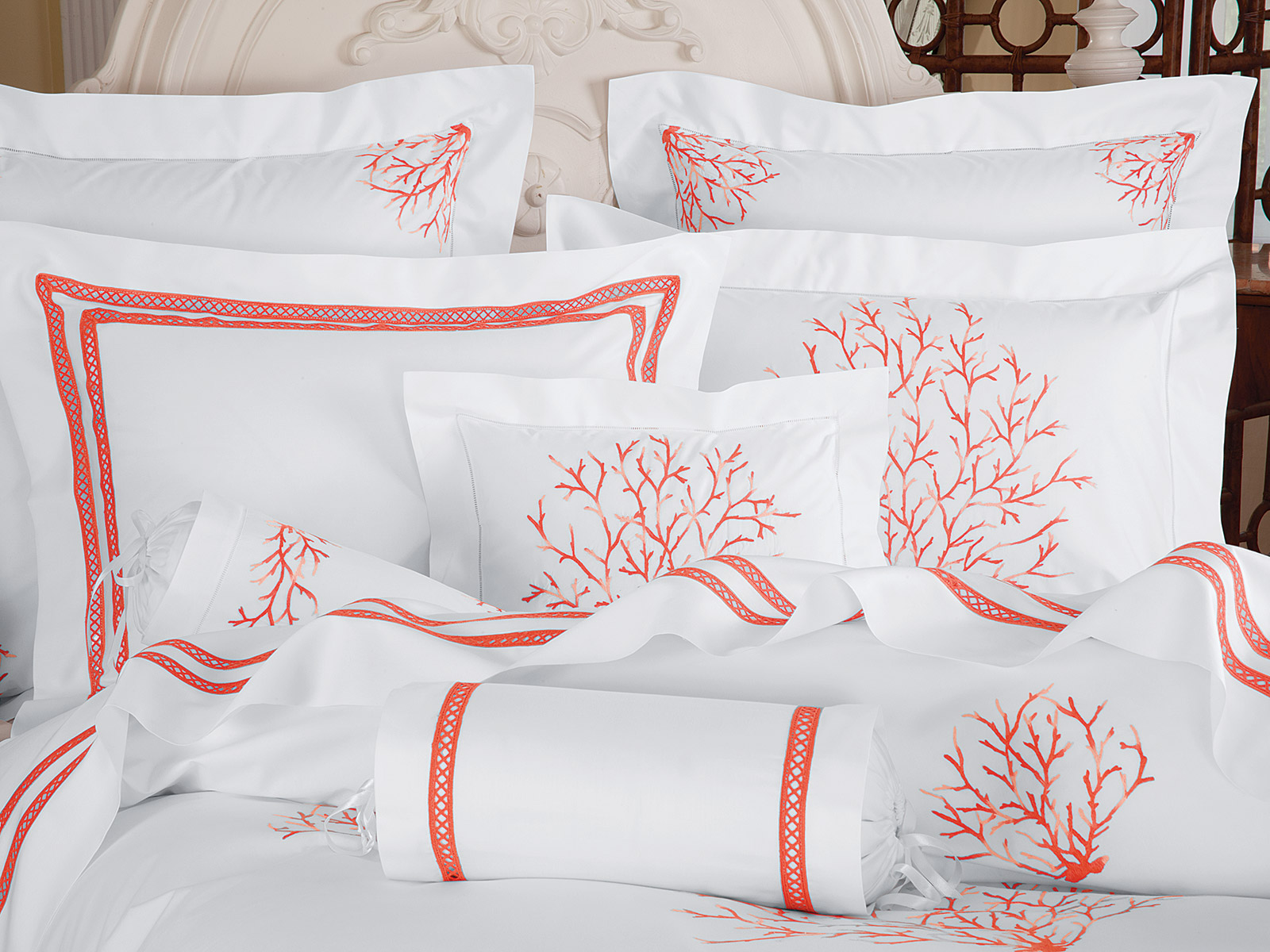 OCEANA
A reassuring way to live it up in style is handmade for you in silken 600 thread count pure Egyptian cotton sateen from Italy. Cleverly designed with Red life-saver's and Blue ropes embroidered by hand on a sea of White, framed by impeccable hand hemstitching. Imported.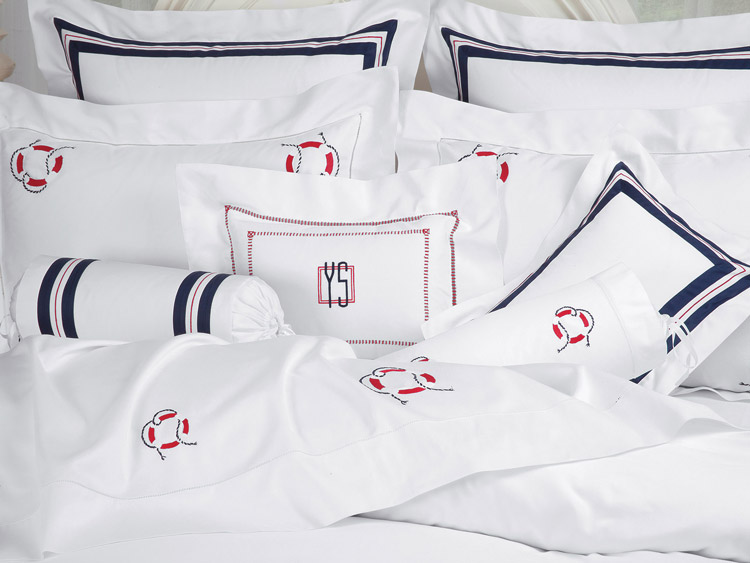 BON VOYAGE
A sunlit expanse of bright White Egyptian cotton sateen, 600 thread count woven in Italy, presents a commanding view of a see-worthy Navy/Blue anchor and rope, embroidered stitch by stitch by hand. Imported.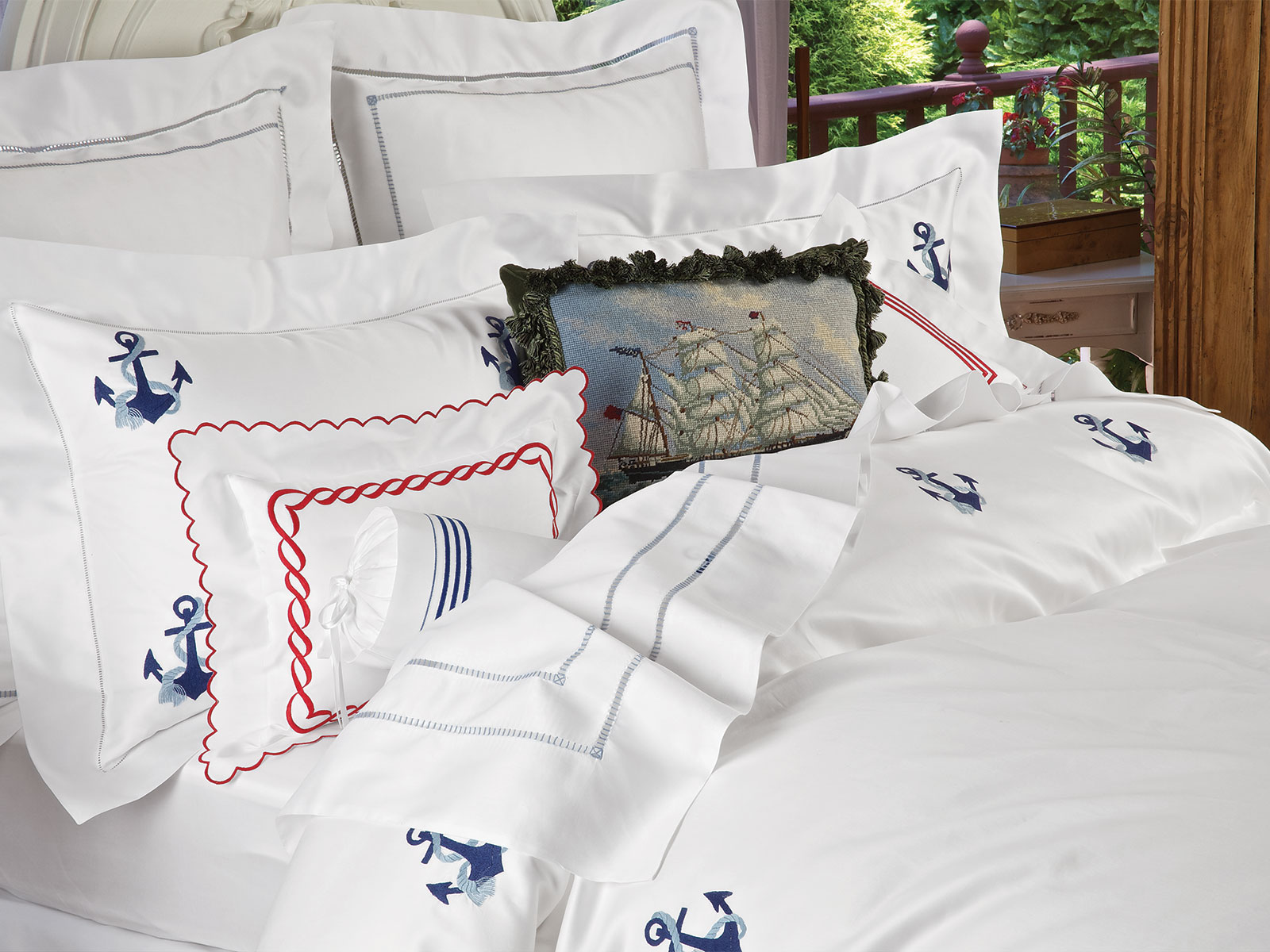 BAL HARBOR
Reversible 100% cotton percale design gives you two stunning looks inspired by ocean hues. Made in Portugal, the yarn-dyed Navy and White checks on opposite sides are complemented by contrast color.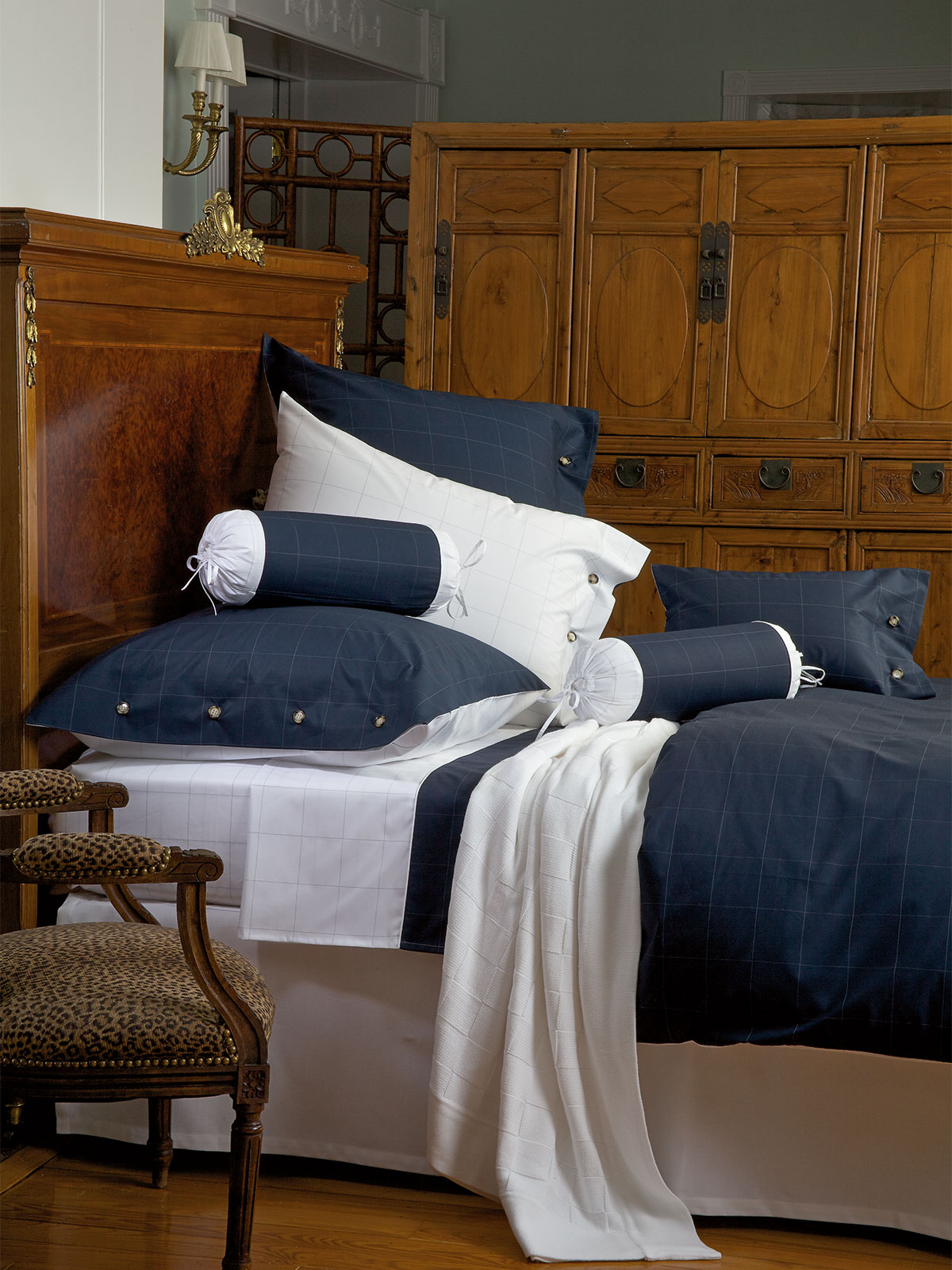 REEF KNOT
Designed to delight both seafarers and landlubbers alike, lustrous 600 thread count Egyptian cotton sateen from Italy is embroidered with ship-shape rope and hemstitched detailing in White/Navy, White and Light Blue rope. Imported.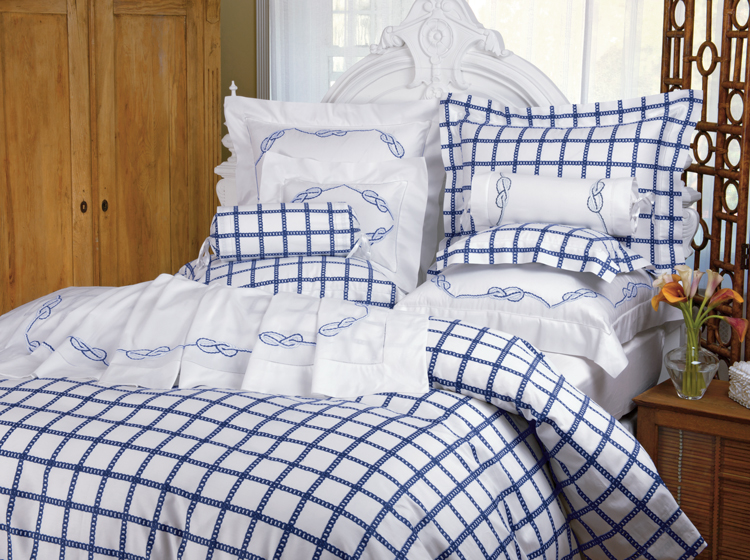 SEASCAPE
Embroidered coral and seashells bring nature's wonders of the deep to the surface of lush, plush cotton terry towels, 600 grams per square meter. Made in Turkey in all sizes.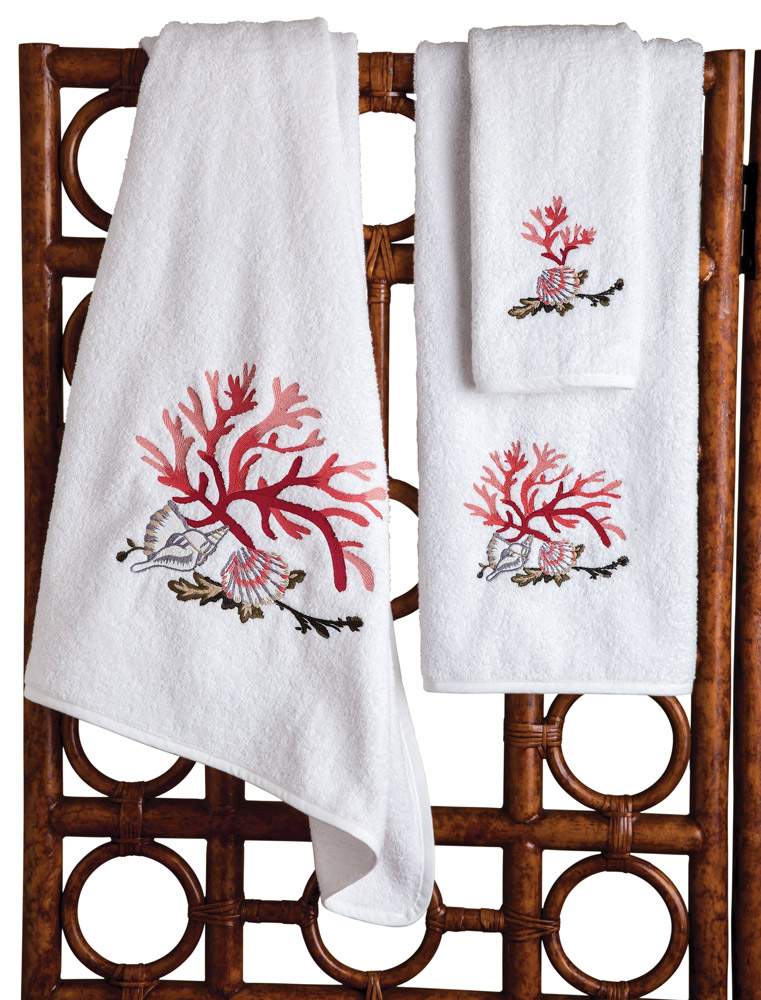 PALM BEACH
Designed to transport your guests to an idyllic place in their minds, lovely seashells and beach flora are skillfully embroidered by hand on fine White Italian linen. Imported in matching tablecloths, placemats and napkins.