High-End Designer Products for the Savvy Buyer
Being a fashion designer and an interior decorator, I love finding the best quality linens, table top textiles and lingerie and sleepwear available in the market. Finding the best products often corresponds with the most expensive as well! Who doesn't love a high-end designer quality gorgeous piece of sleepwear and lingerie? What could be more appealing than a designer label smooth as silk, beautifully constructed bedding set? Who isn't awed by beautifully designed fine hand-worked table linens? The challenge for us aficionados of all things gorgeous is to find beauties that are also affordable.
All designer-brand top of the line French and Italian linens and sleepwear in specialty high-end department stores and in boutiques on Madison Avenue come with hefty price tags. We customers are often not aware that we are paying for the brand's advertising and prime location rent. Included in the retail price is the hefty middle-man's mark-up, which represents almost doubling the cost of these items and passing that new price on to us. The end result is an almost prohibitively high price tag for these beautiful items.
Schweitzer Linen is an anomaly. Not only do they have three store fronts and an on-line business, they design, manufacture and offer their own designer quality bedding, table top and sleepwear directly to the consumer, without a middleman's mark-up. Their factories in Italy, Peru and the Far East employ high level artisans skilled in creating original designer luxuries with exquisite linen, cashmere and silk. These luxuries are made of the same high-end fine cottons, linens and silks, promoted by the top brands in the industry, without the high cost.
Take bedding, for example: Schweitzer Linen offers complex high quality finishings.  Not only do they use high thread-count cotton, Peruvian smooth cotton jersey, Egyptian linen and the best silk charmeuse available, but high-end aesthetics are employed in the design as well. Their duvet covers have borders, some with hand-stitching or scalloped edges, and mitered corners. These are not simple sack construction, offered even by high-end designer labels, at twice the price.
See Schweitzer Linen's Camelot below, an exquisite linen bedding set with hemstitching between the contrast or solid mitered borders. (They even offer personalized monogramming.)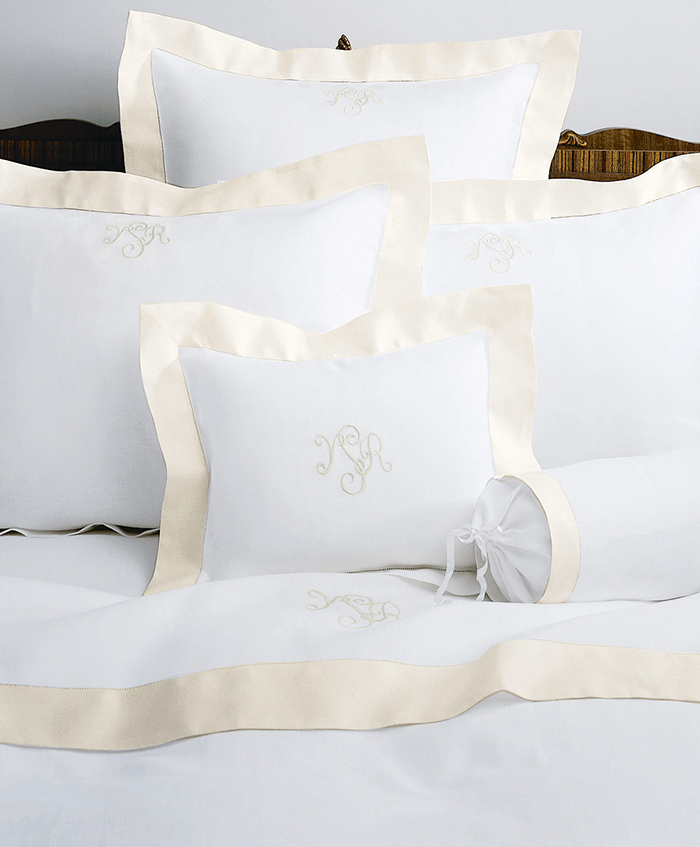 For a romantic effect, shown below is Alençon, a bedding set trimmed with the highest quality heavy French lace, rarely used in bedding.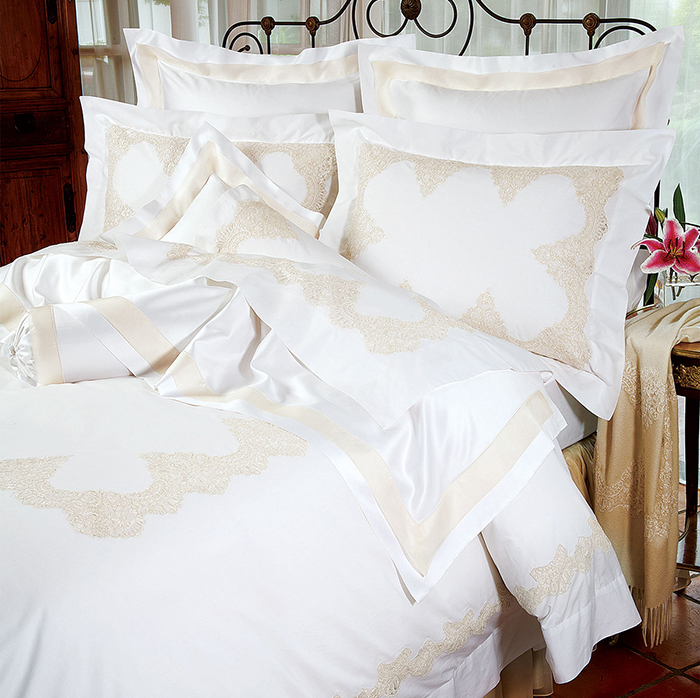 Also see the minimal and bold designer aesthetic Fellini below: white cotton with black geo embroidery, also offered at an affordable price.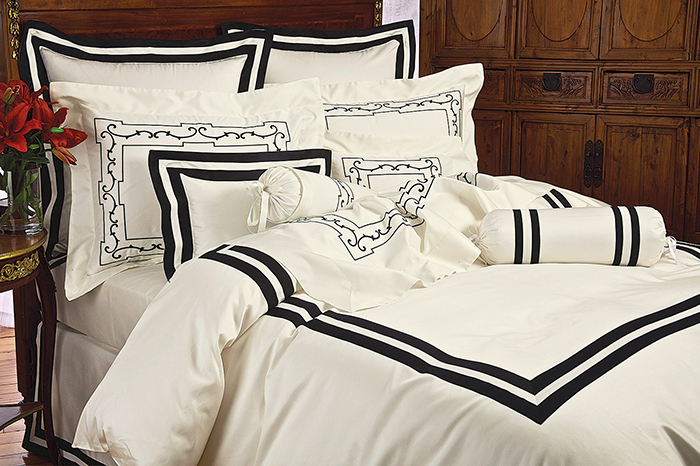 Famous designer sleepwear brands provide basic silhouettes as highly detailed items in exquisite fabrics, with designer prices as well. Check out Schweitzer Linen's Fabulosa below—a printed 100% silk charmeuse, bias cut chemise (short gown) with contrast color Chantilly lace inset at the neckline. This tops any designer brand with its print aesthetic, modern and unexpected lace color and fine quality, and elegant slip strap silhouette, offered, naturally, at more than half the price.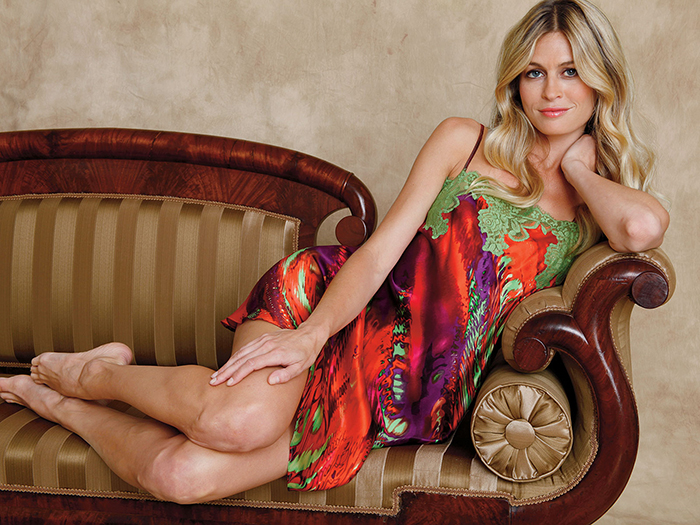 Brigitta, shown below, is a soft jersey gown made of a blend of pima cotton and modal, and compares with minimal yet elegant high priced designer gowns. It is also available in pajamas.
Schweitzer Linen's Beresford tablecloth, placemats and matching napkins made of exquisite long fiber smooth linen, feature mitered labor intensive hand-drawn spider and line hemstitching on all sides. This is truly a high-end designer product, yet this luxury is offered at an affordable price.
Jardin D'Amour, another elegant linen tabletop set is designed with a border of hemstitching and embroidered gently swaying leafed branches. High-end aesthetics, married to affordability is what Schweitzer Linen offers.
Let your feet or fingers do the walking through their beautiful New York City boutiques, or on their website. Do the comparison yourself, and see just what is available from high-end designer labels. You'll find more beautifully designed product, finer quality fabrics and finishes, all at half the price at Schweitzer Linen!
Jacqueline Paredi
Fashion Designer, Interior Designer
New York City
Sarasota, Florida