Whether you observe Christmas, Kwanzaa, Hanukkah or another holiday, for many of us this time of season really is the most wonderful time of the year. Unfortunately, it also has the potential to be one of the most hectic. One of the things that cause people a lot of unwanted stress is having guests in your home and all the preparation required making their stay comfortable and welcoming. After all, this is no Sunday afternoon visit. In most cases you are going to be hosting for several nights. That means they'll be sleeping in your beds, eating at your dinner table and using your bathroom frequently (that includes the shower). That's why when welcoming guests into your home, be it family, close friends or new acquaintances, it is imperative to be as well prepared as possible for their arrival.
As luck would have it, one of the world's best holiday helpers is at your disposal. They've been helping people make their homes gorgeous and inviting for the holidays for near fifty years. I've hosted several holidays in my home and spent time in many different homes during the seasons and there is one thing I am very sure about, if you want to create the perfect setting for family and guests, you go to Schweitzer Linen.
This small family owned company crafts the finest linens and bedding, using only the highest quality fabrics, materials and skilled artisans. In addition to hundreds of bedding styles available, they also make the some of the world's most luxurious towels and dining table accessories. And they do it all with original, can't-find-anywhere-else designs that will turn the mediocre into majestic, suitable to exceptional and the barely adequate into the breathtakingly beautiful. You get the point. With the perfect something for every room, you'll ensure that your home feels warm, welcoming and leaves them with memories they will cherish for a long time after.
The Guest Room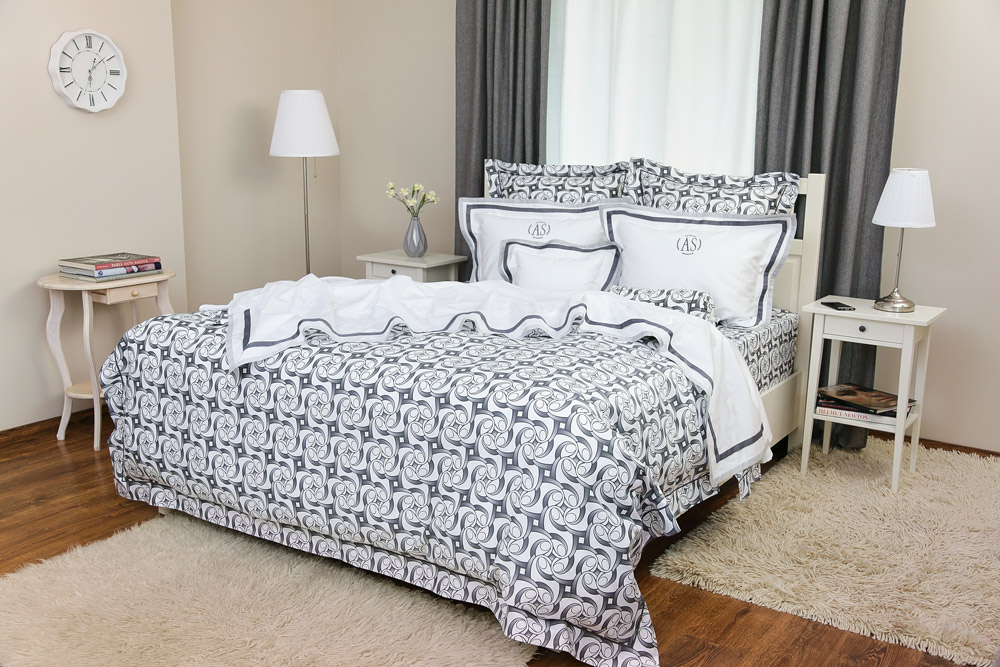 The guest rooms in your home say a lot about you but they also say a lot about how you feel towards your guests. No matter how hospitable you may be, a bedroom that doesn't feel inviting or is absent of color and design is not a great experience for anyone, including you. Changing that doesn't have to be a huge hassle. By adding the simplicity of softer, higher quality fabrics and beautiful designs that inspire and delight, even the pickiest of guests will appreciate the effort you put into making their stay more comforting and enjoyable.
Having someone sleep in your home can be awkward for everyone if it's not done right. That's why, when prepping for overnight holiday guests, the first focus is the bedding. Not only is it the main focal point of most bedrooms, bedding that is comfortable and pleasing to the eyes is the best way to show your guests what a gracious host you are. Want them to feel totally at home? Just add fresh new bedding to all your beds. Crisp, clean and inviting, this simple step instantly improves the chances that they will enjoy their stay and have a good time.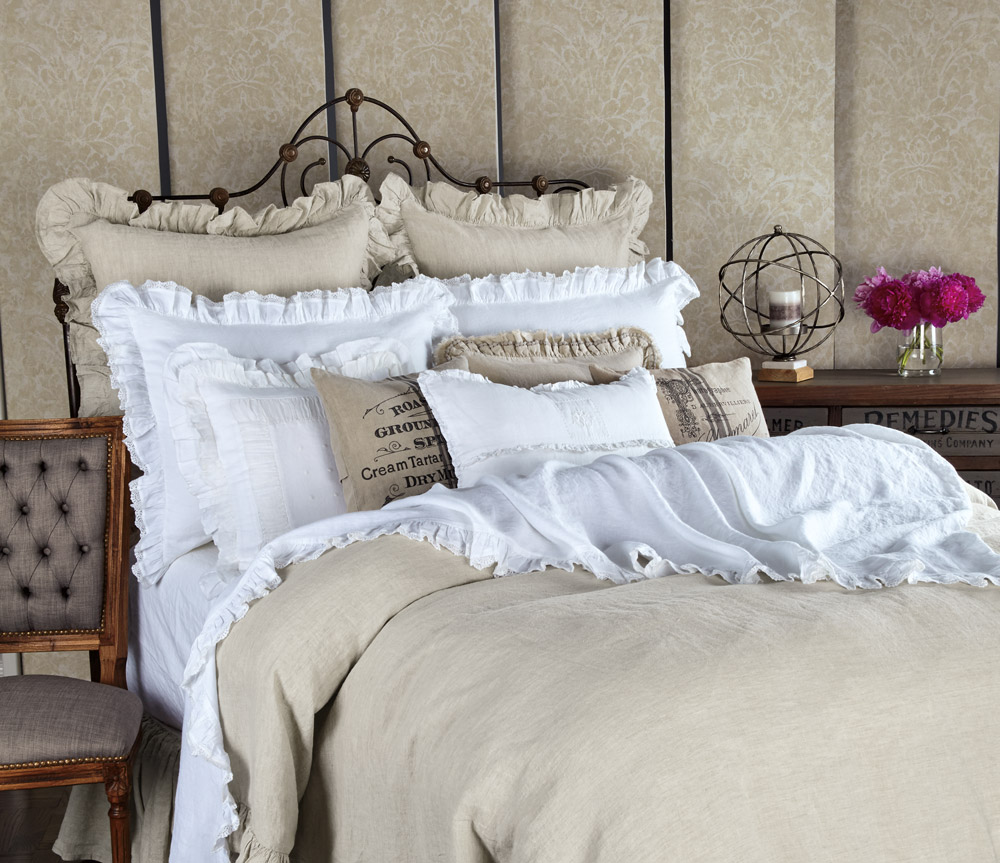 From fine Italian linen to silky-soft Pima percale and cotton sateen, Schweitzer has hundreds of bedding styles to choose from. And because they are crafted the right way, using the same painstaking methods and exquisite attention to detail Schweitzer has used for over 48 years, each collection feels uniquely personal and will provide year after year of great service to your and your family.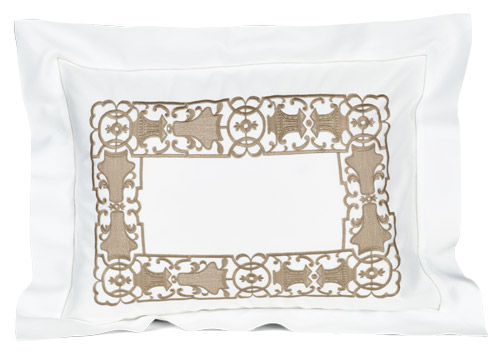 From the creamy ruffles of the Creme de Lace collection, the soft, inviting tones of the Cappuccino set or the sheer damask extravagance of Bonacieux, nothing says welcome like Schweitzer bedding. And these popular sets are just a few styles out of hundreds you'll find ready to help better your home for holiday visitors.
Decorative shams and other accessories
Looking to pack some serious pizazz? Nothing shows you have taken the time and care like a guest bed that features decorative pillows and other lavish pieces. For such an easy thing to add to a room, the greater effect is enormous. You can literally create the right kind of feeling you want by choosing the right tones and designs. It's something they will feel as soon as they walk into the room.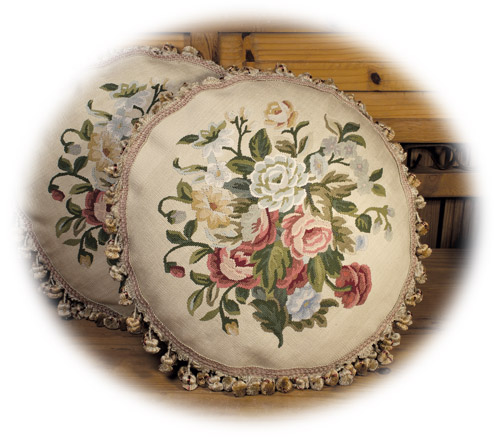 Almost every bedding collection Schweitzer Linen offers features elegantly designed pillow cases, shams, bed skirts and other accessories to take your room to the next level of luxury. From the classical beauty of picturesque Bouquet Circulaire, Atlantis and Country Morn decorative pillows to the contemporary spaciousness of Brighton, Uffizi and Brooklyn shams, it's truly incredible what an instant impact these will have on the look and feel of your guest room.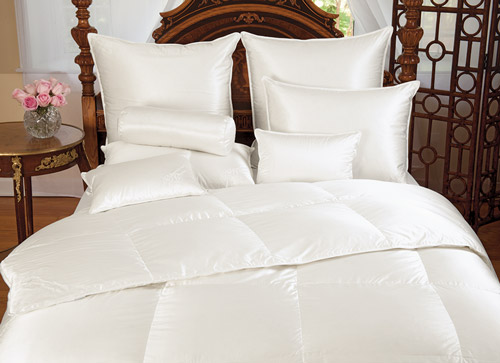 These pieces are especially important if you live in a colder environment. After all, you don't want your guests shivering through the night. To ensure everyone sleeps snug and warm under your roof, it helps to have the cozy luxury of an added layer.
If its exceptional warmth you want, one of the many comforters Schweitzer Linen crafts will more than do the trick. From heavy duty goose down comforters like the Heidi and Dynasty collections, guaranteed to keep them incredibly toasty all night long, to a non-allergenic Comforel Filled Comforter that behaves just like down without the down, a good comforter is the ultimate welcoming party. Plus, you don't need to play it modest with these comforters. Add a duvet to match the sheets or in any style you want to give the room another element of design and added dimension.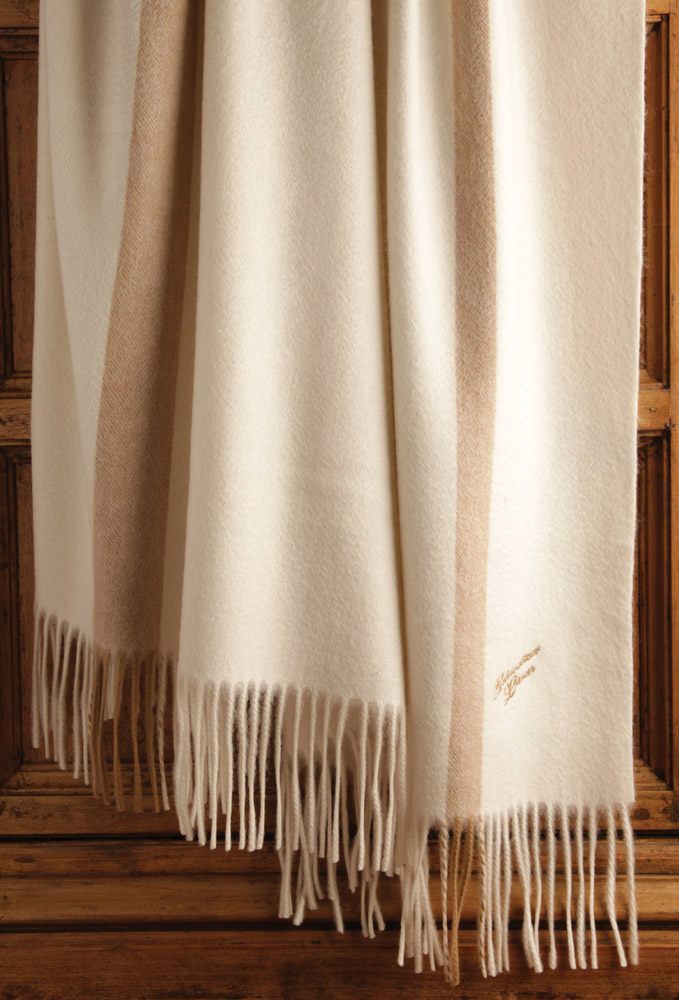 Another quick way to make any bedroom feel cozier is to add an extra blanket or throw. Not only will you be providing more warmth and comfort for your guest but with beautiful designs and patterns, they'll introduce more texture and style to make the decor more appealing and inviting. You'll find a wide variety of blankets to fit all kinds of beds and many luxurious fabrics to choose from like the velvety cashmere of the Monticello or the comforting 100% Alpaca wool of the Hamilton. And their throws are as gorgeous as they are pampering, with snuggle-worthy cottons, satiny cashmeres and warm wools, all presented in dazzling designs and gorgeous colors.
The Bathroom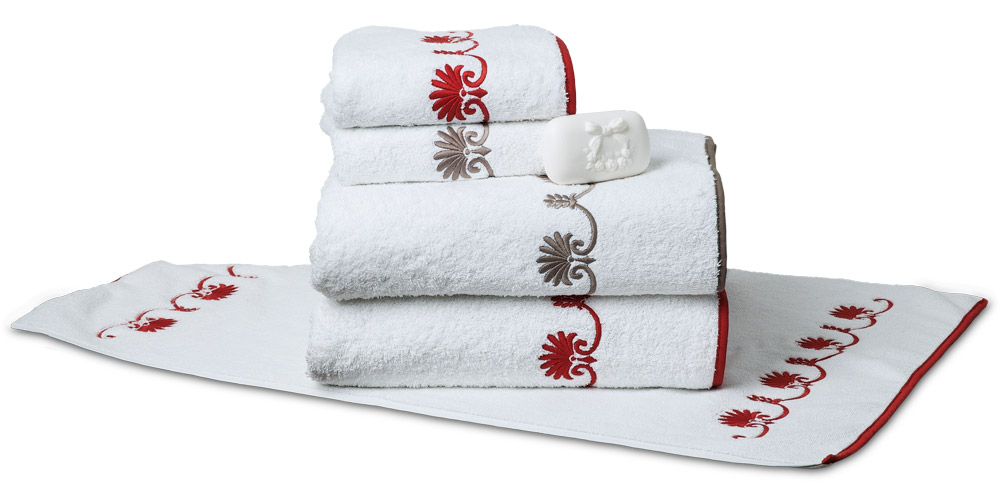 If you really want to make a good impression and give your guests a good experience during their stay, you might want to replace those old towels. Your current towels may look ok but nothing compares to the luxury of a plush new towel from Schweitzer Linen. Beautifully thick and super absorbent, each posh style is waiting to embrace bare skin with incredible softness. From the intricate weaving of the Aquatic collection and the exquisite embroidery of the Sympatico Bath Collection to the colorful comfort of the Indulgent collection, putting fresh new towels in every bathroom is a no-brainer.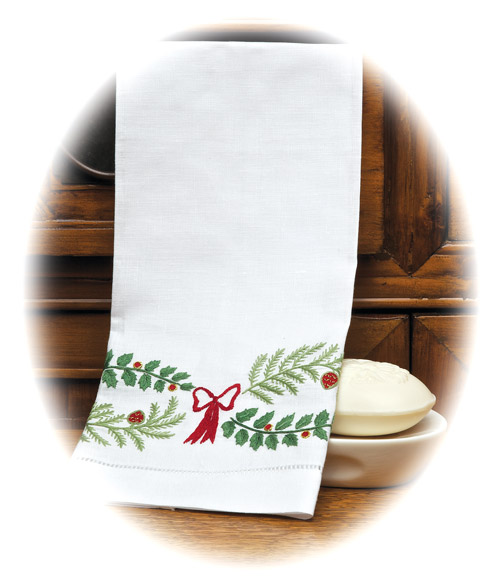 In my opinion, being a good host and having decorative towels in the bathroom go hand in hand. It may seem like a small gesture but anytime I walk into a bathroom and see decorative hand towels, I know this person has tried to make my experience more enjoyable. I appreciate that and your guests will too. The added pop of colors and patterns of these lovely towels can really bring a bathroom to life and give it a great personality and charm. So if you want to create the best bathroom experience for all your guests, these decorative towels are an easy win. Choose from classic anytime designs like the Edelweiss or Bourdon collection or get festive with holiday-specific styles like the Merry Merry Guest Towels and Holly Days Guest Towels.
The Table
No matter how hectic your home is during the holidays, the dinner table is the one place where everyone gathers together. All eyes are going to be on the presentation. So if you're really interested in making the moment special and want to create warm and wonderful memories of their time at your table, getting the right table cloth and table settings is a big part of that.
Schweitzer tablecloths, napkins and placemats are lovingly crafted with premium Italian linen with the kind of hand-embroidered details that set your table apart from all the rest. These pieces are absolutely stunning, unique, exquisite and delightfully sophisticated. Guaranteed to create the perfect setting for year after year of joyous laughter and shared love around your table.
Since there are so many designs to explore, finding the right tone to fit your personal tastes and those of your guests is easy. Plus, you won't find these exclusive designs anywhere but here. Add these one-of-a-kind pieces to the dining room and you'll find that even the dullest of tables and the most meager of meals become instantly more glamorous and inviting. Most importantly, a well set table makes each of your guests feel special and promises to make your special occasion one that will be cherished for a long time.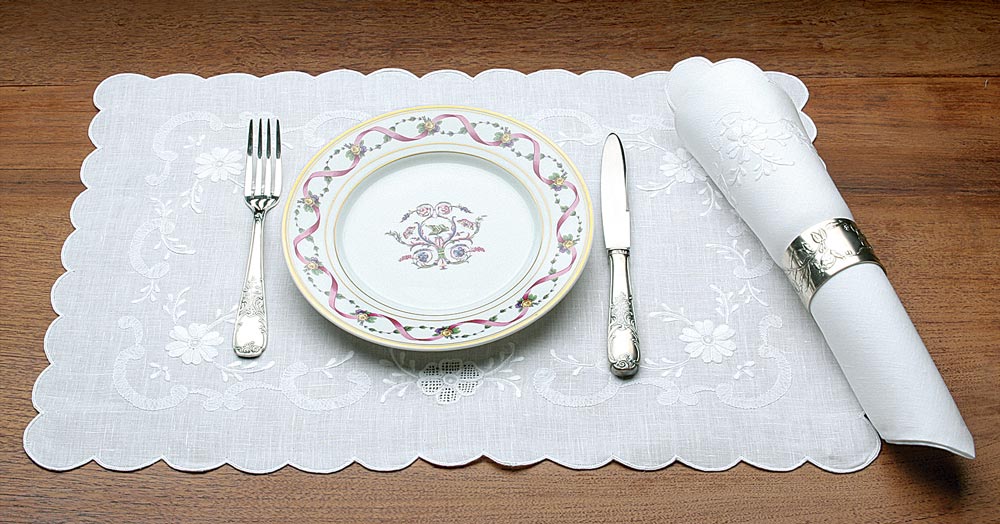 Treat them to the classical beauty of the Tuscany collection or the frosty elegance of Monte Catini. Honor your esteemed guests with the royalty-worthy Casabella design. Or make the entire table feel like one big engraved dinner invitation with the magnificent artisan quality and embroidery of the popular Patrician collection.

Of course, nothing brings the holiday's home more than table settings that have been specifically made with the season in mind. These lovely designs will fill everyone with the Christmas spirit without losing the elegance and sophistication you want for your special dinner together. Striped candy canes and jolly green holly set the mood for very merry with the Candy Cane table settings. Their Merry Merry collection features a jubilant green tree decorated for the occasion with hand embroidered red bulbs and a glittery gold star on pristine Italian linen. And happy holidays don't get happier than with the fabulously festive styling of Holly Days Table Linens and accessories.
So whatever you celebrate and whomever you celebrate with, this season, make sure your home is warm, welcoming and beautiful with a little help from Schweitzer Linen.
Happy Holidays!