Summer's almost here! That means beach days are back, backyard barbecues are just around the corner and all my favorite ice cream joints are finally going to be open again. Hello extra 15 pounds.
Besides all the summer fun and a few extra temptations returning, the sunny season also brings the possibility of travel and houseguests. Be it family, friends or people you're meeting for the first time, it can be stressful trying to make it as welcoming and accommodating as possible. So here are some fast, easy and affordable tips for turning your home into a hub of hospitality.
Replace the Bedding
If your houseguests are overnight guests, you'll want to make sure the room they are staying in shows you have put some thought into their comfort. When they walk in, they should feel immediately welcome. The easiest way to do this is with the bedding. If you've used the same bedding for a while, consider switching things up, especially if the current bedding is in rough shape. Not only will adding new bedding show your guests you care, if the current design feels tired or lacking in any way, adding a new set and style can instantly take a room from dull to dashing.
No one does this better than Schweitzer Linen. Decade after decade this small family owned company has crafted the finest collection of bedding using the worlds best materials and most skilled artisans and craftspeople. They've been doing it right for almost fifty years and continue to introduce the most luxuriously elegant fabrics and textures into bedrooms across the world, while continually offering new and wondrous designs to inspire, delight and transform.
With hundreds of designs to choose from, you can set any style you (or your guests) like. Whether you want a chic contemporary look or classical elegance ruminating from all corners, refreshing the entire perspective of a room is simple with the right bedding. It won't take much time or money but it will leave a lasting good impression. And since every design is exclusive to Schweitzer Linen, you and your guests won't find these designs anywhere else.
Here are just a few of the many different bedding collections you might want to consider this summer:
Your guests will feel like royalty when they see duvet covers, euro and boudoir shams ravished with 500 thread count, rust/taupe damask. Flat sheets, neckroll, king and standard shams are pure 300 thread count Egyptian cotton sateen, in a shimmery Rust for a total bliss of color.
If you or your guests have never experienced the sheer cool crispness of pure 100% linen you are in for a treat. Made in Italy in White, Cream or White with Cream flanging, these elegantly hemstitched and perfectly framed linens are the ultimate investment in traditional elegance and durability.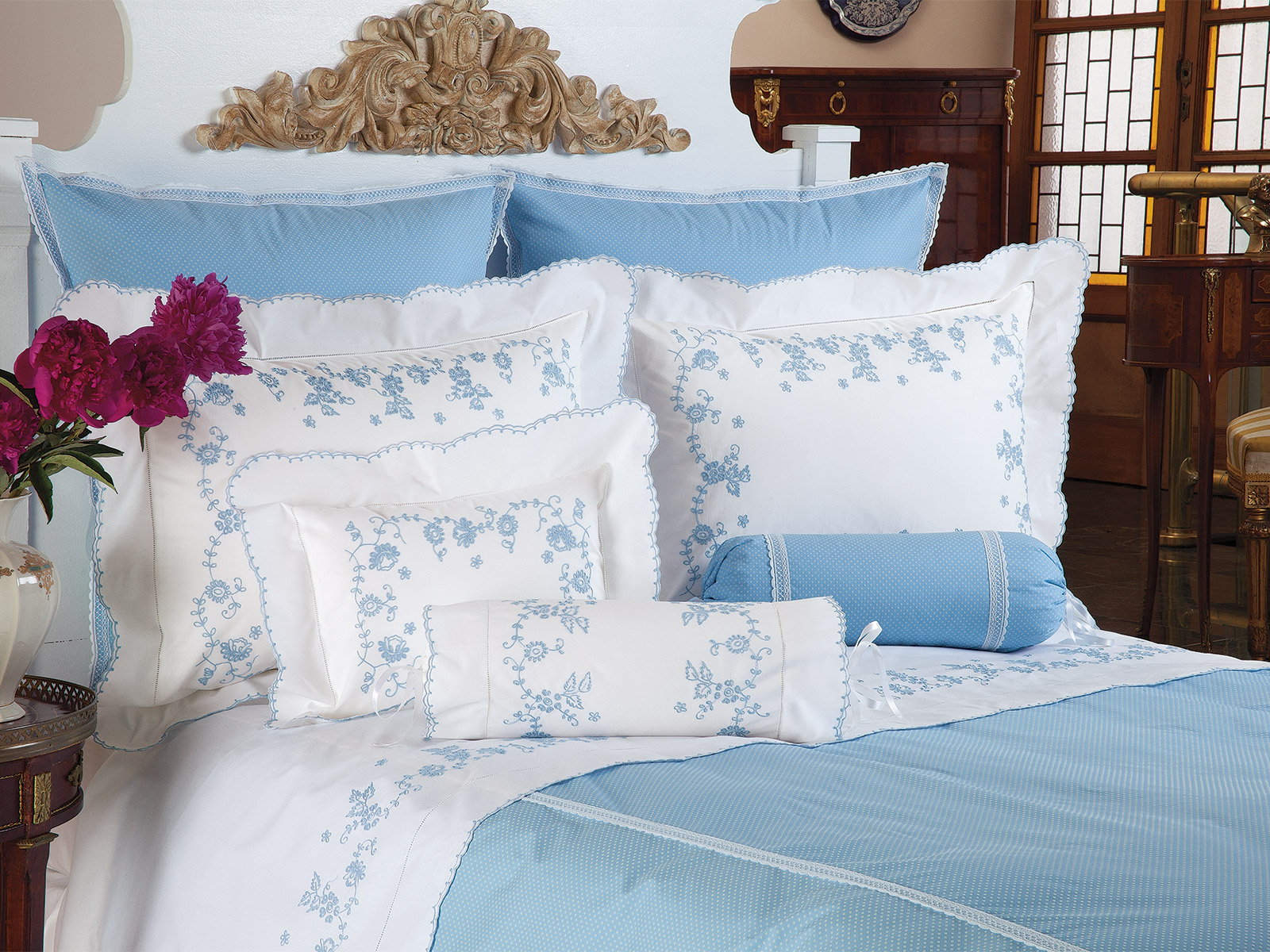 Finely wrought and stunning to behold, you and your guests will fall in love with these exquisite linens. Thousands of tiny stitches, each done by hand, creates a winsome blue oral motif, all done on silky smooth 100% Egyptian cotton sateen from Italy.
Freshen Up Your Towels
The bathroom is a great indicator of the kind of host you are. This has never been more true when visiting friends or attending summer get-togethers. Walking into a bathroom with used hand towels or shower towels doesn't leave the best impression and it really shouldn't happen, especially when it's so easy to rectify.
Want to leave the right impression without having to do much? It's as easy as replacing your hand towels with new ones–preferably in an inviting style that suits you and your guests. After all, you don't need to renovate a room when you can resuscitate it with clean crisp colors and bold unique patterns. How you style it is your choice but the simple act of having fresh towels that add a pop of color and flair to your bathroom will go a long way to showing everyone who walks in they are welcome.
If your guests are staying for a few days and will be using your shower, it goes without saying that you should replace your towels. Make sure they are plush, super absorbent and colorful–depending on the style you want of course. Giving your guests a soft, beautiful towel will make them feel right at home, even right out of the shower.
If you are hosting a pool party or plan to be poolside at any time, replacing old towels with fresh new ones is also a good idea. And if you're headed to the beach, always have a few extra beach towels for guests that may have forgotten theirs. It's a simple hospitality that won't go unnoticed.
Here are just a few of the many popular choices you'll find in Schweitzer Linen's extensive bath selection.
Meticulously crafted to welcome you and your guests into the bathroom, this collection features 600 g/m2 terry for cloud-like softness and extra absorbency along with a stunning chain design embroidery. Made in Turkey.
Whether you're toweling off after a hot shower or relaxing by the pool, nothing feels as good on wet skin than the super-absorbent softness of our premium 100% cotton terry towels. Elegantly crafted with taped edges in sweet and savvy Orange, Navy or Beige, the sleek, minimalist design works beautifully in your bathroom or on the beach. Made in Turkey.
Embroidered coral and seashells bring nature's wonders of the deep to the surface of lush, super-absorbent cotton terry towels, 600 grams per square meter. Made in Turkey in sizes for all styles of bathrooms.
Refine Your Fine Dining
What's the most intimate place in a house? Some would say the bedroom but I'm not sure that's true. I think the most intimate place is the table or area where you sit and eat together. This is the place where days are discussed, weekend decisions are made and we connect with each other in a meaningful lasting way, each and every day. It's where love grows stronger and stronger, where lifelong bonds are forged daily.
If you're having people over, you want that same experience at your dinner table. One way to guarantee your table is set for success is to make sure it's properly dressed for the occasion. It can be grand and elegant or simple and divine, but be it brunch, dinner or a gala feast, it should be fabulous. Your guests will immediately feel welcome and honored and it will elevate the gathering into something much more special and memorable.
Here's just a small glimpse into the many table settings that will turn your meals into precious moments you and your guests will remember forever.
Twining grapevines have been recreated for your table in rich shades of Mocha and Ecru hand embroidery. Rendered with exquisite care on 100% Italian linen, the unparalleled craftsmanship can be enjoyed by flickering candlelight. Imported.
Delicately complex yet understated, the heart-like appliqué in pure White conveys a singular devotion to subtle refinement and luxury. Hand applied, stitch-by-stitch, onto 100% Italian linen, the appliqué creates an intriguing hem as well as a tabletop border that is the perfect accompaniment for each of your most treasured centerpieces. Imported.
A great conversation piece for the most special dinner guests, finest Italian linen is artistically embroidered by hand with a creative free-form floral design and curvaceously innovative frame. Imported in White with Gold, this extraordinary tablecloth is available with matching placemats and napkins.
In addition to making your houseguests feel welcome, Schweitzer Linen products also make incredible gifts. So, if you're the one paying someone a visit this summer, wow your hosts with an unforgettable gift from one of their many collections of fine bedding, bath, dining, clothing and more. Show up with one of these extraordinary gifts and you can expect to be invited back often.