What does your bedroom mean to you? Sure it's the place where you sleep but if that's really all it is, a bed and a door, you might want to rethink the current design or style. Because Schweitzer Linen believes every bedroom should be a special place. A soothing sanctuary from the stressors and challenges of everyday life where you can rest, rejuvenate and start each morning with joy and optimism. We spend so much of our lives in the bedroom, so why not do whatever we can to make it the most calming, inspiring and restorative place it can be. A place like that has the power to enrich our lives and implement the daily physical, emotional and psychological changes needed to improve every single day.
Of course, knowing what kind of design your bedroom needs is not always easy. It helps to start with Schweitzer Linen's vast selection of products, colors and hundreds of original designs. But it also helps to take the pulse of what's going on in the world of bedding. Sometimes the right trends really resonate with your own style and tastes. And if you aren't sure what your tastes are, identifying some of the latest trends can help you discover it along the way. So let's touch on some of the latest and most popular bedding trends for 2020.
Keep it Simple
If you've seen this before, it's because this trend is so popular it's been on the list for several years. There is something absolutely charming about keeping things easy and laid back when it comes to bedding. From the careless yet elegant look of Scandinavian design to the sheer brilliance of strong, simple tones and well defined lines, when this decor works for you, it really works for you.
Here are some great choices if simplicity feels right for you:
BARRINGTON
Visually striking and profoundly elegant, this cubic tableau is ready to make an instant impact to your decor and daily living. Made in Italy.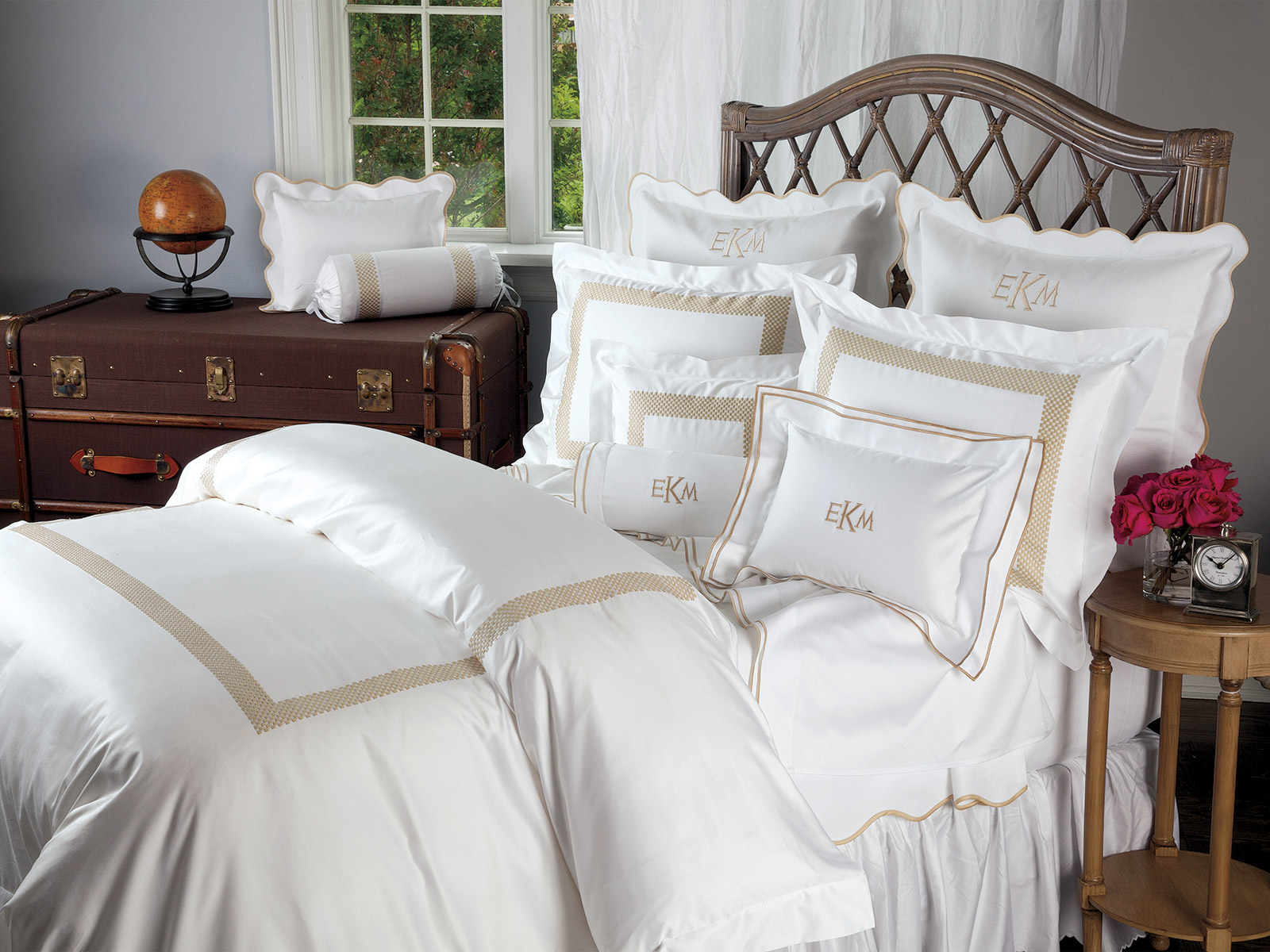 NANTUCKET
As crisp and clean as a breeze off the Atlantic, it will turn any bed into a relaxing island getaway. Made in Italy.

QUINTESSENCE
The true elegance of simplicity is superbly expressed in the polished-to-perfection texture of silky White Egyptian cotton sateen, with finely delineated rows of White, Blue, Beige, Gray or Rose. Made in Italy.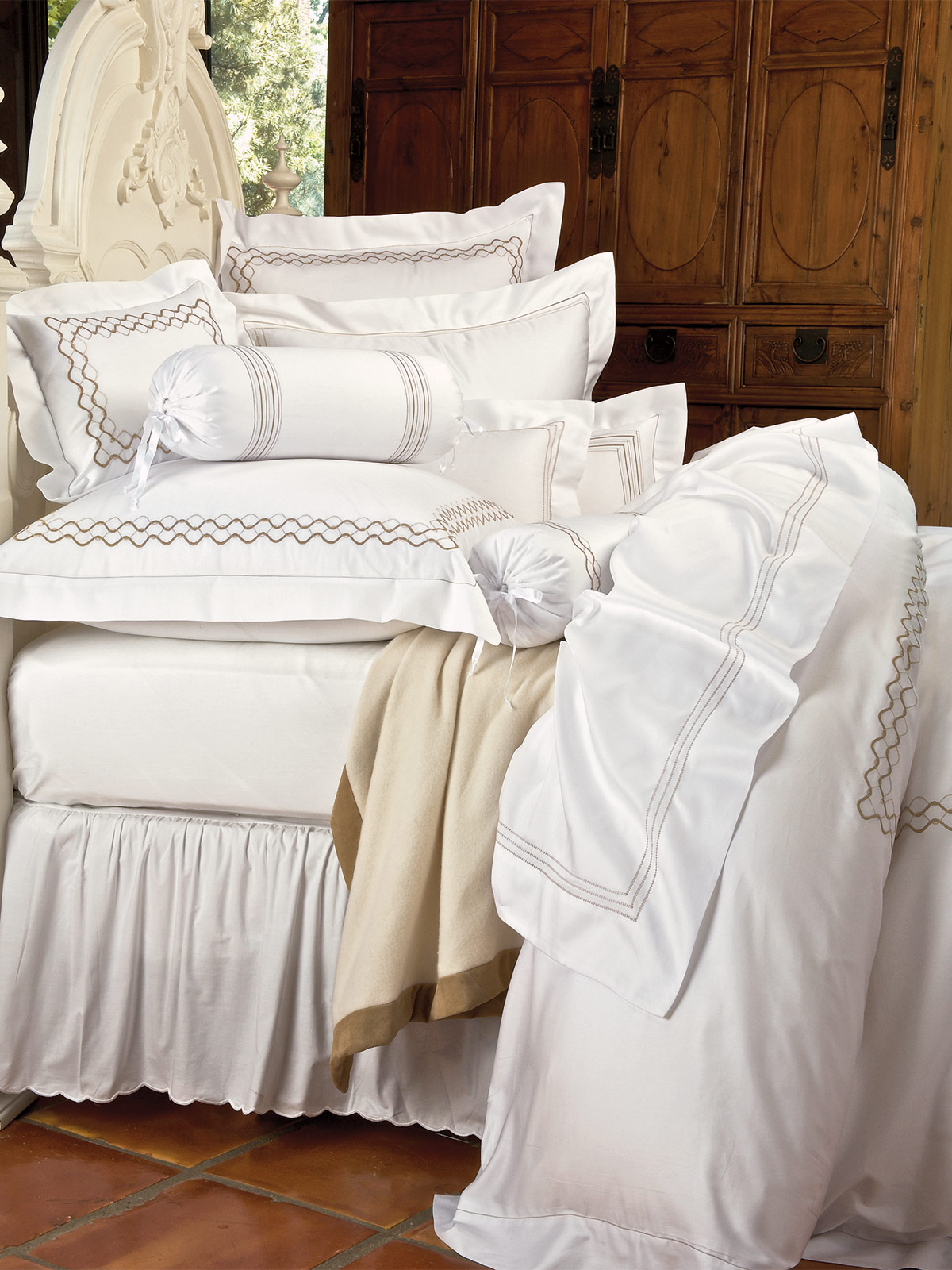 BLANCHEUR
Like the breathtaking beauty of a wedding gown, finest Italian cotton percale in pristine White is delicately hand embroidered with pure White flower bouquets. Made in Italy.
Go Eclectic
More and more people are custom creating the look and feel of their bedroom with a hands-on approach to the design. It's your bedroom after all and who knows you better than you? This trend is an exceptional way to cultivate an environment that is conducive to everything your bedroom should be. By mixing and matching whatever patterns and colors you like, adding pillows and textures as you see fit and introducing as much variety you want, you are literally creating a bedroom design meant just for you. With a huge assortment of different styles, textures and bedding accessories, there is no better place to custom design your bedroom than Schweitzer Linen. Plus if you have questions or there's something you can't find, just give them a call and they can help. They'll even custom design something specifically for your needs. That's a level of service you won't find in many places.
If you're interested in creating your own mix-and-match design, these are some great products to start with:
GARDNER
Undulating lines of orange coral and aquatic flowers alternate with waves of nautical Navy and White on this delightful print. Tailored in Italy on silken Egyptian cotton sateen.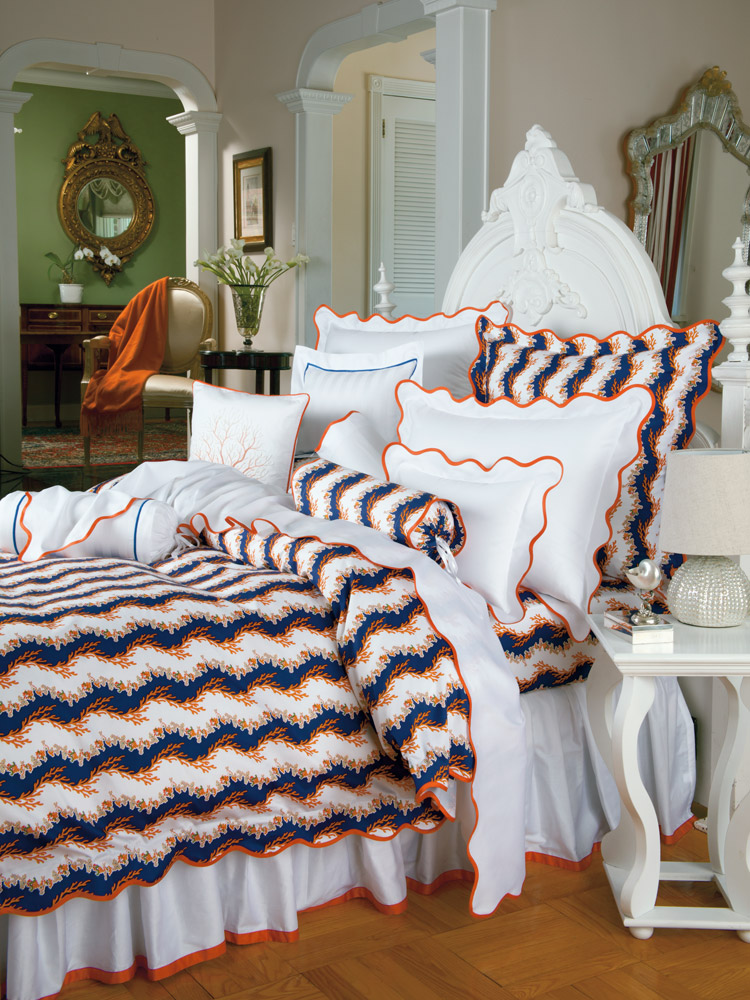 IMPERIAL DOWN BLANKETS
The luxurious warmth of white goose down, in a lighter weight for transitional comfort – Available in Amethyst, Ivory, Blue, White, Pink or Sand. Imported.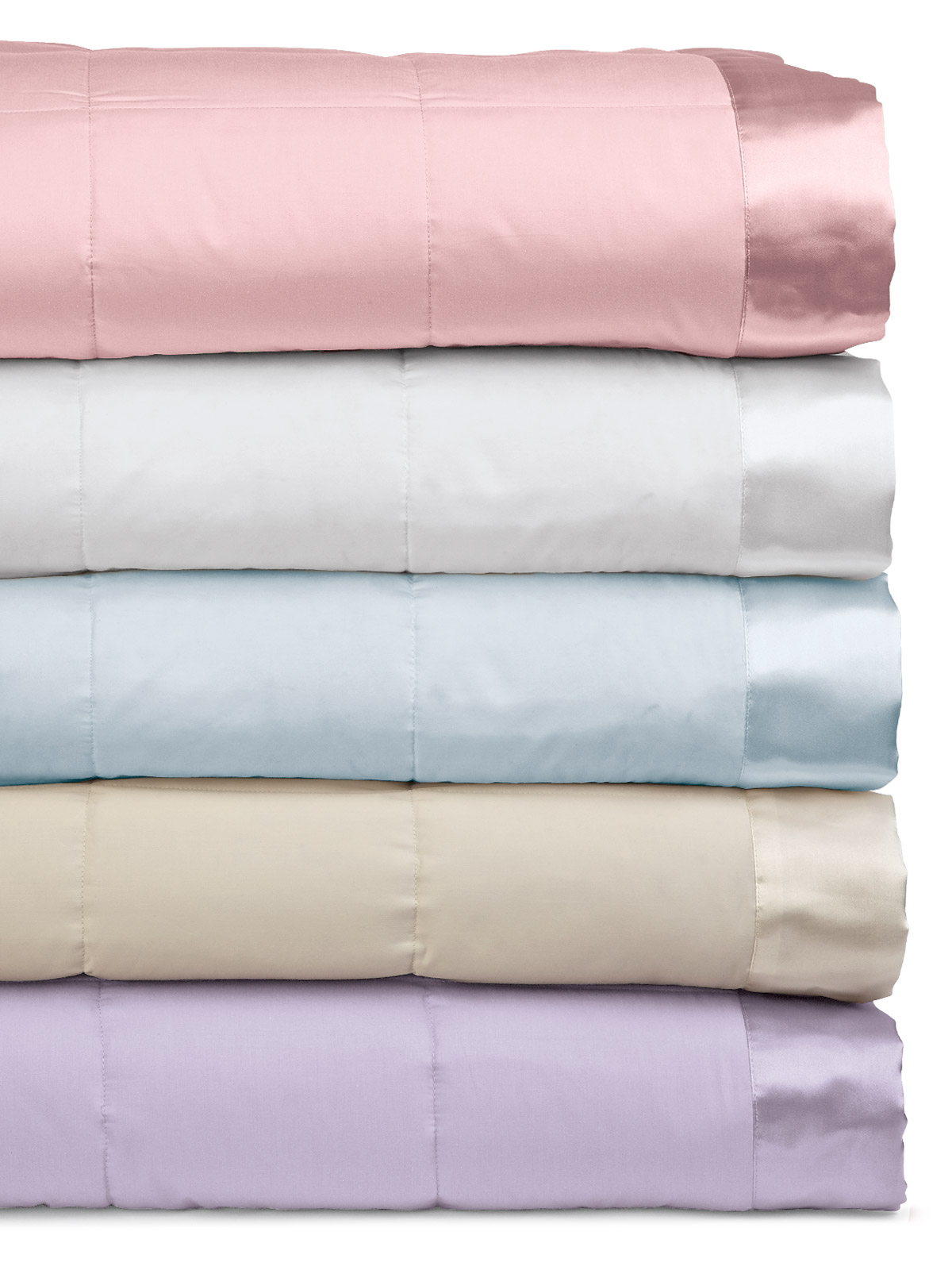 NUANCE & BARRINGTON COURT DECORATIVE PILLOWS
Barrington Court: Millennial décor pays homage to time-honored craftsmanship with a pillow as chic as it is unique. Imported.
Nuance: Making a statement with understated élan, a minimalist Brown cotton pillow takes on a striking look with cording of tie-dyed Orange and Brown tints. Imported.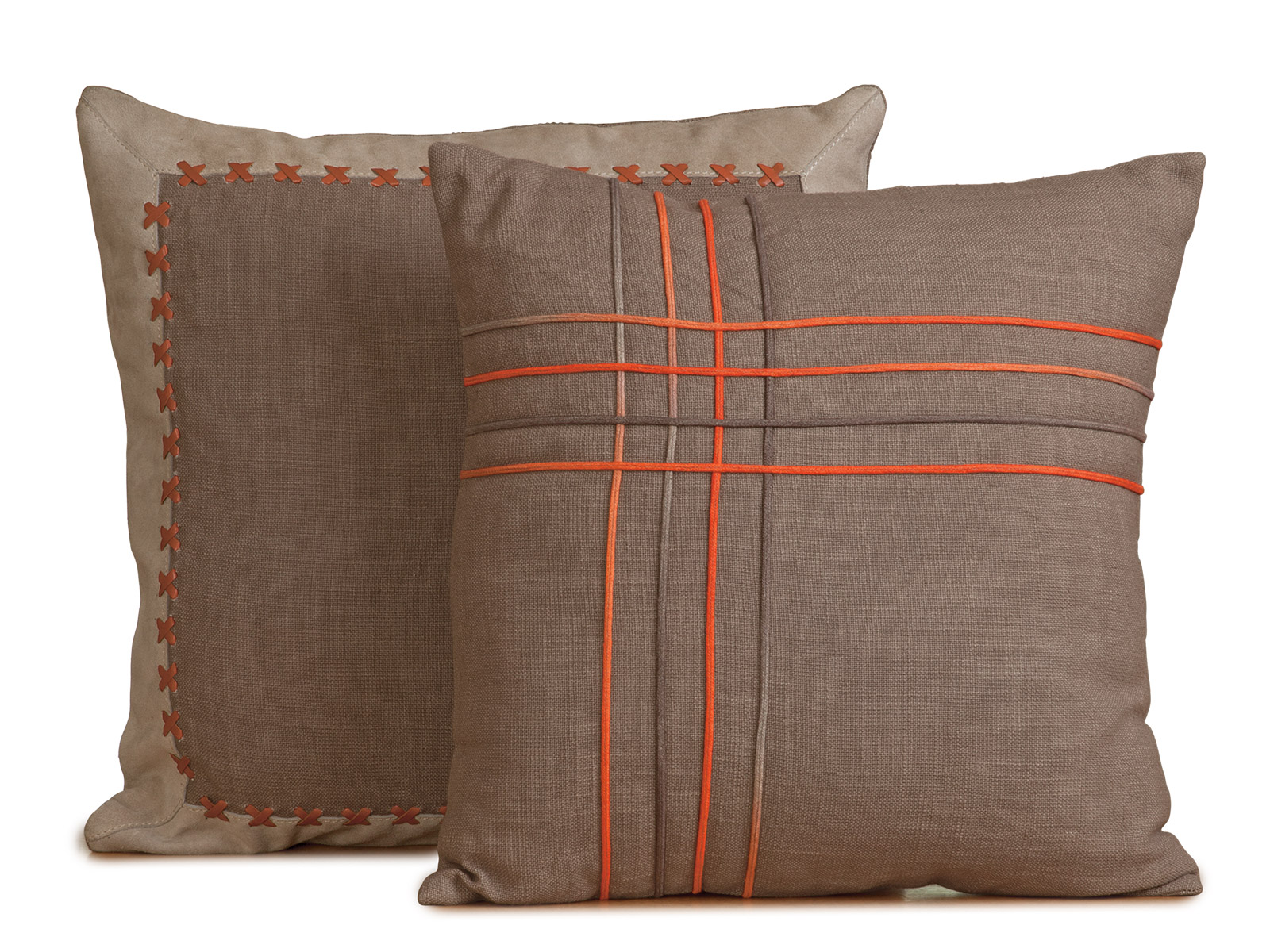 Black and White: An Enduring Classic
Sometimes the best thing for your new bedroom design isn't some dazzling color or bold pattern. Sometimes it's all about setting the foundation with a tried-and-true combination. And thanks to it's appealing ease and striking contrast, this combination has never really gone out of style. That's right, black and white's popularity is on the rise and all eyes are on these neutral tones with their ability to add stunning dimension to any bedroom. These colors not only pair perfectly together for a beautifully simplistic use of space and shading, but they set the stage for adding accents that pop with vibrant bursts of color and personality. Keep it classic for a relaxed scene or give it a contemporary twist for an uplifting energy you can feel the second you walk in the room.
Here are some great black and white inspired sets to start with:
BIJOU
The priceless look of pure Egyptian cotton sateen in luminous White, creates a magnificent setting for diamonds. Made in Italy.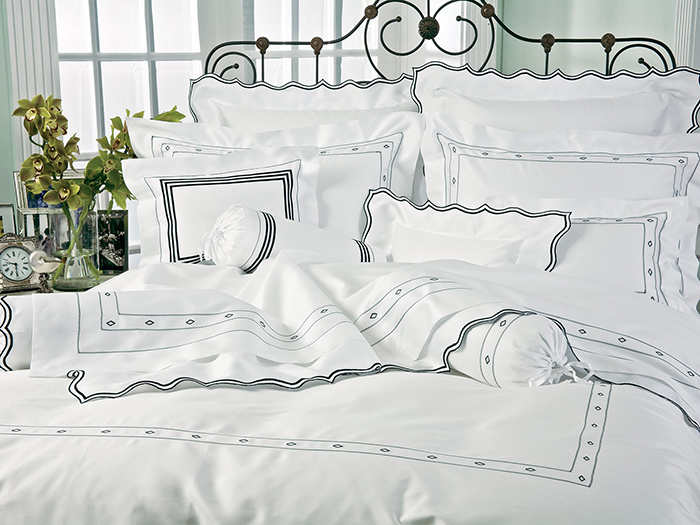 JOIE DE LOOPS
Double rows of grand and glorious embroidered scallops meet up in whirly, swirly, loopy corners on glistening sateen of pure Egyptian cotton. Made in Italy.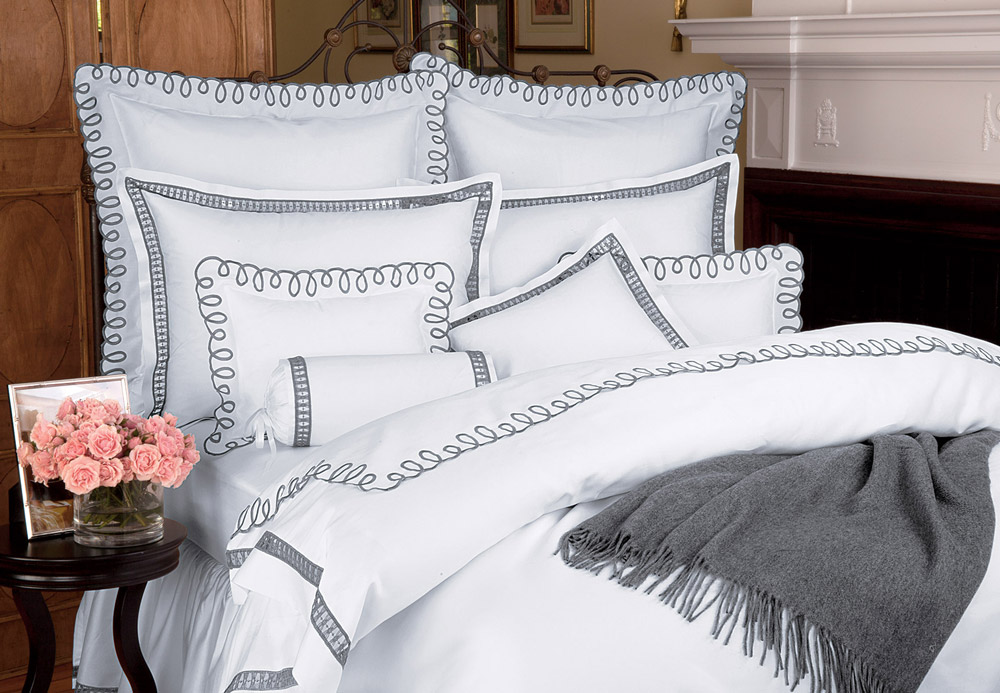 Crème Fraîche
With extraordinary style and substance, our diamond-quilted blanket cover is made in Italy of pristine White Egyptian cotton sateen, adorned with the pure simplicity of classic four-line embroidery.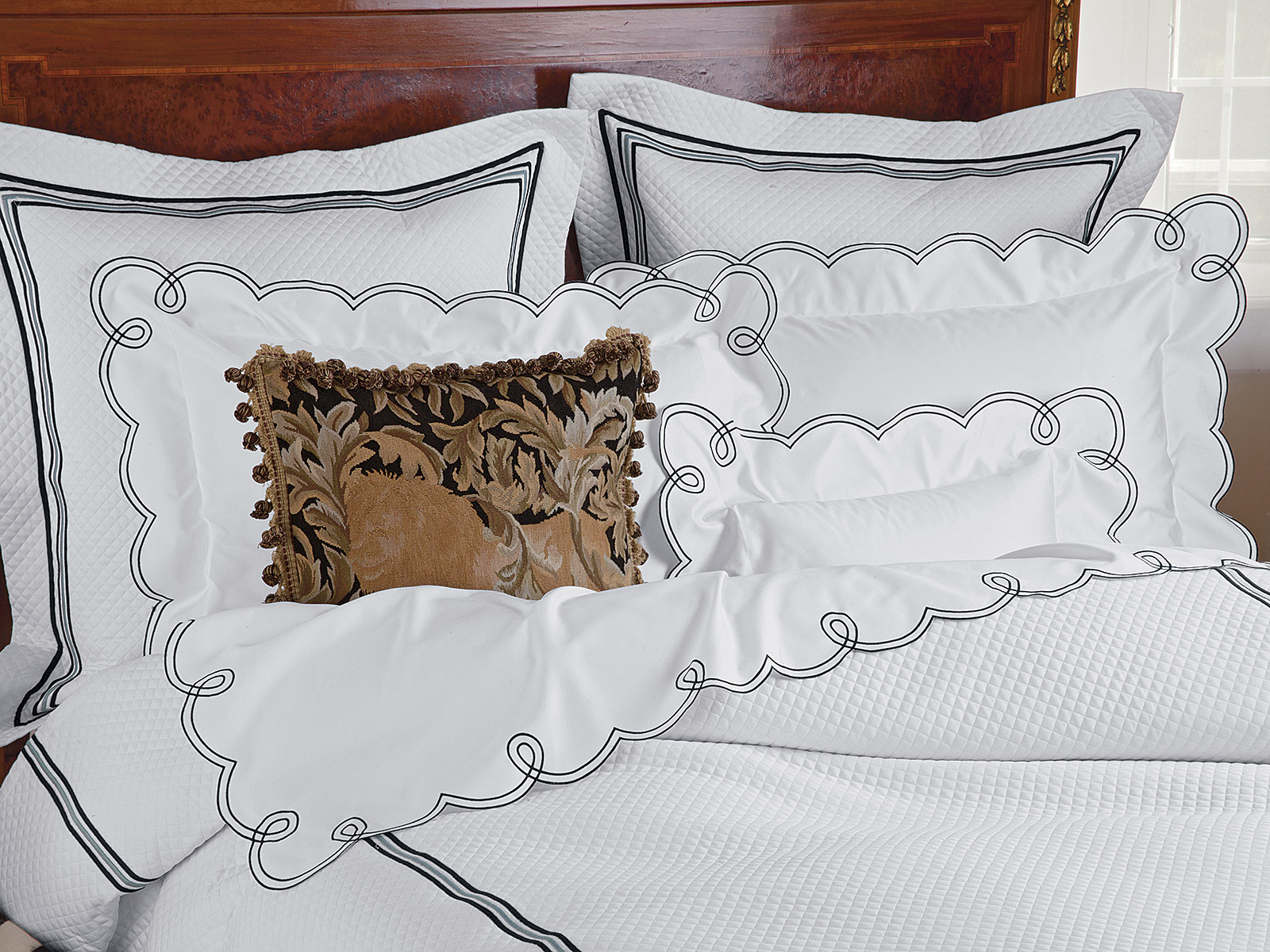 Let's Talk Textures
The difference between a good bedroom and a great bedroom can often come down to something as simple as the texture. The right textures can make your bed look good enough to crawl inside and never want to leave. They also can give the room a feel of chic elegance, luxurious comfort and individual style which shines through every fringe and curve. Adding texture can be as easy as introducing a textured blanket, dust ruffle or throw pillow to give your room more character. You can also go all in and create a masterpiece of sensory perfection. Combining different fabrics with blankets and accessories can give your room that distinctive look and appeal that turns your room from blah to Ahh. There's really no end to the amount of textures you can layer on, as long as it feels right to you.
Here are some great ideas for adding more texture to your room:
DUBLIN LINEN COLLECTION
"Contemporary," "modern," "amazingly beautiful" all are easy descriptions for the naturally breathable comfort of our 100% easy-care linen. Hand loomed textured linen in Beige produces the perfect shams in king, euro and boudoir. Mix 'n Match to your heart's content! Matching dust ruffles in the Damask stripe or solid Black available. Imported.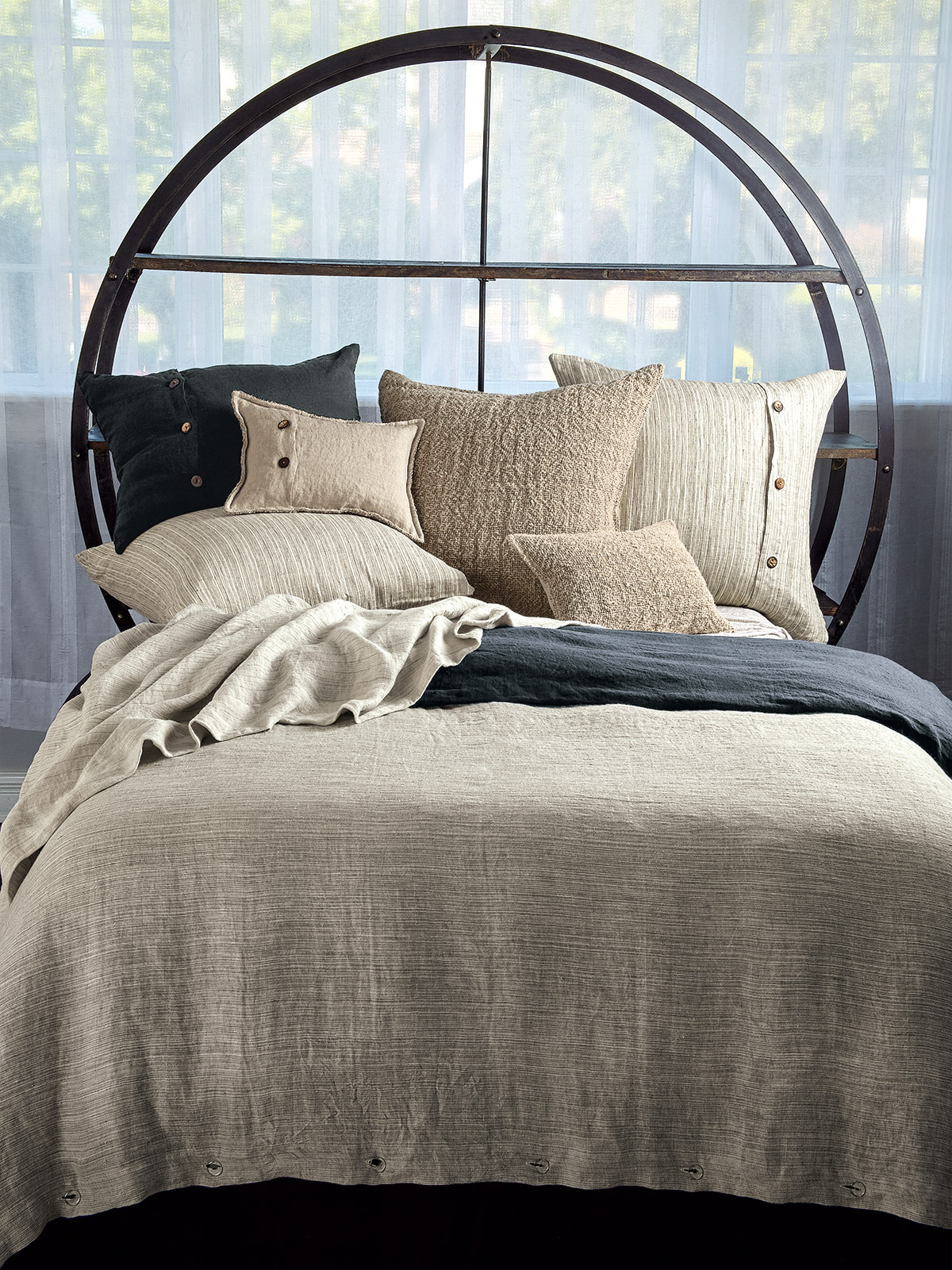 WINDHAM BLANKETS
100% Lambs wool thermal blankets bound on four sides are warm, comfortable and resilient. Imported from Italy in Cream, Pink, Peach, Lavender and Yellow, perfect for any time of the year.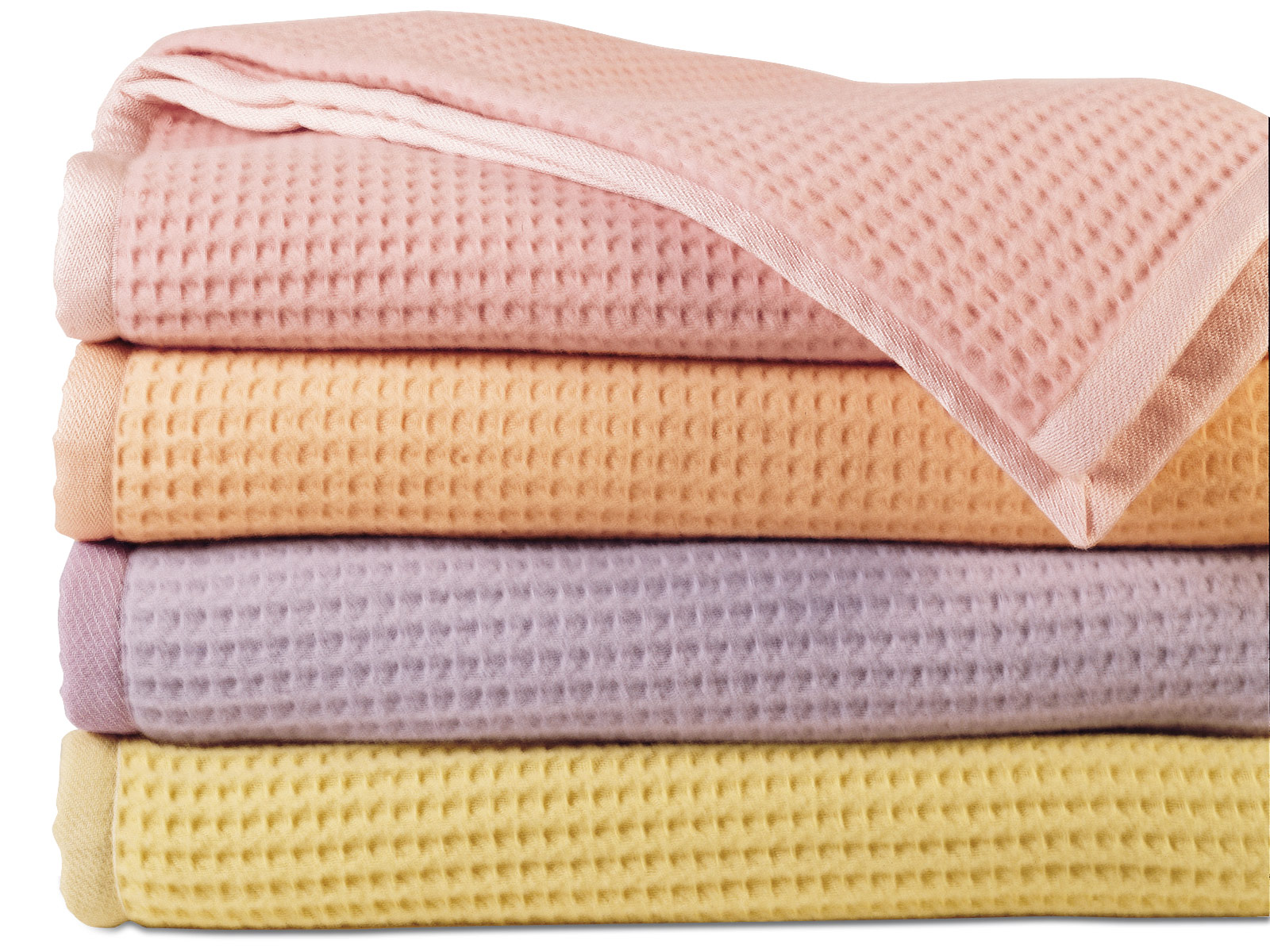 CREME DE LACE DUST RUFFLES
Elegantly gathered and beautifully crafted, the folds and drape of this 100% easy care linen dust ruffle introduce a rich element of refinement, along with unique new textures, to bed and bedroom. Imported.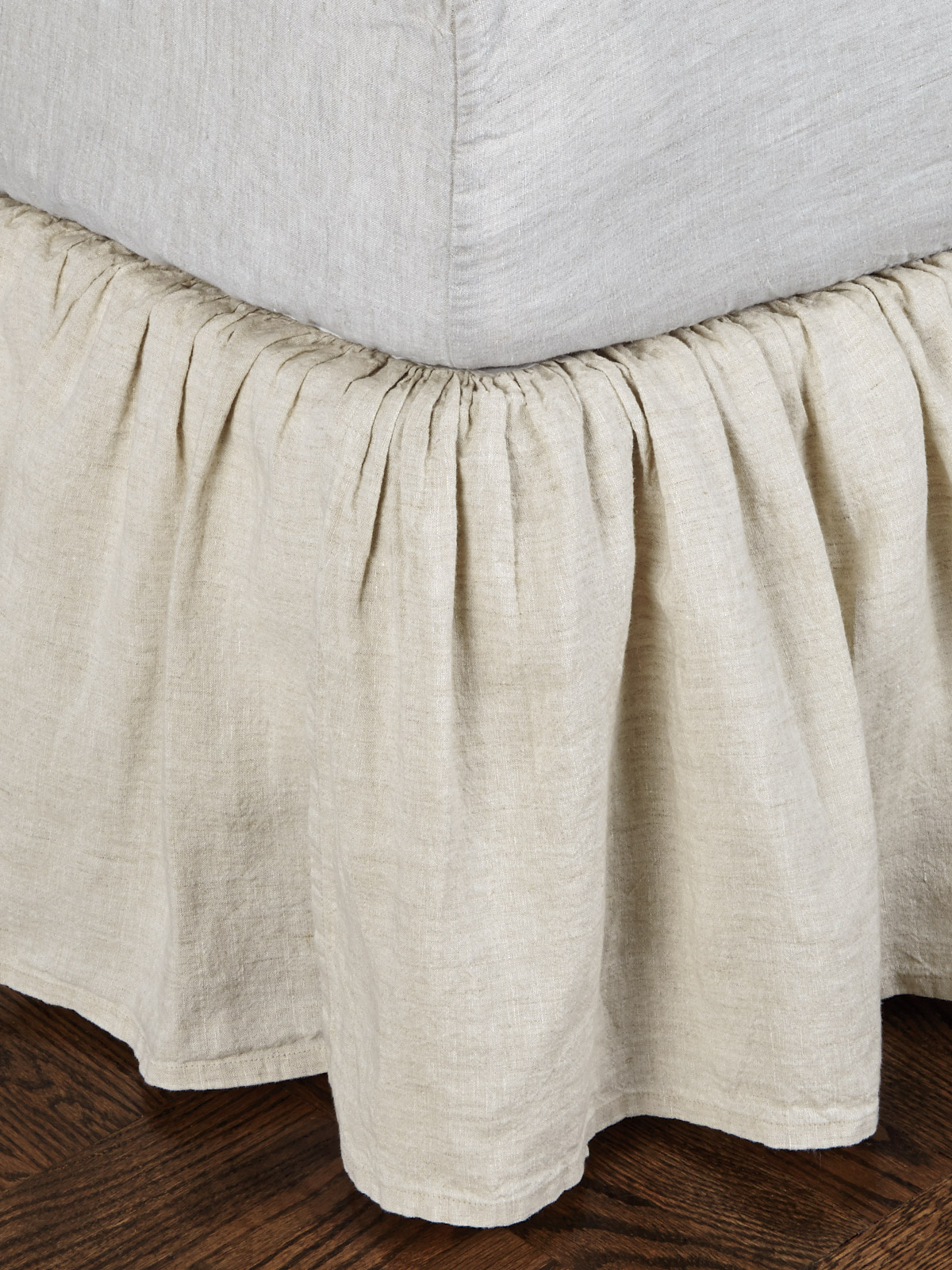 The Most Important Bedding Trend of 2020
Is whatever you like! Knowing the latest trends can help you decide how to design your bedroom but the most important trend is listening to yourself and not caring what anyone else is doing. Whether that means finding the bedding collection that speaks to how you want to feel, choosing the colors that make you happy or combining pieces to make your vision a reality, it's right because it's right for you.
Schweitzer Linen has been helping customers create their own perfect sanctuaries for over 50 years. They're here whenever you need them. Browse their extensive collection of products with exclusive designs you won't find anywhere else or drop them a line and they'll help you create the bedroom you've always wanted. It's what they do.