A beautifully dressed table is not just for special occasions.
I know most people create an elegant table setting for Easter, Thanksgiving, Christmas, Hanukkah and New Year's. I like to invest in quality linens so why not be stylish every day of the week? It's like buying a pretty dress and keeping it in the closet for a big night out. All my tablecloths are linen. I know they require a bit of ironing but it's worth the results. My table always looks great and my friends and family appreciate the effort. Even a simple white linen table cloth like Marbella (pictured below) with a single hemstitch can elevate your dining table. You can coordinate the tablecloth with matching placemats or napkins and you're ready for entertaining…… yourself or your family!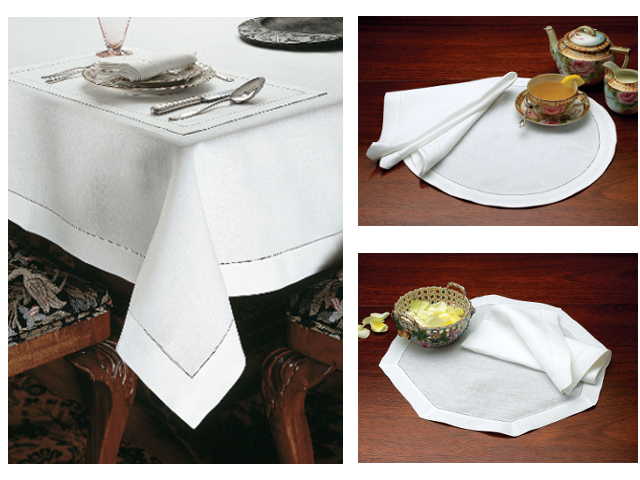 I love the colors and embroidery of the Palm Beach Tablecloth; it's perfect for outdoor dining or a summer party. With intricate coral and seashell hand embroidery, it's one of a kind.
If you enjoy having dinner parties as much as I do then it's important to have several tablecloths on hand and even more placemat sets that can be used year round. Both Monte Catini, with a cotton organdy trim and Medallion with an Italian damask trim in grey, have a stylishness which I can use anytime. They are like works of art. Sometimes I just use a Medallion runner on the table with placemat sets to achieve a look that is effortless chic. Don't' forget the flowers!
For high noon tea or drinks with friends, consider the Casandra Placemats, Napkins and Cocktail Napkins. They are a whimsical alternative to a tablecloth and come in five different colors.
The Manhattan Cocktail Napkins feature trendy drinks hand embroidered on organdy and scream ladies night! I feel a little bit cooler holding my drink with one of these.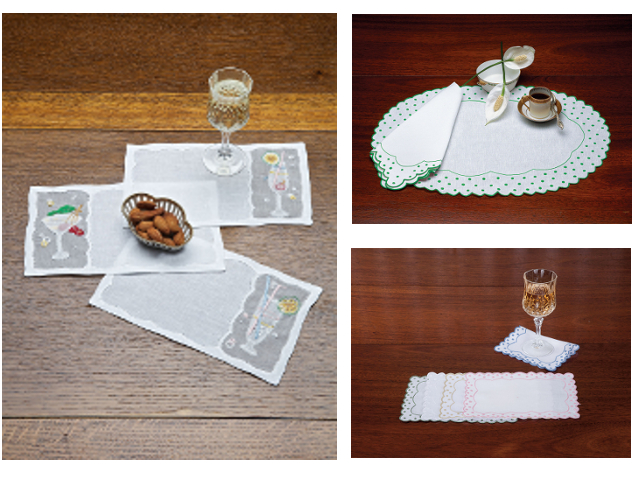 Atelier is a new design I discovered this year and features a grey "ladder" lace insert. I really like the more masculine look of this tablecloth, runner and placemat set and I think it's a perfect look for a hip man who is considering buying a tablecloth.
If I could imagine what the Queen of England puts on her table, then I just might come up with this gorgeous cutwork tablecloth. The style is called Florence and it's my absolute favorite because of the delicate look of the design and regal feel. I will admit I may not let my friends eat off this tablecloth…. It's just too pretty! The Roma tablecloth is equally stunning and more budget friendly.
There are many options to consider when buying a tablecloth and we know white or ivory are a staple in any linen closet, but consider choosing a tablecloth with delicate handwork like Patrician for that wow factor. The look of the hand embroidered flowers, shadow stitching, and inserts of lace is striking. It's white but not boring.
Who wouldn't enjoy a cup of coffee or Sunday brunch on these beautiful embroidered table linens in a country Rooster design or the sweet look of Frutta Giornini. It's ideal for casual dining or a picnic in the park!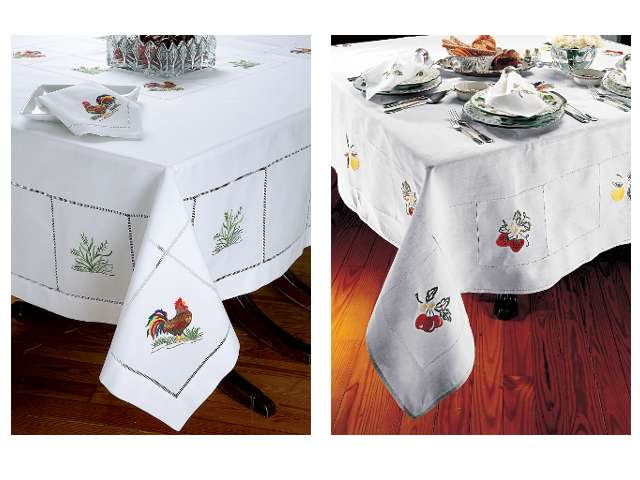 A solid color tablecloth is definitely a safe choice, but I cannot resist the vibrant flowers and colors of the Tahitian Sun tablecloth. It makes such a statement that you can set the table in the most minimalist way and it will still be stunning.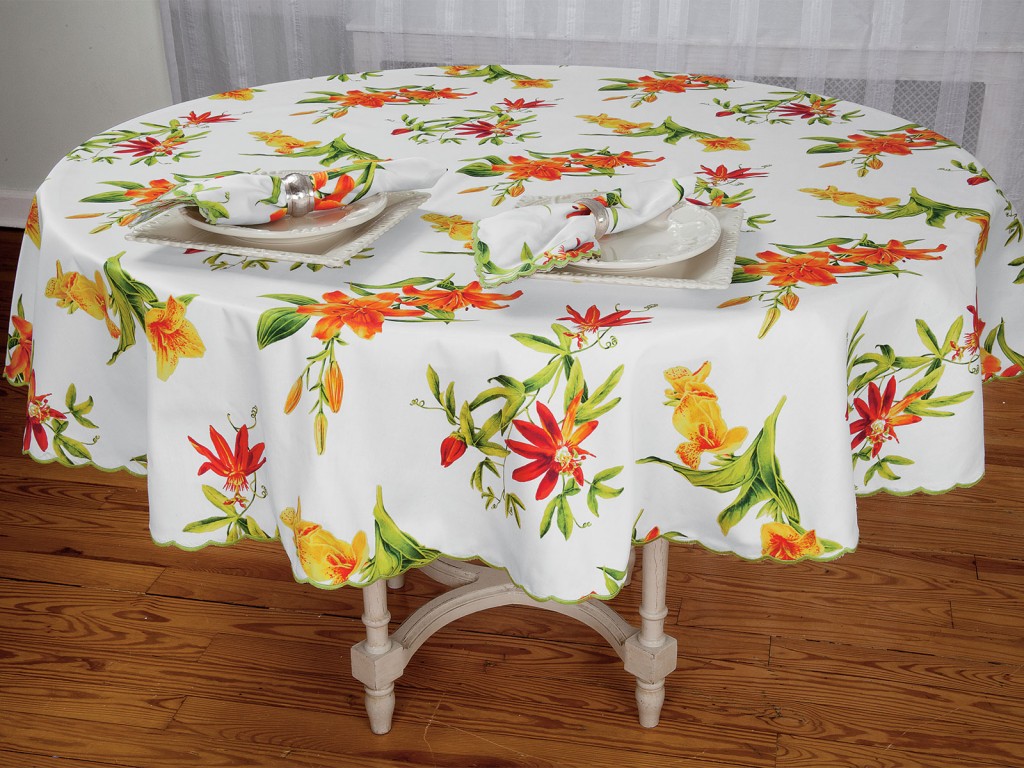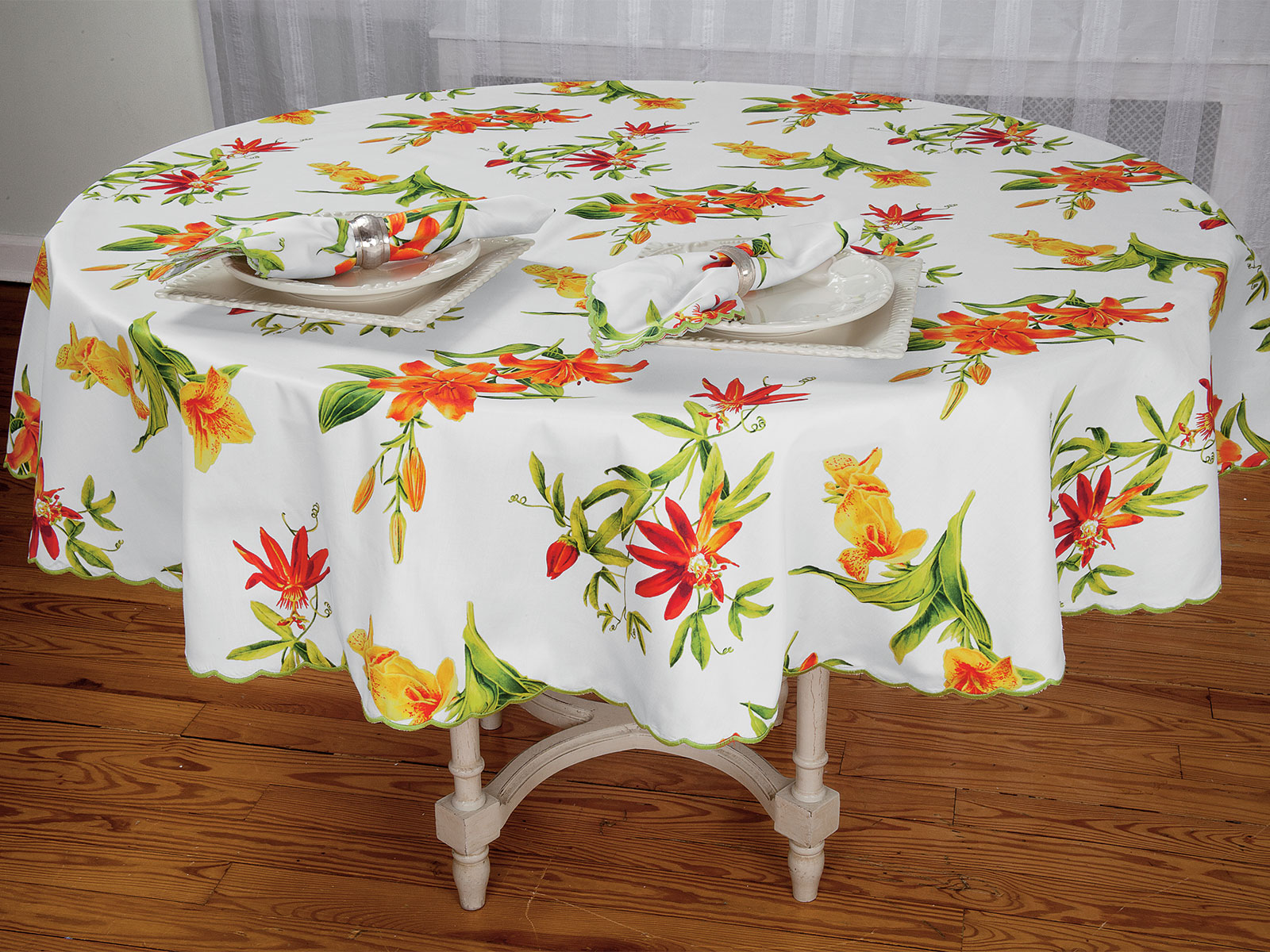 Lastly, I have to mention the holidays because it's never too soon to start planning the perfect holiday table setting. I enjoy the festive look of the Christmas Trees on the Merry Merry Tablecloth. Holly Days is just as joyful but more universal. Both are available in runners, placemats, cocktail napkins and guest towels. Dress up the whole house for the holidays! And remember most Schweitzer Linen tablecloths can be customized to just about any size and the embroidery color can also be customized. Just place your order at least 3-4 months before your special event!