Like the excitement of waiting for the birth of your child, we are anxiously awaiting the debut of our new Fall 2015 collection, 9 months in the making!
It's a long process but well worth the wait and as we wade knee deep in samples, swatches and Pantone colors; we are making the final revisions to our new bedding and nightwear line. In keeping with our consumer favorites we have added vibrant floral prints in pinks, blues and two tone of purple and gray. It's stunning and will liven up any bedroom.
Inspired by some amazing architecture we came across in our travels, we channeled this into new geometric designs of Greek keys, circles and clean lines. Delicately crafted in Italy for a simply beautiful appearance.
Picking colors is as important as finalizing a design. A color can make or break even the most elaborate embroidery and this year we kept coming back to joyful Orange! In bedding the color is stimulating, fun, enthusiastic and creative. It brought to life many patterns and with all the designs in the same orange colorway you'll have countless ways to mix and match.
The line will appear in our September 2015 catalog but we are going to give you a sneak peak of just some of the designs.
Orange is the New Black: An embroidery, a nautical print, chain link and applique are just some of the styles you will find in the color of the moment, orange. Mix and match any or all. Vibrant and happy go lucky, this color is guaranteed to put a smile on our face.
Avery: Embroidered dots and lines are whimsical together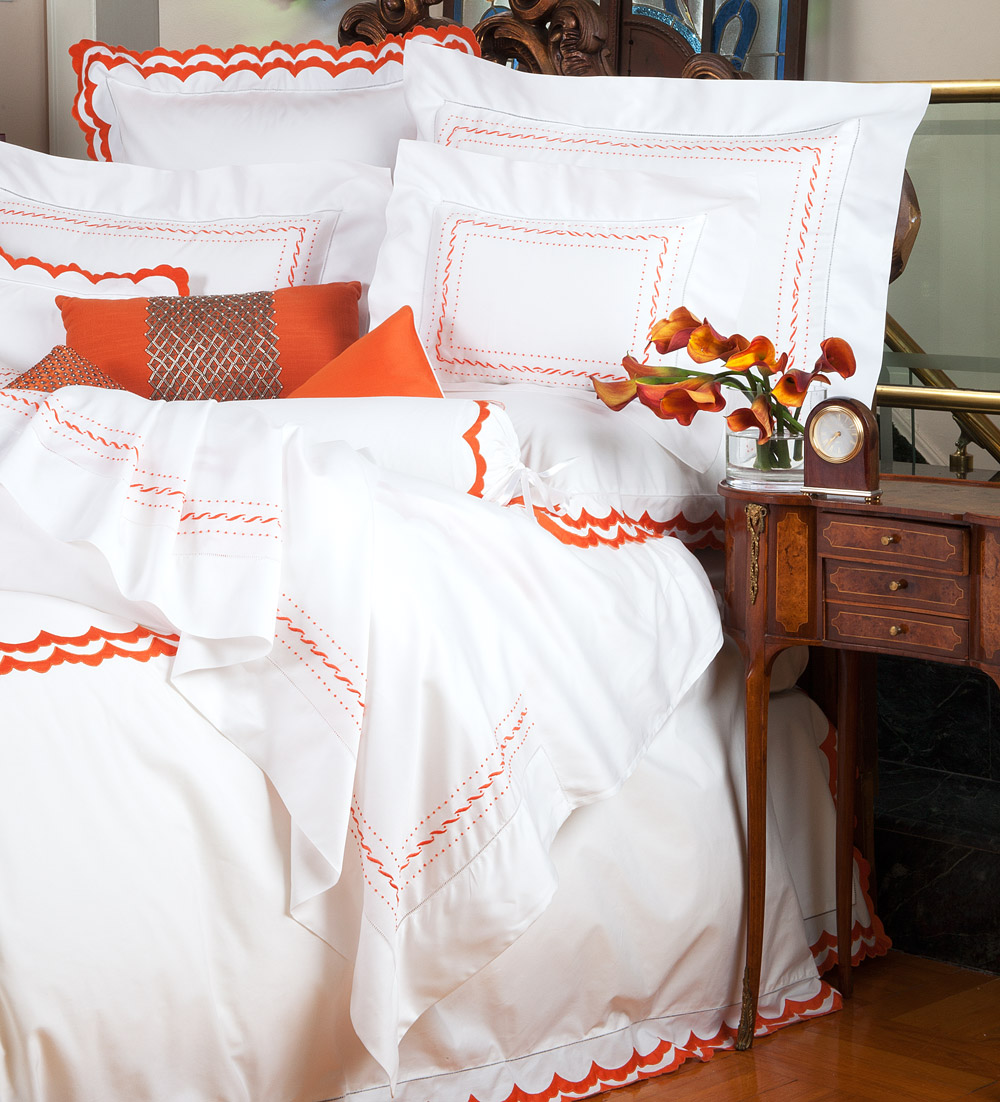 Nantucket: Orange or white sateen with piping
Solar: Oval links in an allover print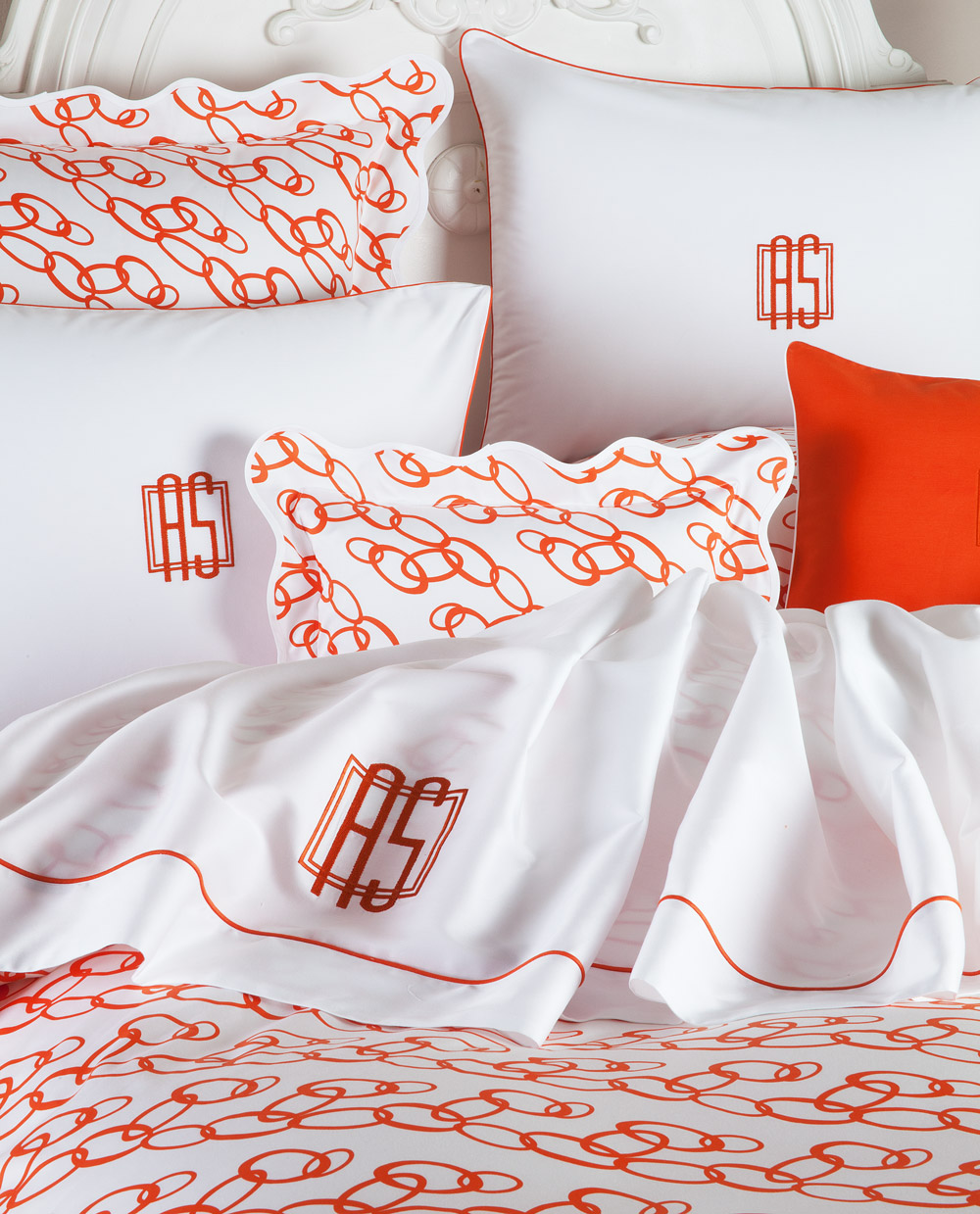 Newport: Elegant on brilliant white with just a scallop of orange
Gardner: Radical waves of coral and blue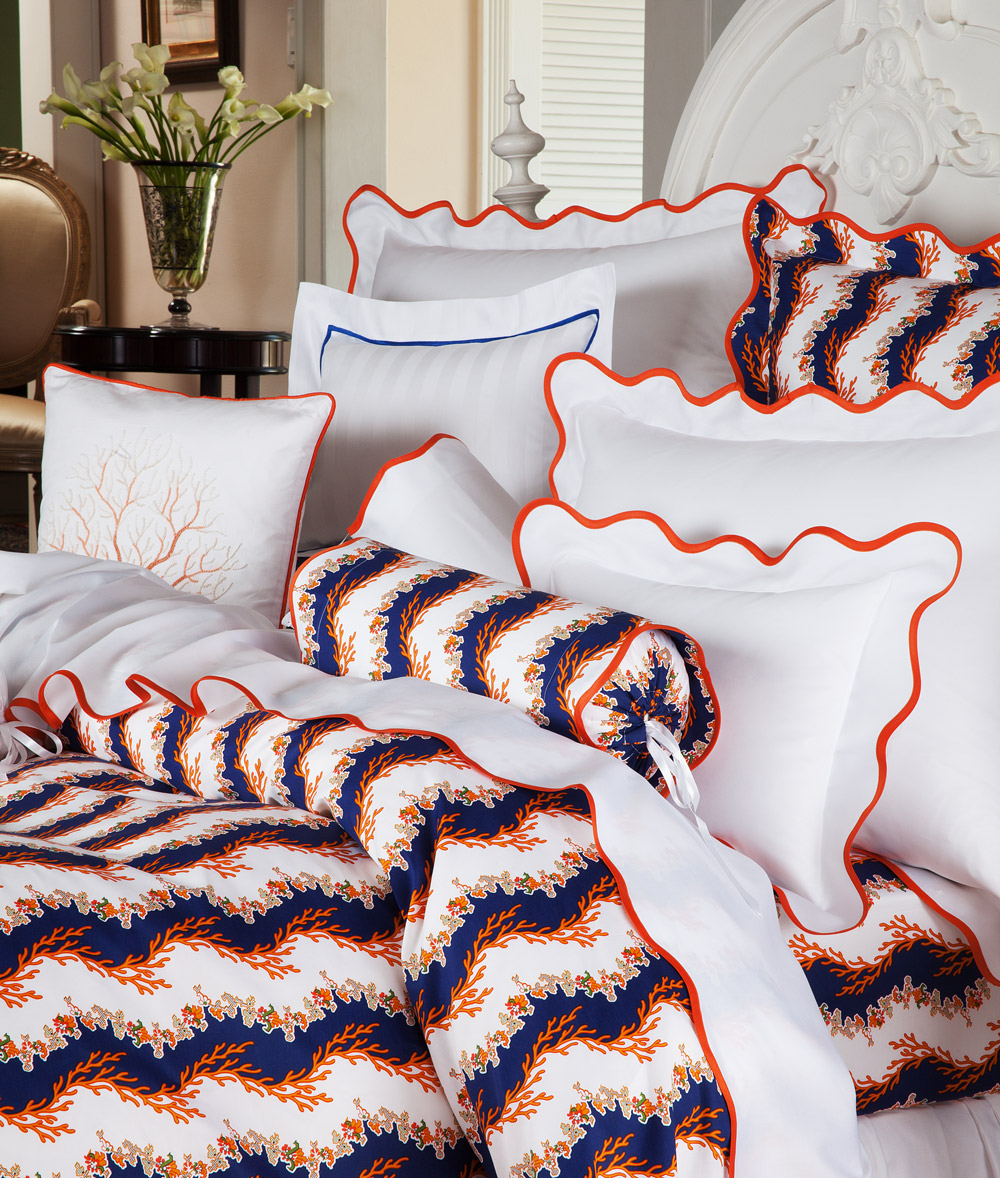 Modern Love: We are keeping up with the times and evolving as we develop new
embroideries. These modern designs will give a polished look to any bed.
Olympus: A non-traditional Greek key with floral ribbons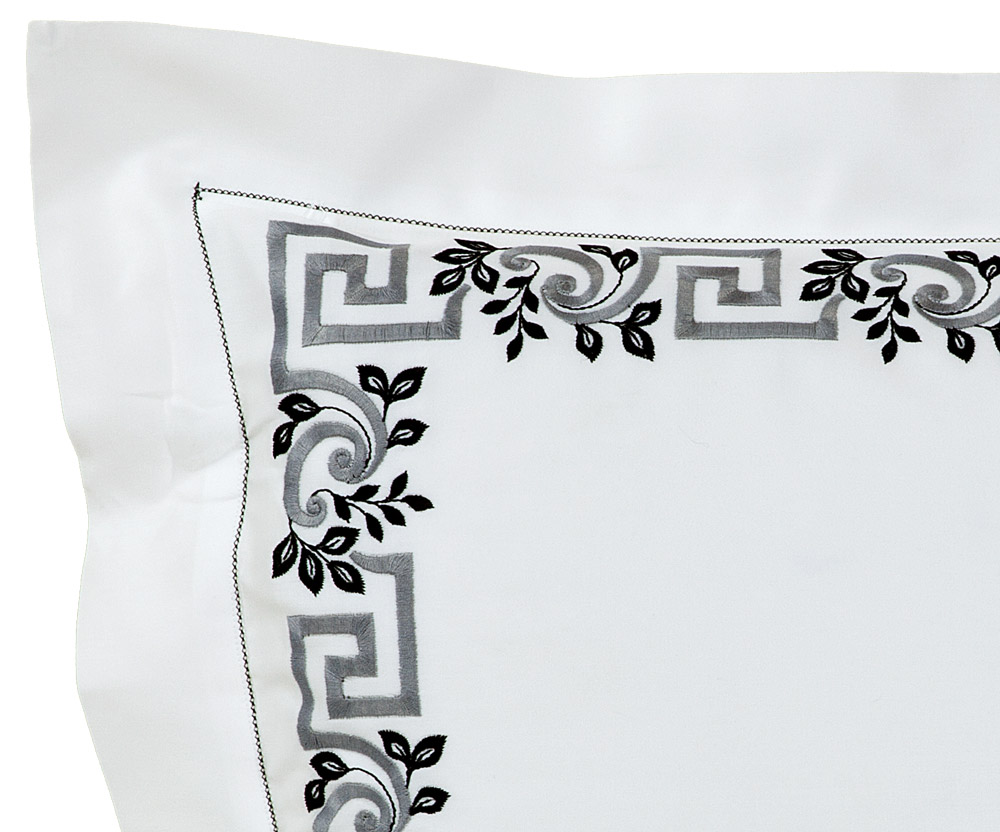 Canton: Two tone line embroidery reminiscent of parkway flooring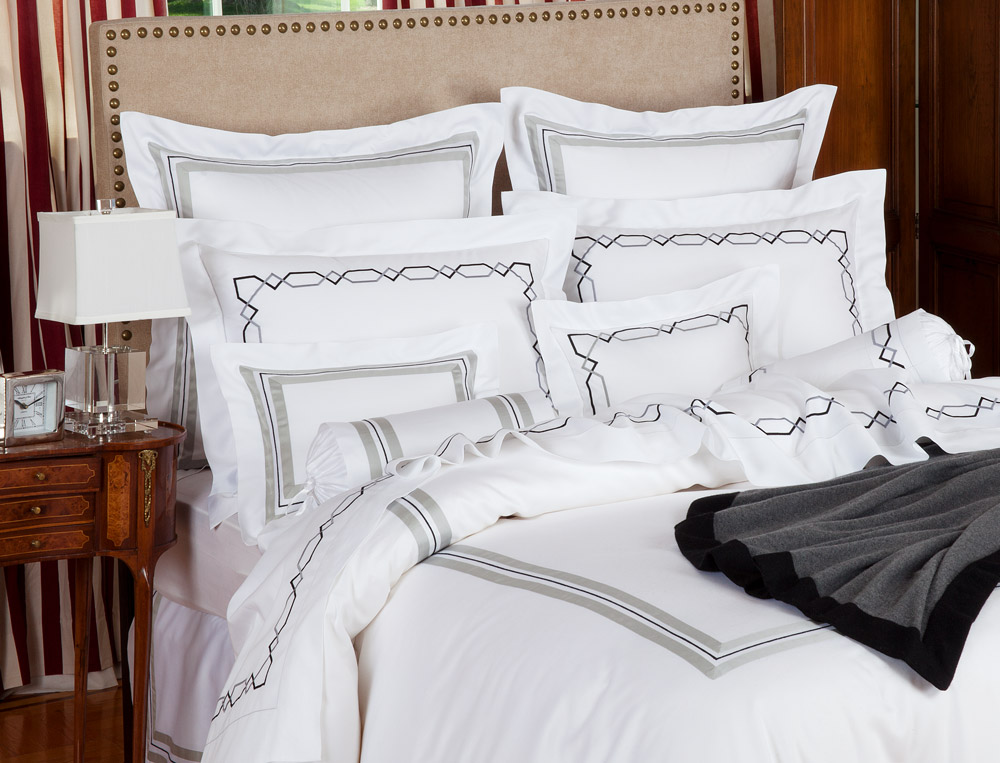 Essex: Smoke blue applique create a romantic frame on white sateen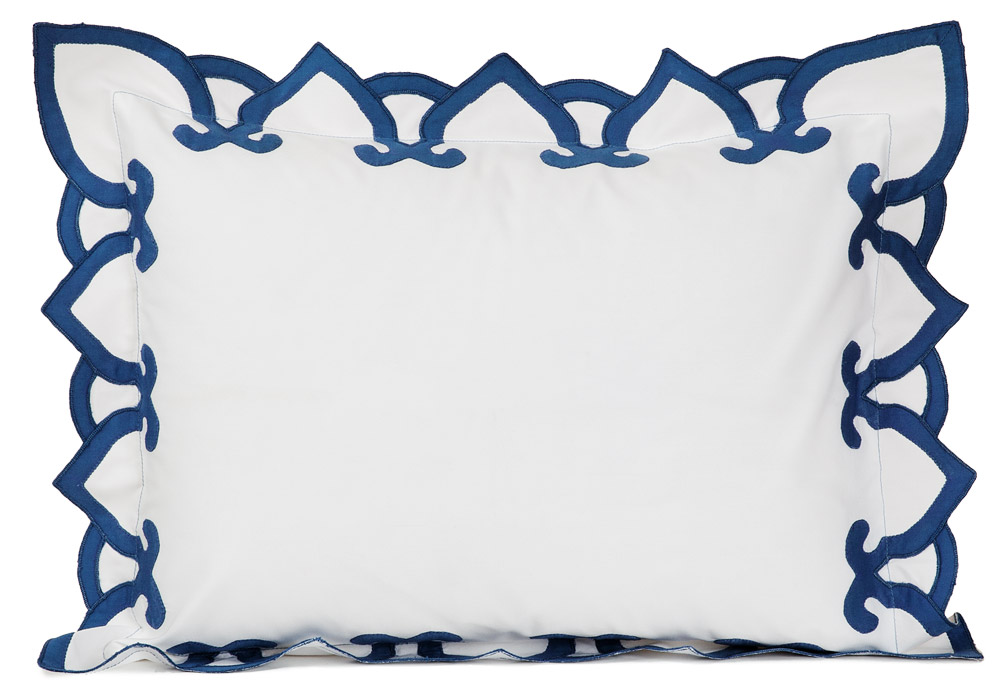 Dover: Spiral lace in Ivory or White create a sweet look

Say it with Flowers: We love flowers and you'll find they are always in bloom at Schweitzer Linen. This year we did not disappoint with our fragrant embroideries and colorful floral prints.
Ipswich: Pink or Purple flowers wrapped in ribbon with colorful scallops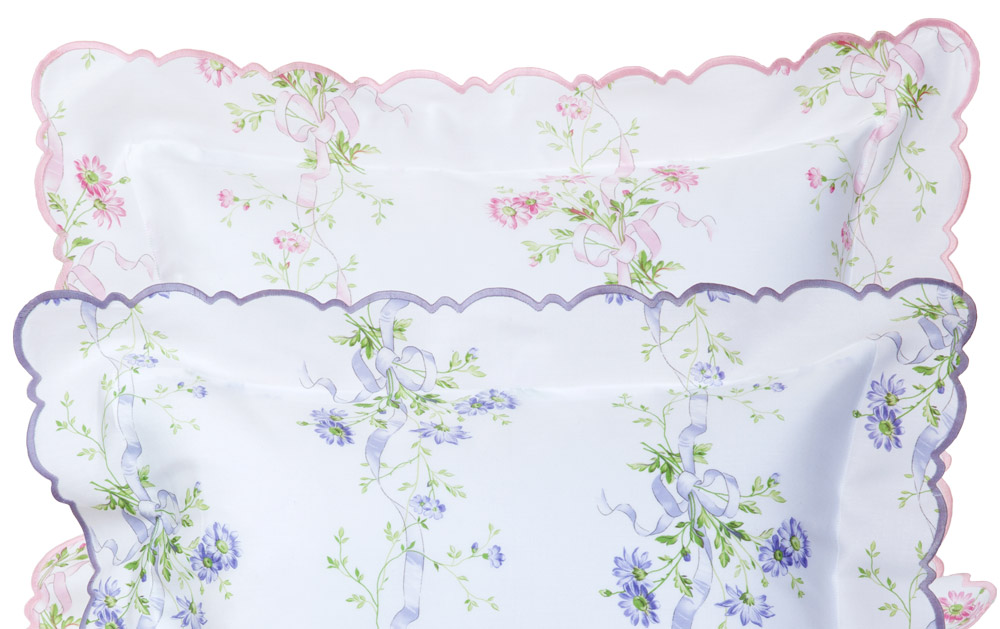 Lakeville: Yellow Daisy flowers finished with a yellow scallop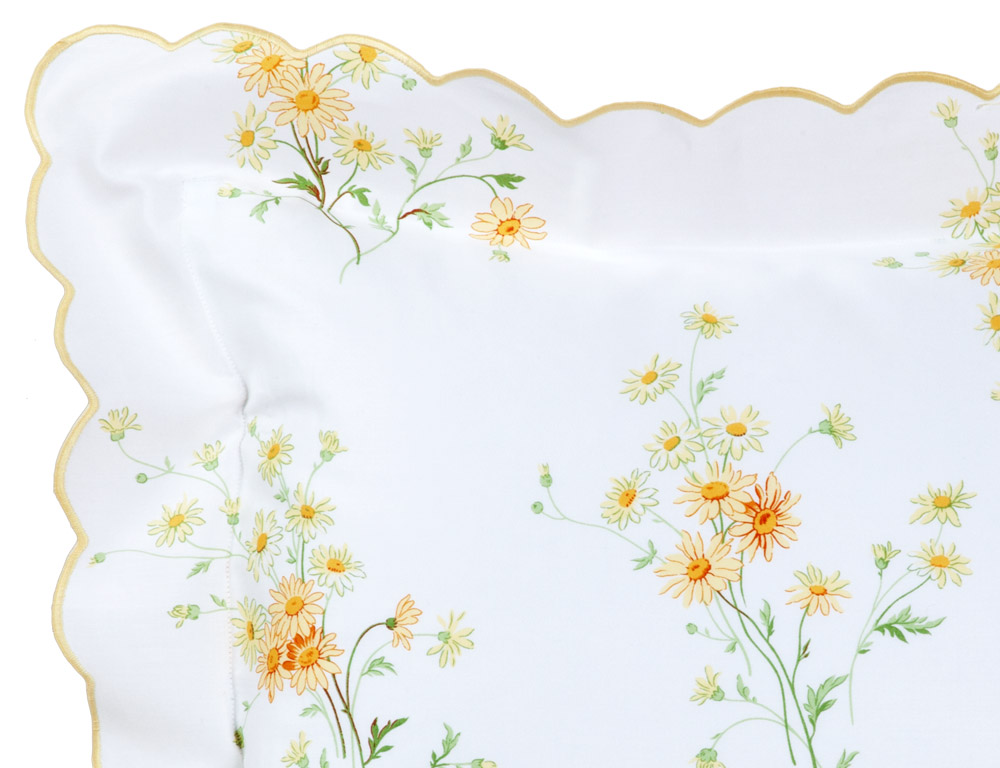 Mansfield: Two tone scallops to coordinate with the two tone print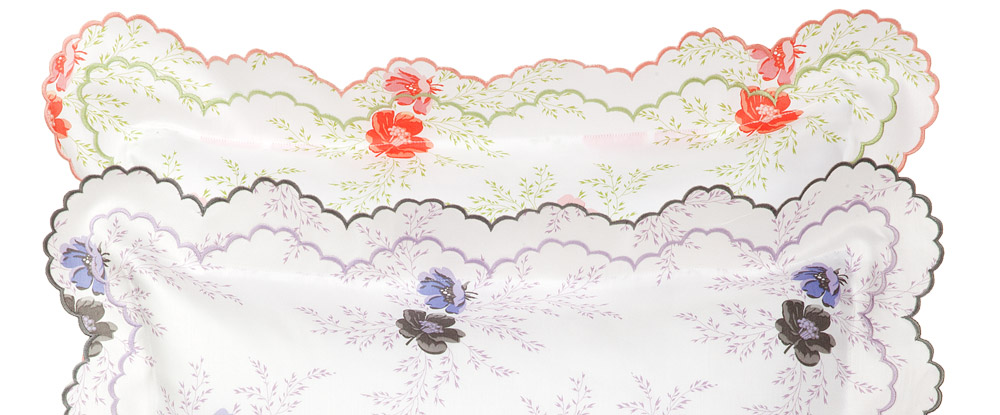 Griffith: Tiny Rosebud embroidery framed by tiny hemstitching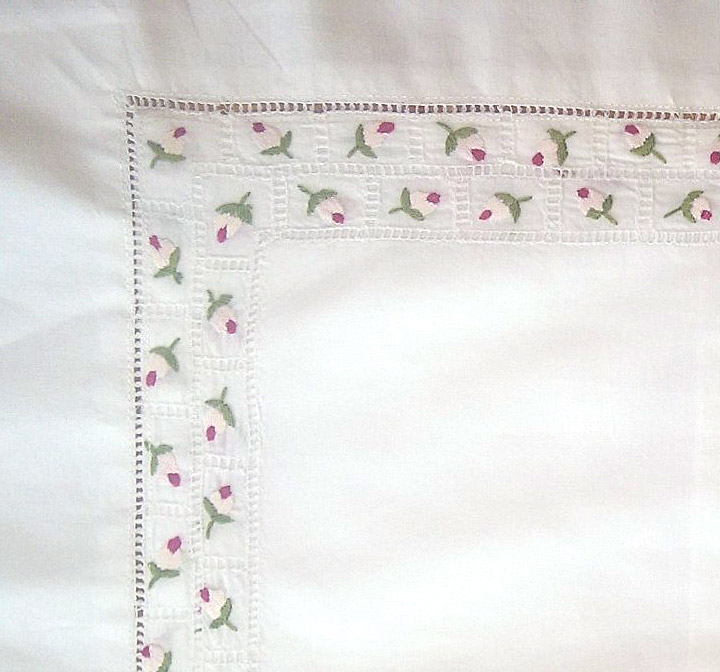 Bedford: Hand embroidered bouquets of flowers look like a work of art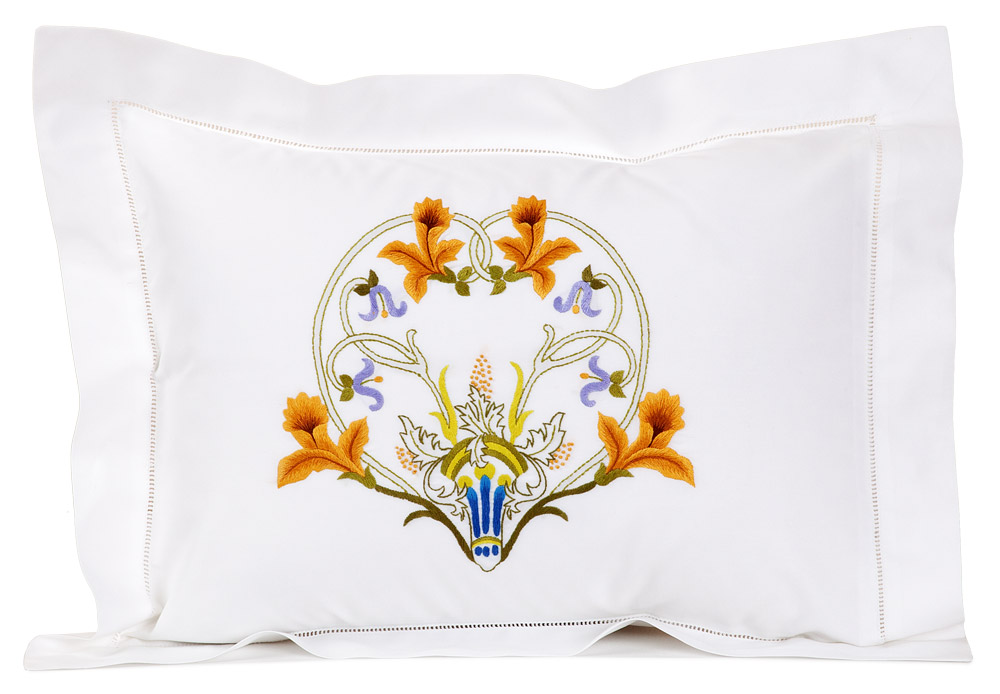 We hope you enjoyed this preview of our new line and promise we have many…
many more beds and nightwear coming soon! We know our loyal customers, who
appreciate the detail and quality Schweitzer Linen delivers time after time, will
love this new line. And before the dust settles we'll be hard at work again on our
next baby!