After a year full of uncertainty, insecurity and tragedy, it will come as no surprise that most of us were more than ready to move on from 2020. But what now? Even as developments start to suggest the possibility of a world that feels more normal, where does this healing begin? For the last five decades and counting, we's happening outside. And we're here to do it again. Because in addition to love sweet love, what the world needs now is a daily dose of deep healing comfort and satisfying coziness to surround us all in warmth and security. It begins in the bedroom by creating the right kind of environment.
A Room for Letting Go
Having a room or spot in your home where you can go to destress and get away from it all, even for a little while, is imperative to a healthy body and mind. On top of our own day-to-day stressors and challenges, the world has given us plenty more to juggle and that can feel extremely overbearing. This can lead to a lot of unwanted stress and that's not good. Stress doesn't just harm the quality of life we want and deserve, it can be downright damaging to our bodies, even deadly. With the help of the world's coziest fabrics and most inspiring designs, creating a special space where you and your family can feel safe, warm and happy is easier than you think.
TRÉS JOLIE
As sweet as a goodnight kiss, happiness is printed all over 100% pure Egyptian cotton sateen, 300 thread count, with streaming ribbons and bows of Navy or Beige on White. Made in Italy.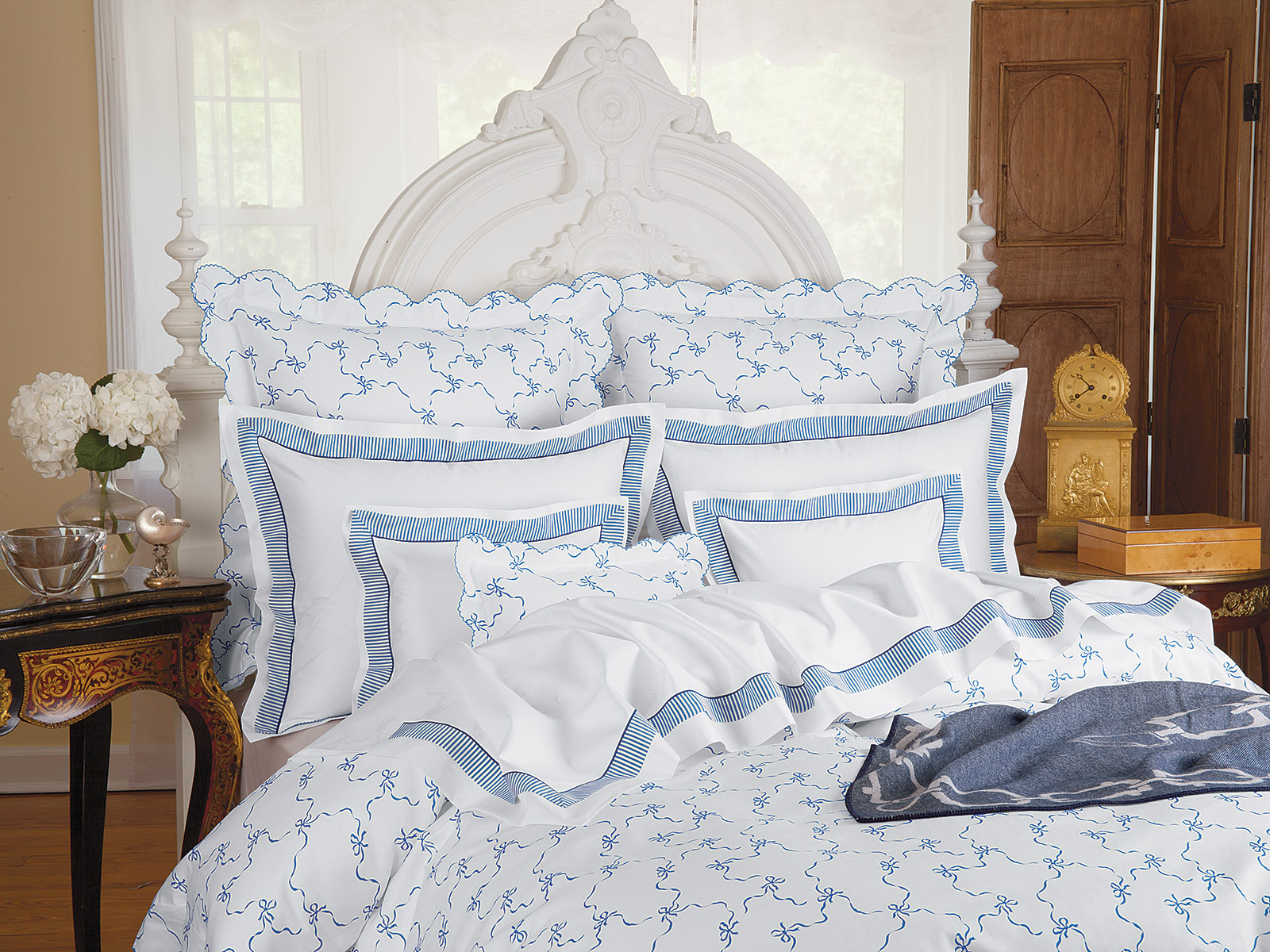 HIGHLANDIA
Bringing a fresh new approach to plaid, refreshing 300 thread count pure Egyptian cotton sateen combines a bold and beautiful pattern with soft and subdued tints of Blue and White, Brown Pink and White or Gray. Topped off with superb Italian tailoring and fanciful ruffled flanges.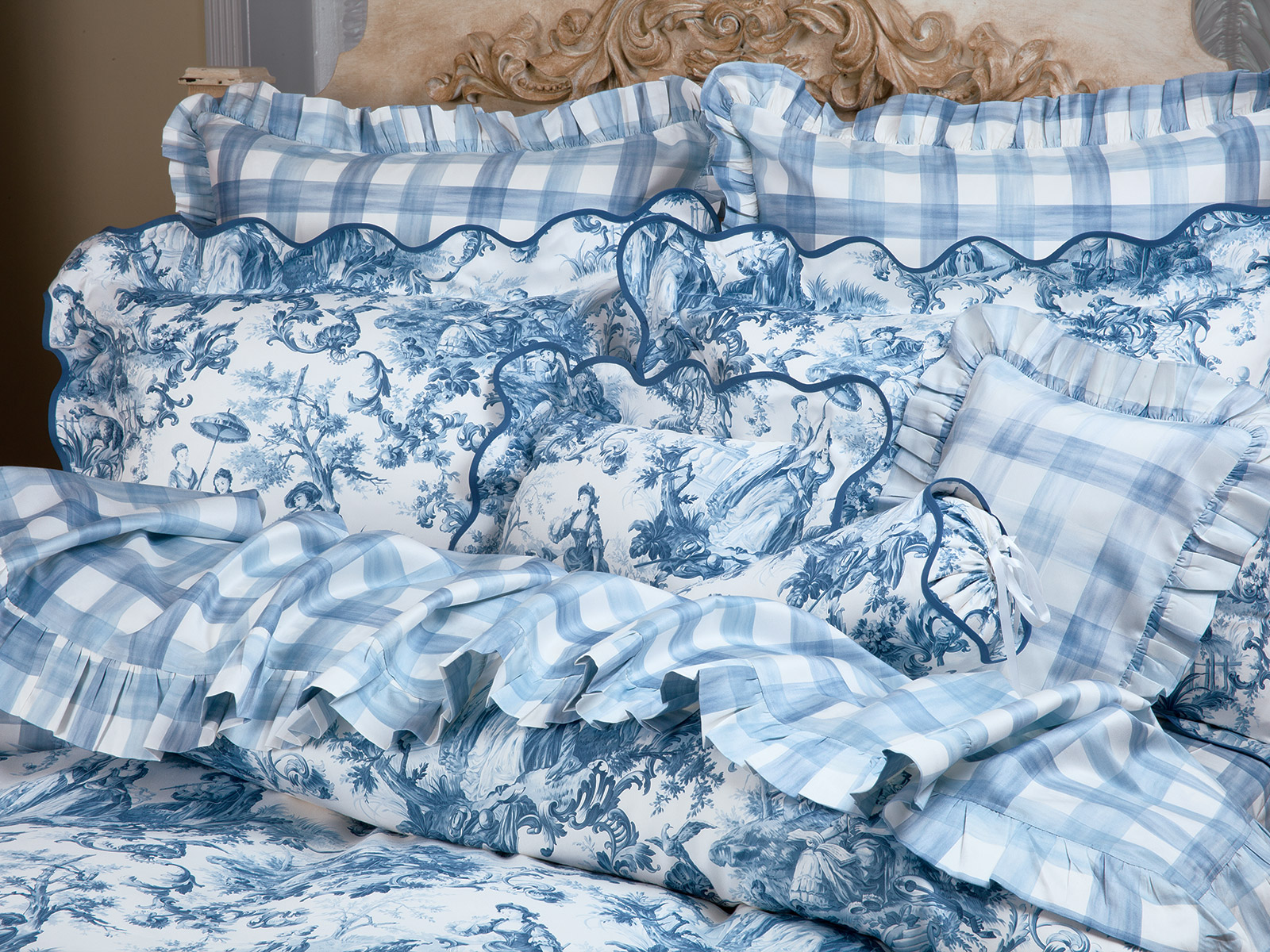 A Room for Moving Forward
Creating your bedroom sanctuary isn't just about having a place to escape, it's about taking that first step towards a happier, healthier year. Don't get us wrong, sometimes the best thing we can do is slip under the sheets, close our eyes and let the soft luxury of fine bedding lull us into a state of peace and contentment. But hiding from the world won't allow any of us to find the true joy we want in our life. That's why it's so important to surround one's self with reminders of how beautiful and rewarding life can be. At Schweitzer Linen, you'll find hundreds of exclusive designs, one-of-a-kind patterns, and a spectrum of colors that give you the control you need, so you can decide how you want to feel. Keep things upbeat and modern for a burst of positively charged energy each morning. Slow things down with a soothing ambience of cool, calm-like elements that keep you relaxed and recharged at all times. Whatever way you design your new spot for moving forward, the most important thing is deciding to make one. Even the smallest refinements can go a long way to putting the challenges of 2020 in the past – allowing us to look forward to a brighter, more comforting future.
BROOKLYN
The Italian pre-washed, easy care linen sheets have a crumpled appearance for an industrial look that works well in the sophisticated city or a country retreat. Perfect for today's lifestyle. Imported from Italy.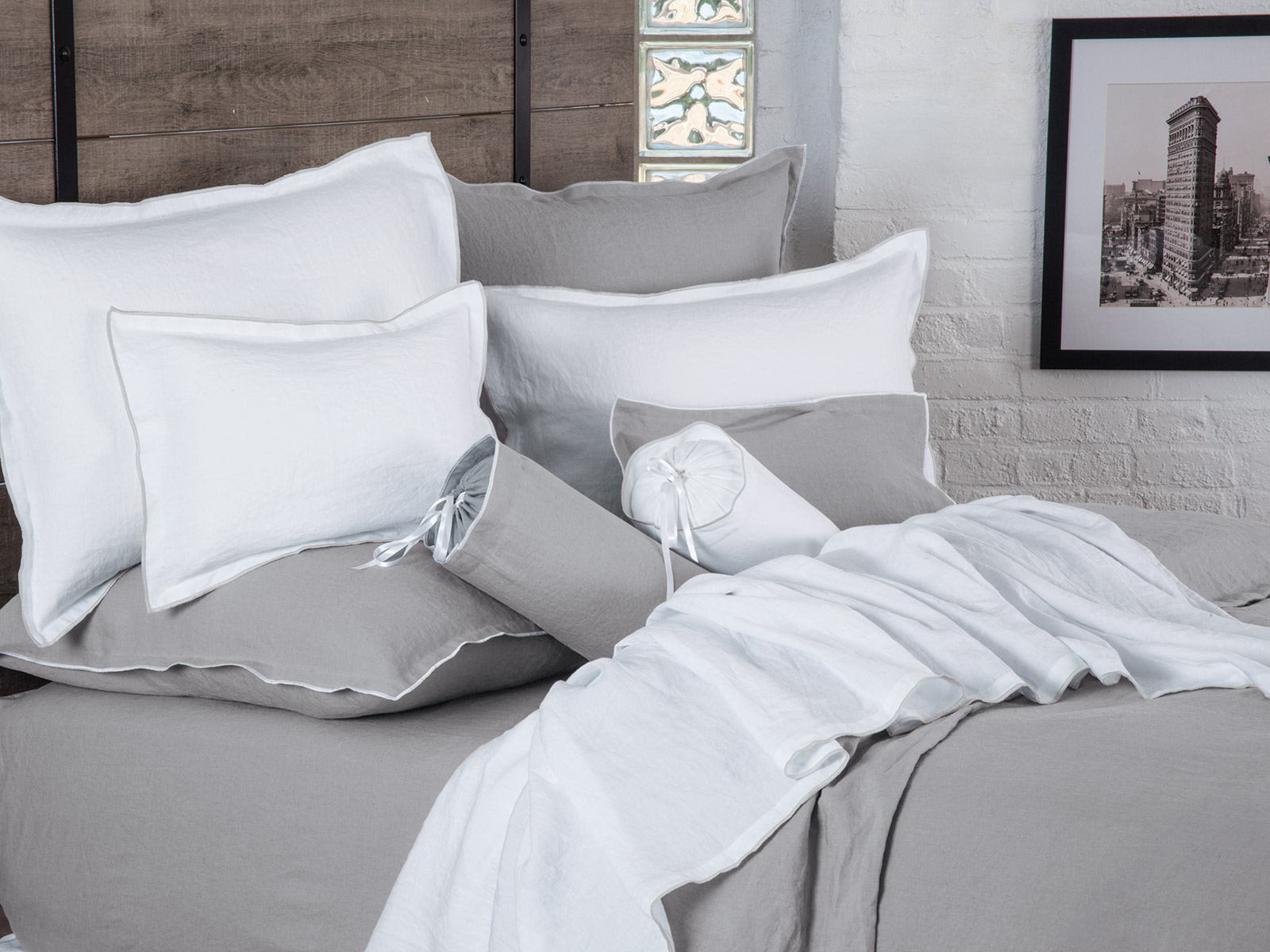 VANDERBILT
Sometimes less is more. A single extravagant bourdon stitch highlights soft, luxurious 300 thread count 100% Egyptian cotton sateen. Detailed with mitered corners, button enclosures, and European returns. Made in Italy.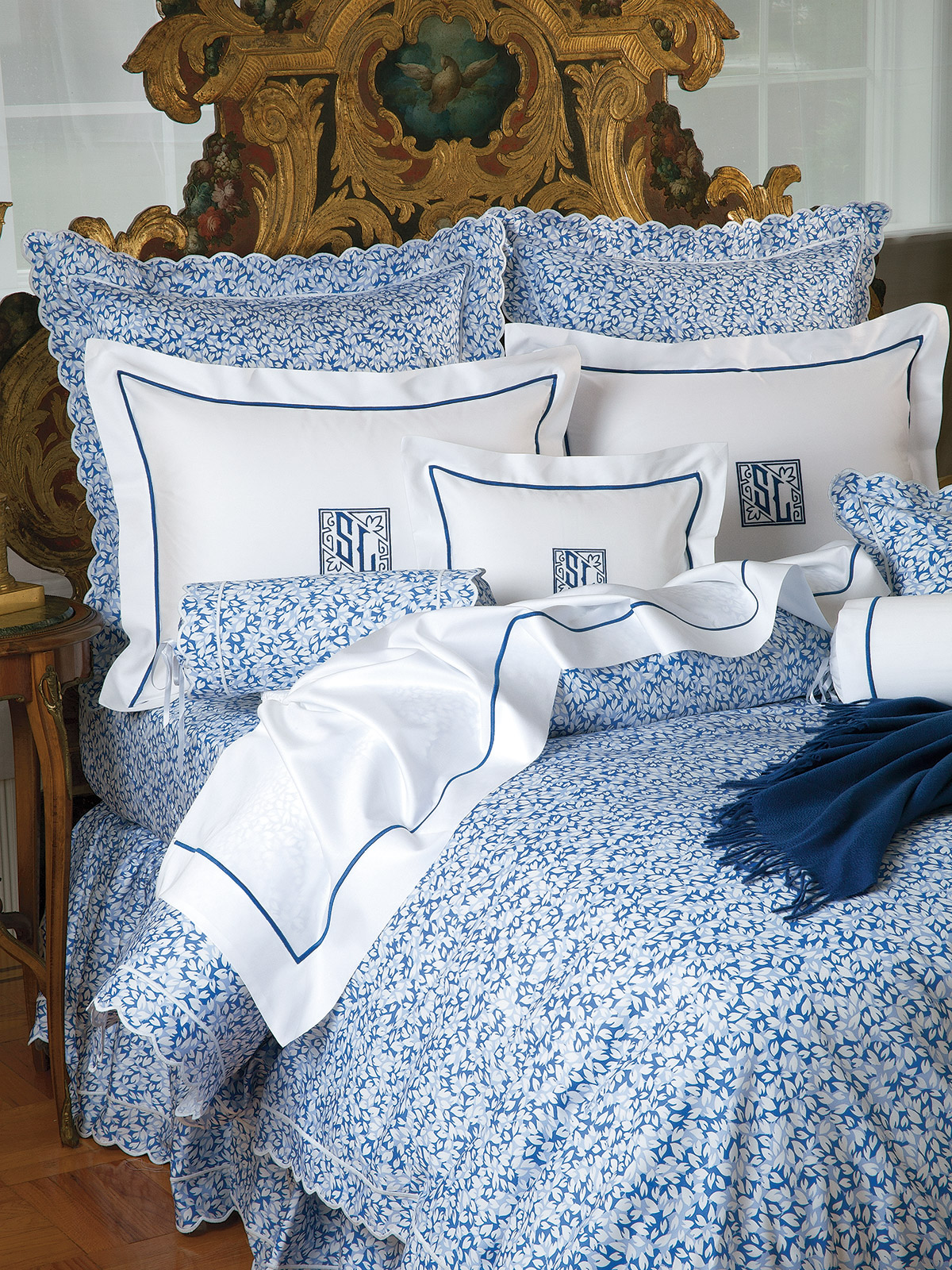 A Room for Pure Luxury
Sometimes having a room full of the world's most luxurious linens and pampering textures is all you need. After what we've all been through and what we're currently experiencing, a little bit of pampering can go a long way. From skin-coddling cottons, light and lavish Italian linens, and a variety of other fabrics in your choice of style, weight and thread count, everything you need to create the coziest and most comforting bedroom is right here at Schweitzer Linen. And the pampering treatment doesn't stop at providing a more restorative environment or restful sleep. With hundreds of exclusive designs and brilliant color combinations you can create a space that pampers the mind and spirit, in addition to the physical. In this way, you're designing the room you need to be at your best, so you can have a chance to find true happiness in every day.
MARTESANA
Perfect paisley patterns swirl on shimmering Navy Italian damask in 500 thread count Egyptian cotton like pools of sun-kissed reflections you'll want to bask in all night — and maybe all day. Made in Italy.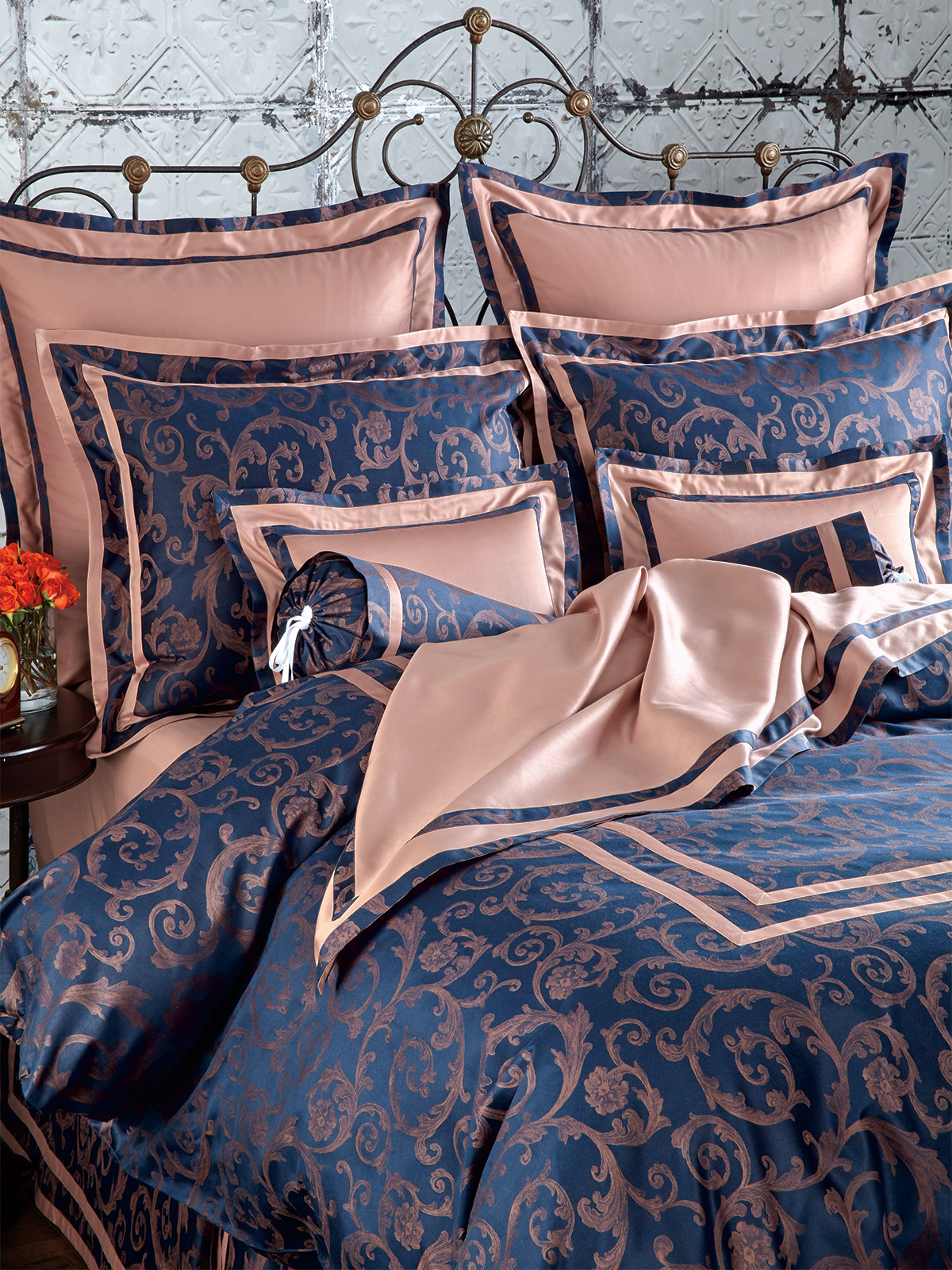 DOVER
Like a rush of sea foam swirling around your toes, this whirling, twirling lace surrounds sumptuously soft 600 thread count Egyptian cotton percale. Lovingly tailored in Italy.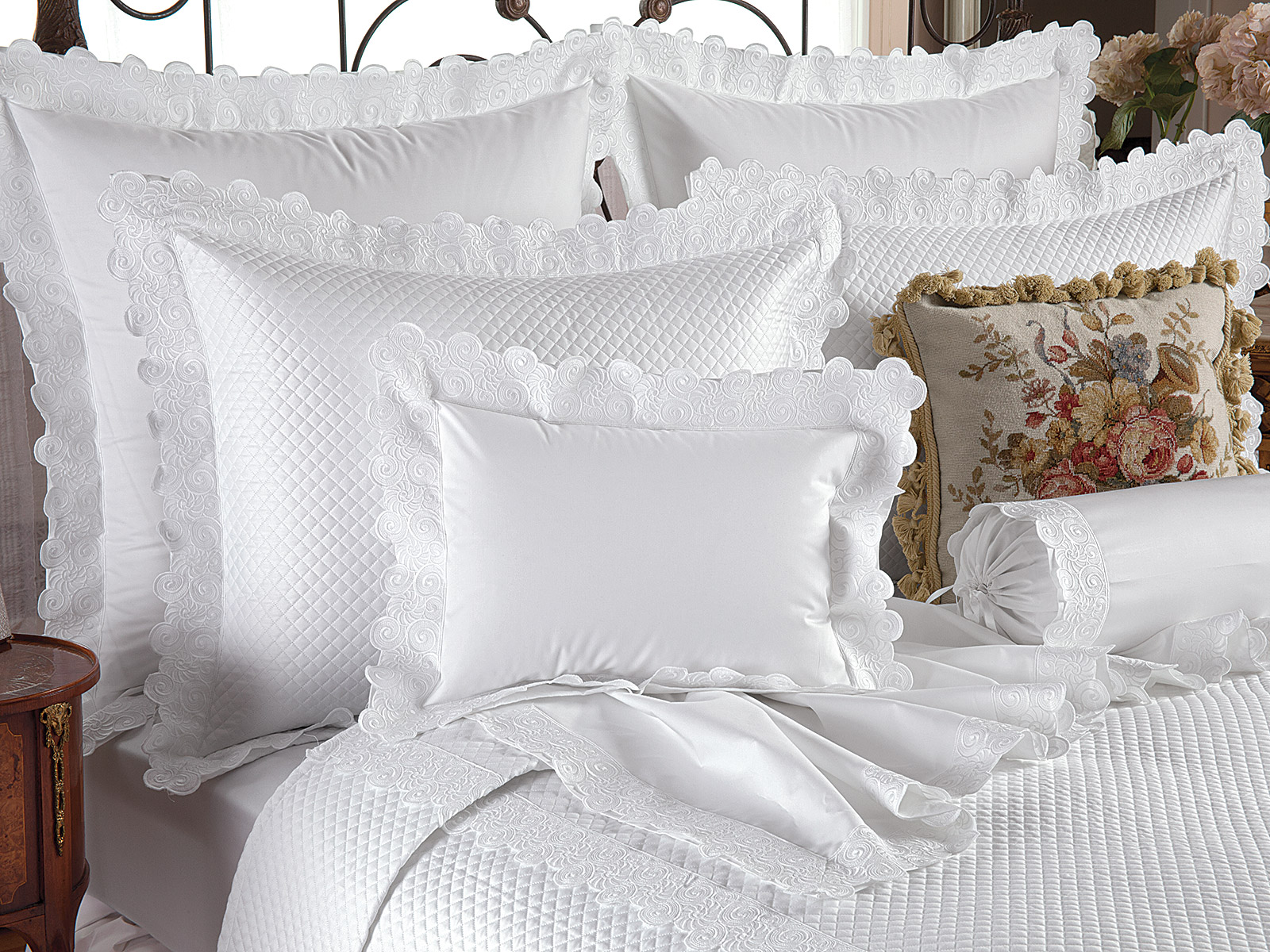 A Room Just for You
People deal with situations differently. That's why the key factor in creating a bedroom to help you thrive and achieve your full potential is you. What is it that makes you more joyful? Calm? Energized? Whatever it is, we have it. And if we don't, give us a call and we'll make it for you. The bedroom is a space where we can be ourselves and cast off the masks we wear throughout the day. We all could use a place like that right now. So, if you need somewhere that inspires more optimism in what feels like a negative world or a room that brings you the relief you so desperately need, we can help. After all, we've been doing this for a long time and no one does it better. With the finest fabrics and most well-crafted luxury bedding, Schweitzer Linen can help you achieve the right environment for you, right now. And anytime you want to change it up, we'll be right here waiting to help you do that too.
Customize the exact bedroom you need from our extensive collection of bedding fabrics and styles.