Bringing the Outside Inside
When you're missing the outside and can't get to the places you love, bring the elements of the outside into your home. Whether you do this with uplifting nature prints or a unique style of bedding that reminds you of your favorite outdoor place or hangout, adding these representative designs can help us feel normal in times of abnormality. In addition to adding some normalcy, implementing these elements can often inspire, delight, calm, comfort and so many other positive benefits.
If a walk through the wild flowers or visiting your favorite garden isn't in the cards, let us bring the flowers to you. Choose from our huge selection of floral prints and add the positive colors and cheerful beauty of flowers to your home. You'll also find hundreds of other nature-inspired prints, patterns and styles that bring the joy of being outdoors, indoors.

Representative of inner strength, the Dahlia flower in this inspired form will not only delight you visually with its lush magnificence but will evoke feelings of joy and optimism to take on the daily. Finished with scalloped edges on 300 thread count 100% Egyptian cotton sateen. Made in Italy.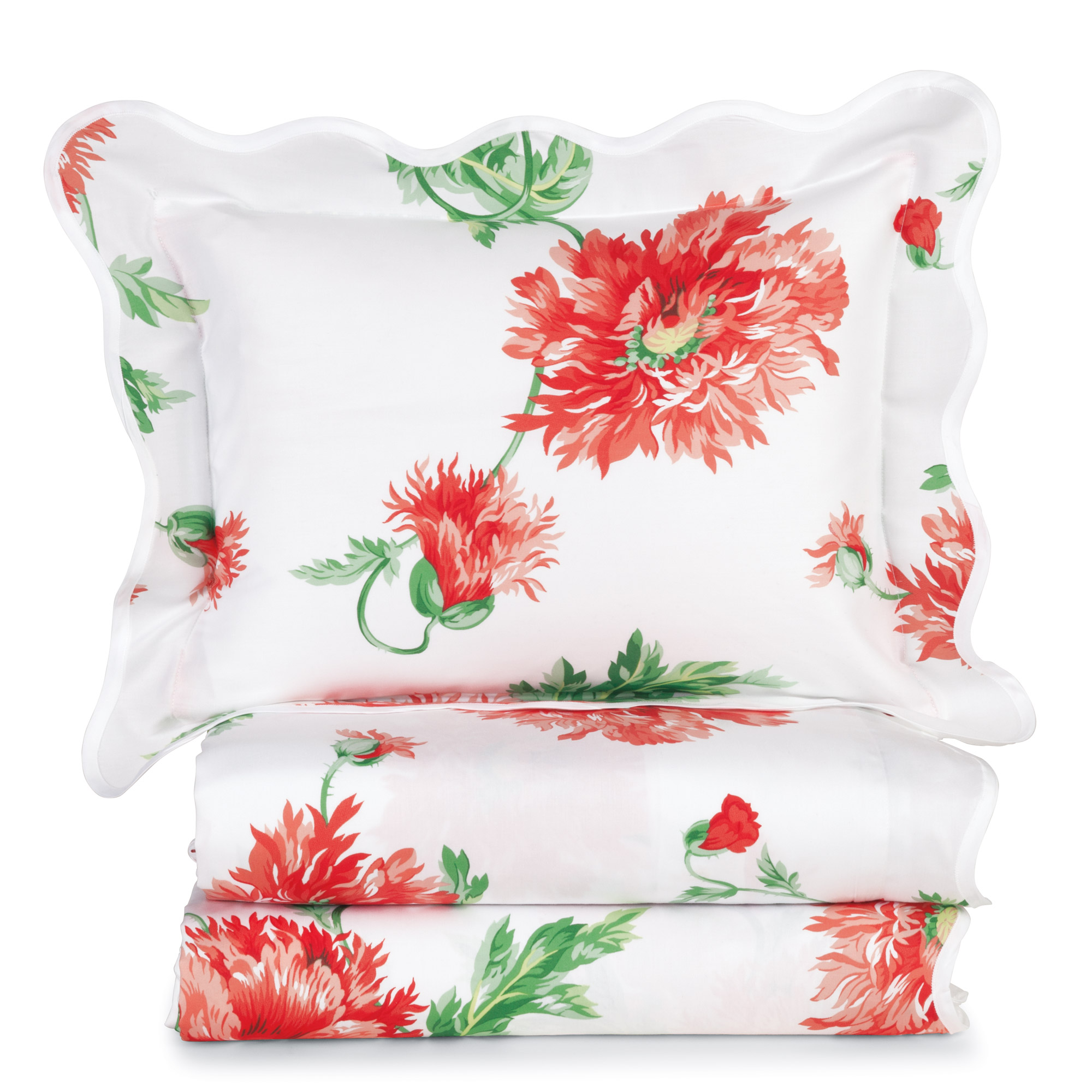 A perennial favorite since the 1700's, this White matelassé brings its unique sculptural beauty to our newest blanket covers and shams. Made in Italy of richly textured woven cotton in an all-over pattern of flowery medallions, this elegant design features Lavender taped scallops and insert.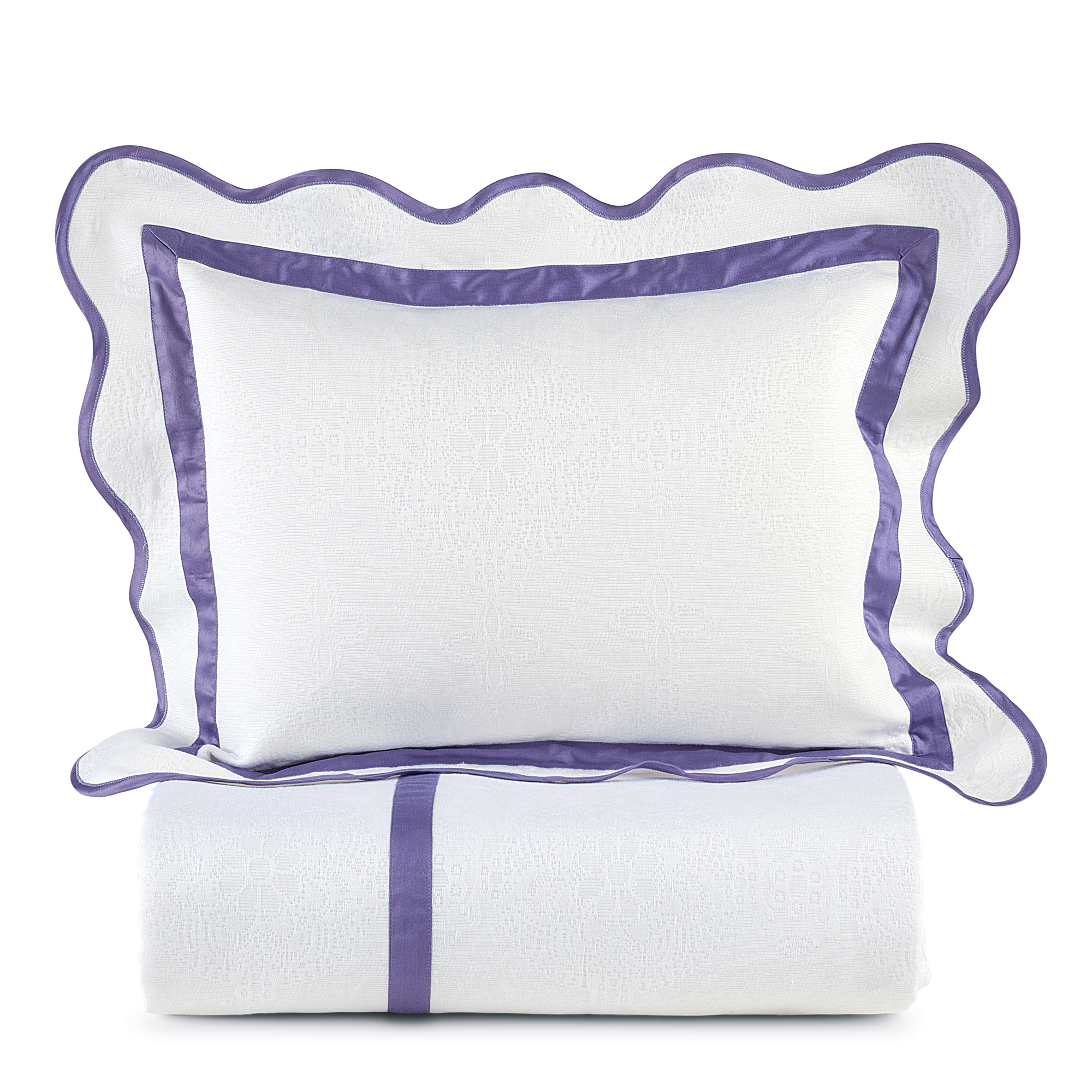 Picked to replace the everyday with the wonderful regeneration of nature. Printed on high quality 300 thread count Egyptian cotton sateen, the always-cheery demeanor of this charming design will instantly brighten up a room—and you'll begin to wake up more refreshed and optimistic. Made in Italy.
Since many of our products boast a museum-like quality with designs inspired by everything from ancient architecture to impressionist paintings, it's the next best thing to visiting your local museum or art gallery. The outside world's most amazing creations have always been a muse for our artists. Now they are ready to be yours.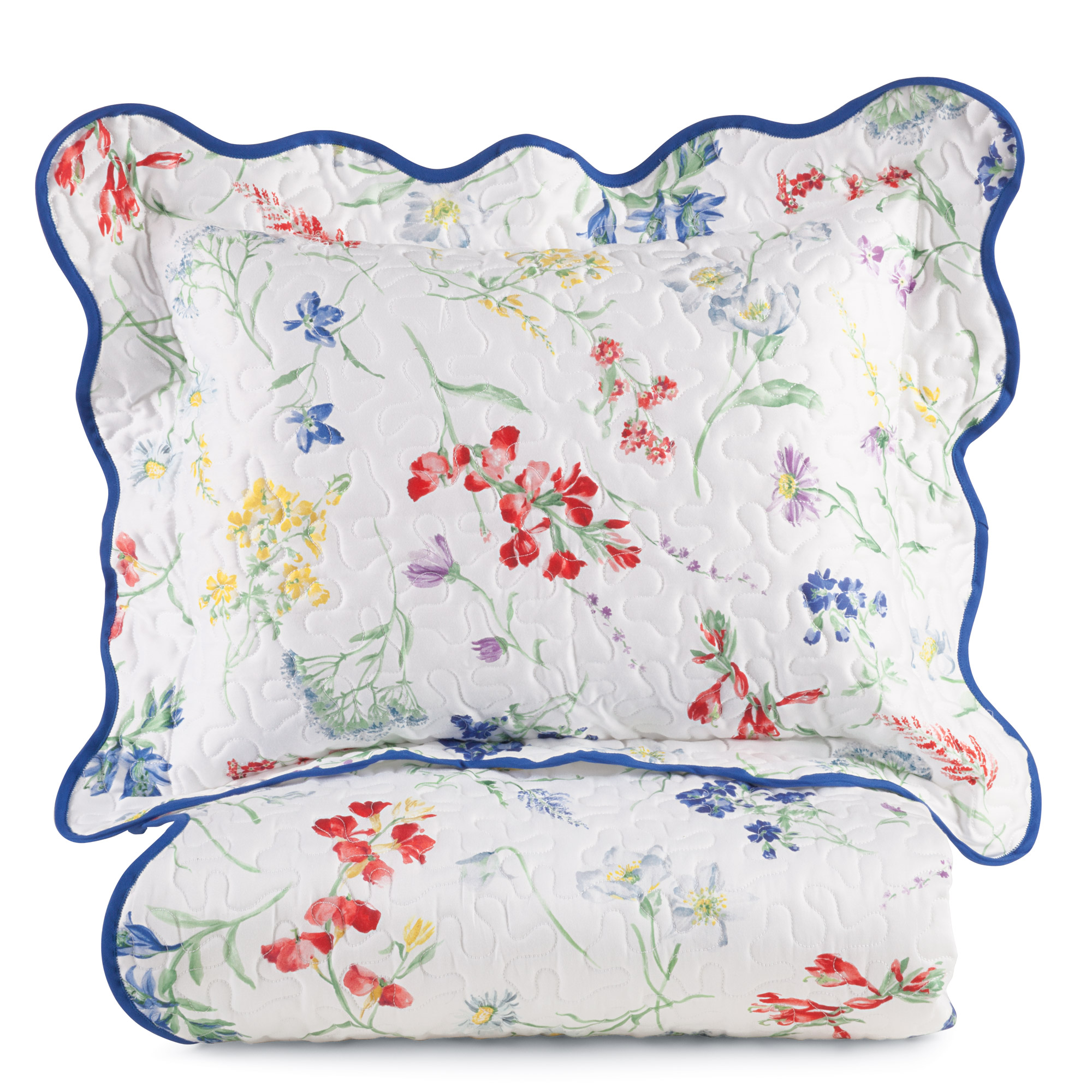 Just as Monet's final brush stroke turns blank canvas into a masterpiece, this 100% Egyptian cotton sateen, 300 thread count, will transform your bedroom with brilliant color and tranquility. Made in Italy.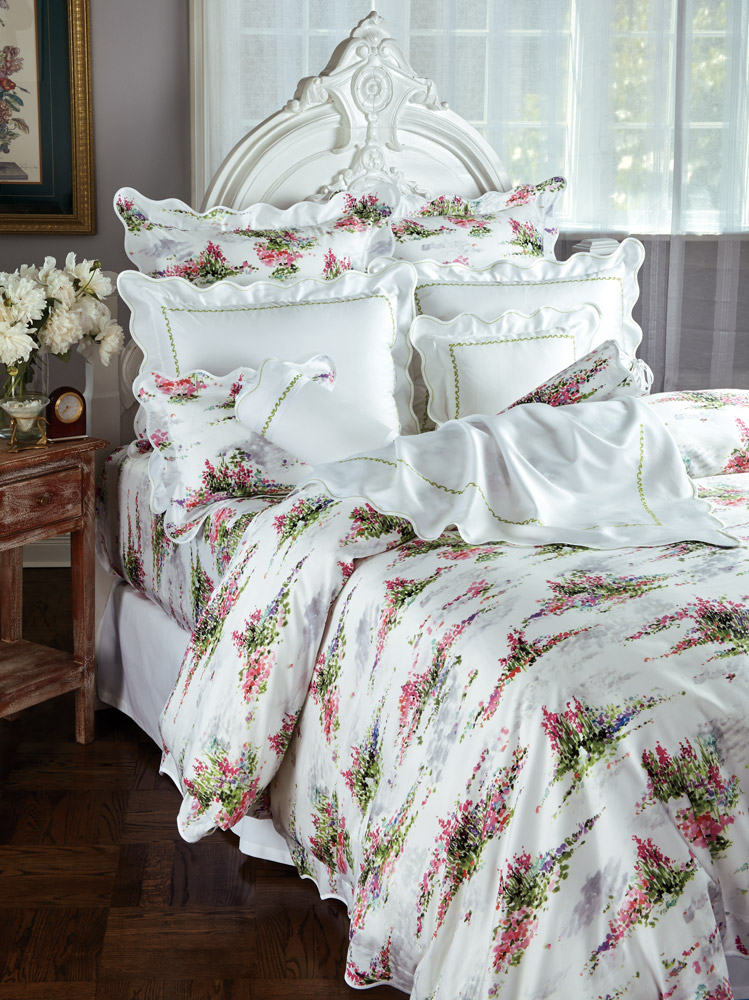 Perfect paisley patterns swirl on shimmering Navy Italian damask in 500 thread count Egyptian cotton like pools of sun-kissed reflections. Made in Italy.

Inspired by the Elizabethan era, we've created a Damask mélange of earth tones to be just as worthy of your grace. Woven 500 thread count damask and 300 thread count Bone cooled sateen congregate for your pleasure with alternating tones. Egyptian cotton sateen adds a silky soft touch and slight shimmer. The final decree is a magnificent sanctuary where you can hold court however you desire. Made in Italy.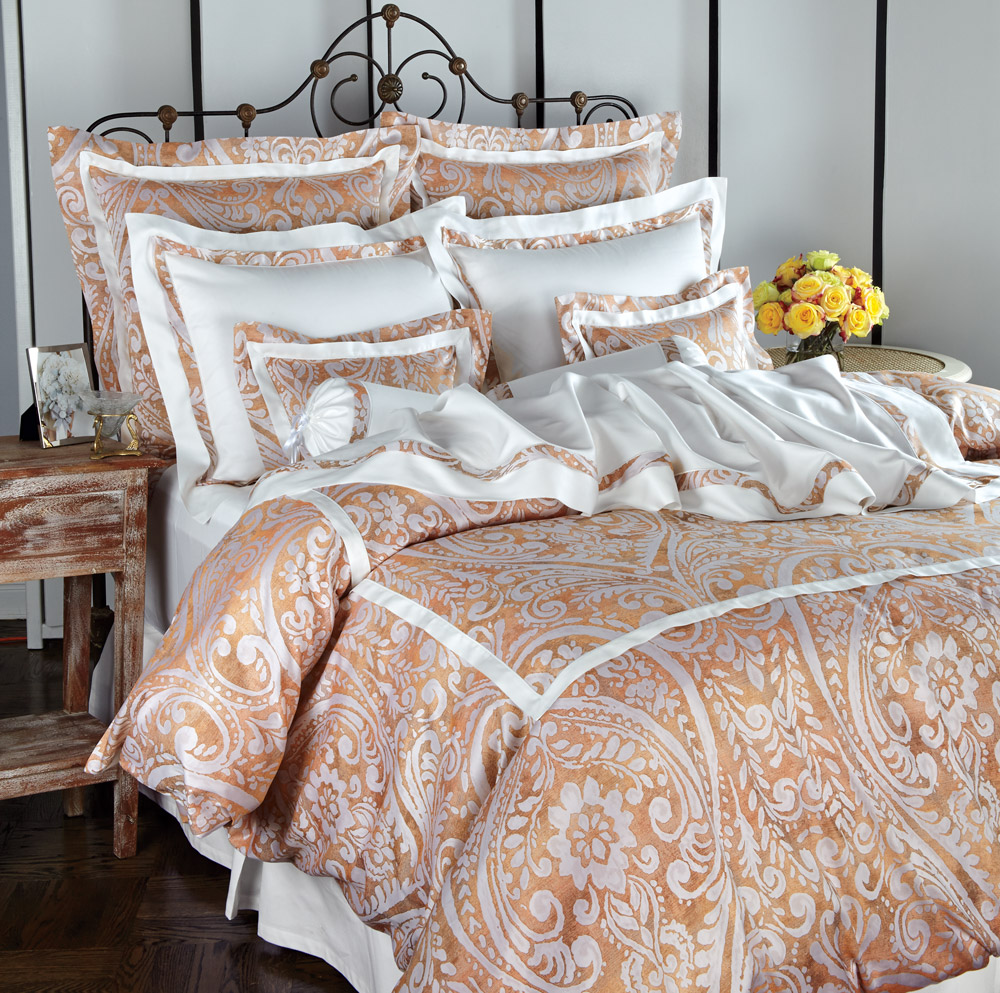 This hand-woven Aubusson pillow with an abstract design of scrolls, leafy boughs and flowers in deep, rich tones of Brown's, Gold's and Dusty Rose is handsomely fringed by a complex braid and double tassels resembling acorns, in alternating colors of Blue and Gold. 100% pure wool. Imported.
If you feel like you're living too much in the past these days and want something a bit more forward thinking. Consider revamping your interior with some of our more contemporary designs and tones. You may be surprised just how powerful a little modern reinterpretation can be.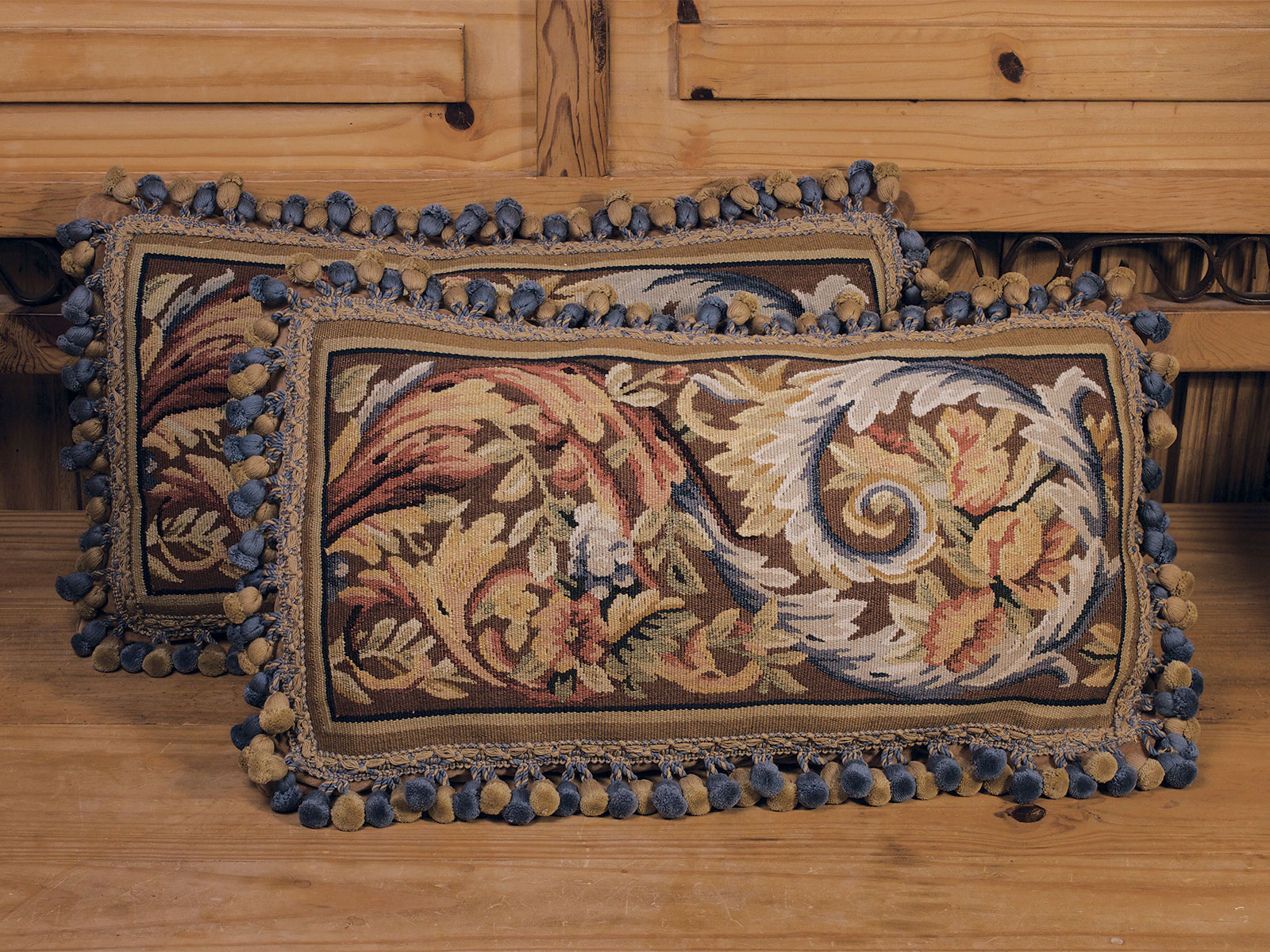 Elevate every day with the luxe, modern appeal and uplifting energy of this 300 thread count 100% Egyptian cotton sateen bedding set. Choose from Ivory/Black or two shades of Gray. Made in Italy.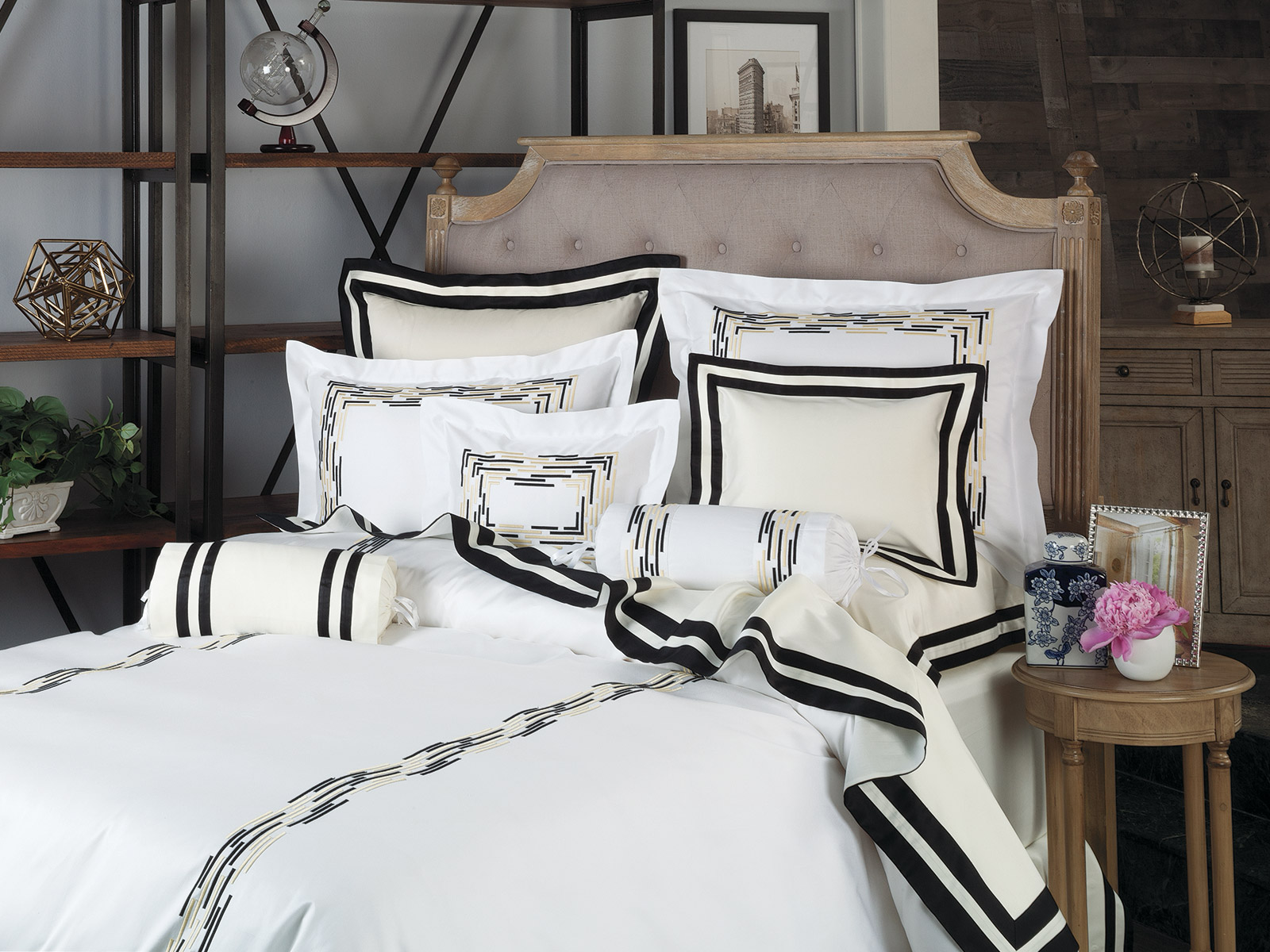 Calming Winter White and Navy stripes set your mind at ease while the soothing softness of baby Alpaca wool creates an experience you'll want to come back to again and again. Made in Peru.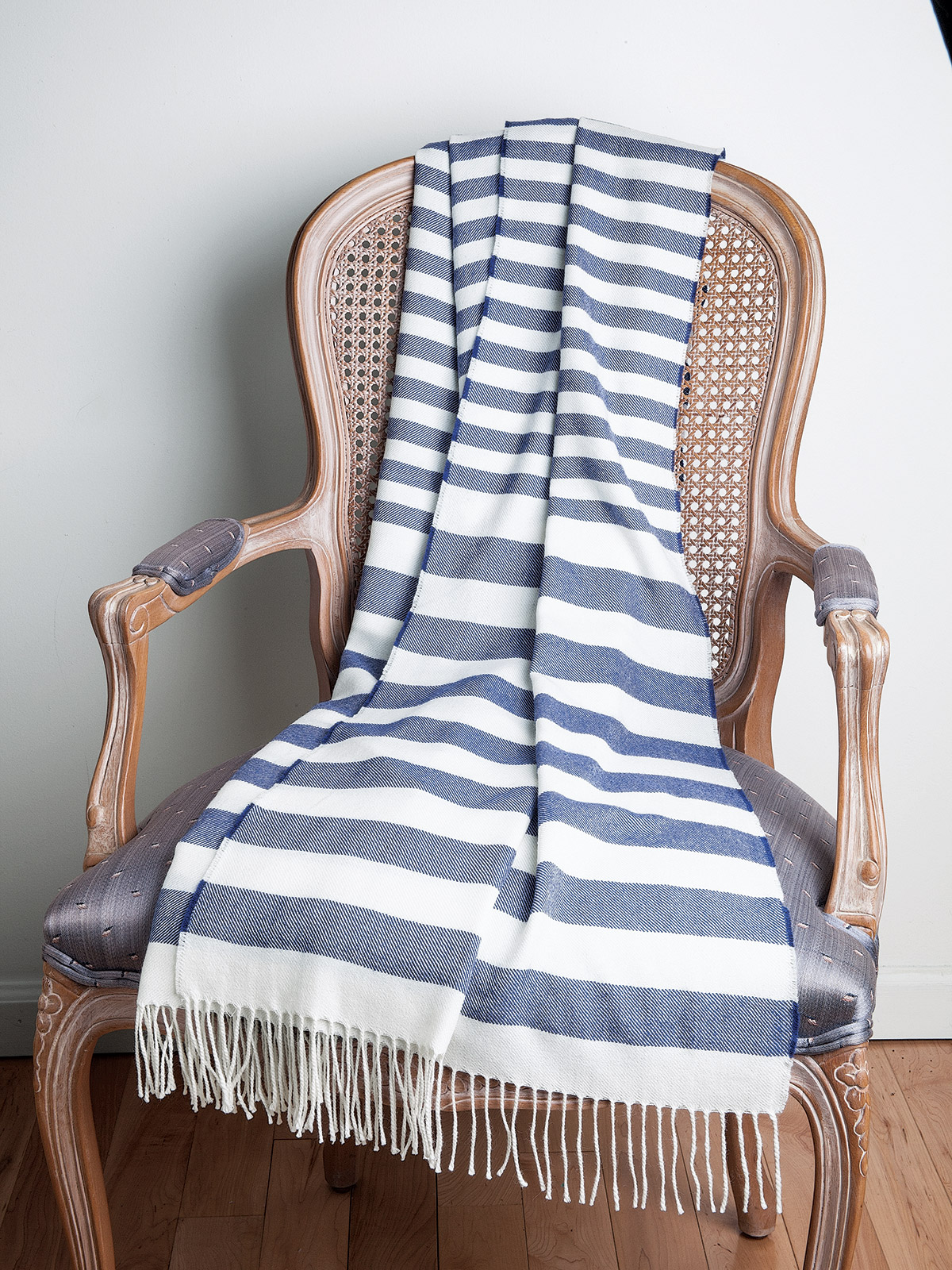 Straight from Italy this charming design blends the natural beauty of simple shapes and lines for a contemporary look that feels upscale but never uppity. The embroidery is gorgeously displayed on pure White 300 thread count Egyptian cotton sateen.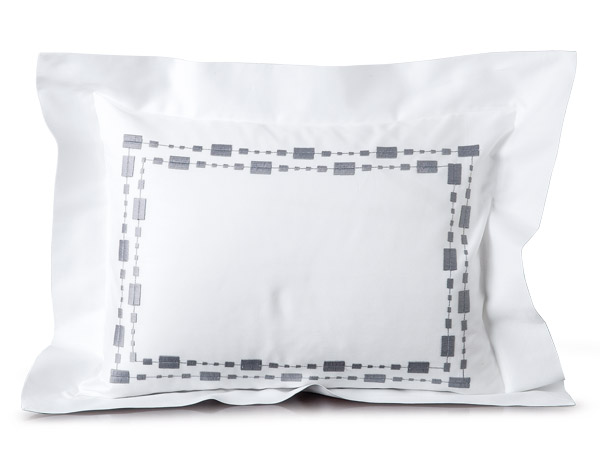 Someone to Talk To
No matter what is happening in the world, please know that we are here for you. If you have any questions, specific needs or special requests, don't hesitate to give us a call at 1-800-554-6367. We're available to talk 24/7, 7 days a week and unlike many customer service numbers, you won't find yourself on hold with an automated machine. Instead you'll talk directly to one of our friendly family members who will be happy to help you in any way. We love and appreciate our customers and after talking with us for a while, we think you'll understand just how true that is.