Sometimes it's the little things in life that bring us the relief we need most. That's never been truer than now. At a time when we've been cut off from the people, places and things we usually turn to for our joy and comfort, it's imperative that we find new ways to surround ourselves with positive experiences that remind us there are still joyful moments to be found in the world.
Schweitzer Linen has been providing customers with these kinds of positive experiences for over fifty years—and we're working hard every day to continue to do so. If we can help ease your time at home or fill your life with a little more softness, color and happiness, it's what we're here for. It's what we've always been here for.
Whether it's the soft caress of a cashmere blanket or creating your own personal sanctuary in the bedroom, these powerful experiences can help us feel more relaxed, reduce stress, fill us with a sense of calm—and give us a chance to forget all about the worries of the world, even if for just a little while.
These moments keep us grounded and keep us hopeful for a better tomorrow. Simply adding a few soft fabrics and inspiring colors to your home or creating a more deeply satisfying sleeping environment where you can let it all go and truly recharge, can offer extraordinary health benefits for both body and mind that go beyond simple pleasures. We could all use these benefits in our lives—now more than ever.
The Restorative Power of Sleep
Sleep is an essential part of our overall health. Your parents probably told you this when you were growing up and doctors have been telling us this for years. Of course, the sheer act of going without a good night's sleep for a while is all you really need to prove just how important it is. Sleep allows our mind and bodies to recuperate and keeps our mental and physical capacities in good order. But sleep is also vital to a healthy immune system. When we sleep, the body creates cytokines, a protein that fights infection and inflammation and helps support a strong immune system. Not getting enough sleep or experiencing a lesser quality of sleep results in less of these precious cytokines.
This is why it's so important to make sure your bed is as comfortable as it can be. Creating the right environment with the right level of softness, temperature and overall feel are key to achieving the sleep you need and deserve. Schweitzer Linen has helped thousands and thousands of customers find the bedding that lets them experience a highly restorative sleep every night. And because no one person is alike, we've amassed an incredible selection of luxurious products, fabrics, and designs to appeal to every individual's personal taste and comfort level.

NEW Long Beach
Hand embroidered delicate design of coral in sultry shades of Blue float along this silky 600 thread count sateen bedding. 100% Egyptian cotton from Italy. Imported.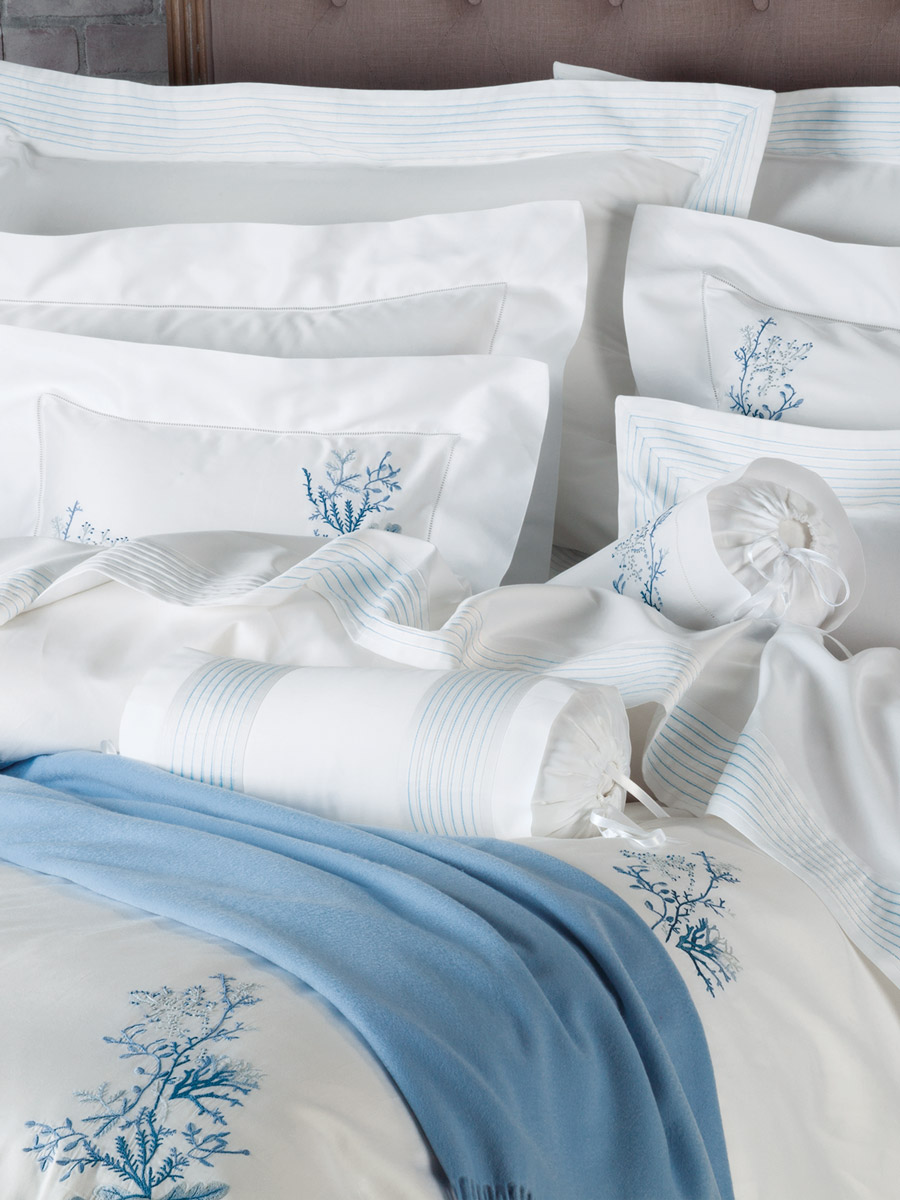 NEW Aquarelle
Every morning feels more joyful when you wake to the jubilation of soft pastel paisley swirls finessed on pristine, 300 thread count 100% Egyptian cotton sateen. Made in Italy.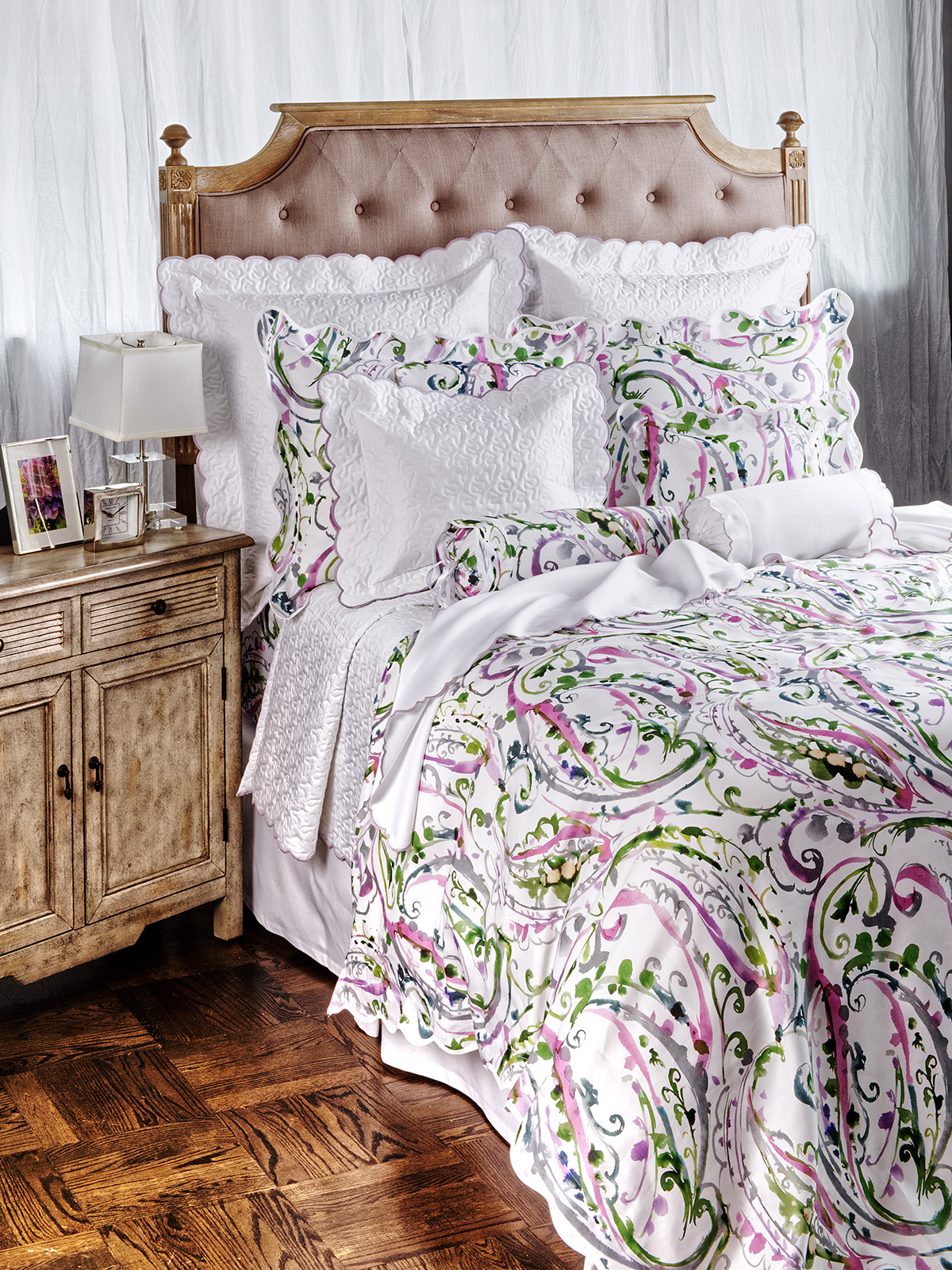 NEW Barrington
Features a bold use of white space for a modern look and a nod to the brilliant simplicity of ancient design. Displayed on brilliant white 300 thread count 100% Egyptian cotton sateen in your choice of Charcoal Gray or Beige. Made in Italy.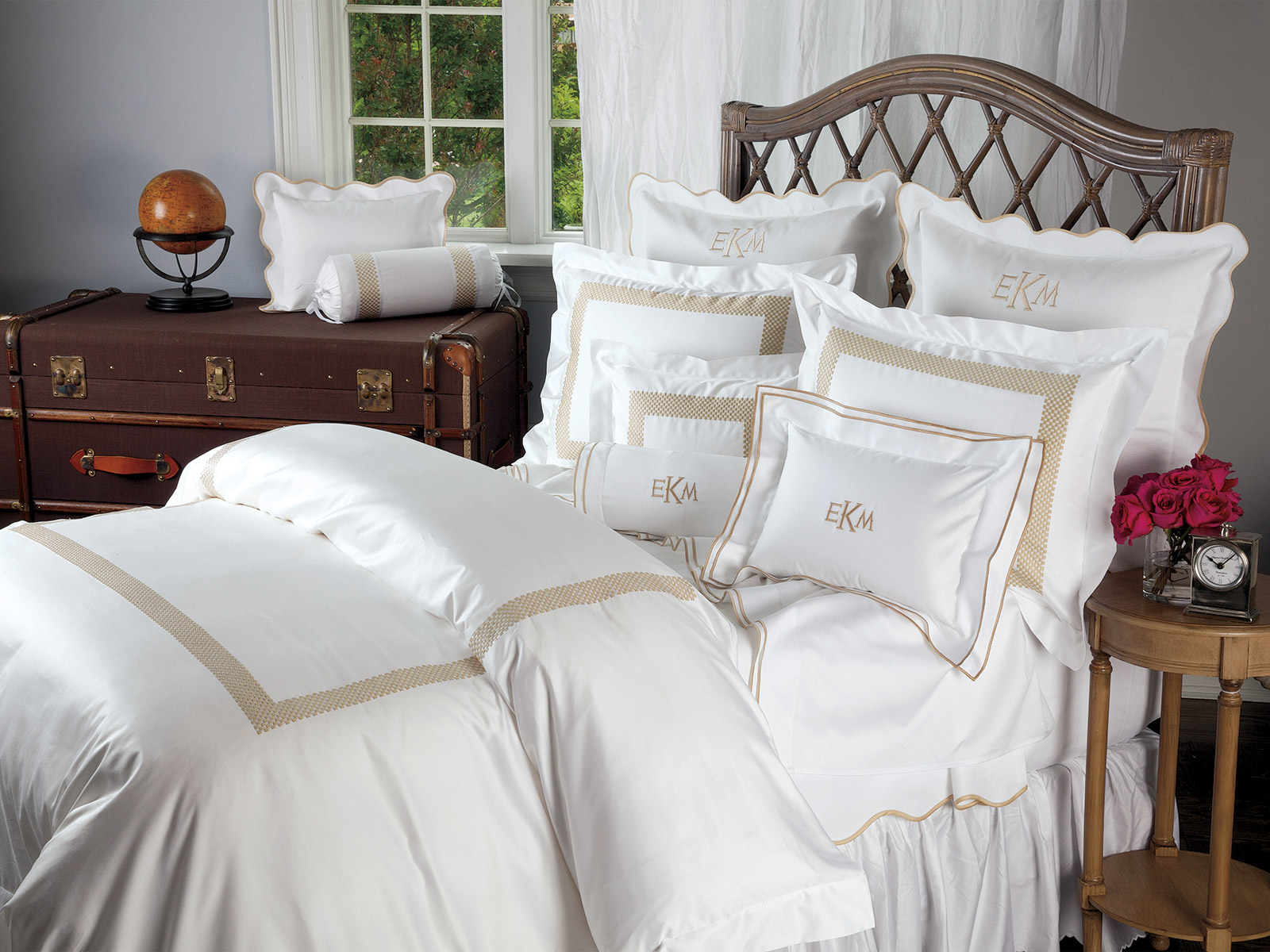 Creating A Sanctuary
Stepping away from life's strRessors like the news, finances and other unavoidable problems isn't easy. This is exactly why every home can use a special place where you can turn off your mind and just be. Luxurious linens, decadent pillows and other comforting bedding accessories can help you create a soothing environment for you to escape to on the daily. And since everyone's idea of a sanctuary is different, we have hundreds of styles and collections to choose from.
But sanctuary doesn't always have to be a place. When everything happening outside feels so big and daunting, sometimes it's the small moments of pleasure we give ourselves that allow us to close our eyes and let it all go for a while. Maybe you find these tiny moments of comfort in a velvety soft throw you wrap yourself in over morning coffee or through the reassuring hug of super soft linen bedding enveloping you as you steal away from the constant chatter. Whatever it is you need to find these precious moments of calm, relief and joy, Schweitzer Linen is here to help you create them anyway we can.

NEW Ofelia Alpaca Throw
The cloud-like softness of fine Alpaca makes for a luxurious throw that wraps you in warmth and sophistication. Imported.

Euphoria
Once you run your hand over this silken, velvety smooth blanket of 100% pure baby alpaca, you'll want your entire body to luxuriate in the incomparable feel of it. Made in Peru.

Dublin Linen Collection
Let the naturally breathable comfort of our 100% easy-care linen help you slow the world down and catch your breath. Imported.

Princess Alexis Down Pillow
This ultra-luxurious pillow provides the ultimate sleeping comfort. Highest quality, hand selected white goose down has an extraordinary fill power of 775+. Superior down proof ticking of White 100% cotton, 416 thread count, is ingeniously designed with a 2″ gusset all round that allows extra room for utmost loft.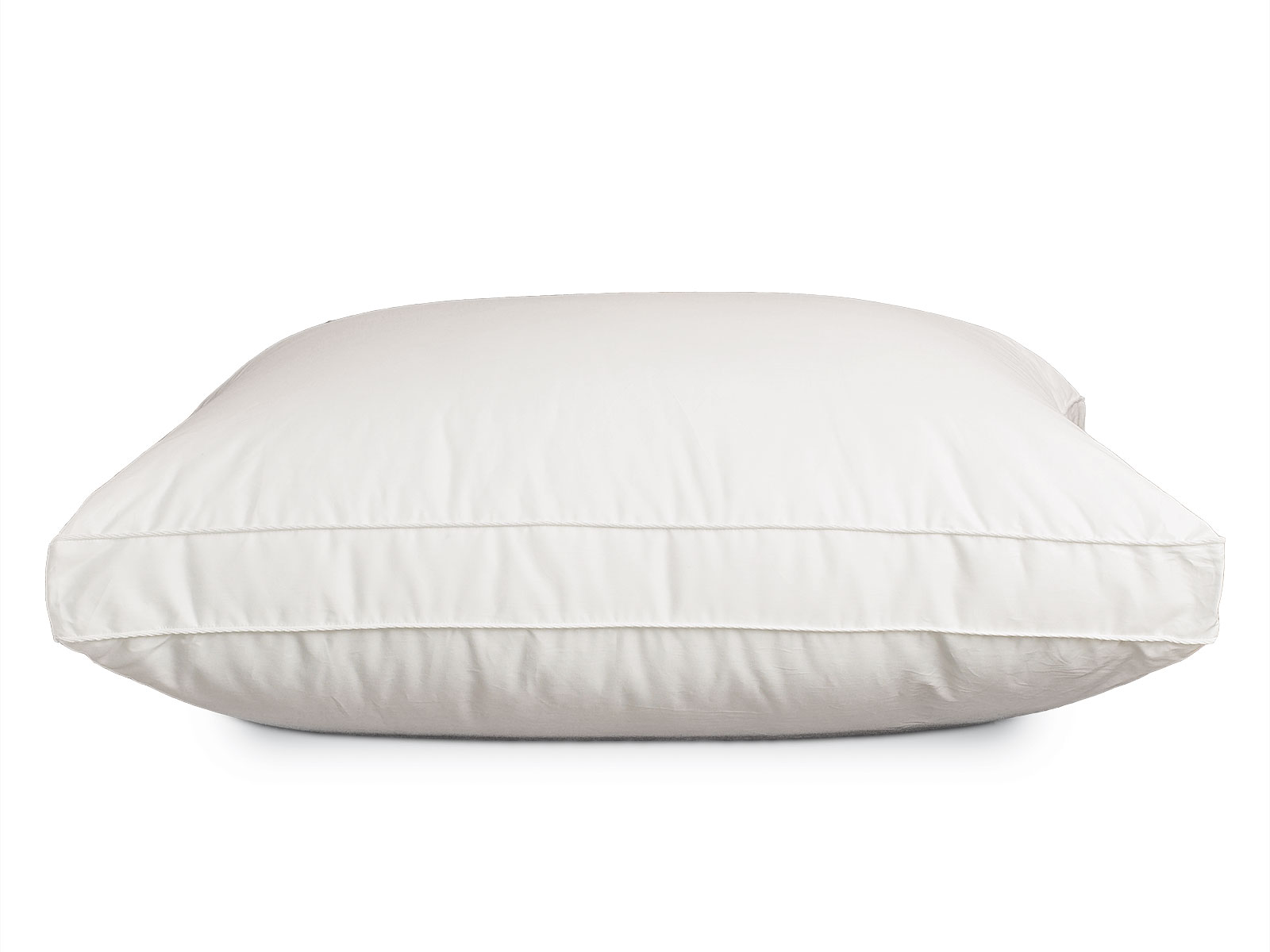 Maintaining a Healthy Mind
There has been various research done over the years on the effect of colors and patterns on our psyche. Whether you believe in the science or have experienced this for yourself, the fact is our environment is a contributing factor to our mental state. Studies have proven that surrounding yourself with the right colors and patterns can help us feel calmer, more energized and even happier overall.
When so many things are cast in shadow, the most important thing we can do is remain positive and fill our lives with the things that bring us hope. By adding colors that inspire, spirits can be lifted. Bringing in peaceful, calming patterns can put troubled minds at ease. And when moments of joy feel like they are hard to come by, sometimes the right ambience can help us find those moments more and more.

Uffizi
Luscious curls curve boldly into silky swirls of contrasting shades to add a dreamy dimension to the 300 thread count Egyptian cotton sateen background. Available in Gray or Smoke Blue. Made in Italy.

Portland
Easy care and shrink resistant, Portland is made from cotton and poly/cotton blend. These blanket covers, duvet covers, and shams come in white with blue stripes or white with beige stripes, each featuring white border and trim. Imported from Italy.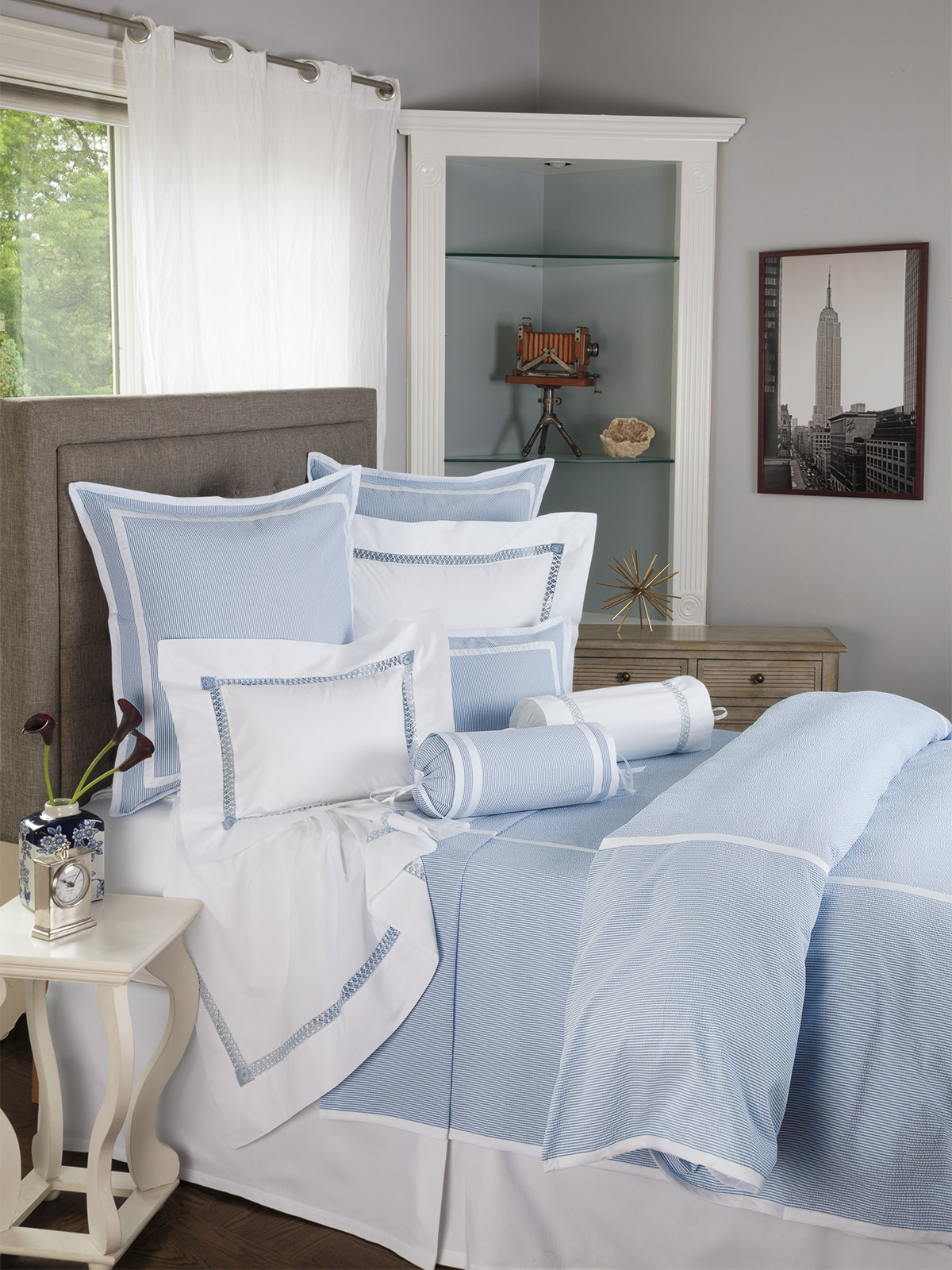 Carnivale
Bursting with life, bright pastel colors and a whole lot of pizazz, this festive, paisley print celebrates every day with cheery optimism you'll keep with you long after waking. 300 thread count 100% Egyptian cotton sateen. Made in Italy.