Protect your investment with these linen care tips from Schweitzer Linen. We have a variety of bed linens that need to be washed carefully, from 1000 thread count 100% Egyptian cotton sateen to hand embroidered one-of-a-kind bedding, luxurious cashmere and linen tablecloths. As with all your sheets, comforters, blankets or tablecloths, the right kind of cleaning will extend their life and keep them looking good! Please remember fibers in linens each react differently when treated with stain removal products during laundering. Always read the care label before attempting to clean your linens to ensure proper care. Here are a few steps to follow:
Lace Sheets: Hand wash or wash in the delicate cycle (to protect the lace) and wash alone.
Cotton / Printed Sheets: Wash with like colors.
Cycle: If the item can be machine washed use the delicate/gentle cycle, cold or warm water.
Cashmere: Do not put cashmere items in the washing machine (unless otherwise instructed on care label). If possible wash by hand or dry clean (depending on item).
Temp: Do not use hot water: too harsh on fibers and colors.
Detergent: Use a mild detergent that is fragrance free, no whitener etc. because detergents

with fragrance, and even some without, have chemicals designed to stay in linens and not fully wash out. You only need half the amount of detergent. We recommend Le Blanc Linen Wash.

Do not use bleach or bleaching agents: bleach breaks down fibers and can also "burn" yellow stains into your lovely linens.
Do not use fabric softener: this can also "eat" fibers in the fabric or leave residue. Residue will turn yellow over time.
Do not over-stuff the wash: Leave room for the linens to move around, get clean & rinse thoroughly.
Whites: For white linens use a second rinse cycle to remove all

soap residue. This will help the whites stay nice and bright.
•••••••••••••••••••••••••••••••••••••••••••••••••••••••••••••••••••••••••••••••
Terry Fabric
Wash with like colors using a mild detergent.
Do not use bleach or fabric softener when you wash towels. Sure they'll smell good but with fabric softener they get too soft making them less absorbent.
Tumble dry low. Less shrinkage

•••••••••••••••••••••••••••••••••••••••••••••••••••••••••••••••••••••••••••••••
Jacquard Fabric
What is a Jacquard? It's a fabric with an intricately woven pattern. A jacquard itself is strong, but use care when laundering to maintain the integrity of the fabric that composes the jacquard weave.
Blot any fluids from your jacquard linens with a dampened, white washcloth right away to help prevent them from settling into the fibers.
Apply a mild cleaner, blot with a dampened, white washcloth until the stains lift. Rinse the washcloth and use a clean area to blot the solvent.
Machine Wash, Normal Cycle, Warm Water.
To iron: Fabric should be damp or wet with water or spray starch. Press with an iron set to medium until the fabric is smooth and ready for your bed.
Damask
Woven on a jacquard-weave loom, damask is an elaborately patterned, usually reversible, fabric made of linen, silk, cotton or wool. The weave produces long threads that catch and reflect light.

To iron: Fabric should be damp or wet with water or spray starch.
Press with an iron set to medium until the fabric is smooth.
Cotton
Cotton fibers can be weakened by bleach. If you use undiluted bleach, it should never be applied directly to the fabric. Diluted solutions can be used safely on white cotton fabric for stain removal and whitening. However, even diluted solutions will weaken fabric causing them to rip and wear out if used too often.
Do not use bleach on colored fabric or have colored embroidery. (i.e Hampton Court bed linen pictured with black embroidery)
Blanket Covers & Quilts
Drying: Overall I prefer to line dry because it reduces the risk of shrinkage and reduces your electricity bill! If you prefer a dryer we recommend using a low setting. It takes longer to dry, but too much heat will dry out fibers and cause breakage over time. If you put your linens outside to dry be careful of the sun because it can fade colors. The sun is a natural bleaching agent. To make them look as good as the day you bought them press with an iron while the sheets are just a little damp. For cotton sateen sheets you will restore its natural shine and softness. Of course you could always put one of Schweitzer Linen's beautiful blanket cover over the sheets if you don't feel like ironing. We have many styles to choose from.
•••••••••••••••••••••••••••••••••••••••••••••••••••••••••••••••••••••••••••••••
Table Linen
Table linens made of linen or cotton should be laundered by hand or machine wash gentle cycle in cool water with a mild detergent.
Wash colored & white linen separately
Linen fibers can be weakened by bleach. If you use undiluted bleach, it should

never be

applied directly to the fabric

Read the care label for drying instructions. Line dry is best (it reduces shrinkage). Linens which can be placed in a dryer should be removed while slightly damp for easier ironing (remember putting linens in a dryer will cause shrinkage, therefore use the coolest dryer setting).
•••••••••••••••••••••••••••••••••••••••••••••••••••••••••••••••••••••••••••••••
Wool & Cashmere
Wool and cashmere fibers are made of protein and will dissolve in chlorine bleach. Even diluted solutions of chlorine bleach will cause permanent yellowing, color loss, stiffening and weakening of wool or cashmere. All stain removal products should be tested in an inconspicuous spot. High temperatures when ironing can scorch wool and other hair fibers. The scorching or yellowing occurs as the fibers begin to burn. Burned fibers cannot be revived. Dry clean all blankets.
How to wash Cashmere Throws & Pillowcases: The best way to clean is by hand washing it every so often (unless otherwise noted on care label). Hand washing is the safest way to ensure you do not damage your cashmere. You can also dry clean throws if you don't want to hand wash. Please follow care label instructions.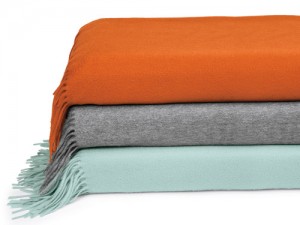 Blandon – Merino wool blankets. Woven in England.
First combine a capful of the detergent you use with cool water in a bucket, tub or sink.
Next, soak your cashmere item in the sudsy water for around 10 minutes or so will start off the process nice and easy.
After the 10 minutes, you can squeeze your cashmere gently, getting rid of some of the suds embedded in the fabric.
Finally, you start rinsing your cashmere under cool water while continuing to squeeze any excess suds out of the cashmere until the water runs continuously clear.
Wool or Cashmere blankets should be dry cleaned only.
To dry, lay flat on a rack above the washer/dryer; or wherever you can, but always remember to keep it out of the sunlight to avoid any discoloration.

Absolutely no dryer!