It's not easy to feel glamorous. For the those us who spend much of our time working, raising our kids, jumping from errand to errand and all the other things each day demands, life rarely feels glamorous. So why is it so hard to find a little glamour in our daily lives?
Maybe because feeling glamorous is too often associated with the rich and famous, the highest of society. For many of us, this grand expression may feel too out of reach. At Schweitzer Linen feeling glamorous isn't about how much money you have, your social status or the size of your home. It's feeling good about you, it's about identifying and celebrating the absolute brilliance and uniqueness of who you are.
Feeling glamorous is not just something you deserve; it's something you can easily achieve with the right kind of bedding. By surrounding yourself in bright whites and metallic tones, luxurious textures and inspiring designs, your bedroom fills with a radiance of confidence that will remind you how amazing you are, each and every day.
Add some of these glam-inspired collections to your home and instantly add more glamor to your world.
ALMADA
Bring textured glamor and elegance to any bedroom with the diamond waffle all-over design in white with ivory or ivory with white and a knife edged flange border. Exquisitely made in Italy of pure Egyptian cotton.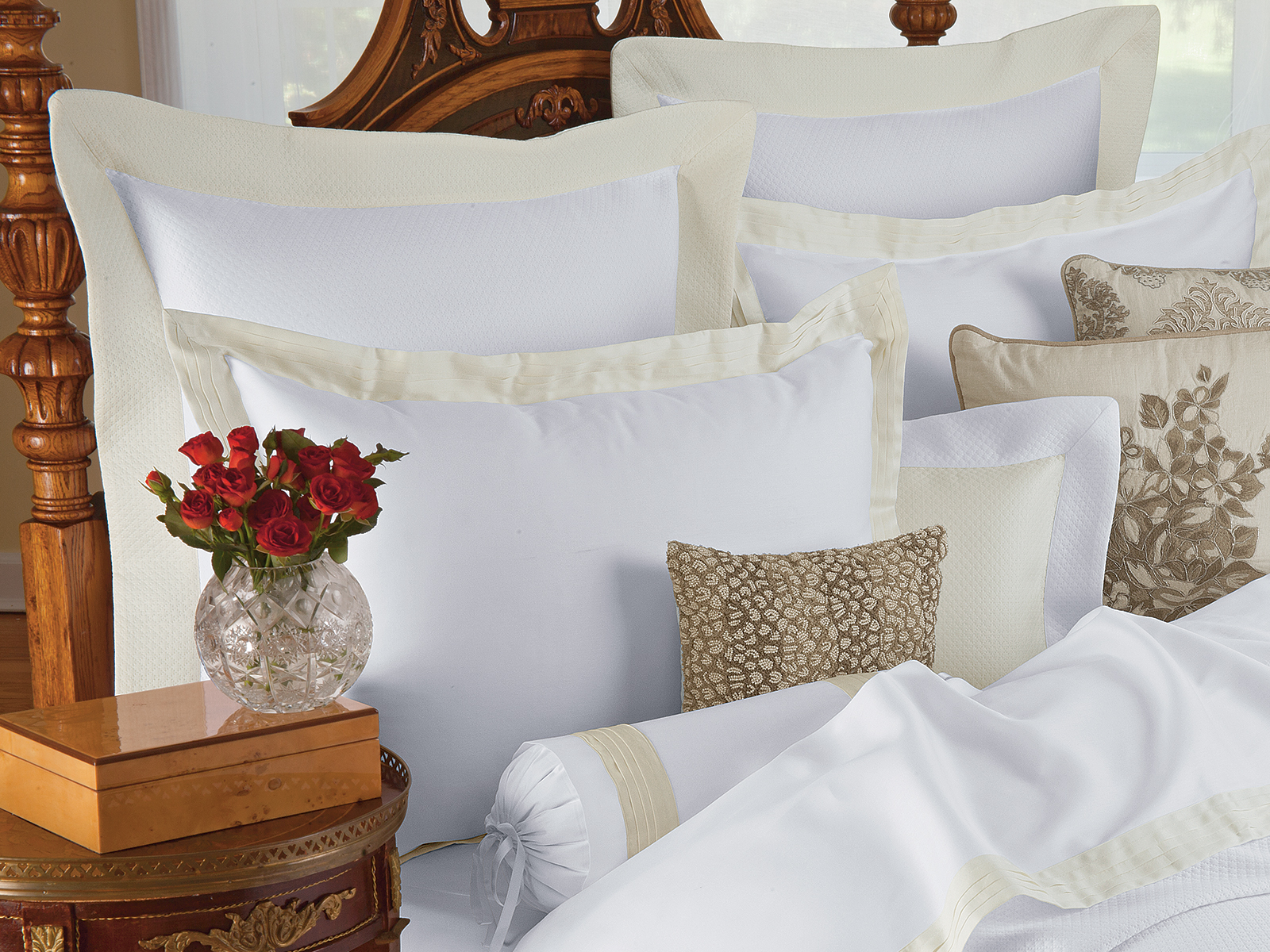 DOVER
Like a rush of sea foam swirling around your toes, this whirling, twirling lace surrounds sumptuously soft 600 thread count Egyptian cotton percale. Lovingly tailored in Italy, with White or Beige lace on pure white. Blanket covers & shams also available in quilted sateen.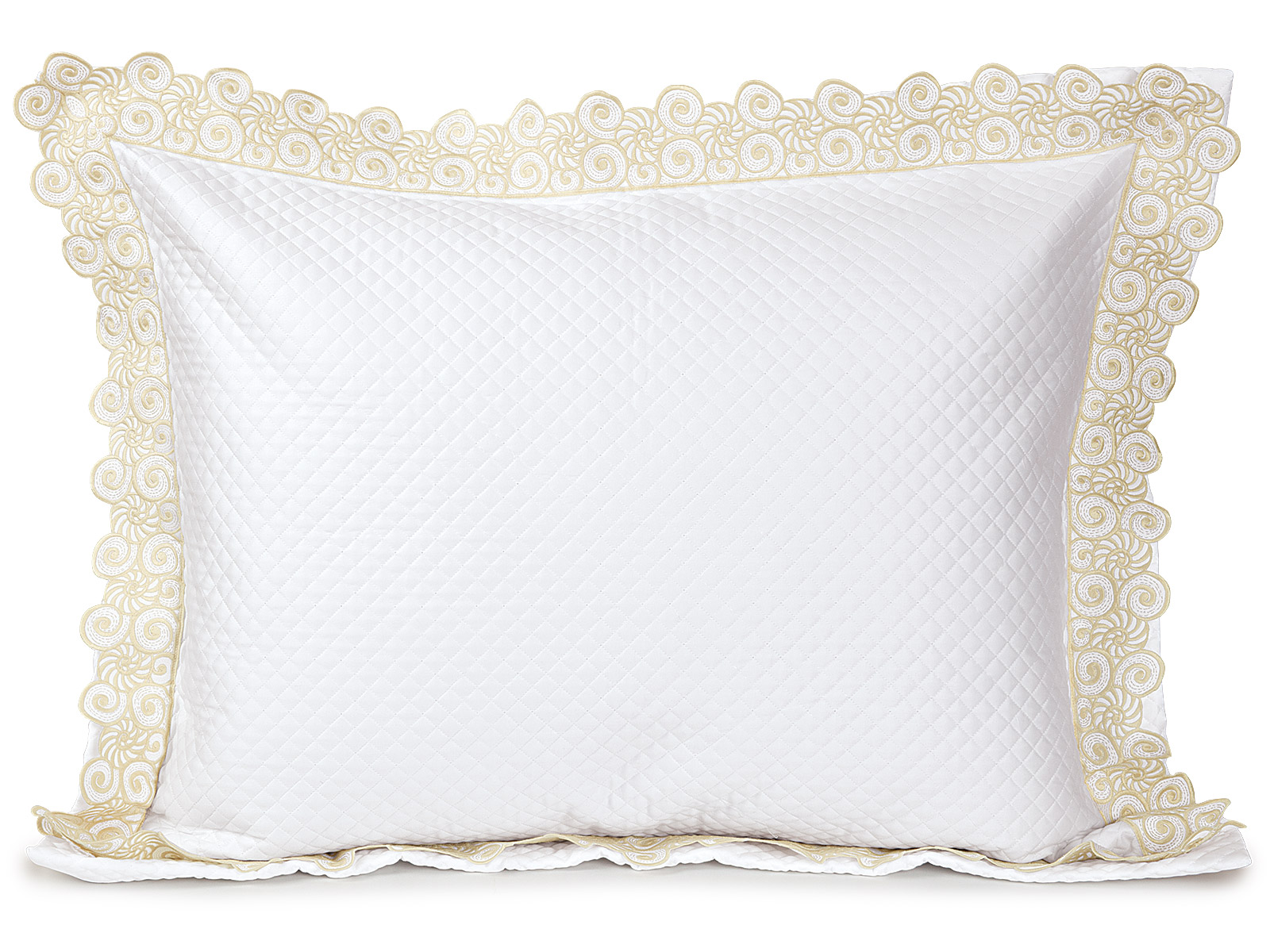 NEW YORK
Displaying a great sense of style with a cosmopolitan air, luminous pure White Egyptian cotton sateen in two shades of Mocha, Gray or Navy on White, and Black on Ivory.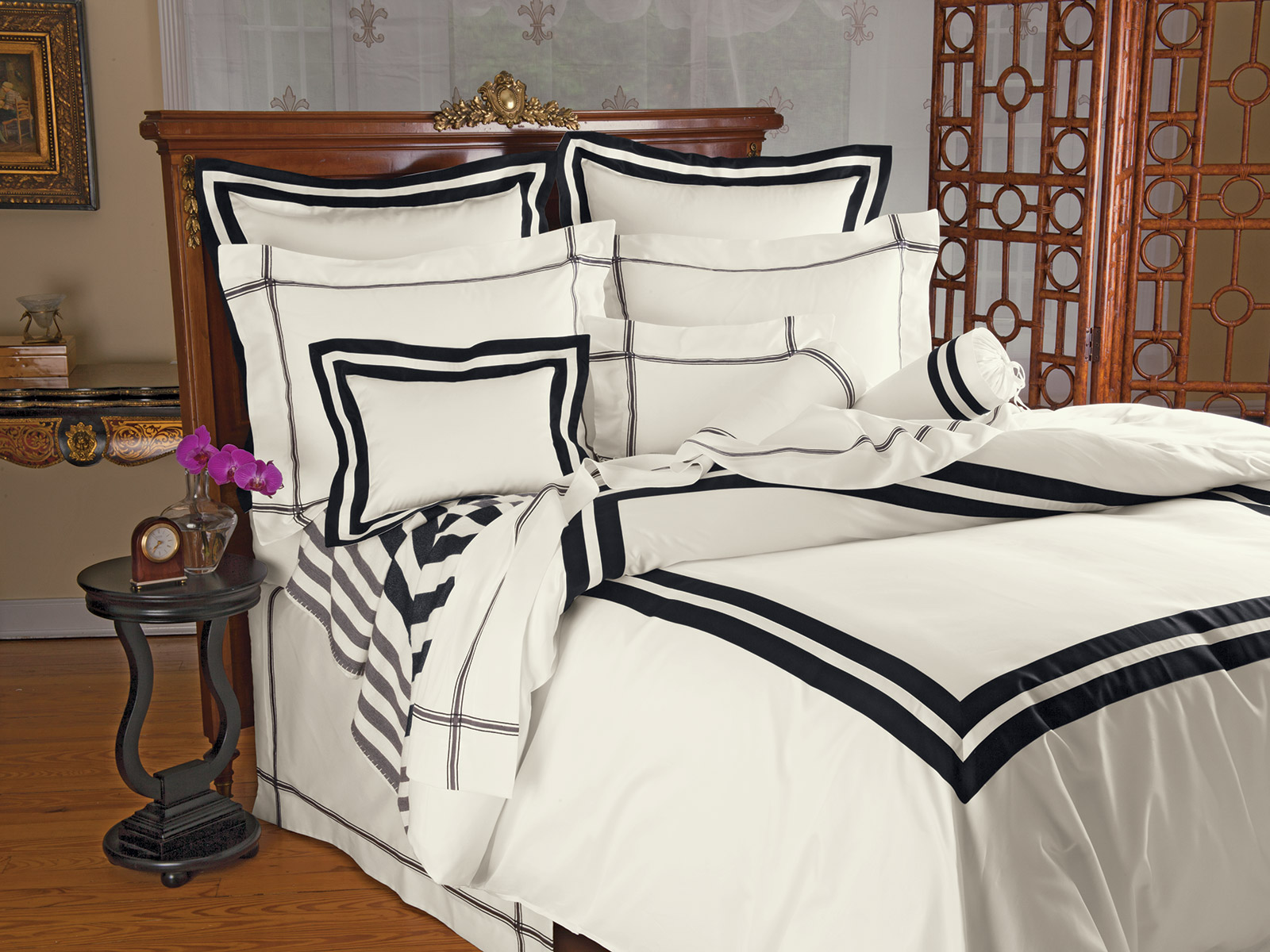 BONACIUEX
The glamorous details and lusciously majestic hues of this Italian-crafted, yarn-dyed damask will remind you each morning that there are no ordinary moments.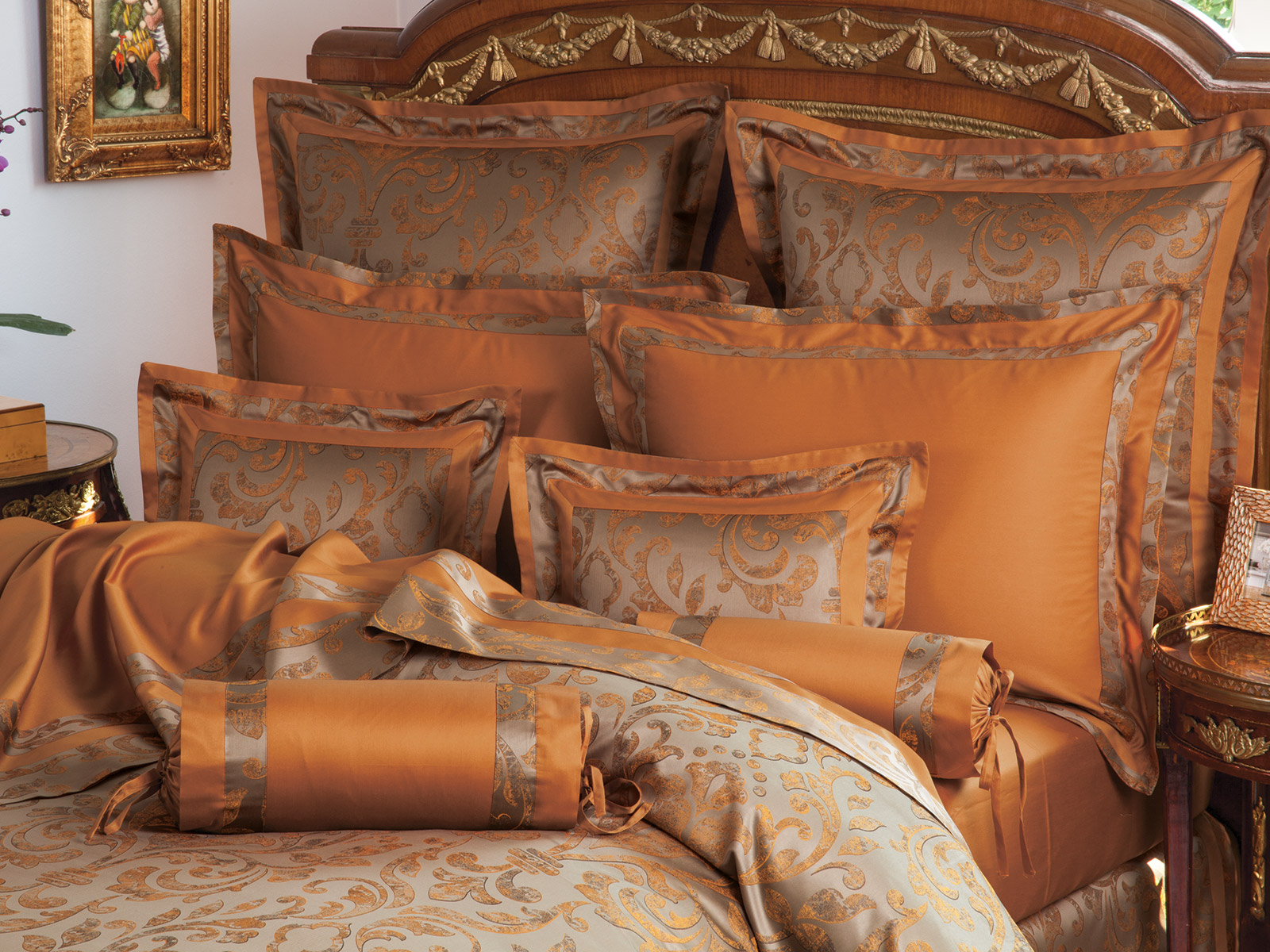 CANTON
Precisely tailored in Italy with a straight flange, mitered corners and delicate zigzag stitching. Imported, in Mist Green and Rose, or Black and Gray, on pure white Egyptian cotton percale.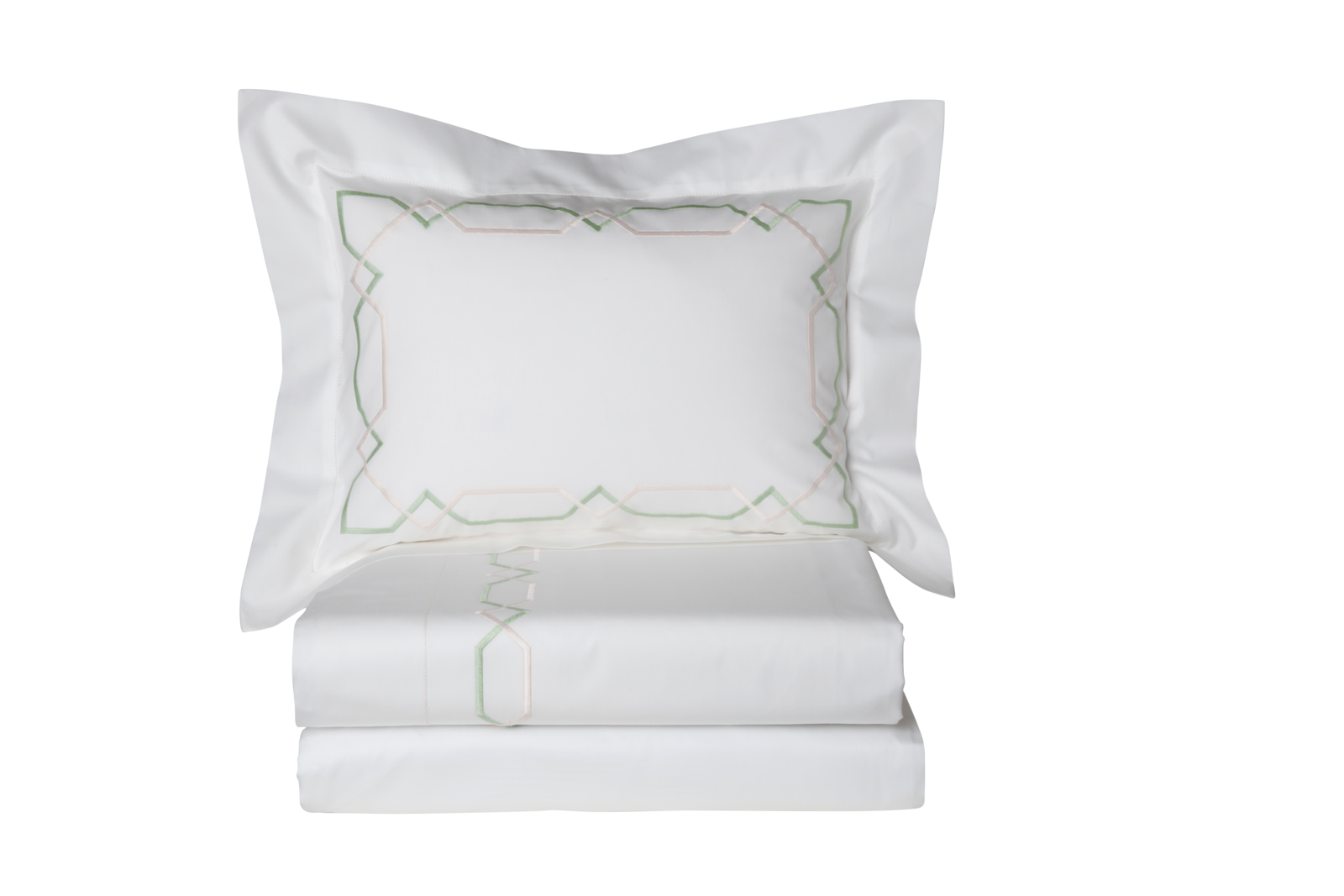 CASTLE HILL
Created with lavish bourdon stitching on sumptuously soft 100% Egyptian cotton sateen. Finished with mitered corners, hemstitching and button closures. Made for you in Italy, with Green or Blue embroidery on White or Green on Ivory sateen.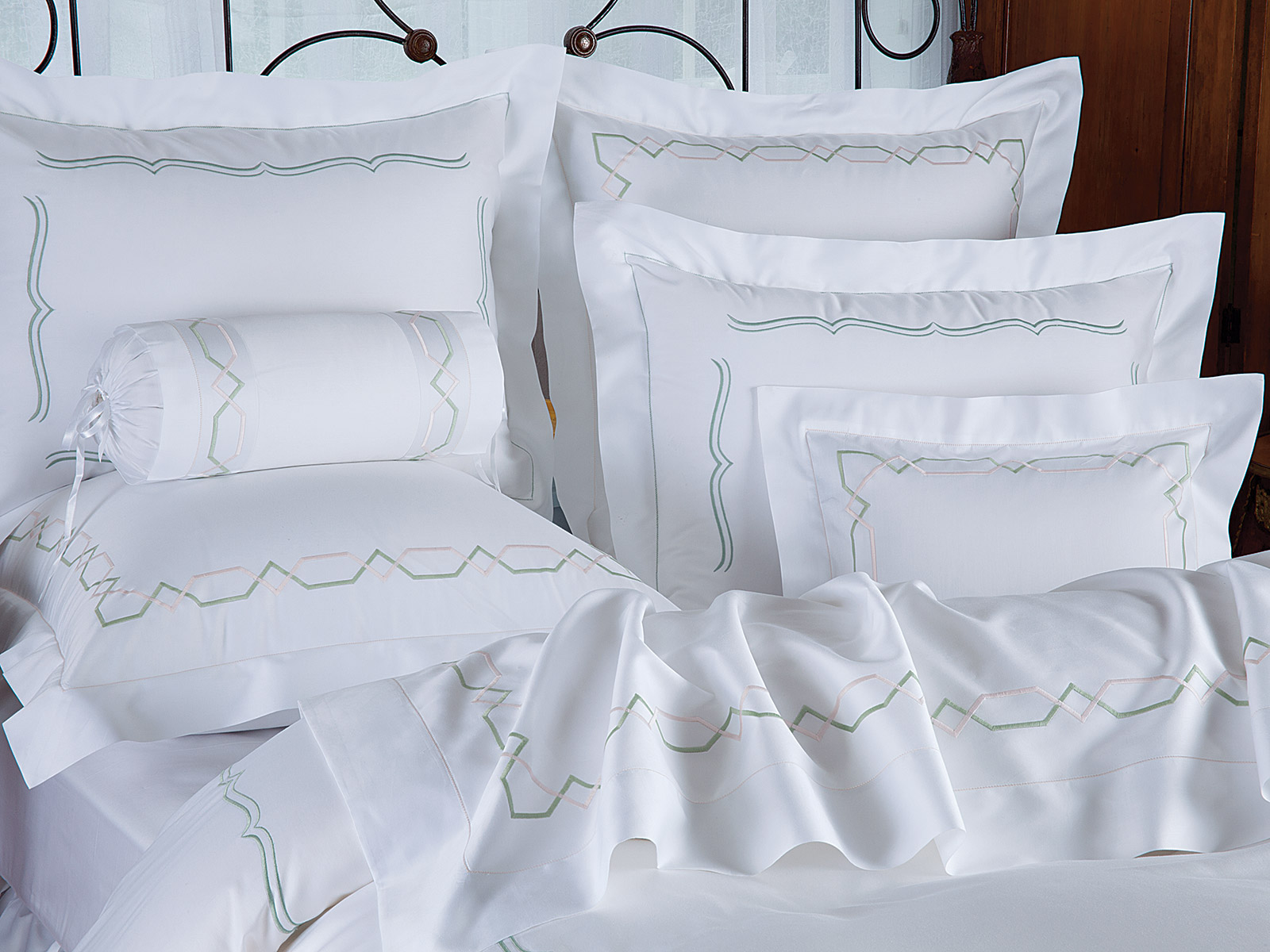 AVON
The finest Italian tailoring is on display with knife-edged flanges and mitered corners. Imported, with Beige and Ivory embroidery, on pure white Egyptian cotton sateen.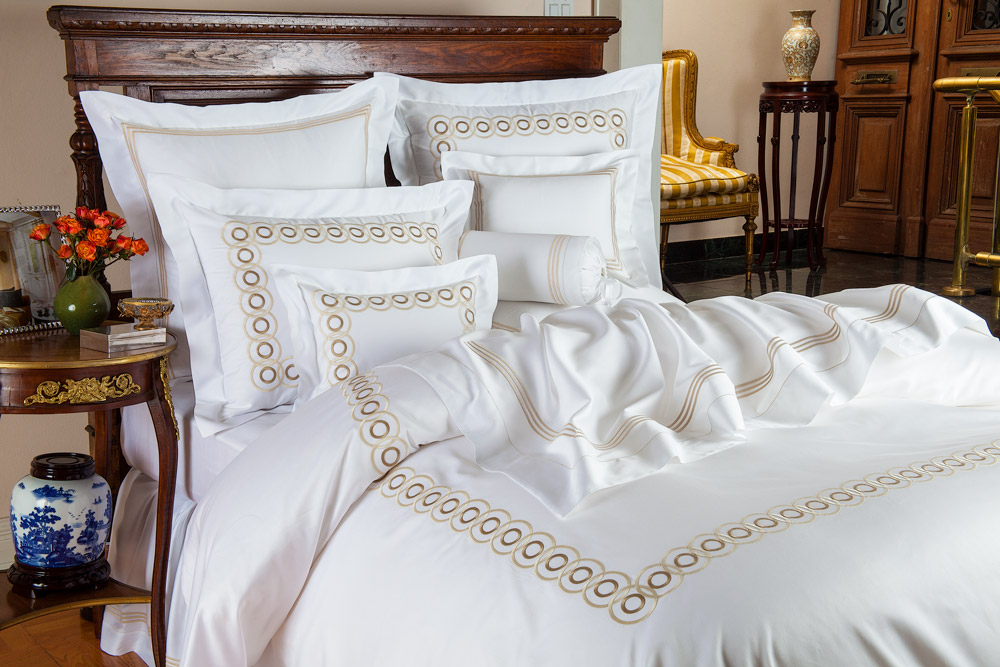 LOGAN
Warm Terracotta leaves on a Steel Blue background create a symphony for your eyes. Crafted for you in Italy on luxurious Egyptian cotton damask, the voluptuous floral design is paired with silky smooth Terracotta Egyptian cotton sateen.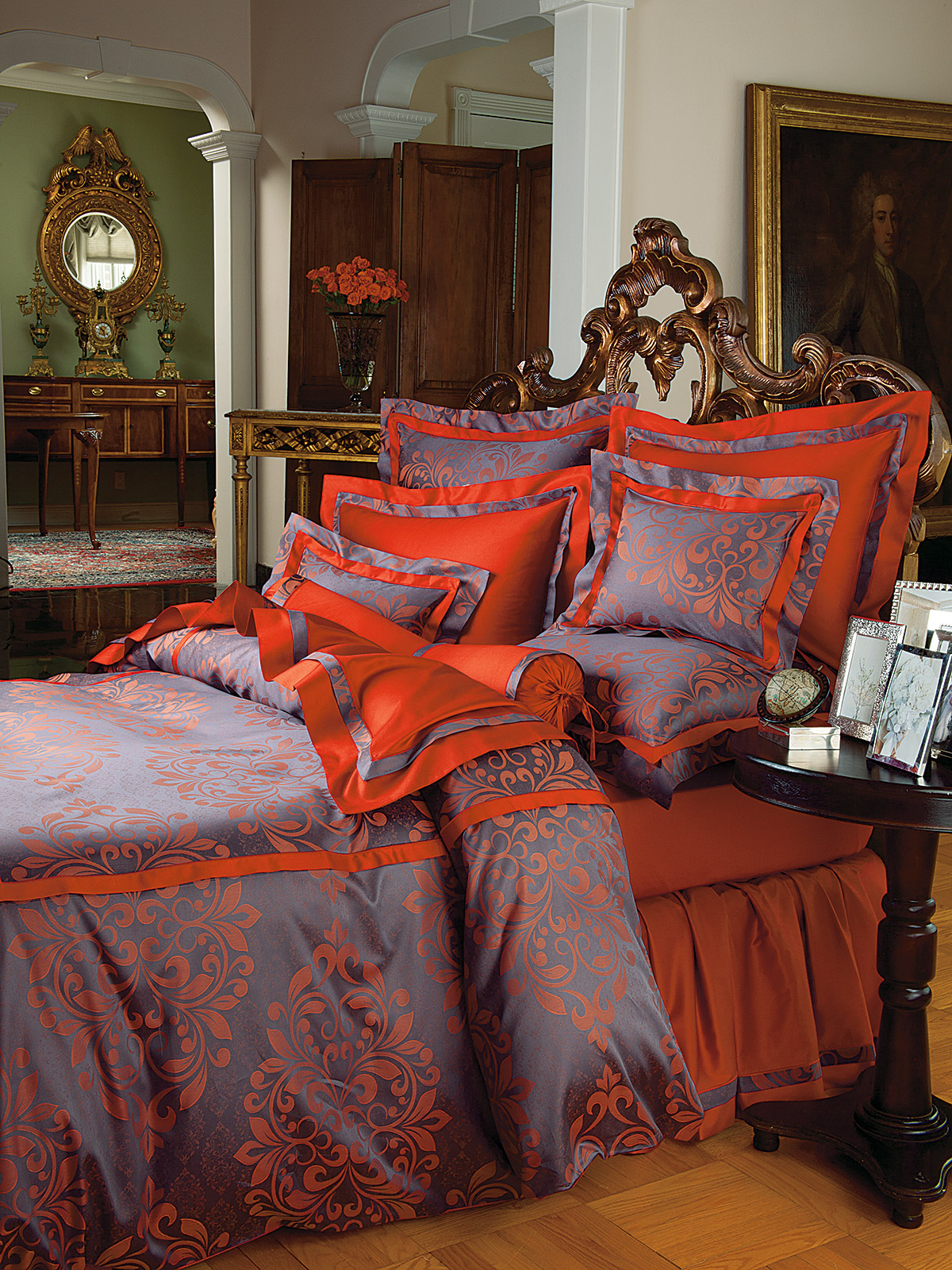 JOIE DE LOOPS
Double rows of grand and glorious embroidered scallops meet up in whirly, swirly, loopy corners on glistening sateen of pure Egyptian cotton. Faithfully made in Italy, with Red or Black embroidery on bright-as-sunshine White.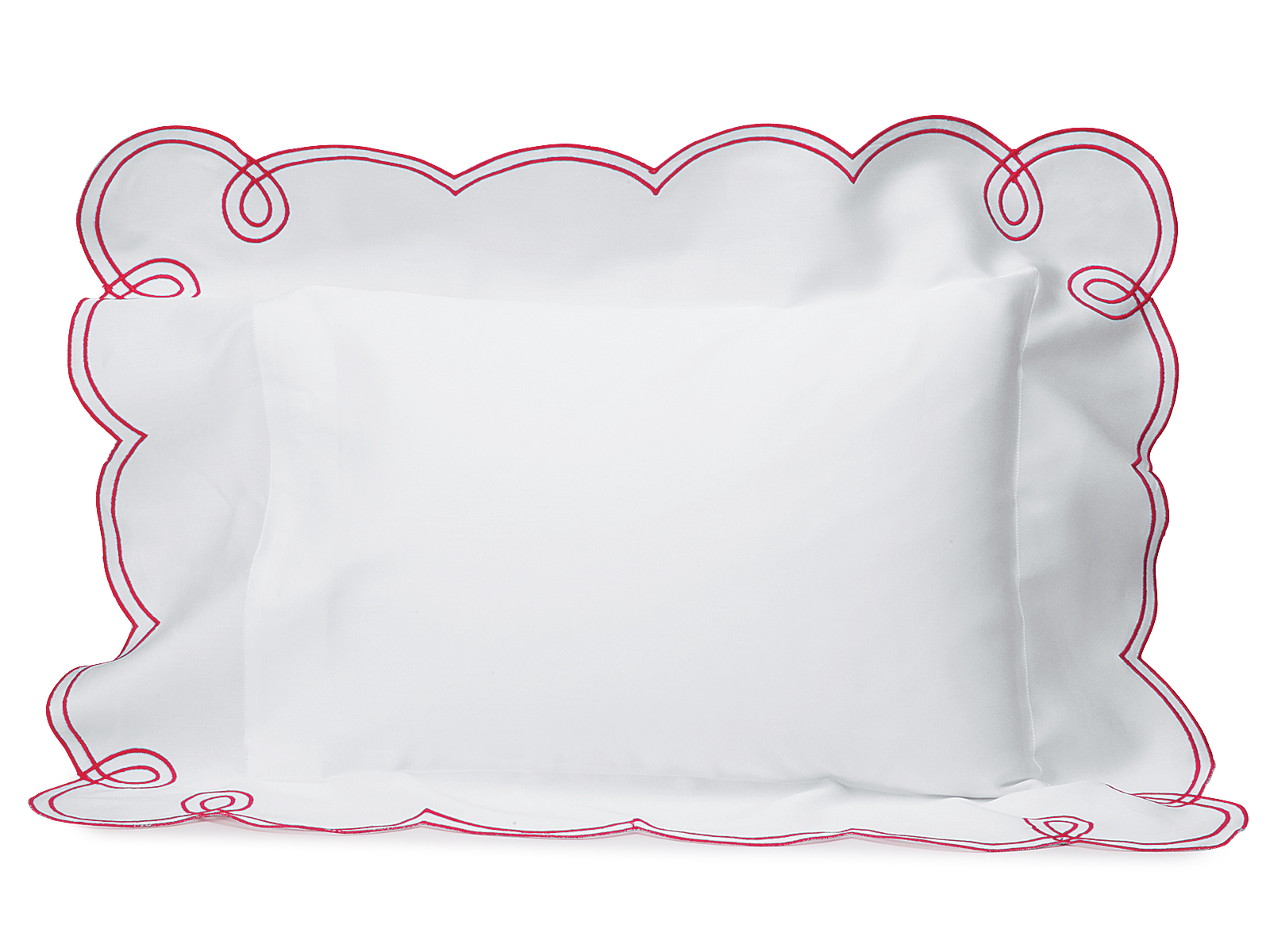 PAISLEY WHIRL
This bold, glamorous print brings a larger-than-life panorama of drama to finest Egyptian cotton sateen. Designed and made in Italy in Black and Gold, with a Gold embroidered accent.
RICHELIEU
Capturing the beauty of the night in a palette of rarefied colors, our exclusive Blue paisley damask deepens the elegant allure of this ensemble. Made in Italy.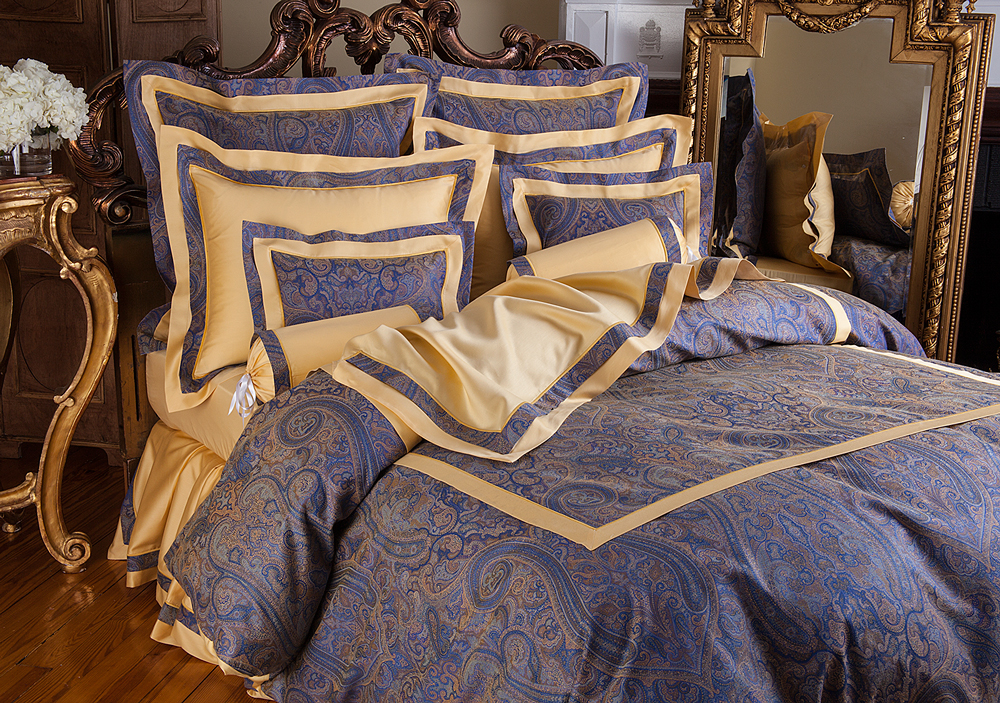 ROYALTY
A voluptuous scroll design defines the luxurious aura that emanates from this exclusive ensemble. Made in Italy.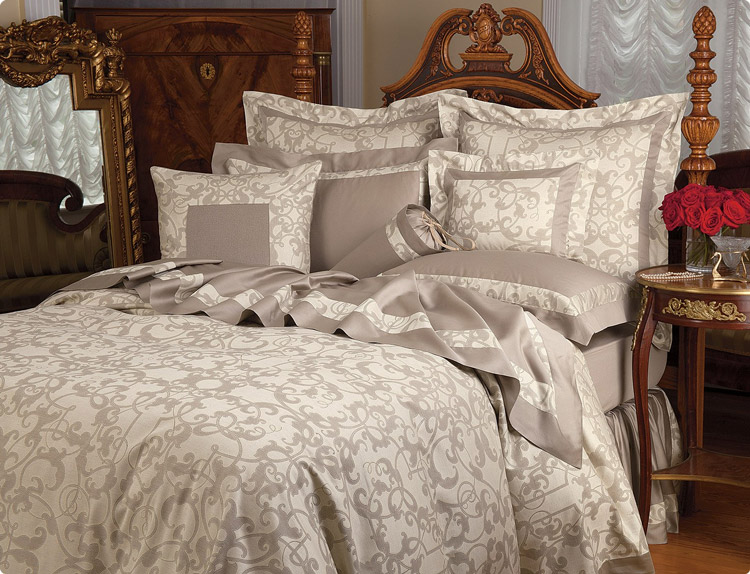 RARA AVIS
This mesmerizing feathery motif is uniquely embroidered on ultra-refined Egyptian cotton sateen. Tailored with relentless care in Italy, the silken White background is enhanced by Blue or Beige embroidery.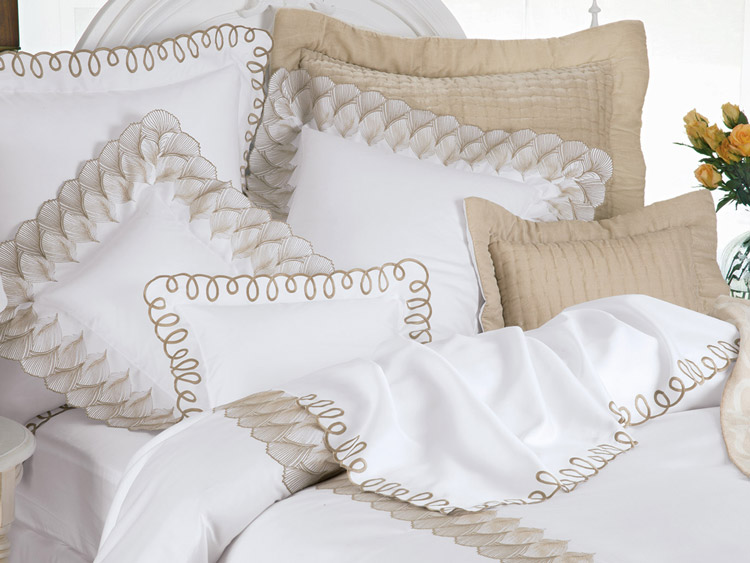 GUINEVERE
As beautiful as a trousseau treasure in bygone times, finest Egyptian cotton percale is fancifully adorned with wide overlaid borders of exquisite eyelet. Features tiny scallops on the inner edges, and bountiful big scallops on the outer edges. From Italy.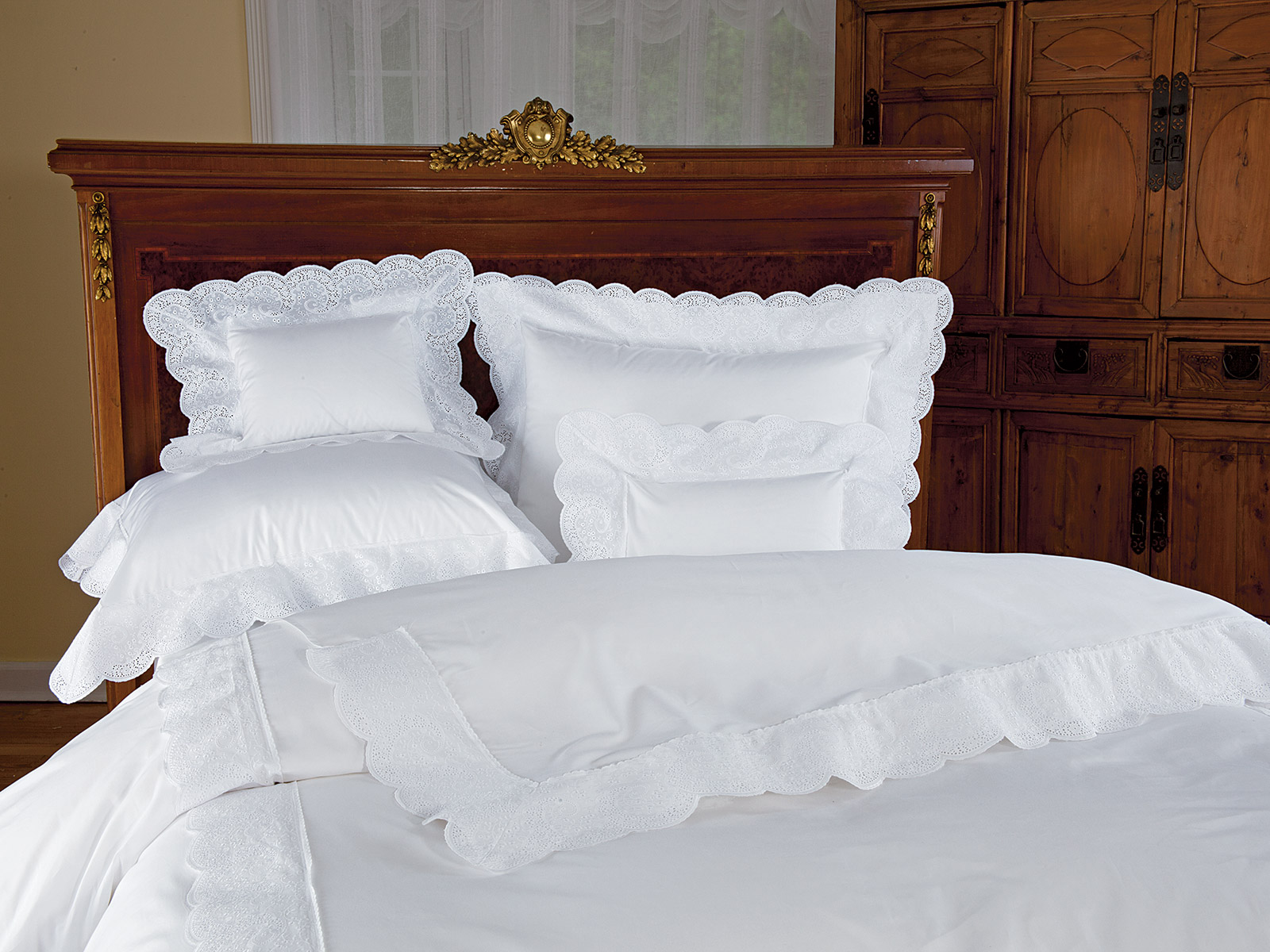 MESSINA
Intriguing Gold symbol with embroidered edging is appliquéd on luminous White Egyptian cotton sateen. Finely crafted in Italy.
MIDAS TOUCH
Lustrous White Egyptian cotton sateen is highlighted by the magnificent glow of solid Gold bands. Designed and made in Italy, with all the extravagant care and details worthy of 24-karat elegance.