If you're like me then you have already begun shopping for the holidays and taking advantage of great sales and special offers! Even as I plan my menu for Thanksgiving, I am also giving thought to finding the right gift for teachers, neighbors, and friends. And most of the gifts I give come right from Schweitzer Linen.
At Schweitzer Linen we have a wide variety of nightwear, towels, soaps and pillows which make a perfect gift for anyone. A cozy cashmere throw with a custom monogram would also be welcomed especially as the temperature starts to drop. We even offer free gift wrap and ensure a delivery just in time for Christmas. But get those orders in now and beat the holiday rush. Here are some of my favorite gift ideas to get you started. And as a reminder, all this month we are offering an additional 20% off all Cashmere products when you enter the code 123113 during checkout.Happy Holidays!
Baby's Cashmere Blanket or Pillowcase, available in 3 colors. So sweet!
Baby Blanket – Reg $300, Sale $200
Pillowcase – Reg $150, Sale $100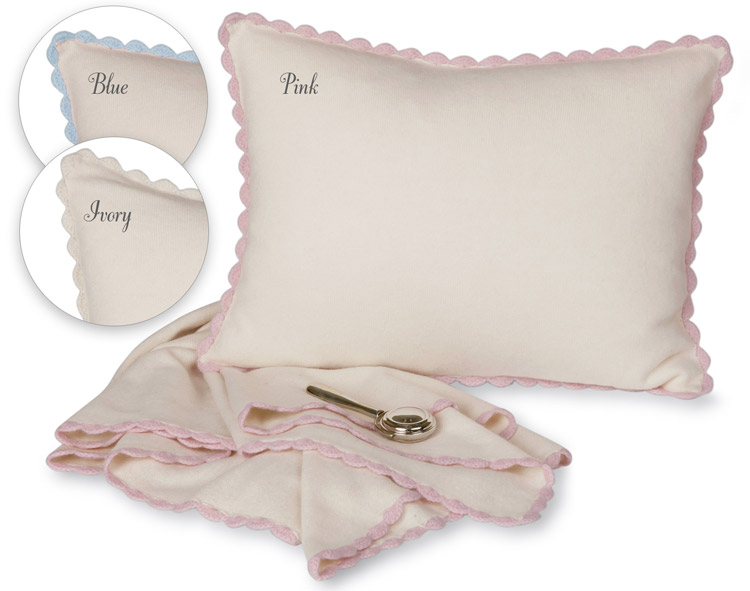 Guest Towels
Holly Days & Merry Merry festive Guest Towels in one of a kind designs.  Sold in sets of 3.
Reg $90, Sale $60.
Gift Box Set of soaps
Freesia Soap Gift Box Set of 4 soaps.
Reg $75, Sale  $55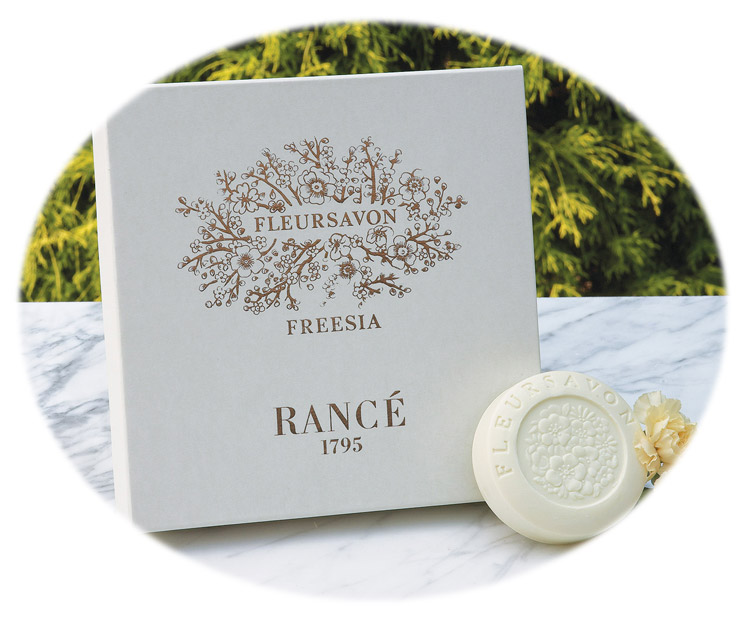 Decorative Pillows
Who wouldn't want to be on the receiving end of one of these gorgeous Decorative Pillows! Like a work of art with designs created by a hands-on process developed 500 years ago. Imported, with silken tassels, concealed zippers, and 95% feathers/5% down filling.  We offer 6 collections with 3 different designs in each collection.  Plenty to choose from!
Byzantium: Square, Arabesque, Medallion: From $270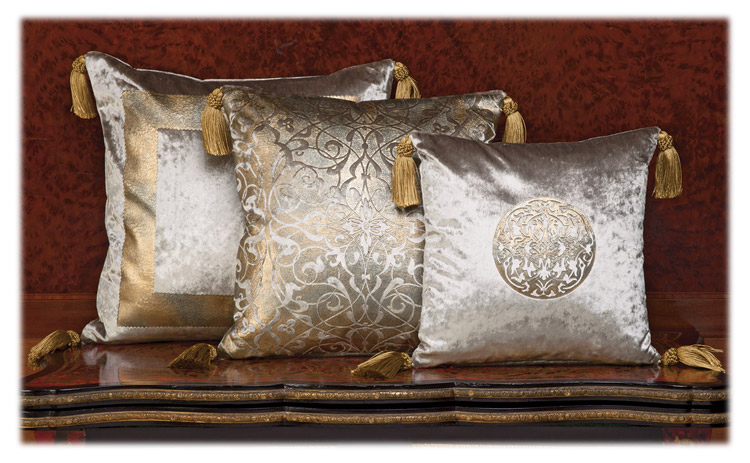 Majestic: Crown, Frieze, Aztec: From $270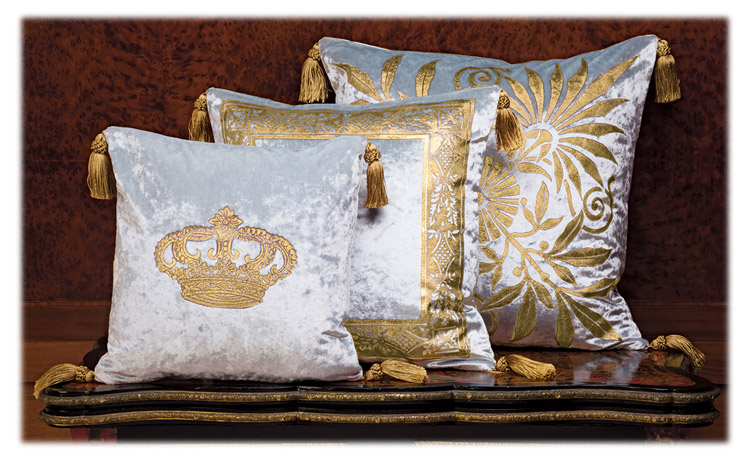 Some more Decorative Pillow options:
Bath Collections
Tiffani Bath Collection is one of my favorite collections because of its soft colors and fun bow design. It's great for kids and adults alike!
Towels start at $15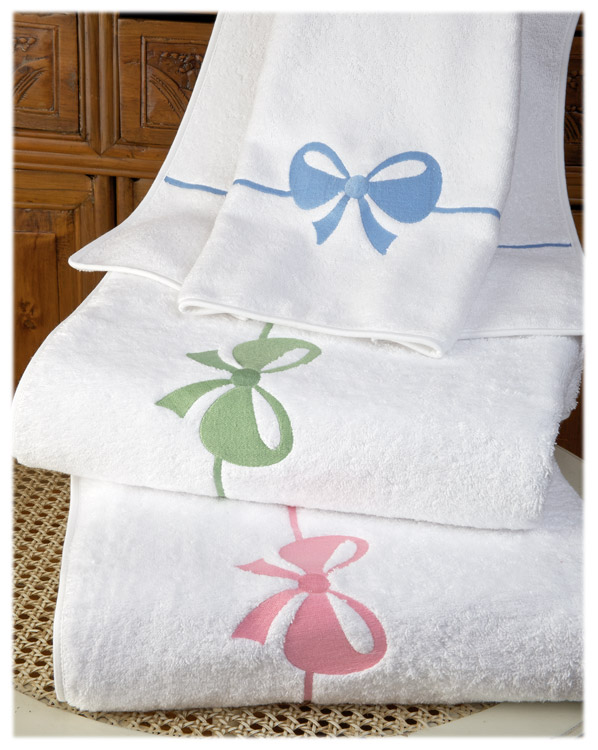 Robes available in Small – Large
Reg $200, now only $110!
Coral embroidered Terry Towels are another unique gift option for friends, neighbors or grandparents.
Seascape Towels starting at $15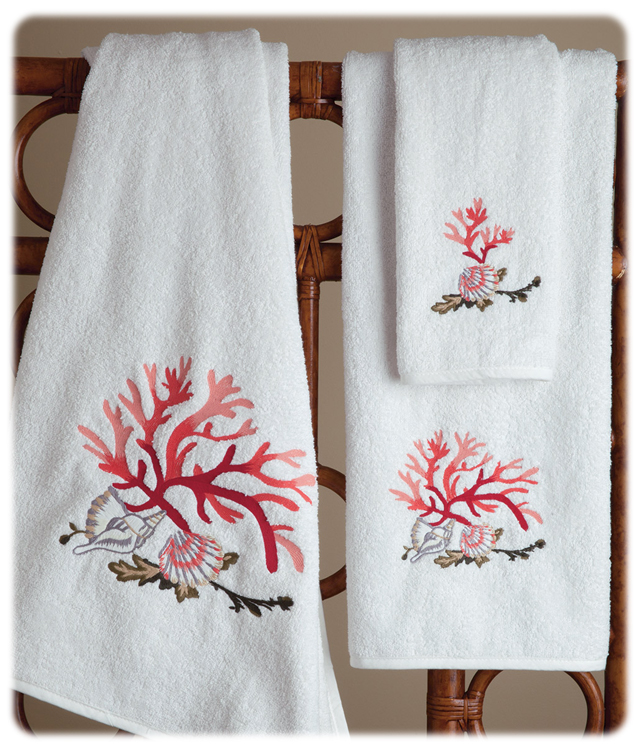 Gowns and PJs
I love the simplicity of the Celeste Gown and PJ with a touch of color in the v-neck satin Trim. It's made using the softest pima cotton and a great gift option for my girlfriends.
Available in Small – Extra Large.
Gown Reg $190, Sale $110
Pajama Reg $220, Sale $140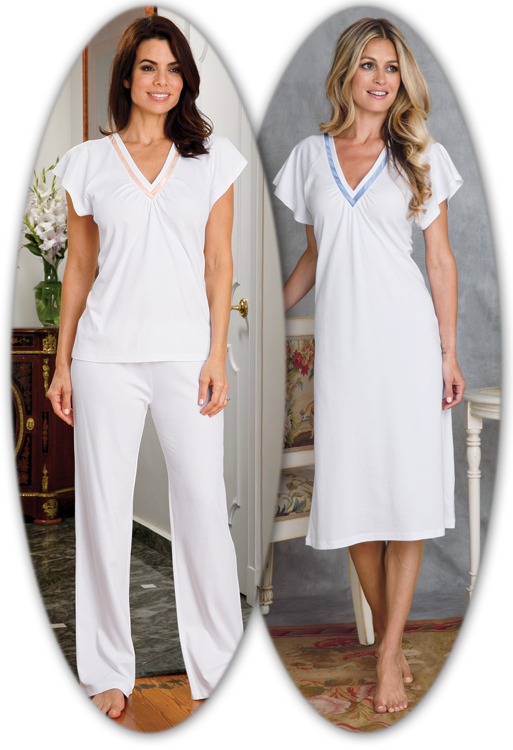 Bella Pajamas are another gift option to consider.  Made on the silky soft Pima Cotton in Peru and available in four satin trim options: Blue, Lavender, Blush or White, in sizes Small-Extra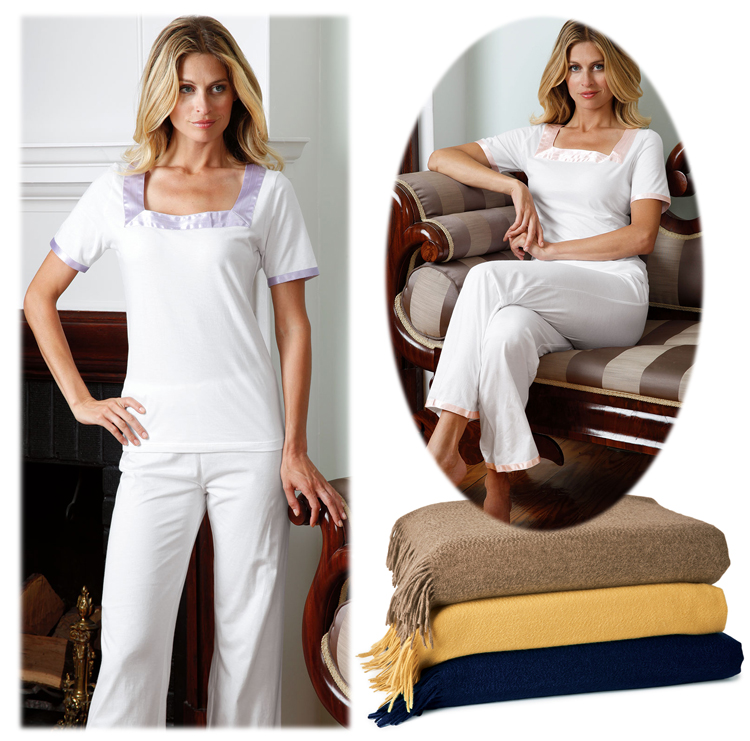 Give the gift of 100% Pure Silk pajamas without breaking the bank.  These pajamas are an affordable luxury gift!
Marisol Pajamas 100% Pure Silk: Blue, Ivory or Pink Available in size Small – Large
Reg $220, now only $130.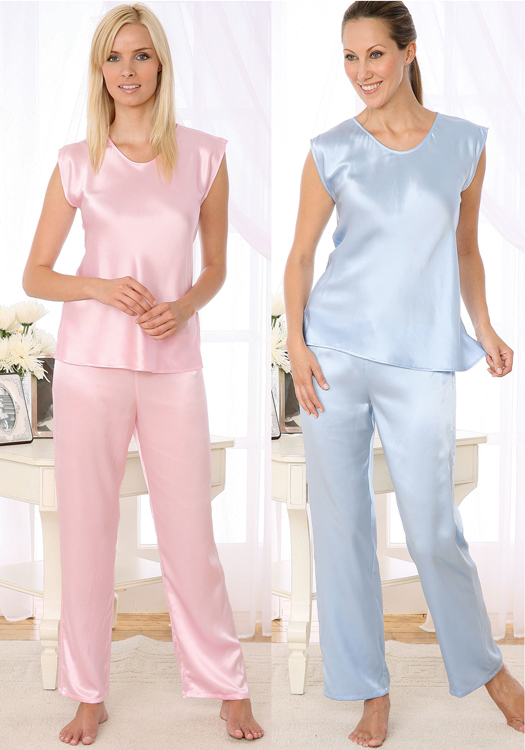 Blankets and Throws
Rimini Cashmere Throws in 10 Fabulous Colors – available in size 50"x70" Reg $625, Sale  $325!
Add a one of a kind monogram to make it extra special!

My two favorite fabrics, Silk & Cashmere, combined into a reversible wrap, throw and pillow.  A vibrant gift idea for anyone who enjoys a little color and playful print.
Marcella Wrap: One Size Regular $600, Sale $475
Marcella Pillow 20"x20" Reg $200, Sale $120 &
Throw 50"x70" Reg $700, Sale $425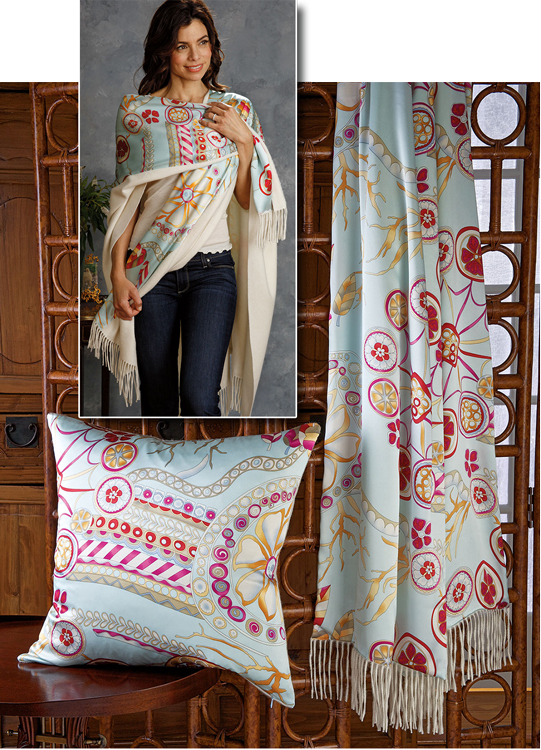 If you want to splurge on the thickest and warmest cashmere blanket available consider Kashmir! Twice as nice in sky blue cashmere color reversing to an ivory color. Twin size starts at $875.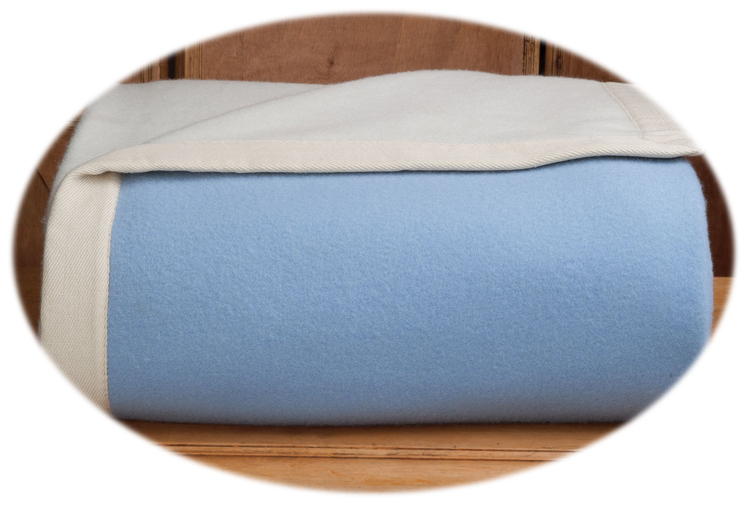 Cashmere Robes and more
Baronessa Cashmere Robe  available in size Small – Large in creamy Ivory Cashmere
Reg $700 , Sale $500
Angie Cable Knit Cashmere Robe in Buttercream, Green or Rosewater, Small-Large
Reg $525, Sale $425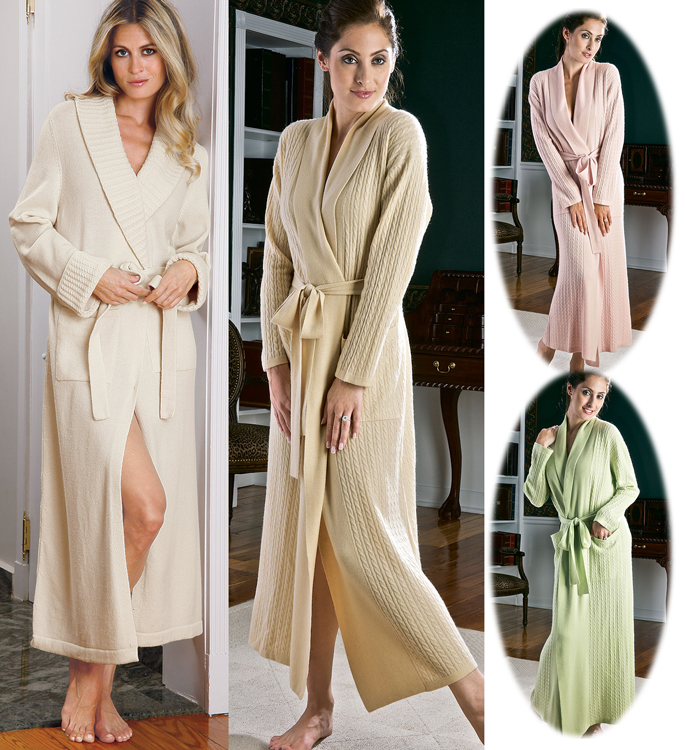 Mercedes Leopard Print Cashmere Shawl in the lightest 100% Cashmere Fabric, One Size Fits Most, Reg $220, Sale $140

I love the versatility of the Anastasia Cashmere Jacket. I can wear it year round and can dress it up or down. Available in S/M or L/XL. Reg $495, Sale $395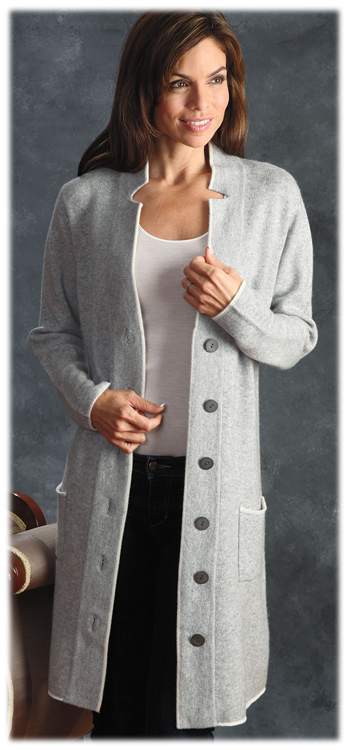 You can never go wrong with cashmere and we offer many options which make a great gift this winter.
Evita Poncho with Fox Fur Collar in neutral oatmeal, one size, Reg $800, Sale $575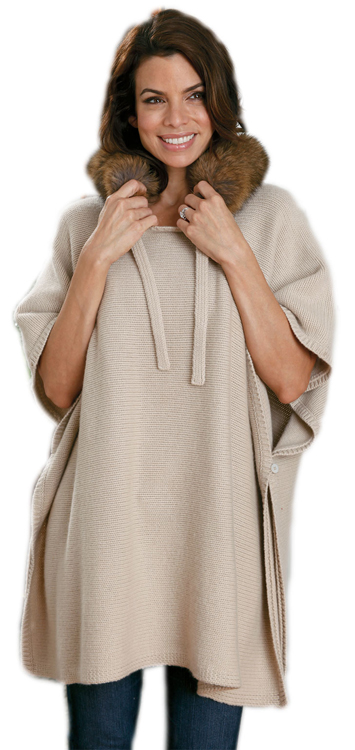 Rendezvous Cashmere Wrap in Beige Plaid with oversized pockets and fun fringe, one size
Reg $500, Sale $350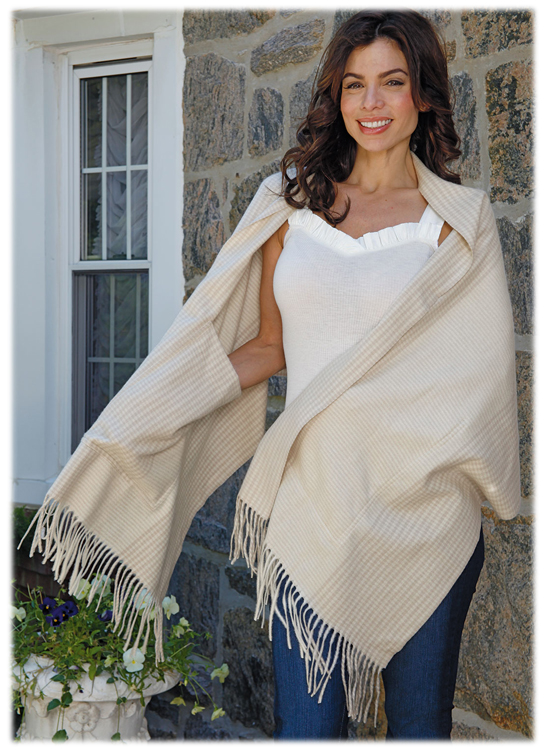 A great option for the man in your life is the Windermere 100% Baby Alpaca Throw and Blankets from Peru. The fabric is just as warm as wool but with a softer hand feel. In neutral shades of Black, Gray and White.
The blankets are a finished with whip stitched edges and start at $375 for Twin Size.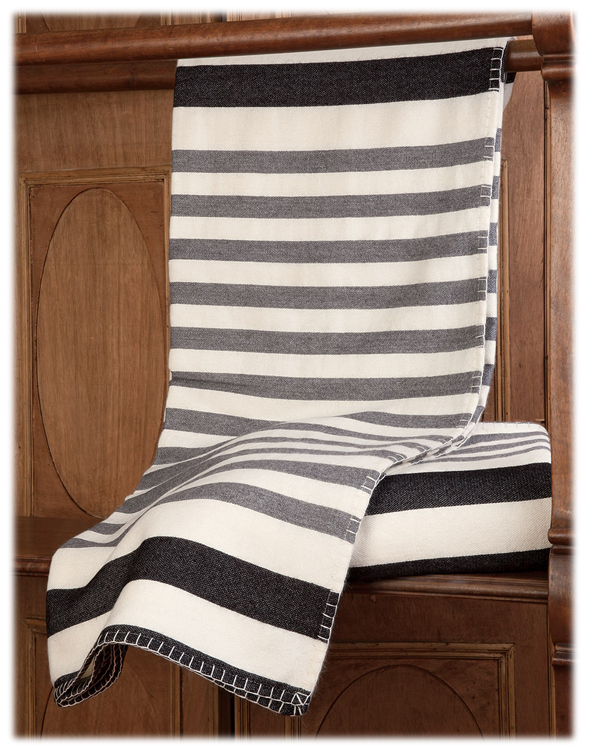 The throw features fringe edges, Reg $350, Sale $250
Handkerchiefs
Handkerchiefs make a thoughtful gift for anyone and we have a wide variety from classic tailored to beautifully embroidered for men or women.
Lavaliere features an oval frame perfect for monogramming, Reg $30, Sale $20 each.