Contrary to my own inner dialogue, I am far removed from being considered a child. And yet, every time I visit home and see my stocking hanging by the chimney, I am overwhelmed with feelings of sweet nostalgia and the spirit of the holidays warms me all over. Choosing a stocking for yourself, a significant other or one of your children is a very special experience. For many of us, the Christmas stocking represents the very best time of the year and precious memories we carry with us forever. This feeling of tradition and family is so important, especially for young children who are shaped by these experiences well into adulthood. That's why you want to choose a stocking that not only fills them with the joy and love of the holidays, but one that will last for a long time. Who knows, one day your children may show their children the stocking that made Christmas so special for them.
I've seen a lot of stockings out there from big name retail companies to small shops at holiday festivals. And while all stockings are beautiful in their own way, I've never seen Christmas stockings quite as charming and beautifully detailed like those at Schweitzer Linen.
Schweitzer Linen Christmas Stockings feature superior needlepoint that's been crafted by hand with the most exquisite artistry imaginable. Each stitch is impeccably done with the utmost of skill and precision, but most importantly, one look can tell you that these were made with love. Schweitzer Linen stockings are designed using the finest wool, implementing the highest standards of craftsmanship and feature playful, heart-warming styles that will instantly make you smile with merriment.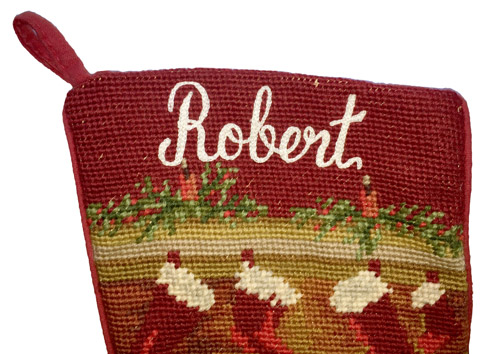 Schweitzer Christmas Stockings also offer customized monogramming in elegant script to truly make it their own. You have up to 10 characters available so you can add their full name, initials or make it extra special with a family nickname. These little touches are the things that will make every holiday that much more special for everyone in your family.
Big family or small family, modern or classic, there are nine different designs to choose from to please everyone's personal tastes. From traditional Christmas scenes to the more whimsical, each design is exclusive to Schweitzer and won't be found anywhere else. Nor will you be able to find any stocking with the same stunning attention to detail Schweitzer Linen artists have provided.
Create a tradition that will be enjoyed and cherished every year to come with some of these popular Christmas Stockings. Each one is decorated by hand in exquisite needlepoint and backed in 100% cotton velvet.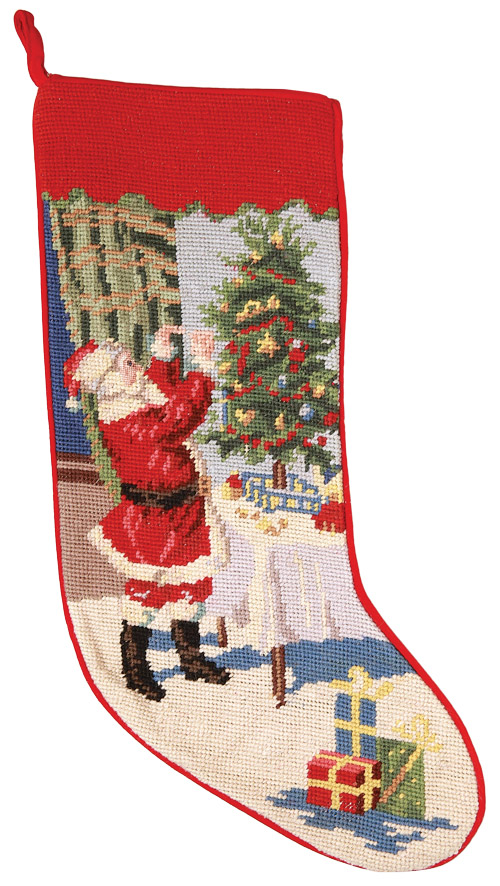 Santa Trimming a Tree
Santa's trimming his tree—in this beautiful Christmas stocking displaying the classic holiday scene. Imported.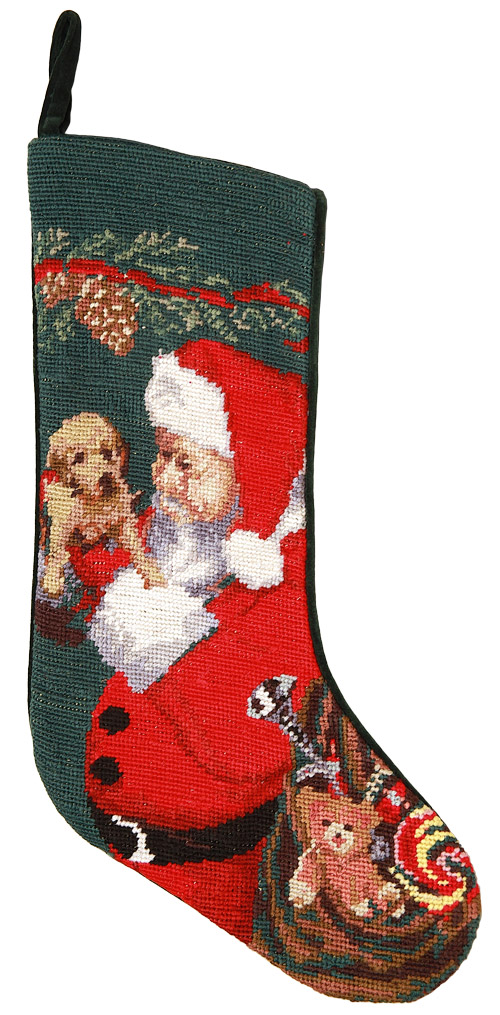 Santa & Puppy
Santa, his bag full of toys and the cutest puppy are ready to delight for years to come. Imported.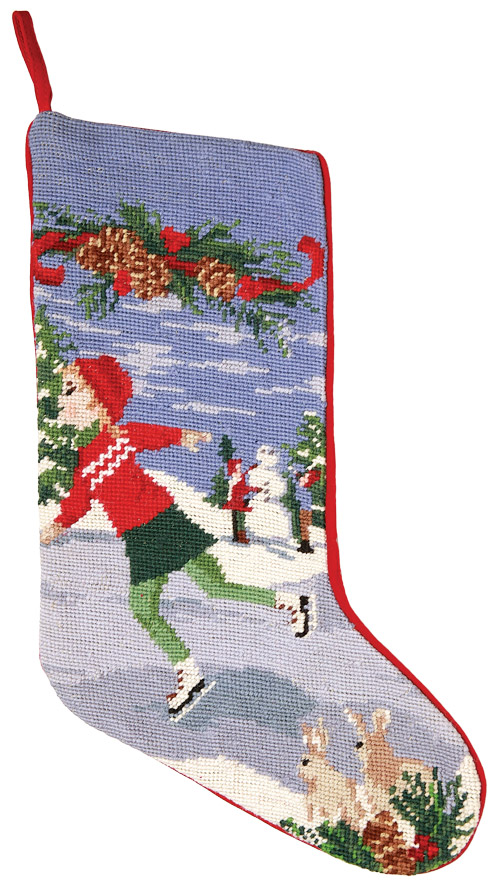 Ice Skater
This unique stocking evokes the holidays with a charming winter scene depicting a skater on a frozen pond while friends build a snowman in the background. Imported.
Train
Make every Christmas morning memorable with this delightful train set scene, guaranteed to delight train lovers of all ages. Imported.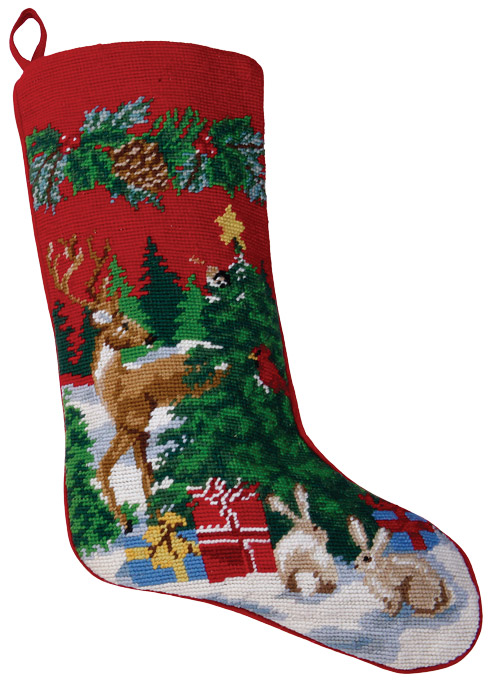 Reindeer
Nature's friendliest woodland creatures have gathered by a tree with gifts to celebrate the holidays in this absolutely charming design that makes Christmas morning feel extra special. Imported.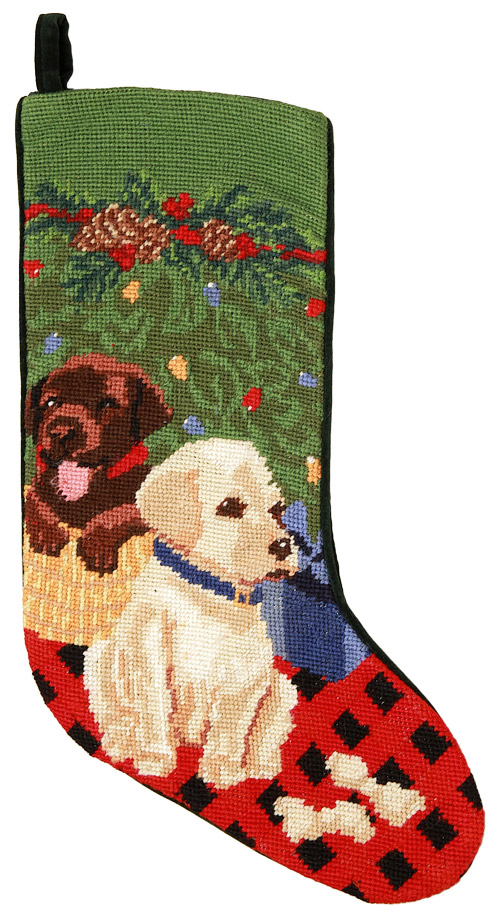 Puppy
Not sure if it gets any cuter than this stocking featuring two playful pups by the tree. Will fill everyone with warm and fuzzy feelings of holiday tradition. Imported.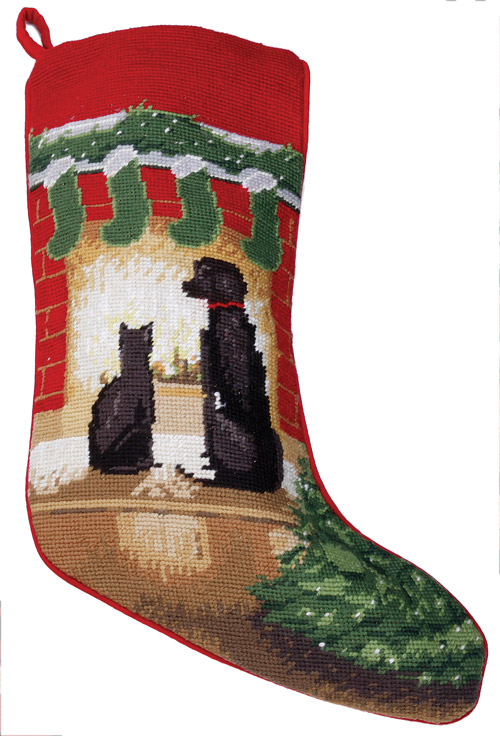 Friends
What more can be said about a dog and cat sharing each other's company by the fire? Not only does this stocking portray a heartwarming scene that will make everyone feel instantly happy, it's a celebration of our differences and how the holidays can bring us together with love.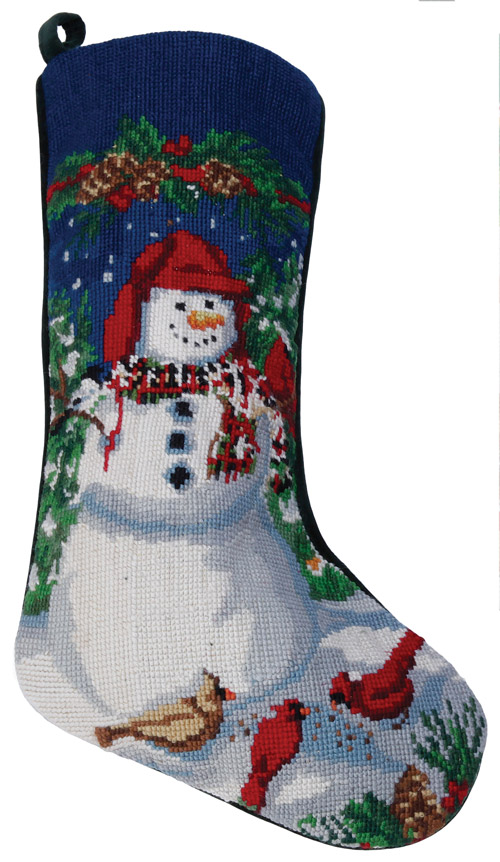 Snowman
Delightfully classical and warm in its design, this happy snowman is enjoying the weather while birds feast under a holiday wreath. Imported.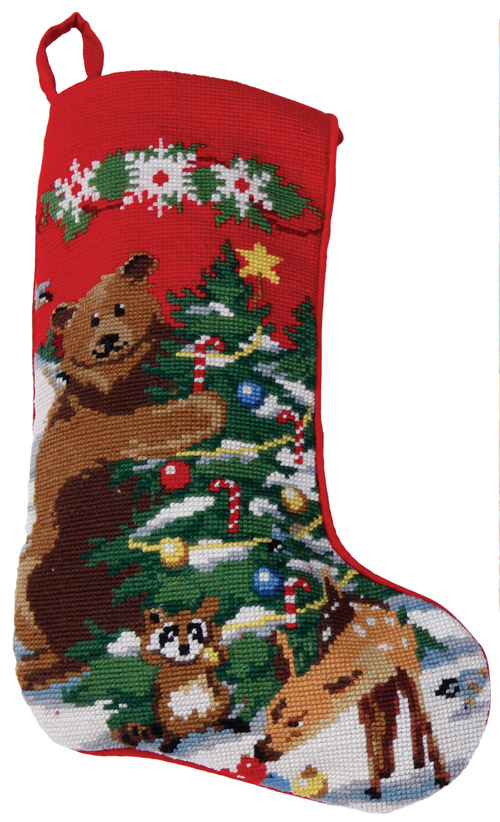 Bear
The immense cuteness of this stocking is almost too much to bear. A fuzzy, fun-loving bear hugs the tree while his raccoon and fawn friends are gathered around for a festive celebration. You won't find this unique design anywhere else.