Summertime. The word brings to mind images of beach days, backyard BBQs and crisp white linen blowing in the soft summer breeze. What's not to love? And though this summer in particular may end up looking and feeling much different from the summers most of us are used to, we're here to make sure yours looks and feels as comfortable and luxurious as you want it to.
Because whether you've been stuck inside for months or it just feels that way, the best way to shake off those quarantine summertime blues and make the most of the season is to reinvent your bedroom with light, airy fabrics, cool, crisp colors and invite the freshest original designs into your home. Schweitzer Linen can help you do all that and more with some of our most popular summer styles.
SUMMER LINEN
We can't talk about summer bedding without first talking about the official fabric of summertime comfort. Refreshingly airy, cool and absolutely gorgeous, linen is the perfect way to ensure your sleeping temps are ideal and your décor is divine. Slipping into a bed with this natural moisture-wicking wonder is pure luxury. And since we have a huge variety of new and classic linen designs—all exclusively ours—you can set up your summer sanctuary however you please.
Check out some of these popular linen collections:
Like a perfect breeze floating up through seaside windows from the coast, the airy texture of this 100% easy care linen import takes you to a place of infinite pleasure, peace and contentment. Imported.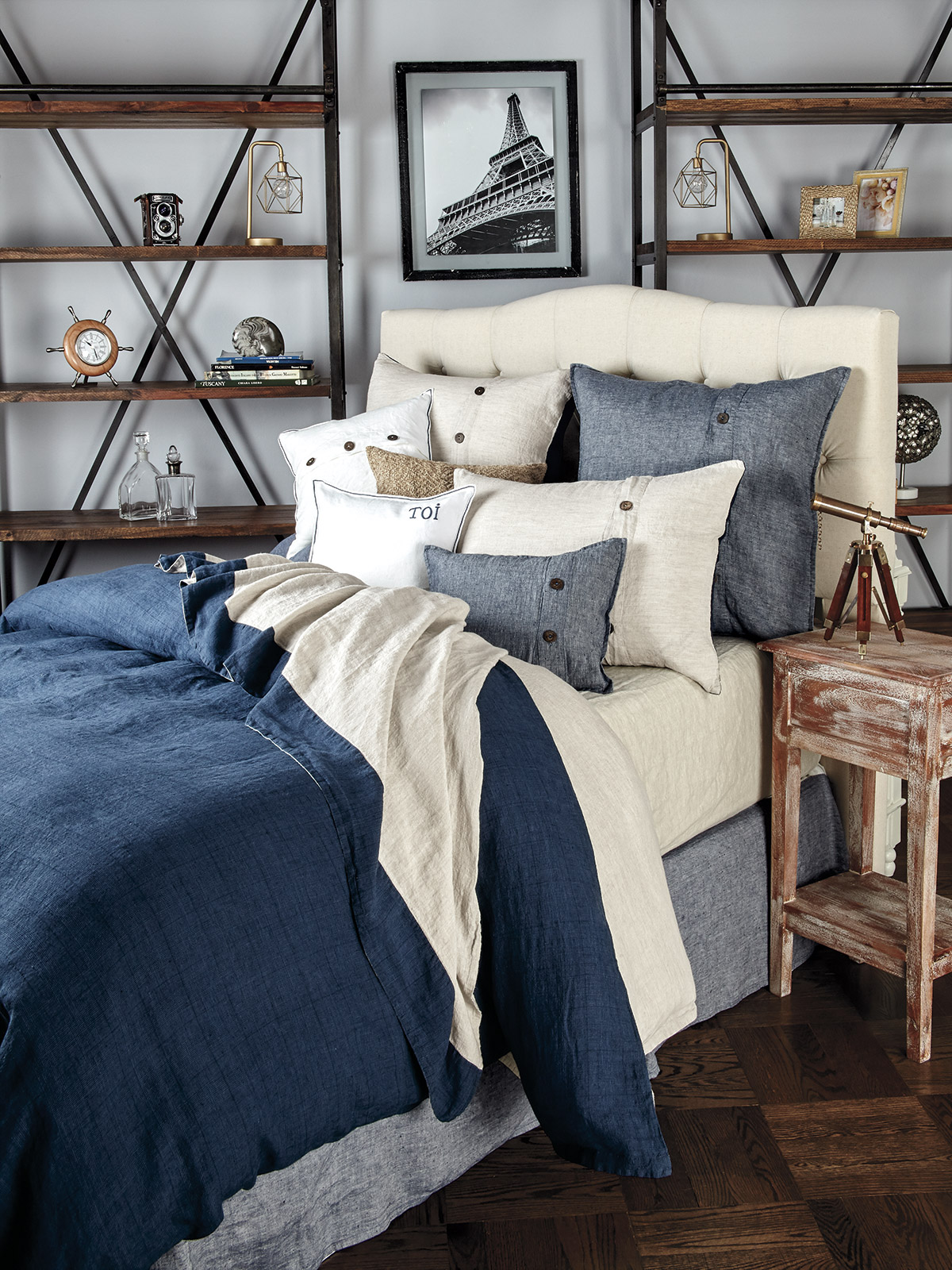 If you have never experienced the sheer cool crispness of pure 100% linen sheets, you are in for a treat. Made in Italy in White, Cream or White with Cream flanging, these elegantly hemstitched and perfectly framed linens are the ultimate investment in traditional elegance and durability.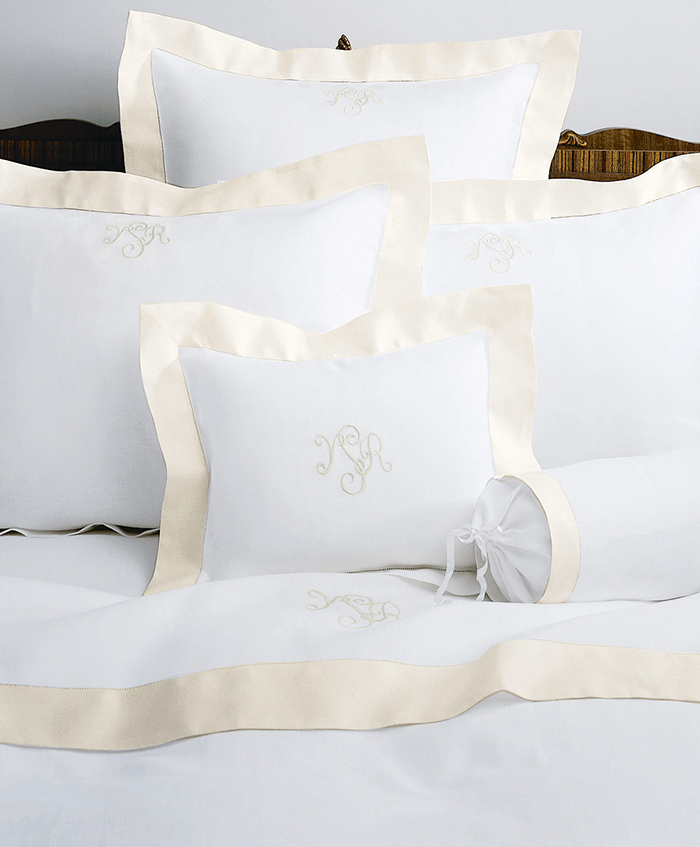 Ironing is totally unnecessary with our Italian pre-washed, easy care linen sheets. Our crumpled appearance exudes an industrial look that works well in the sophisticated city or a country retreat. Available in Gray with White tipping or White with Gray tipping. Imported from Italy.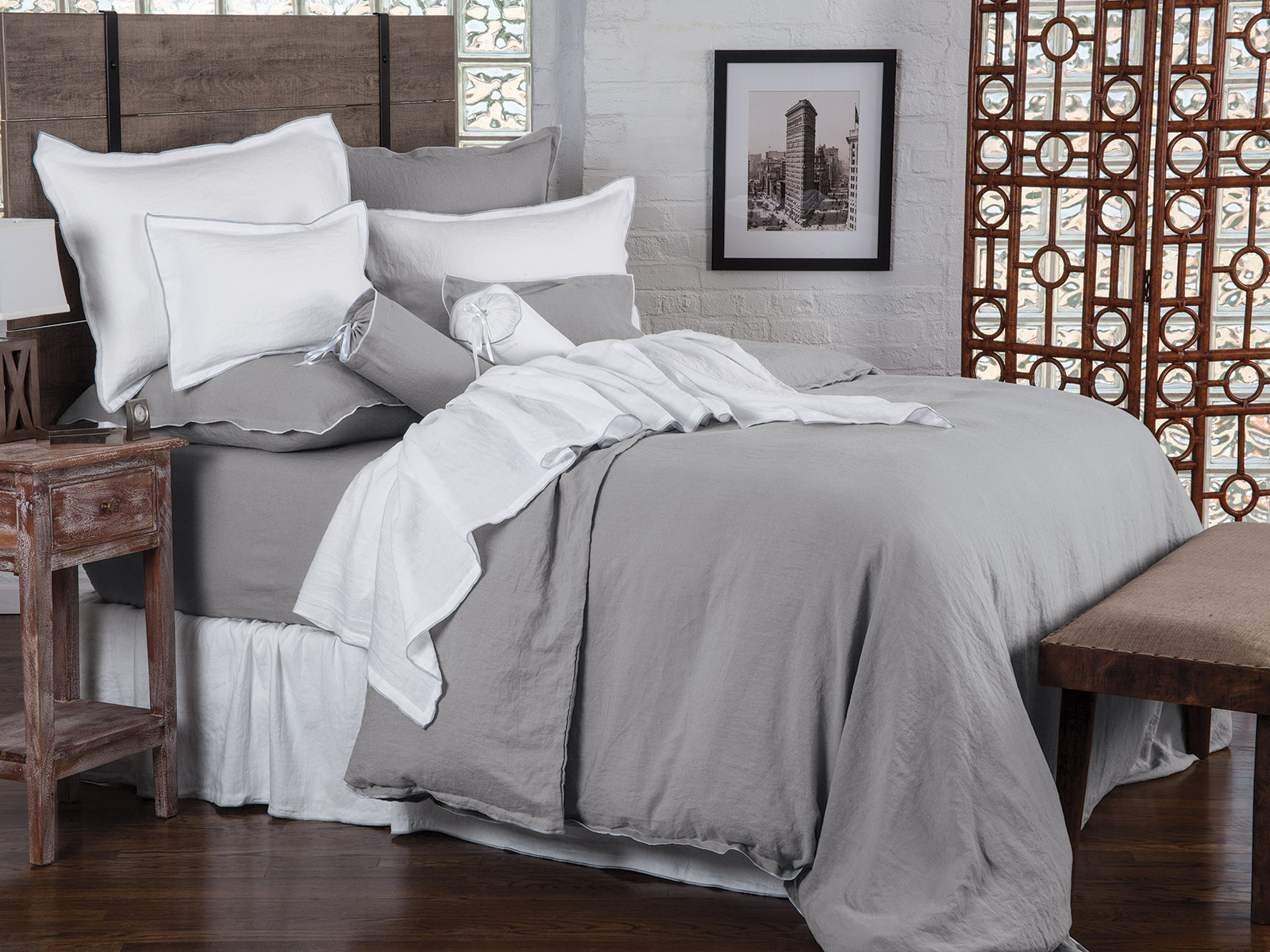 SUMMER COLORS
One of the best parts of summer are the colors. Oh, the colors! With cheery blues, precious whites, sunny yellows, crisp greens and so many more hues on hand to brighten up your room and mood, it's almost impossible not smile. Not only can adding these boisterous tones lift the energy and mood of your home with their lively spirit, they'll inspire your psyche with breezy positivity and lead to moments of joy that will carry through your whole day. Of course, summer is what you make it, so if contemporary gray or darker deeper colors are your go to, you do you. What's most important when choosing colors is to find the ones that are right for your own personal tastes. But before you do, maybe check out some of these featured summer shades – they could be coming soon to your bedroom.
Thousands of tiny stitches, each done by hand, creates a winsome blue oral motif. All done on silky smooth 100% Egyptian, 600 thread count cotton sateen from Italy for the highest degree of comfort. Available in Blue on pure White.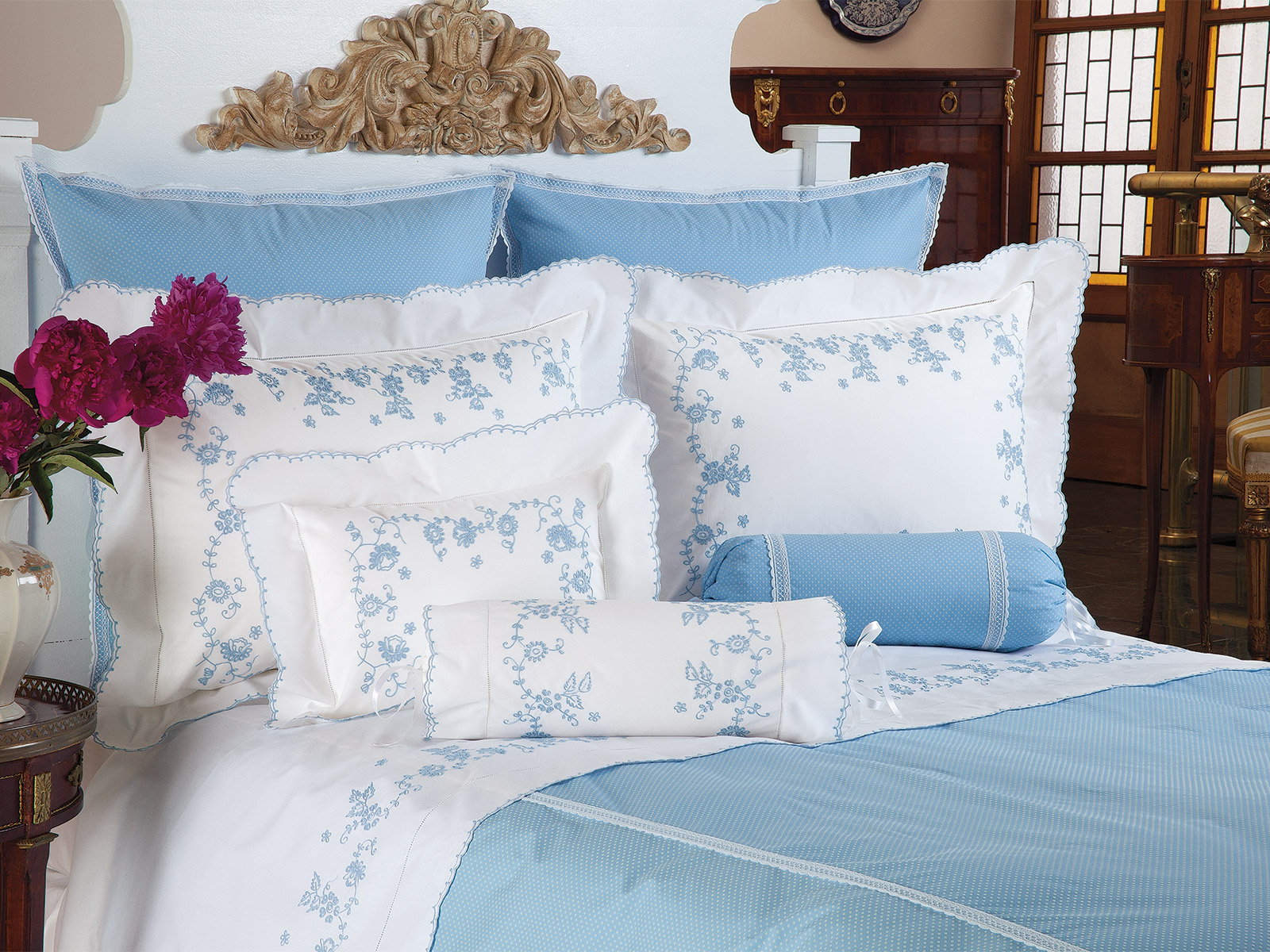 The art of subtlety is at its best in this soft print with just a hint of tint. Made in Italy of 100% Egyptian cotton sateen, 300 thread count, it's ever so lightly embellished with a wavy motif in gently flowing watery shades of Yellow or Purple, softly detailed with embroidered scalloped edges.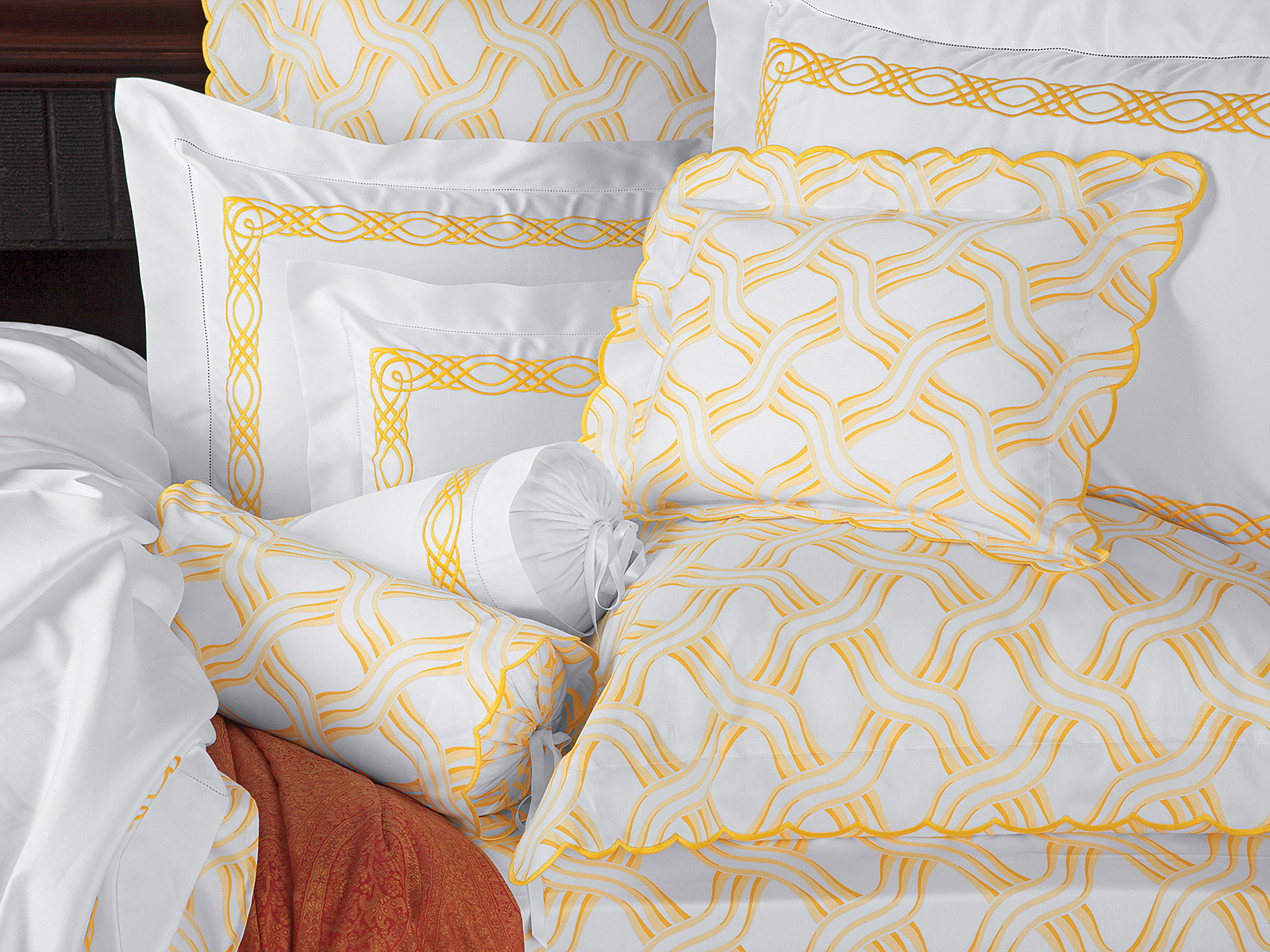 Lavish curves of scrolling hand embroidery capture the eye, while silken 100% pure Egyptian cotton sateen from Italy in 600 thread count encourages the softest touch.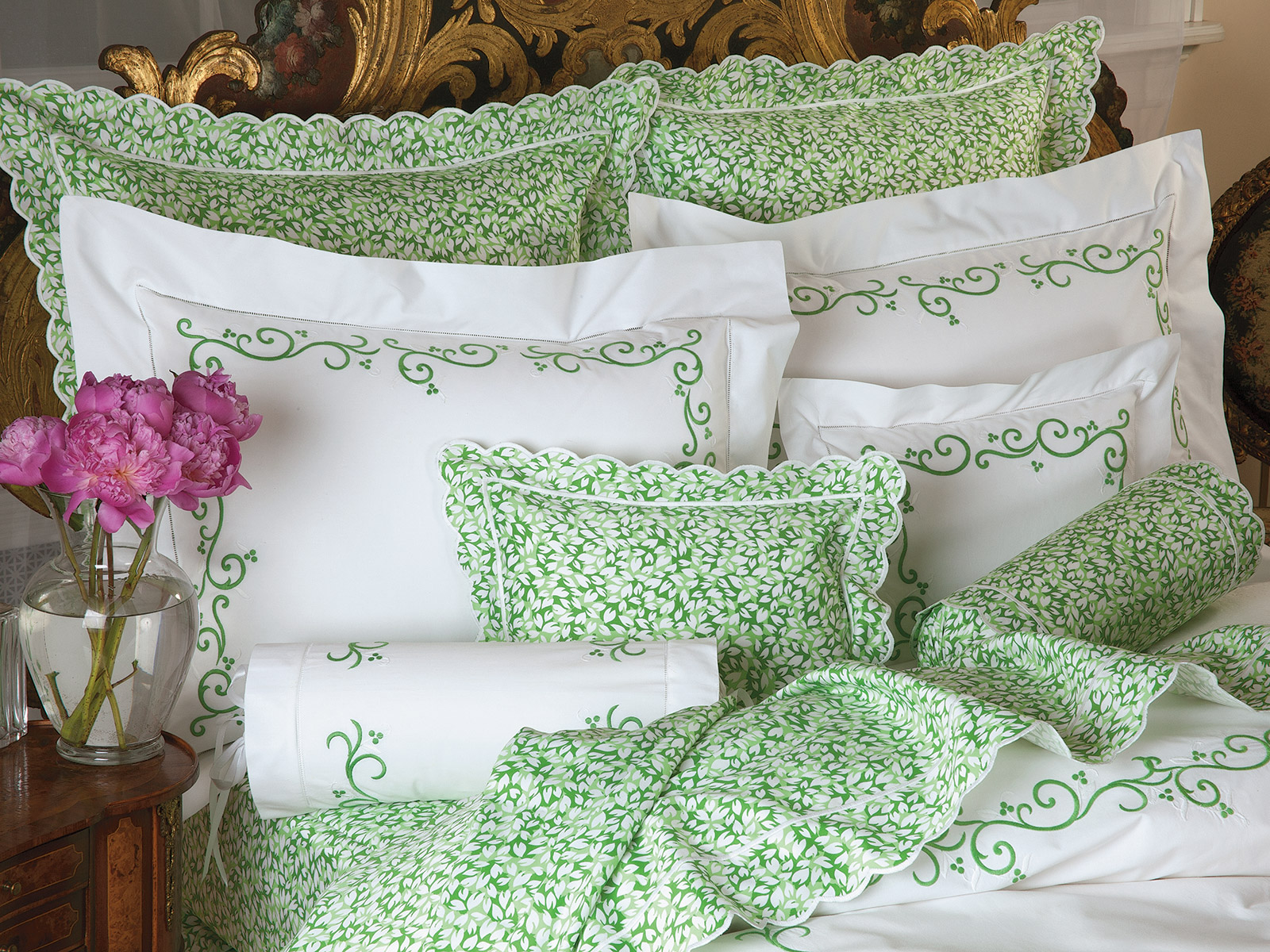 SUMMER THEMES
NAUTICAL
Is there anything more charming than the sea? The hypnotic flow of the waves, the deep tranquility of ocean blues and the natural coral bursting with vivid colors are nothing short of magnificent. Whether you live near the water or not, we'd be happy to introduce your room to some of our most compelling and beautifully crafted nautical bedding collections. From shipyard inspired embroideries to majestic oceanic explorations of the seabed and its inhabitants, the look you create will transform a blasé room into a far-off nautical paradise. And with such soothing style and soft, comforting fabrics to sail off to dreamland on, you'll feel utterly at peace – all summer and beyond.
Lovingly embroidered reef knots will have you sailing away into sweet dreams each and every night. Embroidered with utmost care and attention on sumptuous 600 thread count 100% Egyptian Cotton sateen from Italy. Available in Pink and White embroidery on Pure White.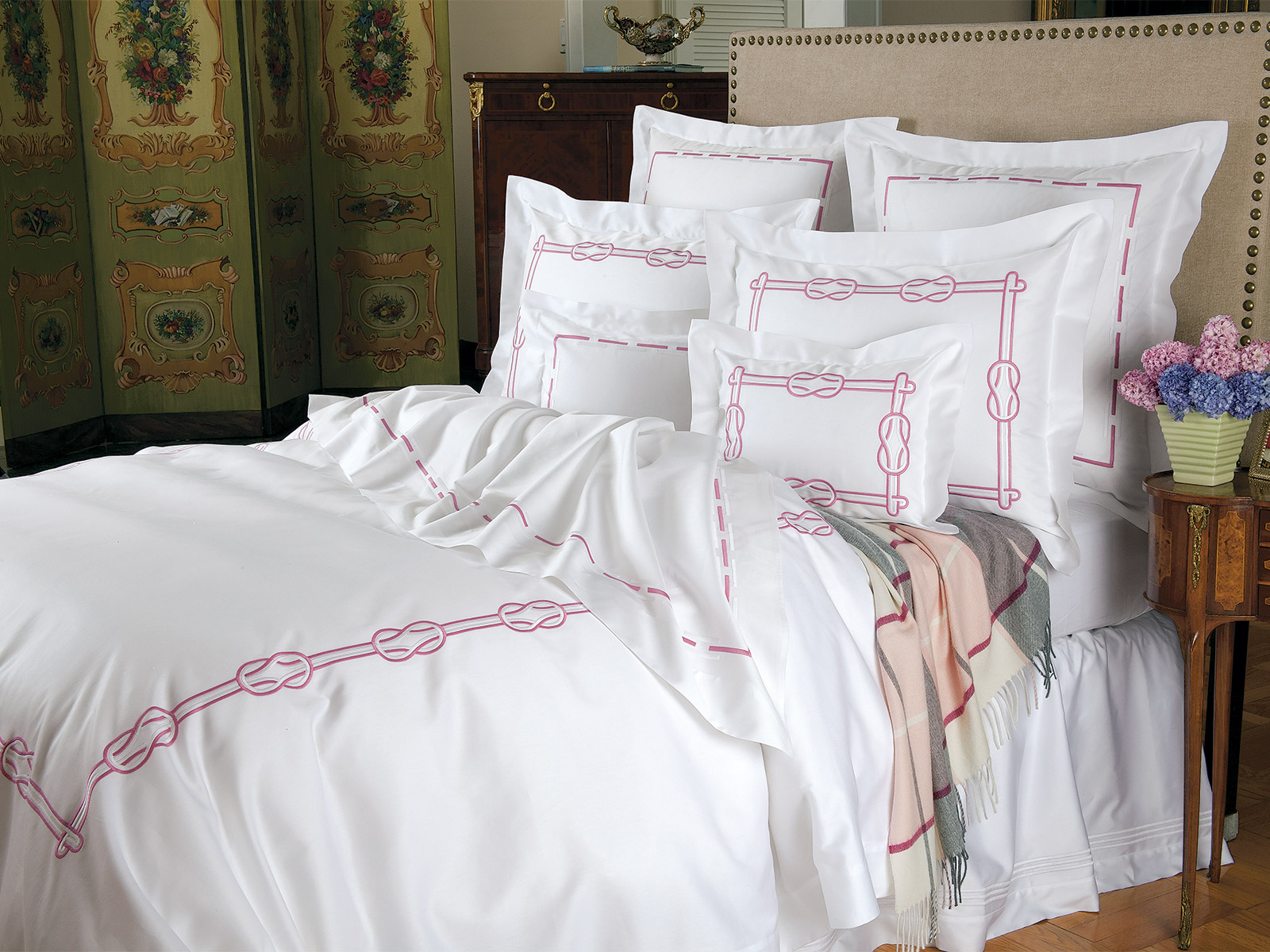 The incomparable beauty of Coral from the Caribbean is replicated here in exquisite hand embroidery on finest 600 thread count, 100% pure cotton percale from Italy. Imported.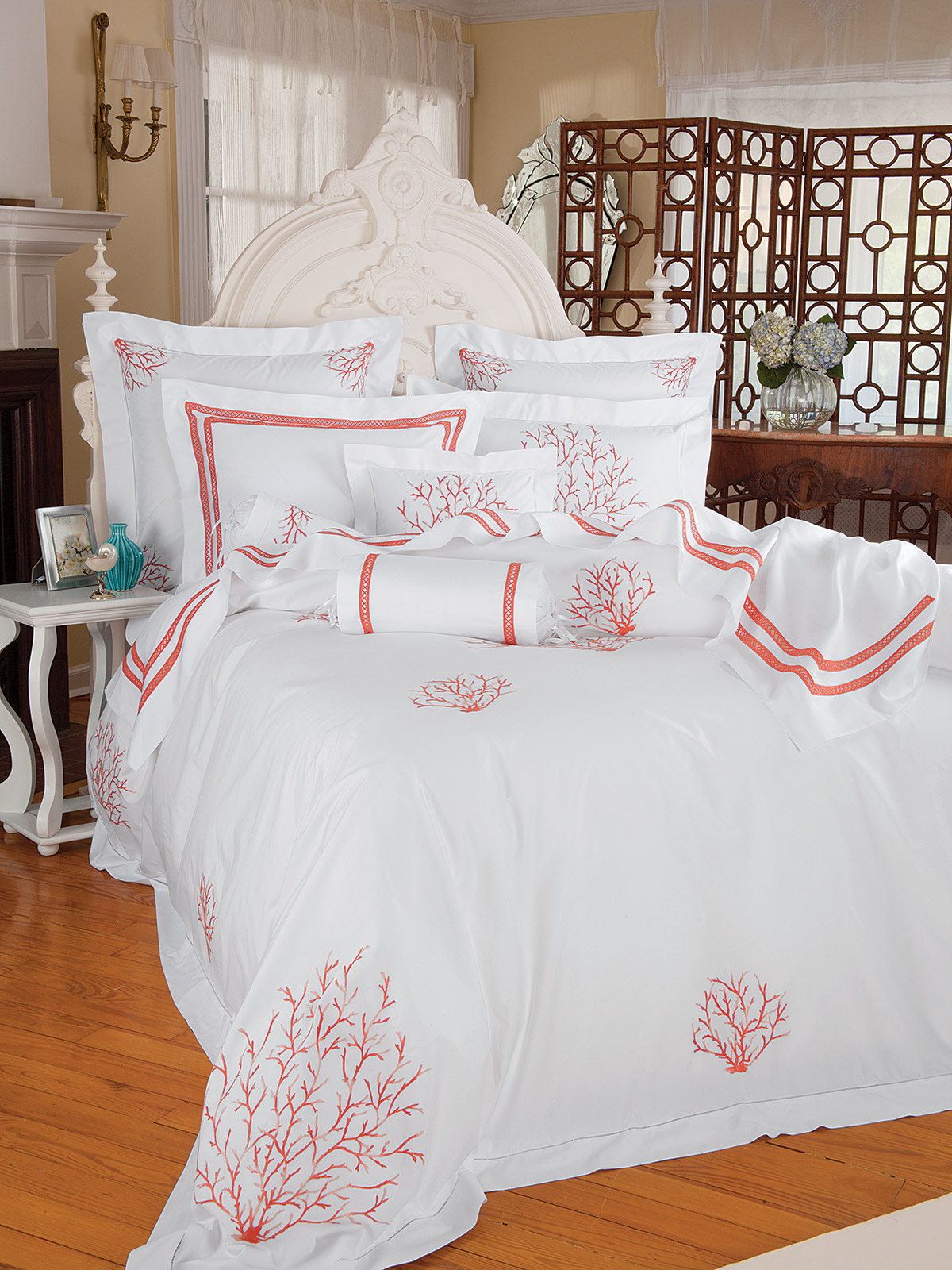 Hand embroidered coral in sultry shades of Blue float along this silky 600 thread count sateen bedding. You'll find flanged hemstitching on 100% Egyptian cotton from Italy. Imported.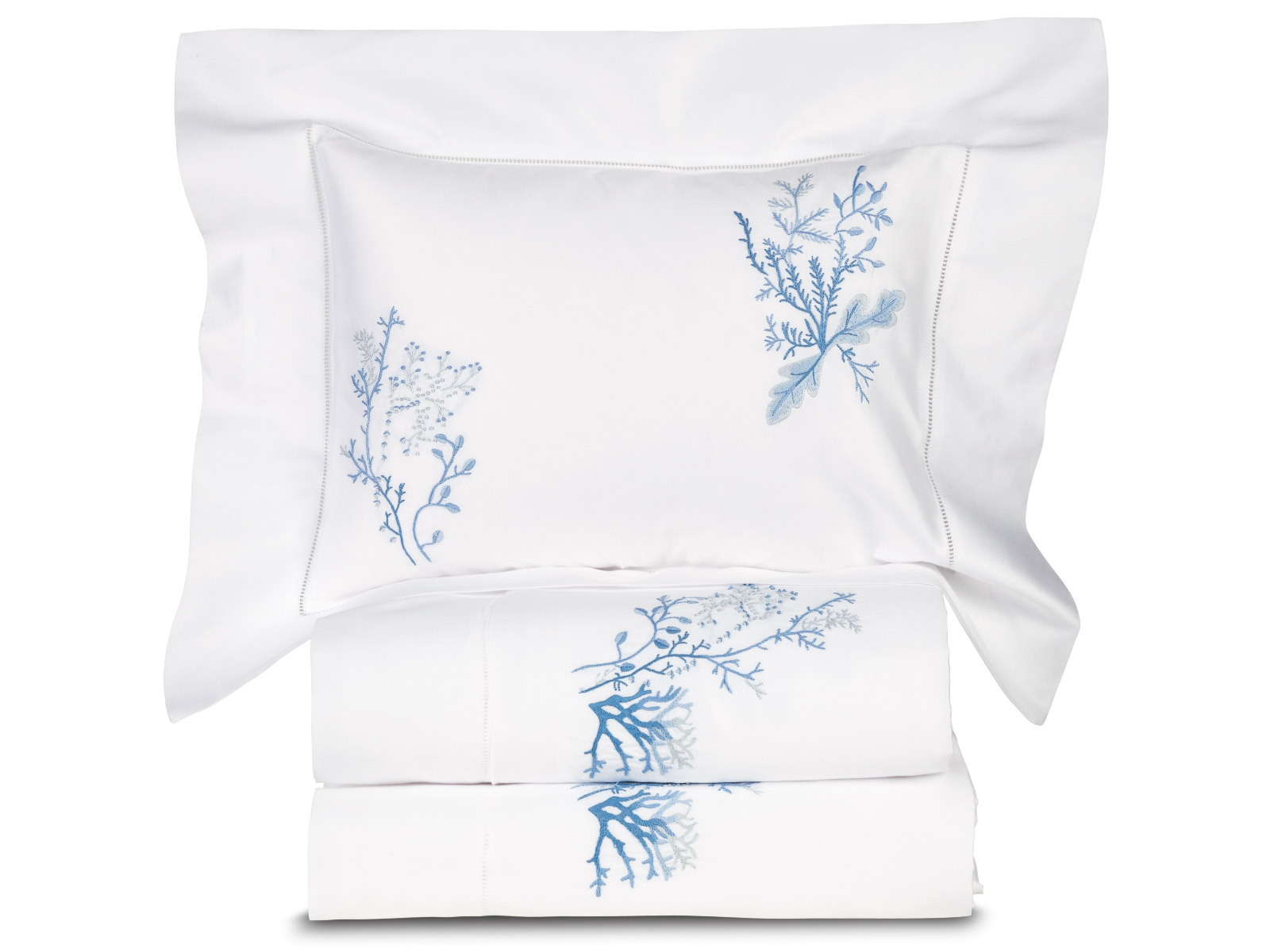 FLOWERS
Have you ever taken a summer stroll along the flowers and wished you could bring the whole scene back with you? In a way you can. Adding flower designs to your bedding is a great way to bring those brilliant colors and majestic petals into your home. Choose one of our many floral designs and you'll see how quickly their positive powers make dreary rooms feel more upbeat and turn stale, dry décor into a stunning display of beauty. And since flowers are proven to psychologically aid in making us feel feel happier, your new botanical bedroom will have the same effect.
Check out some of our most popular flower-based bedding collections.
Set on an opulent backdrop of damask stripes, darling florets branch out with warm, colorful tidings of home and happiness. 300 thread count striped Egyptian cotton damask. Made in Italy.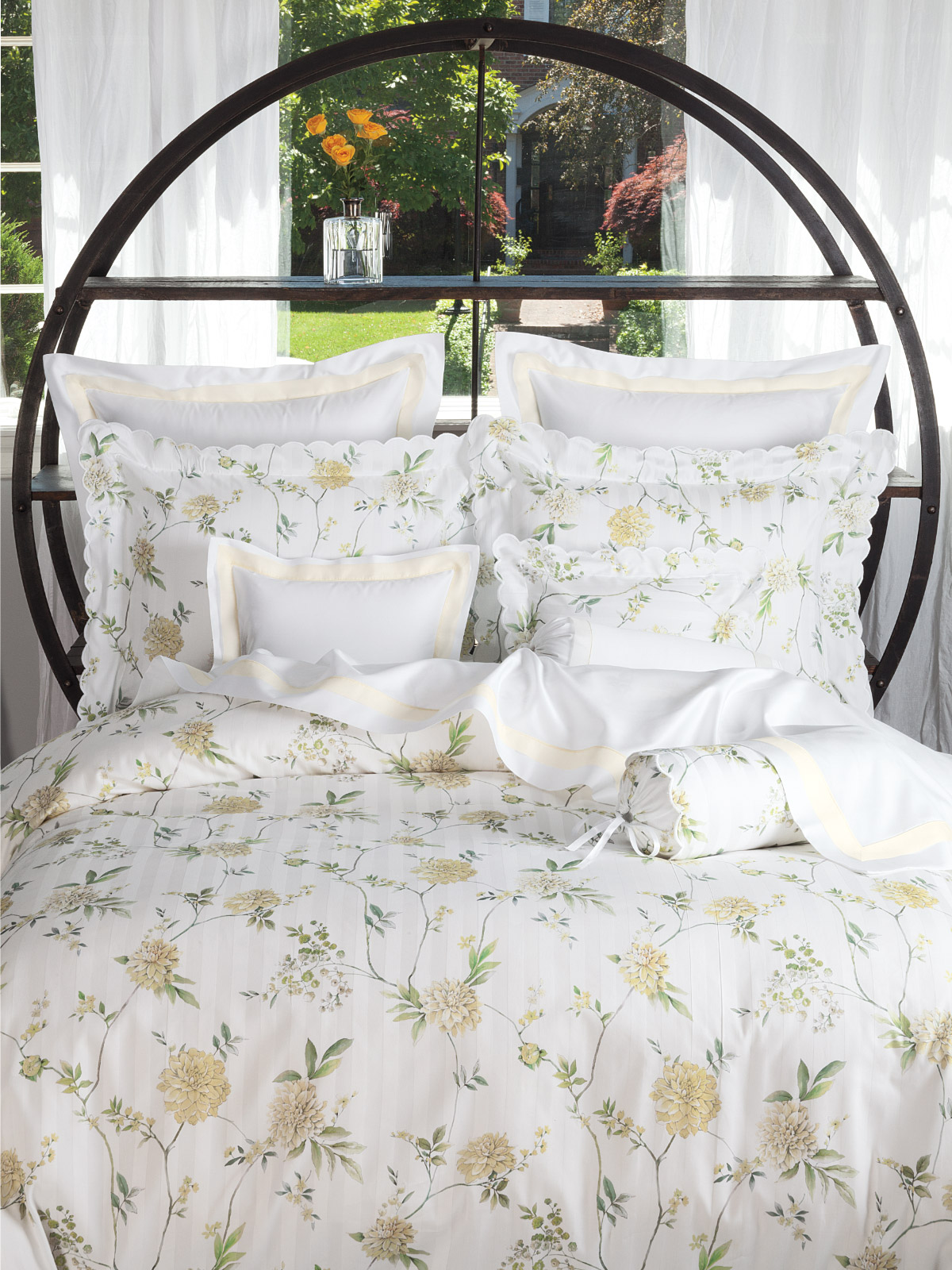 Like a daisy-covered mountainside during the peak of summer, soft White 300thread count 100% Egyptian cotton sateen is decorated with wild yellow flowers in a sweet, painterly style. Tailored in Italy and finished with scalloped edges and button enclosures.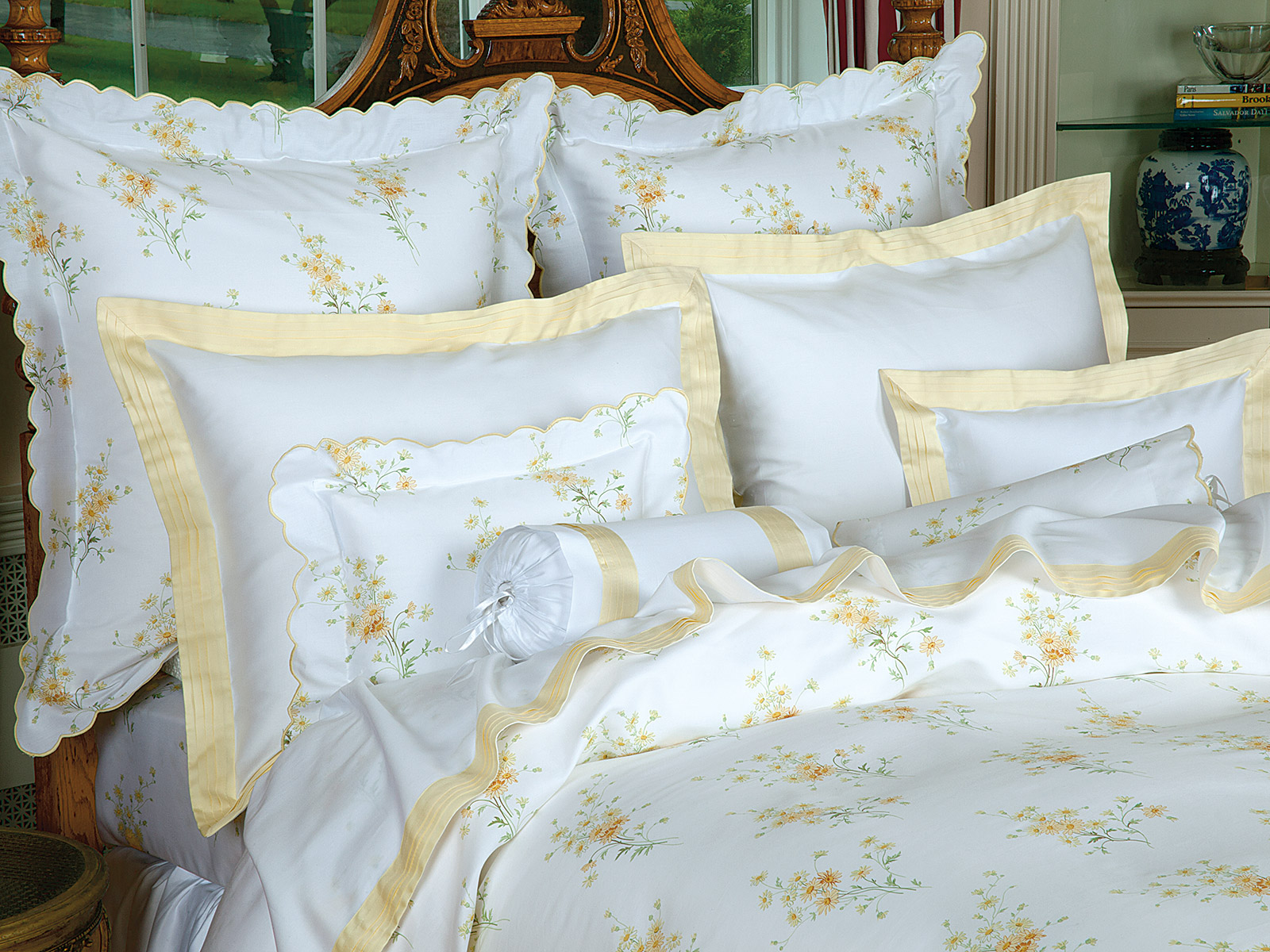 Delicately printed leaves carrying sun-kissed phlox flowers on a pristine sea of White 300 thread count Egyptian cotton smile with their sublime tranquility and vibrant allure. Available in shades of Blue, or Purples and Greens. Made in Italy.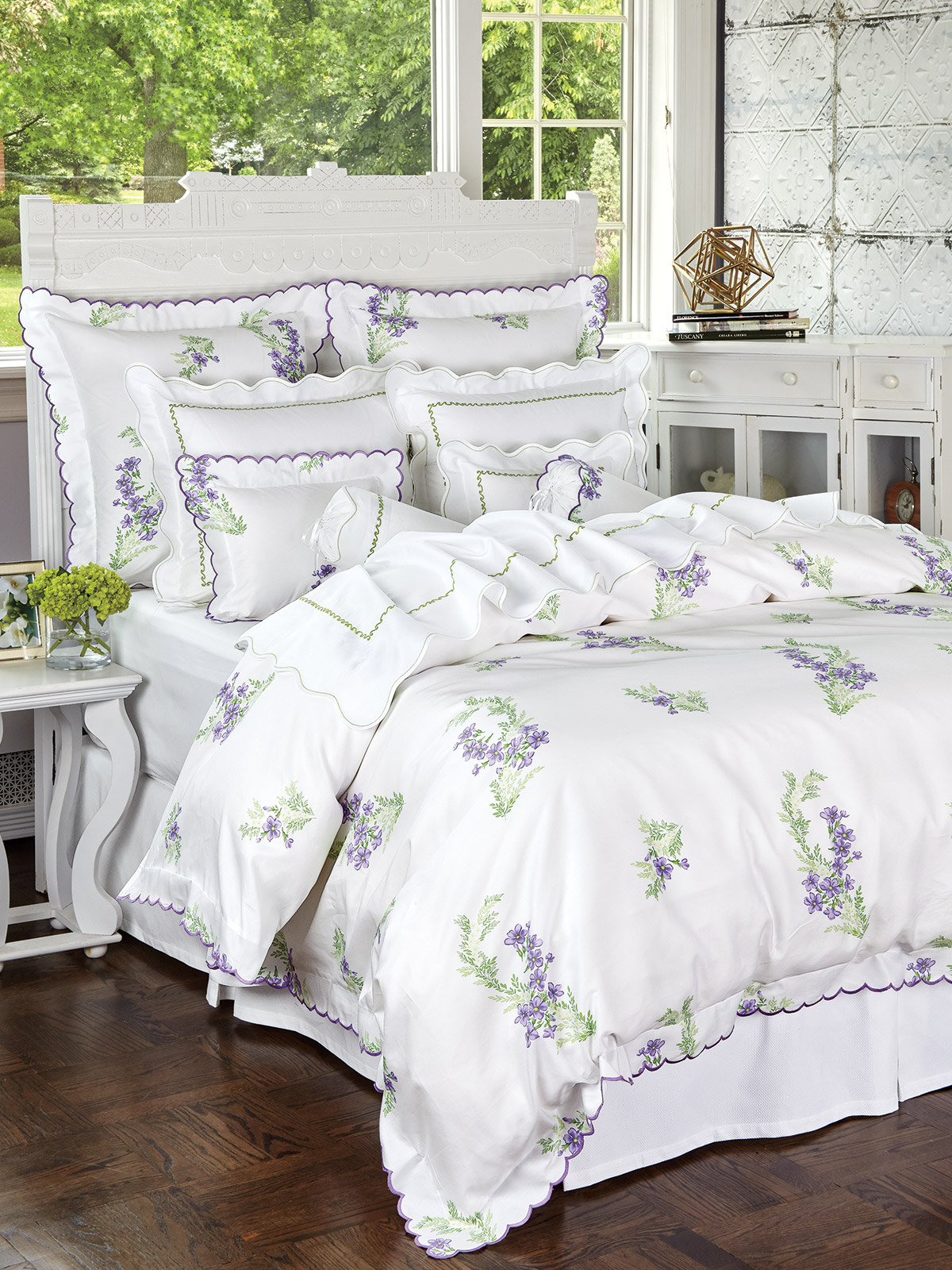 Printed on pure 300-count Egyptian cotton sateen, the preciousness of life's natural joy is on full display with this heartfelt design that celebrates the stages of growth—from budding beauty to full-bloom gorgeous. Made in Italy.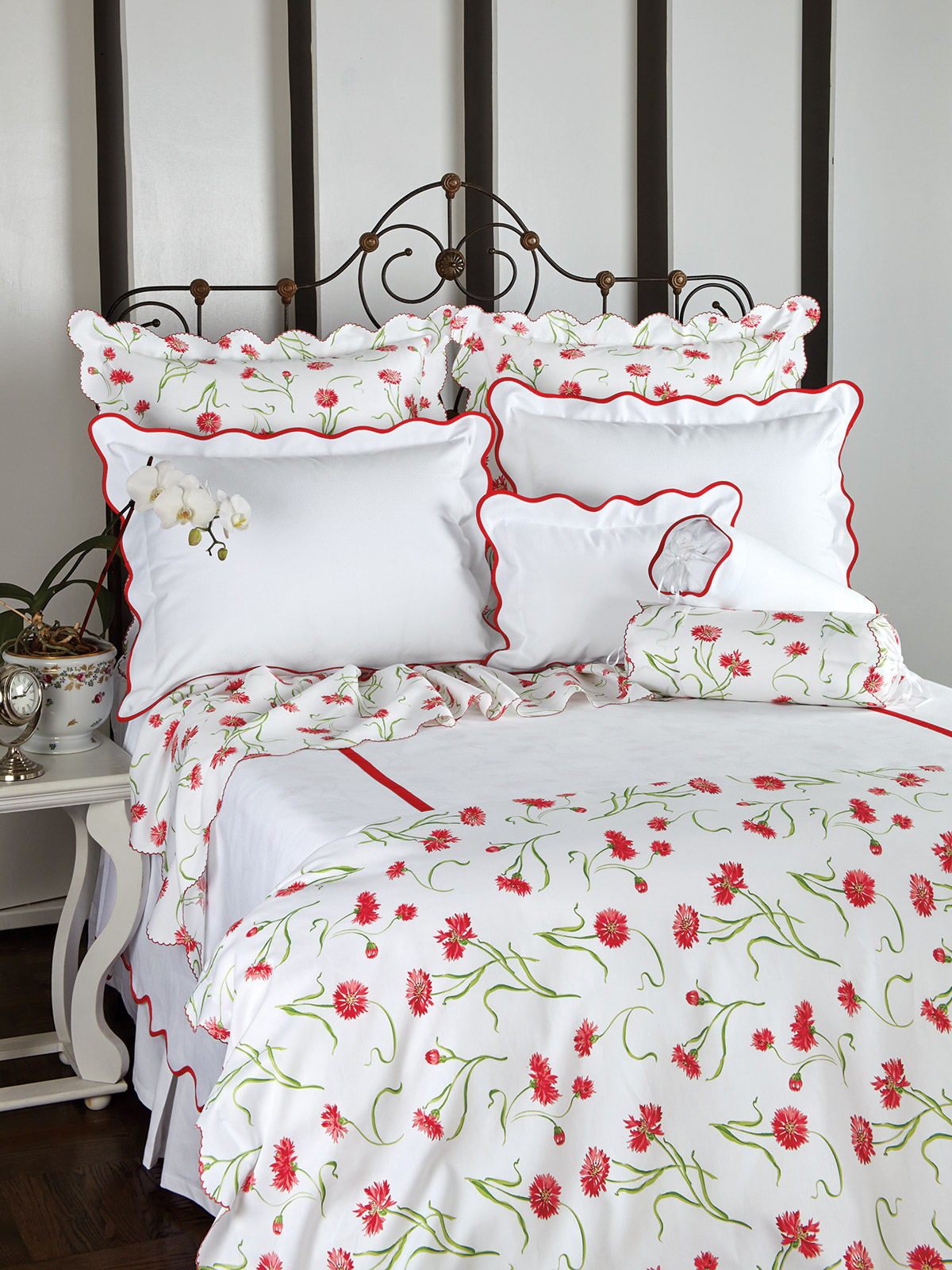 SUMMER PAISLEY
This enchanting ornamental design works all year round but mix in some lighter tones and pops of sharp colors and you'll swear that paisley was designed specifically for the season. If you're looking to make your room look and feel more upscale and elegant but want to keep that light carefree summer feeling, you might want to take a look at some of our summer-friendly paisley designs.
The spectacular beauty of this paisley motif is heightened by the boldness of its size and coloring. Predominantly Gray or Blue or Green, printed on luminous White sateen of pure Egyptian cotton, 300 thread count. Made in Italy.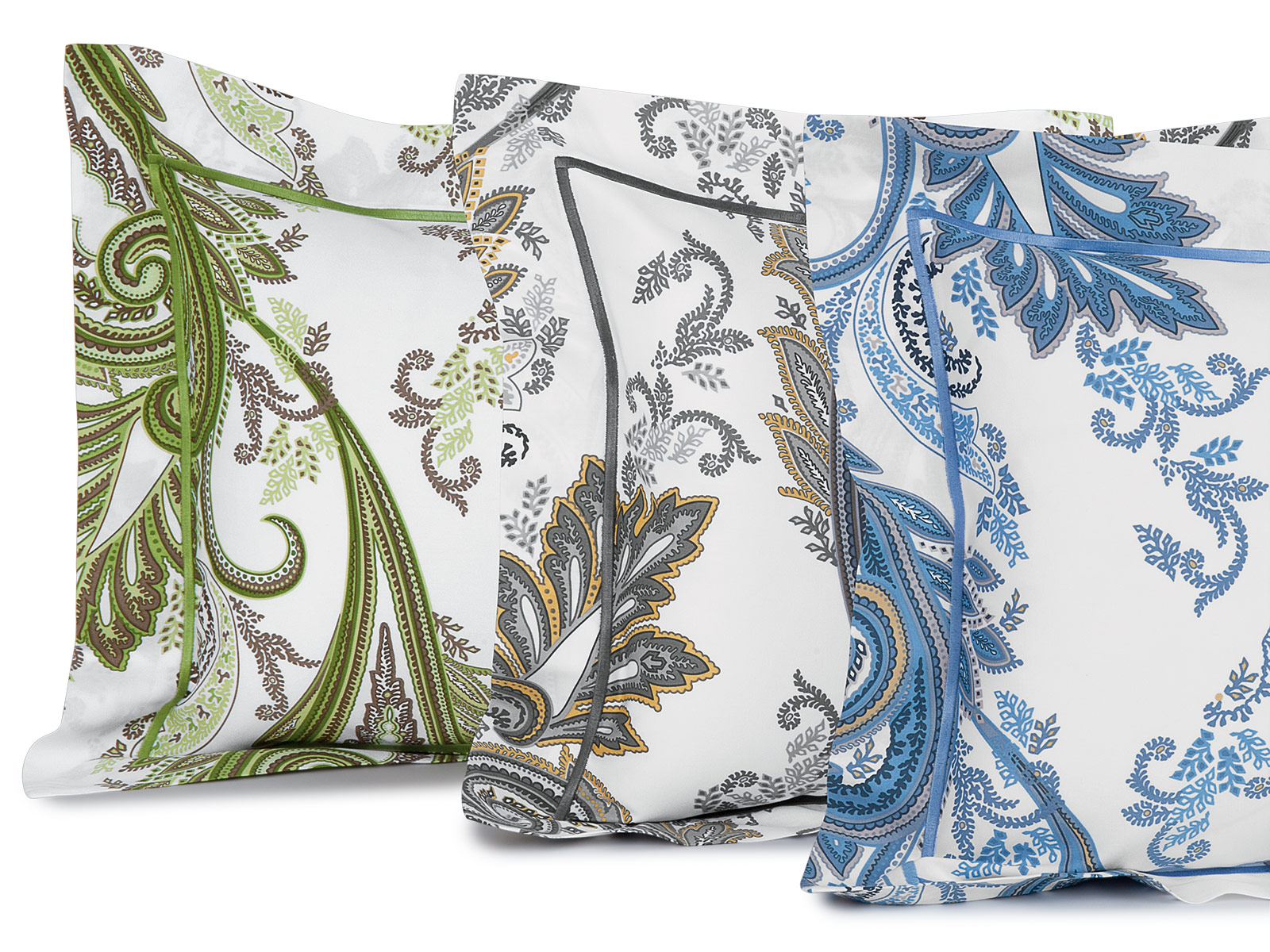 Bursting with life, bright pastel colors and a whole lot of pizazz, this festive, paisley print celebrates every day with cheery optimism. Printed on 300 thread count 100% Egyptian cotton sateen and finished with exquisite double hemstitching. Made in Italy.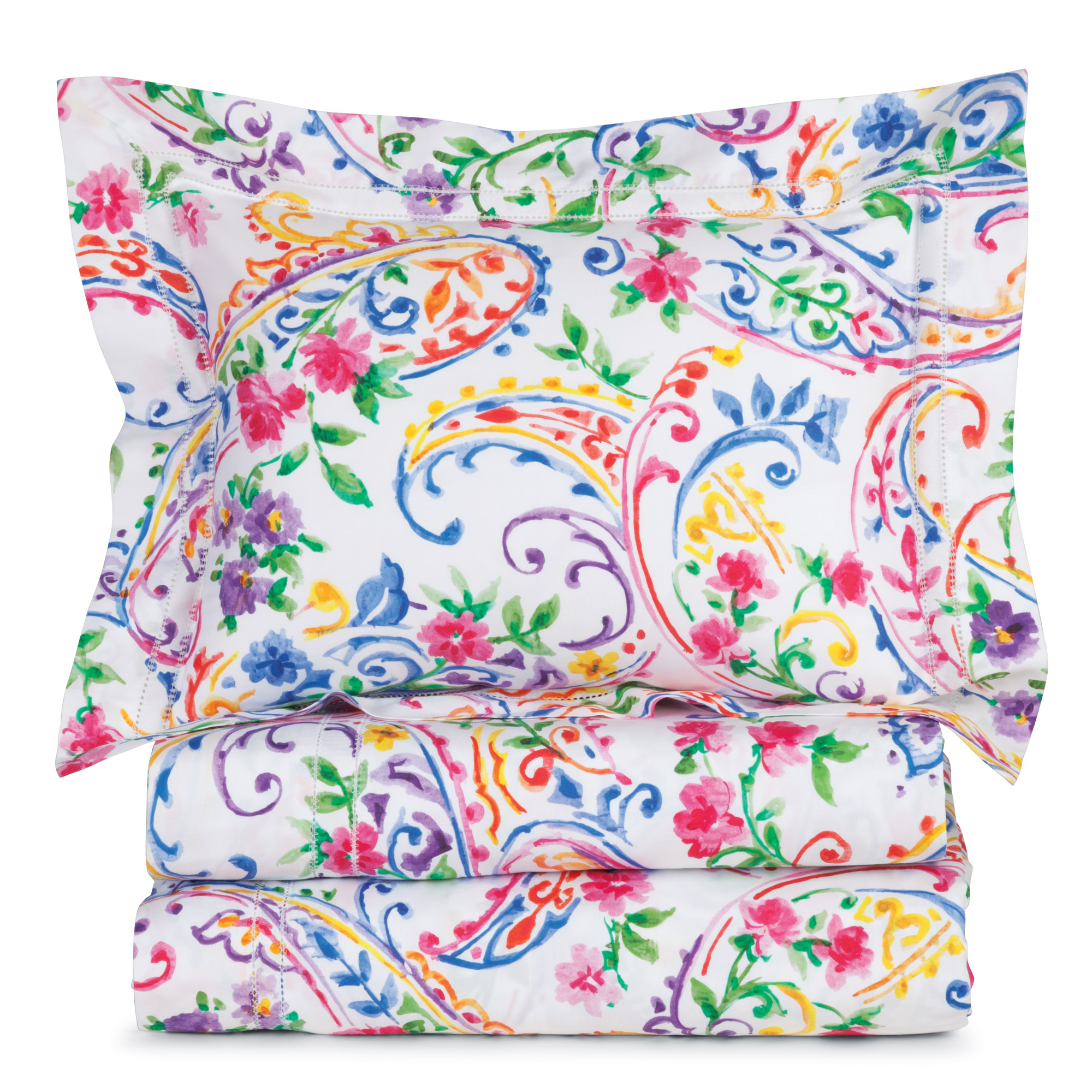 Every morning feels more joyful when you wake to the jubilation of soft pastel paisley swirls finessed on pristine, 300 thread count 100% Egyptian cotton sateen. Every time you rest your head (and eyes) on this graceful, watercolor-inspired design feels like a special occasion. Made in Italy.