Flowers have always played a strong symbolic role in human history. They've been part of rituals, cultural culinary dishes and have inspired thousands of art pieces—thanks to their incredible colors and variety of distinct species. And while most of us are probably more familiar with them as everyday symbols for showing affection, congratulating someone, or simply brightening up a room, the meaning of flowers goes way beyond their pretty petals. Because behind each kind is a history of symbolism that captures the essence and natural power flowers can have on us—and the impact they can have on our lives.
Just adding the likeness of these beautiful botanicals to your bedroom through one of our exclusive designs can use that symbolism to not only change the way your room looks, but the way you feel when you're in it. That's why we're sharing a few of the iconic flowers we feature on our premium, luxury bedding, and the symbolic meanings behind them.
The Lily
The lily is so utterly graceful, the Greeks believed it was created from the milk of the queen of gods (Hera to be specific). In fact, many religions and cultures honor this flower for its purity, making it one of the most revered in history. Along with its natural beauty, other areas of the world believe lilies symbolize prosperity and abundance. While some see this precious perennial as a token of enlightenment and peace. And since nature gave the lily multiple hues to bring us pleasure, there are many other meanings you can add to your room with this legendary floral—from lighthearted yellows that inspire joy and happiness to royal-like purples that transform a room with absolute elegance. Regardless of the color you choose and what lilies represent to you, the one thing everyone can agree on is adding them to your life in some way is a good idea.
NEW Lilies
Set against the background of 100% Egyptian cotton sateen striped damask and bursting with vivid colors, these blooms are so striking, you'll be tempted to reach out and pick them.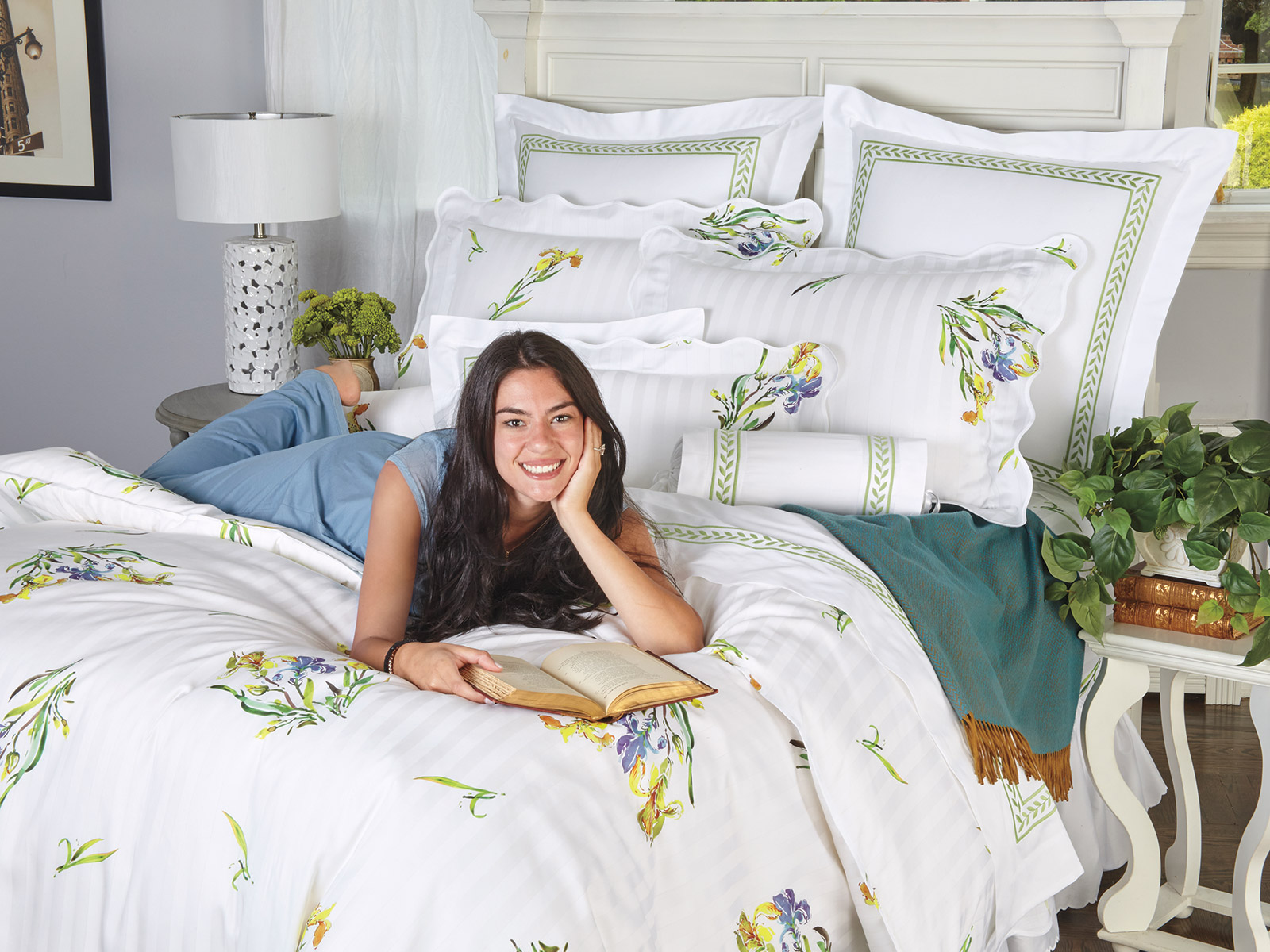 Lily of the Valley
Beautifully hand embroidered on silky soft 600 thread count 100% Egyptian cotton sateen from Italy. Available in Blue or Yellow.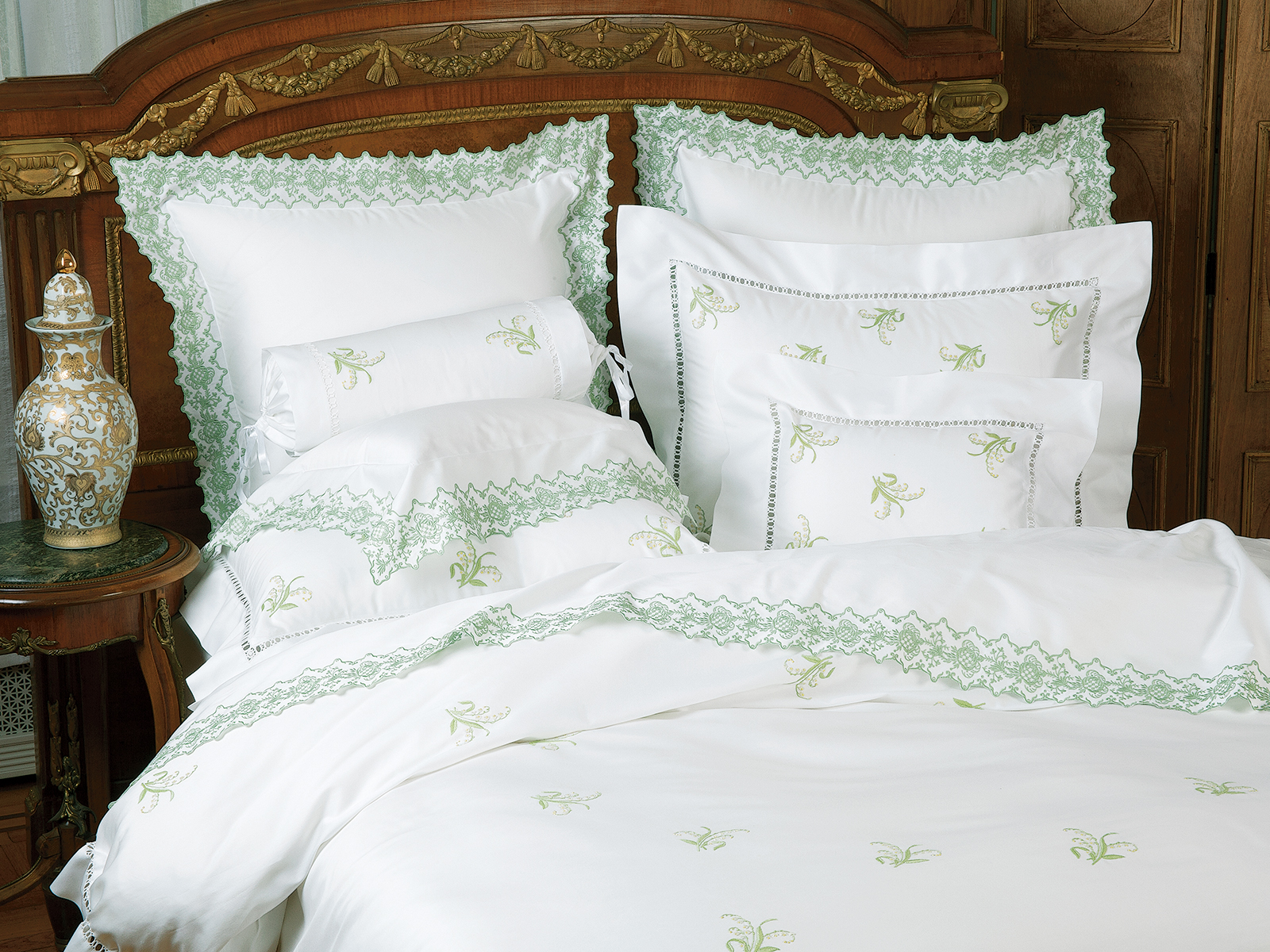 Lily
Your choice of Pink or White lilies of the valley are delightfully hand-embroidered on lustrous White Egyptian cotton sateen with satin-stitched ribbons.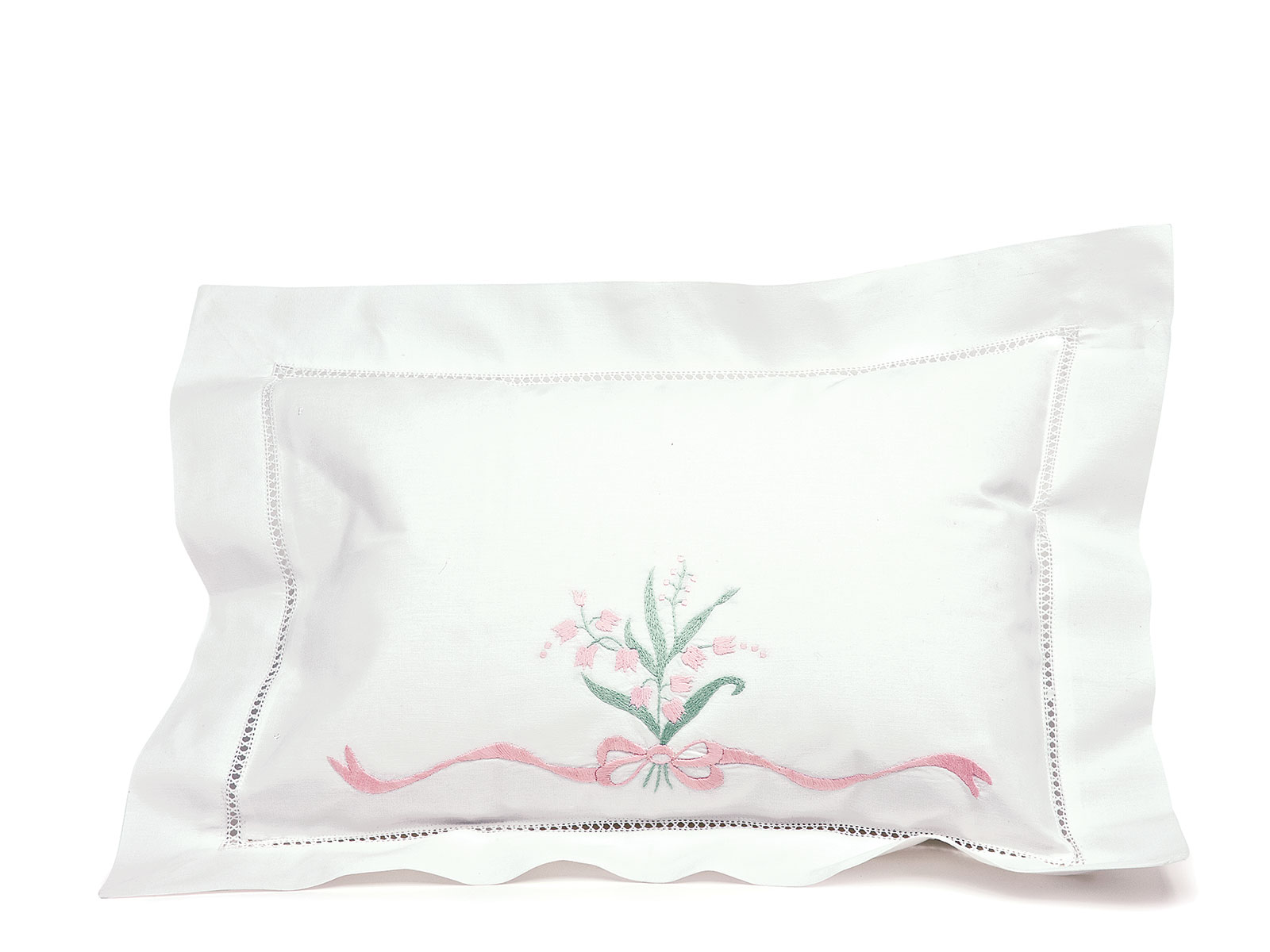 The Daisy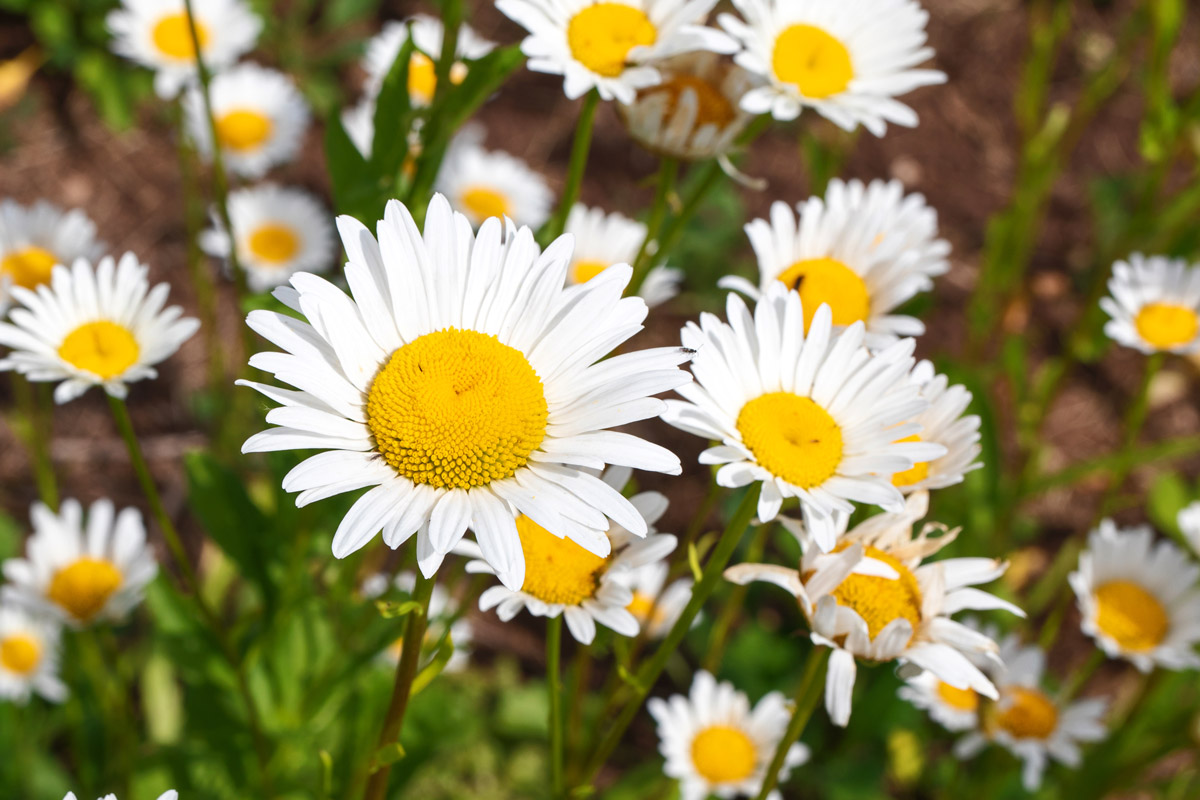 Like most flowers, the daisy has several meanings that can influence the ambience and energy of a room. Similar to the lily, the gentleness of daisies often evoke feelings of purity, but even more important is the daisy's reputation as a symbol of harmony and balance. Since achieving the right balance is imperative to creating the room of your dreams, many people find adding daisies is exactly what they need to bring it all together. This beautiful botanical is also representative of new beginnings and rebirth, making it an ideal choice for anyone looking for a total transformation. Perfect for anyone starting fresh or someone who may just want to shift their perspective into something more optimistic and joyful.
Daisy Chains
As appealing as a lilting tune or light summer breeze, a winsome twosome of daisy chains is prettily embroidered on pure 600-thread-count Egyptian cotton sateen.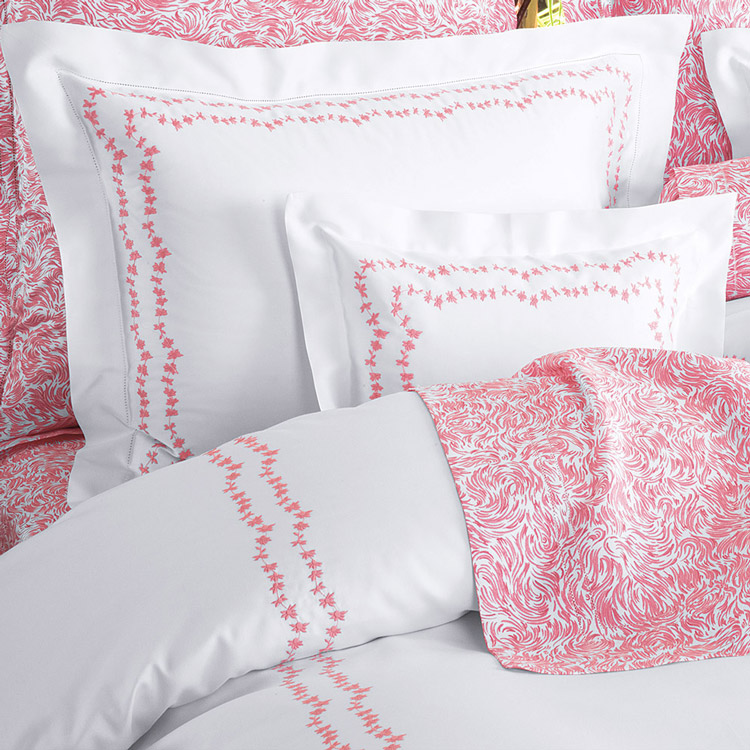 Modern Daisy
Bright, bold daisy flowers, in either Red or Black, mingle with lighter floral designs on these pretty and perky sheets. Made from the softest 300 thread count, 100% Egyptian cotton sateen.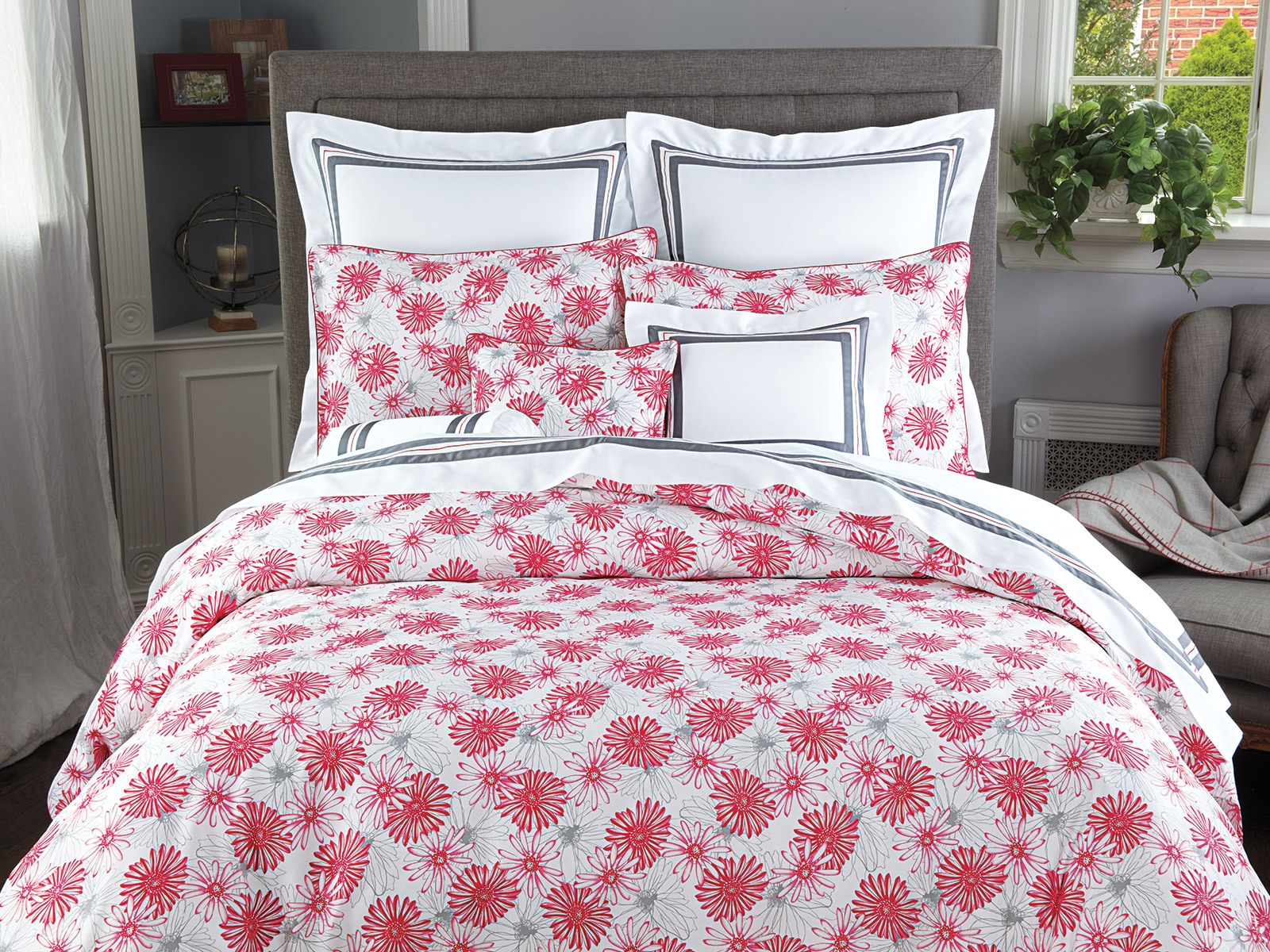 The Lilac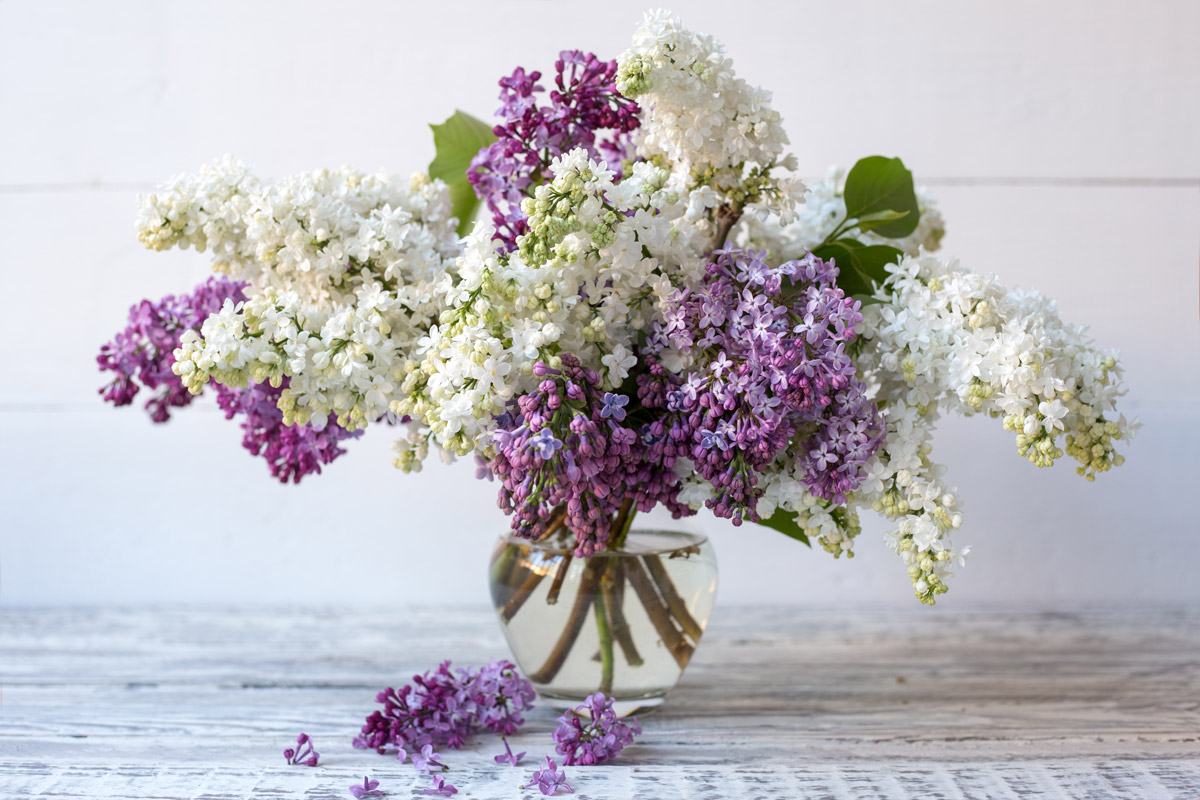 Perhaps best known for its irresistible aroma and breathtaking beauty, the impactful presence of lilacs in nature is unmistakable—and the same will go for your decor. The lilac is often seen as one of the sincerest expressions of first love, but the heartfelt meaning of this floral goes way beyond romance. Because not only will you fall deeply for its enchanting charms through our exclusive bedding designs, lilacs remind us that love is something that is all around us and reinforce the wonder of life's boundless possibilities. Blue lilacs also symbolize natural happiness and tranquility, so the precious time you spend under its influence will leave you feeling more optimistic about pretty much everything.
Lilacs D'Amore
Like romantic interludes in spring, fresh lilacs in bloom are a feast for the senses. Printed in Lilac, Pink or Blue on lustrous White, the lovely visual effect is reinforced by the silky-soft feel of this fine Egyptian cotton sateen.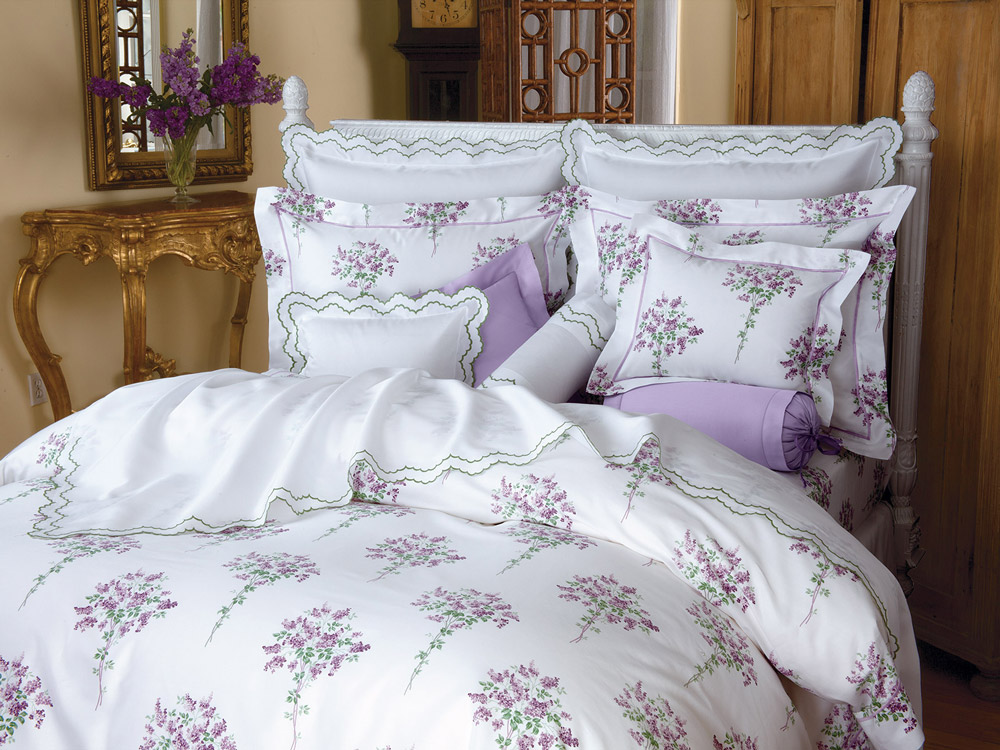 The Tulip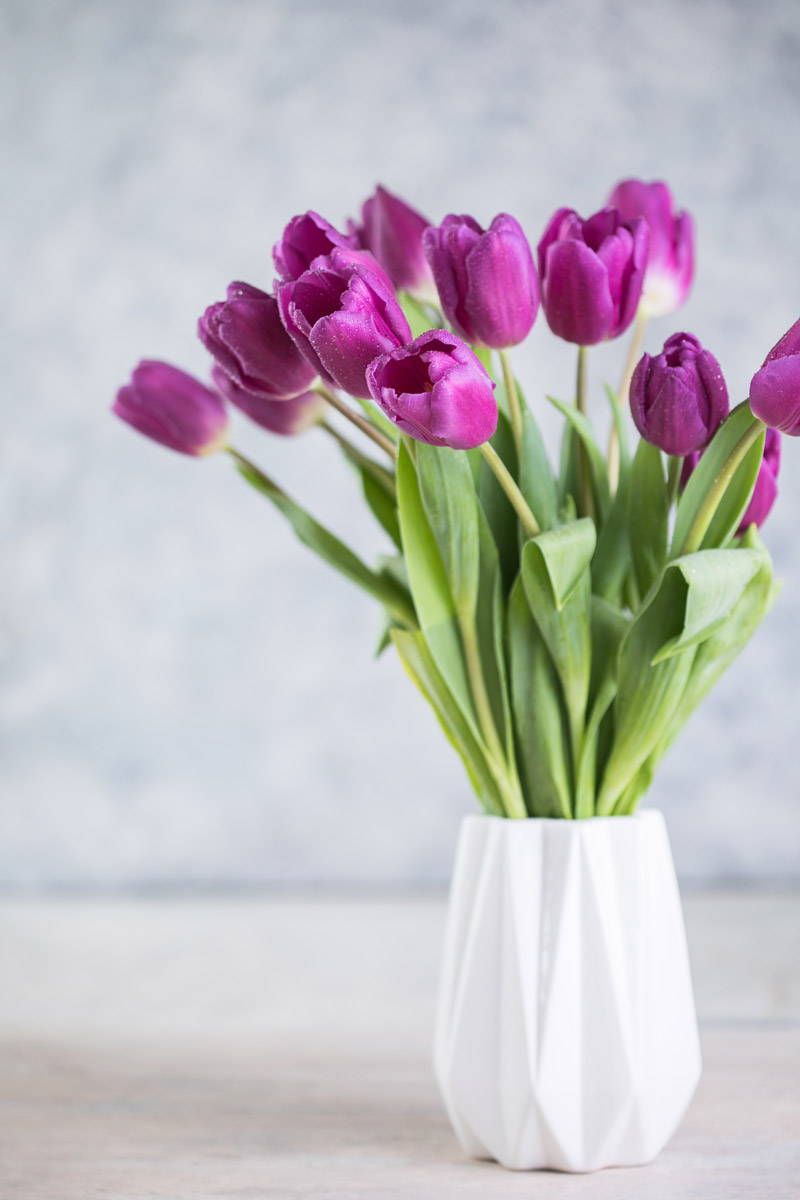 Another flower with much of its symbolism founded in love and passion, the tulip is one of the most popular flowers in the world—and with good reason. Its thick, yet graceful petals convey a resplendent magnificence that only nature could provide. It's truly one of the most refined and elegant botanicals and bringing it into your home welcomes a host of good-natured emotions. Much of the tulip's symbolic meanings are behind its colors, something this flower is not lacking for. Red tulips are most renowned for invoking passionate love, but have also been known to help with feelings of frustration and anger. Yellow tulips create a cheerful ambience of happy feelings for a friendly environment that feels light and carefree. White tulips bring a purity and peacefulness to your room, perfect for creating a sanctuary from the day to day. And pink tulips add a layer of confident design and well-wishes that radiate with joy and positivity. These are just some of the colors and ways adding tulip-inspired designs can change up your perspective—and improve your everyday life.
Dutch Tulips
Darling tulips, the endearing flower of the Dutch Golden Age, bring embroidered elegance to the glossy softness of 600 thread count 100% Egyptian cotton sateen.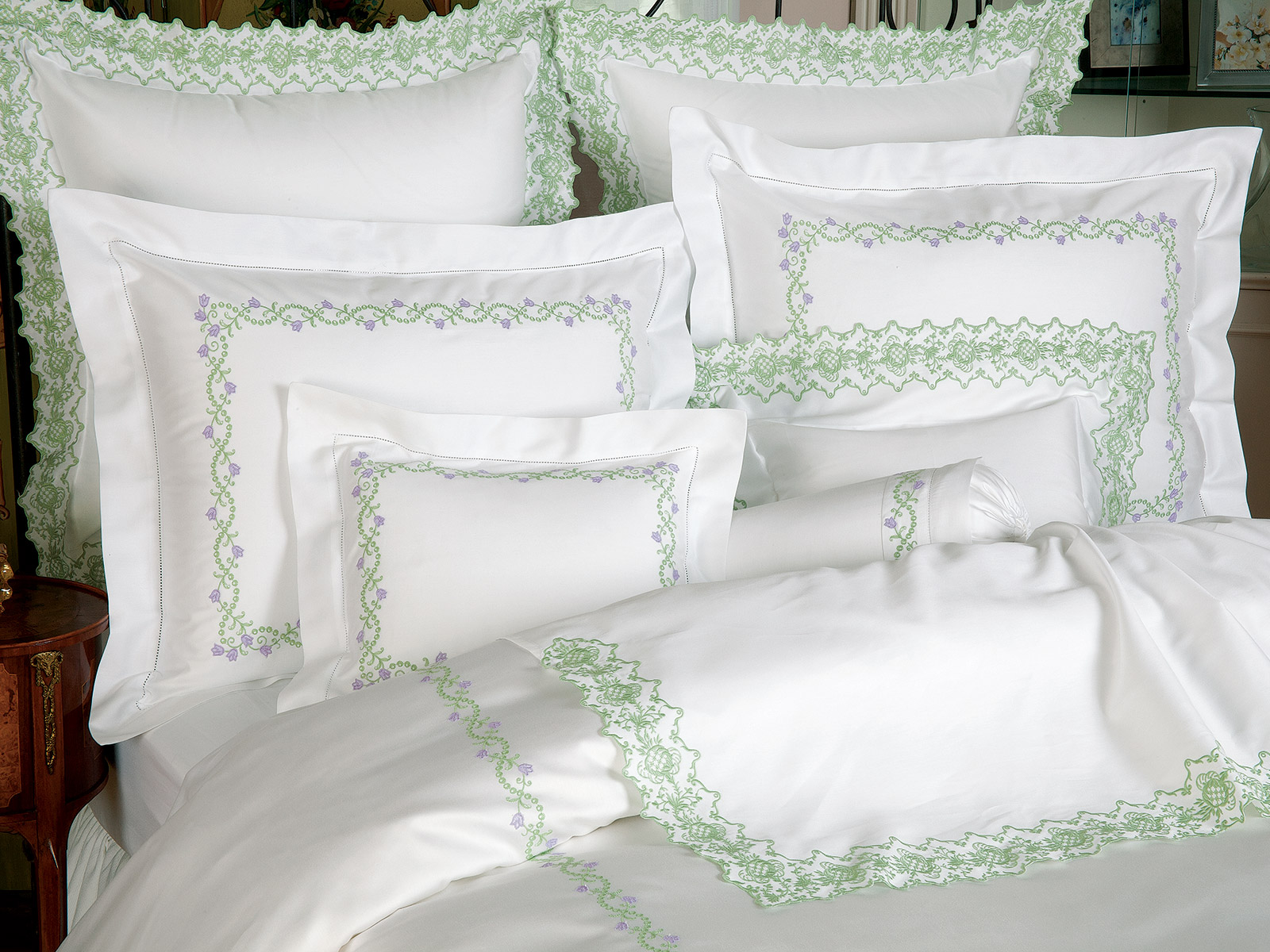 Art Deco Tulips
Embellished with hand embroidered tulips so bright and lively they burst forth from every corner of these stunning linens. The pink blossoms and green leaves are cheerfully arranged on crisp, White, 100% Egyptian cotton percale.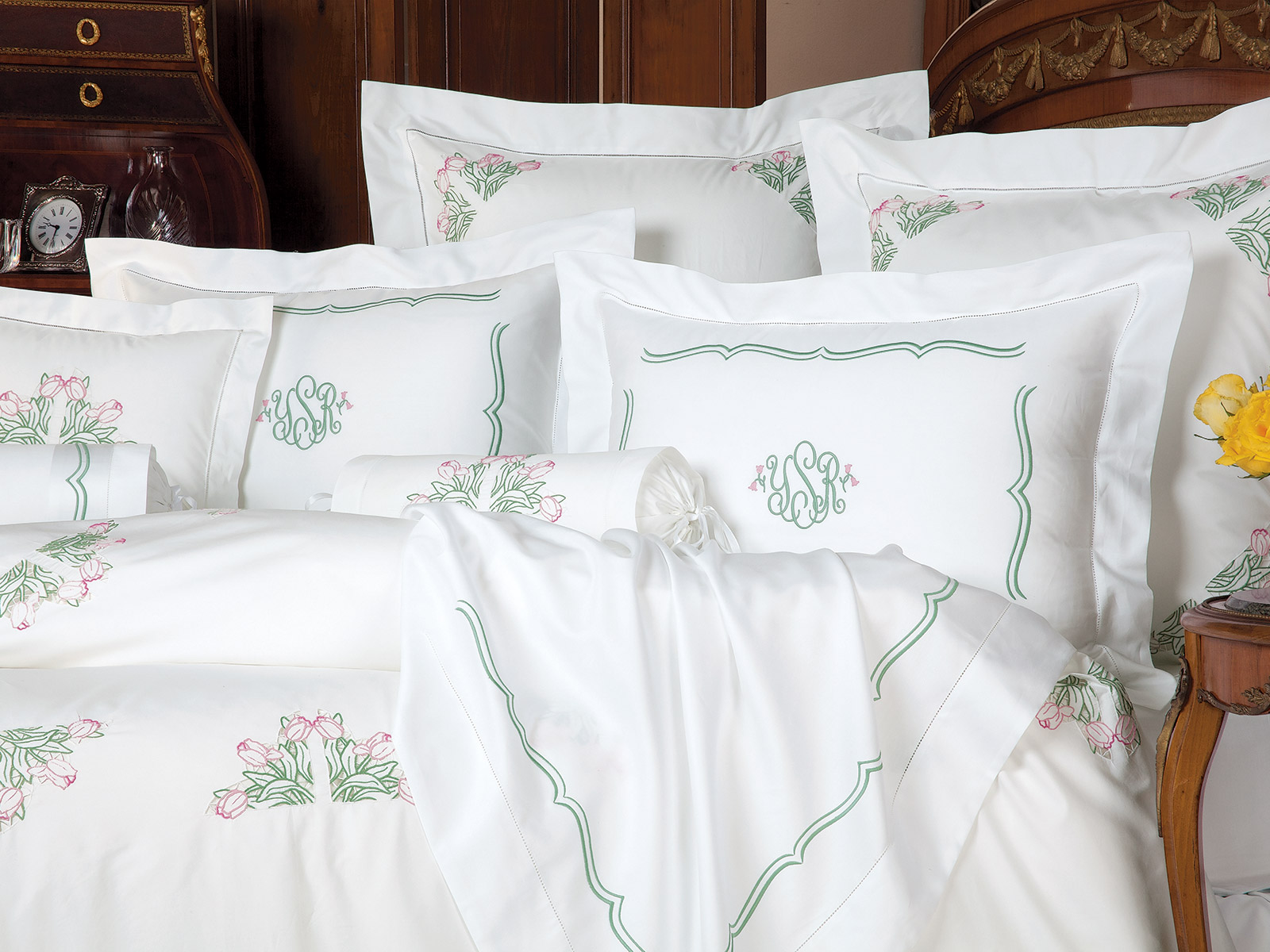 Fleur De Lisse
The incredible beauty of Holland's famed Lisse tulip fields inspires these exquisite hand embroidered tulips. Superbly rendered in lush colorings on White, this elegant import has the crisp, freshly-laundered feel you love about the very finest 100% Egyptian cotton percale.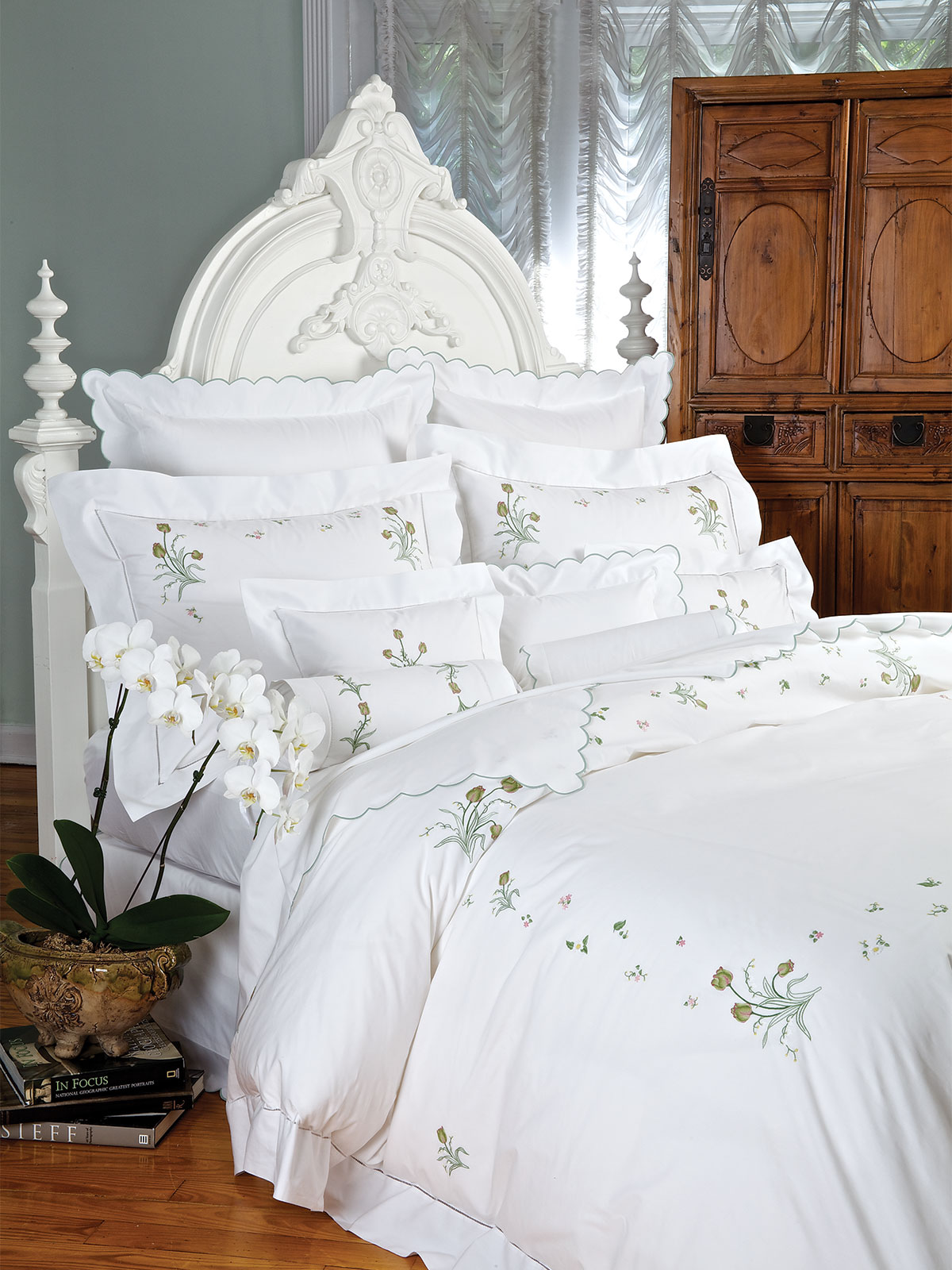 San Remo
You won't find anything quite like our blushing Pink and Purple tulips printed on 100% Egyptian cotton sateen striped damask. They've been hand picked just for you.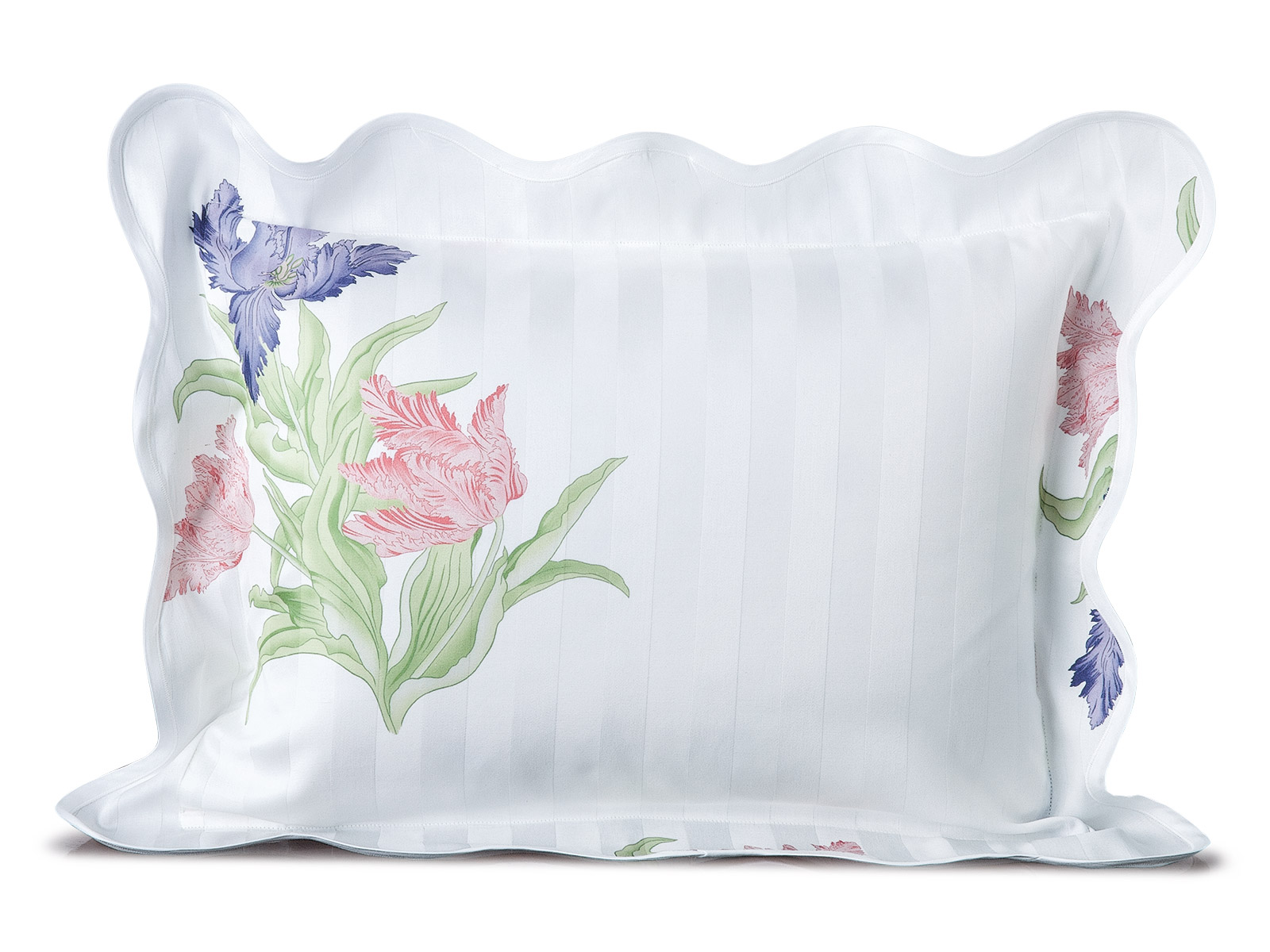 These are just a few of our beautifully crafted floral bedding designs. Shop the entire collection to find flower-inspired styles with the symbolic meaning that means the most to you. Or browse all of our exclusive styles of popular bedding sets—from classic heritage-like pieces to the most contemporary.