If you are a creative genius or work with a fantastic designer then the option of buying fabric by the yard is going to excite you!  The possibilities of what you can make are endless, you just need a pattern and good sewing machine and you can transform our fabric into:
Drapes
Shower curtain
Towels
Table cover or Tablecloth
Headboard
Headband
Dust Ruffles
Throw Pillows
Shoe bags
Reupholster a chair
(see our chairs below)
Etc….
Recently we expanded the fabrics available to purchase by the yard to include many of our most popular patterns from Italy including Replique and Highlandia. Now you can transform any room of the house by updating key pieces of furniture of creating something new entirely.
When we were looking to revamp our dining room without buying new furniture, we turned to fabric and paint. A new wall color complimented the rich nude tones of this Paisley print we used to recover existing dining room chairs (pictured above).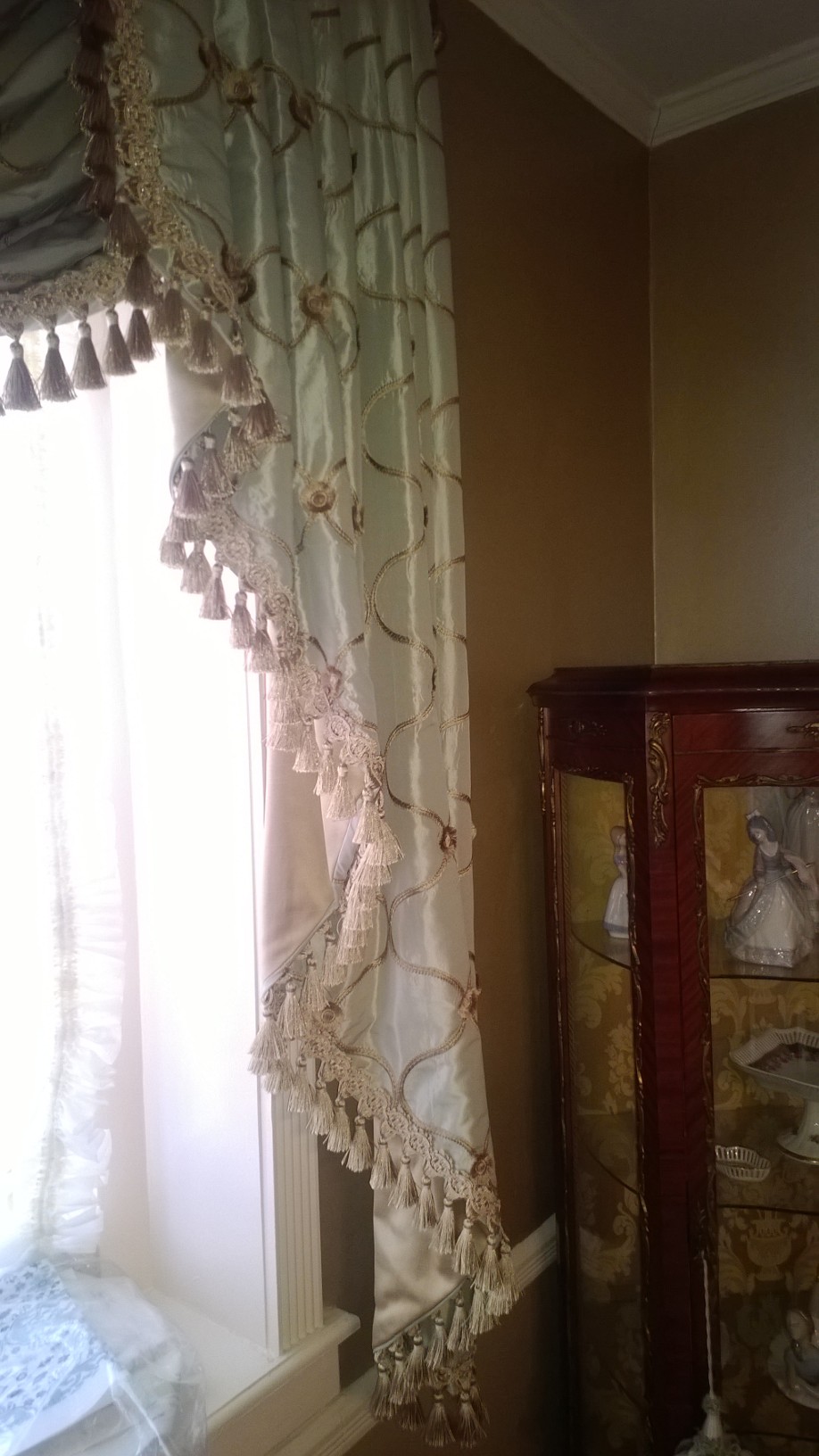 Mixing patterns like dots and stripes or florals and checks is in! In the dining room we picked a pattern of swirly ribbons in gold and silvery grey to compliment the paisley fabric on the chair. After testing many paint samples on the wall we settled on a gold metallic to tie the room together.
I enjoy redecorating and I am always looking for fabric to inspire a new design. When I wanted to give our guest room an update I chose a timeless toile in a warm blue and built the rest of the room around this pattern. We made custom curtains for the windows which give the room a wow factor. Using a coordinating fabric we covered an old rocking chair in a blue plaid to coordinate and painted the walls blue. Here is an example of how a seemingly simple print can make a guest room feel welcoming and high end.
Now we are giving you the opportunity to buy our popular fabrics and see what you can create. Each style below is available in fabric by the yard, minimum 3 yards each style – fabric is 120" inches wide. Pictured below are two designs which are symmetrically different but work well together: Petit Pois and Fifth Avenue (stripes).  If you have a bed that is not a traditional size or sits high on the frame you can order sheets in a made to order size or order the fabric and make your own bedding and dust ruffle with drop tailored to suit your needs.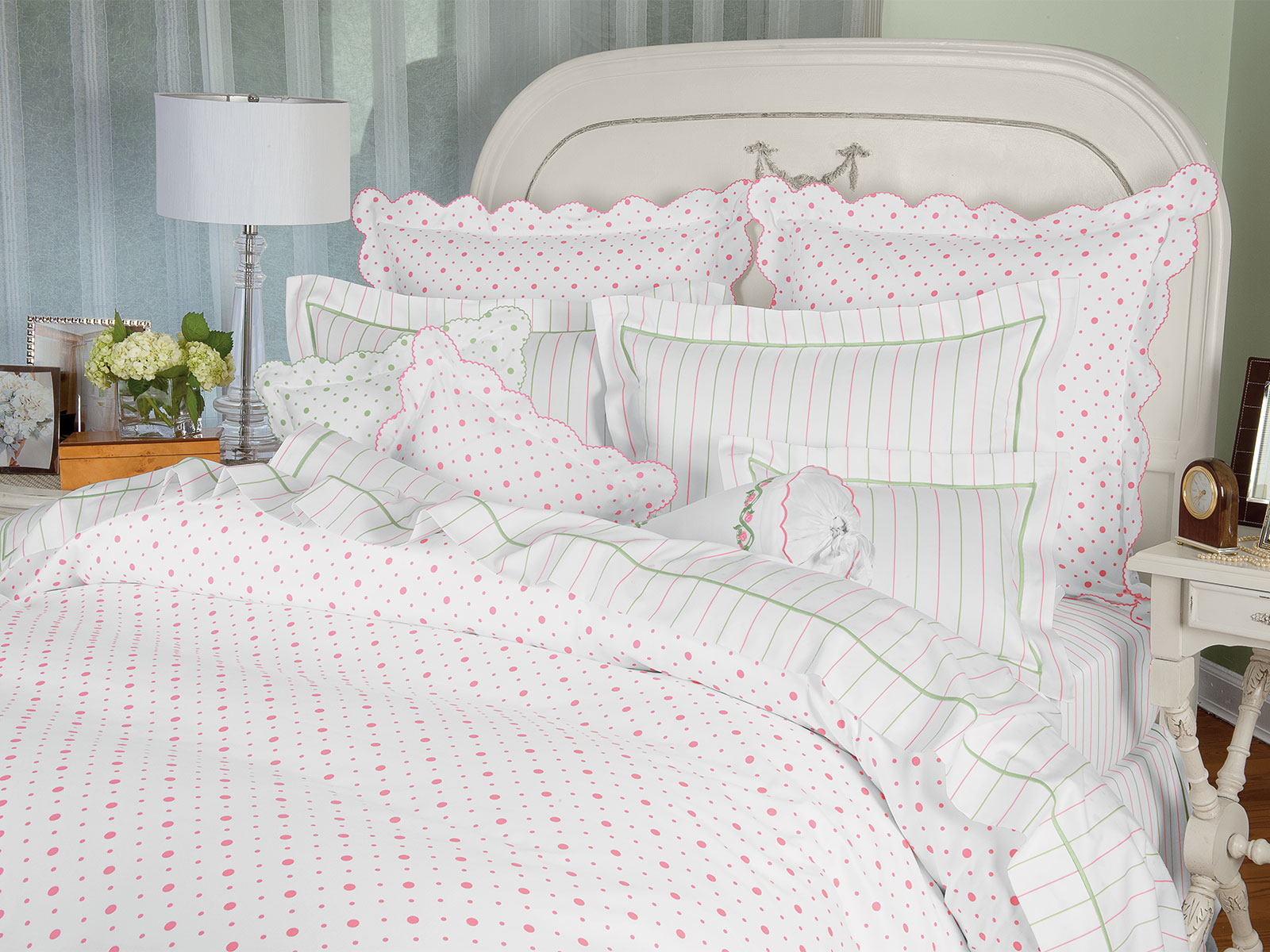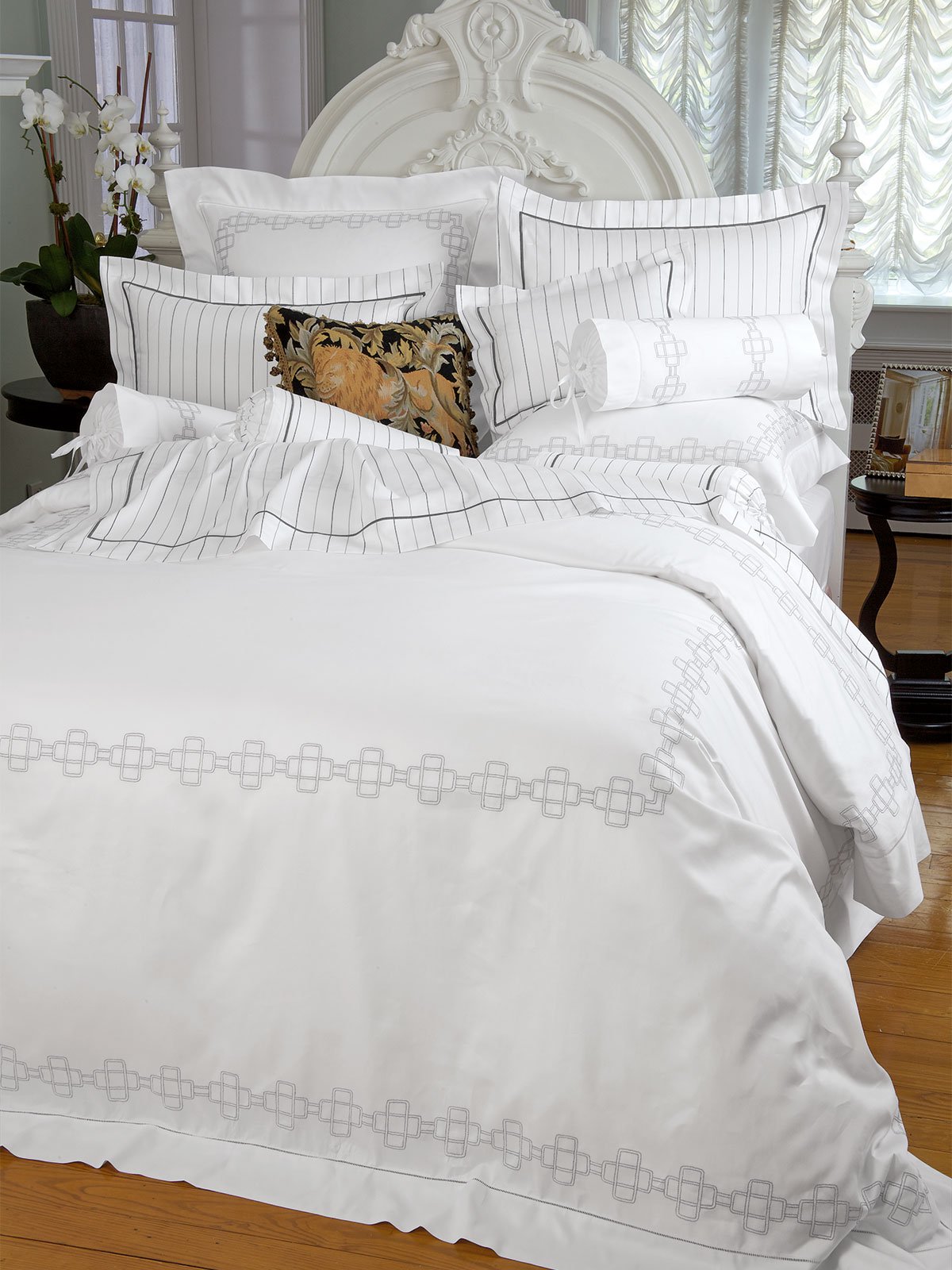 Tiffani Bows in Blue, Pink or Green is one of our most popular designs for its versatility. The beauty of this style is that we already make it available in baby bedding but with extra fabric you can make a coordinating hanging diaper caddy/organizer.  Another idea is to buy wicker baskets and use this fabric as a liner or make a swaddle blanket.
By far the most in demand fabric has been our toile Replique design followed by the coordinating plaid, Highlandia.  This year we introduced a new color wave, Blue, which is also in high demand. We chose these colors because it's soothing and works as a neutral color which compliments any room.  The patterns work perfectly together and in any room throughout your house on throw pillows in the living room, or as a tablecloth in your dining room.  Consider also making a shower curtain for the bathroom.  There is no limit to what you can do!
Melody pattern is delicate enough to work in a baby's room. You can make a dust ruffle, bumper and use our boudoir for baby pillow. It would also work well as a tablecloth in a sun room.
With its classic shades of white, blue and the burst of red poppies, Fontaine Fleur brightens up any room in the house. Sold in bed linens and applied to lush terry fabric why not use fabric to make a coordinating shower curtain?
This design would also look great as a throw pillow or covered headboard.
You are only limited by your imagination.  Lots of patterns and instructions area available online.  We would love to see what you will make using our fabrics.  Please send us your designs with our fabric through Twitter, Facebook or Pinterest and we'll give you a special gift!