Schweitzer Linen Decorating Blog Luxury Redefined Today's Subject:
Doilies, Not Just for End Tables!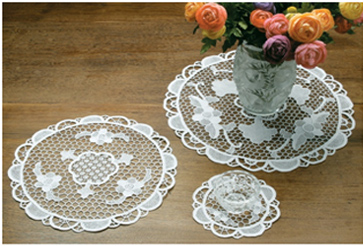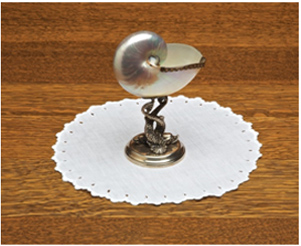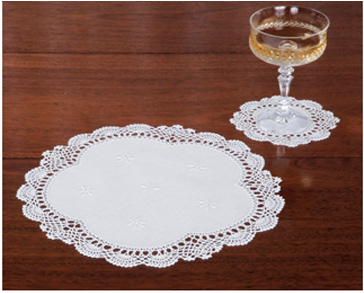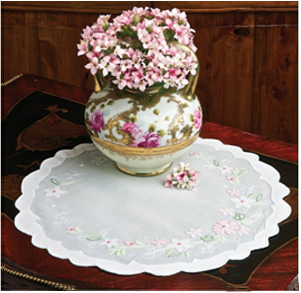 Schweitzer Linen collection pictured from top right going clockwise:
Redondo
,
Tre Monte
,
Precieux
and
Queen Anne Doilies
It's time to appreciate the beauty and versatility of a doily! People think doilies are something your grandmother used to dress up an end table or the arm of a couch. But the doily is much more and with a little patience and some needle and thread you can transfer the doily into a work of art.
To get started on a project let's pick out the doilies we want to work with. Schweitzer Linen has doilies in different designs from a simple hemstitch, to romantic lace to soft cotton with delicate flowers. They also come in different sizes, perfect for creating something unique! Try some of these design ideas:
A Unique Runner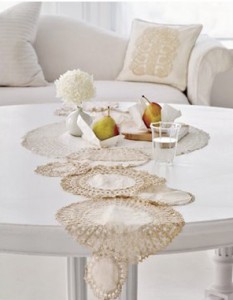 This idea is fun and easy. You can combine different patterns and sizes to make a runner or centerpiece. Just them or pin, clip or sew them together in a straight line or zigzag pattern. Then drape them on a table, credenza or even hang from a wall as a decorative piece. Mi x and match the Regis and Precieux doilies for an elegant runner.
Photo courtesy of Country Living photographer Frances Janisch
Decorate a Vase / Bowl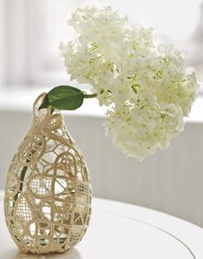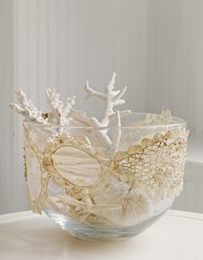 Using any clear / glass vase or bowl will work and will let the doily stand out.
Vase: You can use one doily or several to achieve the look you want. Just wrap the doily around the vase. Pin it in place, snip away any extra fabric then sew the doily to create a snug fit.
Bow: Same idea as vase except you are making a hair band for the bowl. Once you sew the doilies together put the doily ring around the bowl Voila!
Photo courtesy of
Country Living
photographer Frances Janisch
These are many more creative ways to use a doily as art or as an accessory on a dress, go for that vintage look. Visit one of our stores or shop online to view our selection and get started on your next project.
Lamp Shade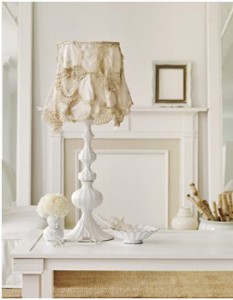 An inexpensive way to add pop to a room is to buy a new lamp. But instead of spending money on a new lamp try making a lampshade using different doilies. Remove the fabric off an existing lampshade and work with only the frame from an original shade. Pin small doilies around the top, and then to one another, for a "skirt like" effect. Remove pinned doilies. Machine-stitch together. Slip "skirt" over frame; hand-stitch around frame's top. Our Queen Anne Doilies would make a great shade.
Photo courtesy of Country Living photographer Frances Janisch
Seat Cushion/Curtain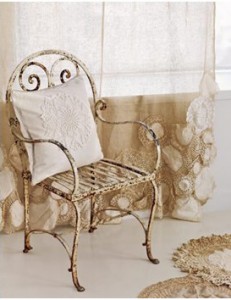 If you have a beautiful doily that you want to put on display try sewing it on a plain throw pillow or cushion cover. This idea is easy and quick. Just sew the doily to the front of the pillow or cushion cover (you can also use a plain pillowcase). Sew all along the edges in any pattern you like!
Behind the chair is a simple curtain panel that gets a makeover with elegant lace doilies at the bottom and around the edges. You can use fabric glue or sew the doilies to the curtain
Photo courtesy of Country Living photographer Frances Janisch