It's been a really long day and you've been looking forward to a good night's sleep. You finally put your head down to rest and instead of drifting off into dream land, you find yourself tossing and turning, folding and propping–it feels like you just can't get comfortable. Sound familiar? Many people suffering from sleep loss assume they need a new mattress but sometimes it's not the mattress at all. Sometimes the problem is right in front of their eyes, or in this case, behind them–because it's their pillow. Using the wrong pillow can be a major cause of restless, sleepless nights. Luckily this problem is easy to resolve if you know where to go.
Why is our pillow so important? Sure it's a soft, cozy place to rest our weary heads but it's so much more than that. Scientific studies have shown that the right pillow can help us achieve the right sleep posture. And sleep posture is one of the most important factors of getting a good, revitalizing sleep. If you're using the wrong pillow you could be adversely affecting your spine, neck and other areas which can lead to an uncomfortable, restless sleep. By using a pillow that correctly aligns your body and keeps you in ideal sleep posture, you'll sleep deeper with far less chance of waking up. You'll also avoid waking up feeling tired, sore, achy and irritable.
In addition to creating poor alignment, sleeping on the wrong pillow can exacerbate existing issues of misalignment, making those ailments much worse. If this is happening, you're not just missing out on a better sleep, you may literally be harming yourself by using the wrong pillow. Finding the right one that matches your body type and helps you achieve the right posture can have a positive long term affect on your overall health and quality of life.
Whether it be the imbalance of posture or the simple fact that your pillow is not providing the right amount of comfort, the wrong pillow can cause us to lose an average of an hour of sleep according to some sleep studies. If your pillow is old and the fill or fabric has worn down, it may not be providing the right amount of support. Older pillows are also prime targets for allergenic invaders and unwanted bacteria. If you've had your pillow for a long time, you may be well overdue for a replacement.
Once you know you need a better pillow, the next step is finding the right one. To do that all you need to do is think about the way you usually sleep. I'm a side sleeper so my pillow needs to be thick enough to keep my head aligned with the spine. Same goes for back sleepers. A pillow with medium thickness will keep the neck/head in the ideal position. However, if you tend to sleep on your stomach, a pillow that's too thick will elevate your head too high, putting unwanted stress on your neck, so a thinner pillow should be more suitable. And if you're someone who tends to change sleeping positions often during the night, a pillow that can easily adjust its filler to accommodate for the multiple shifts in position is likely what you are looking for.
There are hundreds of places to find a pillow but I can guarantee you won't find any made with the kind of quality at Schweitzer Linen. Since your pillow is something you will use every single day, it should be able to provide the kind of comfort and support you need while also standing up to the test of time. For almost 50 years, Schweitzer Linen has been crafting the finest bedding and pillows using age-old crafting techniques and the best materials and fabrics. No one does it better and they do it all at an extremely adorable price. If you're looking to dramatically improve your sleeping experience once and for all, you'll find your ideal pillow, weight and fill at Schweitzer Linen.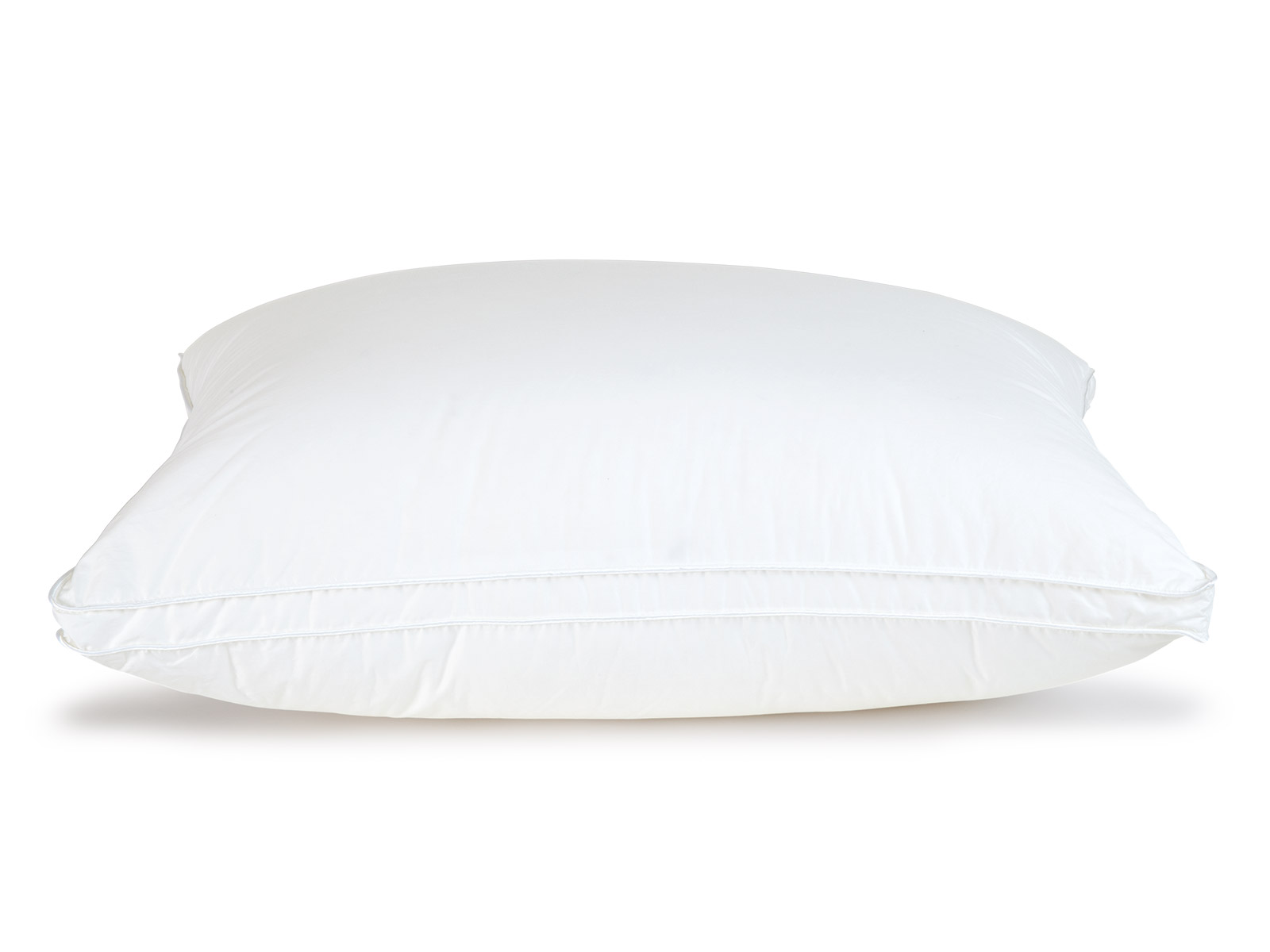 Heidi Pillows
Filled with pure white Polish goose down with an extremely high 950 fill power, which means that each ounce of down traps an incredible amount of air, resulting in incomparable loft for thicker support. Surrounded by silky soft 400 thread count cotton. Imported.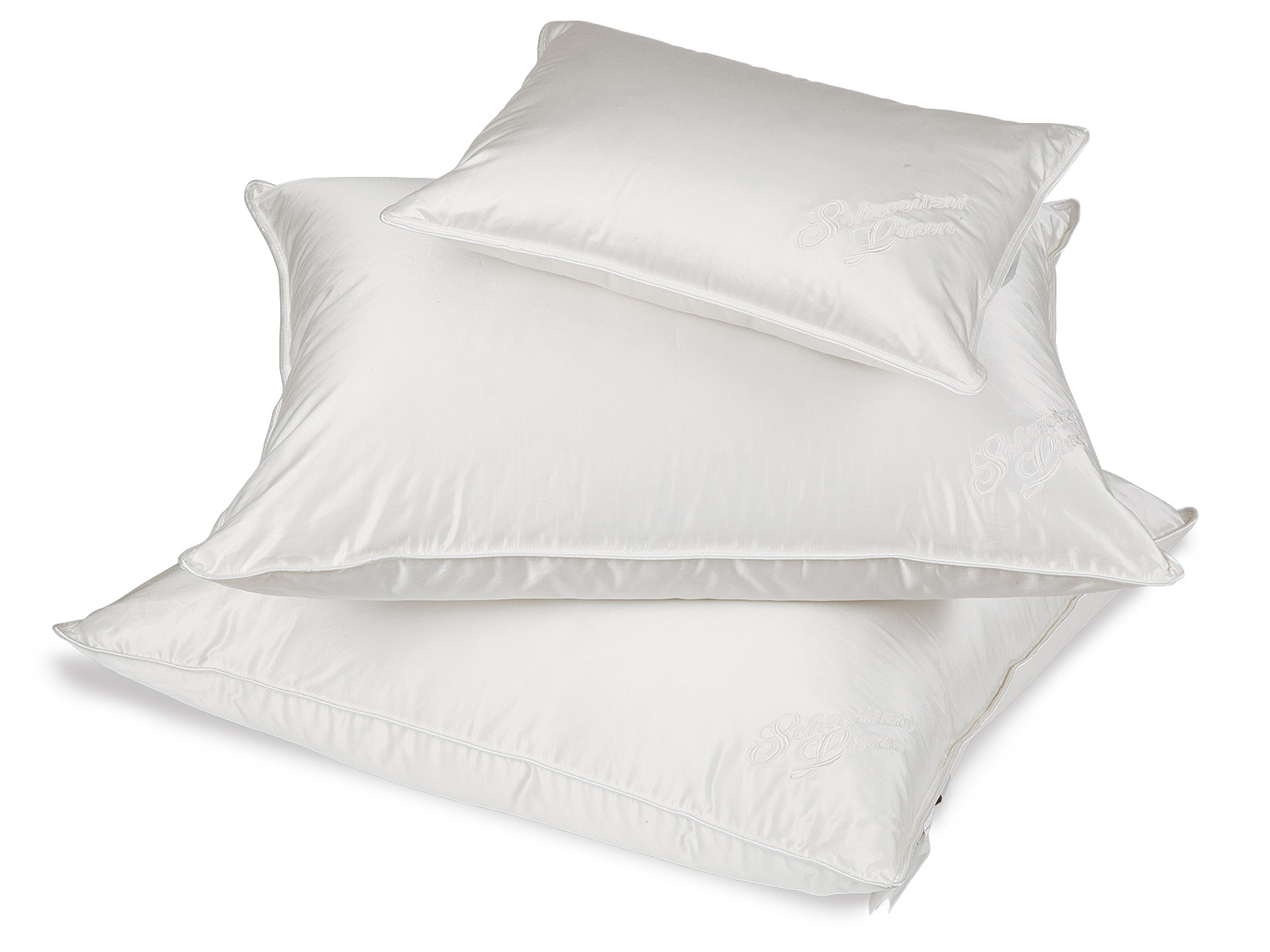 Dynasty Down Pillows
Filled with finest European white goose down of extraordinary 800+ loft power, they are incredibly soft and elegantly covered with a lustrous silk and cotton blend of 860 thread count. Hypoallergenic, machine washable and available in all shapes and sizes to provide the cushioning you need. Imported.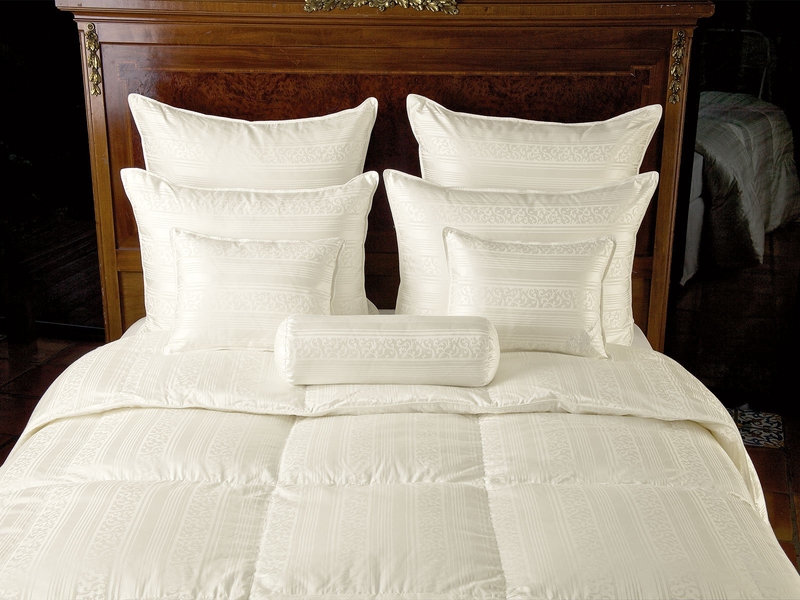 Trouvaille
Covered with a magnificent Ivory damask of cotton and silk in an elegant paisley and striped pattern. Boxed construction with baffles guarantee perfect down distribution for perfect balance where you need it. Inside, carefully selected White goose down, with a lofty 750 fill power, gives you the extraordinary softness and unsurpassed comfort. Imported.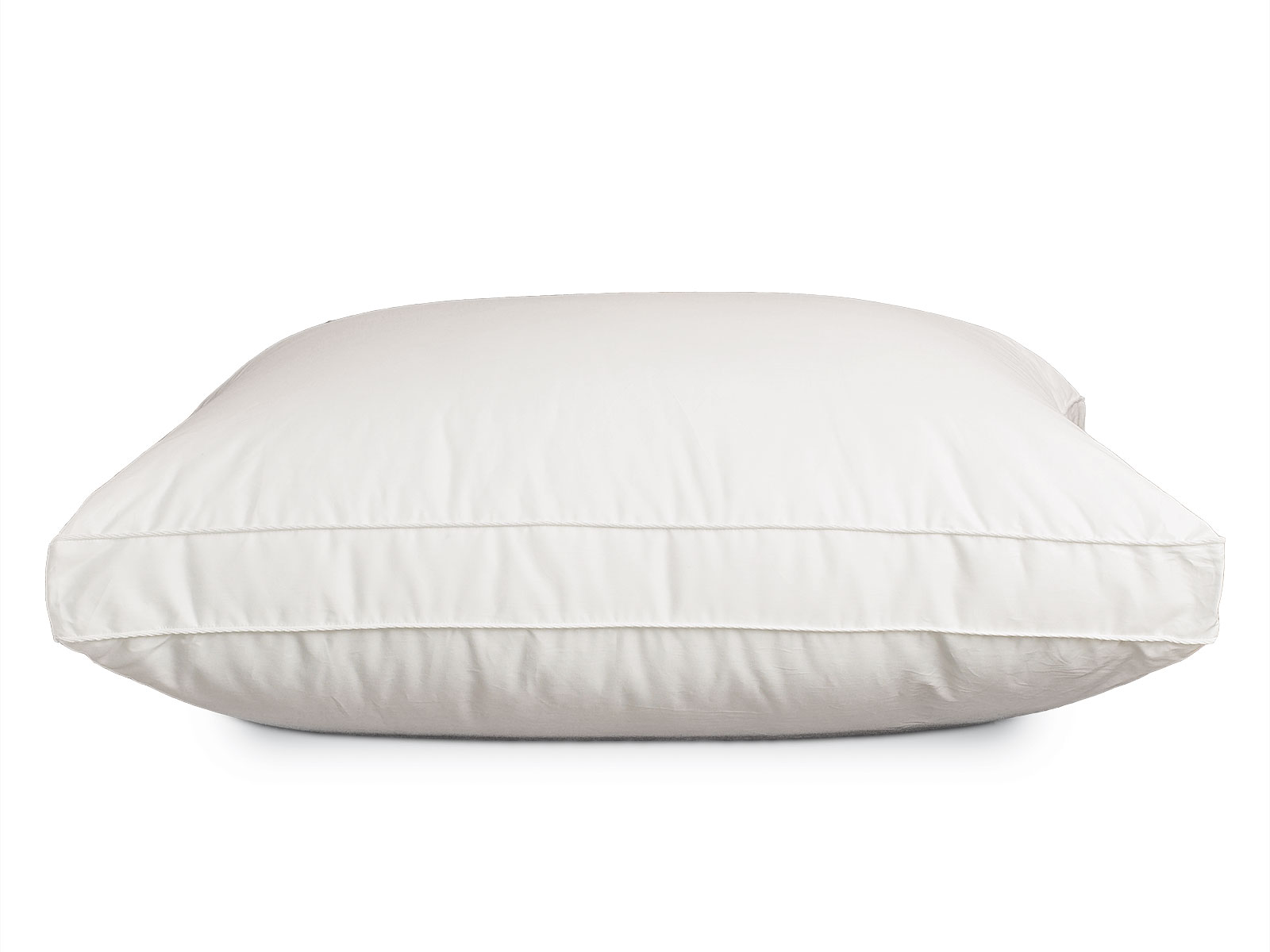 Princess Alexis Down
Highest quality, hand selected white goose down has an extraordinary fill power of 800+. Superior down proof ticking of White 100% cotton, 354 thread count, is ingeniously designed with a 2″ gusset all round that allows extra room for utmost loft, giving it a custom like fit and feel. Imported.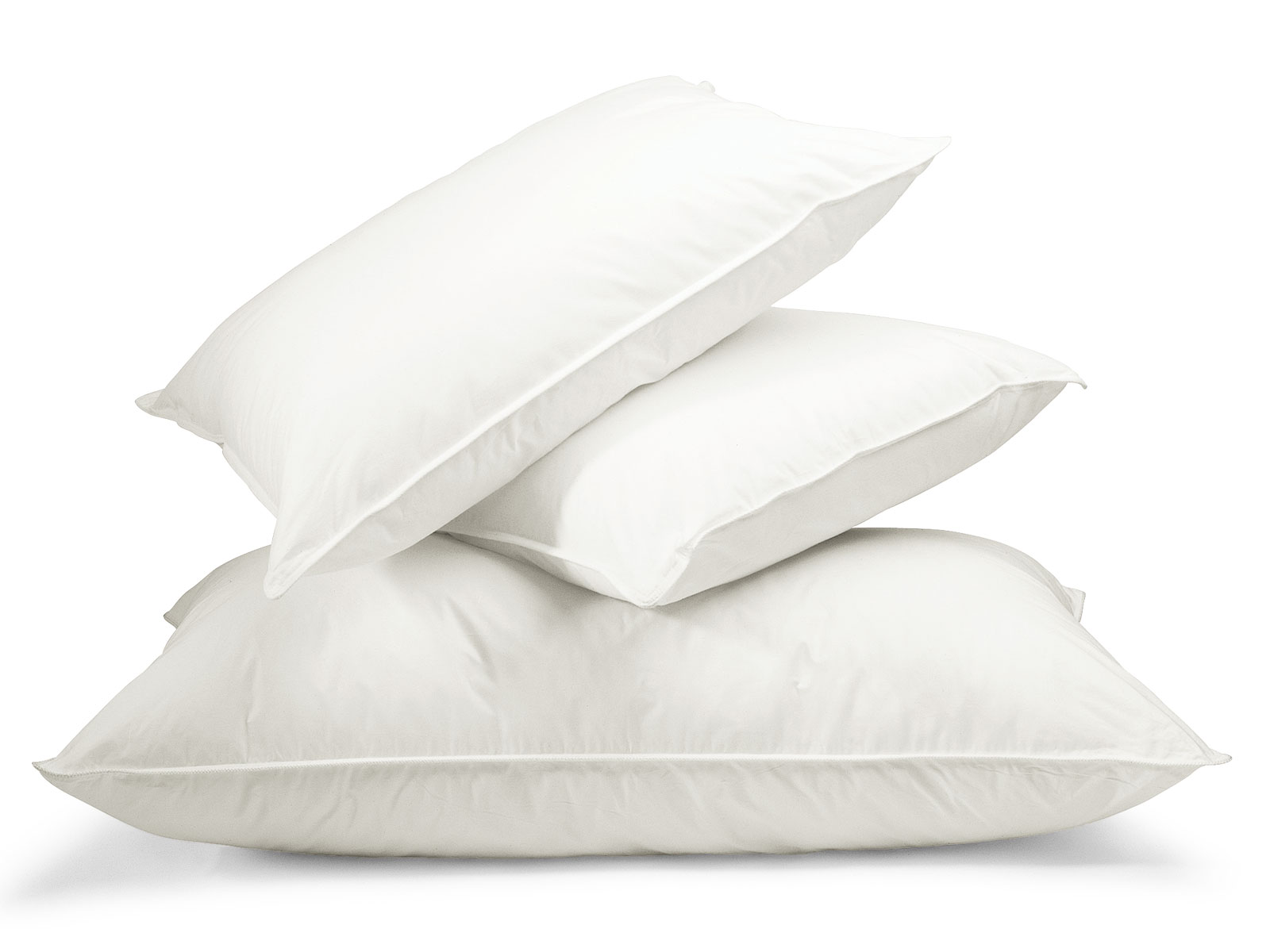 Comforel
You'll be hard pressed to tell the difference between comforel and down pillows. Designed to behave like down with wondrous loft and resiliency to help you achieve the perfect sleeping pose. 330 thread count, 100% cotton ticking, machine washable, perfect for allergy sufferers and children. Imported.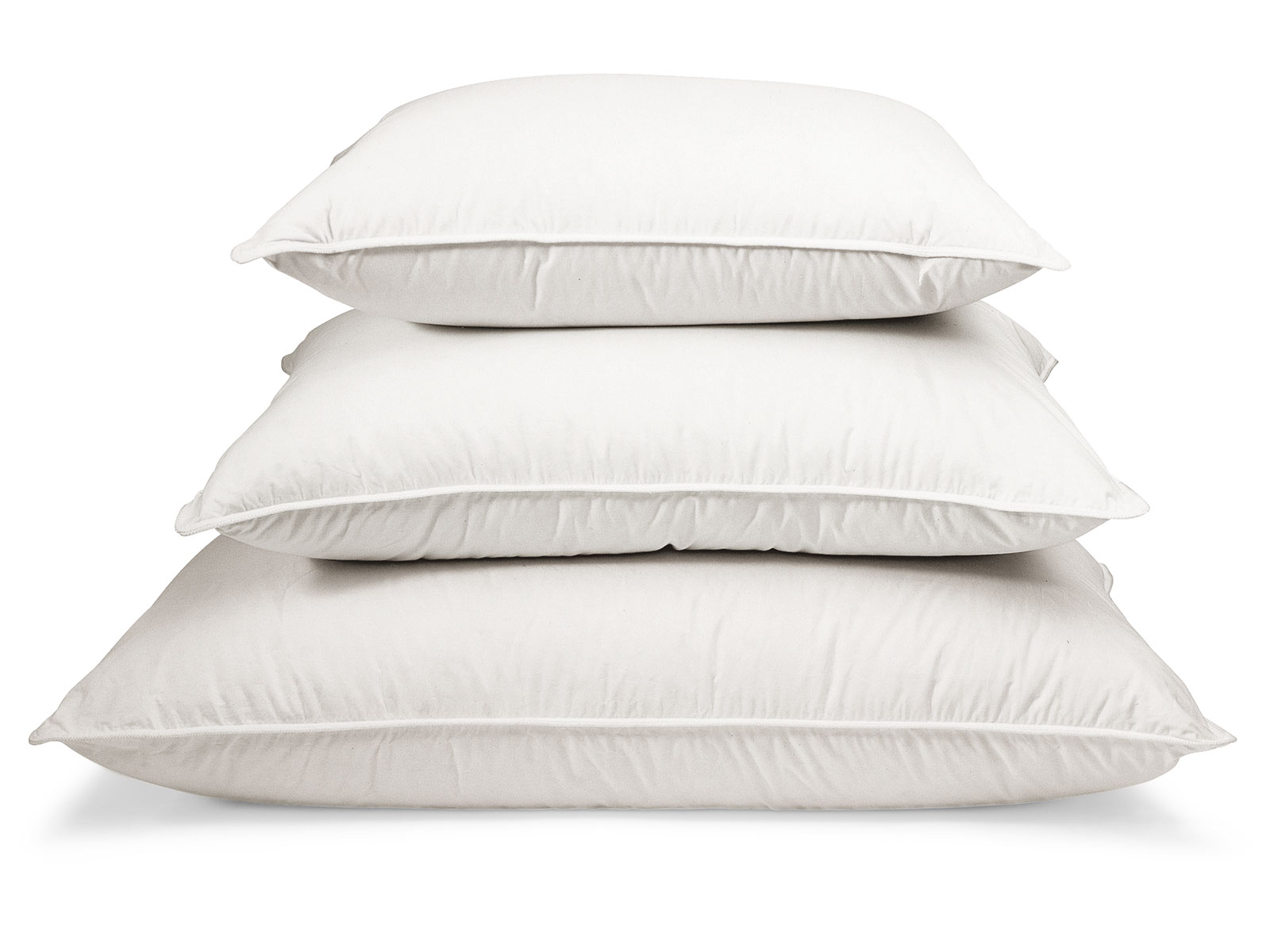 Two-in-One
If firmness is what you need but you don't want to sacrifice the luxurious feel of down, this is the pillow you've been waiting for. A core of 95% feathers and 5% down has been surrounded by layers of White goose down – so the best of both worlds, softness and firmness, are all yours at the same time. The extra firmness will give you the extra support you might require, yet only the lush, plush softness of down will touch your face. Hypoallergenic. Imported.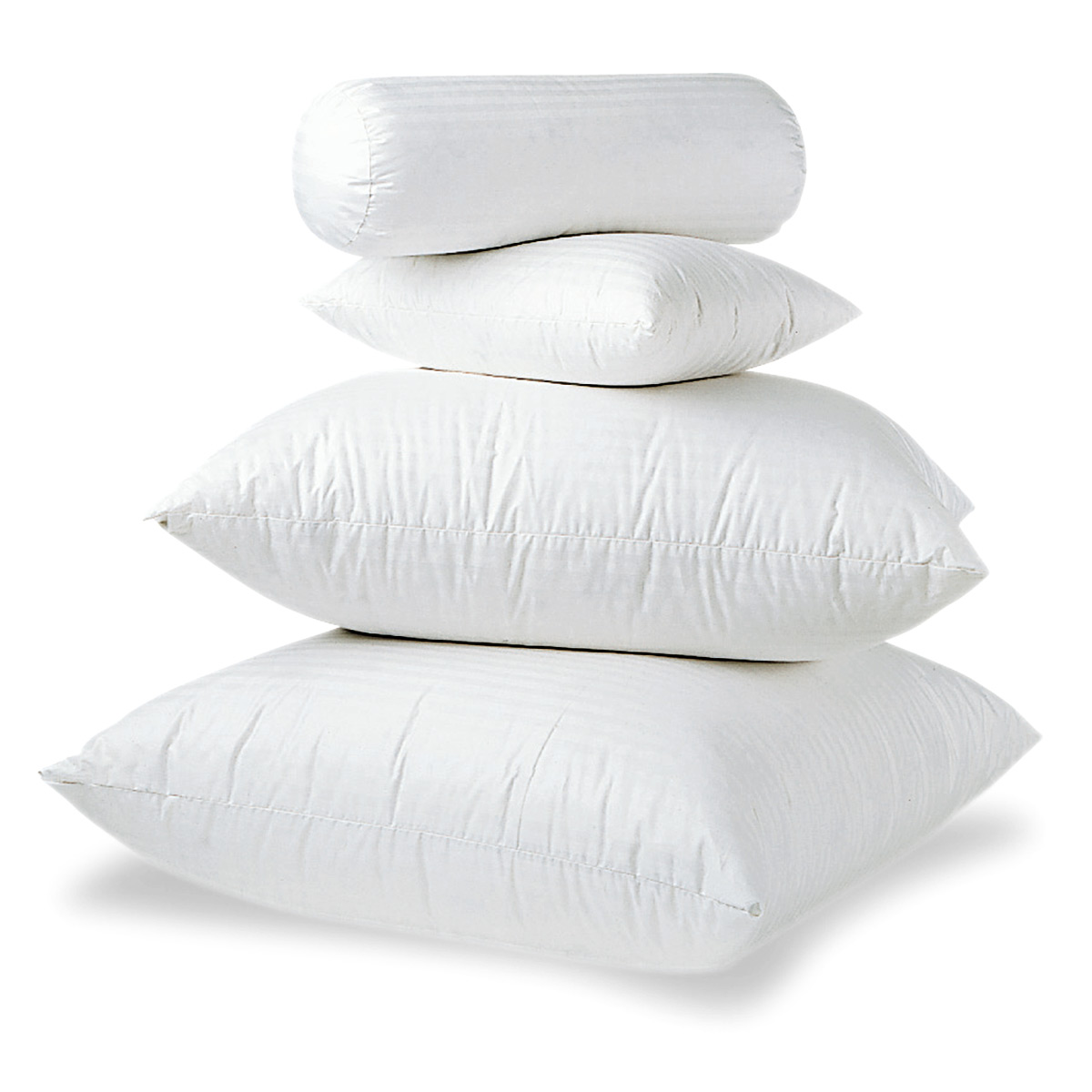 Empire Down
Extremely luxurious, White Goose Down Pillows are truly magnificent. 700 fill power Hungarian Goose Down is covered in 330 thread count Damask cotton ticking for optimal softness and support. Imported.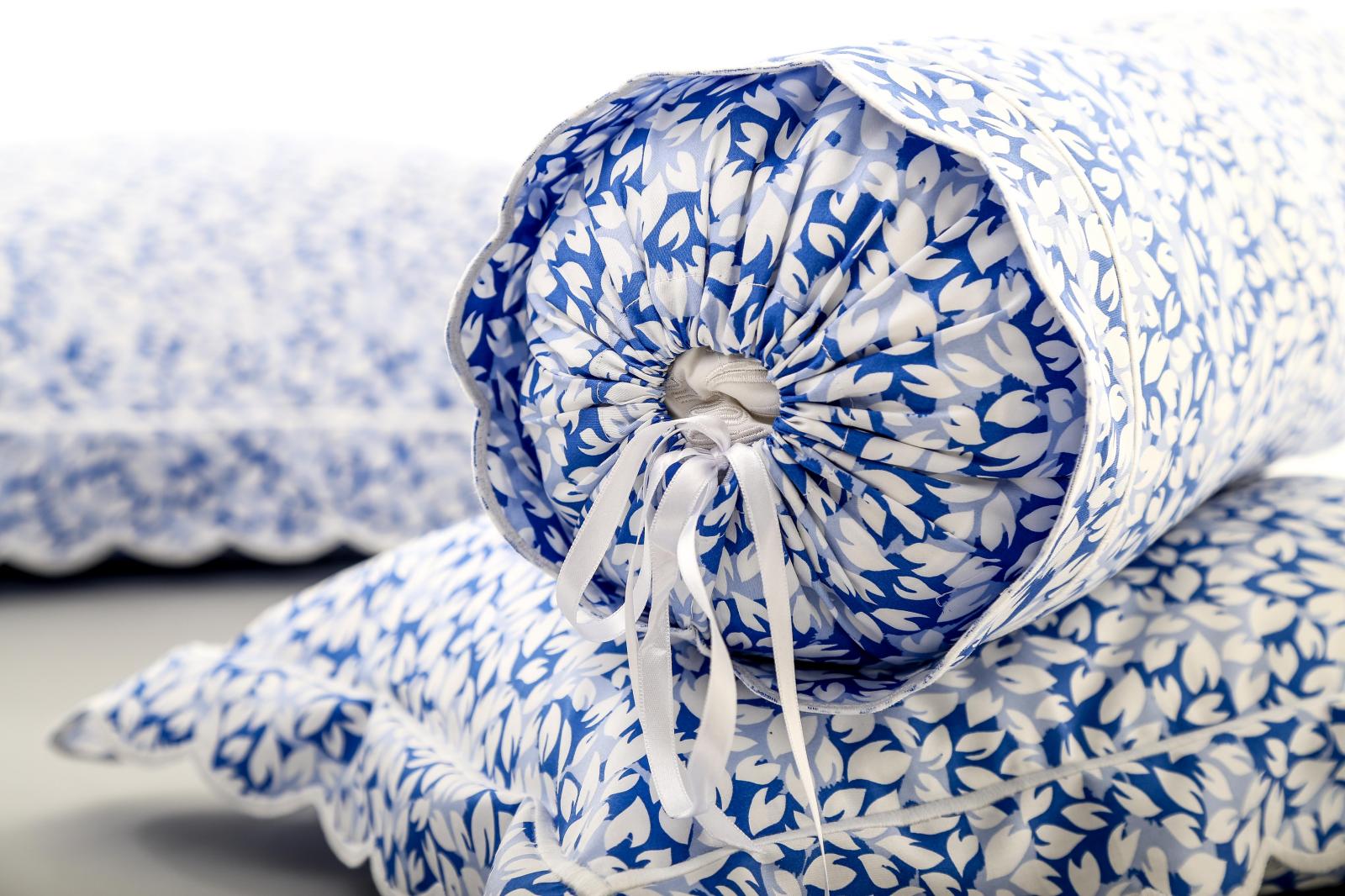 Neck Rolls
If you need extra neck support, most of Schweitzer Linen's pillow collections offer a neck roll style specifically designed to provide you with the support needed to achieve optimal alignment while sleeping. This could be the pillow that changes everything.
In addition to helping you achieve your best sleeping posture and a better sleep, adding shams to your new pillow can also transform the look and feel of your room with styles and colors that inspire you every day. Research has shown that having the right patterns and designs in the bedroom, along with the right tones and hues, won't just help you sleep better but can help you feel more relaxed, more optimistic and happier overall. Schweitzer Linen has hundreds of original designs to choose from and they add more incredible styles all the time. Here are some of their latest.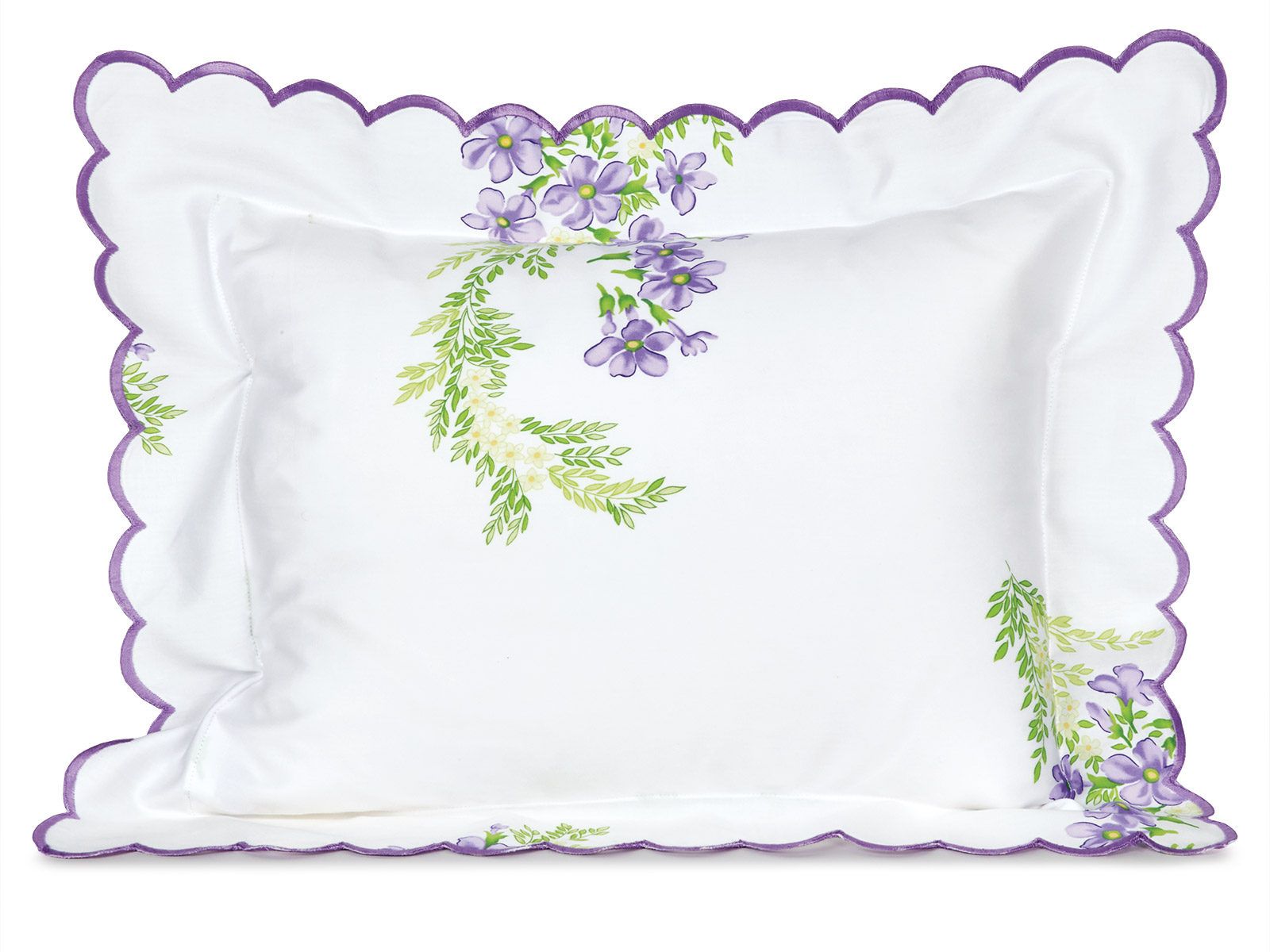 NEW Summer Majesty
Featuring delicately printed leaves carrying sun-kissed phlox flowers on a pristine sea of White 300 thread count Egyptian cotton. Available in shades of Blue, or Purples and Greens. Made in Italy.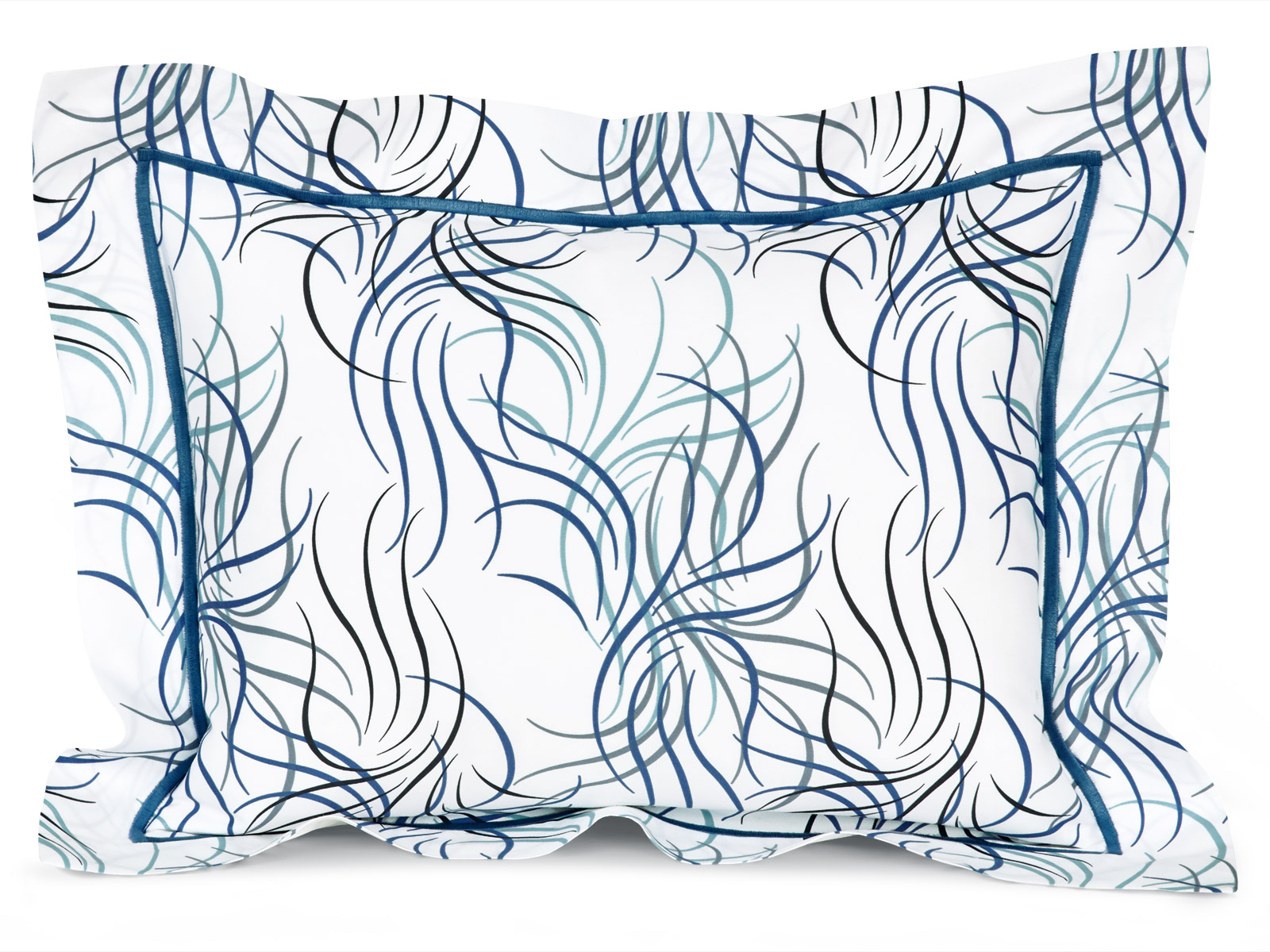 NEW Ventoso
Swirling on a soft background of finely crafted 300 thread count, 100% Egyptian cotton sateen, wisps of slender lines dance in windy currents that will carry you into your own private world of peace and contentment. Available in Beige/Black/Gray with Beige bourdon stitch or Blue/Black/Gray with Blue bourdon stitch. Made in Italy.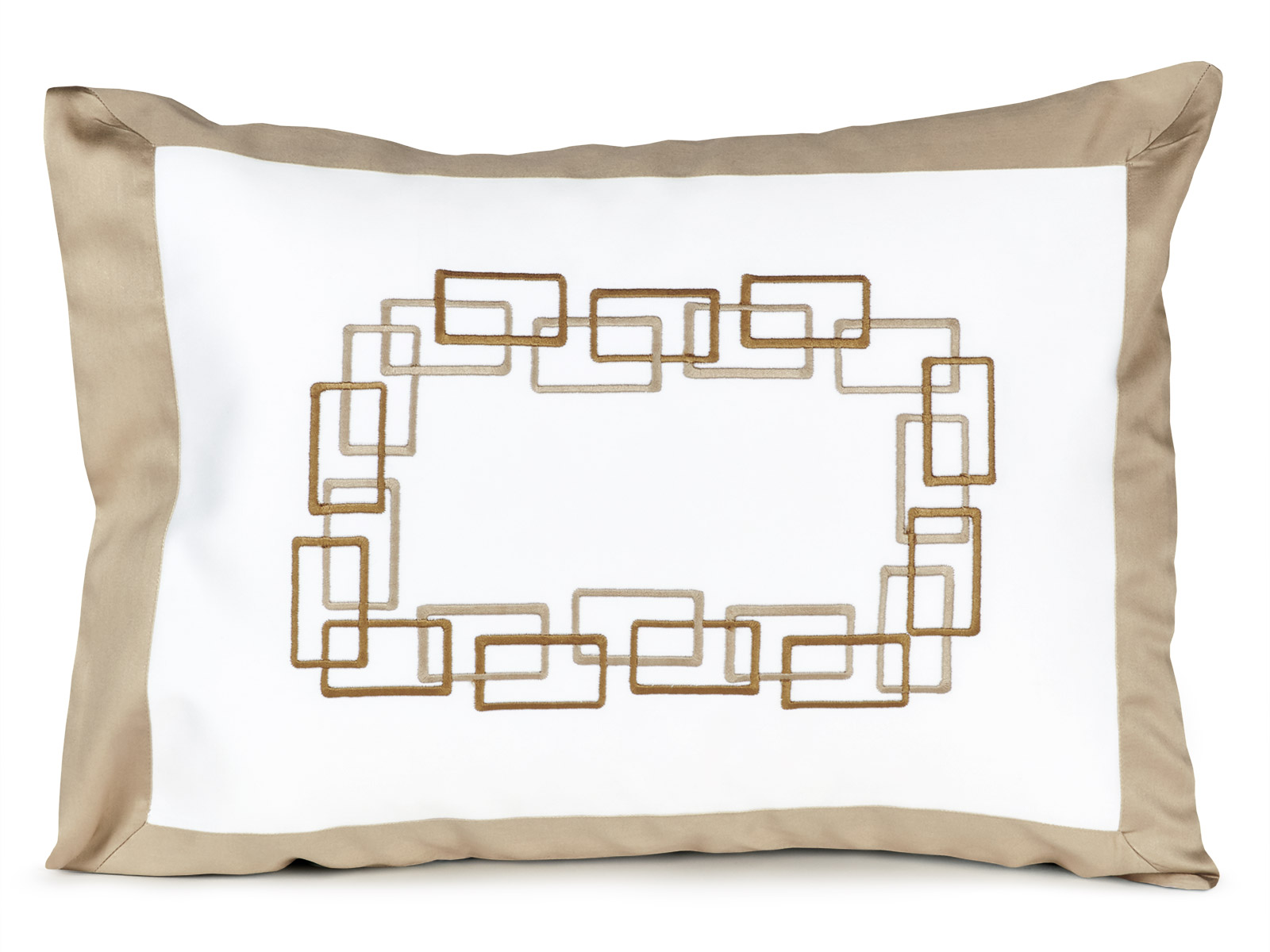 NEW Links
Along with its mood-enhancing qualities, this striking pattern laid out on radiant 600 thread count Egyptian cotton sateen adds a refined element of lavishness to your bedroom. Design is available in two shades of Gray or two shades of Beige with matching solid taped border and mitered corners. Made in Italy.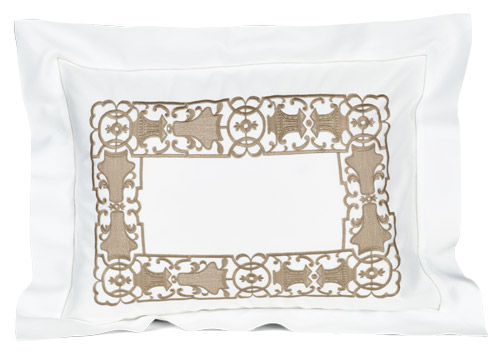 NEW Cappuccino
Enchanted ancient lanterns embroidered on brilliant White, 600 thread count Egyptian cotton sateen soften your room delicately with warm tones and rich textures while elaborate arcs, dainty curvatures and slender lines guide your senses to the beginning of sweet tranquility. Available in White with Cappuccino. Made in Italy.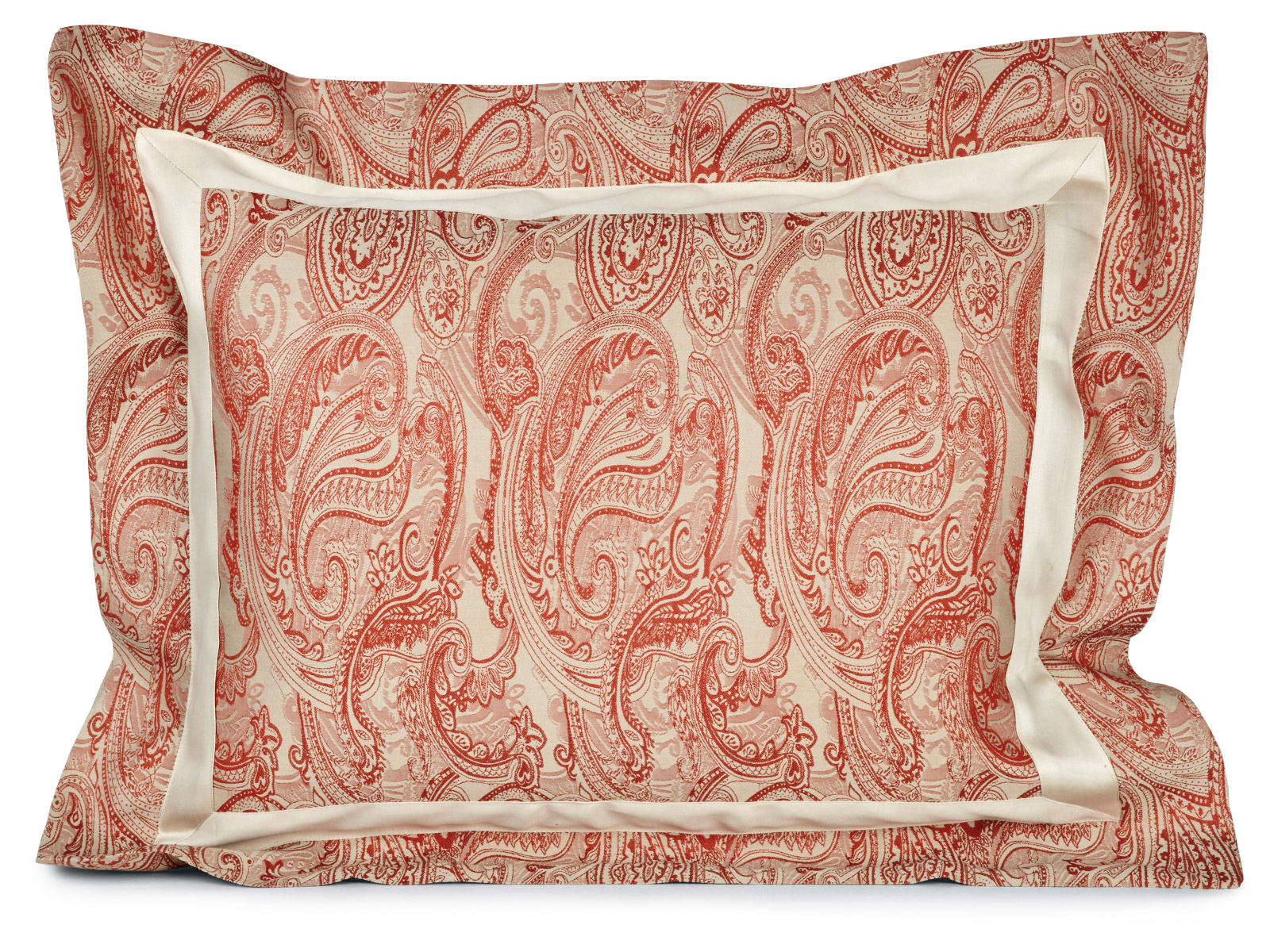 NEW Naviglio
Boudoir, king and euro shams bathe in the polished glow of Rustic Orange 500 thread count damask and solid light Taupe insert. The original paisley pattern on the damask swirls like pools of sun-kissed reflections you'll want to bask in all night—and day. Standard shams and neck rolls are 300 thread count solid light Taupe with rustic sunset damask. Made in Italy.
If you're having trouble sleeping or waking up feeling unrested or sore from bad sleeping alignment, take a look at Schweitzer Linen's selection of premium, high quality pillows. The right pillow can dramatically change the quality of your sleep. And getting a good nights sleep, where you wake feeling rested and recharged, can dramatically change the quality of your life.