Whether you're an outdoorsy type who thinks camping goes hand in hand with the word "vacation," or someone who enjoys the occasional walk outside, the connection between humans and nature is one that can't be ignored. Like it or not, we are part of it and it is part of us. It's in our DNA.
What is it specifically about nature that compels so many of us to want it in our lives? So many of our milestones in life are associated with it. The job promotion comes with a window view. That new dream house comes with a beautiful backyard. We take our kids to the zoo, to the botanical gardens and to the park to play, to learn, to discover. What makes nature so incredible?
It's beautiful of course. Nothing compares to the type of inspiring, breathtaking scenes and colors combinations that nature creates on her canvas. That's certainly one of the reasons we find ourselves so easily drawn to it time and time again. Since people tend to naturally gravitate towards things they find beautiful and pleasing, it only makes sense to want it around us. And because Nature produces so many varying shades and displays of beauty every day, there is something beautiful to be found in nature for everyone.
Nature is freeing. Perhaps it's the only place where in today's world we can be and actually feel as if were not being observed, judged or bogged down by emails, texts and messages. Nature can be a place where we can finally be fully present in the now, where we can truly feel like ourselves. Its effect is powerful and therapeutic. In fact, studies have shown that being outside just a little while each day can make us happier, more creative, more positive.
Nature is also unexpected. It is spontaneous and open to life, to new possibilities. Sure nature has its own routines and cycles, such as sunrises and sunsets and season's changing, but each is singularly spectacular and unique. Each experience in nature is one-of-a-kind moment that can't be replicated in that exact way ever again.
As incredible as nature is, we know that not all of us have a chance to be in it as much as we may want. Maybe it's because of where you live, the difficulty in getting there or perhaps you like the idea of nature but don't feel very comfortable when you are in it. There are a lot of things that can keep us from experiencing the amazing effect nature can have on us. It's for this reason, we decided over 48 years ago that we would help our customers introduce nature into their daily lives, through our fine bedding, towels, tabletop settings and more.
At Schweitzer Linen, we want you to be able to experience the beauty, the freedom and the mindful joys of nature every day. This is why you'll find nature in so many of our exclusive designs and prints. We want to make sure that anyone who wants to add the freeing spirit and energetic feel of nature to their decor and everyday routines, can do so with the highest quality products, made to last a long time and priced to please. From mountain flowers and exotic wildlife to seaside adventures, there are a variety of styles and luxury items waiting to exhilarate, rejuvenate and replicate the majestic magnificence of the natural world in your home. All you have to do is decide which path you want to take. And if you're someone who doesn't feel comfortable being immersed in nature, there is no easier (or more comforting) way to experience the beauty of nature than with our soft, luxurious fabrics.
While nothing can replicate the experience of actually being in nature, our designs and prints are as close as it comes. Each is impeccably crafted and embroidered by true artisans who derive much of their own inspiration from the earth, the sky, the forests and all aspects of nature. And when it comes to the real thing, you can be sure that the fabrics, materials and craftsmanship we use to make them are just that. All of our products use the finest materials from all over the natural world. Like the bee creates the perfect hive or the bird a perfect nest, there is no cutting corners and never sacrificing quality for quantity. When you touch the fabric from something we made or examine the fine embroidery and stitching, you'll know that we took the time to do it right way. That's the only thing that feels natural to us. Anything else wouldn't be worthy of your time and your home.
So open up your door and let the outdoors in to refresh and revitalize your indoors. From the sheets on your bed to the settings on your dinner table, these are some of our most popular nature-inspired pieces–featuring exclusive, one-of-a-kind prints and embroideries designed to lift your spirits, boost your mood and maybe even get a little wild.
Elegant and graceful, the cheetah, in its element, is glorious to behold–and so will this bedding in your own environment. Italian-made 500-count Egyptian cotton damask frolics with solid gold fitted sateen sheets for a shimmering display of wild-like luxury. King & standard shams and neckrolls with damask inserts. Boudoir and euro shams are damask with solid inserts. Duvet covers reverse from damask to solid sateen.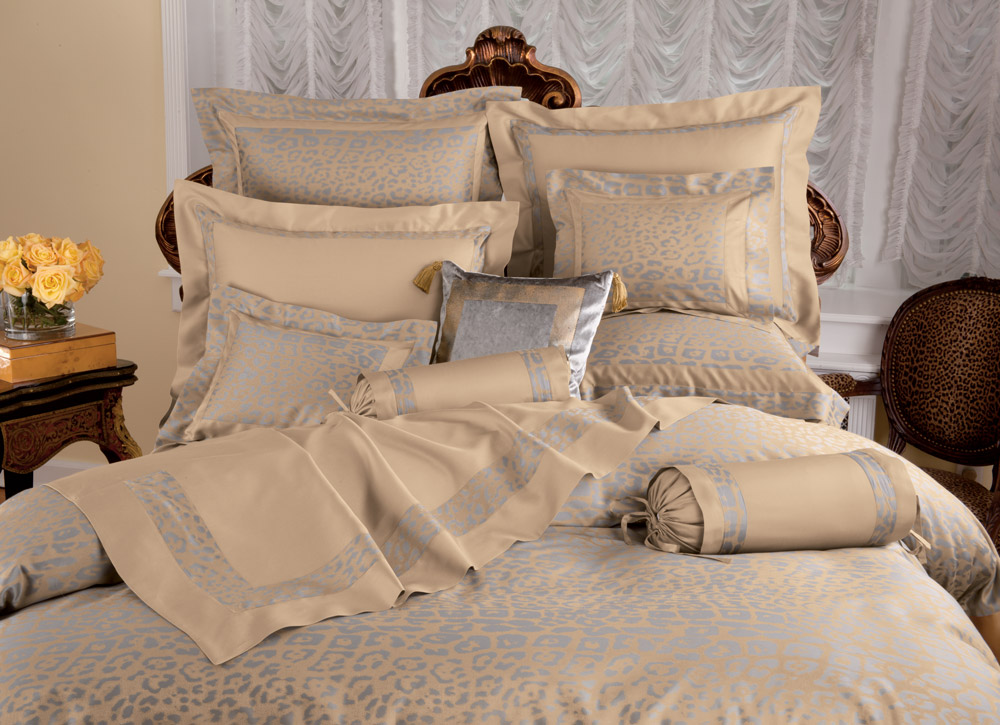 The unique print on this exceptionally soft 100% Merino wool reversible throw will instantly make any place feel more freeing and alive with its natural energies and tones. Designed in Italy, the Paisley design blends into wildlife-inspired spots. Flip it over for a beautifully distinctive leopard pattern that will inspire conversation and compliments.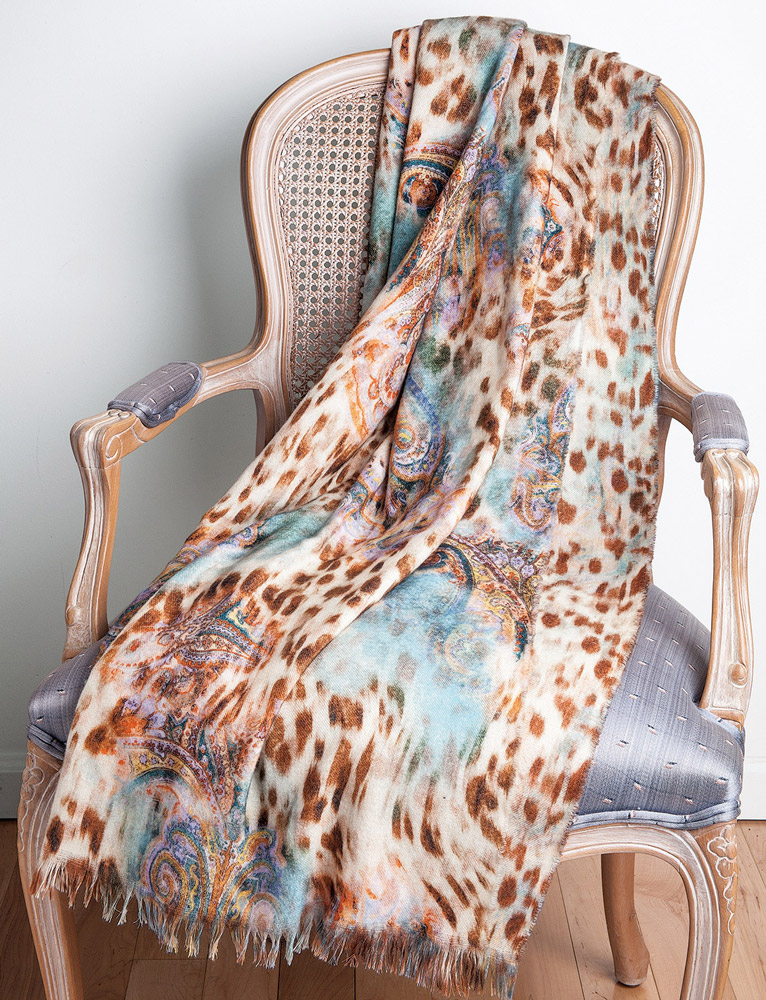 Take a dive below the Caribbean Sea where Orange coral and aquatic flowers flow on waves of Navy and White. Tailored in Italy on silken 300-count Egyptian cotton sateen, with taped scallops, this set inspires the deep calm that can only be found on the silent ocean floor.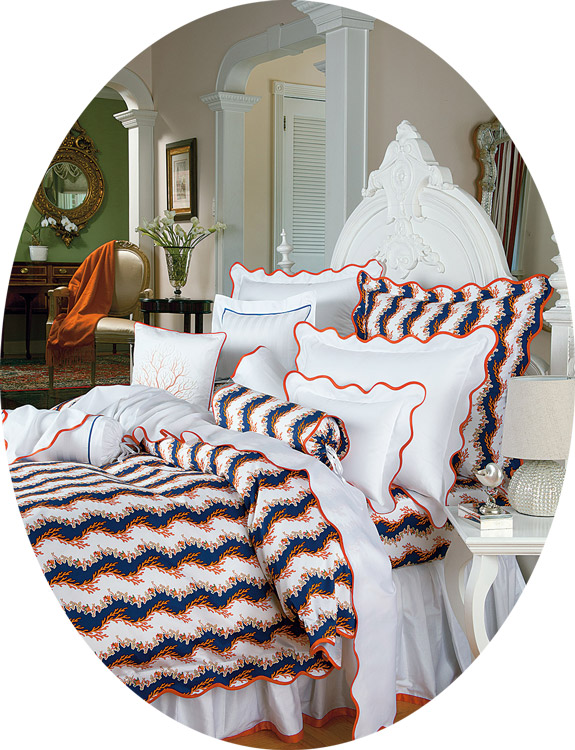 This artistic nod to nature is stunning with its bold damask design and magnificent depths of rich, refined color. Italian-made Egyptian cotton sateen shimmers together with elegant coral prints as it would through crystal clear ocean waves. Duvet covers reverse from damask to solid sateen.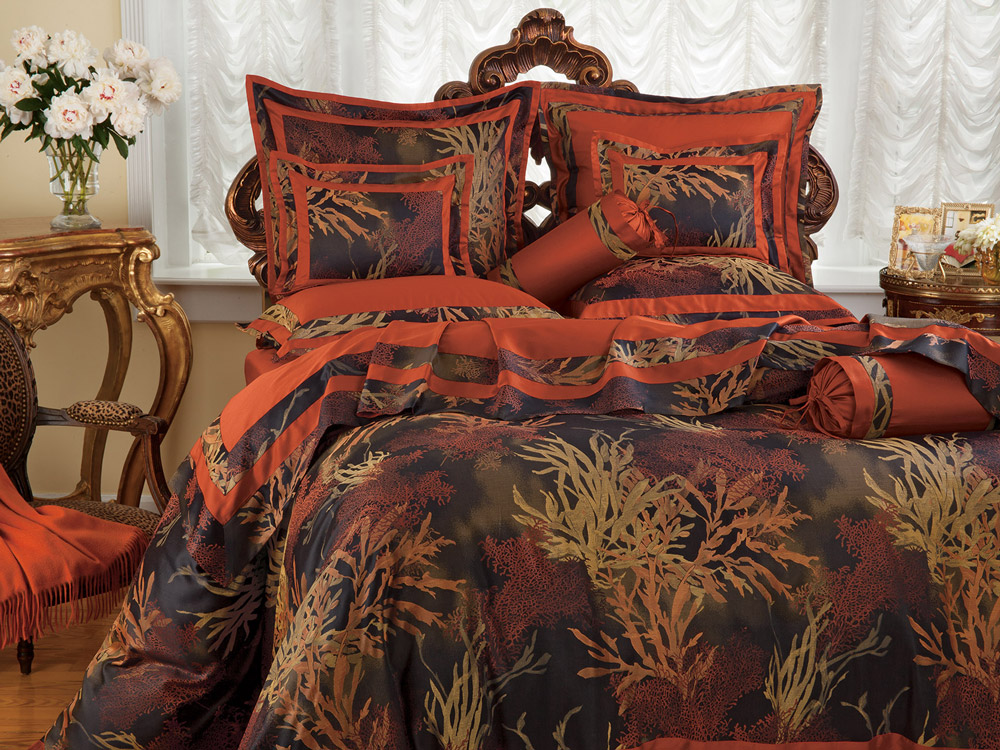 Like the single falling leaf or the lone flower swaying in the wind, sometimes the most precious part of nature is its perfect simplicity. This set captures the serenity of harmonious solidarity with Caribbean coral gently shaded on a sunlit sea of brilliant White 100% percale cotton.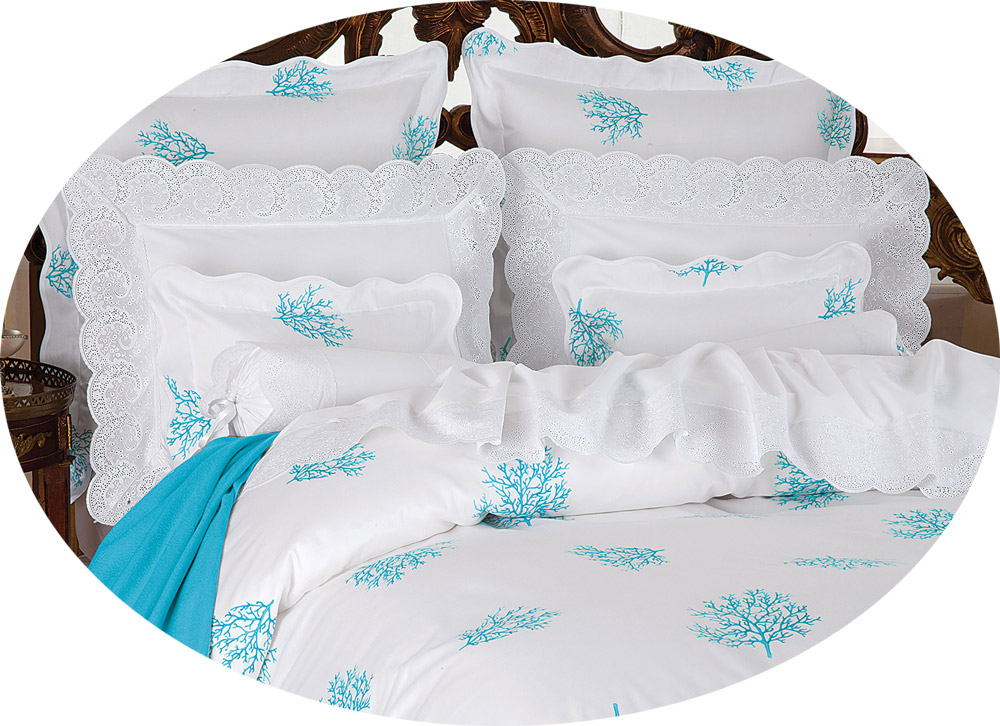 Your very own tropical paradise is just a short walk from your front door. Lustrous White Egyptian cotton sateen is beautifully sown with exotic Fuchsias in delicate Blues, Yellows and shades of soft Pink. Impeccably made in Italy with scalloped edges and embroidered rows of mini scallops for a floral display that feels as fresh and energetic as it does soothing.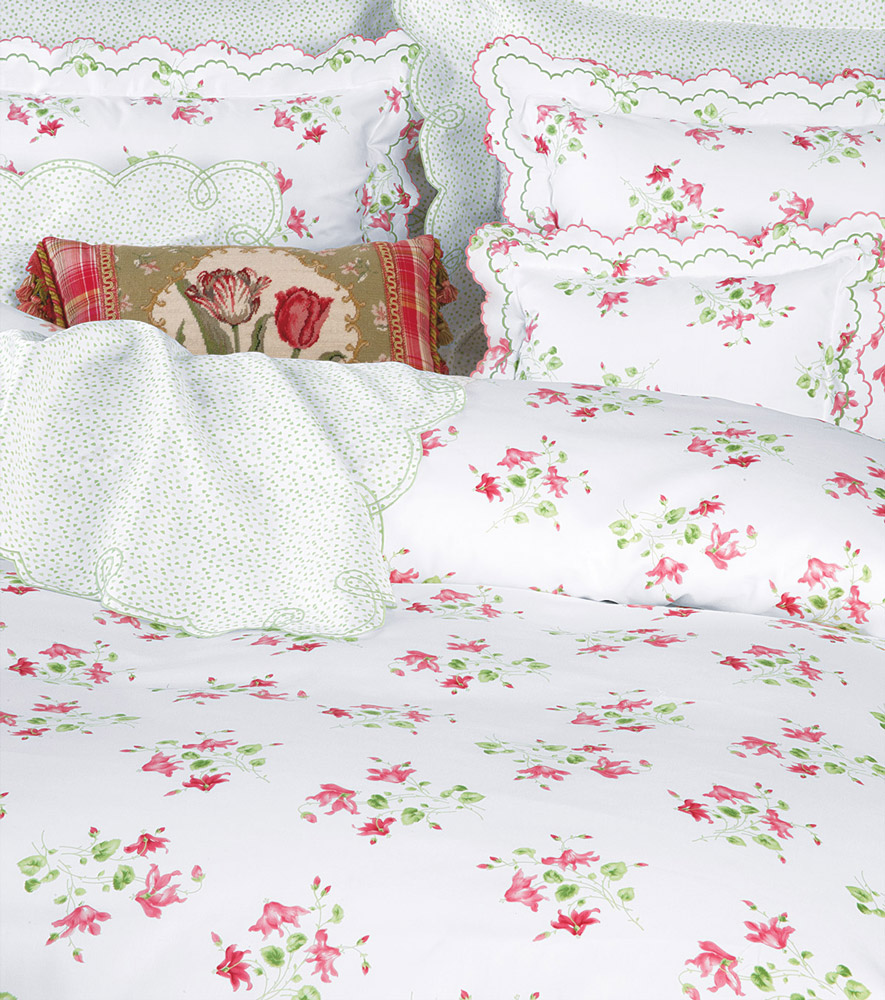 The romantic interludes of these fresh spring lilacs in bloom are such a feast for the senses, they will fill your heart with joy and calm you can carry with you all day long. Printed in Lilac, Pink or Blue on lustrous White, this darling floral presentation is made more beautiful with a silky-soft and shimmering Egyptian Cotton Sateen. Made in Italy with artisan's love and passion for these wondrous blossoms.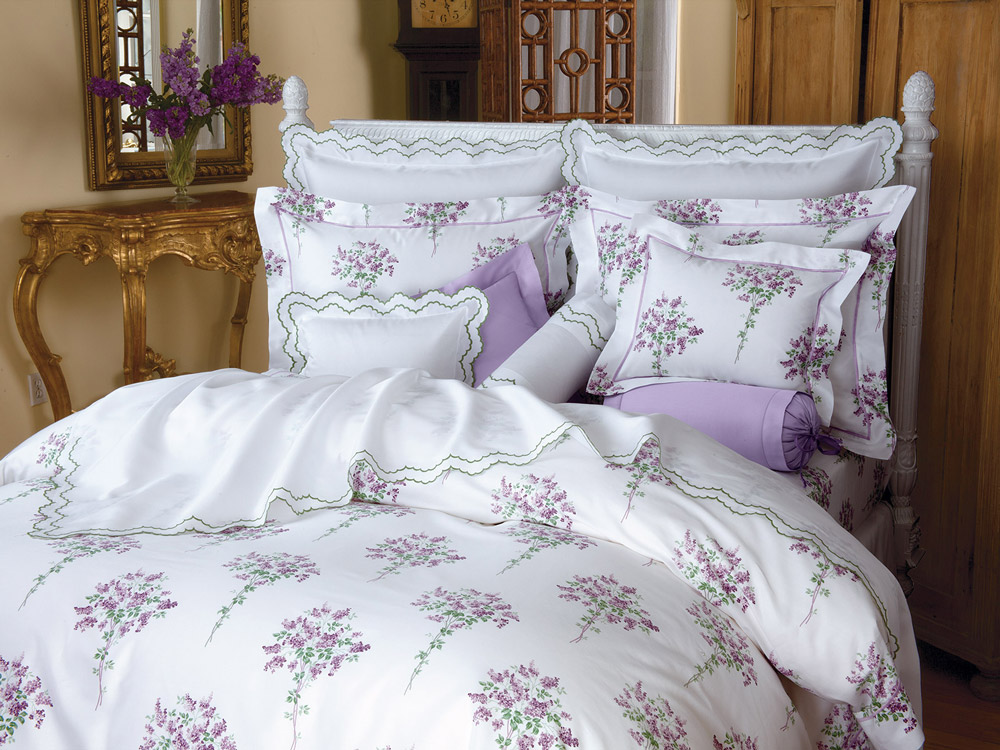 TULIPS
Bring fresh new life to your bathroom with cheerful tulips swaying in soft breezes from the mountains. These 100% pure linen guest towels feature gorgeous hemstitching that captures the purity and preciousness of nature and will leave your guests feeling inspired and special. Available in Pink or Blue on pure White.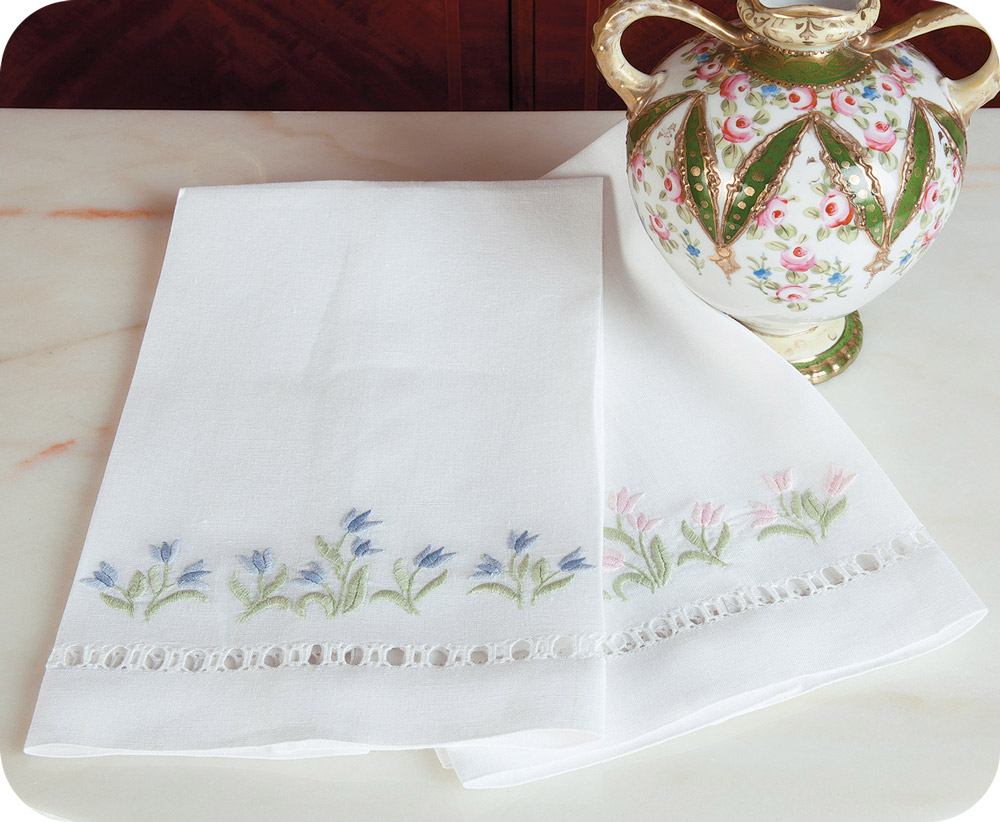 Vibrant bursts of fantastic colors pop on sunlit White Egyptian cotton sateen for a tropical look that feels exciting and new, every time you sit down to a meal. The natural energy of the design invites the most lively of conversations whether you're enjoying brunch, lunch, hosting a garden party or just having a casual dinner. Tablecloth, napkins and placemats are finished with fine embroidered cording on scalloped edges. This is exotic elegance at its best.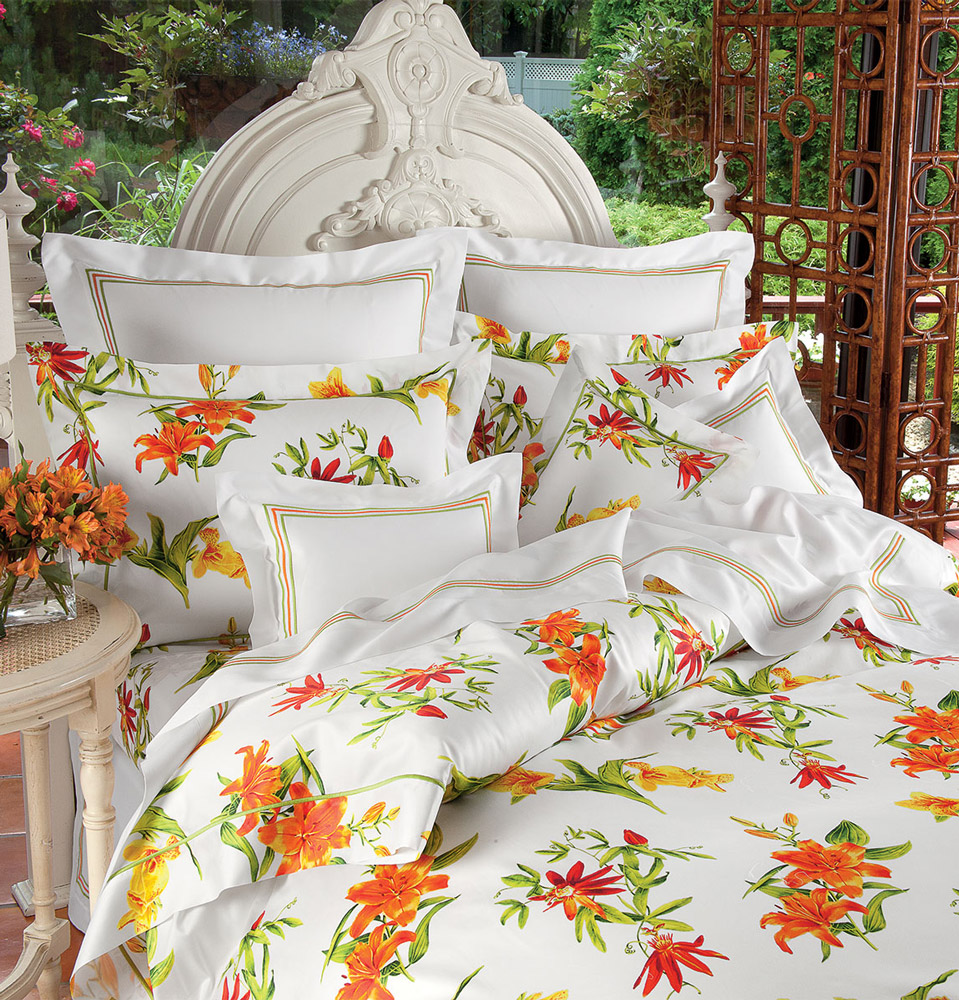 The most graceful flowers you can pick for your table may just be the ones covering it already. Hand-embroidered in Yellow on willowy stems in two shades of Green, your table will look at stunning as it will inviting. White 100% Italian linen with hemstitched borders adds an air of simple sophistication while still feeling carefree and fun.