Sometimes giving the best holiday gift means not overthinking it. It's why classic gifts have remained a popular choice for generations. These are the gifts that people keep on giving and receiving year after year for their functionality, comfort and everyday usability Whether these kinds of gifts are considered cliche or not, people still seem to enjoy receiving them.
Giving a classic gift can definitely make holiday gifting easier but some of us still want our gift to feel special and unique in some way – and we don't want to empty out our bank accounts to do it. That's where Schweitzer Linen comes in.
For over 50 years, this small family owned company has made the finest luxury bedding, bath and other home accessories. In addition they've also managed to create a vast collection of some of the most quintessential gifts to give over the holidays. Only these gifts aren't quite like other classic gifts.
Because everything made by Schweitzer Linen promises the highest quality fabrics and materials, pristine artisan craftsmanship and exclusive never-seen-before designs to flatter, flaunt and delight in. You won't find products like these anywhere else. Even if it's as classic as it comes, your gift will be unique, exceptional and always well received.
This includes several of the holiday's most classic gifts such as sweaters, cardigans, wraps and scarves. When these classic gifts come from Schweitzer Linen, they're on my list for the best gifts for 2019.

Sweaters
A quintessential layer for every season and all around the world, the sweater can be considered one of the holiday's most common gifts. But that doesn't keep people from giving it every year. Because the sweater is a gift that does so many things so well.
A sweater will keep them warm and cozy on chilly days and nights, whether they're out on the town or sitting inside a drafty house or office building. It adds another layer of style for their wardrobe, putting textures, colors, designs and patterns at their disposal. It keeps them versatile in case the weather changes quickly and if you're giving a Schweitzer Linen sweater, it's so well made you can be sure they will be able to enjoy it season after season.
Here are some great sweaters to give to your loved ones this holiday:

Darcie
Pure 100% cashmere will hug their body with the kind of luxurious softness and natural warmth only cashmere can provide. Textured knit on torso slightly contrasts with un-textured sleeves for a truly unique sweater style.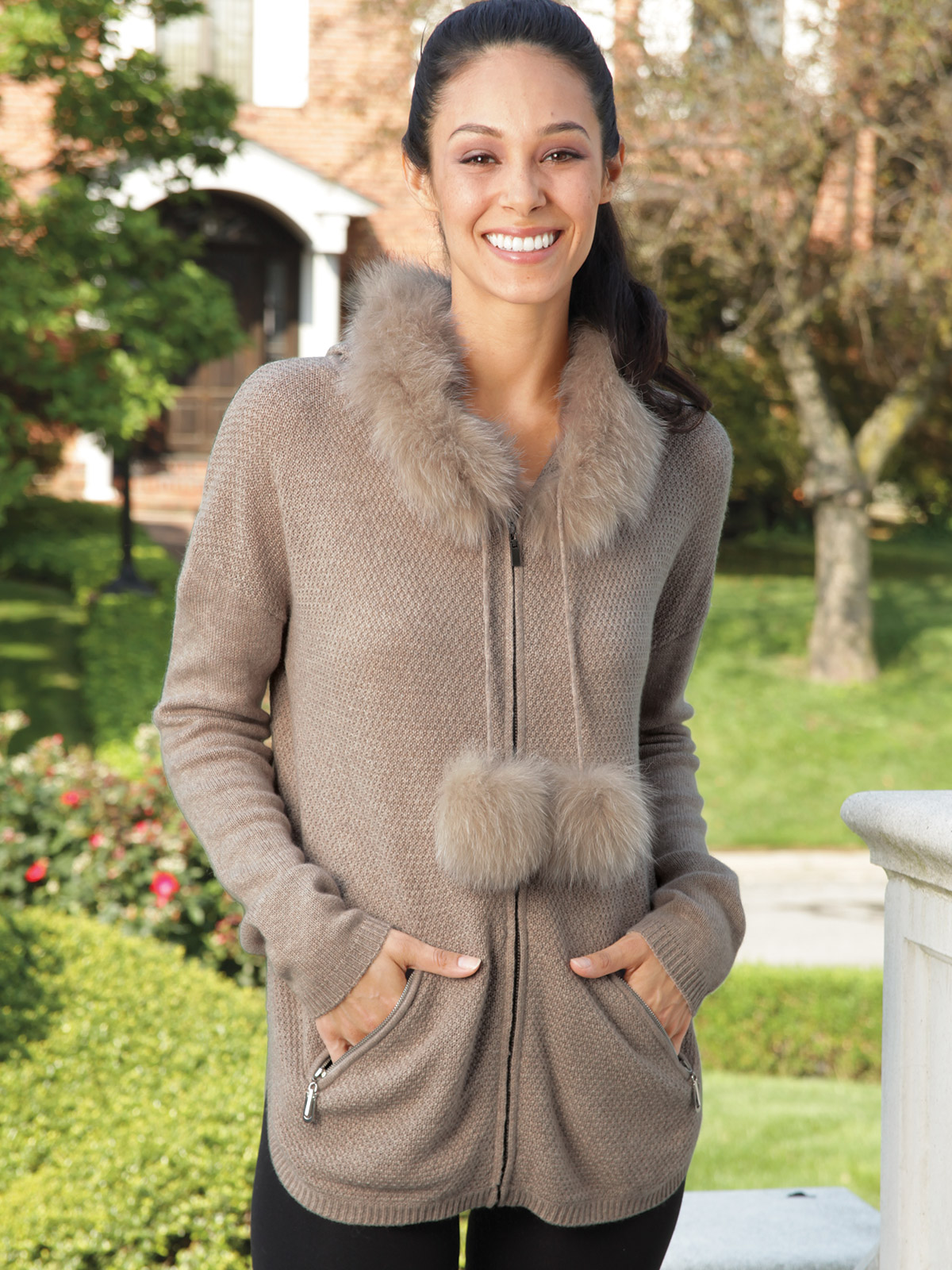 Jacqui
Destined to be the new fashion fave of their wardrobe, this soigné sweater of ultra soft 100% pure cashmere easily doubles as a jacket and even a coat. Elegantly styled with chic shawl collar, front facing and cuffs of plush cable-like knit, with a self sash and patch pockets.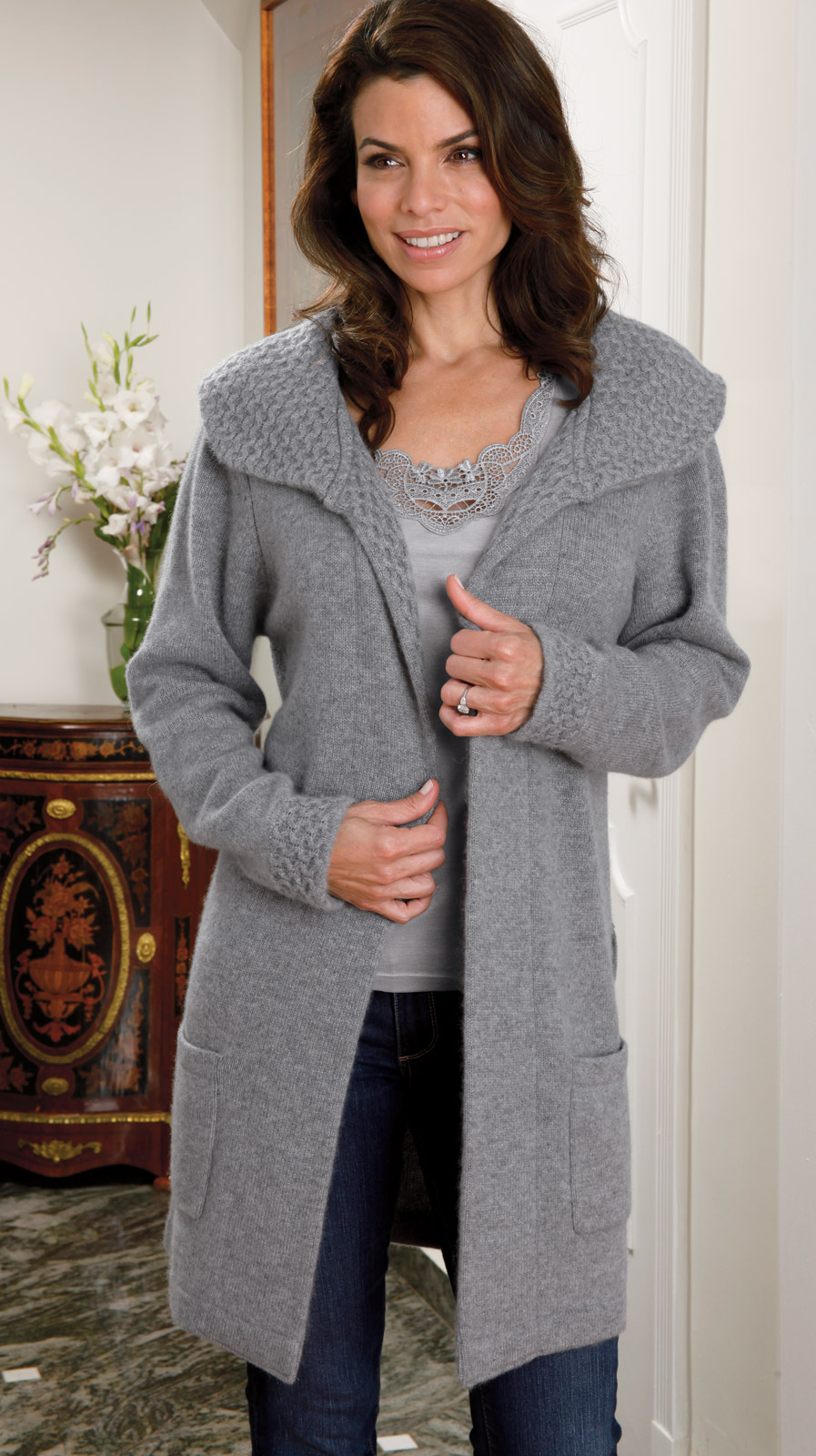 Cardigans
A source of great comfort, versatility and always in fashion, Schweitzer Linen cardigans are made of 100% pure cashmere in stunningly original styles that will transform any outfit in your wardrobe. With such incredible softness and impeccable style, it's no surprise that cardigans are a staple of holiday giving.
Give these to your closest friends this holiday and they'll be thanking you long into the new year.

Adrianna
The alluring tone of living Coral and classic cable knit pattern will fetch them many compliments but it's the indulgent softness of 100% cashmere that will keep them smiling all day.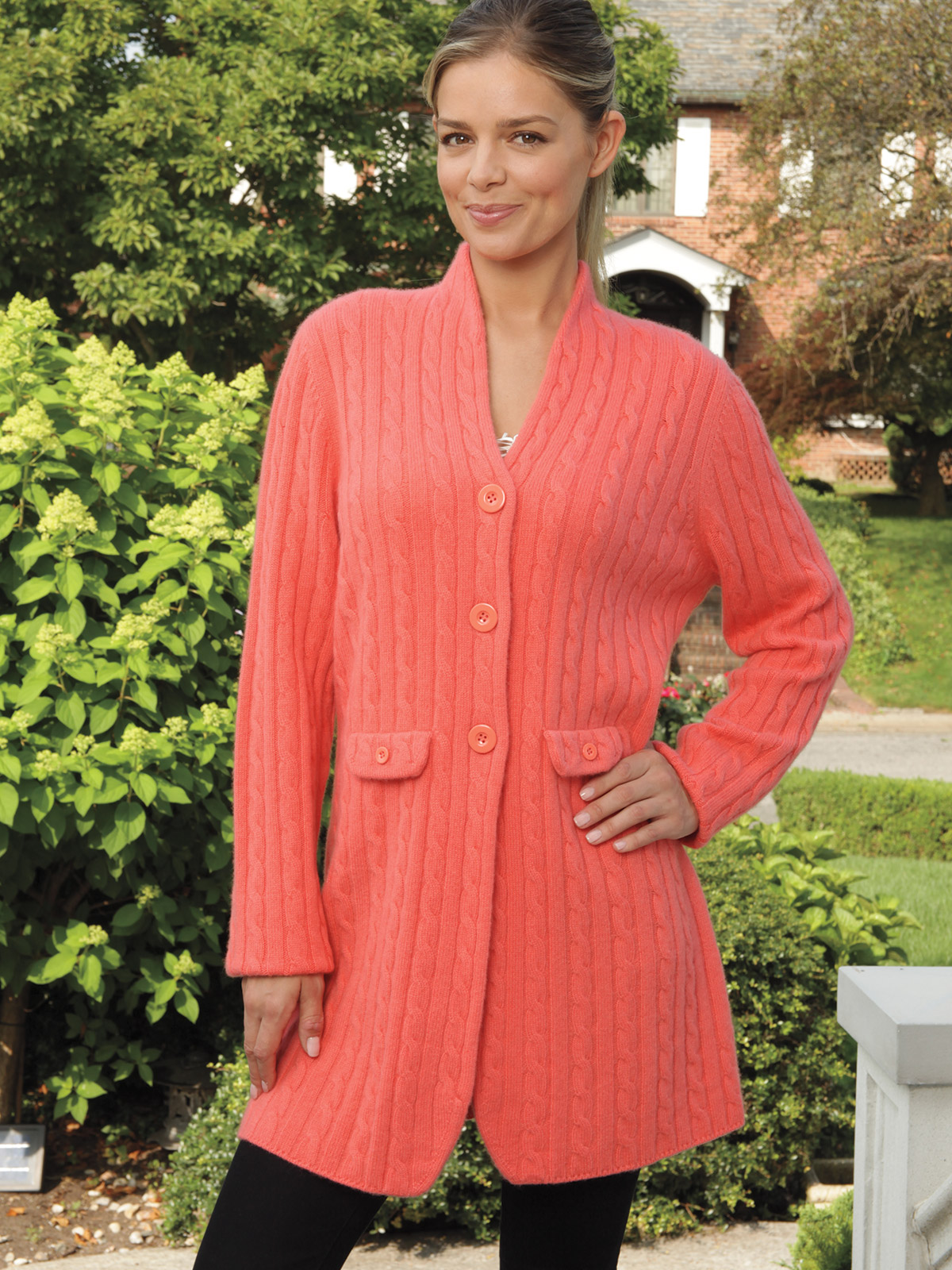 Bethany
This long, lithe cardigan with fascinating cable and braided detailing is soft as a cuddle and will wrap them in a blissful feeling with a drawstring cashmere tie at the neck.

Wraps and Shawls
An extra layer of inviting warmth and the most supple of comforts. The finishing touch to a perfect ensemble. Or just the right pop of colors you need to make your entrance. There are so many reasons to wear one of Schweitzer Linen's lavishly flattering wraps and shawls. These are the same reasons they make such incredible gifts during the holidays.
And thanks to the huge selection of styles, lovingly crafted with a variety of luxury fabrics, fabulously chic colors and original designs done by artisans you won't see replicated anywhere else, finding the right one is easy.
Choose from our entire selection or pick up some of these new and popular favorites for all your holiday gifting needs.

Wraps

Gramercy 
Our 100% baby Alpaca wrap is the ultimate accessory. Every outfit will benefit from the creamy softness and delectable warmth caressing their shoulders. The richly designed plaids, available in two color choices, features a reverse of sleek, solid color. Available in Camel or Gray.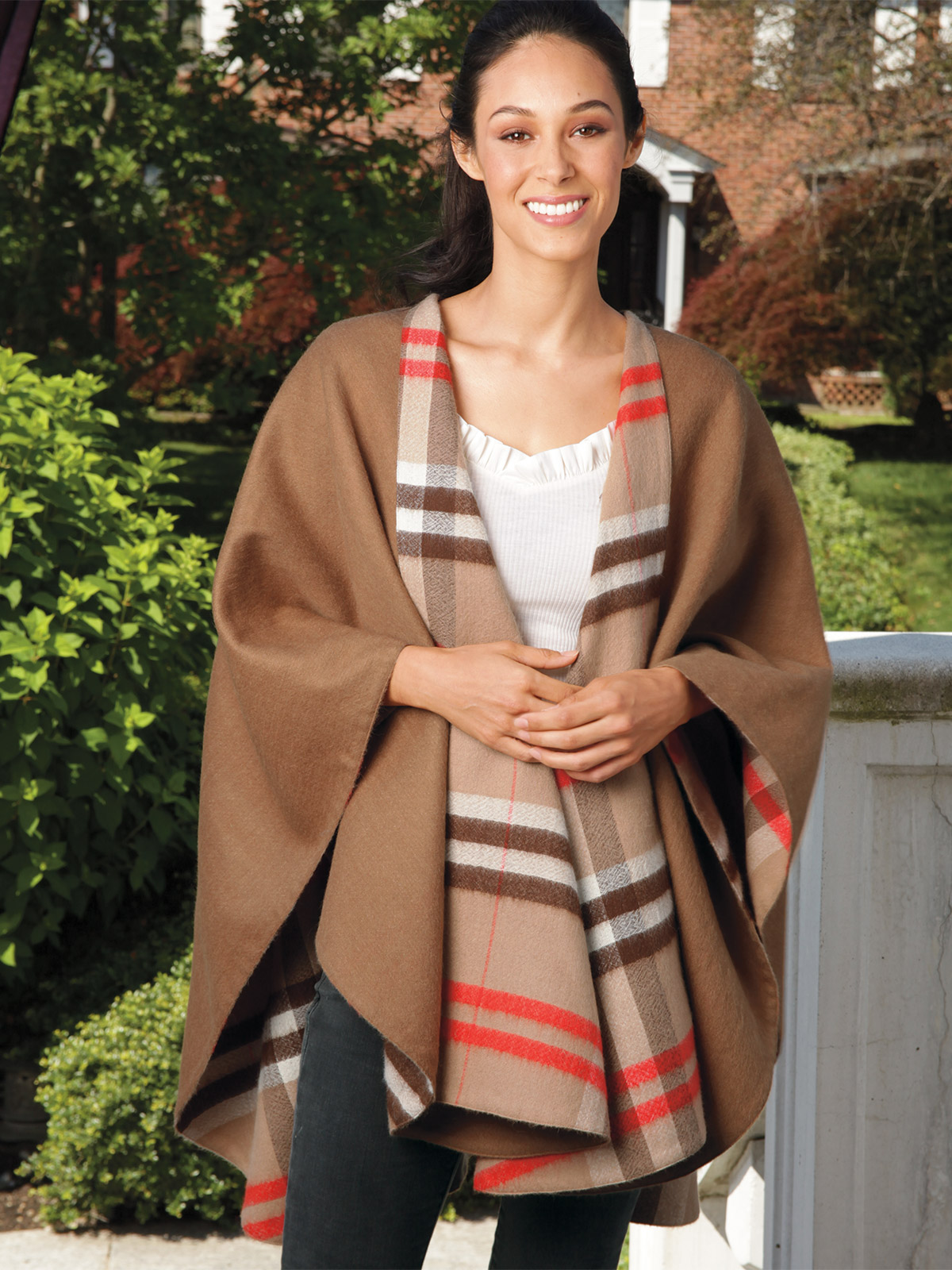 Maraposa 
Made of the lushest, plushest and poshest 100% pure cashmere in Taupe or Ivory, the divine sweep of chic design leads admiring eyes to genuine suede fringe.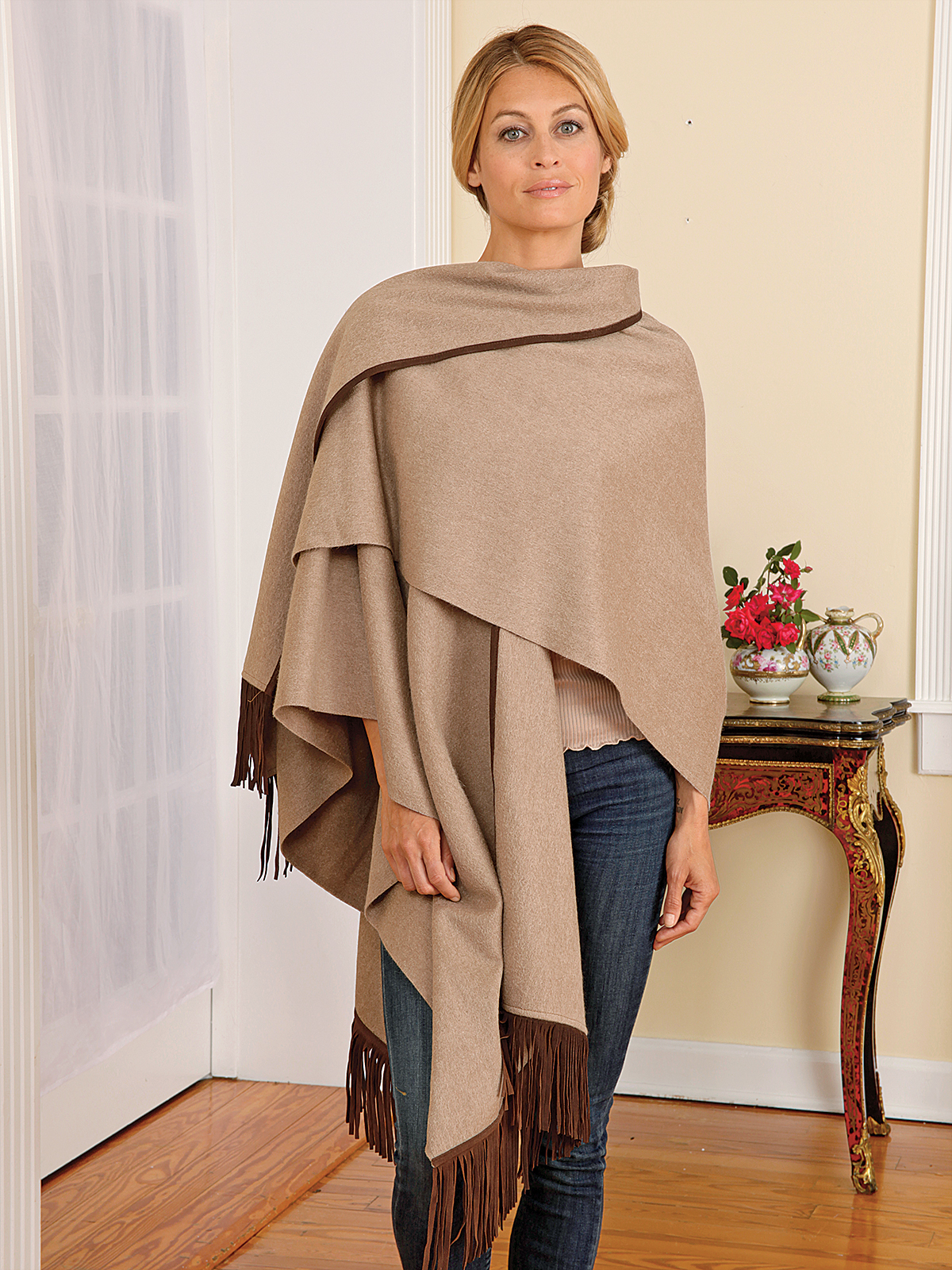 Marcella Wrap
To surround them with French Riviera chic, this luxurious Ivory cashmere wrap is layered with swaths of pure silk print in continental couture colors. Dramatically designed with sweeping lines, fringed at both ends, this exciting import gives them a second ravishing look when reversed to wear the cashmere outside, silk inside.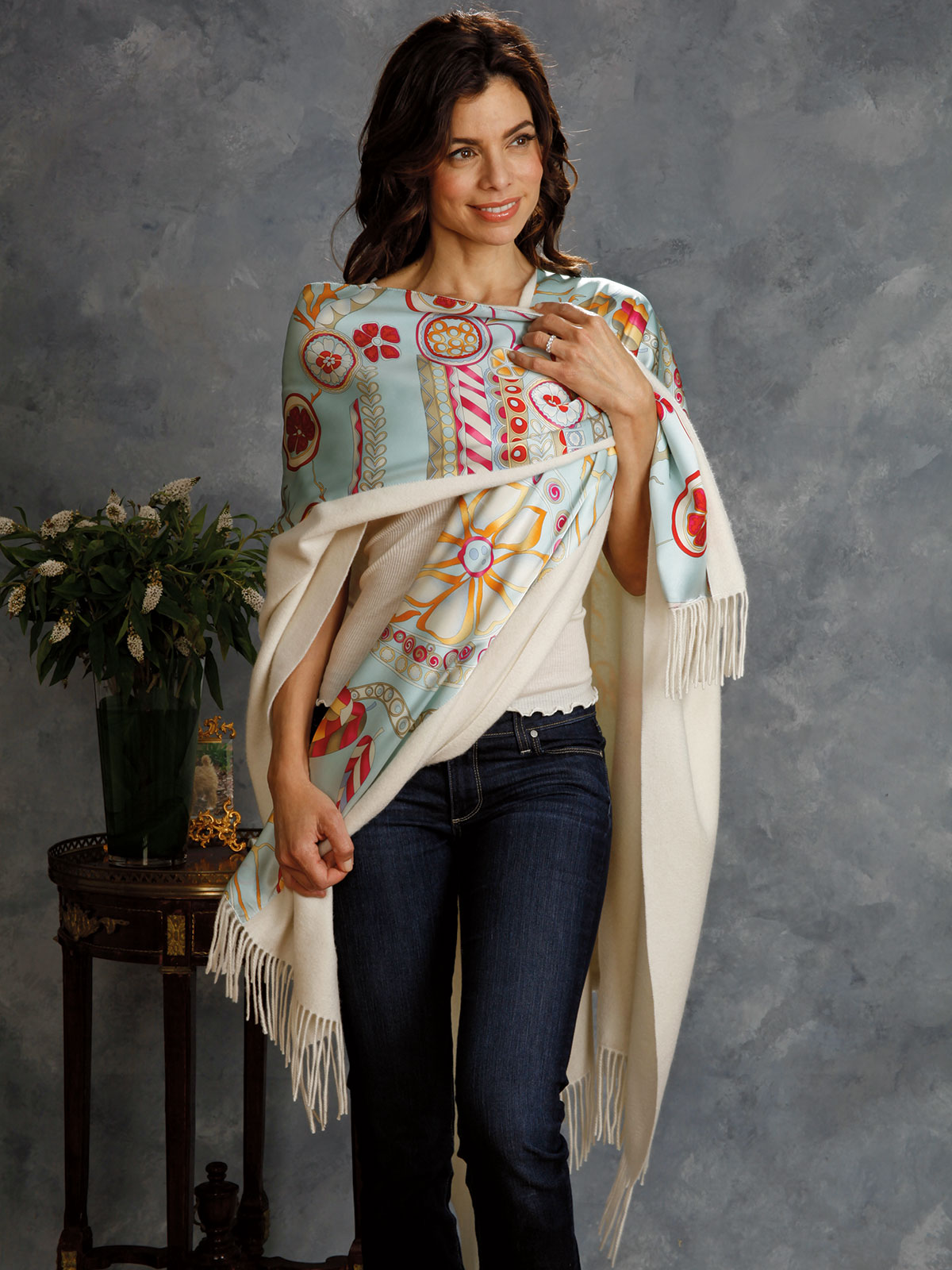 Shawls
NEW Lisbeth
This gorgeous 100% cashmere beauty in Off-White becomes a truly exceptional garment with an intricate Blue lace pattern that runs along the edges and swirls its way towards the center of the shawl.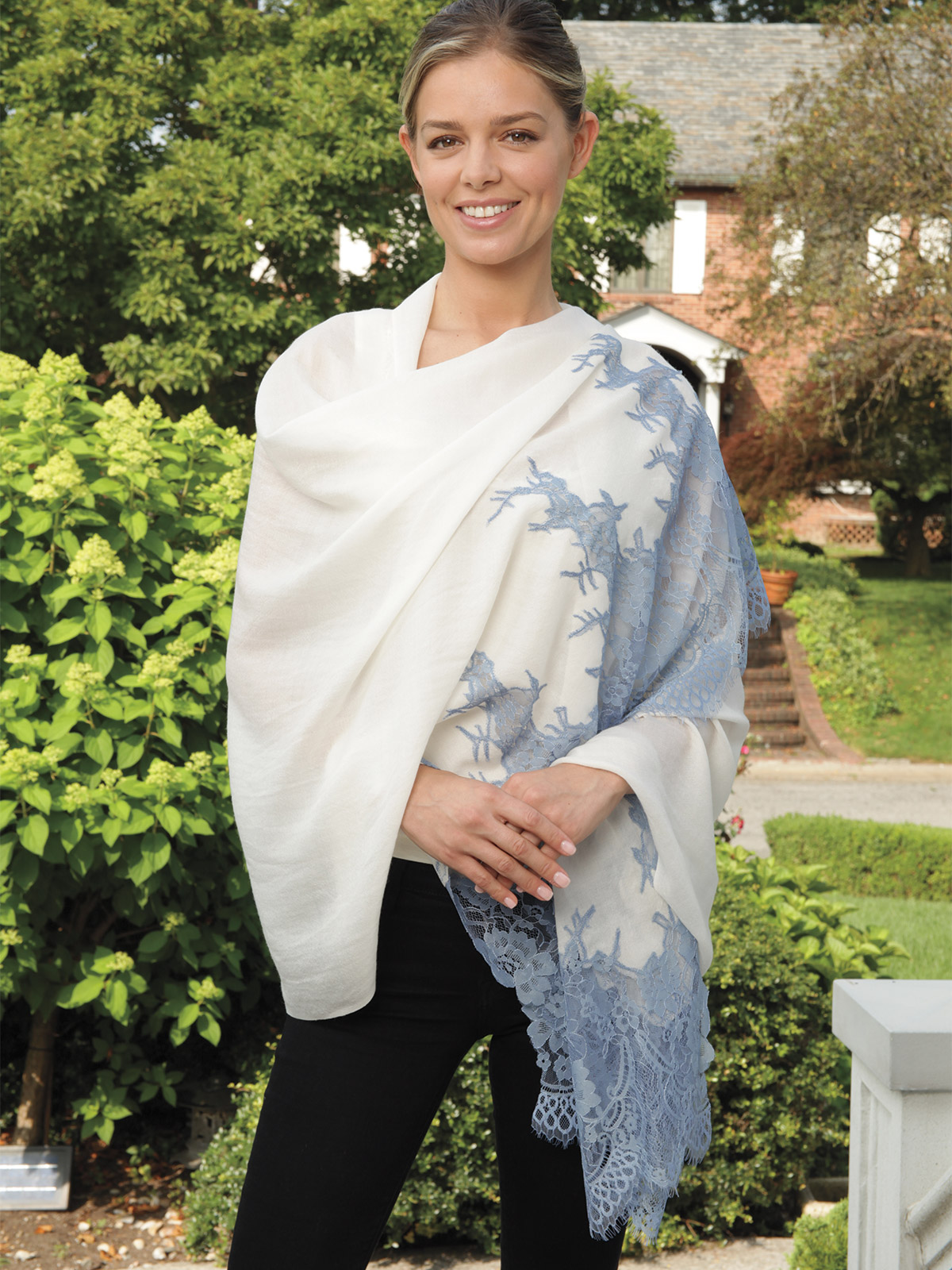 Kelly
They'll look amazing and keep warm with this classy light Apricot and Bronze Mist lace cover up. Made from the sheerest 100% cashmere, this shawl is flecked with sparkling crystals.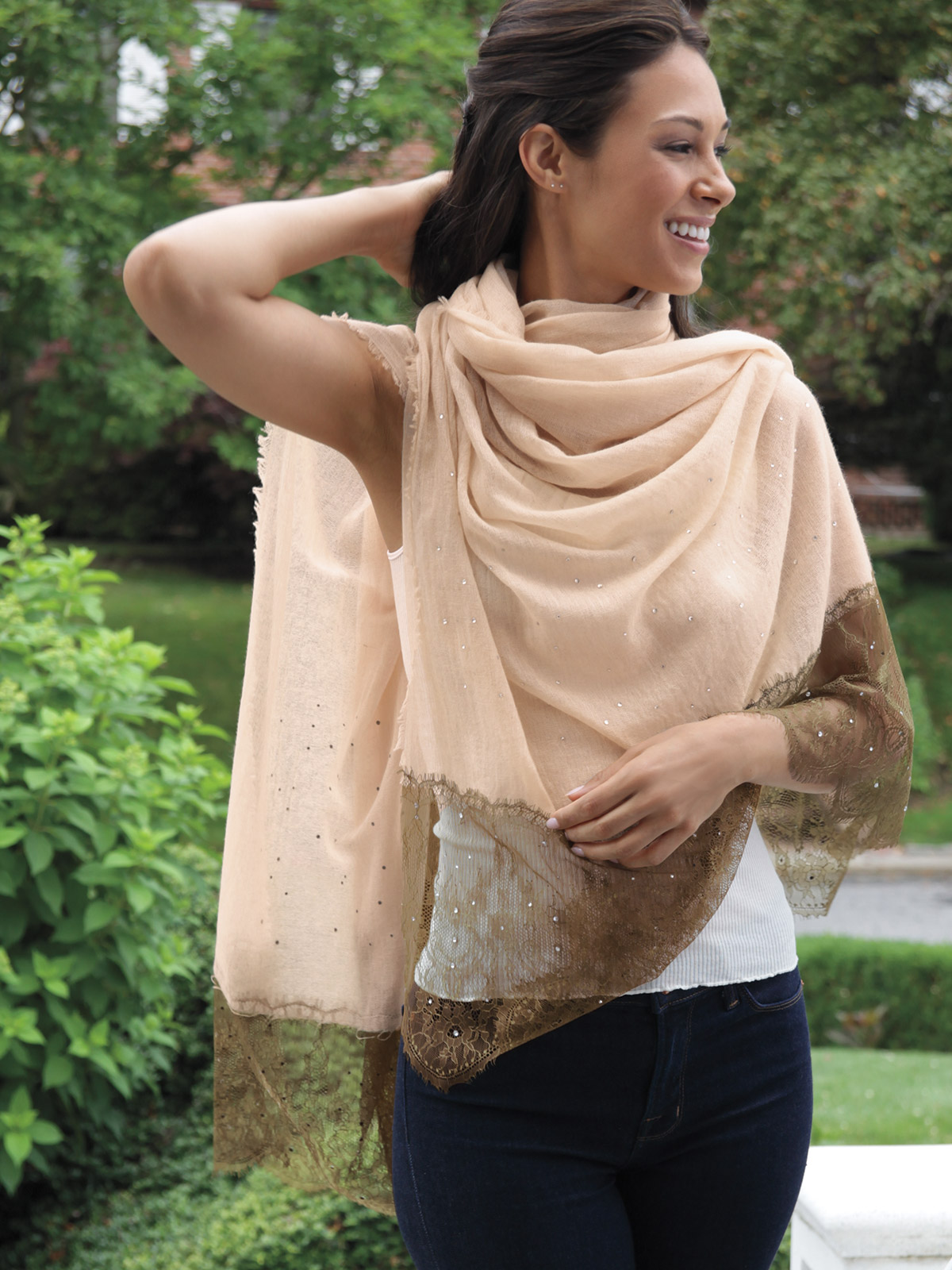 Carmen
Long and luxurious, this sheer ombre shawl morphs ever so gradually from Smoke Gray to light Gray and looks like it's been sprinkled with fairy dust. Crystals shimmer along the lower edges and a Gray hue brightens up the hem.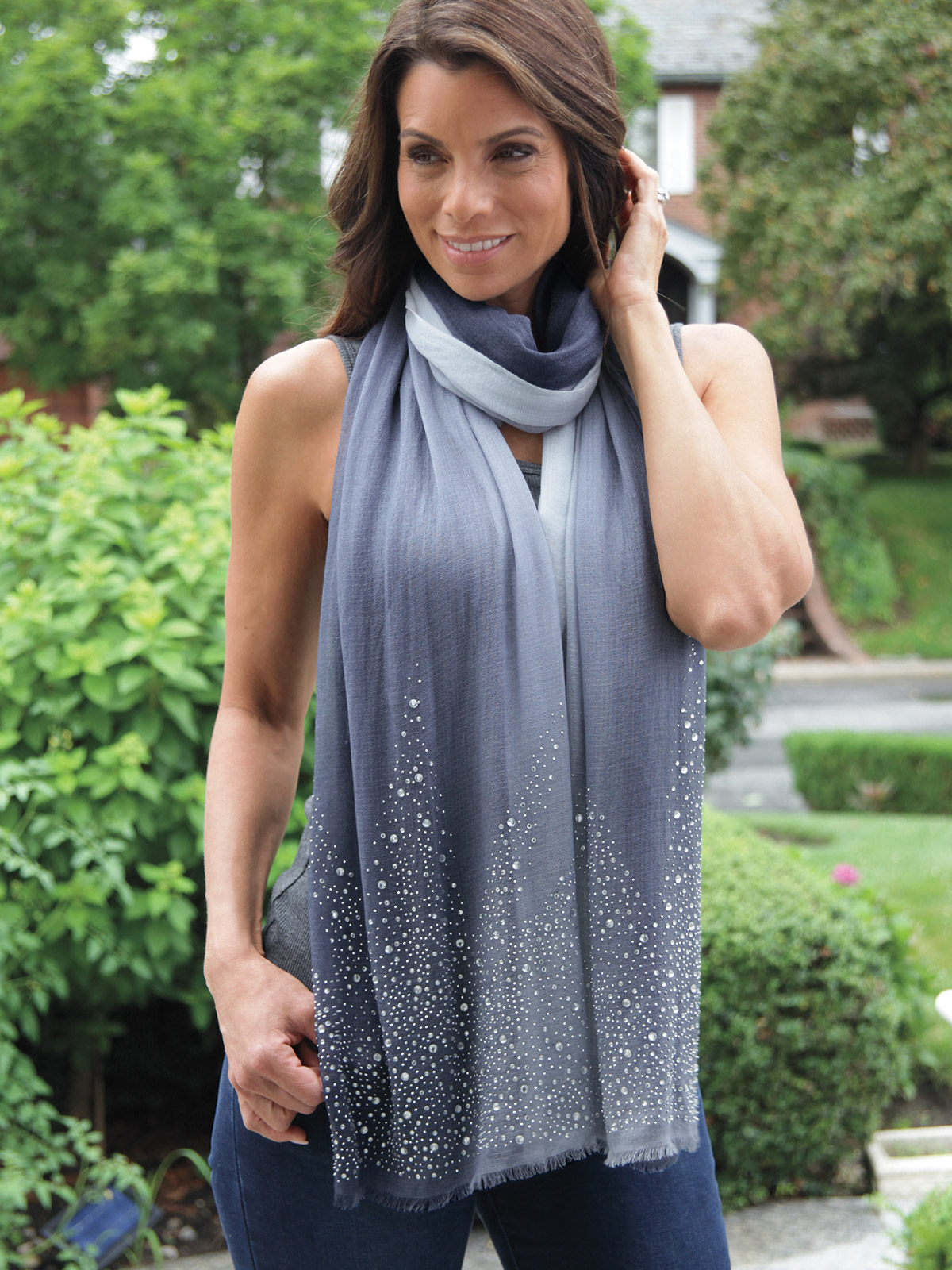 Explore Schweitzer Linen's full selection of luxury products and you'll find even more classic gifts (and some not-so-classic gifts too) to make the holidays special for everyone on your list.