I'm sure you have all seen amazingly detailed depictions of flowers, leaves, animals and landscapes on fine antique wood furniture that is entirely rendered in wood. This is the art of Marquetry, or "Painting in Wood" which is the partial or full coverage of a surface of a board or furniture with veneer in the form of a skillfully applied design. (This is different from Inlay, which is the insertion of thin pieces of contrasting wood veneer, ivory, brass, copper, or tortoiseshell into a solid wood background.) For some fine examples of marquetry on beautiful (and available!) antique furniture see below for Schweitzer Linen's five drawer desk (front and back) and Walnut Secretaire. Notice the details!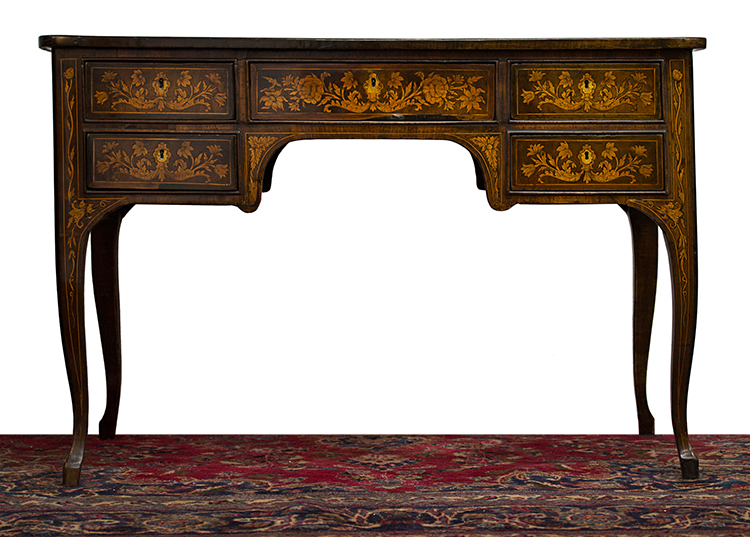 The art of marquetry was inspired nearly three thousand years ago by the Egyptians and occasionally by the Babylonians and Greeks. They practiced the inlaying or overlaying of wood, metal, ivory or bone. Marquetry as we know it became widely used by the Italians in the 13th Century. From 1450-1525 two of the most famous artisan monks skilled in marquetry, Fra. Diamant de Bergamo and Fra. Giovanni da Verona, decorated churches around Sienna, Florence, Bologna and Perugia with biblical scenes, scroll and floral work. They are credited with developing more realistic illustrative effects by the use of dyes, scorching and bleaching.
Marquetry continued to evolve into a more realistic and artistic form on furniture around the 16th Century when its use spread all over Europe from Holland (where floral designs were popular) to Spain. Many contrasting woods and additional materials were used including horn and tortoise-shell. During the Italian Renaissance a fret saw blade was invented which allowed the cutting of several layers simultaneously which allowed one layer to sit within another.
The French named this the Boulle (or Buhl) method, after talented artisan Andre Charles Boule. During 1642–1731  additional world famous artisans emerged such as J.F. Deben, J. Henry Reisner and David Roentgen. All were popular with French royalty. Marquetry became such an appreciated art form that around 1743 French Louis XIV formed a Marqueters Guild. Multiple cutting and templates were invented and used by such famous marqueters as George Dunn (whose work can be found in such places as Buckingham Palace). The firm of A. Dunn & Son (Marqueterie) are still successfully trading from Wharf Road, Chelmsford, Essex. UK.  They were commissioned to restore and remake the paneling for the prestigious new Orient Express trains. The fine art of Marquetry continues to be popular.
Marie Antoinette and Louis XVI of France commissioned some of the most beautifully decorated cabinets, tables and pianos in the world. Some of these fine examples are in the Victoria & Albert Museum and other museums, stately homes and castles. Schweitzer Linen's Chest Bombe or Glass Display Cabinet (both shown below) could certainly be in a museum and would look stately in a private home.
It is amazing to know that these gorgeous pieces of furniture art are still available and in beautiful condition. The talented artisans responsible for creating them would be proud to know that their fine marquetry not only continues to be appreciated but is also used and enjoyed in the 21st Century!