There was a time when carrying a handkerchief used to be as common as carrying an extra phone charger in your car. Not only was it an accepted practice to keep this handy cloth on you for practical reasons but it also served as a cheap way to accessorize clothes and add color to outfits. It wasn't until Kleenex was invented in the 1920s that this started to change. More people began to use disposable tissues and while it never completely went away, the handkerchief began to be less and less a part of people's everyday routines.
But there are still many who never lost sight of the handkerchief's many benefits and continue to use them today instead of disposable tissues. In fact, one could argue there's never been a better time to switch over from wasteful tissues to luxuriously soft and stylish handkerchiefs from Schweitzer Linen. Here are just some of the reasons:
Blow Your Nose
This reason may be a bit too on the nose (pun intended) but the truth is, the handkerchief is still extremely useful when you need to blow your nose, stifle a sneeze or deal with a cold or runny nose. Not only does it work better than a throwaway tissue, it's softer on your skin for less irritation.
Wipe Away Sweat/Tears
If you've ever tried to wipe away sweat with a tissue you might have discovered that unless it's very light, it doesn't work very well and in some cases, can cause quite a mess. Handkerchiefs are an ideal way to wipe your brow, mouth or even underarms when heat, exertion or life causes you to sweat. Keeping sweat off your skin keeps you feeling cool and comfortable and also keeps unwanted odors at bay.
Schweitzer Linen Tip: Spritz a handkerchief with organic essential oils for a pleasant aroma that will mask odors and leave you feeling positive all day long.
In addition to sweat, handkerchiefs are the ultimate go to for situations where there may be tears of sadness or joy. It's especially a good idea to keep one on hand at funerals, weddings or if you or someone you know is going through a difficult time. Handkerchiefs work better than tissues and the gesture of giving someone a hanky when they are hurting is a beautiful way to show support and will be much appreciated.
Clean Glasses/Phone screen
The problem with cleaning glass lenses and phone screens with the wrong material is often it can cause scratches or other damage–and at the very least, it simply won't clean them effectively. If you've ever tried using a tissue, you know what I mean. There are usually remains from the paper making it even worse than before. Having a handkerchief on hand to clean off glasses or wipe away the smudge on a phone is a clean, safe way to make things clear again.
Help the Environment
Perhaps this is the best reason to use handkerchiefs instead of disposable tissues. When you use and reuse a hanky, you're not only saving yourself money but helping to reduce the incredible amount of paper, energy and water that is wasted every year. Sometimes it's the smallest steps that make the biggest impact. Using a handkerchief is more cost effective and environmentally friendly.
Dry/Clean Hands
It's always a great idea to bring a clean hanky when out on the town or on the road for use in public bathrooms. These areas are a virtual community center for germs so when possible to avoid mechanical dryers and paper towel dispensers, a clean handkerchief gets the job done more quickly and cleanly. Plus, if you have kids or grandkids, having something trustworthy on hand to clean up faces, hands and anything else that may come up is not just a nice to have, it's a necessity.
Style
With a wide variety of styles to choose from, your handkerchief can be much more than practical, it can be fashionable. There's still something charming and elegant about pulling out a well-designed, well-crafted hanky and no one makes them better than Schweitzer Linen. They've been crafting fine linen products and more for over fifty years. With their extraordinary embroidery and original designs, often done by hand, you may find yourself bringing it out for no other reason than to show it off.
If you are ready to start helping the environment, up your everyday style and so much more, here are some of our favorite hankies—new and old.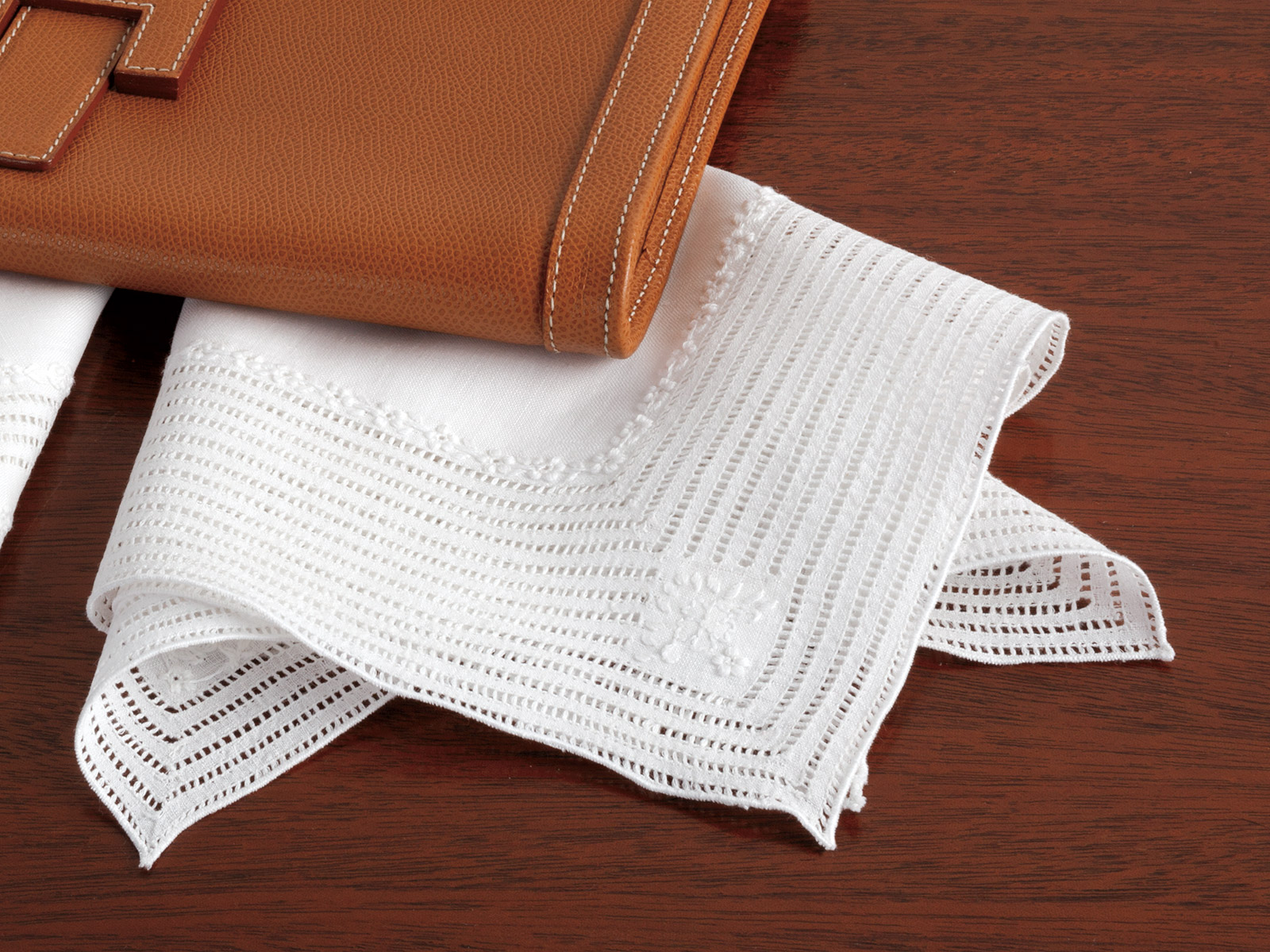 NEW! DIVINE
Destined to be yours, this velvety soft 100% Italian linen handkerchief is proof that discretion doesn't have to be boring. Hand made stitch to stitch, the dainty design feels absolutely regal while stunning hand embroidery and attention to detail give it a heritage-like charm you won't find anywhere else. Imported.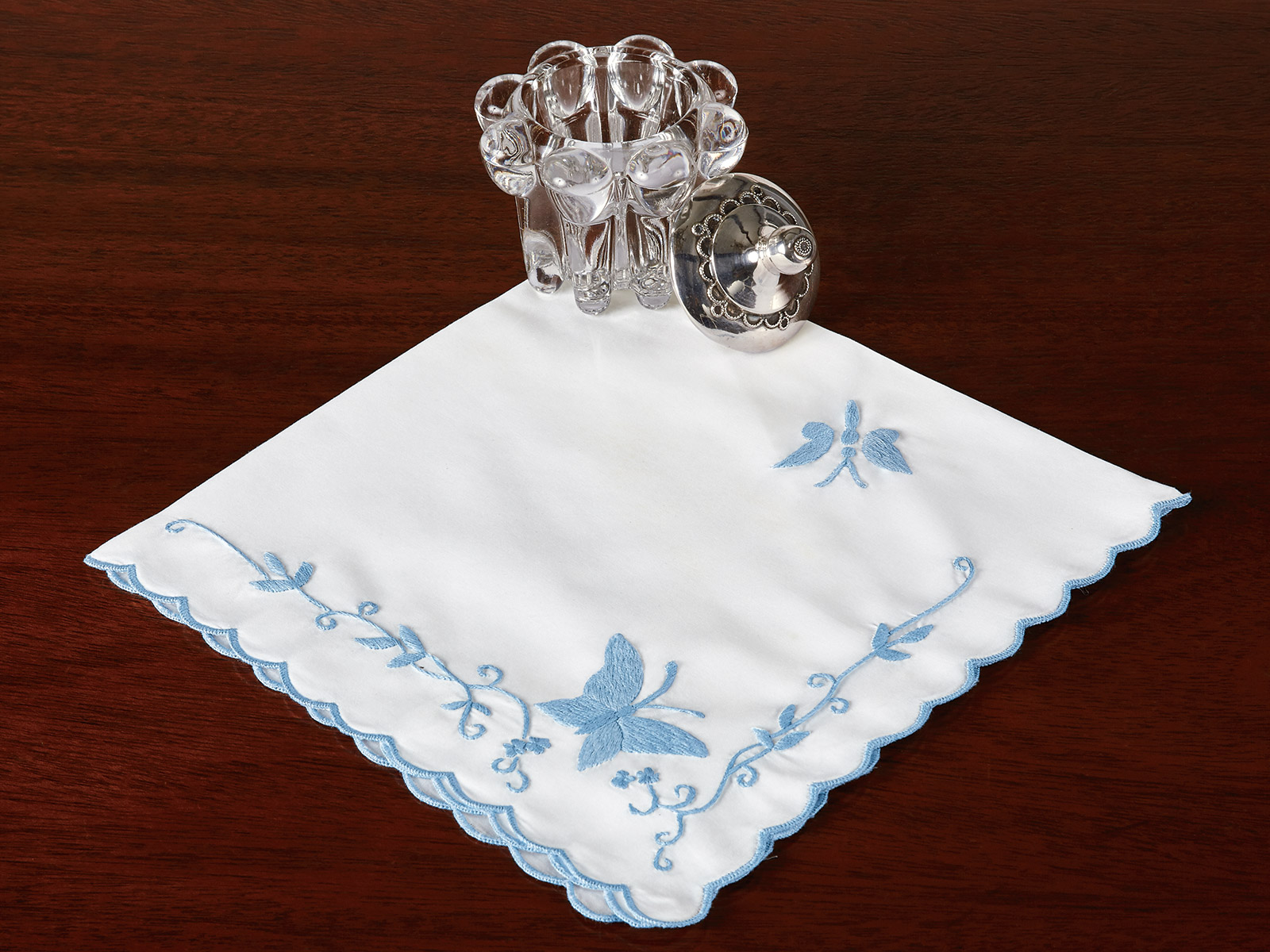 PAPALLONA
Inspired by extravagant gatherings and royal waltzes, this handkerchief even a princess would appreciate. In fact, the courtly look and feel of the Blue hand-embroidered flowers and butterflies on soft 100% cotton batiste in White—with distinctive hand-rolled edging— is so lavish, it will amaze you. You may not have to be royalty to have one, but you might feel like it when you do. Imported.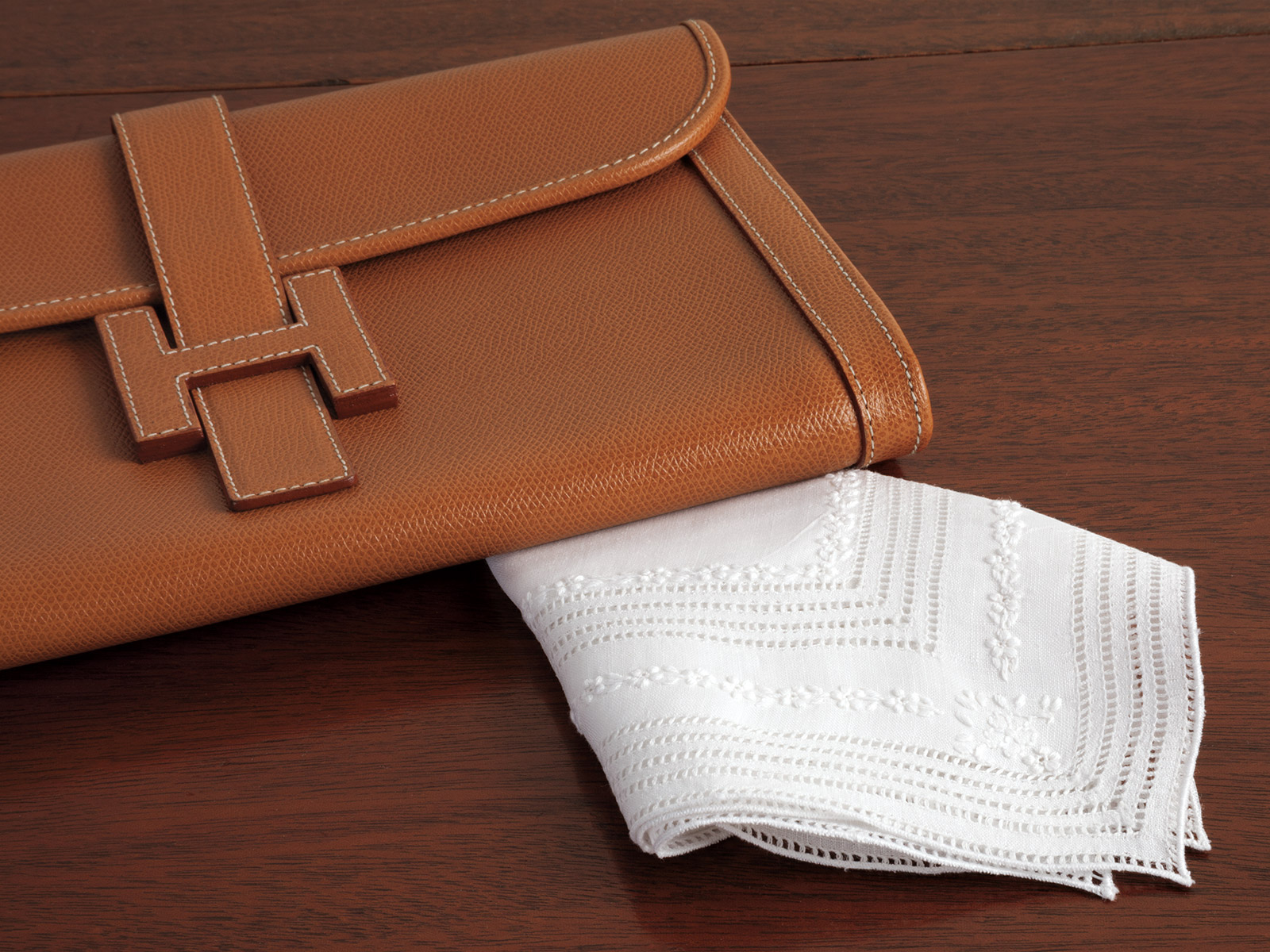 NEW! RENAISSANCE
So enchanting and refined, this handmade handkerchief would fit in at the grandest affair during the height of the Renaissance—and now it can fit into all your daily experiences. The stitching and ornate embroidery is done by hand on gorgeous 100% Italian linen making this must-have accessory not only handy, but beautifully unique. Imported.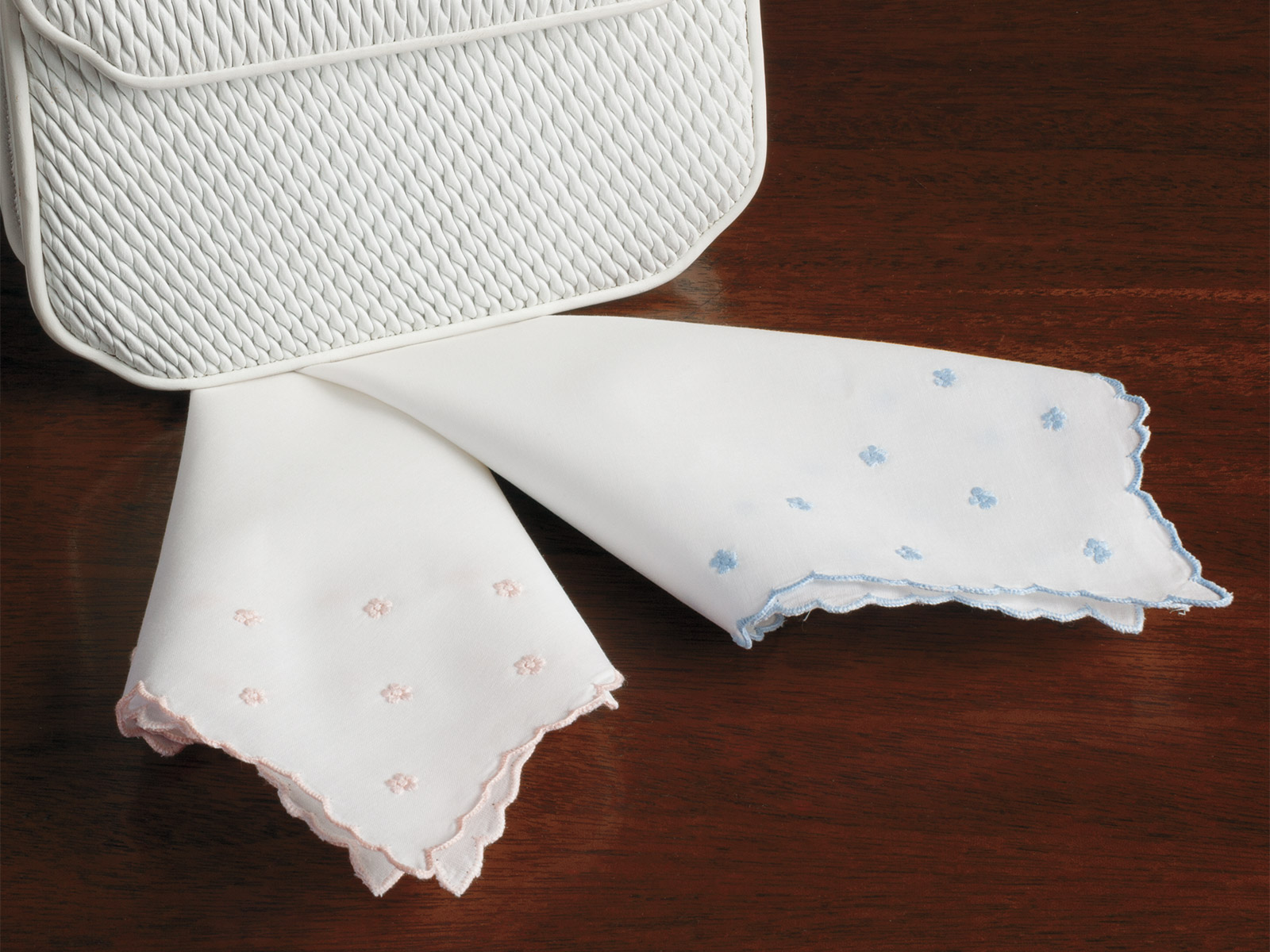 NEW! MARYANN
We don't know what's most endearing about this delightfully charming handkerchief. Satiny-soft 100% cotton Batiste feels incredible on skin. The elaborate hand-embroidered details are sure to make you smile. And the way the resplendent colors of Blue or Pink graze along delicately scalloped edges reminds us that life can still be full of little luxuries. All we know is when you hold it in your own hands, you'll adore it. Imported.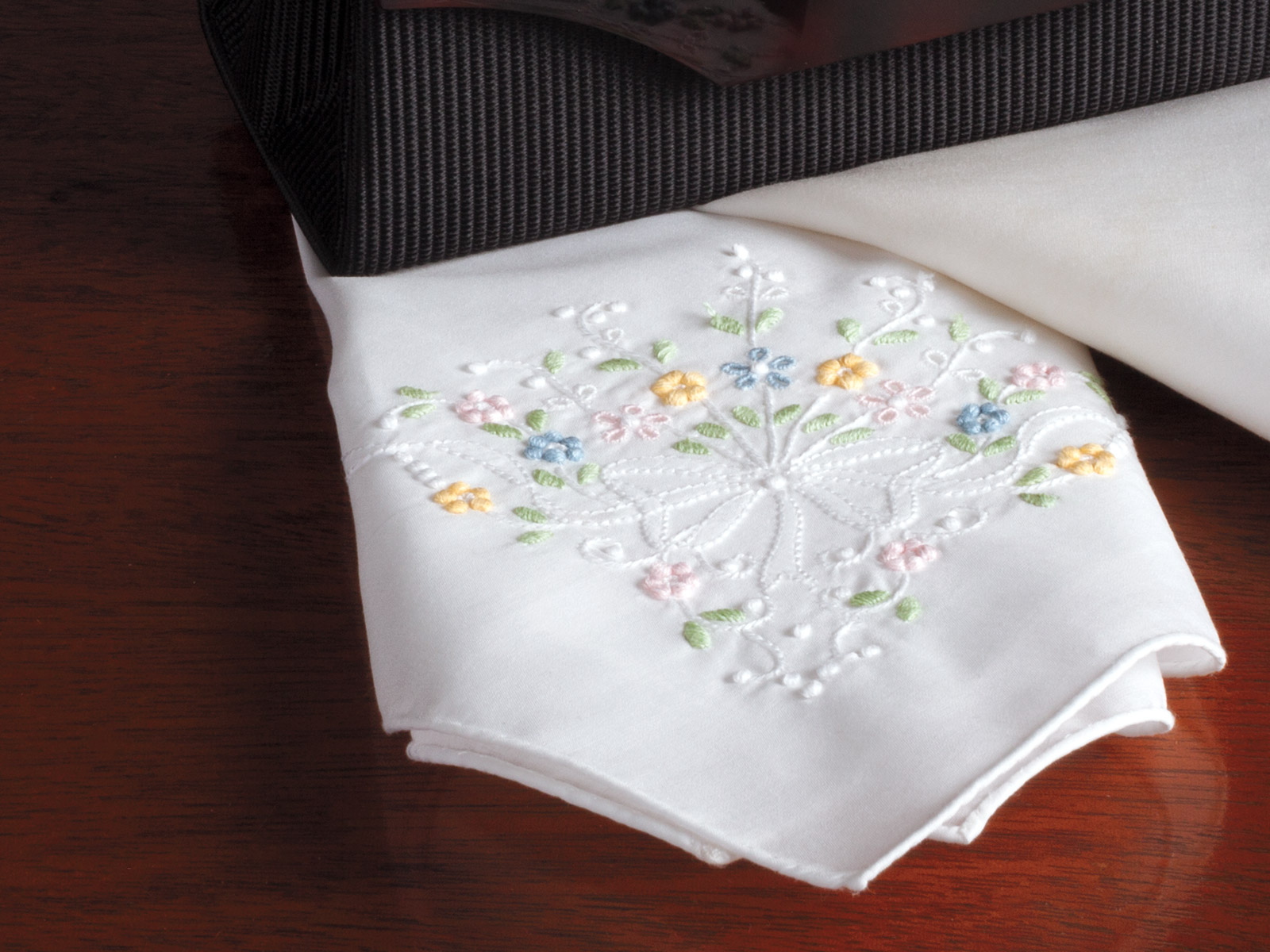 NEW! ARLENE
Introduce the sweet, sophisticated style of our 100% cotton Batiste handkerchief to your purse or pocket and everything feels a little more elegant. Dainty pastels perk up over a lush hand-embroidered design that blossoms with joy and inspiration. Edges are finessed with hand rolled edges for a finale everyone will want to see. Imported.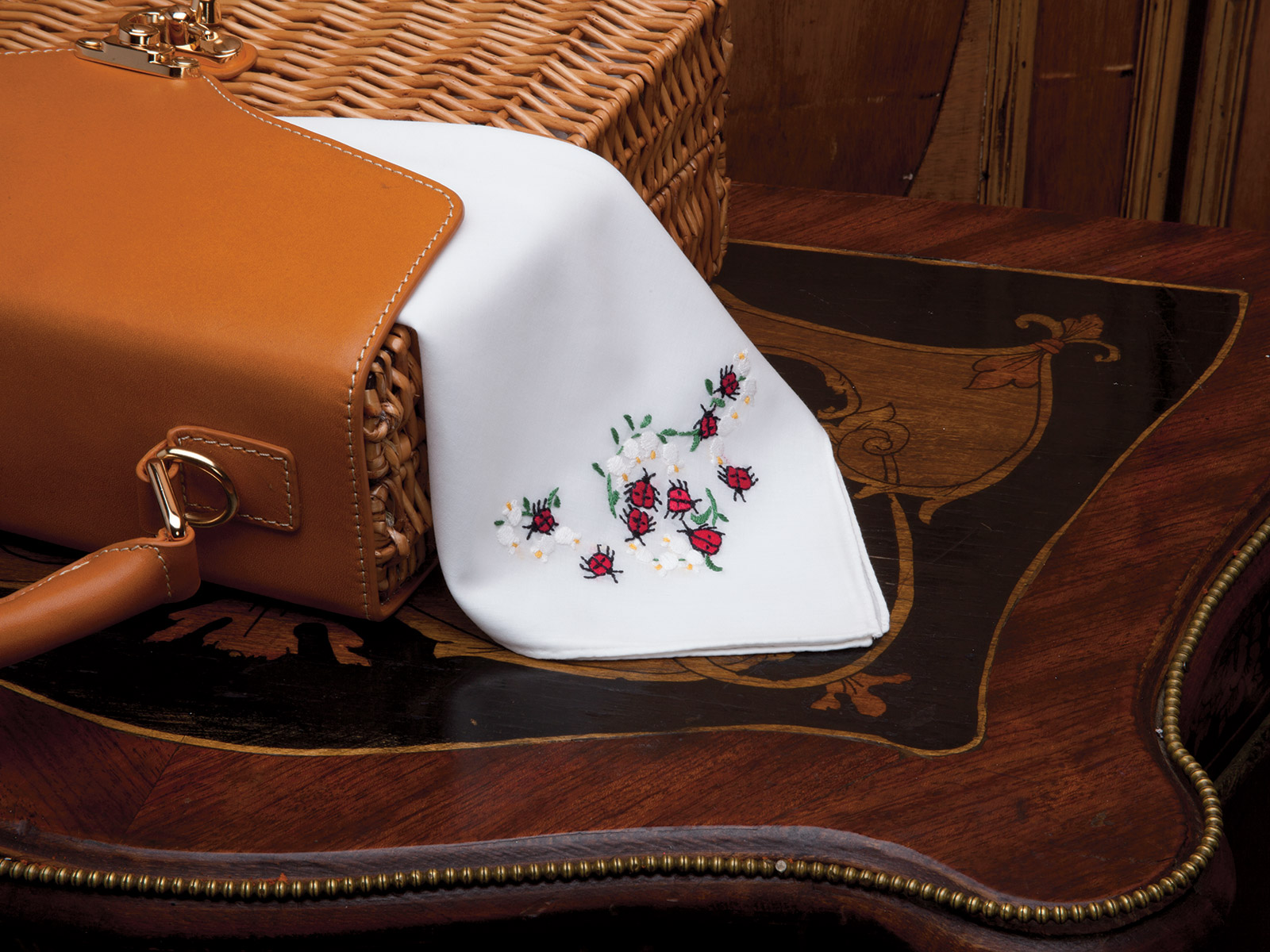 PETITE JARDIN
Lucky is the lady whose garden full of ladybugs is hand-embroidered on fine White Italian cotton voile. Delightfully done in the colors shown, the good-luck charm of this handkerchief makes it irresistible to ladies of any age. Imported with nicely rolled edges.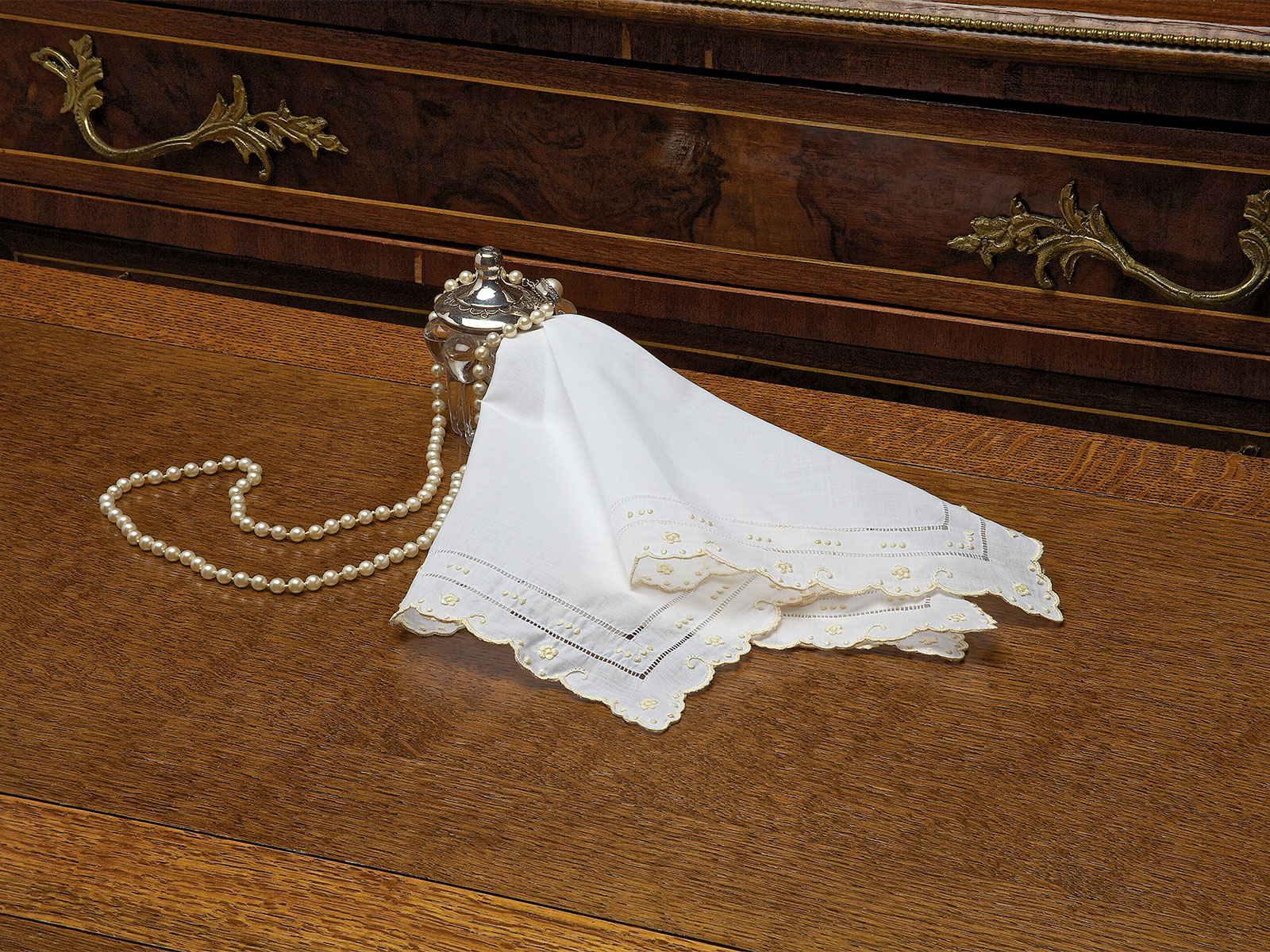 REMINISCENCE
Exquisitely hand-crafted in every detail, this imported handkerchief recalls young love and old-world civilities. Made of fine White Italian cotton batiste, with hemstitched rows, it features delicate embroidery and scallops in Honey Yellow. All done by hand.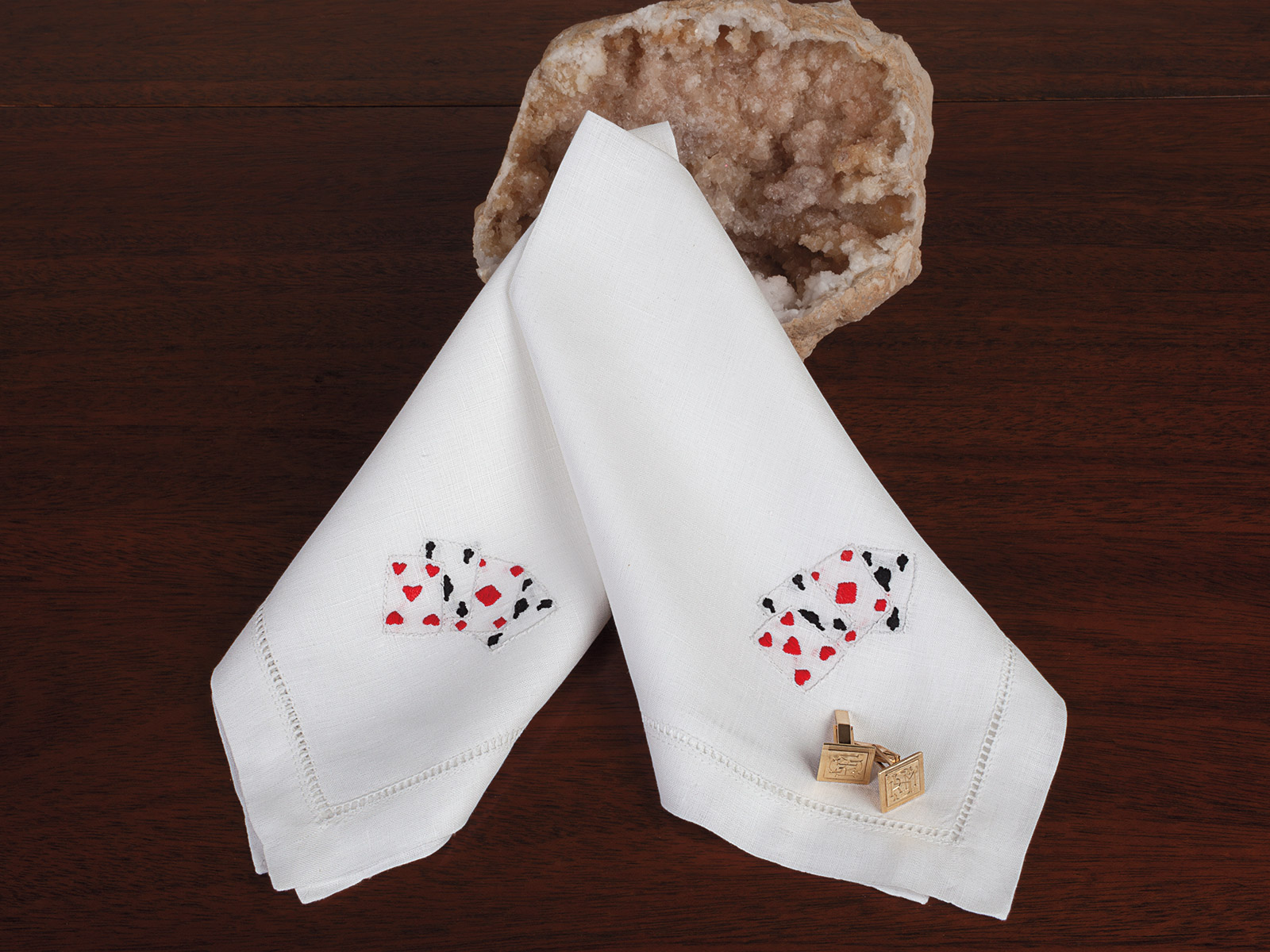 NEW! ROYAL FLUSH
Keep this whimsical, yet stylish hankie on hand and you'll always play your cards right. Perfectly suited for work, home or out on the town, hand-embroidered playing cards have been laid out on 100% Italian linen with a hand hemstitched border for a distinctive charm you can call your own. Imported.
Plus, there's so many more styles to explore. Check out the rest of the Schweitzer Linen Handkerchief Collection.