The birds are chirping, snow is melting (for some of us at least) and you can almost feel the perennials trying to break through the soil. Yes, spring is here. It's the time of the season to explore new gardens and welcome in the warm sun and soft breezes with open windows. It's also time to start to think about transitioning your winter bedding into spring bedding.
Whether this means enhancing the comfort and quality of your sleep with lighter fabrics, reviving your decor with brighter, more spring-inspired colors, or both, Schweitzer Linen has spent the last 50 plus years helping customers make the change from winter to spring and we'd love to help you as well. Here are some helpful tips and techniques for turning your winter sanctuary into the perfect springtime retreat.
1. Keep Things Light
If your bed currently features heavier fabrics or if you are someone who tends to sweat a lot during sleep, consider a lighter set of sheets made of cool, naturally breathable fibers.
Quality cotton sheets like cotton percale, cotton seersucker and cotton sateen are extremely breathable thanks to cotton's super absorbent properties. Not only does it naturally wick moisture but air is able to circulate through the weave to ensure that body heat is released, not trapped, so skin stays cool, comfy and dry.
Another one of the most popular kinds of sheets to use in the warmer seasons is linen. Like cotton, linen is naturally moisture-wicking so sweat is not an issue. It's also luxuriously soft, hypoallergenic and with so many different styles to choose from, it makes any bedroom more attractive. And those are just some of the many perks this cool, crisp fabric offers. There's a reason people wear so much linen once spring comes around.

NEW Long Beach
Hand embroidered delicate design of coral in sultry shades of Blue float along this silky 600 thread count sateen bedding. You'll find flanged hemstitching on 100% Egyptian cotton from Italy. Imported.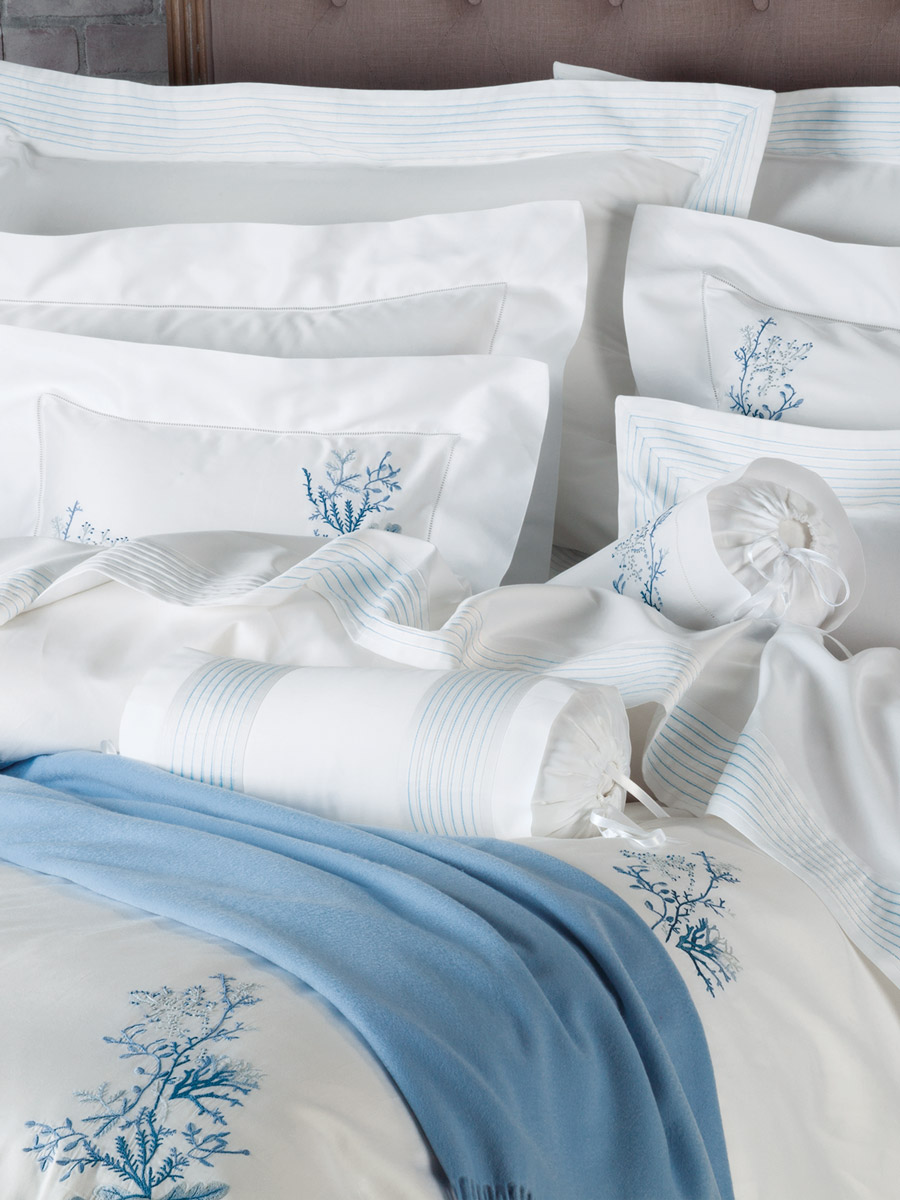 Lighthouse Linen Collection
Like a perfect breeze floating up through seaside windows from the coast, the airy texture of this 100% easy care linen import takes you to a place of infinite pleasure, peace and contentment. Imported.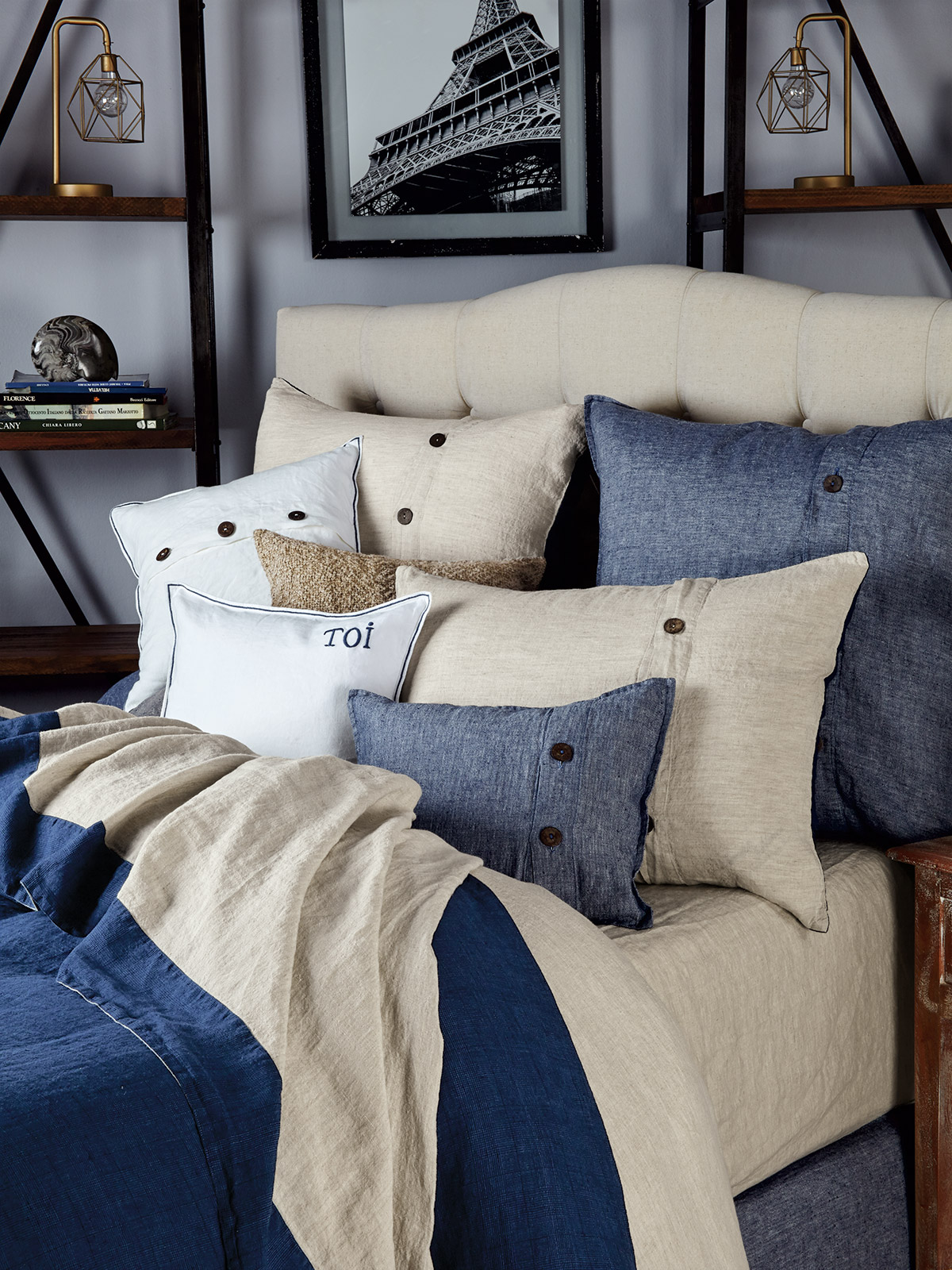 Guildford
Shades of sunny yellow daffodils display exquisite depth and realism with gracefully arching leaves and sweet blossoms crafted in vivid shades of Green, Purple, and Blue. Sumptuous 600 thread count 100% Egyptian cotton percale from Italy. Imported.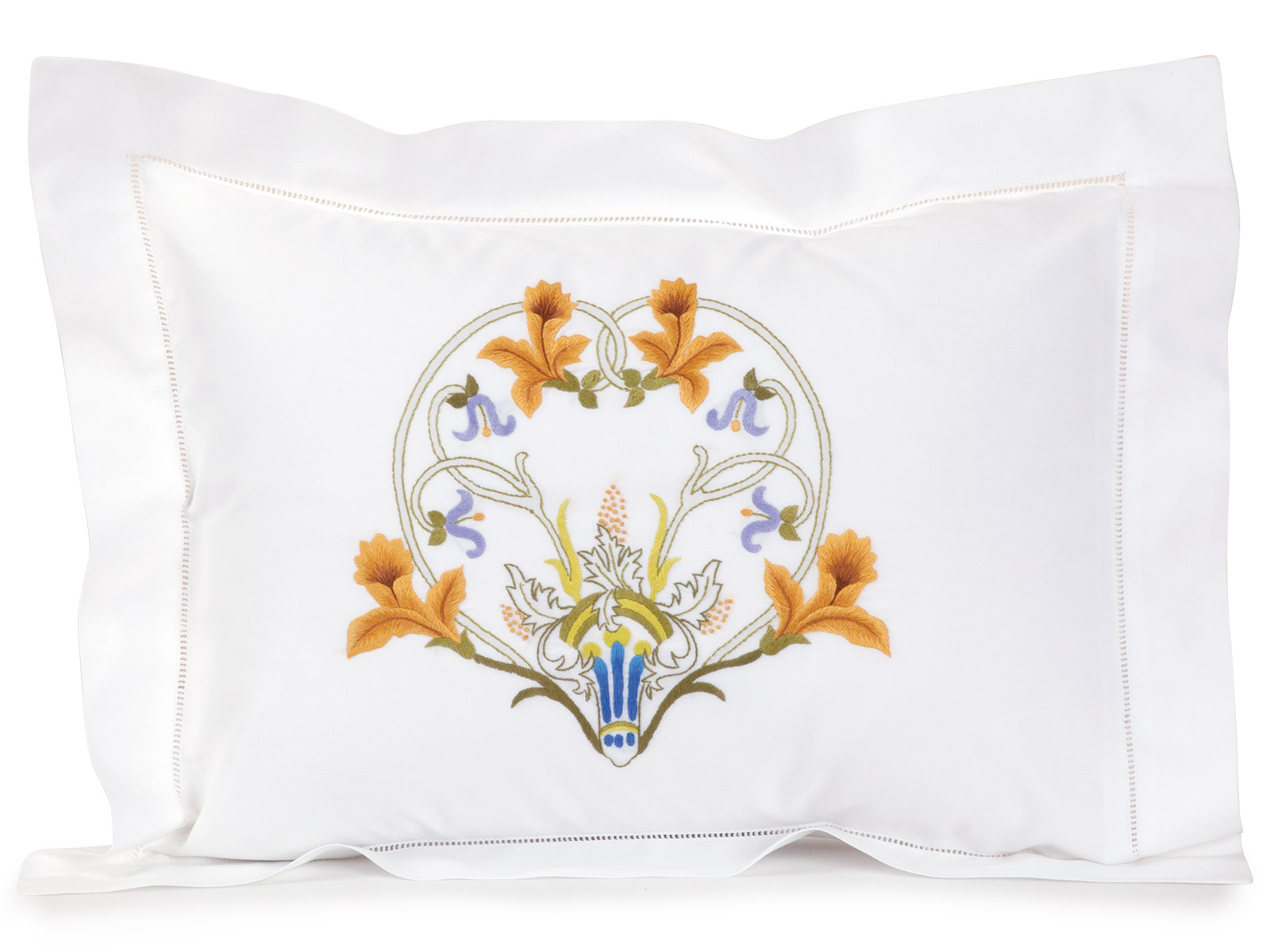 Portland
Bedding never seemed so supple and sturdy as with this fine, seersucker fabric. Easy care and shrink resistant, Portland is made from cotton and poly/cotton blend. Imported from Italy.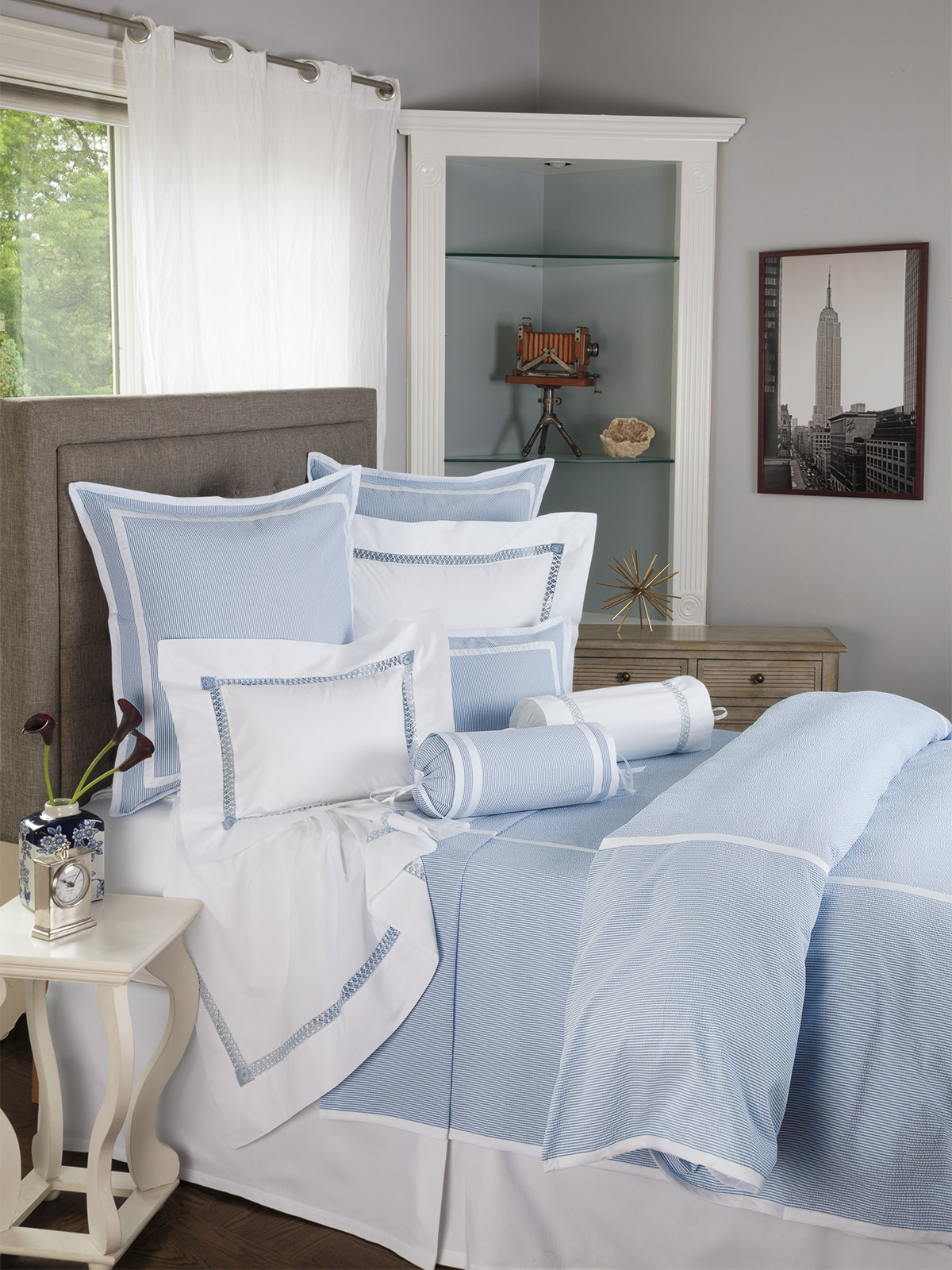 2. Replace Your Comforter
Saying goodbye to that plush warmth you've been snuggling up to all these winter months isn't always easy, but when the temps rise, that heavy comforter has got to go. Transitioning to a lighter comforter is always an option. You'll still want to make sure it's not too heavy or you'll overheat during sleep but if you find the right weight and level of warmth, a quick replacement might just do the trick. This is especially true for bedrooms in hotter climates where air-conditioned areas can sometimes feel chilly at night. Schweitzer Linen has a variety of comforters in different weights and fills to fit your needs including luxuriously thin cotton-filled comforters, perfect for making the transition from colder to warmer temperatures.
If a comforter in spring still sounds too heavy for your tastes, think about using your comforter cover instead. You've already invested in one, why not use it? Not only can you use it as a pretty coverlet when making the bed, this lightweight layer will add just the right amount of warmth. Don't have one? Schweitzer Linen has hundreds in exclusive designs that refresh the look of your entire bedroom.
Another great way to replace your heavier bedding in spring is to add a lighter blanket to your bed. Crafted with incredibly cozy fabrics like cotton, merino wool and buttery soft cashmere, you'll be sleeping in lightweight luxury all season long. Schweitzer Linen even has an ultra-thin down blanket to keep you deliciously cozy in spring and summer without feeling too warm. Make it part of your everyday bedding or keep it folded at the end of the bed when the need arises. In addition to the extra layer of comforting warmth blankets provide, there are a wide array of colors and original designs to upgrade your decor with serious style.

Washable Cotton Filled Comforter
Ideal for year-round temperature and warmer climates, these box-stitched, cotton-filled comforters are a great alternative for those allergic to goose down. Imported. Machine washable.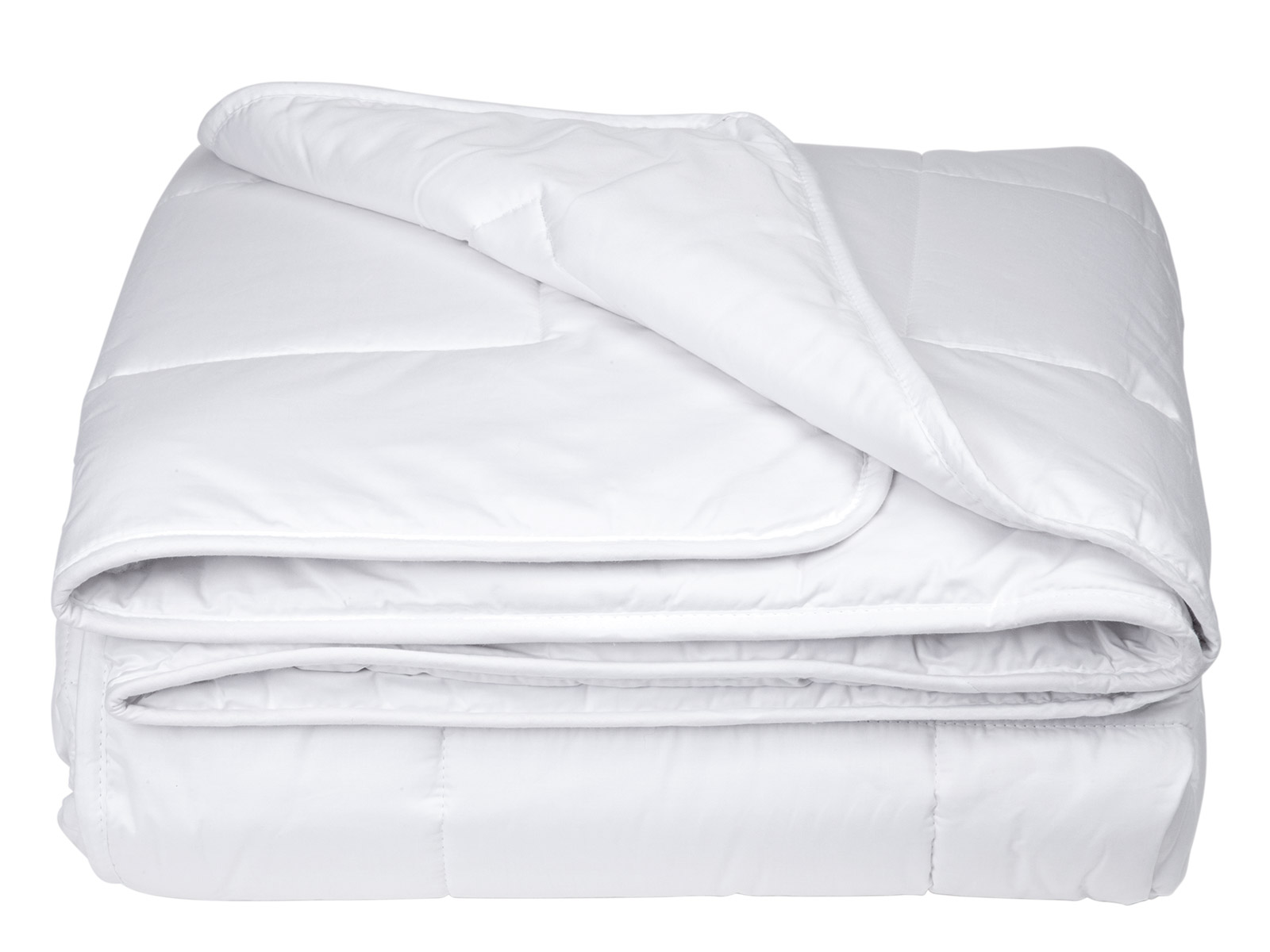 Astera
Set on an opulent backdrop of damask stripes, darling florets branch out with warm, colorful tidings of home and happiness. The beautifying contrast of the floral design on 300 thread count striped Egyptian cotton damask creates a lustrous texture that transcends the decor into something more precious and meaningful than ever imagined. Made in Italy.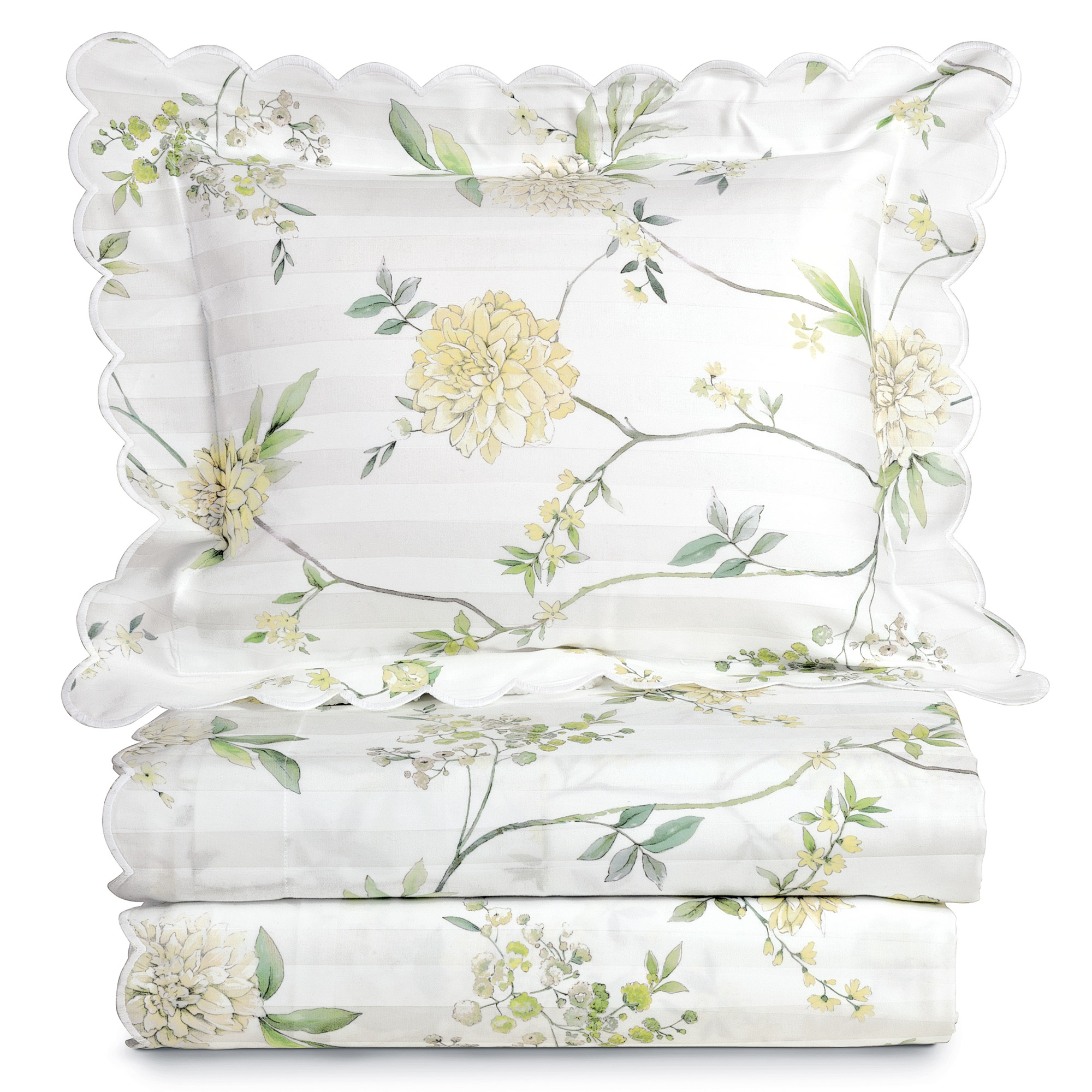 Tribecca Cashmere Blanket
Like the embrace of a true blue friend, this cashmere blanket is instantly warm and soothing to the soul. With every happy moment spent cocooned in its gentle folds, you may find that you relax a little more, laugh a little longer, and dream a little bigger. Made in Italy.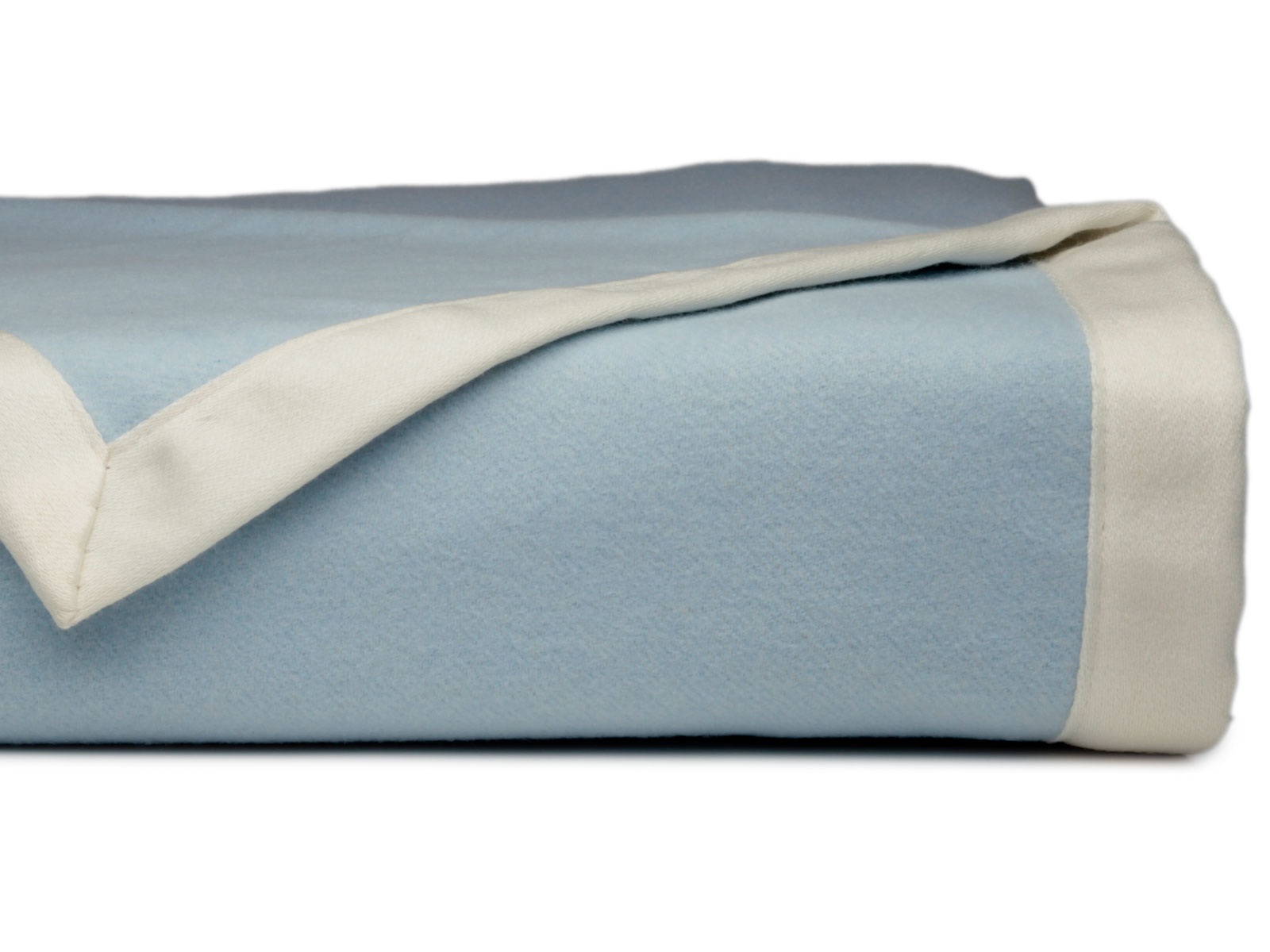 Canasta Blanket
The pure and natural comfort of a 100% cotton blanket has never been more luxurious than our checkered basket weave. Beautifully made with a wide border on all four sides, in the perfect weight for utmost versatility, it complements both city and country décor. Imported.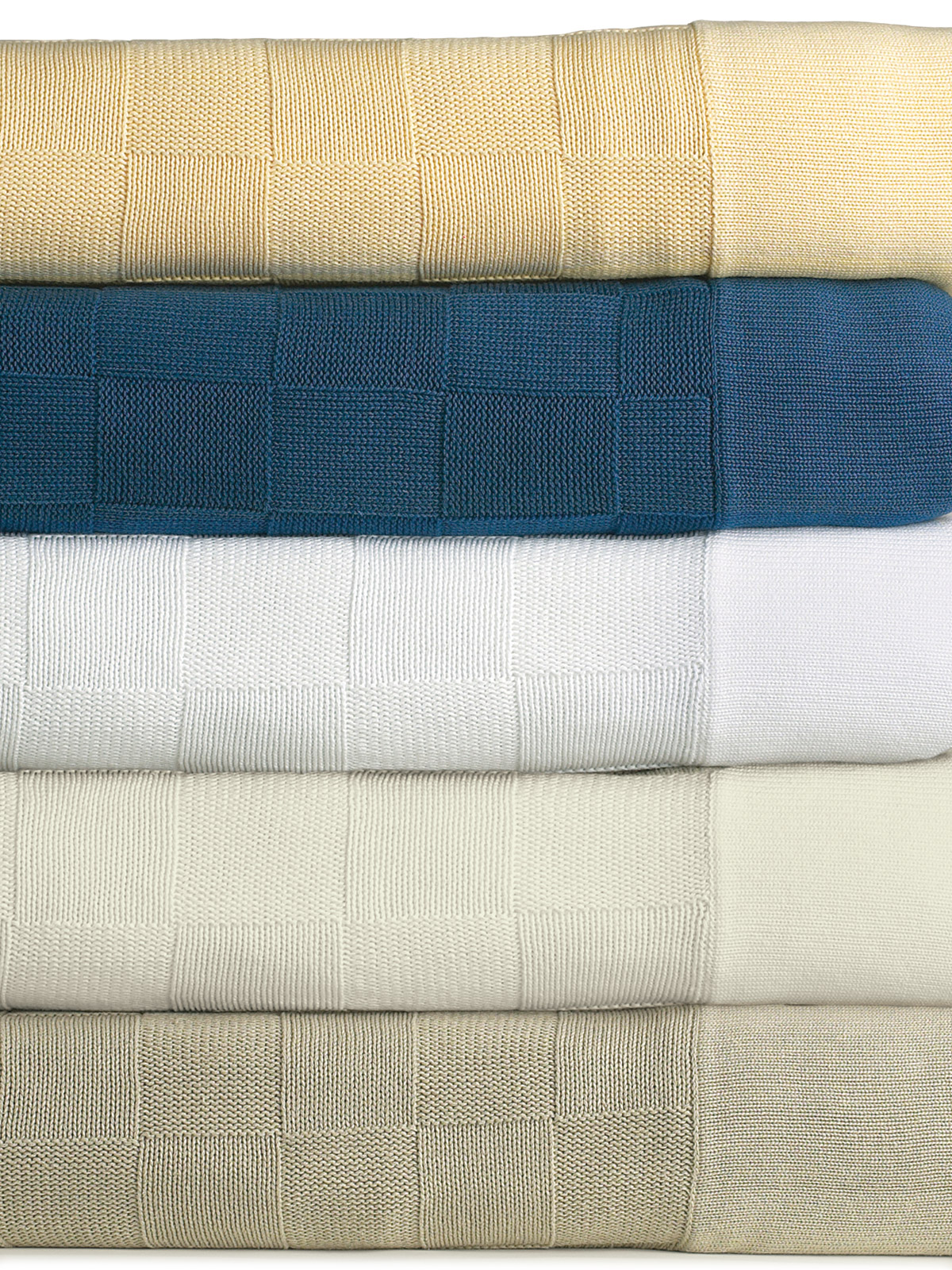 3. Show Your Spring Colors
Replacing darker, more neutral winter colors with brighter, softer tones is a big part of reinventing your bedroom for the spring season. After all, it's not just about your comfort, it's about your state of mind. Everything about your room should reflect the vivacious spirit of renewal spring inspires. And when you're there, it should inspire you to feel the same. With such a powerful effect on our psyche and moods, the right colors can be the difference between the same old tired bedroom or a reenergized environment that evokes feelings of joy, optimism and overall well being.
Finding the right colors to create your springtime haven is easier than ever. Schweitzer Linen offers a large selection of bedding, blankets and more, in a dazzling line of colors and color combinations to make this spring the most beautiful one yet.

Lakeville
Like a daisy-covered mountainside during the peak of summer, soft White 300 thread count 100% Egyptian cotton sateen is decorated with wild yellow flowers in a sweet, painterly style. Tailored in Italy and finished with scalloped edges and button enclosures.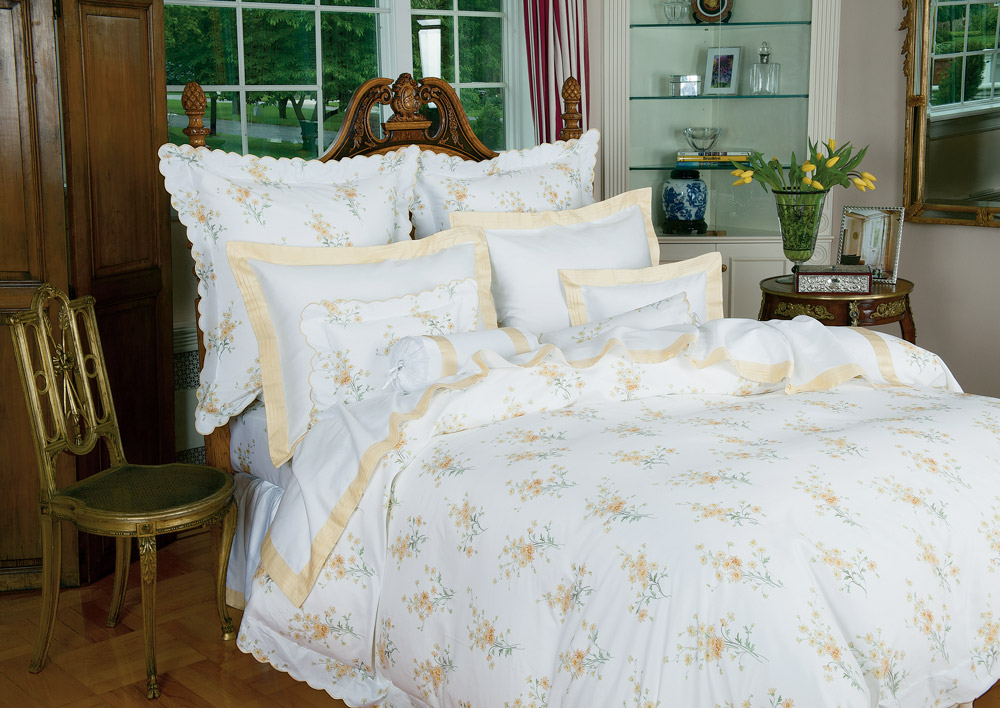 Orlando
Lustrous 100% Egyptian cotton sateen, in an opulent 300 thread count, gets a handsome salute with crisp overlapping bars of embroidery. Made in Italy, with pin straight edges and mitered corners to enhance the richly tailored appeal.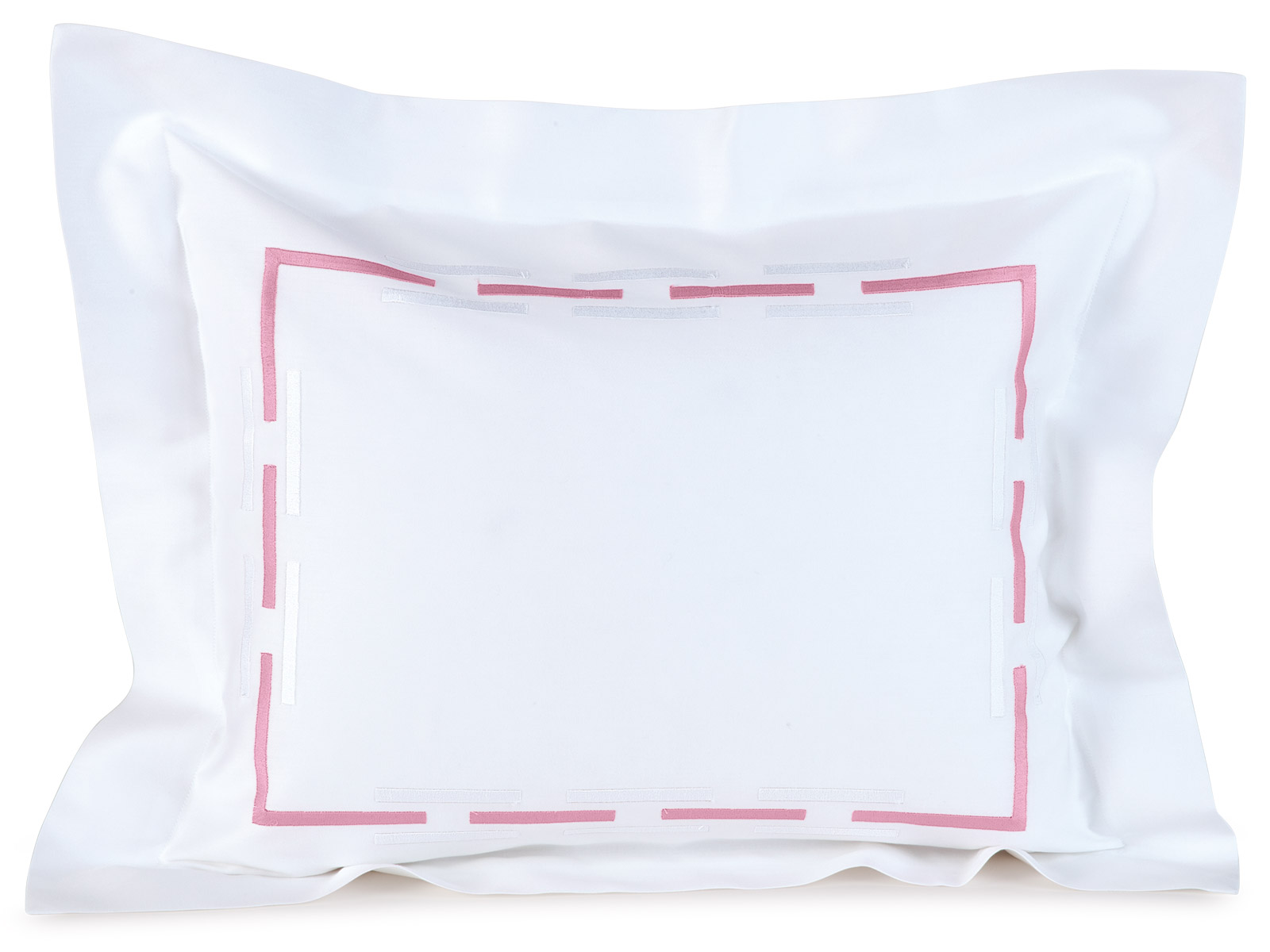 Jasmin
A collection of seersucker blanket covers, dust ruffles and matching shams in easy-care polycotton are delicately trimmed with White lace on gentle hues of Beige, Blue, Green, Lilac, Pink or White. Made in Italy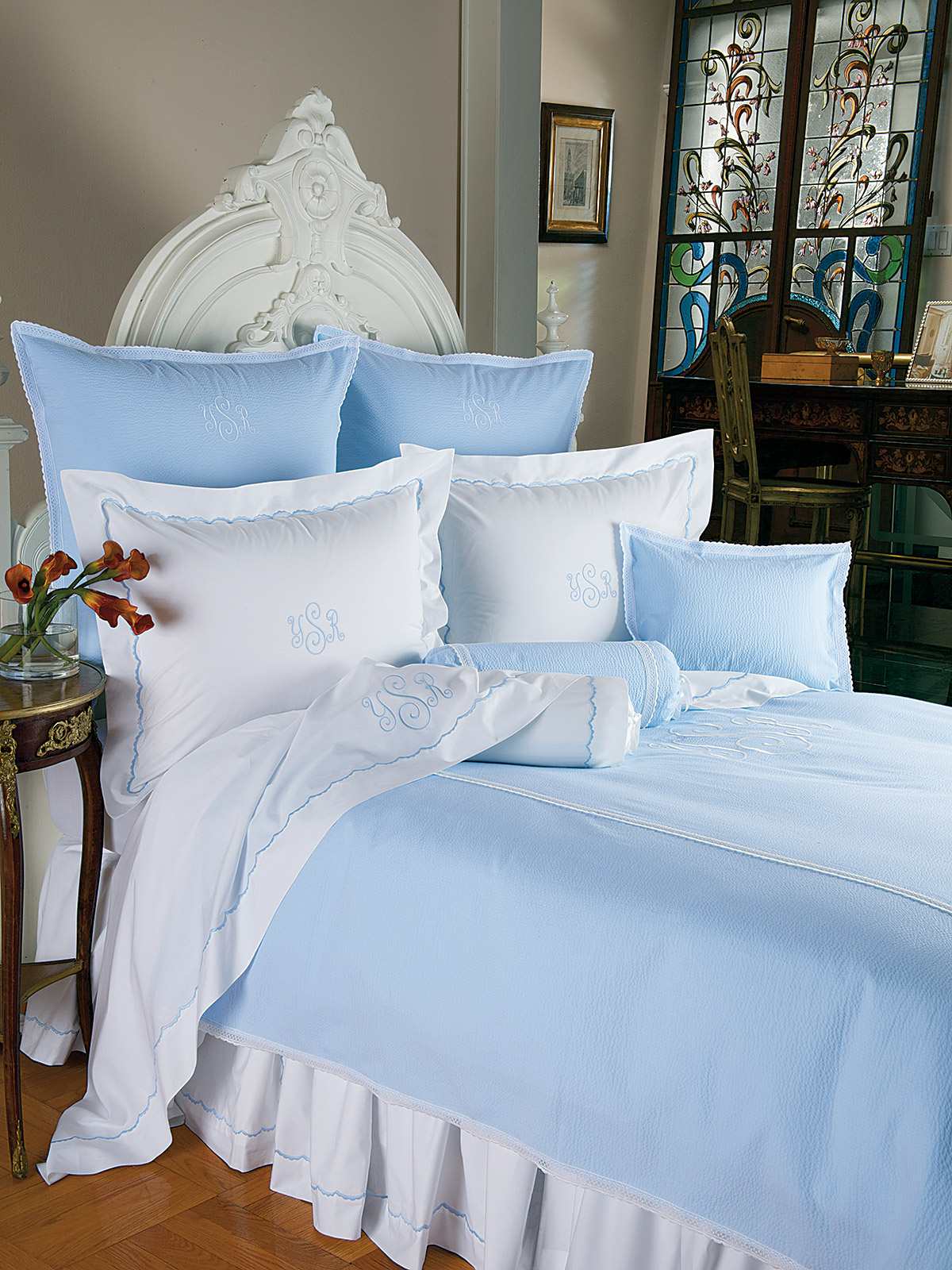 Mansfield
Impeccably crafted in Italy, the double scalloped flange creates a deluxe frame for the fresh design. With Pink flowers and Green leaves or Gray and Lavender flowers with Lavender leaves on fresh, white 300 tc Egyptian cotton sateen.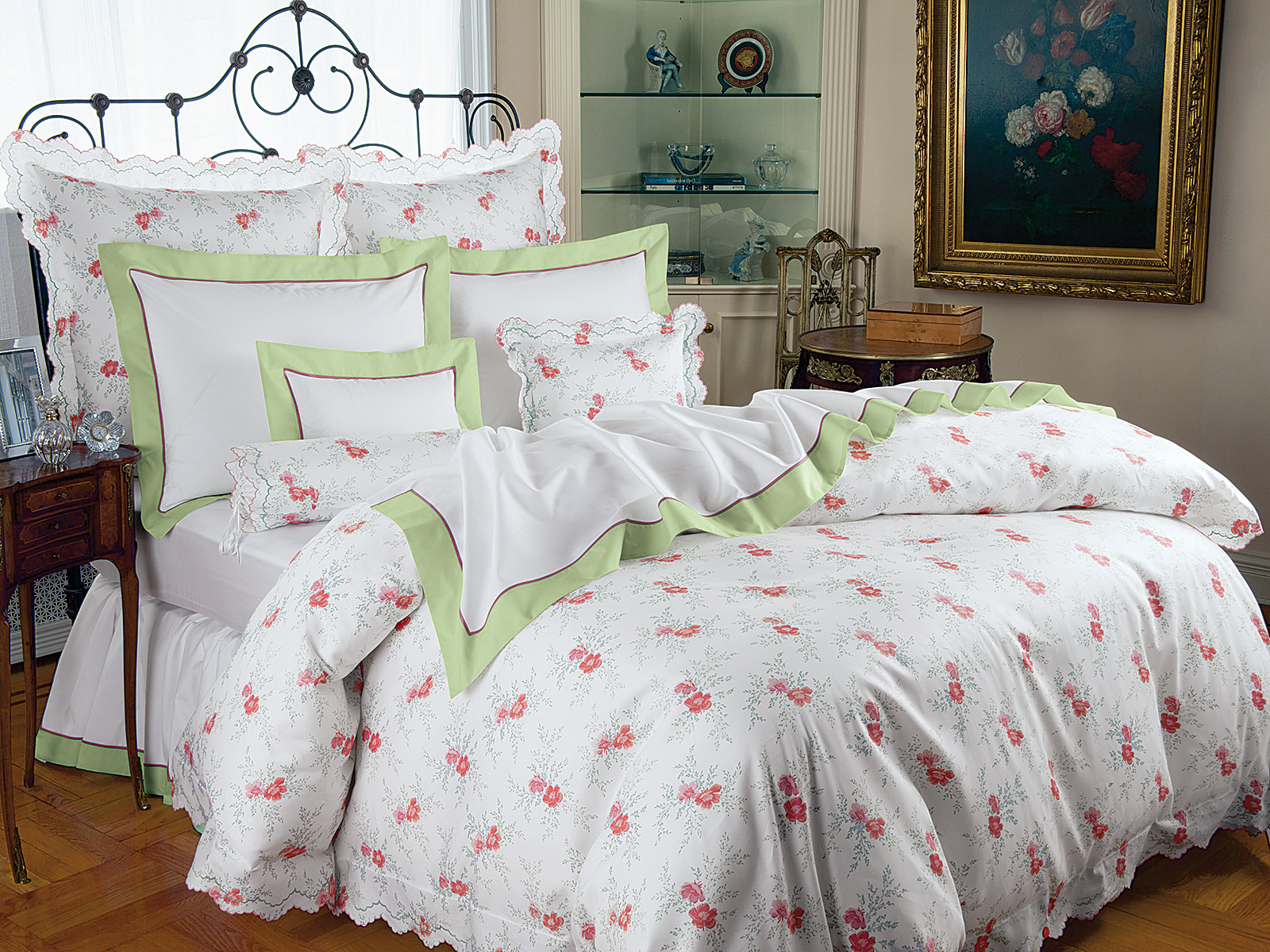 4. Nurture with Nature
When I think of spring, one of the first things I think of is sparkling green grass with brilliant pops of soft pinks, purples, blues and stunningly bright yellows and reds. Thinking of this myriad of colorful flora bursting with life and beauty fills me with joy. Why not add that same feeling to your bedroom?
Studies say being surrounded by nature makes us happier people. That's why for over fifty years, Schweitzer Linen has been bringing the most breathtaking nature designs into people's homes. From flourishing floral symphonies to bold organic patterns, adding a natural element of design to your bedroom brings a lightness and happy optimism you'll feel every day. Along with reviving your room with nature-inspired bedding, explore adding live plants to accentuate the positivity.

Springfield
Slender stems gleefully reach for sunny skies while nature's most inviting tones blossom with soft brilliance to bring you good vibes all season long. Enhanced with the chic elegance of taped scallop edges and printed on lavish 300 thread count 100% Egyptian cotton sateen. Made in Italy.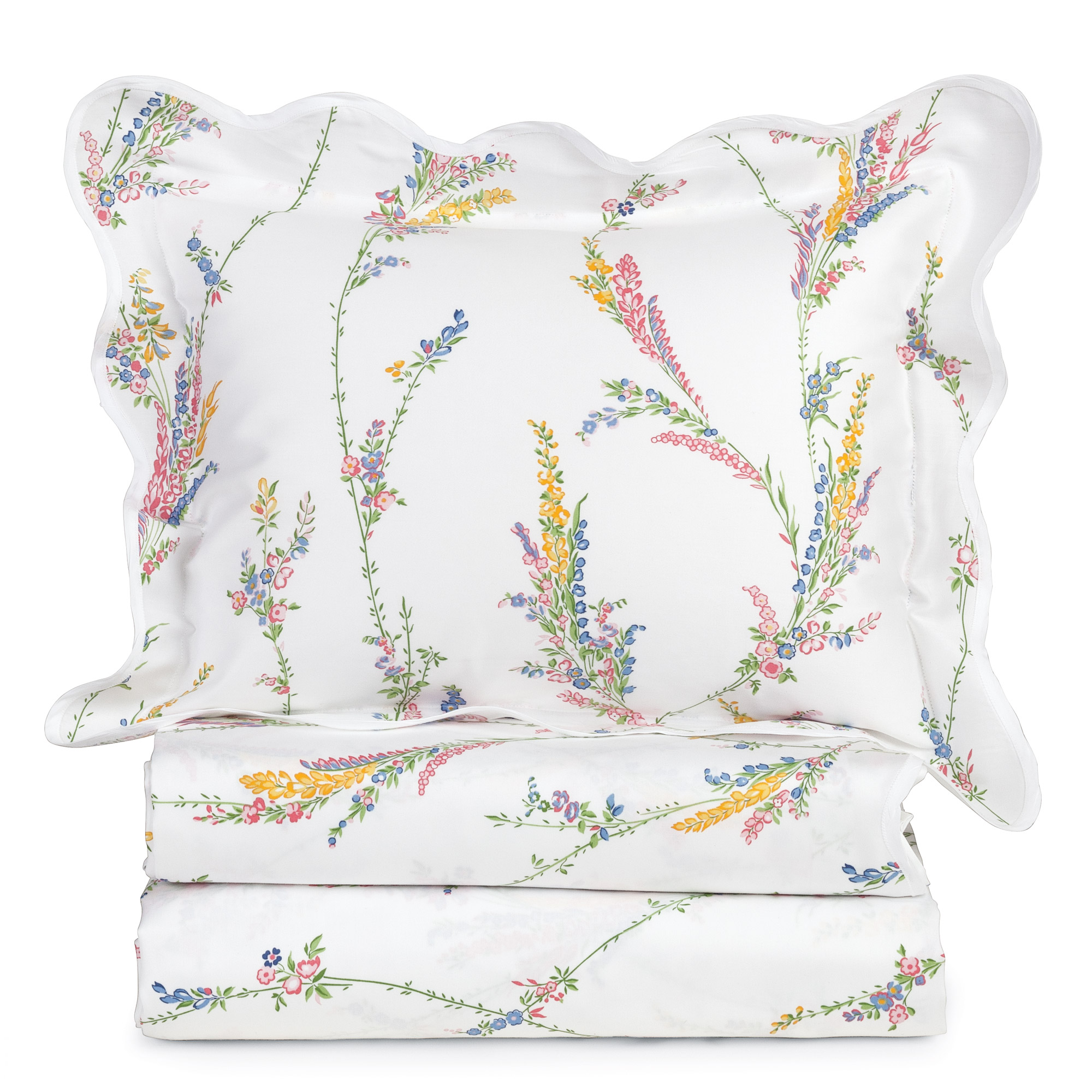 NEW Dahlia
Representative of inner strength, the Dahlia flower in this inspired form will not only delight you visually with its lush magnificence, but will evoke feelings of joy and optimism to take on the daily. Finished with scalloped edges on 300 thread count 100% Egyptian cotton sateen. Made in Italy.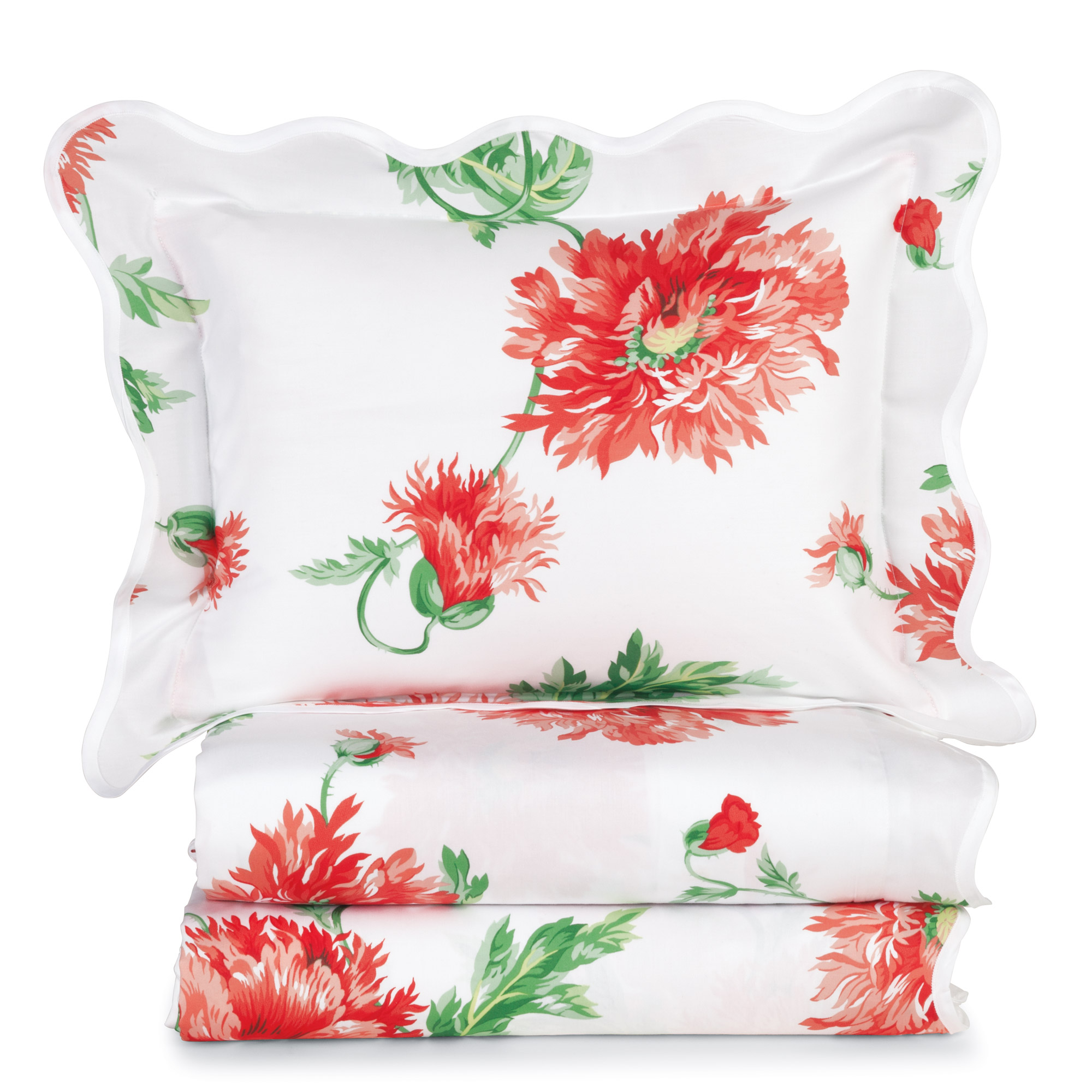 Blossoming
Printed on pure 300-count Egyptian cotton sateen, the preciousness of life's natural joy is on full display with this heartfelt design that celebrates the stages of growth—from budding beauty to full-bloom gorgeous. Made in Italy.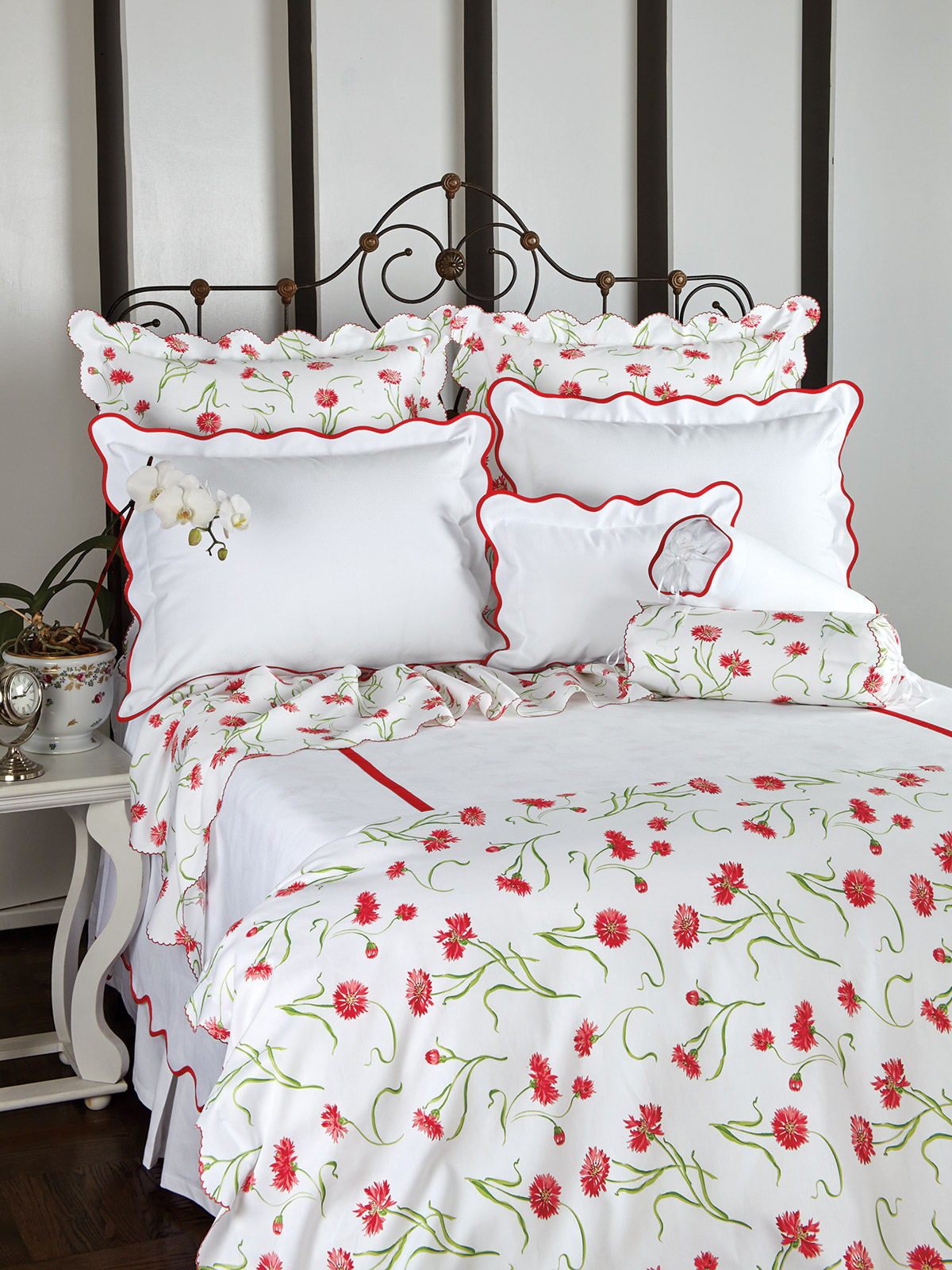 Queen Elizabeth
A perennial favorite since the 1700's, this White matelassé brings its unique sculptural beauty to our newest blanket covers and shams. Made in Italy of richly textured woven cotton in an all-over pattern of flowery medallions, this elegant design features Lavender taped scallops and insert.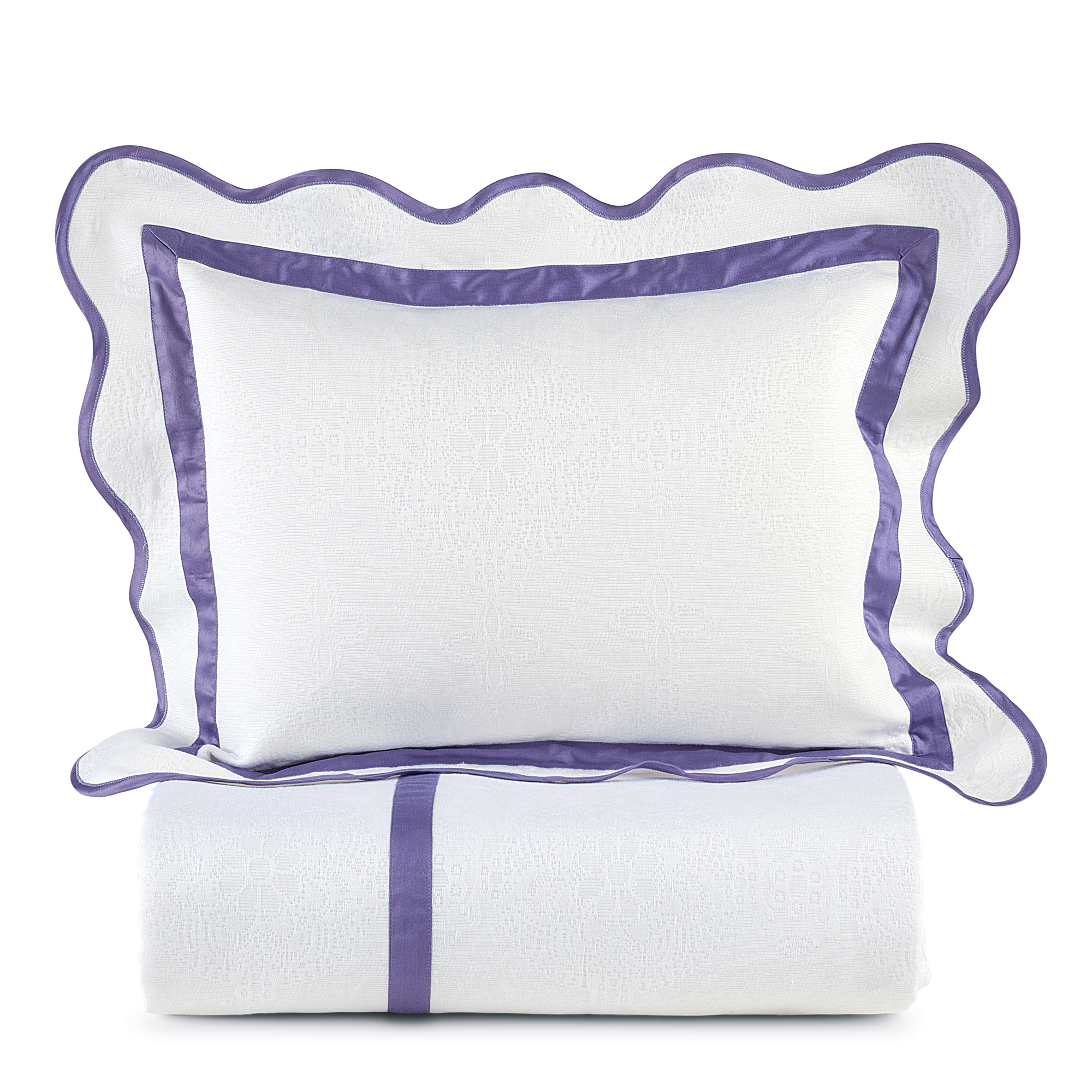 5. Try Something New
Spring is about revival, renewal and rebirth. It's a time where we can start fresh and try to better ourselves as we strive towards a more fulfilling life. That's why spring is the perfect time for trying something new. Because whether you replace your bedding, redesign the entire room with a brand new perspective or simply add some throw pillows to make everything look more inviting and elegant, a little change is good for all of us. It can wake us from the constant slumber we sometimes don't know we're in, until we're woken up.
Whatever it is you want to improve in your life, transitioning your bedroom with new colors, designs and more comfort is a great place to start. After all, the bedroom is where we begin and end each day, where we dream our biggest dreams, and where we envision the way we truly want our world to be. By creating a spring-inspired environment full of joyful energy and calming, comforting peace you can literally change your life. You may be surprised at just how much.
So choose from one of Schweitzer Linen's many bedding collections, mix and match different styles to create the ambience that's just right for you or explore their full assortment of luxury products designed to make each day better than the last.