When it comes to trends, you can take them or leave them. I've always believed in liking what you like and not really caring what anyone else thinks. But once in a while, the trends speak to you. Once in a while, the styles and decor that are trending are right in your wheelhouse. This is one of those seasons for me. With a nod to nature, eye-catching designs and an appetite for both simple and bold, this season's home/bedding trends are something to get excited about–whether you're into what's in or just want to shake things up.
Simple and Cozy
If someone called me thoughtfully messy, I'm not sure I'd know how to take it but that's exactly what's currently trending in the bedroom this season. Perfectly layered textures put together to form a naturally lived in look and feel are finding their way into more and more homes. There is something about the casual honesty and simplicity of bedding that is not perfectly tucked or folded in. Perhaps it's the feeling you get when you see soft sheets in light neutrals, slightly piled up to form decadent ruffles, creamy creases and softening edges. It's almost as if the bed is saying, come back to me. It's outrageously inviting and screams laid-back comfort. Add in some thoughtfully tossed about decorative pillows and you've got yourself a trending style that looks as scrumptious as it feels. Try it for yourself with one of these decadent bedding collections.
The crumpled appearance of our Italian pre-washed easy care linen sheets exudes an industrial look that is perfect for today's lifestyle. Imported from Italy.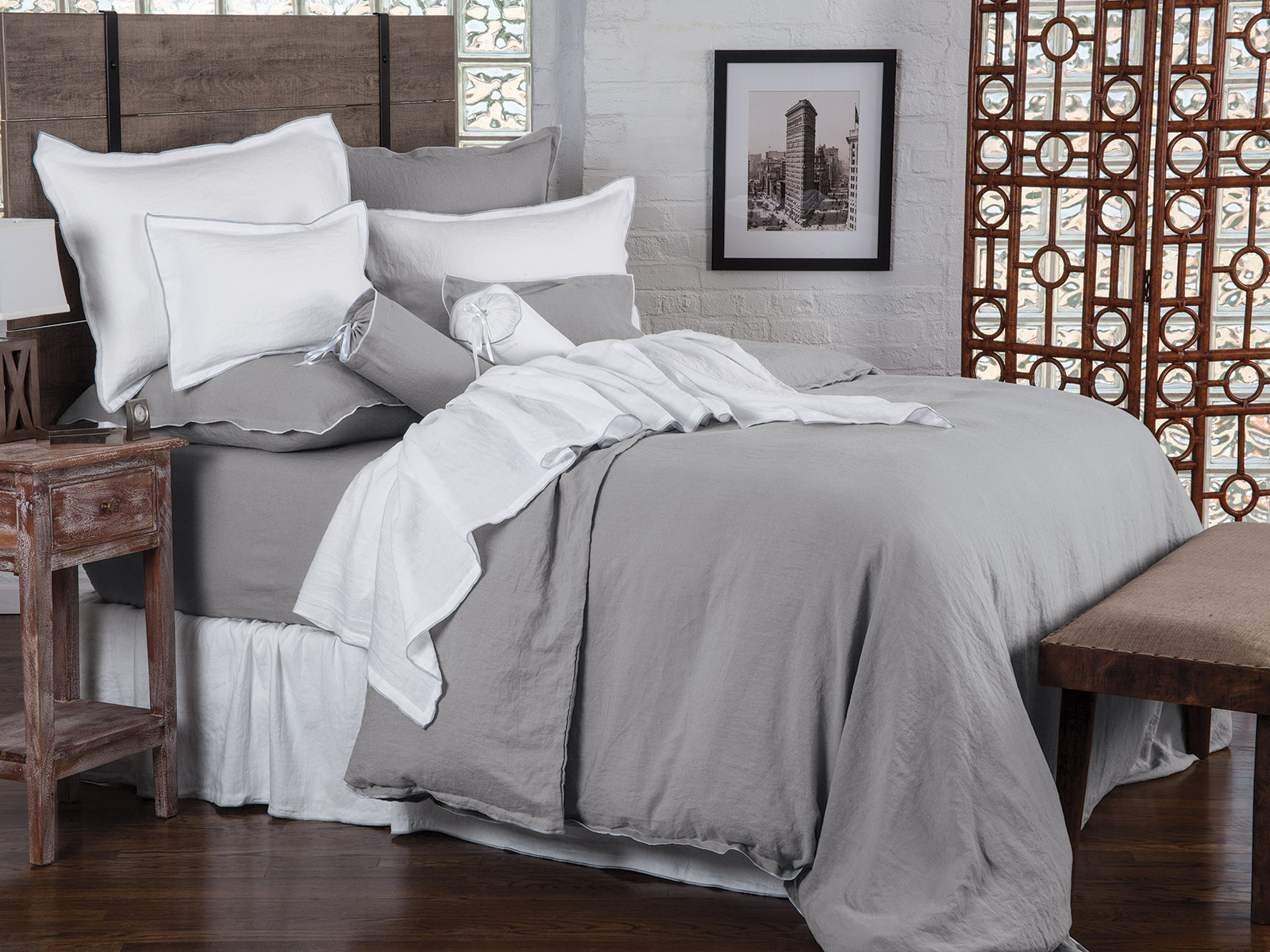 Soft, easy care linen in Beige or creamy White invites you to indulge in every luscious curl and crevice. This is pure decadence at its best. Imported.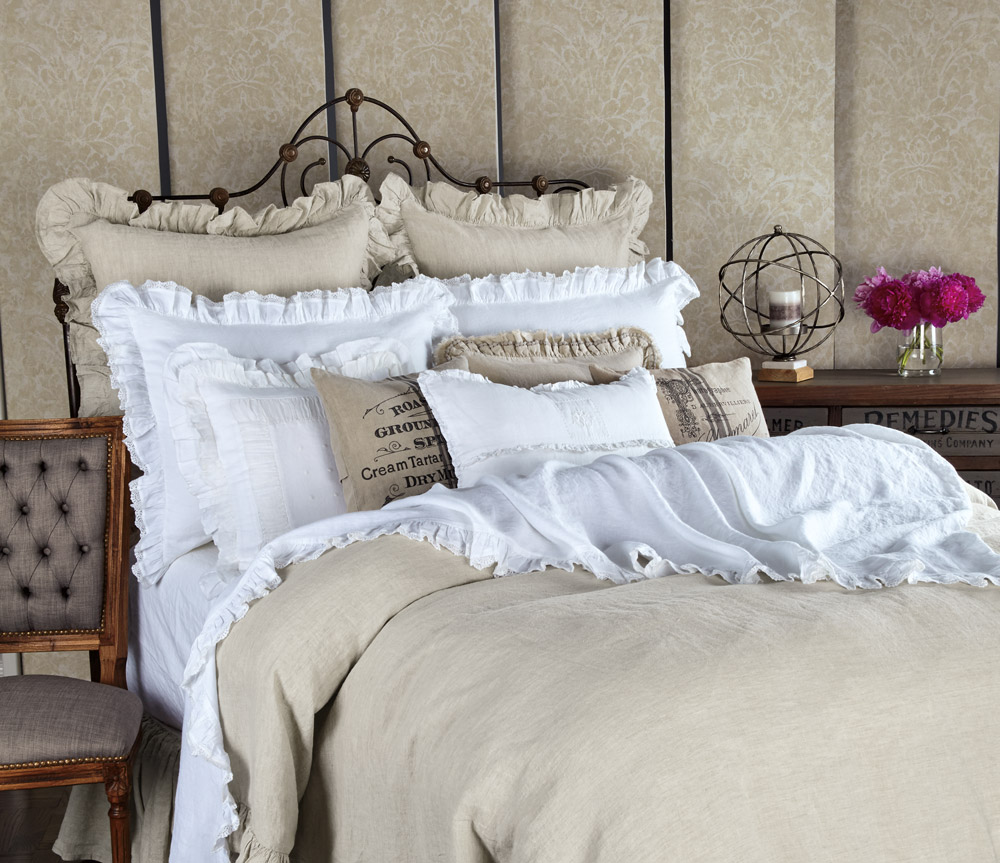 The Bold and the Beautiful
In addition to turning convention on its head with messed up bedding, this is also the year of taking a step back from minimalism and a step towards the bold. Striking stylistic forms and eye-catching patterns are in. Pops of light, neutral color mixed with rich textures and varying patterns on patterns are giving more and more bedrooms new life of its own. Sheets, blankets, shams, pillows, it's all part of the mix. You can reimagine your bedroom with some simple mix and matching or create an eclectic buzz around the space. It's really all about how you want it to look and feel and what inspires you. The best part of this trend is you don't have to choose or follow one style or set of guidelines. Grab several bedding sets and accessories and play. Just be sure to make it yours.
With chic flair and playful use of space and patterns, this design can be used alone to add unique elegance or combined with neutrals for a more contemporary feel. Made in Italy.
Italian artistry is on full display with nods to the elemental flow of wind and tides combined with silky swirls of contrasting shades. Ready set to dazzle on its own or create an original twist with softer tones and accents. Made in Italy.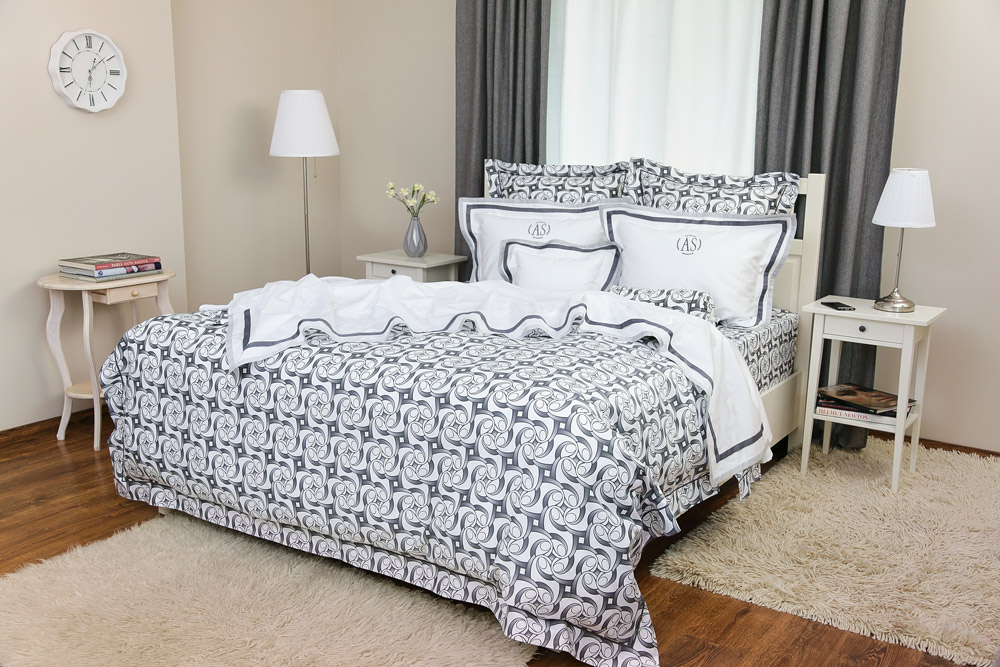 The Classics Are Still Classic
Despite the taste for bold patterns and unconventional styling, some things just don't change– and nor should they. Using neutral colors is still one of the best ways to keep things simple and create a soothing, welcoming environment to rest and recharge in. This year, soft pastels are also being added to enhance the warmth and inspire an aura-like harmony throughout. No need to color within the lines if you don't want to. Adding darker tones and patterned accents add pop and energy to keep things interesting. There are lots of ways to introduce neutrals and pastels into your room. Here are just a few to keep in mind.
Finely wrought and stunning to behold, you'll fall in love with this timeless design featuring soft, soothing tones of the blue oral motif on silky smooth 100% Egyptian cotton sateen. Imported.
These blanket covers and shams make a fetching companion for your favorite bed linens and the pastel-rich shades add instant warmth to any room. Tailored in Italy and yours to enjoy in White, Pink, Blue or Ivory.
Texture On Texture
Texture has always been important when creating a bedroom decor but this season, it's about exploring texture upon texture to create something so lavish and touchable, you want to fall back and experience each one as part of a greater symphony of comfort. There's lots of ways to add different layers of texture to your bed. Fringe, accent pillows, ruffles, tassels, poms and varying types of fabrics are all excellent ways to build your layers. Not only does it add a new dimension of style and substance but the cozy factor goes up to an 11. If you try adding subpar bedding and stale designs, you'll likely have a hard time achieving this. So that's why it's important to use premium bedding that's been well crafted with the finest materials and thoughtful designs. Like these for instance:
Transform your bedroom with brilliant color, texture and tranquility with a style reminiscent of renowned impressionists. Captures the masterful variations in color, light, and natural shadows while taped scalloped edges surround it like a decorative frame. Made in Italy.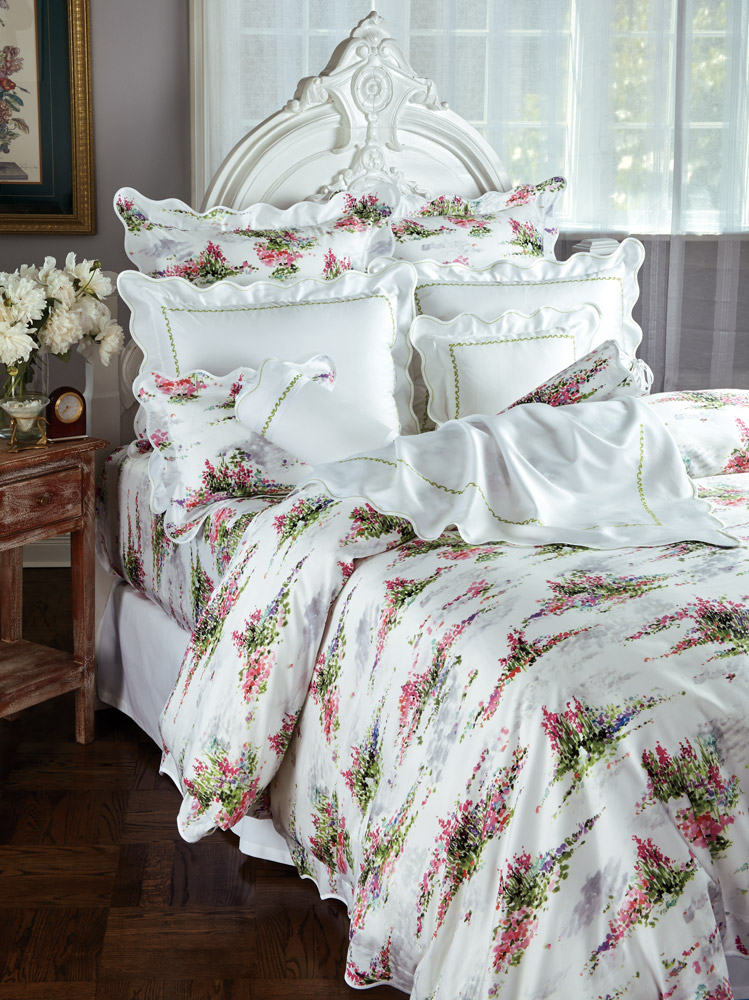 The allure of these exquisite linens begins with an intricate embroidered border and heightens when you run your hand along the silken 100% Egyptian cotton sateen. Glamorous and uniquely yours, designed to leave you breathless. Made in Italy.
Nature Bound
Nature has always played a huge role in our lives. Whether you go camping every year with family or have a vase of flowers at the table for Sunday brunch, the presence of it can be felt and appreciated in many settings. Some of the world's most celebrated architecture is founded on the principle of weaving nature throughout. The bedroom is no different. Adding elements in nature not only adds a beauty and elegance that can be both uplifting and inspiring, nature is proven to make us happier, more creative and less stressed. By surrounding ourselves with nature-inspired patterns, floral sheets and leafy accents, we can go to sleep more rested and relaxed, we can wake up more energetic and optimistic. We can literally change our daily lives for the better.
Undulating lines of orange coral and aquatic flowers alternate with waves of nautical Navy and White on this delightful print. Tailored in Italy.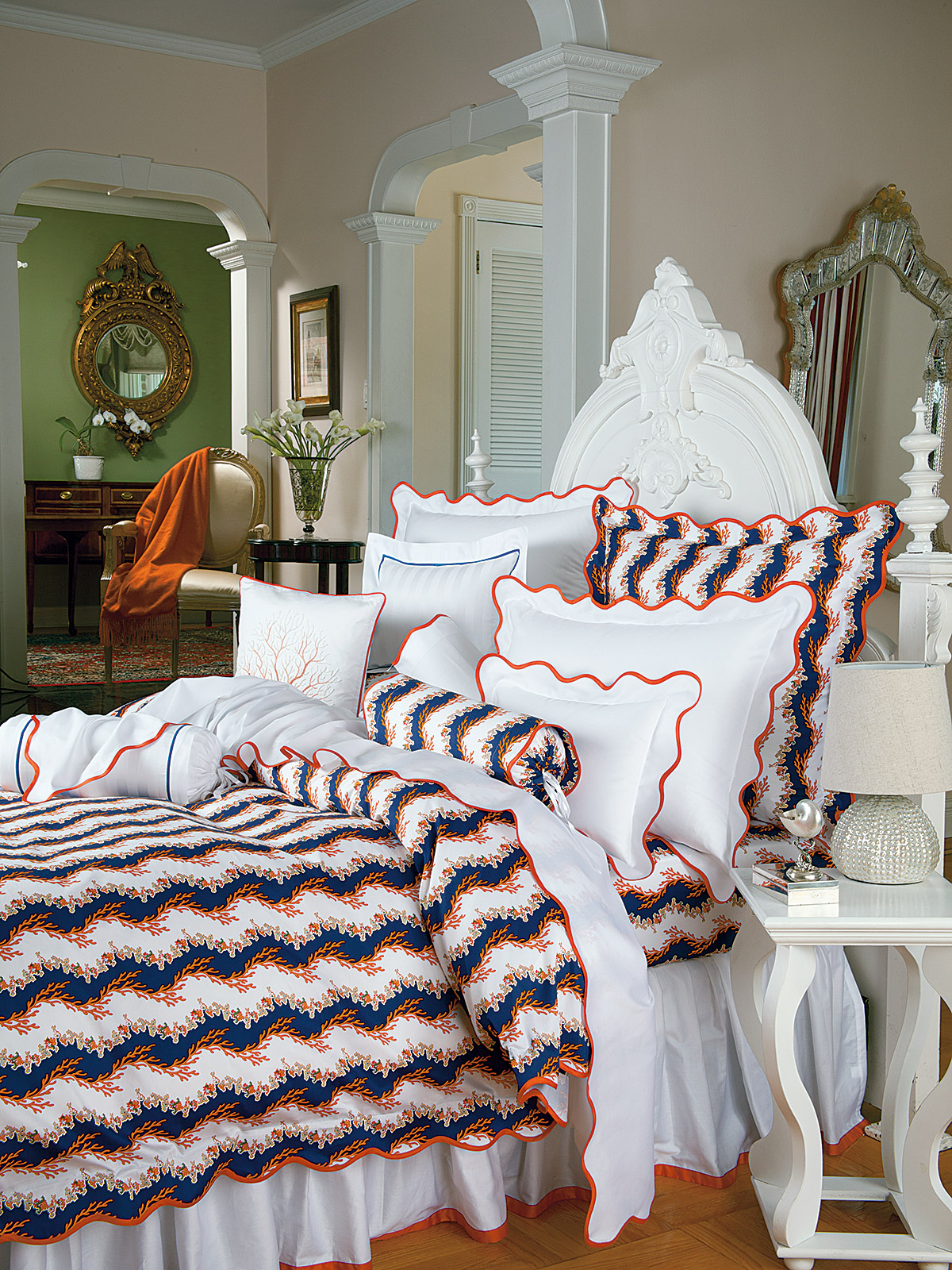 Bring the beauty of a tropical paradise into your home with lustrous cotton sateen and exotic fuchsias in Blue/Yellow or shades of Pink. Impeccably made in Italy.
Trends are still just trends. If none of these do it for you, you'll still find hundreds of exclusive designs and an assortment of the finest fabrics at Schweitzer Linen. They are always ready to help you achieve the bedroom you've always wanted and the deeply satisfying sleep you've been dreaming of.