Looking to beat the heat? We know trying to sleep in hot conditions can be downright unbearable. That's why we've got some tips and products to make sure your next slumber will be cool and breezy.
10.) Double Up On Fans
Fans are a great way to keep cool, especially in the summer heat. Plus, they add a soothing background sound that can be very comforting. But sometimes on really humid nights, air from one fan isn't doing enough to put you at ease. If this is the case, try using two. Turn one fan towards the window to blow the hot air back out, and keep another fan blowing the cold air towards your bed. This creates an invigorating crossflow of air that should help keep you more comfortable.
9.) Take a Pre-Bed Shower
Taking a cool shower before bed is not only a great way to lower your body temps, it leaves you feeling refreshed, relaxed and ready for a solid night of zzz's. An added benefit is that it also washes off pollen and other allergens that can get on your pillow and sheets. These can cause even more discomfort, especially if you have allergies.
8.) Pick Cooler Colors
If the heat has been keeping you from a good night's sleep, you might want to take a look at the colors around your bedroom. Lighter colors tend to reflect the heat, while darker colors absorb it. So we suggest switching your bedding colors to something lighter. White is an ideal choice when trying to keep your color tones cool and airy, but there are many other options to choose from. You also may find that by surrounding yourself in lighter, more breezy colors, it can have a psychological effect on how you perceive the temperature of the room. This little mental trick can help a warm room feel much cooler than it is. Plus, adding new colors and designs is always a fun way to mix up your style.
Shop Bedding Colors and Styles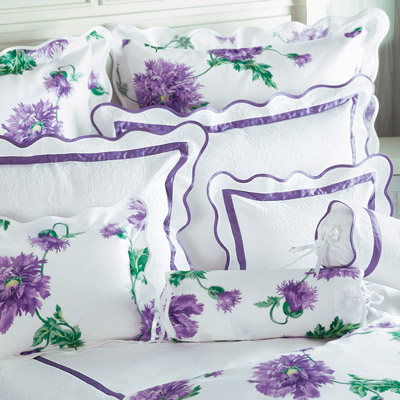 7.) Hydration is Important
It may seem simple, but it's alarming how many people go to sleep dehydrated, especially when it's hot outside. Make sure you're drinking plenty of water before bed and keep a refreshing ice cold glass nearby to give yourself a better chance of sleeping. You can even freeze a water bottle to ensure you have cold water all night long. Staying hydrated is not only helpful during warmer evenings, it's healthy for the body and good for your skin.
6.) Get a Cooler Pillow
Some pillows retain heat more than others, so if you're feeling hot in the head about the temps at night, you may want to try a pillow that's more breathable. Comferel Pillows are a great option—and they're also great for those with allergies. Or choose from a selection of other pillow blends including cool cottons, silks and down. These pillows can give you the breathability you crave in the warmer seasons, and the coziness you'll need when winter comes around again.
Shop Pillows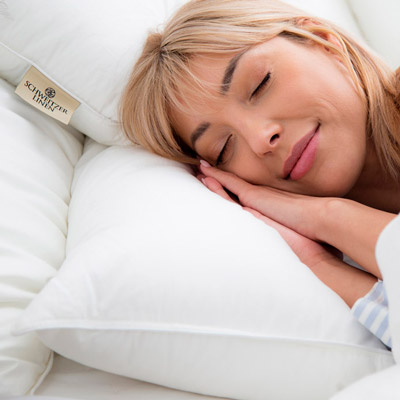 5.) Replace Your Pillow Case
Adding a more breathable pillow case will allow your pillow to breathe even easier and retain less heat, so you can lay your head down comfortably and get some serious rest. Add one with a lighter, more cooling color/design, and the result is likely to be twice as refreshing.
Shop Pillowcases
4.) Close Those Blinds
As beautiful as it may be to let that sunshine come through your windows, the fact is, you're also letting a lot of heat through. This can absolutely bake a room. If it's warm outside, or you live in a hotter climate, you might want to shut the blinds to keep the heat from creeping in. You can also add blackout shades if you want to get really serious about blocking those unwanted rays.
3.) The Right Nightwear
Just as the clothing we wear during the day can affect our all-around comfort, the same goes for what you wear to bed. Dressing in light, breathable fabrics is a great way to improve your sleep on hot nights. Whether you prefer airy nightgowns and pajamas, revitalizing robes or the exotic, cool escape of luxury kimonos, you'll find a wide variety of styles and ways to stay refreshed and at your best every night. And thanks to all the beautiful designs and colors at your service, you won't just feel good, you'll look good too.
Shop Nightwear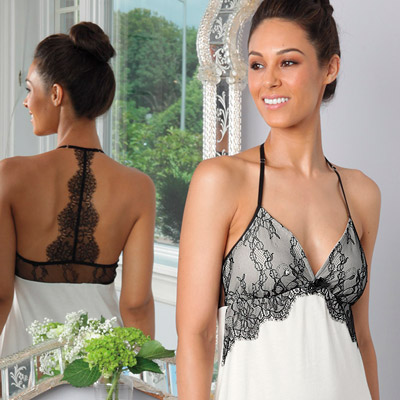 2.) Cotton Bedding
Cooling, moisture wicking and oh-so-soft, cotton sheets are one of the best ways to keep comfortable on those heat-filled nights. The higher the quality, the better these sheets will perform in making your skin feel luxuriously more refreshed—even when the outside weather intensifies. With the best quality cotton sheets on your bed, you won't have to sweat those humid temps anymore. Plus, with hundreds of original designs and a myriad of colors just waiting to inspire you and transform your bedroom into something special, you'll discover a better sleep, and a better style.
1.) Linen Bedding
Perhaps there is no better (or more natural) way to beat those summertime temps than with the extraordinary cooling of linen bedding. People all over the world wear it when outside in the sun for a reason, and when we add those same natural temperature-regulating properties to our bed, the result is as refreshing as it is attractive. Linen wicks away moisture to keep skin cool and dry. It has a distinct weave that lets more air circulate for a cooler sleep. And since its fibers are ultra soft and breathable, linen is absolutely ideal in warmer environments and great for people with sensitive skin—because the less friction the better. Overall linen is the number 1 choice for bedding when trying to stay cool. And because it's so well made and comes in so many breathtaking styles and hues, it's also a great way to upgrade your ambience and upscale your decor while bringing those hot temps down.
Shop Linen Bedding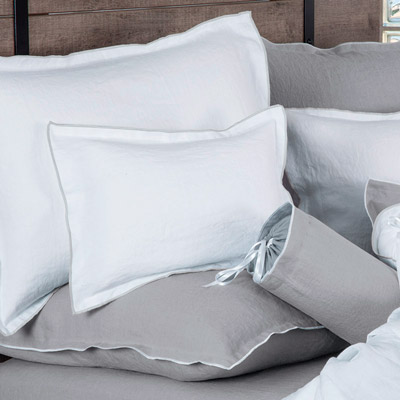 Looking for more ways to upgrade your home's comfort and style? Reach out to us by email or phone and we'd be more than happy to help. We're a small family-owned company with over 50 years experience in providing luxury experiences for our customers, and your absolute satisfaction is the most important thing to us.